Patio Shade Ideas: How to Choose
Choose the best patio shade idea for your deck or backyard with this guide! Should you use a gazebo, pergola, umbrella, shade sail, awning, or something else entirely?
Patio Shade Ideas
Today let's talk shade!
I come from a long line of pasty white folks, and 10 minutes in the sun is enough to turn us lobster red. I'm not even exaggerating. So shade is pretty important for us if we're going to spend any length of time out in the sunshine.
Shade is one of the first things I consider when designing any outdoor living space, and so should you! Today I want to talk about the shade structures and other options available.
The right one for you will depend on factors like your budget and how permanent you want your structure to be. You'll also want to consider whether you need just shade, or shade and privacy.
We're going to go through the pros and cons of each patio shade idea to help you determine the very best choice for your space and budget.
Gazebo
A gazebo is a permanent or semi-permanent structure with a roof. This is what we chose for our own outdoor living room because we need both shade and protection from the rain (yes, it rains here in Seattle even in August!).
And that roof makes it possible for us to put our cushioned outdoor furniture out in April and leave it until October without mildew. You can read all about our experience with it in my Costco Gazebo Review.
Last year we bought a mosquito net that is made to go with our gazebo, and it works fantastically well! I'll do my best to get a photo of it up on the blog later this Summer!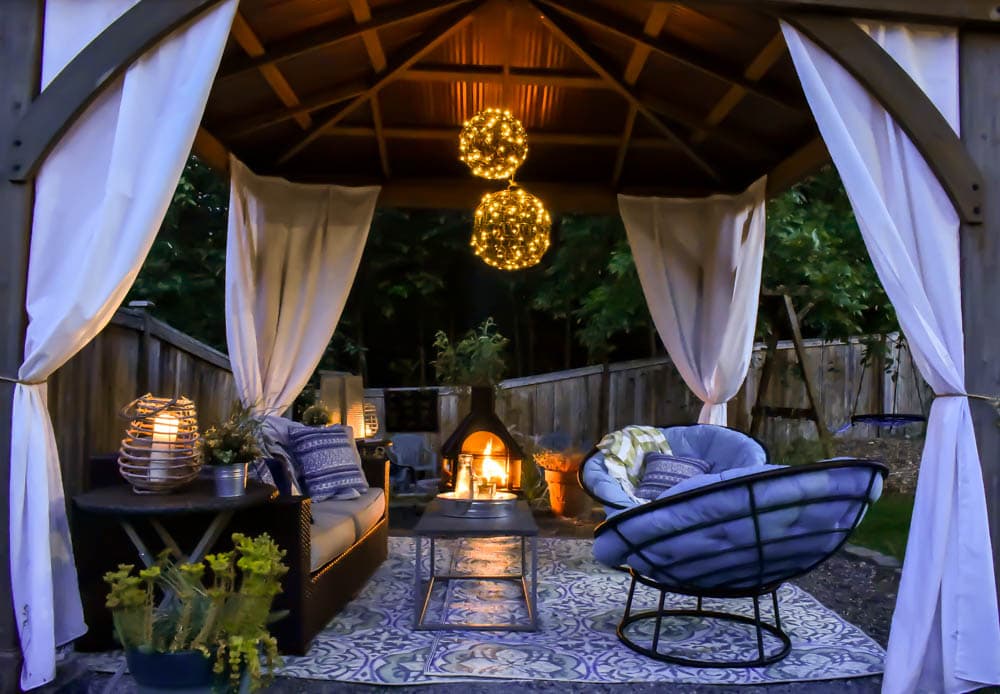 Gazebo Pros
shade
provides a structure to hang lighting
provides a structure to hang curtains
provides a structure to hang mosquito netting
permanent roof provides cover for winter furniture storage
protects furniture from rain
doesn't need to be assembled and taken down with the seasons
you could potentially mount a TV inside (why though?)
we hang an outdoor movie screen from ours once in a while
Gazebo Cons
one of the most expensive options
requires a patio or deck
not easily moveable
Pergola
A pergola is similar to a gazebo, but it doesn't have a roof, or at least not a permanent one. Here are a few examples.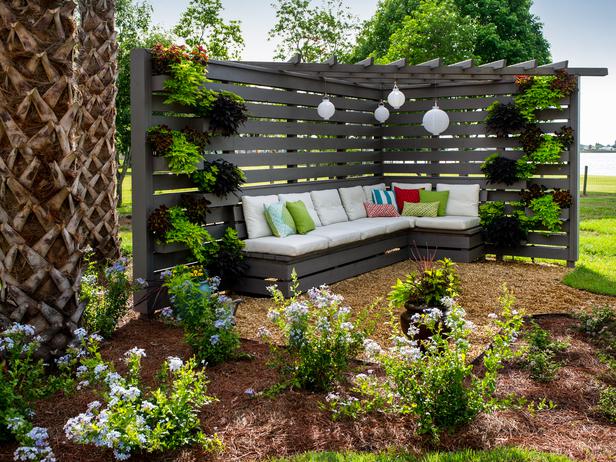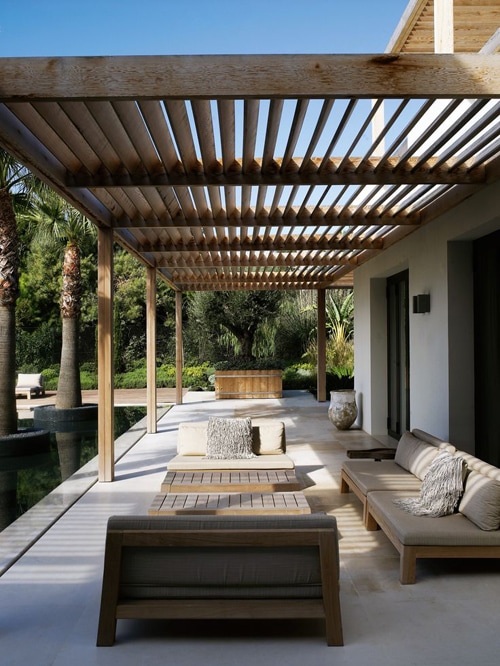 And you can add seasonal shade- usually with either strips of fabric woven through the overhead beams, or growing vines up it. My grandparents had a great pergola over their back patio that was covered in grapevines. Isn't this pergola covered in wisteria stunning?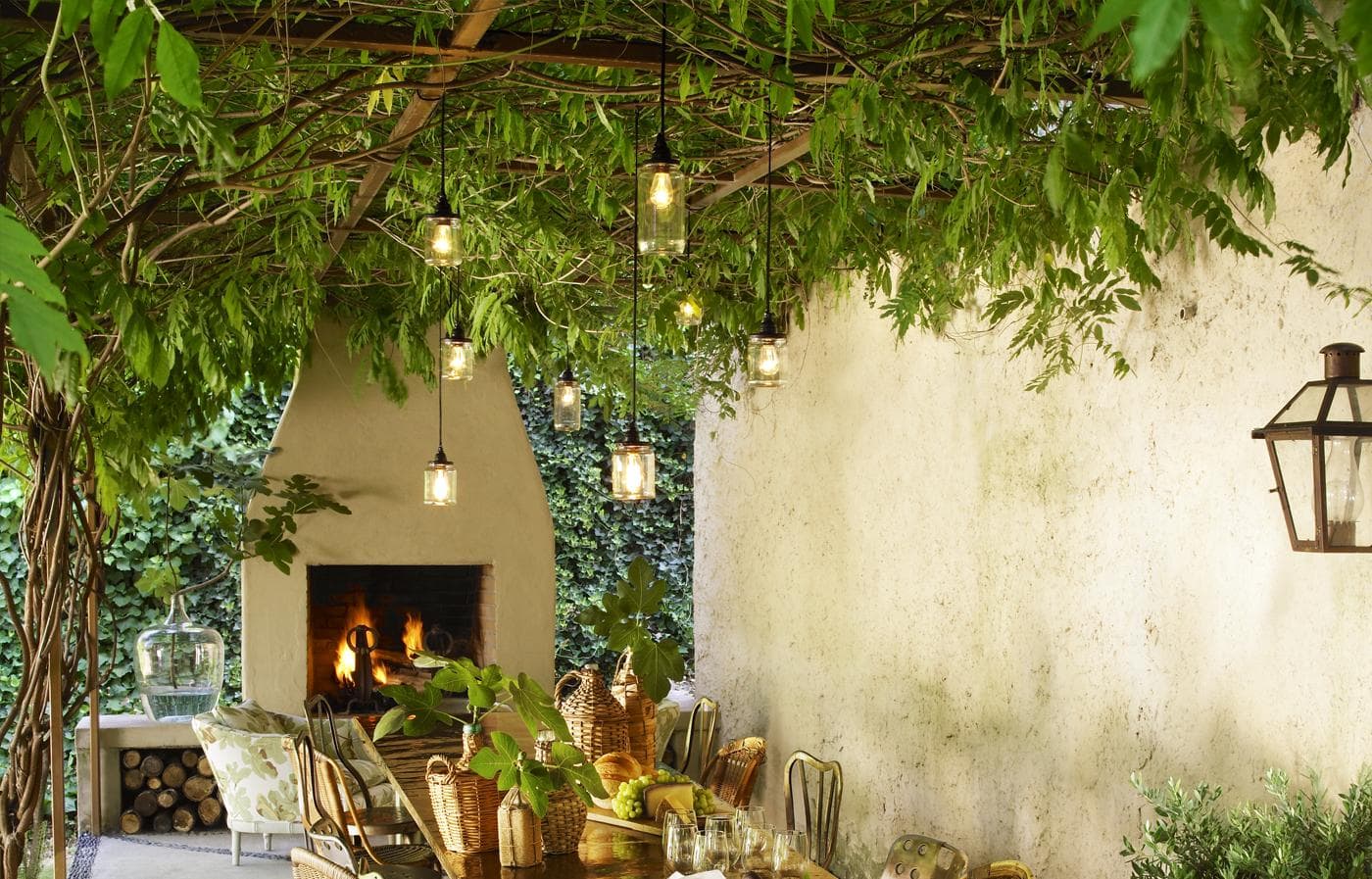 Here's an example of a pergola with shade fabric over the top from Tee at Beauteeful Living.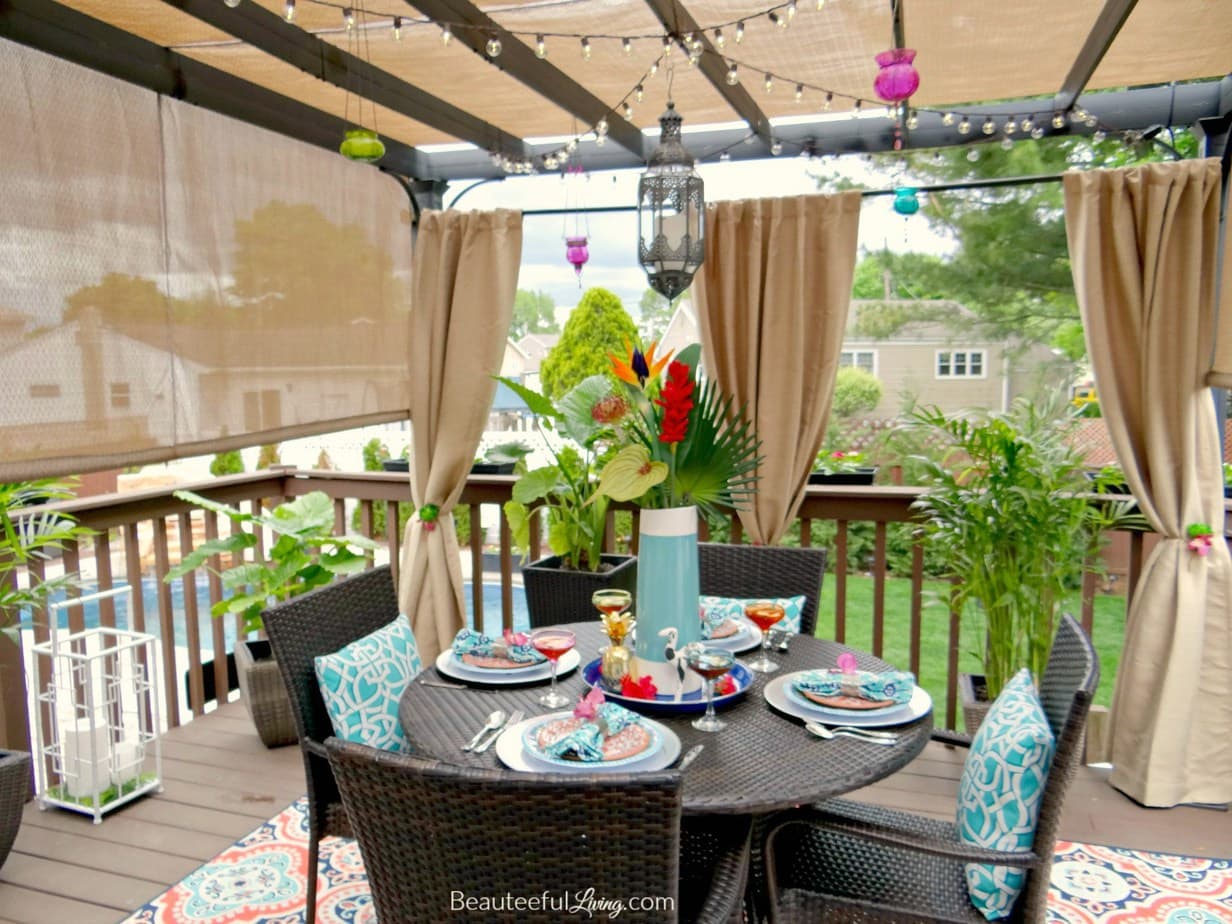 One of the big advantages of a pergola is the ability to have shade in the Summer and not shade in the Winter months.
If you're going to put something right up next to your house where it will be near windows, this is a pretty big deal. I know I would be very sad to lose any of the natural light coming in my windows, especially in the dark dreary months!
Pergola Pros:
can provide shade (if covered in vines or fabric panels)
shade can be seasonal and doesn't have to block light in the Winter
structure to hang lights
structure to hang curtains
structure to hang outdoor movie screen or whatever you like
can place a fire pit under
Pergola Cons:
one of the more pricey options
doesn't have a permanent roof for Winter storage
doesn't protect from rain
not easily moveable
Shade Sail
A shade sail is probably the most inexpensive option here, assuming you already have posts, trees, or a building to attach it to. I've seen them for as low as $20-30, plus the cost of hardware. It's also possible to arrange multiple sails to achieve different amounts of shade coverage.
Kathy and Steve from The Garden Glove show you how to choose and install shade sails in this post. They also have some great hardware recommendations.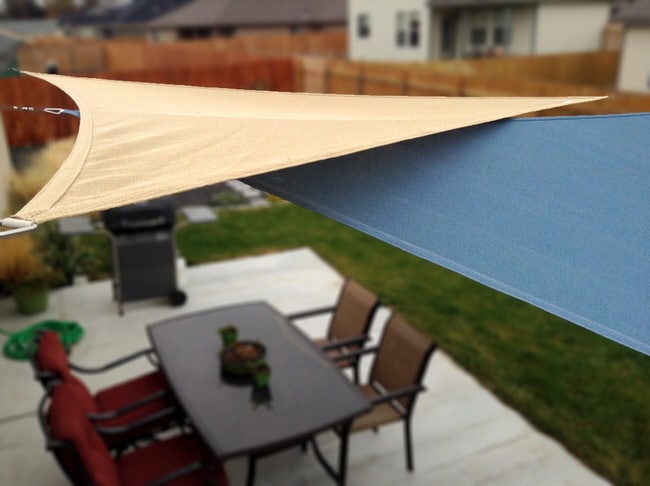 A shade sail can also be the perfect thing if you just have a small space to cover, like this sandbox from Do It Yourself Danielle.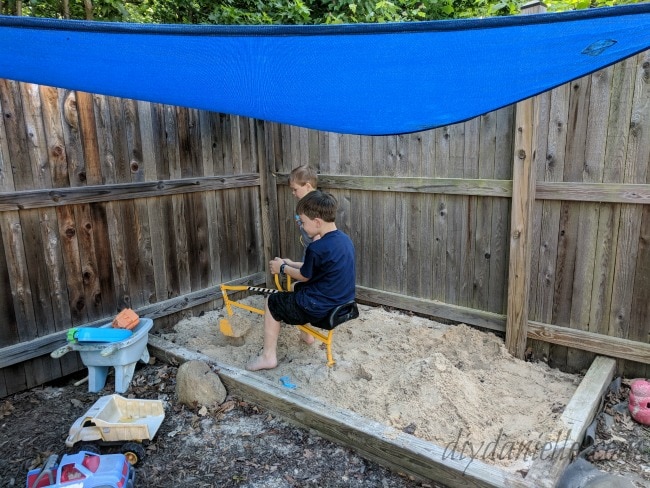 Shade Sail Pros:
very inexpensive
good option for renters
temporary and easy to move or adjust if needed
can be removed in colder months
Shade Sail Cons:
no protection from rain
no structure to hang lights and other privacy features
may need multiple sails to cover the desired area
there may be gaps in the sun protection (think strange triangle-shaped sunburn on your arm)
may need to install posts or build a structure to attach sails to
Umbrella
I'm going to go out on a limb and assume most of us have experience with large shade umbrellas. They're a favorite of restaurants and coffee shops.
An umbrella is perfect for providing shade to a dining table or small sitting area. It's relatively inexpensive, and can be taken in for the off-season.
It also doesn't take up much storage space. Keep in mind it will require a stand or table with a hole in the middle to keep it upright.
Check out this beautiful outdoor living room from Made by Carli.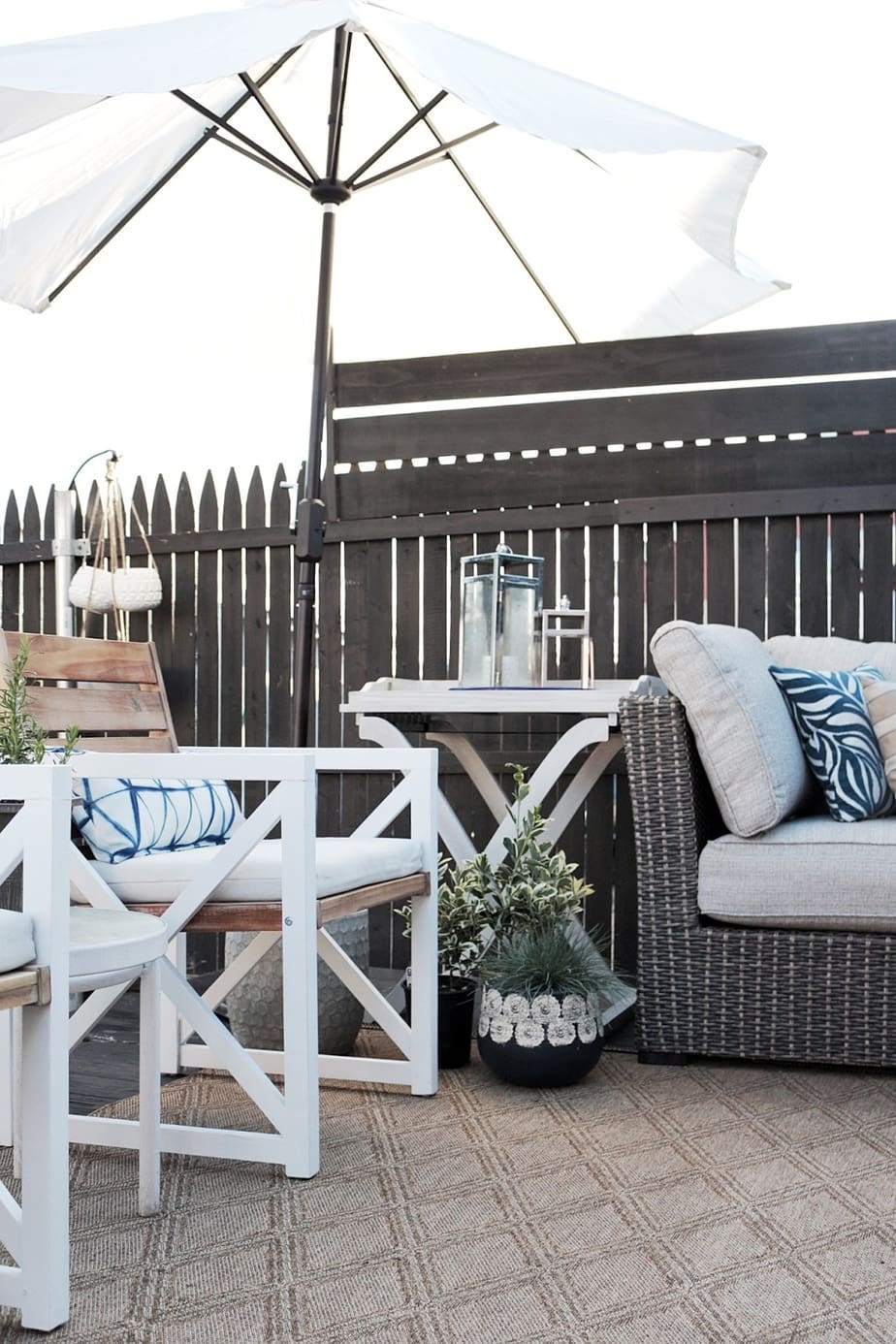 Here's a fun tasseled umbrella DIY from my friend Robin at A Home to Grow Old In: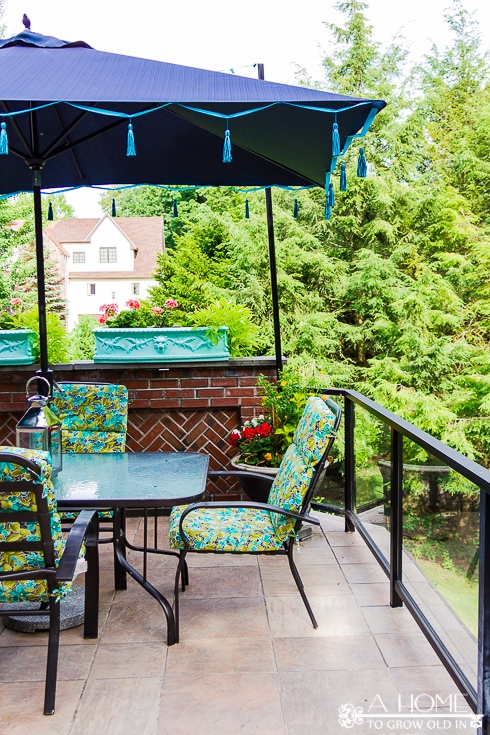 Wendi from H2O Bungalow has a great tutorial to make a planter umbrella stand.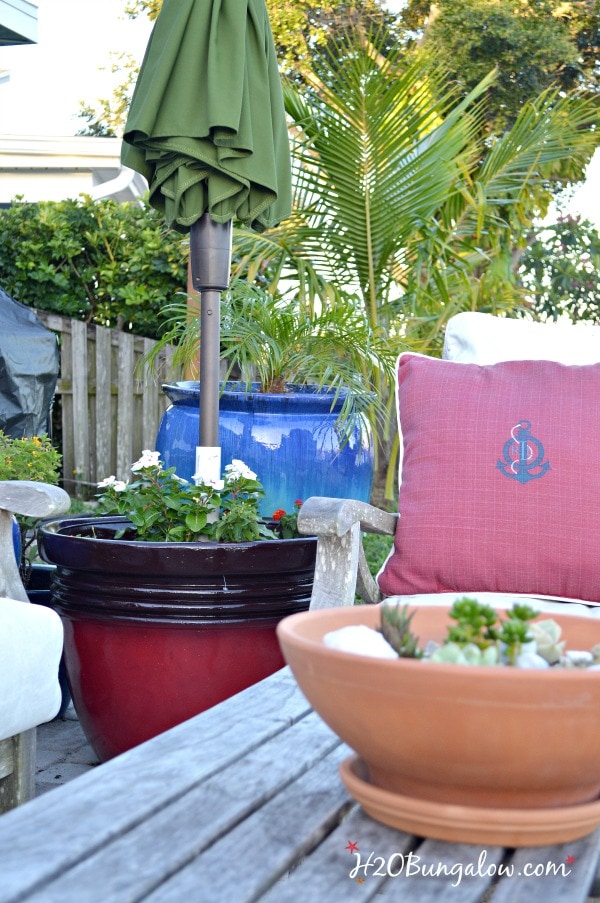 Umbrella Pros:
inexpensive
easy set-up & take-down
doesn't take up much storage space
shade only when needed
great for smaller spaces
great for renters
may be able to hang string lights from it
Umbrella Cons:
only covers a small space
may need to be replaced every few years
Awning
When I think of an awning, the first thing that comes to mind is the scallop-edged monstrosity that hung off the side of my grandparents' camp trailer. But there are definitely more modern options out there.
The great thing about a fabric awning is that it can be rolled up and even removed completely during cooler months. This means it doesn't have to block the natural light coming in your windows in the Winter.
Patio Curtains
Remember the sun isn't always just shining straight down. Depending on the time of day you want to use your space and it's location, standalone curtains could be the perfect thing! And they certainly provide privacy and block anything ugly nearby. This tutorial from Heather at Southern State of Mind is a perfect example!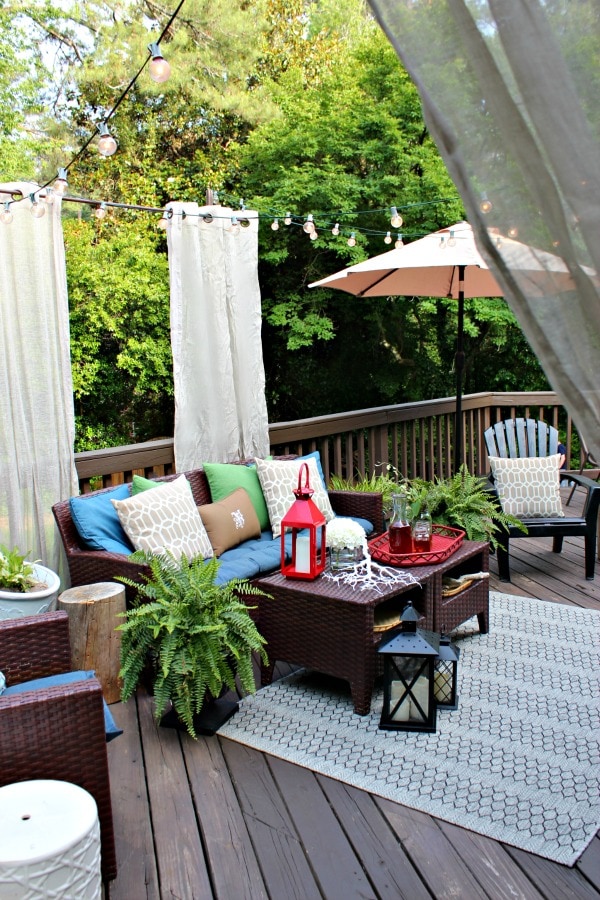 I made these ultra-easy DIY outdoor curtains for my gazebo last year using inexpensive fabric shower curtains. They help shade my outdoor living room.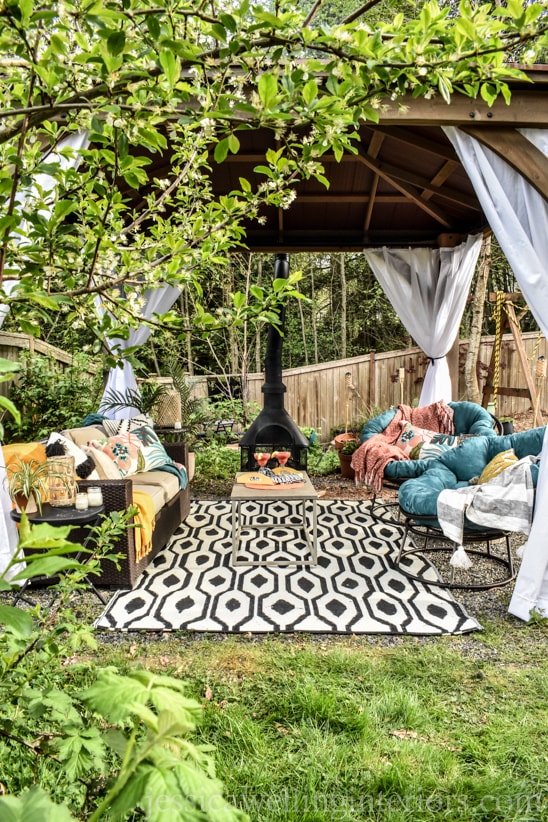 I hope this helps you choose the best shade options for your outdoor living space! Having the perfect amount of shade at the right time of day can make all the difference.
That is, the difference between you sitting in your comfy chair reading a book outside and going back inside.
Did you enjoy this post? Please share the love and PIN IT!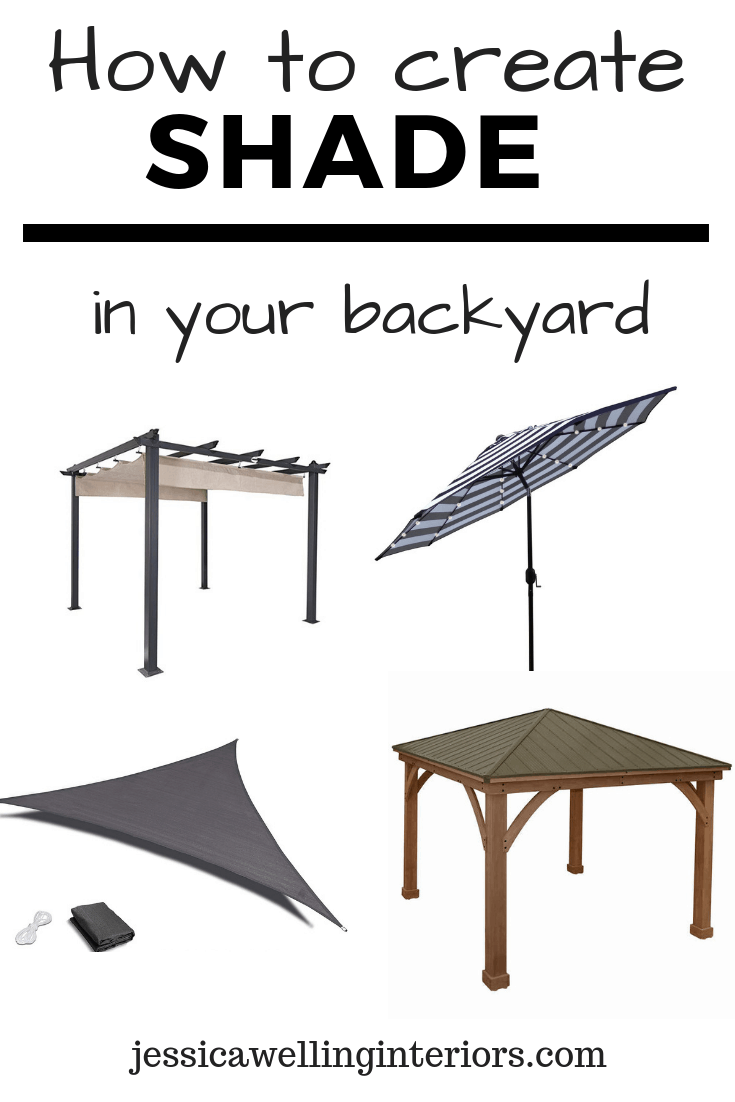 Be sure to check out my other outdoor living posts!
More Patio Ideas…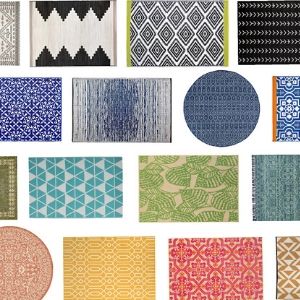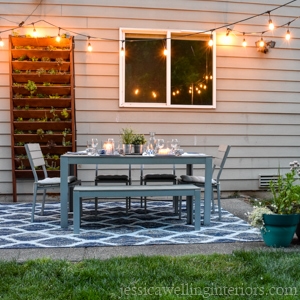 Boho Porch Swings Reveal: Small Front Porch Decorating Ideas