Masculine Wall Art: How to Choose the Right Man Cave Decor
How do you choose the right man cave decor that's both stylish and masculine? Here are 70+ masculine wall art ideas and office decor for men!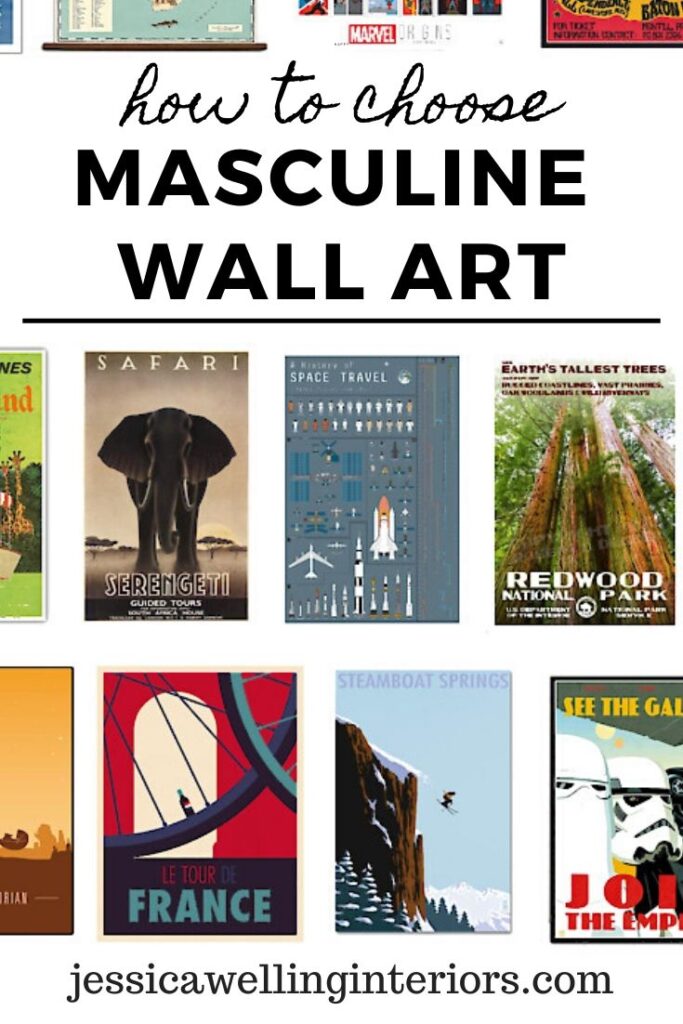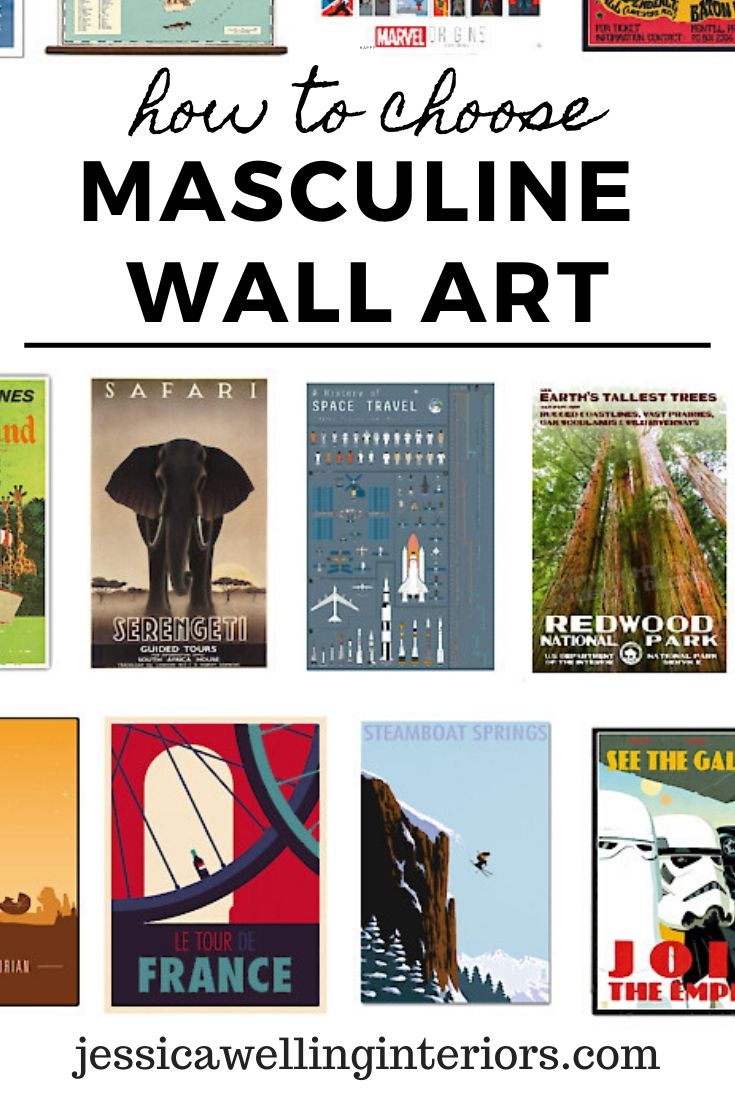 What Is Masculine Decor?
I'm going to make some sweeping generalizations here that won't apply to every guy. But I've observed over and over that my male clients tend to have a strong preference for wood finishes (and often get upset when you want to paint over anything made of wood).
They tend to like leather, metal, and darker, subdued colors. Again this is a generalization.
Masculine decor generally has more angular, clean lines, and the furniture pieces tend to be solid, as opposed to light and airy.
I try to use bold geometric patterns and avoid anything that feels fussy or cutesy. For instance, a sign that says "man cave" or "gone fish'in" or anything purchased at Hobby Lobby is out. (No offense… I do love you Hobby Lobby!)
Side note: Do you remember those "Billy the Bass" singing fish plaques? I remember they were a hot white elephant item at Christmas parties for a few years there in my pre-teens! Sorry those are out too.
But with this in mind, I've found some stylish wall art that will appeal to many common masculine interests. These posters and art pieces make great gifts for men! If you're not sure where to start, here's a list of ideas.
Masculine Wall Art Themes
classic cars
boats
beer/whiskey/wine
football
baseball
basketball
hockey
skiing/snowboarding
fishing
airplanes
maps
Star Wars
Marvel
soccer
bicycling
outdoor recreation
camping
motorcycles
music
architecture
golf
food
baseball
animals
space travel
films
cameras
travel
hunting
gaming
robots
This is just a list to get you thinking. And if I haven't found the exact right art piece, hopefully this will give you direction to find it on your own.
Charts
I recently discovered Pop Chart, a company that makes awesome art posters, and I'm totally hooked! Many of them are masculine themes- baseball stadiums, sneakers, objects from the Wizarding World, beer, sandwiches, space travel, etc.
In fact, I found so many cool chart posters that I couldn't fit them all on one page and had to split it into 2! Check out their website for even more options. These charts would make great office decor for men too!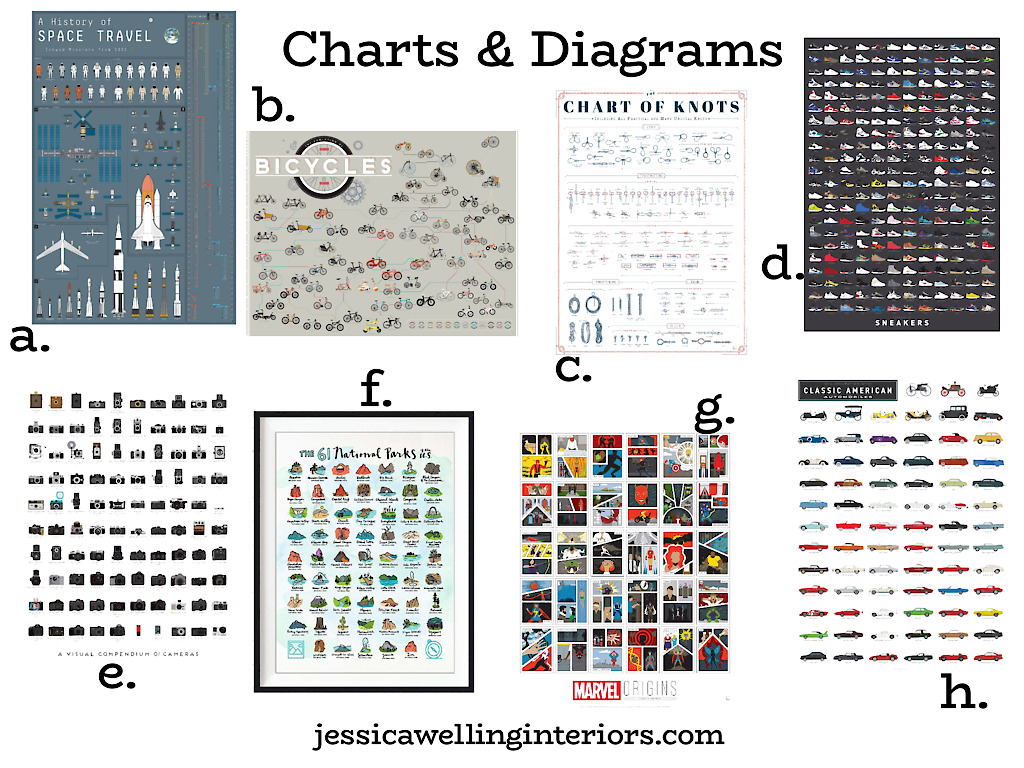 a. A History of Space Travel Chart
e. A Visual Compendium of Cameras
f. The 61 National Parks of the U.S.
h. A Collection of Classic American Automobiles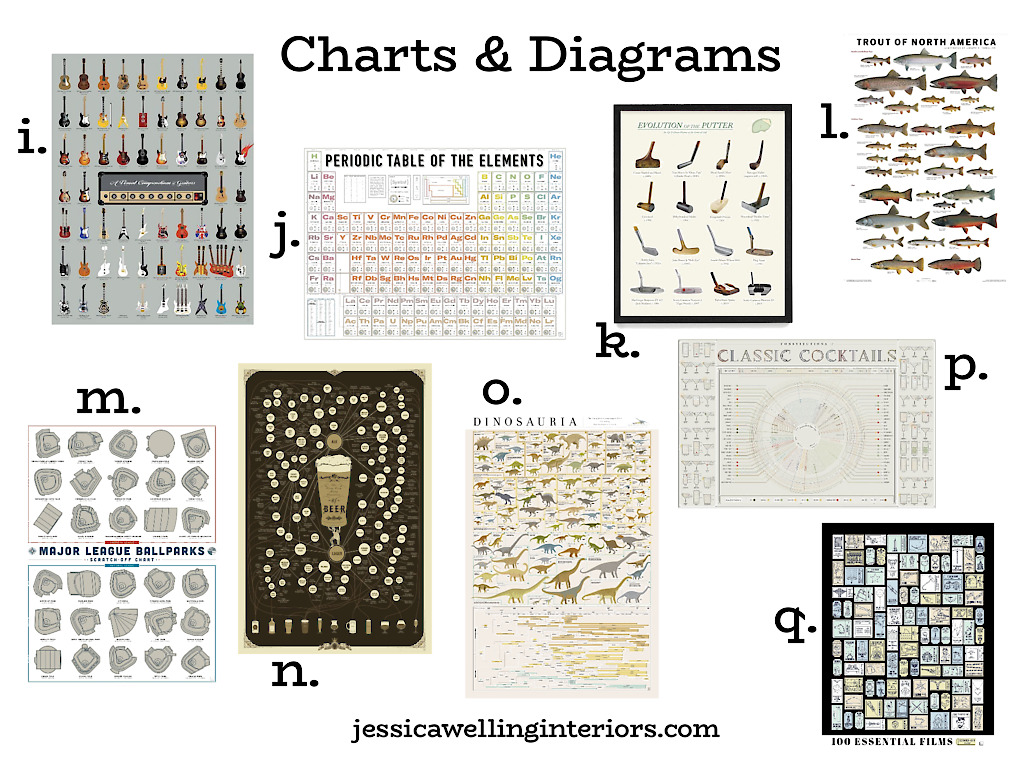 i. A Visual Compendium of Guitars
j. Periodic Table of the Elements
k. Evolution of the Golf Putter
m. Major League Ballparks Scratch-Off
n. The Very Very Many Varieties of Beer
p. Constitutions of Classic Cocktails
q. 100 Essential Films Scratch-Off
Maps
Maps make excellent wall art! Especially when they depict a place with special significance, whether it's a favorite vacation spot, a map of sports teams, Middle Earth (Lord of the Rings), a famous golf course, the Gallaxy, or Disney World.
The key is to find maps that either have modern or vintage flair, depending on the room. It's also important that the maps' colors fit into the room's color scheme.
And most of the maps and wood cutouts below come in other states, islands, etc. Just click the link and search for your state or location.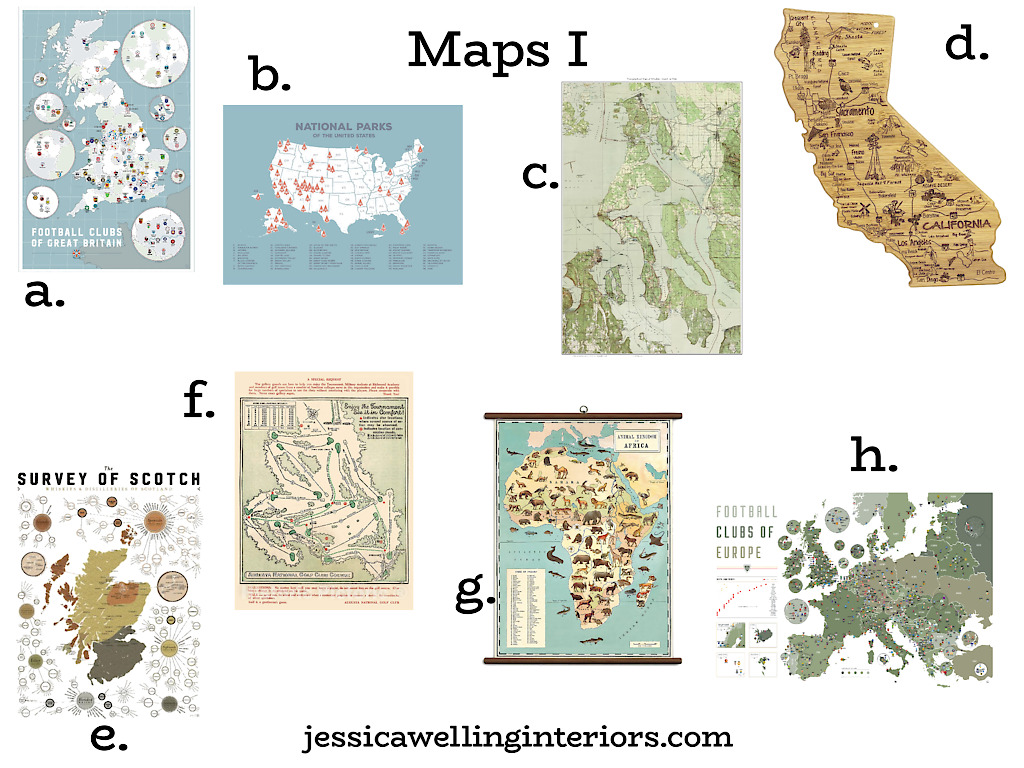 a. Football Clubs of Great Britain
b. National Parks of the United States
d. California Bamboo Cutting Board/Wall Art
f. Augusta National Golf Club Course Map, 1954
g. Animal Kingdom of Africa Vintage School Chart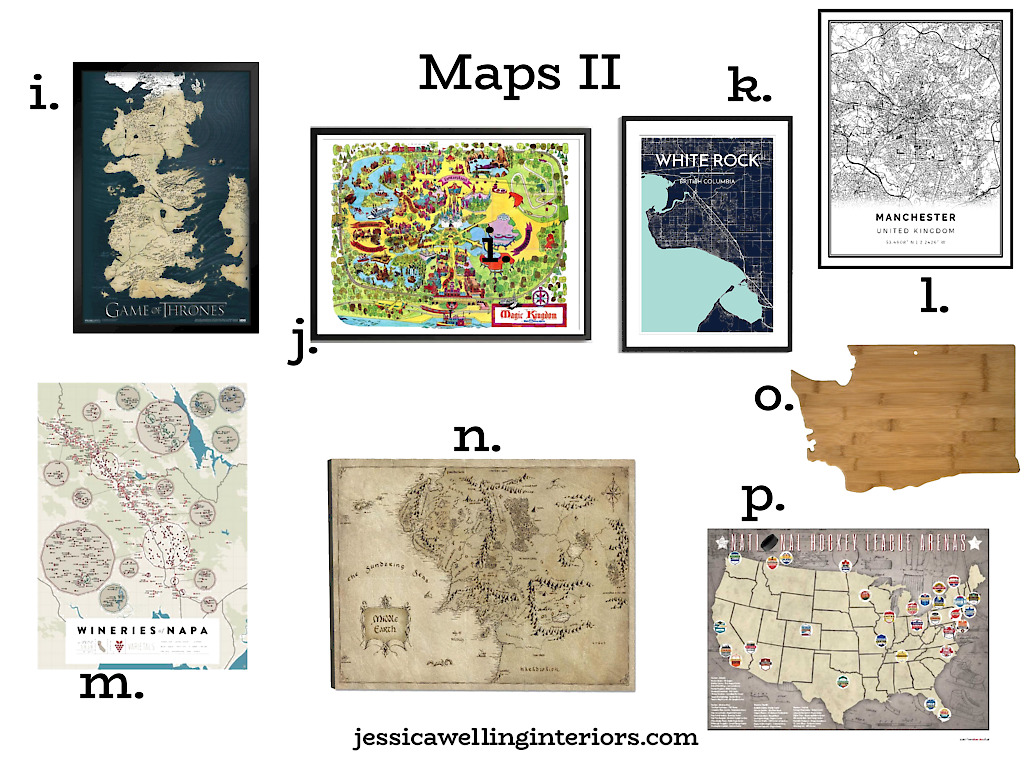 i. Map of Westeros (Game of Thrones)
j. Vintage Disney World Park Map, 1973
k. White Rock, British Columbia City Map
n. Map of Middle Earth (Lord of the Rings)
o. Washington State Bamboo Cutting Board
p. National Hockey League Arenas Map
Schematic Drawings
Schematic drawings of his favorite things will make a great tasteful style statement. You can find patent drawings of all sorts of things on Amazon, from motorcycles to spaceships, to camping gear. Here are a few ideas to get started.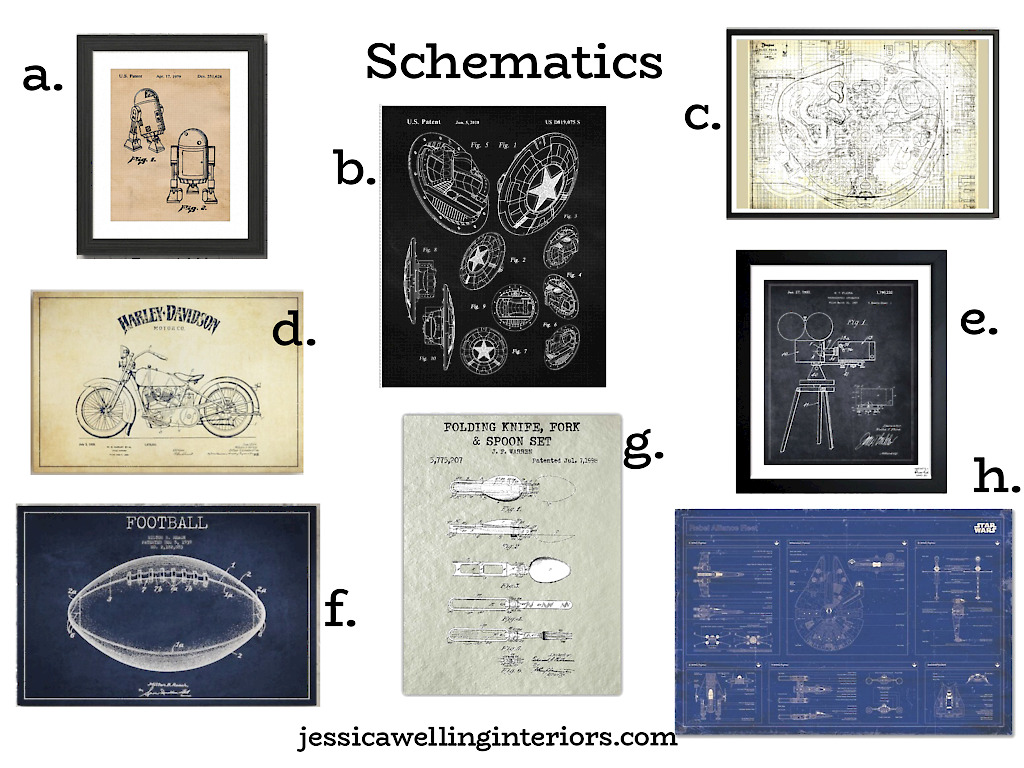 a. Vintage Star Wars R2D2 Patent Poster
b. Captain America Shield Patent Poster
c. 1960 Disneyland Park Layout Poster
d. Harley-Davidson Vintage Patent Blueprint
e. Photographic Apparatus 1931
g. Camping Patents- Folding Fork, Knife & Spoon Set Blueprint
h. Star Wars Rebel Alliance Fleet Schematics
Black and White Photography
Black and white photo art prints never go out of style. They work great in simple poster frames or as wrapped canvases. And if you want to go really bold, consider a black and white photo mural to cover a whole wall! More mural ideas later…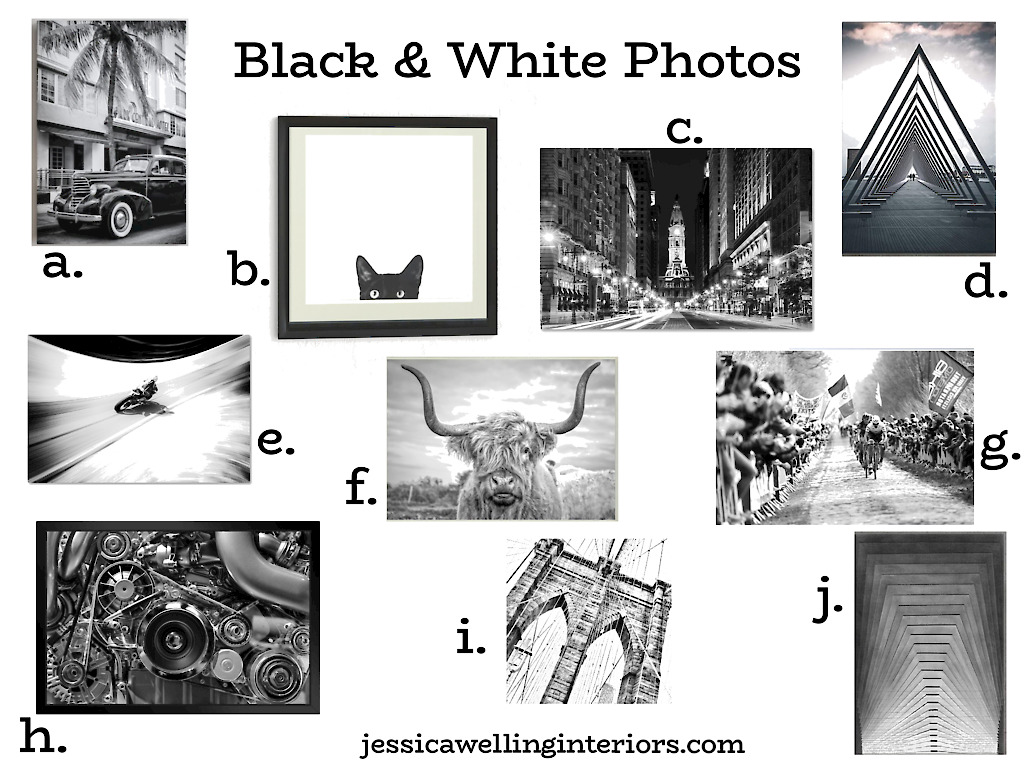 a. Vintage Car & Art Deco District Print
c. City Hall Philadelphia Print
d. Triangular Architecture Abstract
e. "A Smoother Road" Graphic Print
f. Highland Cow Canvas-Wrapped Print
g. 2016 Spartacus France L Enfer Du Nord Cycling Paris Roubaix TrouÃe D Arenberg
j. Modern Abstract Architecture
Vintage Posters
Vintage ads and posters can make fabulous wall art. They have a cool retro vibe and are often in slightly more subdued colors than modern day ads, which is perfect. Think favorite movies, old concerts, vintage ads for favorite vacation spots or sporting events, etc.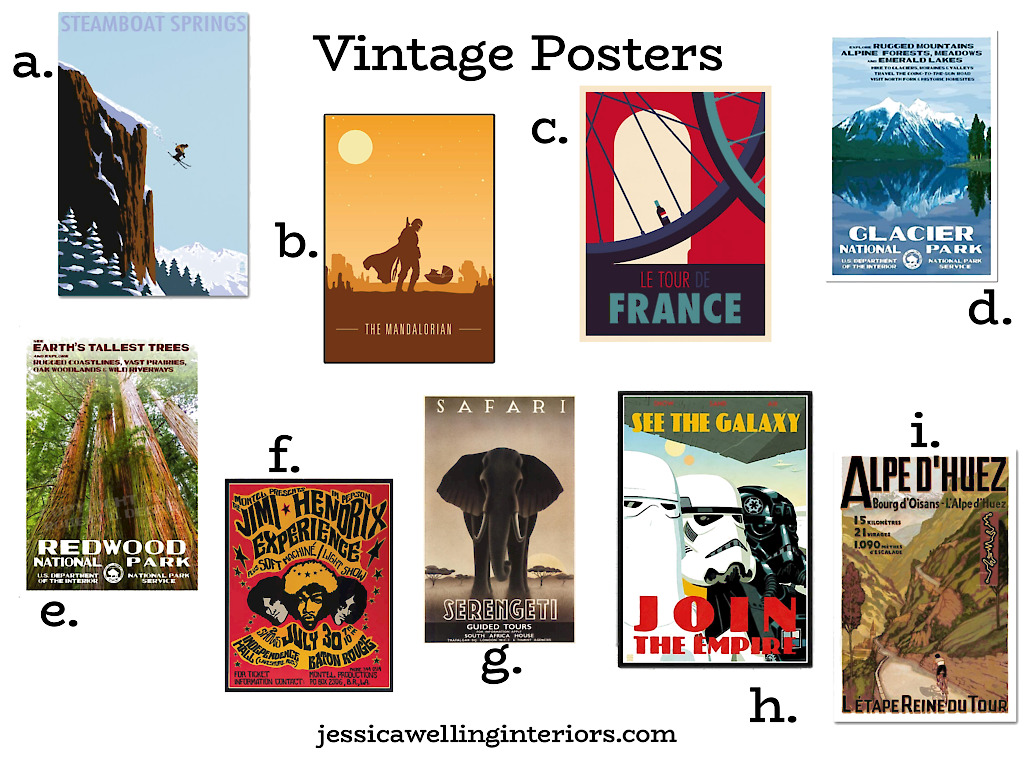 a. Steamboat Springs 48′ Vintage Advertisement on Canvas
b. The Mandalorian Silo Scene Poster
c. Tour de France Vintage Advertisement
d. Glacier National Park Poster
e. Redwood National Park Poster
f. Jimi Hendrix Vintage Wall Art Print
g. Serengeti Vintage Art Print Poster
h. Classic Star Wars Painting Poster
Abstract Wall Art for Men
Abstract art is often perfect office decor for men. It's stylish and beautiful, and unlikely to give offense to clients or coworkers who don't happen to appreciate the same sports team or variety of whiskey. It's also great for men who don't know what kind of art they like. I try to look for abstract art that ties into the room's overall color scheme. There's certainly plenty to choose from!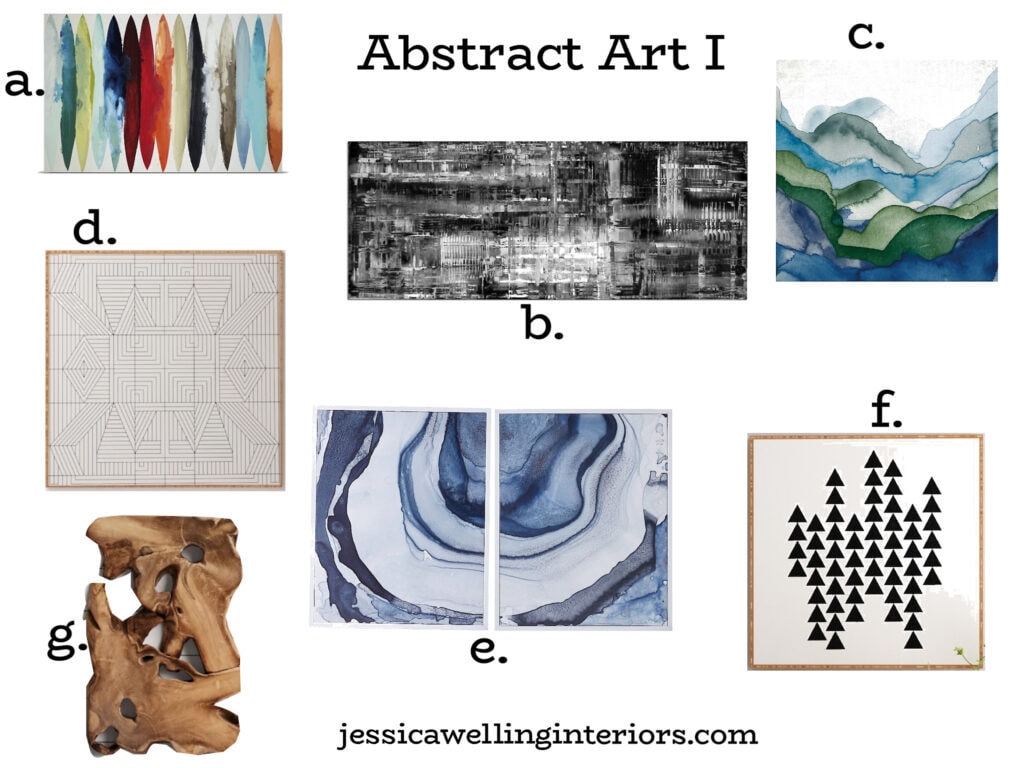 a.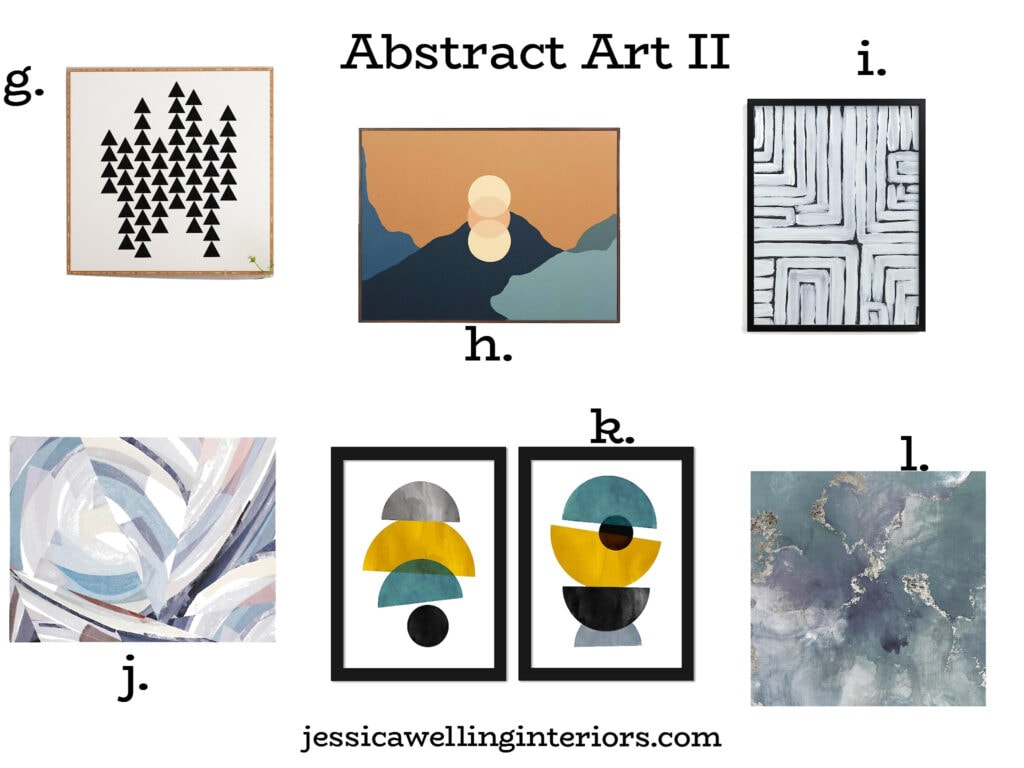 Cool Paintings for Guys
Paintings of animals, nature, Stormtroopers, block prints, etc. can make great masculine wall art. Just steer clear of paintings that are too realistic, cutesy, or overly romantic. Here are a few paintings I think would go well in a man's office, home or man cave: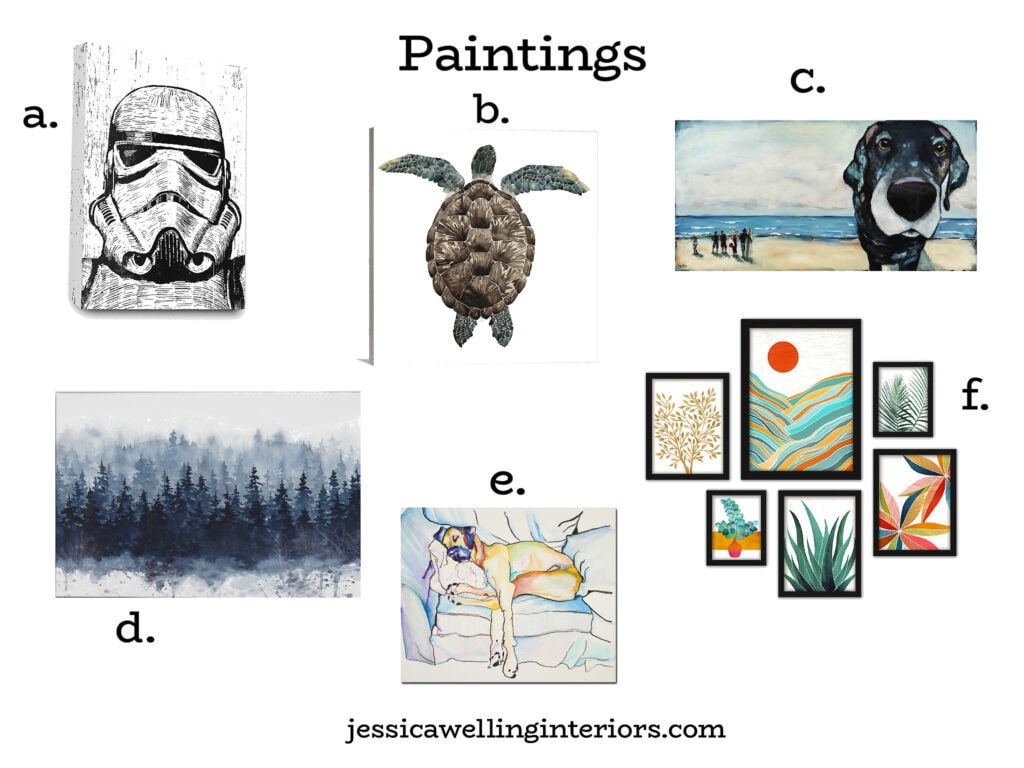 a. Star Wars Stormtrooper Etching on Canvas
b. Mathieu Mosaic Turtle Wall Art
d. Black Fan Palm by Cat Coquillette Wrapped Canvas
e.
Plants & Trees
Cacti, trees, leaves, and even houseplants can be great subjects for manly wall art. Most men will prefer to steer clear of florals in their man caves though. Here are a few examples of masculine wall art featuring plants & trees: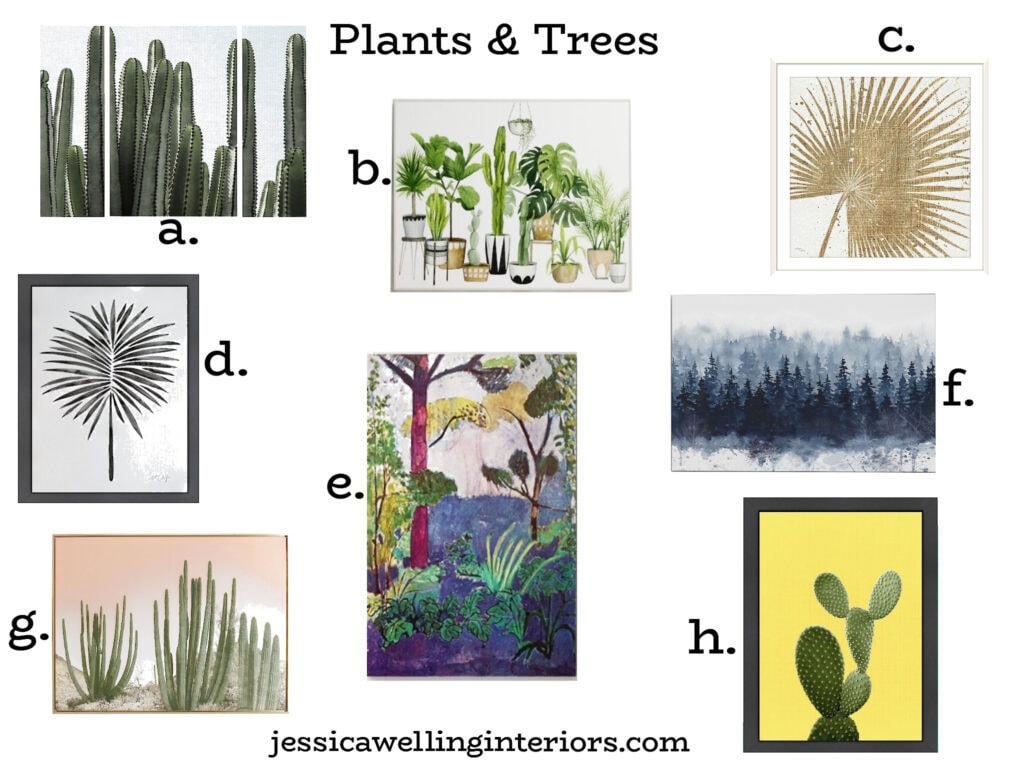 Murals
Peel-and-stick murals are hugely popular right now, and make a big modern style statement in a home office, man cave, or even living room or bedroom. It's usually best to keep the mural to a single accent wall so the room doesn't feel overwhelming.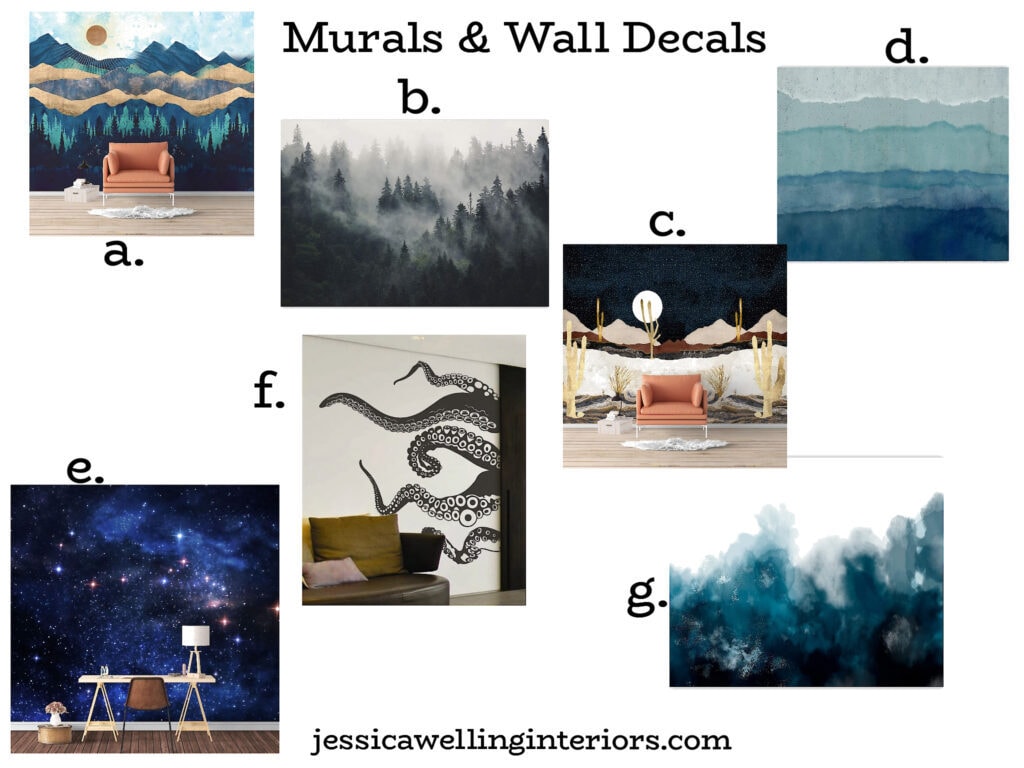 a. Nordic-Style Nature Landscape Wall Mural
b. Foggy Forest Removable Wall Mural
c. Nordic Desert Landscape Mural
d. Ocean Wave Blue Abstract Wall Mural
e. Removable Galaxy Wall Mural
f. Kraken Octopus Tentacles Wall Decals
g. Abstract Blue & White Wall Mural
Frames
And finally, we need to talk about finding frames for those cool posters and prints you just found, so you don't end up with a dorm-room vibe in your man cave. Here are a few of my favorites. I recommend sleek frames with clean lines for most masculine art. Alternatively, you can order your art on a wrapped canvas.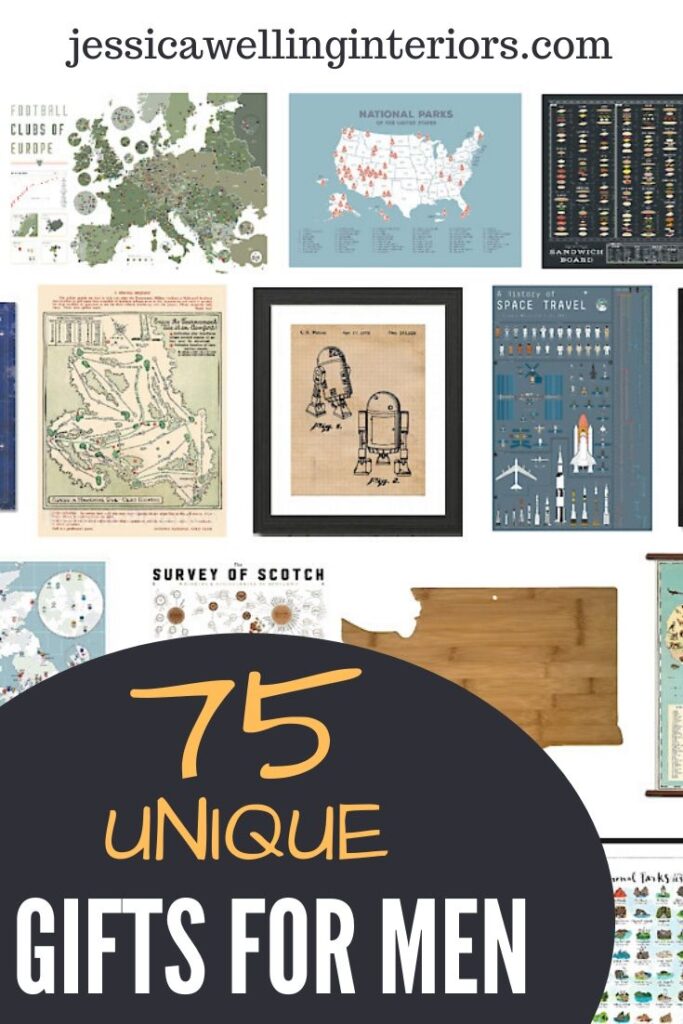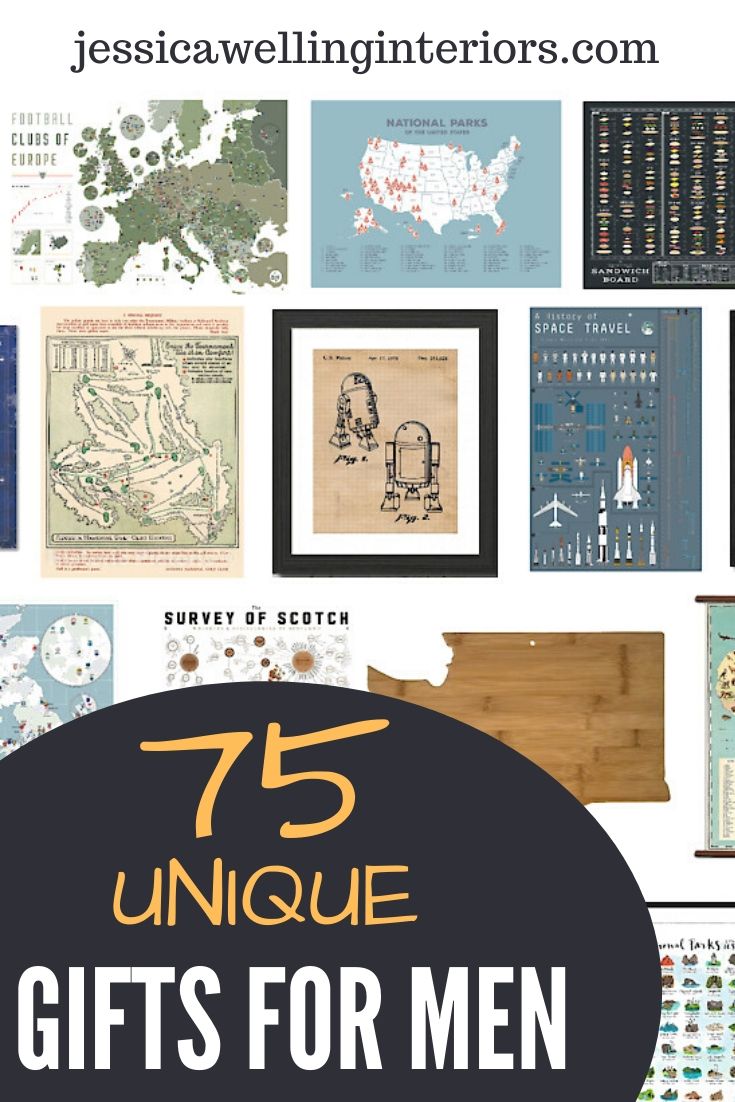 The Best Home Office Desks On The Cheap!