The Best Home Office Gifts for Guys
In my experience, some men can be difficult to find shop for (I'm looking at you Dad!). After designing many, many home offices, I've put together a list of home office gifts for guys to fit any budget.
Whether you're looking for something fun, practical, or just something to hang on those blank walls, I've got some great ideas in here for you.
Under $10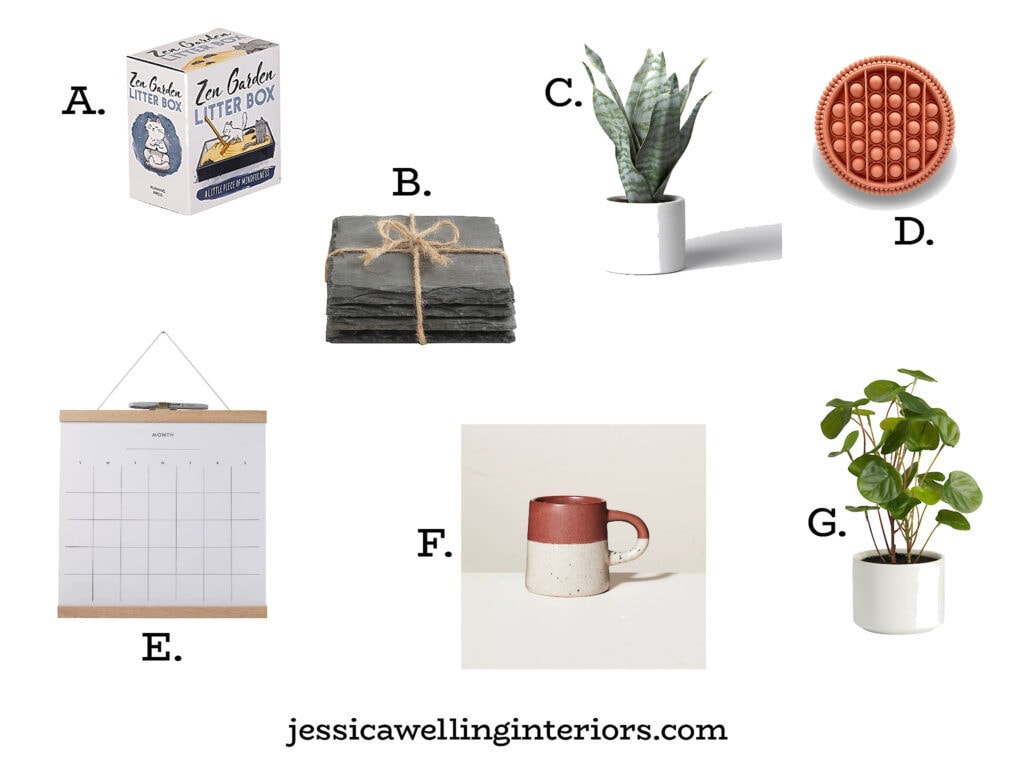 A. Zen Garden Litter Box, from Amazon
B. Square Slate Coasters, from World Market
C. Artificial Snake Plant in Pot, from Target
E. 14″x14″ Monthly Dry-Erase Wall Calendar, from Target
F. 18 Oz. Stoneware Mug, from Target
G. Faux Chinese Money Plant in Ceramic Pot, from World Market
Under $20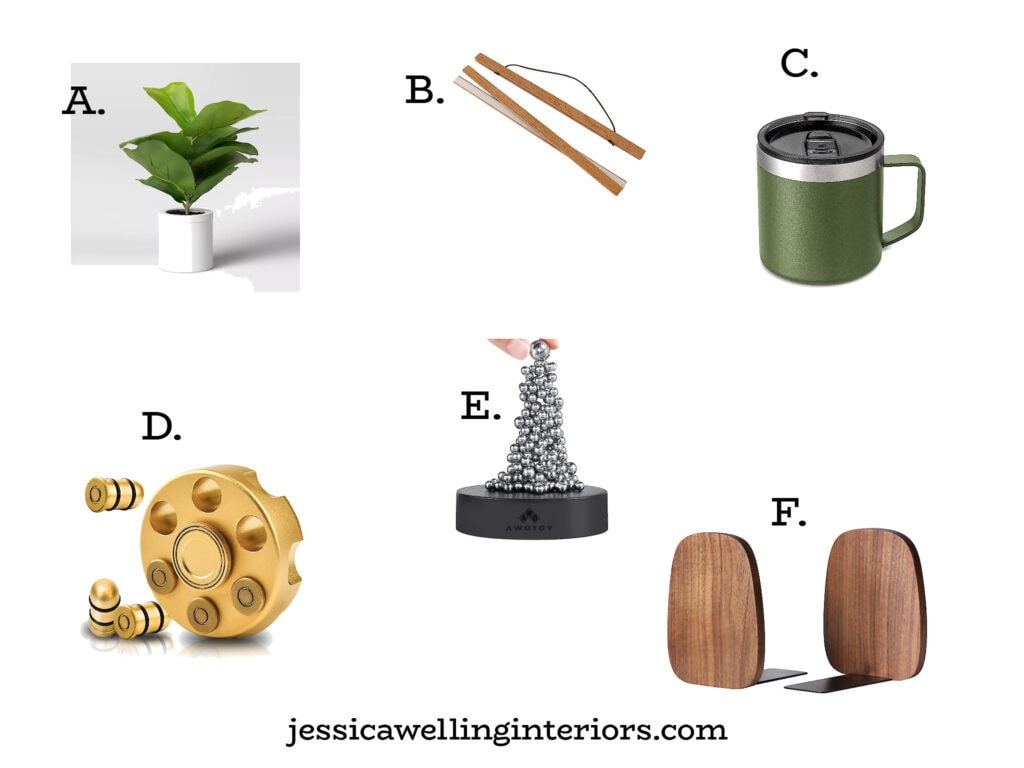 A. Artificial Fiddle Leaf Plant in Pot, from Target
B. Magnetic Poster Hanger Frame, from Amazon
C. 14 Oz. Vacuum Insulated Coffee Mug, from Amazon
D. Alloy Metal Fidget Spinner, from Amazon
E. Desk Sculpture Fidget Toy, from Amazon
Under $30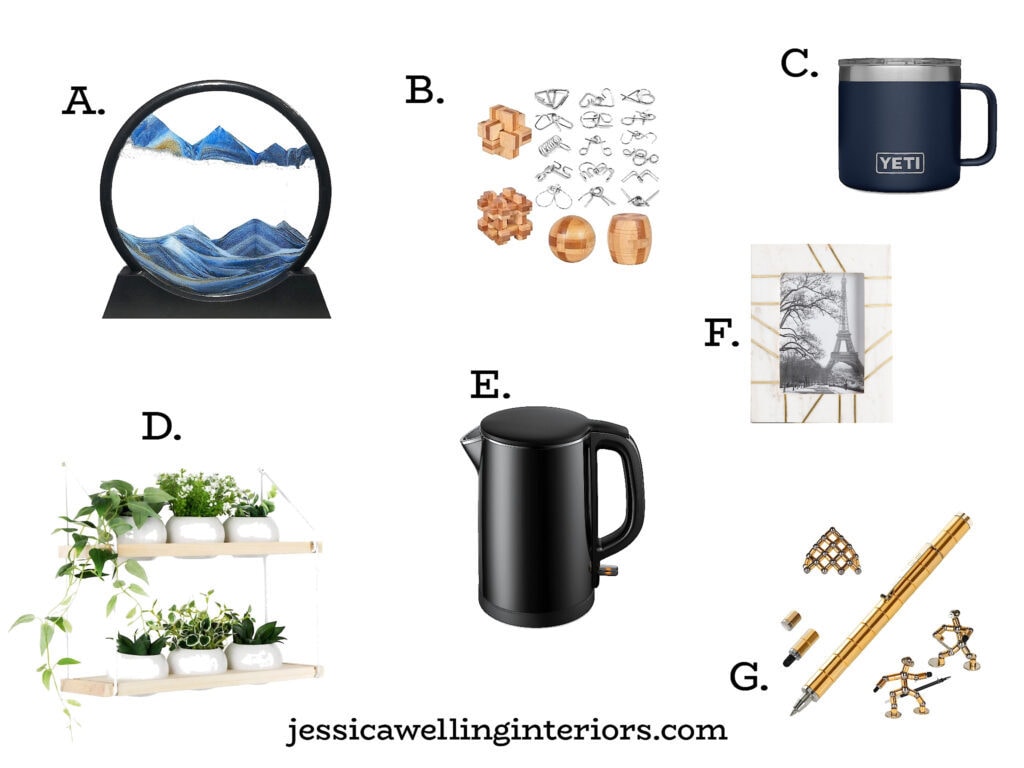 A. Moving Sand Art Sandscape, from Amazon
B. Brain Teaser Puzzle Set, from Amazon
C. Yeti Rambler 14oz Mug, from Amazon
D. 2-Tier Wooden Planter Set with 6 Pots, from Amazon
E. Electric Kettle, from Amazon
F. White Marble Frame with Brass Inlays, from World Market
G. Magnetic Sculpture Pen, from Amazon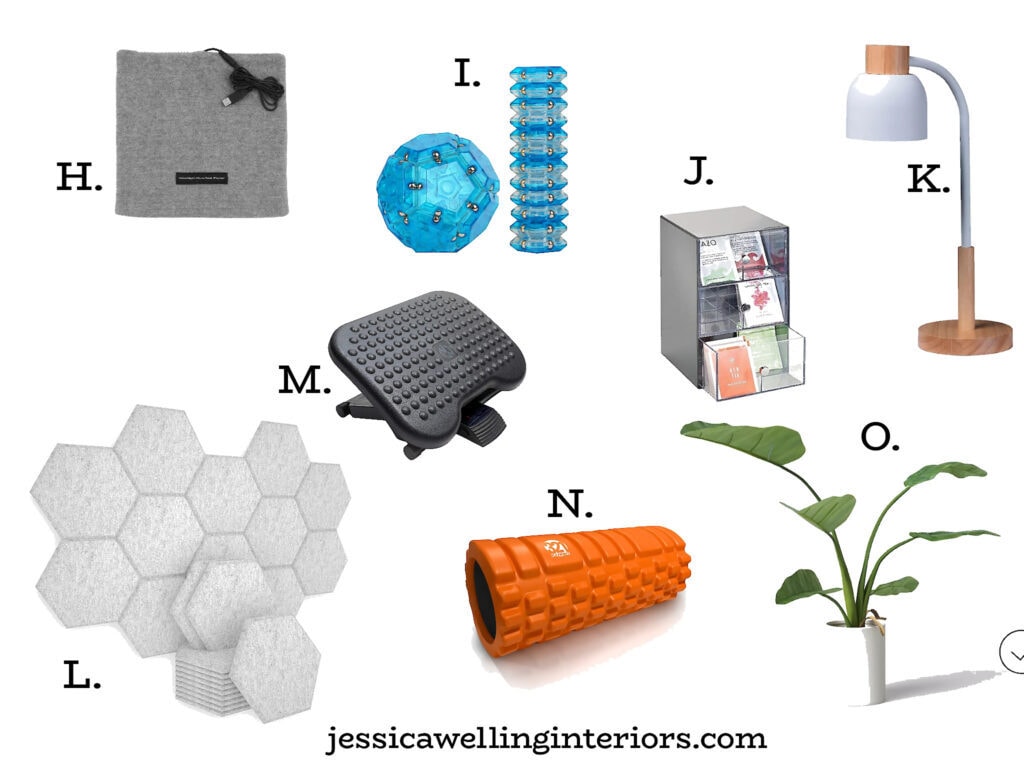 H. USB Mousepad Hand Warmer, from Amazon
I. Magnetic Decompression Sphere Desk Toy, from Amazon
J. Coffee & Tea Organizer, from Amazon
K. Wood Trim Desk Lamp, from Target
L. Hexagon Acoustic Soundproof Wall Panels, from Amazon
M. Adjustable Ergonomic Under-Desk Foot Rest, from Amazon
N. Deep Tissue Massager Foam Roller, from Amazon
O. Artificial Traveler's Banana Leaf in Pot, from Target
Under $50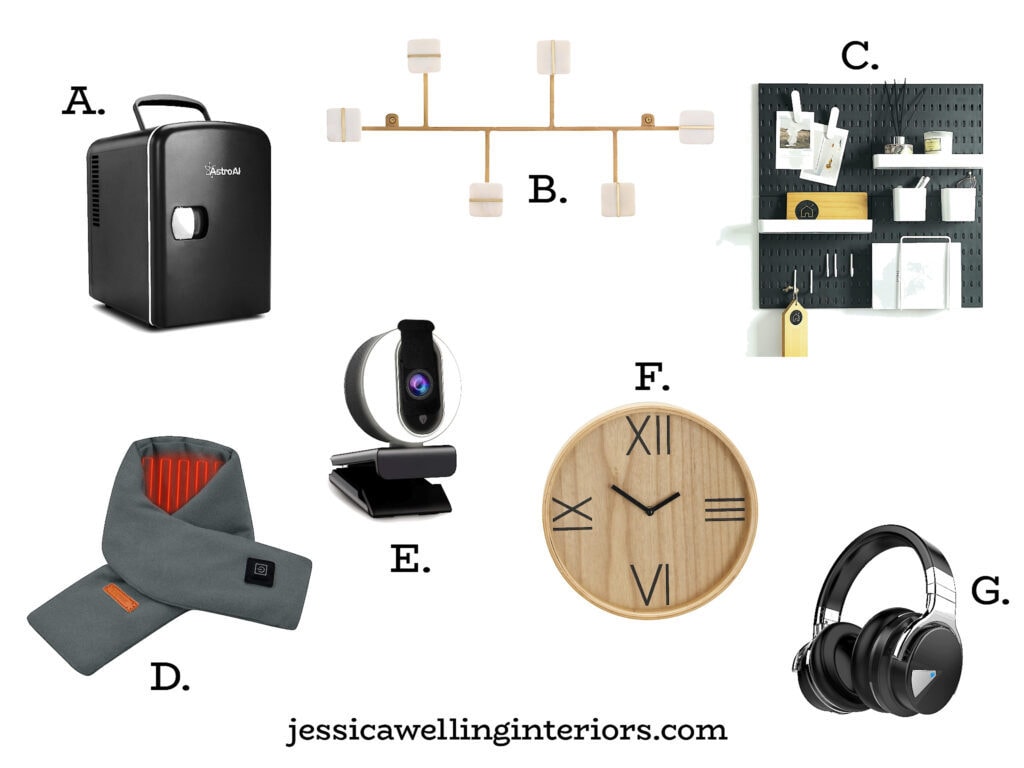 A. 6 Can Electric Beverage Cooler, from Amazon
B. White Marble and Gold Metal Wall Rack, from World Market
C. Pegboard Combination Kit Wall Organizer, from Amazon
D. Electric Neck Heating Pad, from Amazon
E. 1080p Webcam with Light & Microphone, from Amazon
F. Light Brown Wood Contemporary Wall Clock, from World Market
G. Active Noise-Cancelling Headphones, from Amazon
Under $100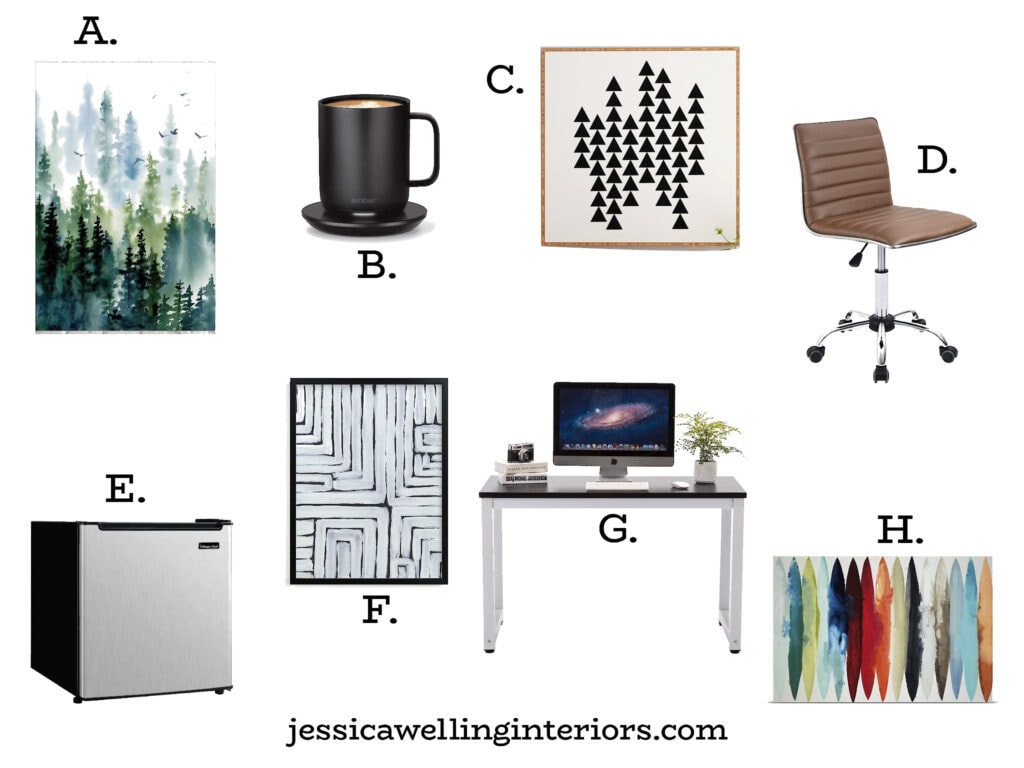 A. Treeline Wrapped Canvas Painting, from Wayfair
C. Arrowing Graphic Art on Wood, from Wayfair
D. Walnew Manager's Chair, from Walmart
E. 1.7 Cubic Foot Mini Fridge in Stainless Steel, from Home Depot
F. White Stripes & Black Lines Painting, from Minted
G. Wood Computer Workstation, from Walmart
H. Even Flow Wrapped Canvas Painting, from Wayfair
Over $100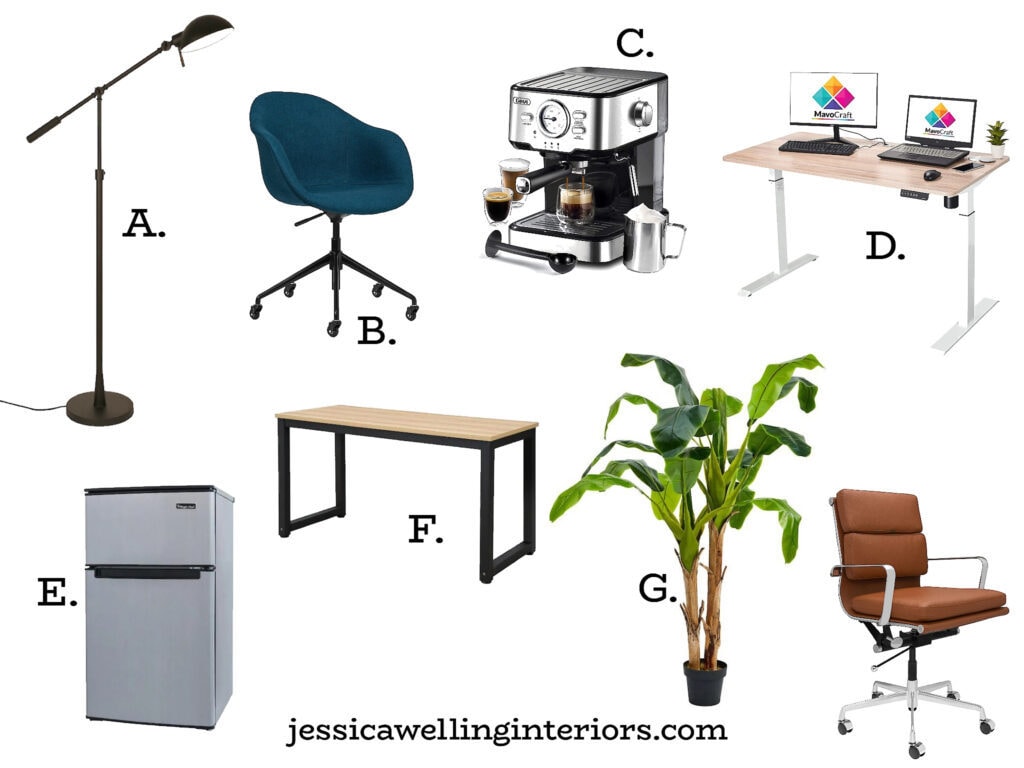 A. Kamila 61″ Floor Lamp, from Wayfair
B. Astoria Office Chair in Blue, from Amazon
C. Gevi Espresso Machine, from Amazon (I have this machine and love it!)
D. Electric Height-Adjustable Desk, from Overstock
E. 3.1 Cu Foot Mini Fridge, from The Home Depot
F. Adjustable-Height Computer Desk, from The Home Depot
G. Artificial Banana Leaf Tree in Pot, from Wayfair
H. SOHO Soft Pad Management Chair, from Amazon
More Home Office Ideas…
The Best Home Office Gifts for Her On Any Budget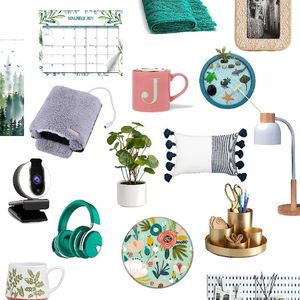 Masculine Wall Art: How to Choose the Right Man Cave Decor