Living Room Rug Placement: The Ultimate Guide
Living room rug placement, plus choosing the right size and shape of area rug for your space is easy with this design guide!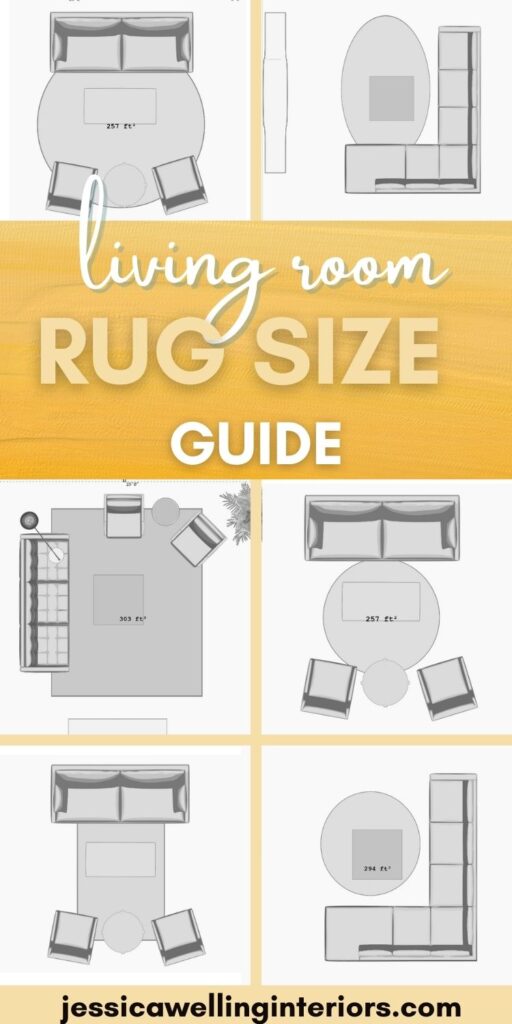 Today let's talk about living room rug placement.
Choosing a living room rug can be a tricky business. I see a lot of folks just freeze up when it comes time to find a rug, and forgo one altogether. But I'm here to take the guess work out the size and placement of your rug.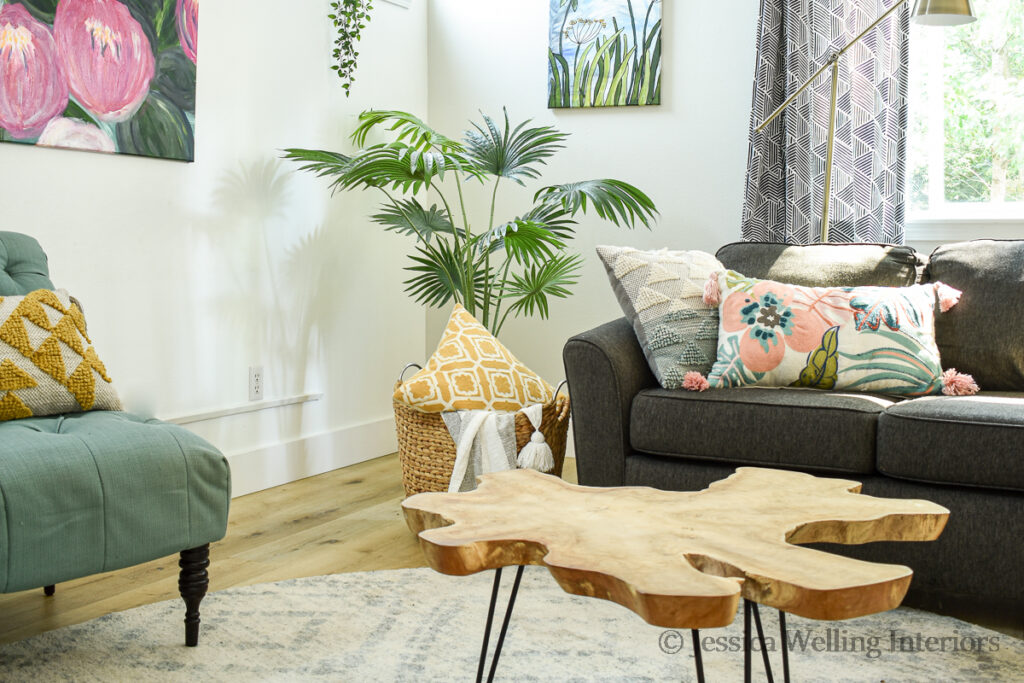 Does My Living Room Need A Rug?
If you have hard floors (hardwood, vinyl, tile, etc.) in your living room, you definitely need a living room rug!
In addition to adding cozy texture and softness to a room, a rug helps to define the space and makes it feel separate from the other areas in your home.
This is especially important if you have an open floorplan or great room concept home, where the kitchen, dining, and living rooms are all in one large open space.
Do you see how much cozier and complete the room on the right (below) looks with a rug?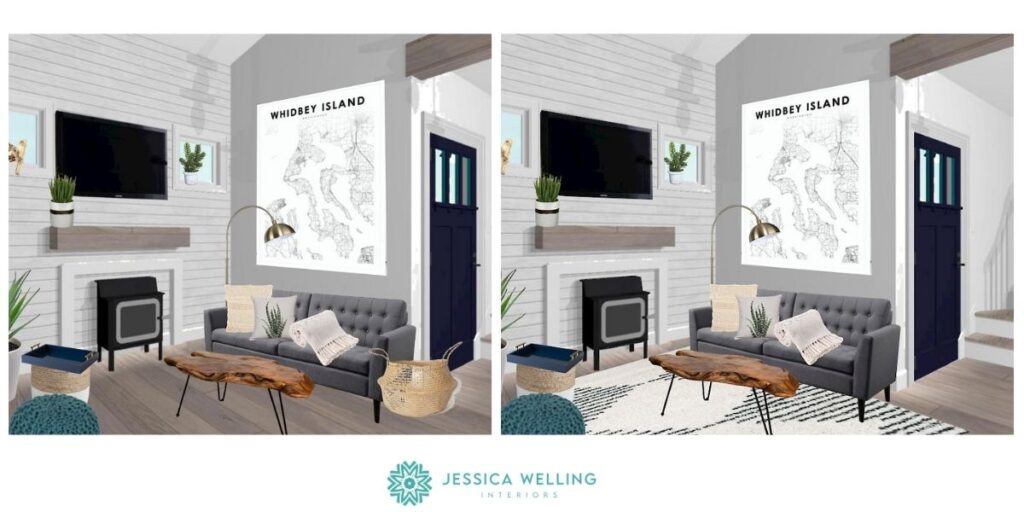 The rug pulls the room together and makes it feel complete.
Common Rug Mistakes
The most common mistake I see people make with rugs is buying one that's too small. And I get it- rugs can be expensive, and the price goes up exponentially as
they get bigger.
And if you're looking to buy an area rug off the shelf at your local retailer, you'll generally find that they only stock smaller sizes. But if you see something you like, you can usually order the same rug in a larger size from their website.
Most standard-sized living rooms need at least an 8'x10′ rug. AT LEAST.
What is a Seating Group?
In the interior design world, a "seating group" is just what it sounds like- a group of seating furniture generally found in a living room or TV room. This group could include a sofa and two chairs, two sofas, a sectional and a chair, 4 armchairs, a sofa and loveseat, etc.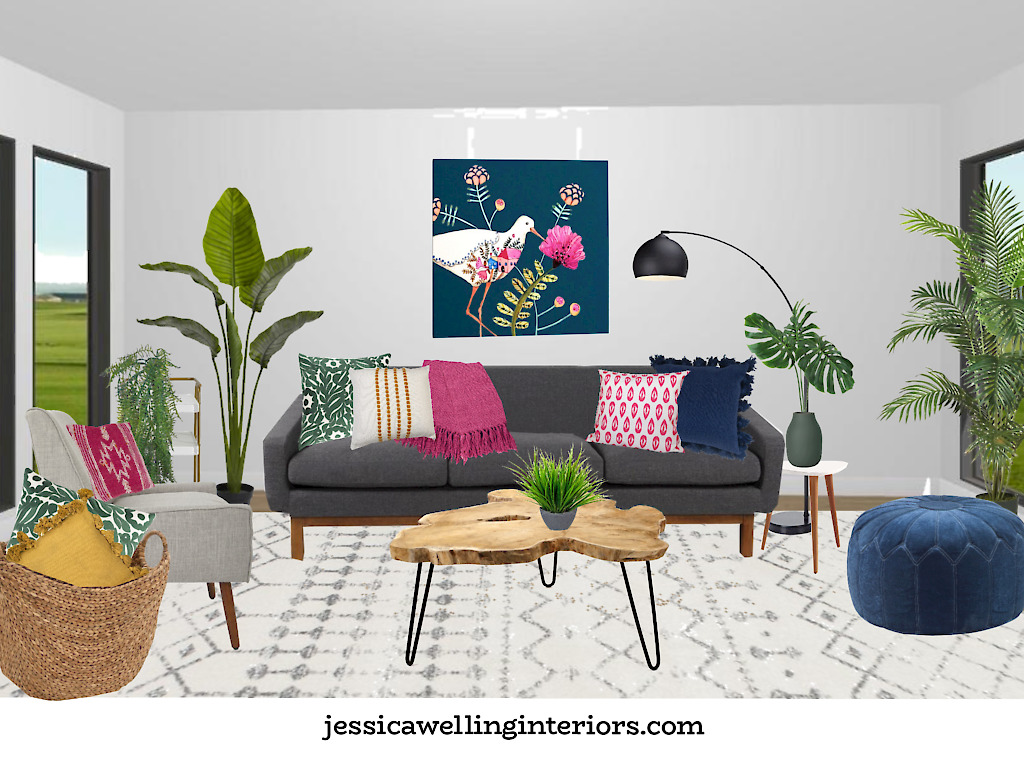 The two sofas in the living room floorplan below form a seating group.
The pieces should be oriented toward one another, and placed close enough together that people can comfortably have a conversation without having to shout across the room.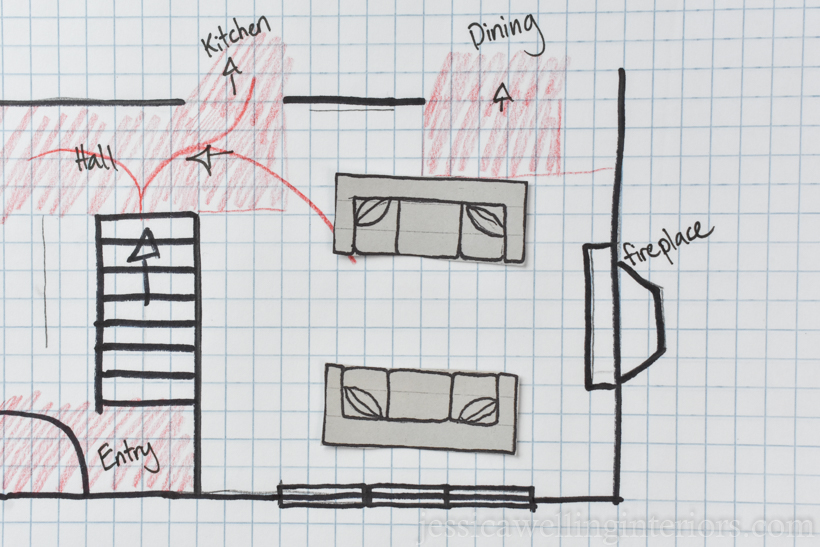 You'll want to choose the larger seating furniture pieces (i.e. sofa or sectional and chairs) and determine where they will go before determining which size and shape of rug you want.
Then, and only then, should you go shopping for a rug!
How to Choose The Right Size Rug
Measure and Draw A Rough Floorplan of Your Living Room
I have my students measure their living room and draw a scale floorplan (like the one above) so they can use the scale furniture pieces to arrange everything in their room before making any big purchases. It's easier than you think!
Taking the living room below, you can see that a 10′ round rug is ideal for this space. It's large enough that the front legs of both sofas can sit on top of it. And the two sofas can sit far enough apart for a coffee table between them and space to walk around.
Plus the round shape of this rug provides some interest, since everything else in the space is square or rectangular.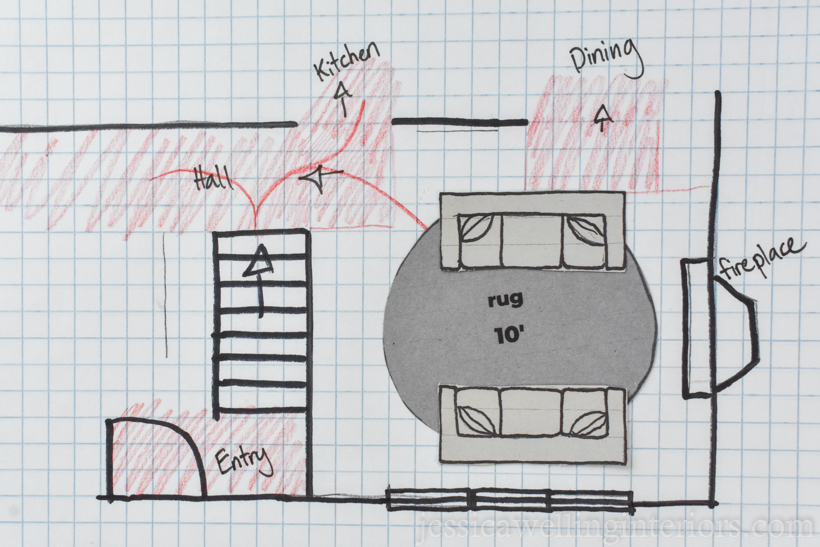 We could also use a 10′ square or an 8'x10′ rug in this room.
Measuring Tape Method
The other option is to get out a measuring tape and some painter's tape, and measure out the length and width of the rug you want to purchase in your room, with the other furniture already in place. Mark the outline of the rug's dimensions on the floor with the painter's tape.
This will help you visualize the size and shape of the rug in your living room before you bring one home.
I've also found that the more heavy furniture is actually sitting on the rug, the less likely the rug will move around and rumple up- especially when Crazy Dog goes flying toward the front door to greet visitors!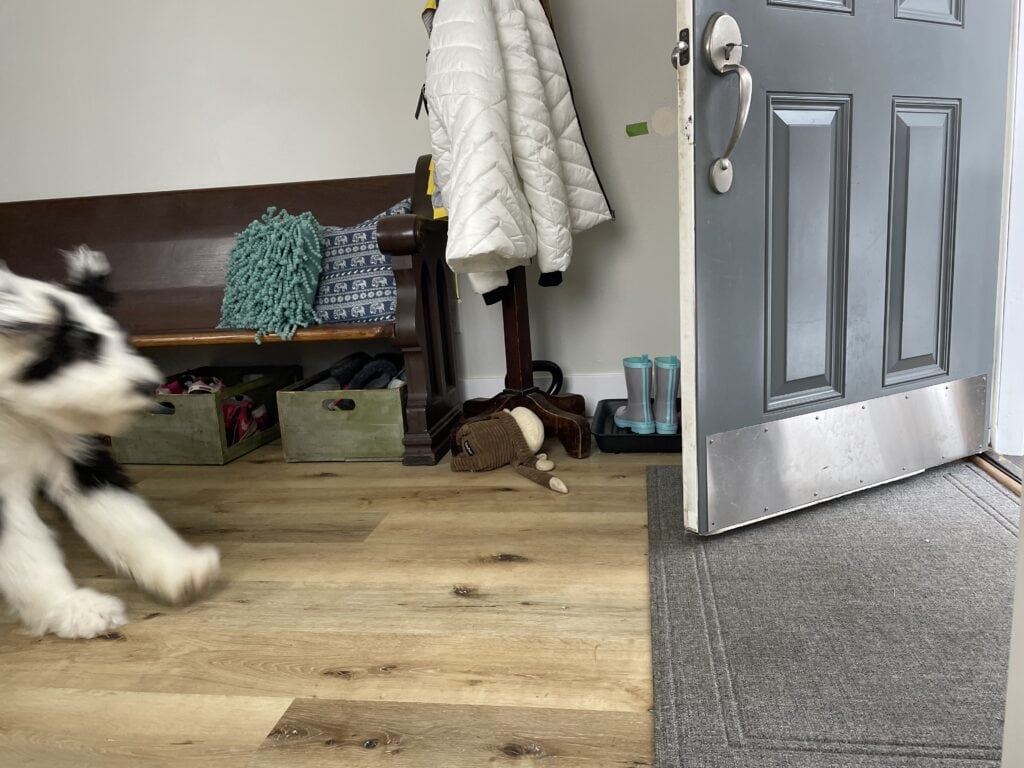 Please tell me I'm not the only one with this problem?
The most important thing is that the front legs of all the important seating furniture sit on the rug!
Living Room Rug Placement With A Sectional
Here's an example of a TV room with a large sectional sofa: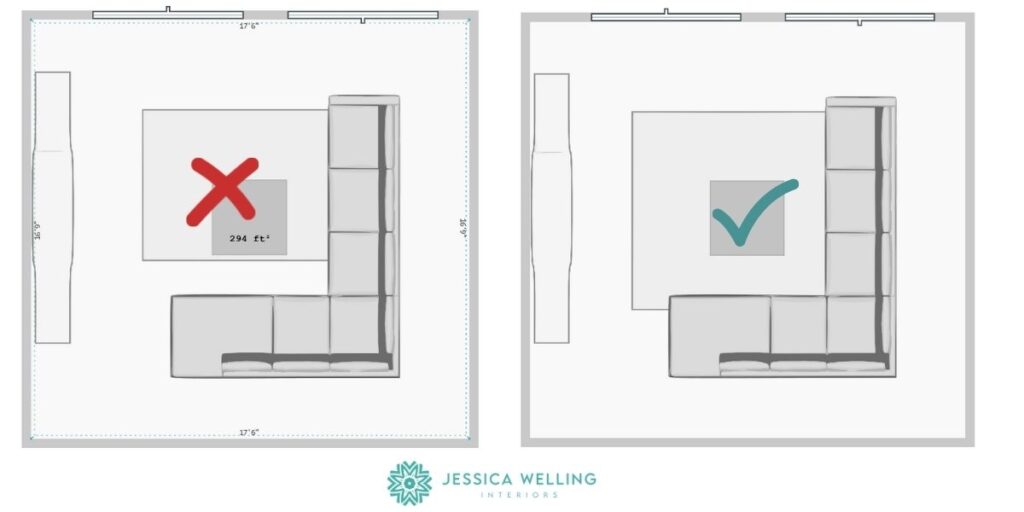 The sectional is the important seating furniture in this room, so all of its front legs should be on the rug. It's not important for the entertainment center or any other accent furniture to be on the rug, since it's not part of the seating group.
Here's the same room with oval and round rugs: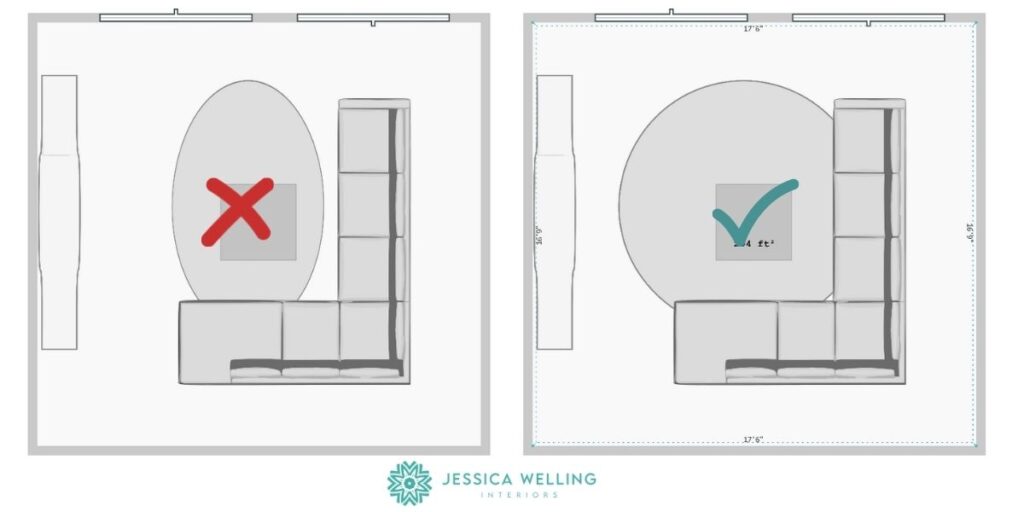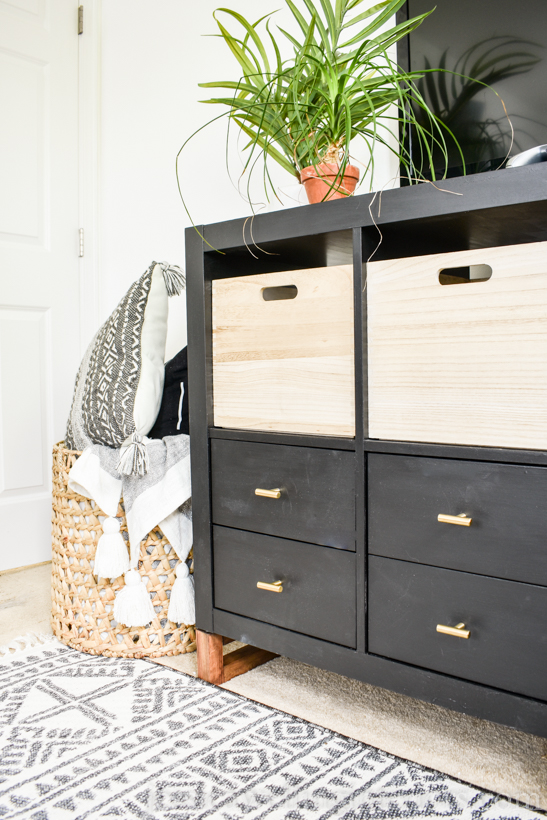 Sofa & 2 Chairs
In the example below, the seating group is made up of a small sofa and two chairs. As you can see, whether we choose a rectangular or round rug for this living room, the important thing is that the rug is large enough for the front legs of all the seating furniture to sit on top of it.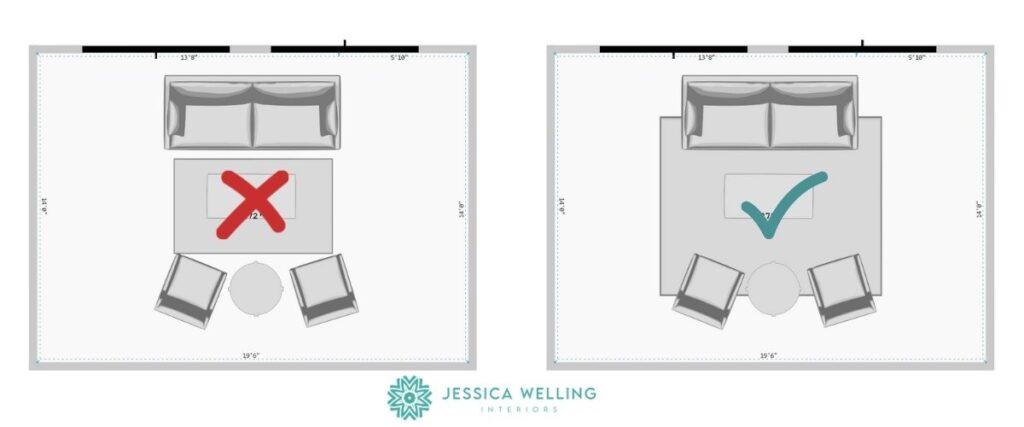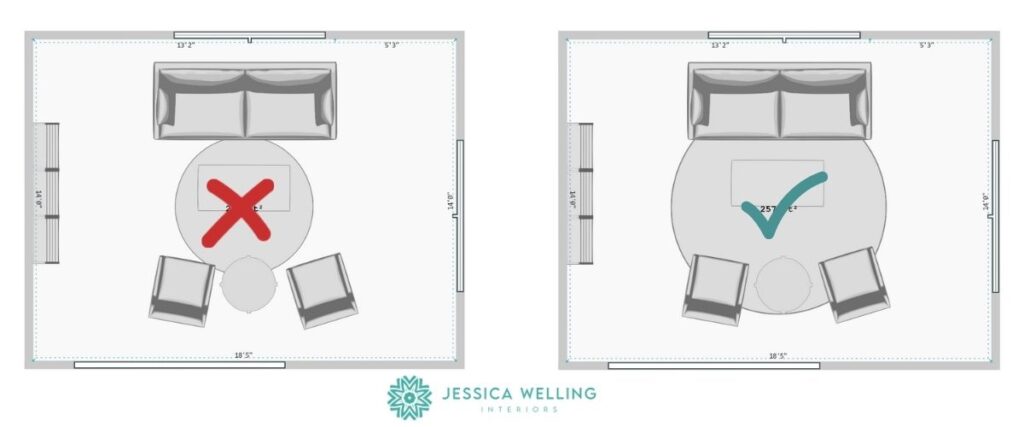 I hope this helps you find a rug that's just right for your living room!
More Living Room Rugs…
30 Inexpensive Black & White Rugs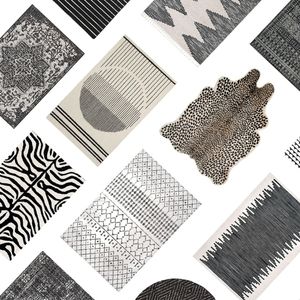 Boho Rugs Under $200 In Every Color!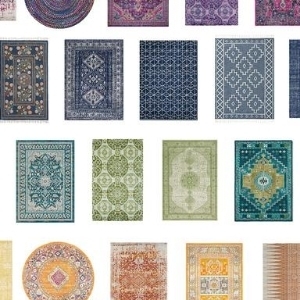 50 Neutral Modern Rugs Under $200