Set up a Play Post Office!
This simple and fun play post office is the perfect dramatic play activity for preschool and elementary kids. They'll love creating, sorting, and delivering the mail!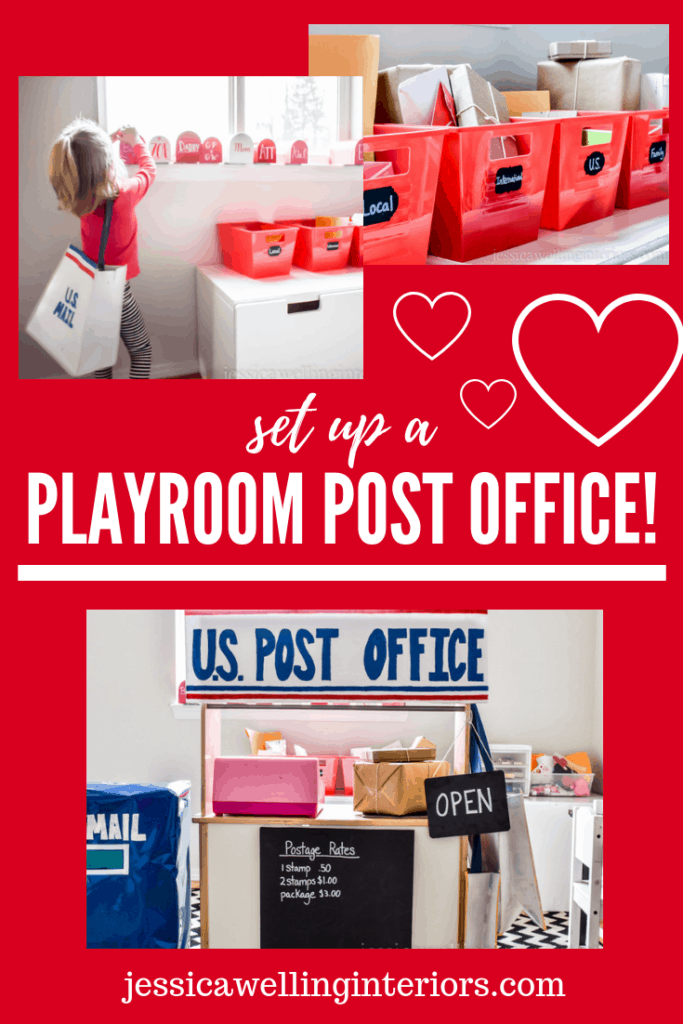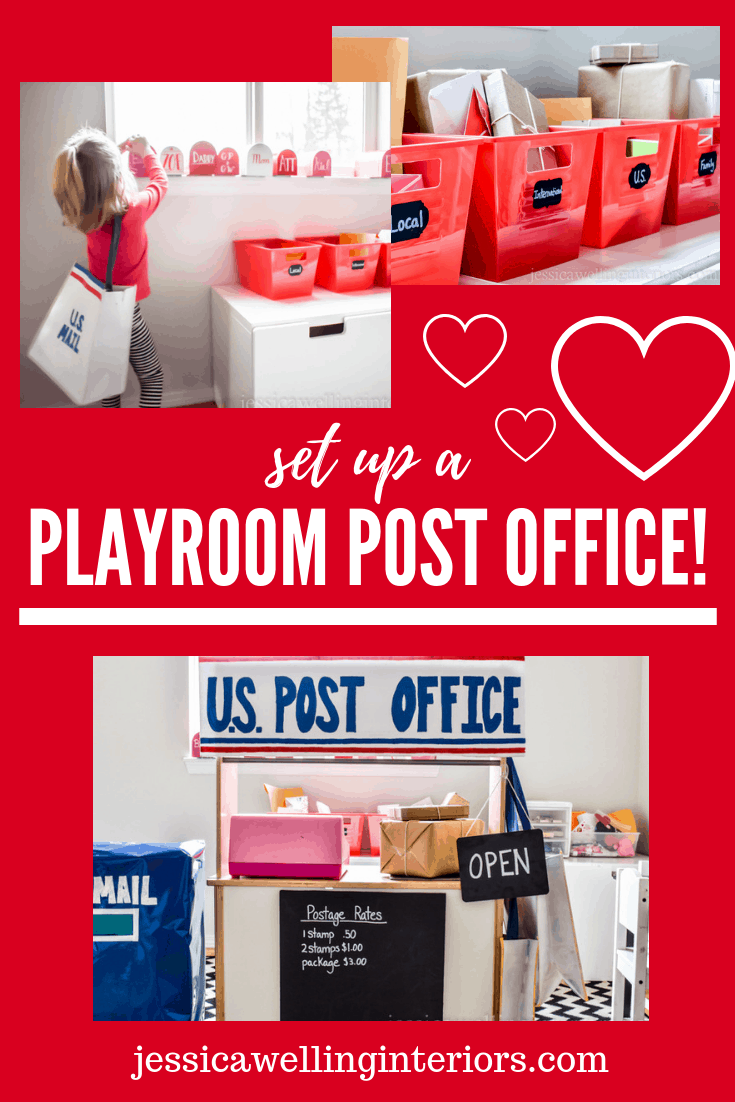 When I was in third grade my teachers set up a post office in our classroom and we had to write addresses for each of our classmates' valentines. There was a whole system for sorting and delivering the mail, and it was super-fun! Lately, I've been thinking of ways we can change up our playroom. And with Valentine's Day quickly approaching, what better than to set up a play post office?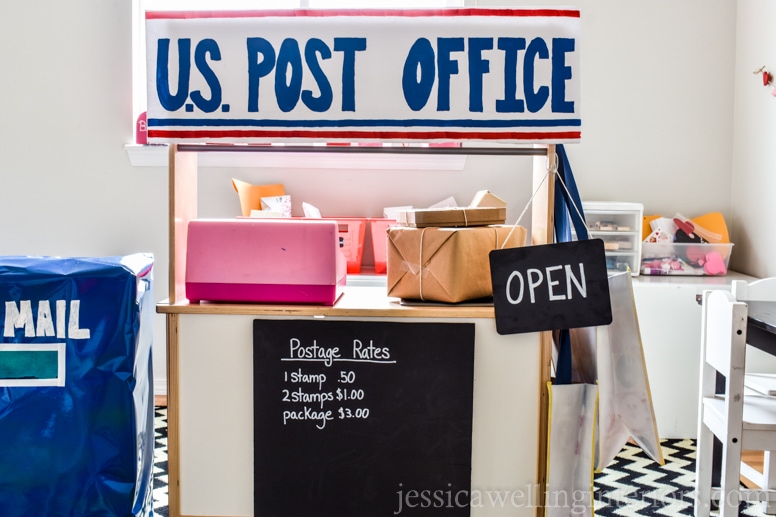 How to set up a play post office.
First, the big pieces…
I turned our IKEA DUKTIG play kitchen around and added a couple of signs to the back to make a post office counter. I also temporarily removed the faucet from underneath with a screwdriver.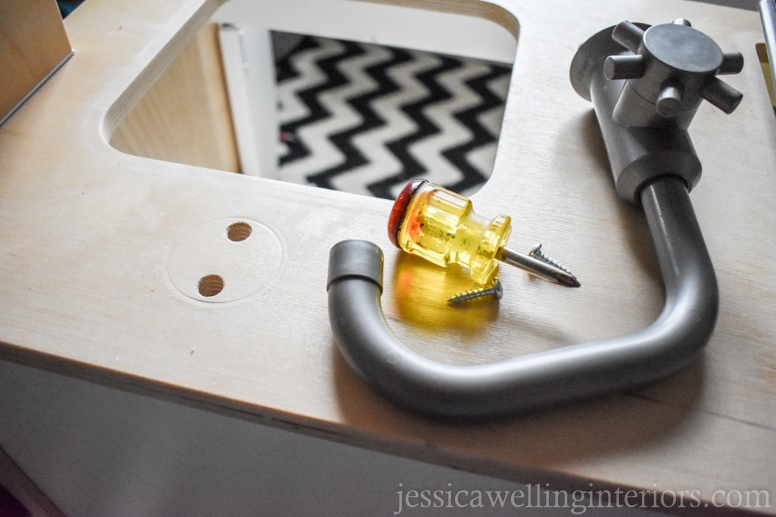 Our kids' table and chairs- also from Ikea, were a natural place for the kids to do their stamping and valentine-making. I also like that they're behind the post office counter- so the mess is sort of contained in that small corner, instead of spread around the house. And we all know there's going to be a mess- but they're having so much fun that I'm going to look past i for now.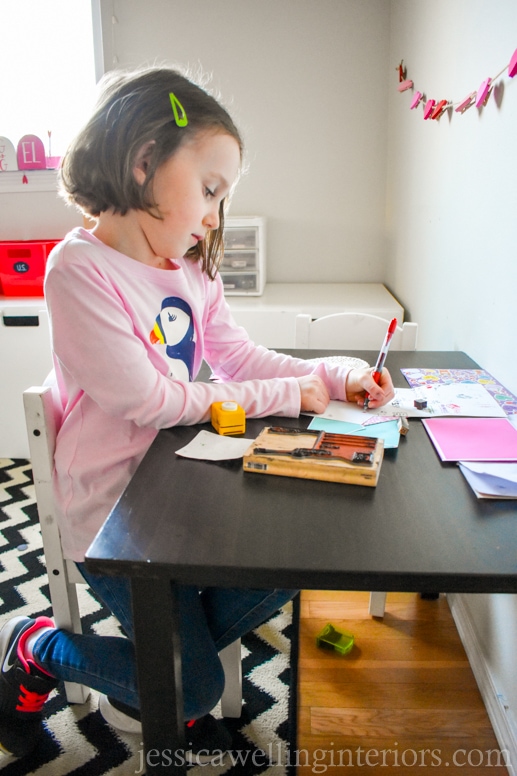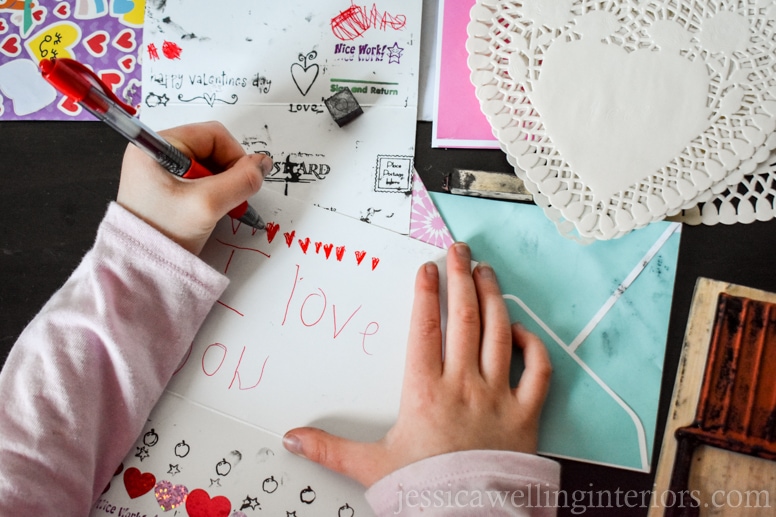 And of course we gathered up envelopes, paper, foam cut-outs, stamps, ink, and lots of stickers for hours of valentine-making fun. After all, this post office is going to need some mail!
The big blue mailbox.
The perfect-sized box for the big blue post office mailbox turned out to be a beat-up old box from Costco. It really wasn't in good shape, so I wrapped it with thick wrapping paper and spray painted it blue. Of course, if the box was nicer I could have just spray painted the box. Or if I happened to have blue wrapping paper on hand that would have been simpler too. I used a white paint pen and some white electrical tape around the mail slot.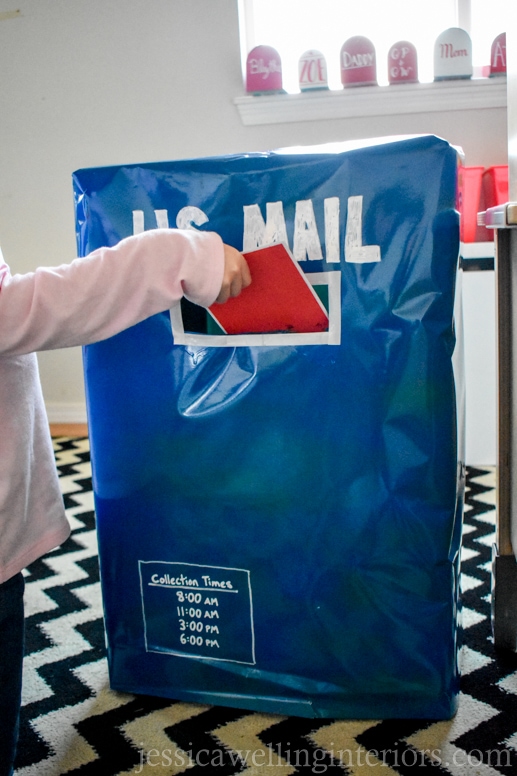 I used a utility knife to cut a slot in the front, and another hole in the back for easy mail collection.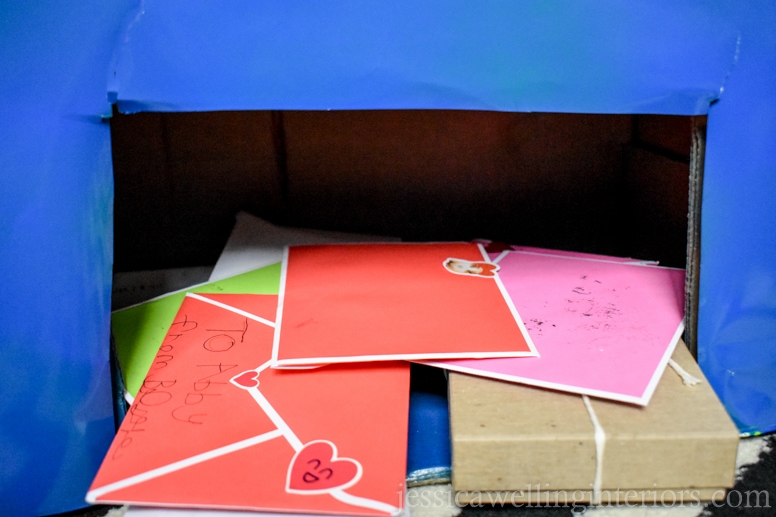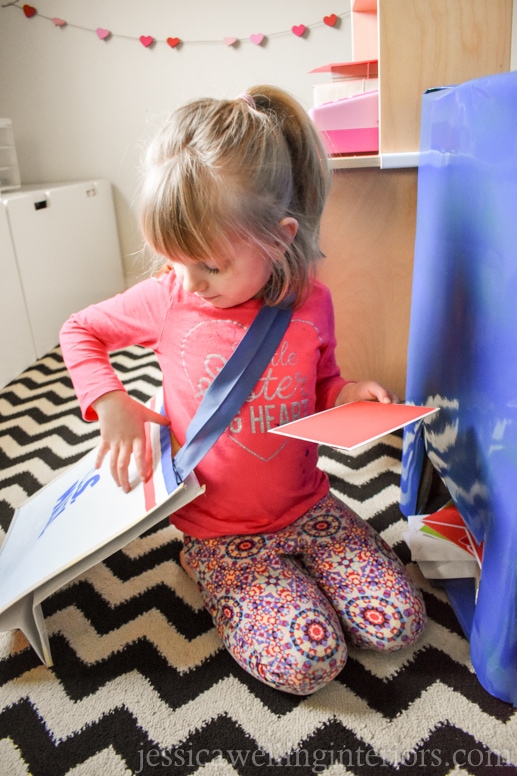 Mail-sorting bins.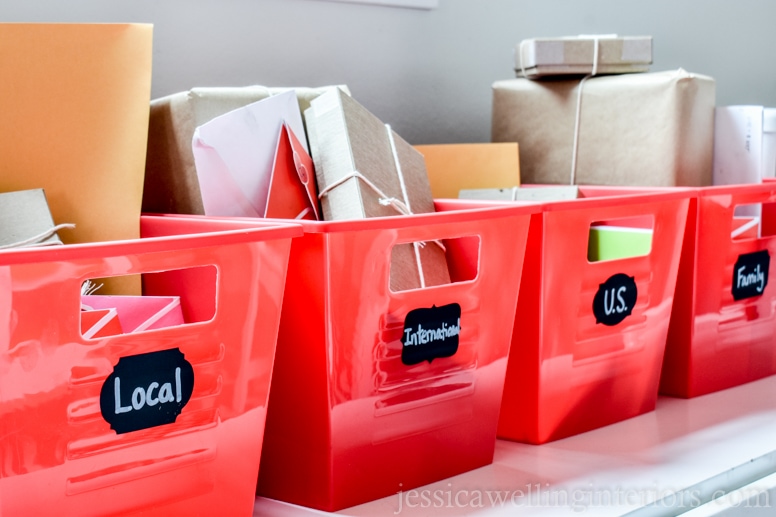 I found these red plastic bins at the dollar store and labeled them with my favorite chalkboard sticker labels, and a white paint pen, which I use to label things all over my house.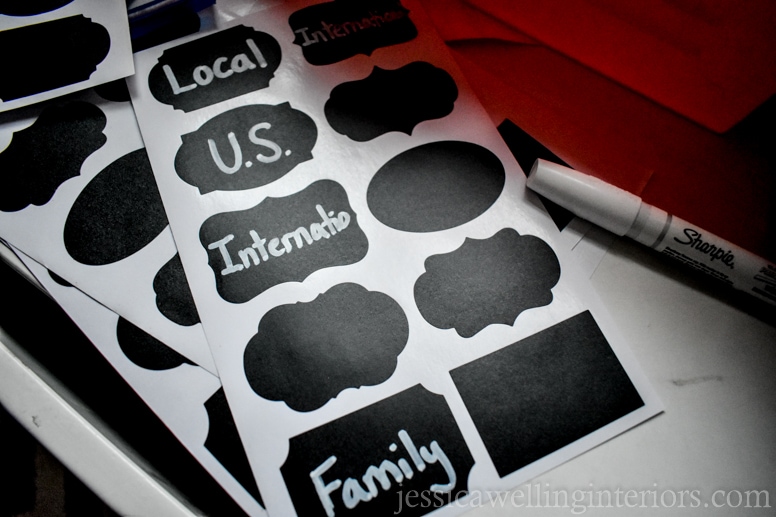 Now we can sort the mail and packages coming through the post office into categories before they go out for delivery.
Mail Carrier Bags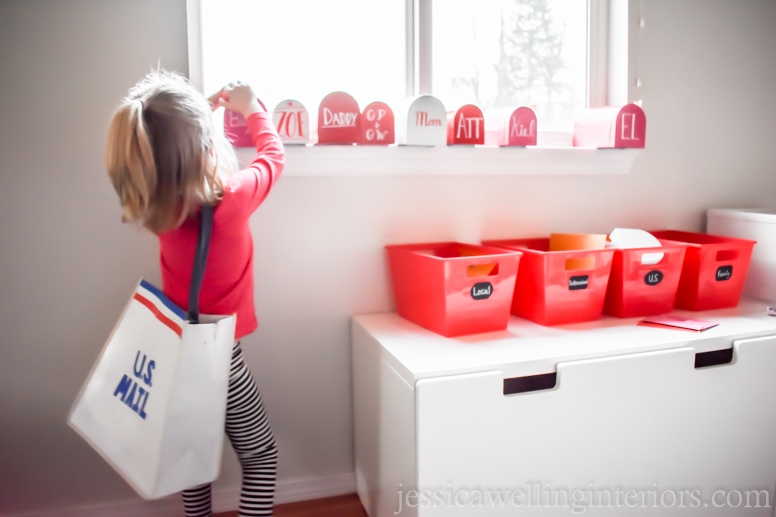 These are just reusable grocery bags from the dollar store. I spray-painted them white, cut off the handles, and attached a long strip of blue fabric I had left over from another project with super glue, so they hang like messenger bags. White canvas tote bags like these would work well too and save a few steps.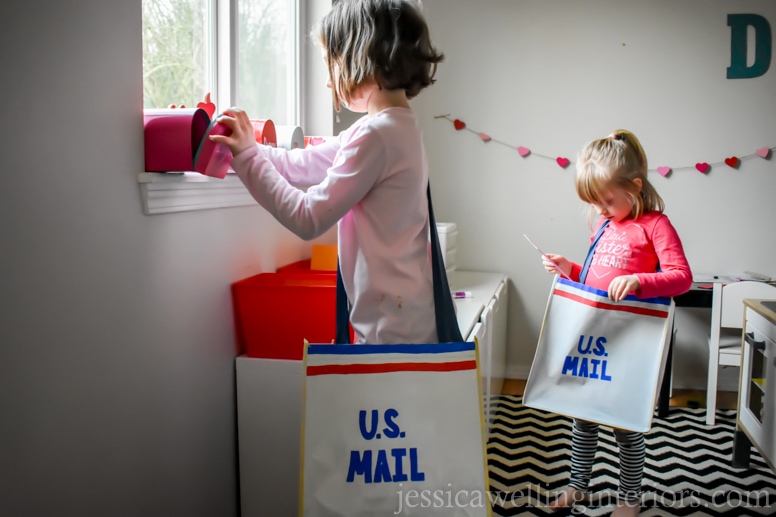 Next, I wrote the lettering and colored stripes with paint pens. This pack has red, white, and blue, which should cover everything you need for this project.
Valentine Mailboxes
And last, but of course not least, the mailboxes. I'll show you how to make these easy personalized Valentines' mailboxes.
.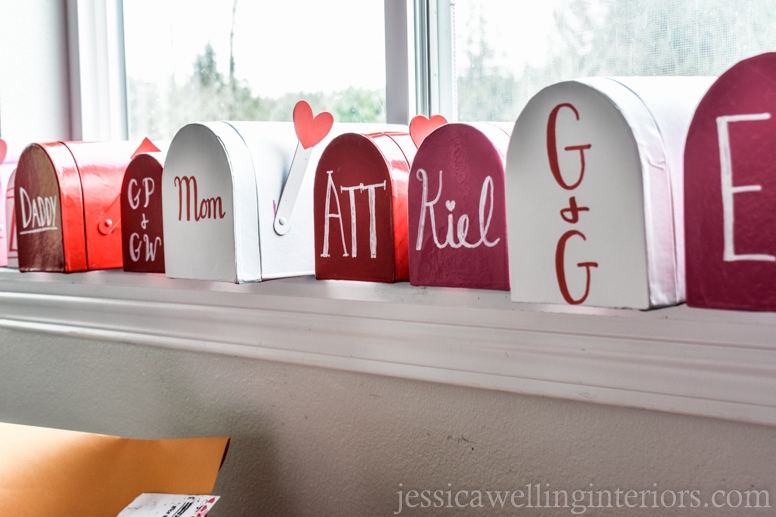 Okay, I think that's everything! Did you enjoy this post? Please share the love and pin it! And of course, Happy Valentine's Day!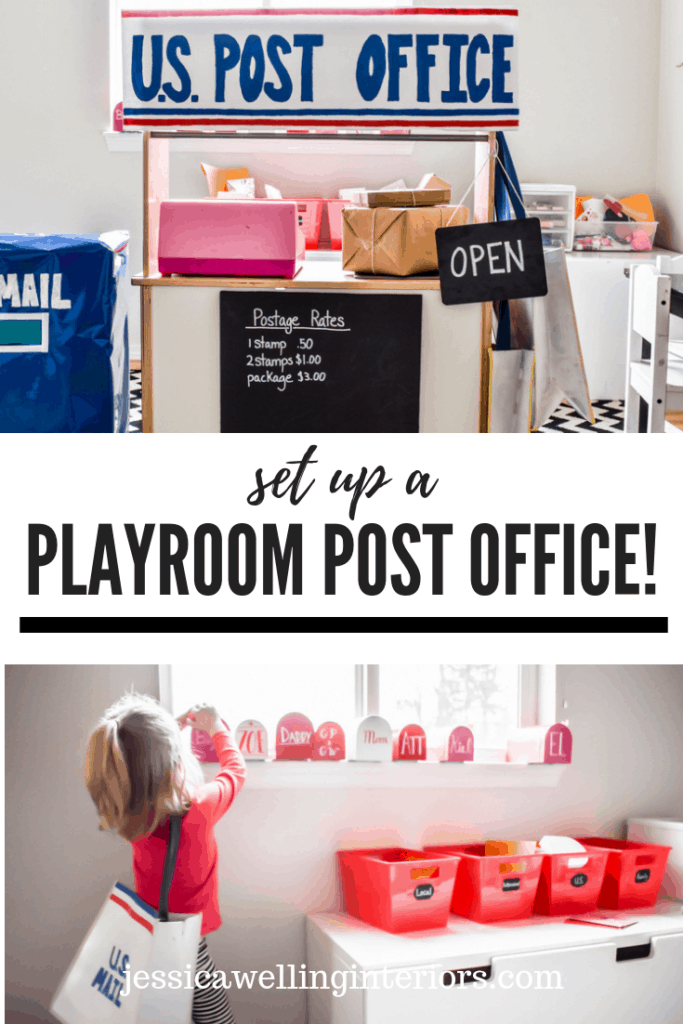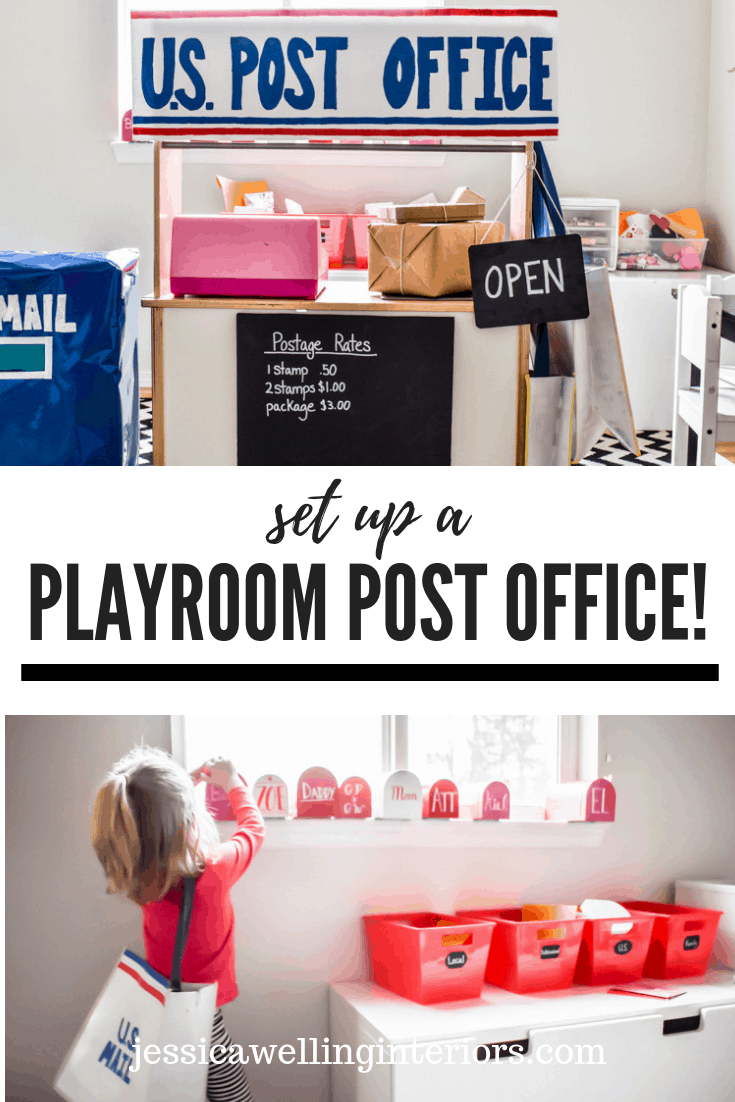 more decor ideas for kids…