The Very Best Himalayan Salt Bath Recipe
Make this all-natural Himalayan salt bath with just a few simple ingredients and enjoy all its amazing benefits!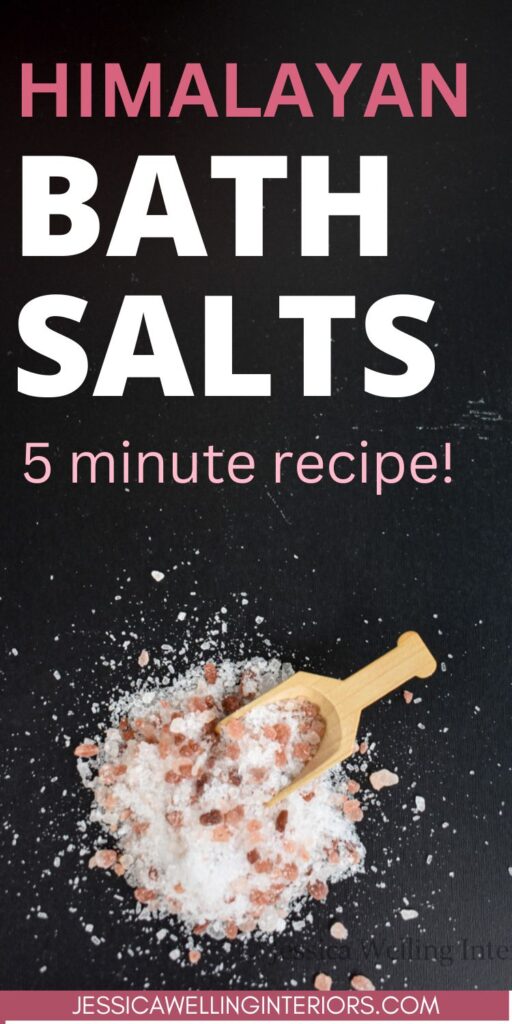 Pink Himalayan salt is all the rage in the food world because of its many, many health benefits. And I'm sure you've seen salt lamps too. But did you know you can also enjoy it's many healing properties in a Himalayan pink salt bath?
The large salt crystals make a gorgeous bath salt. It feels a bit fancy and is the perfect homemade gift for moms, teachers, coworkers, etc.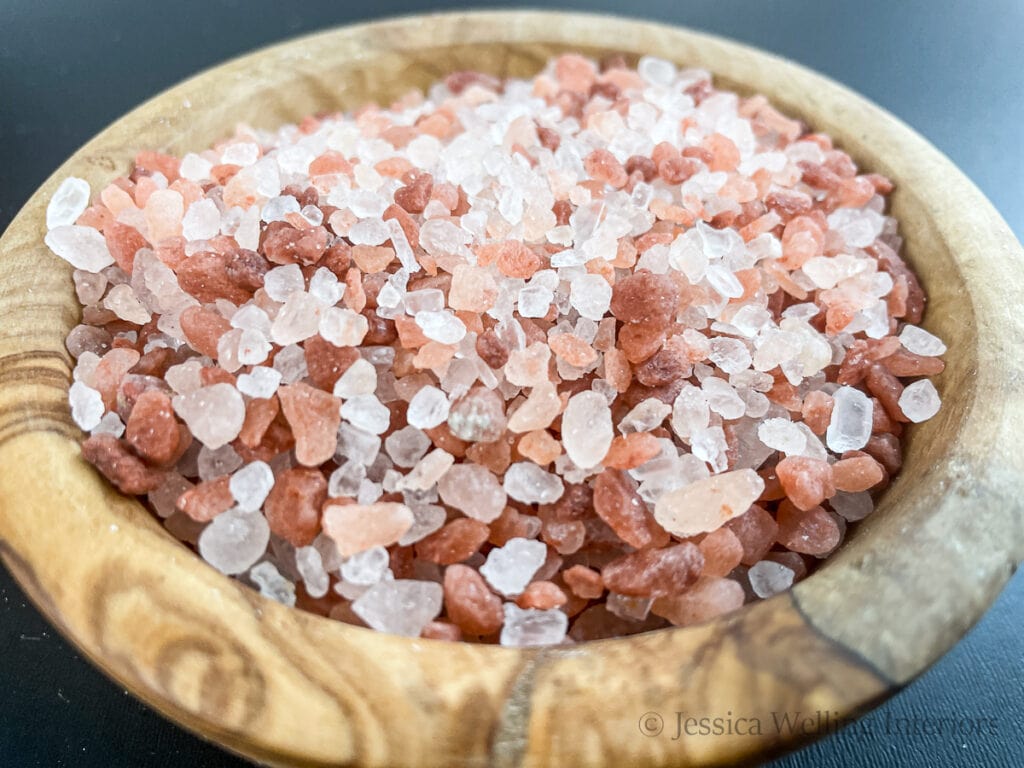 What are the benefits of Himalayan bath salts?
Mined from salt beds in the foothills of the Himalayan mountains, pink salt is valued for being one of the world's purest salts and containing over 84 trace elements. When added to warm bath water, it helps to detox your body, hydrate skin, and relieve sore muscles.
It's said to benefit your nervous system and emotional health too… but I'd say any time in the tub with no one pounding on the door or screaming, "Moooooooooom!" ought to accomplish that.
Now for the recipe…
Ingredients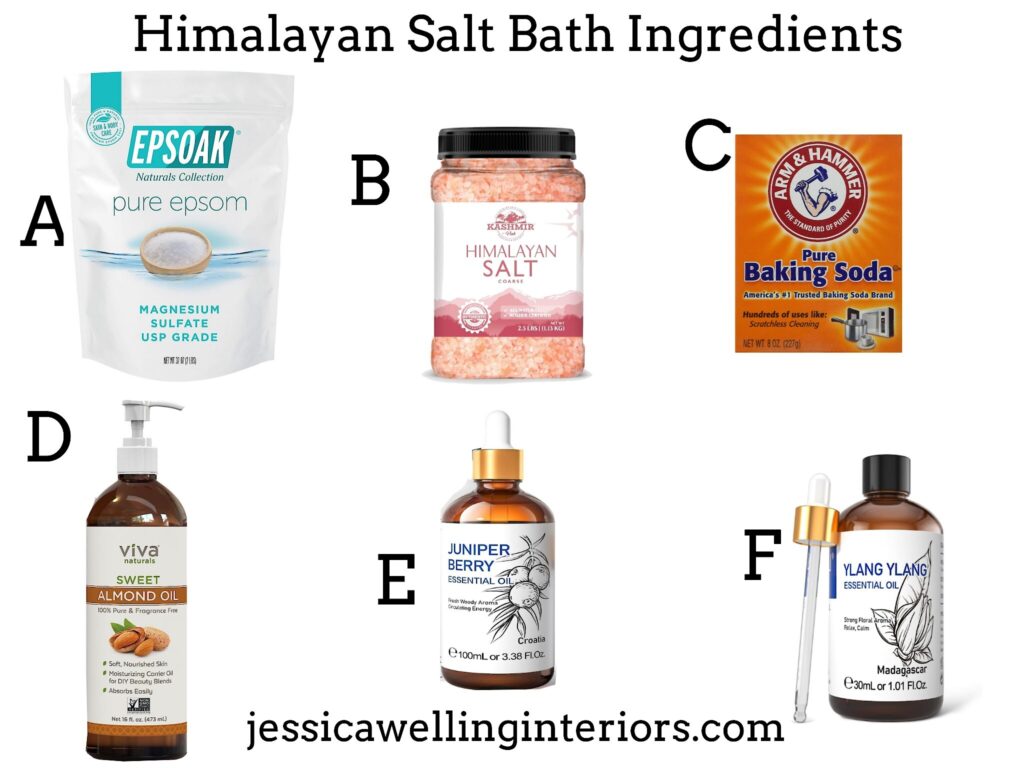 B. Course Ground Himalayan Pink Salt
C. Baking soda
D. Sweet almond oil (or jojoba oil, vitamin E oil or fractionated coconut oil)
E. Essential Oils (I'm using juniper berry and ylang ylang and I'll provide more combinations below)
Tools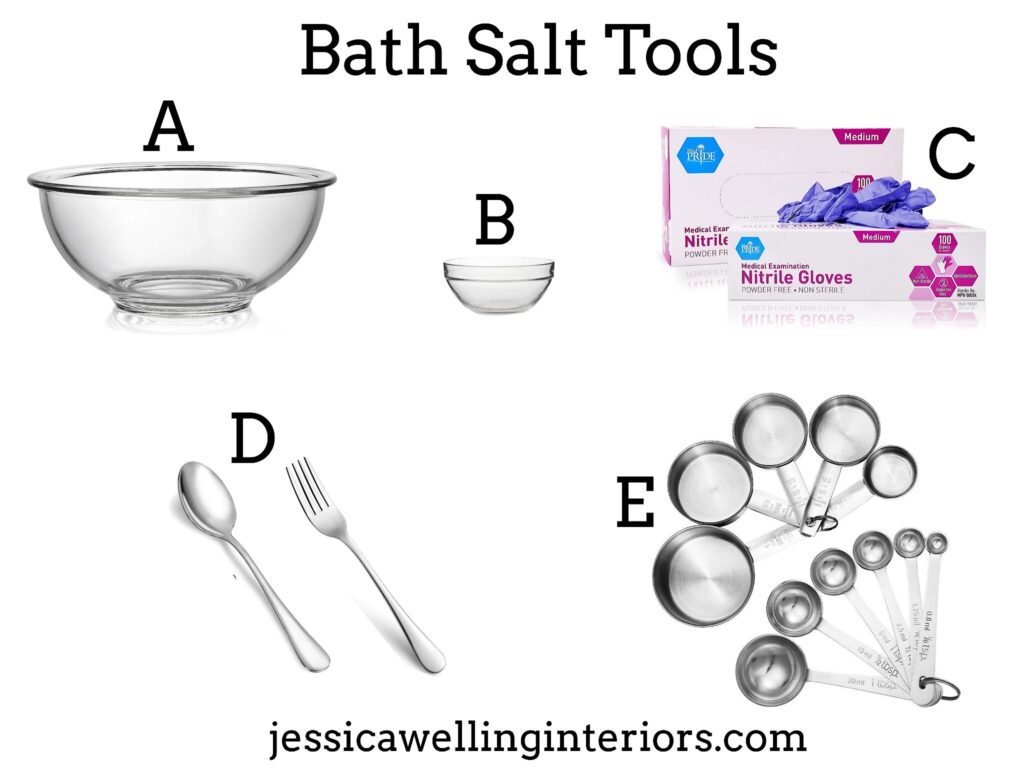 B. small bowl
C. nitrile gloves (optional)
D. fork and spoon
Packaging
Bath salts need to be stored in an airtight container so the damp air in the bathroom won't turn them into a solid brick. You can use mason jars or any container you like. I personally like to make mine look fancy, especially if I'm going to give them as gifts. I got these glass jars and cute wood scoops from Amazon.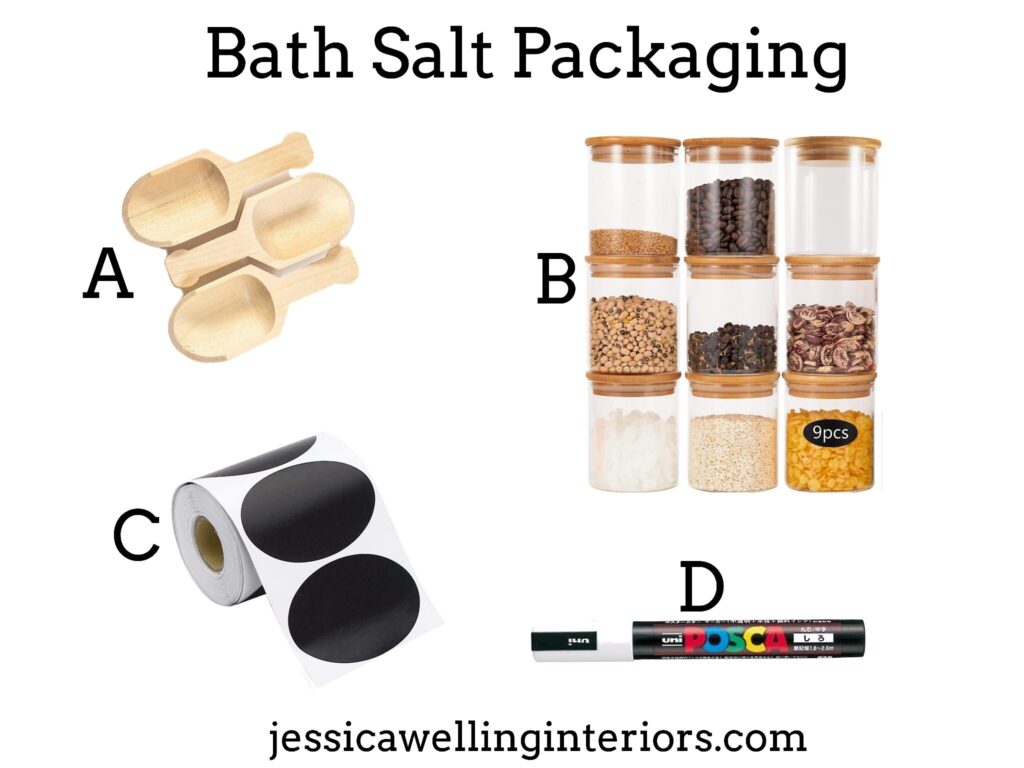 B. glass jars with airtight lids (these are the ones I'm using)
C. chalkboard sticker labels (I love this brand & use them on everything!)
Directions
1. Combine dry ingredients.
Combine the epsom salt, baking soda and Himalayan pink salt in a mixing bowl, and stir well.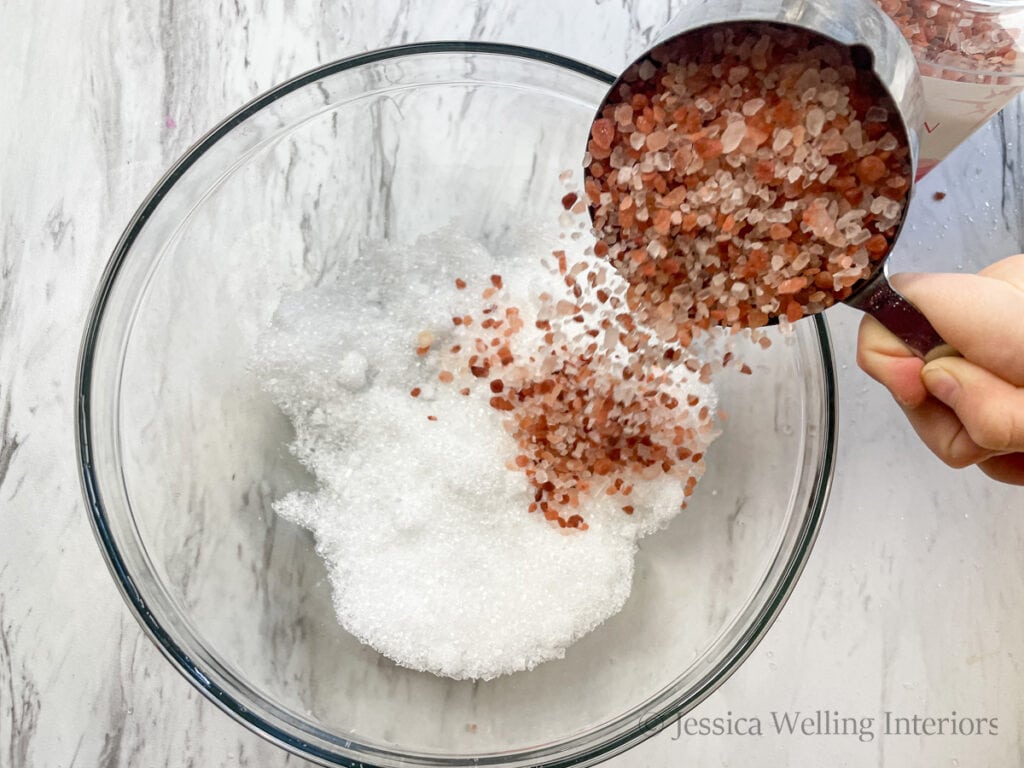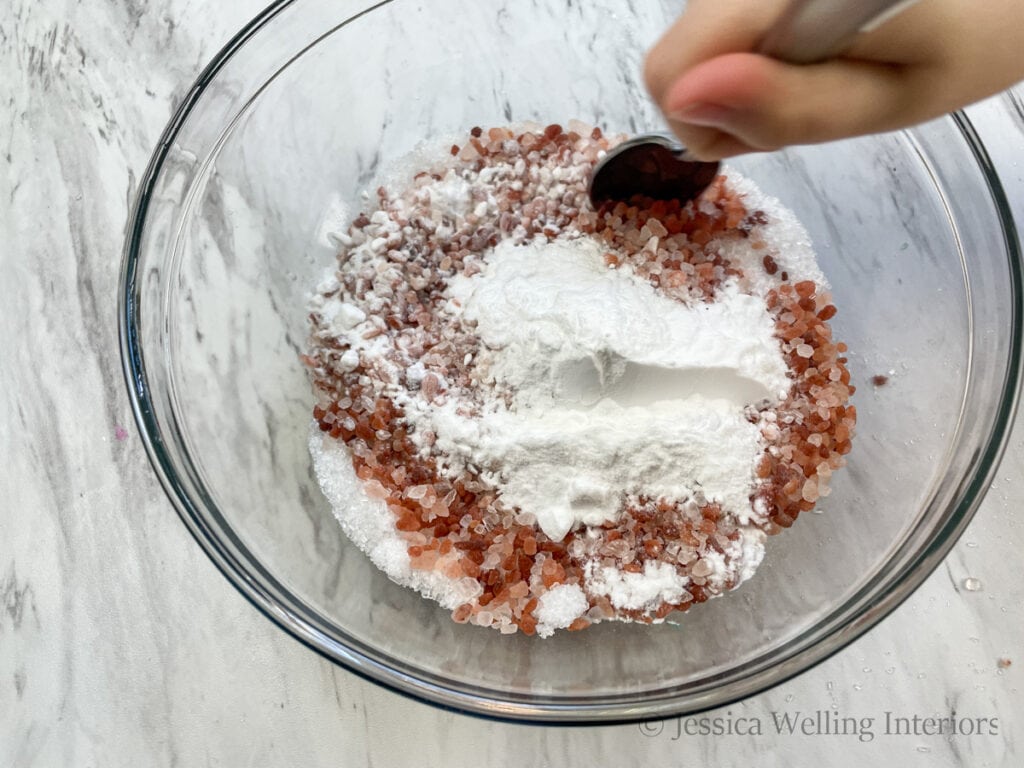 2. Combine Oils.
In a small bowl add 30 drops of essential oils of your choice to the sweet almond oil (or other carrier oil of your choice) and stir. I'm using 20 drops of juniper berry essential oil and 10 drops of ylang ylang essential oil.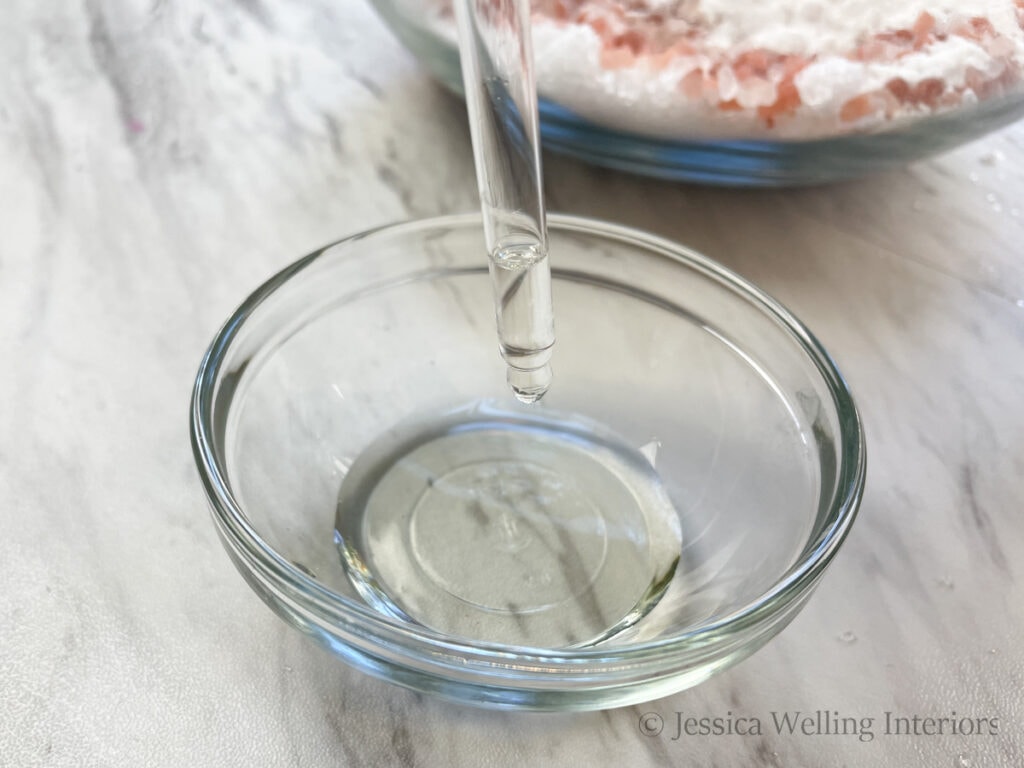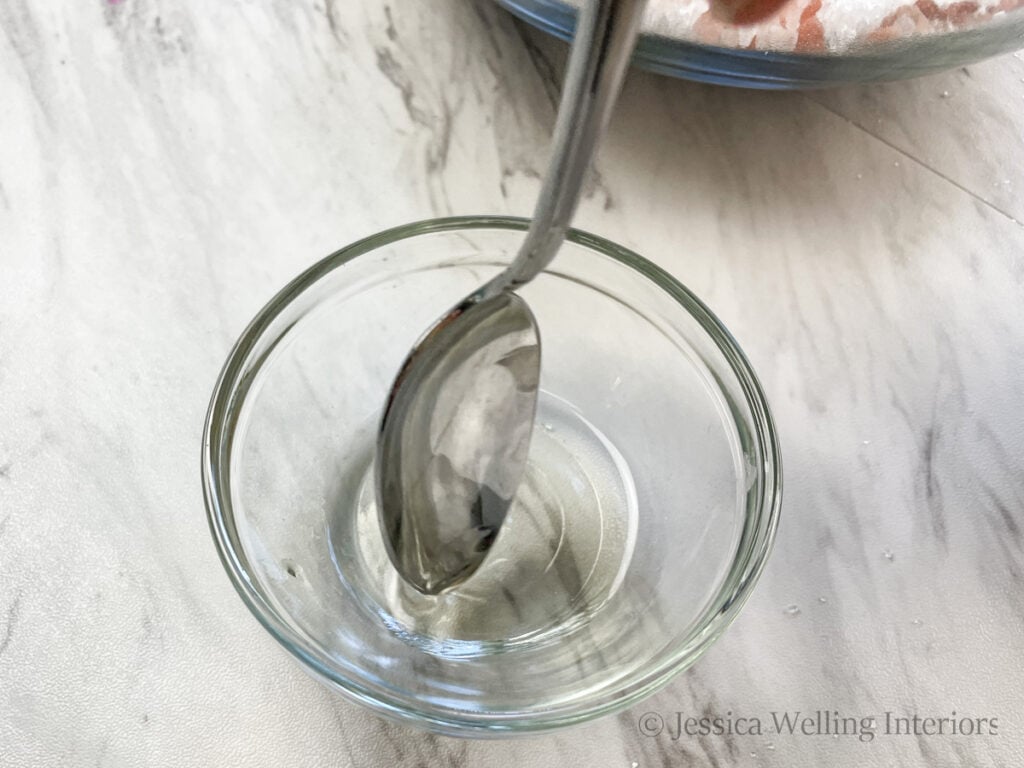 3. Add oils to salts.
Pour the oils into the salt mixture and stir. Then use your hands to sift it through your fingers and disperse the oils.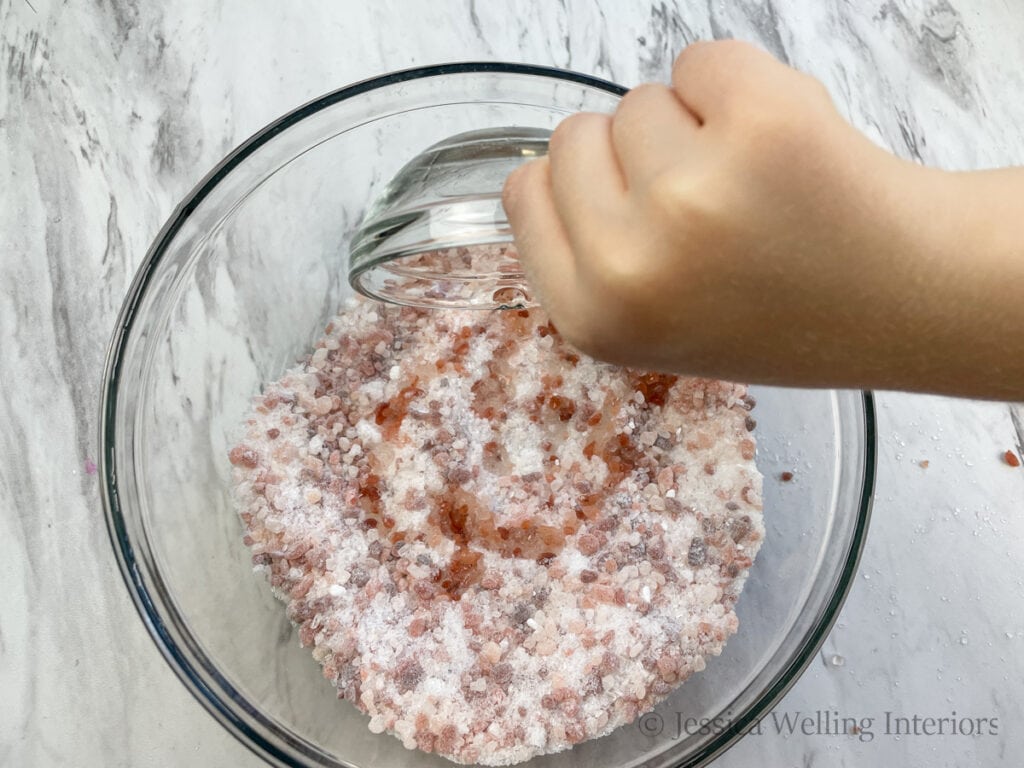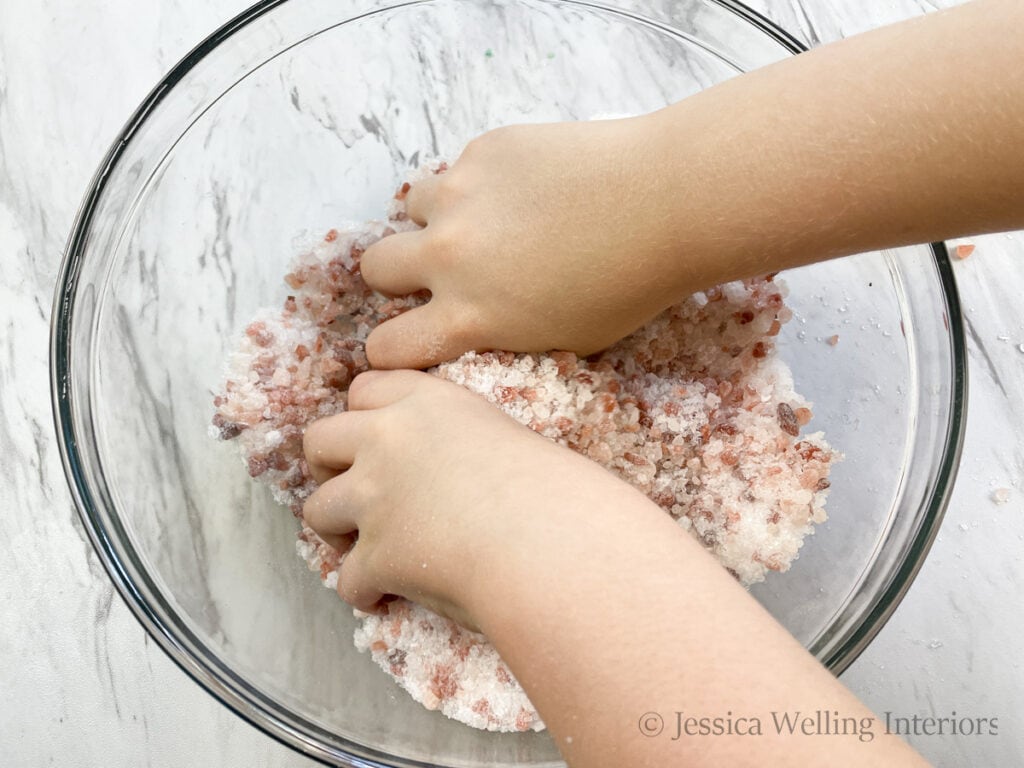 4. Fill Jars
Use a large spoon to fill your jars with the finished bath salts and seal them up.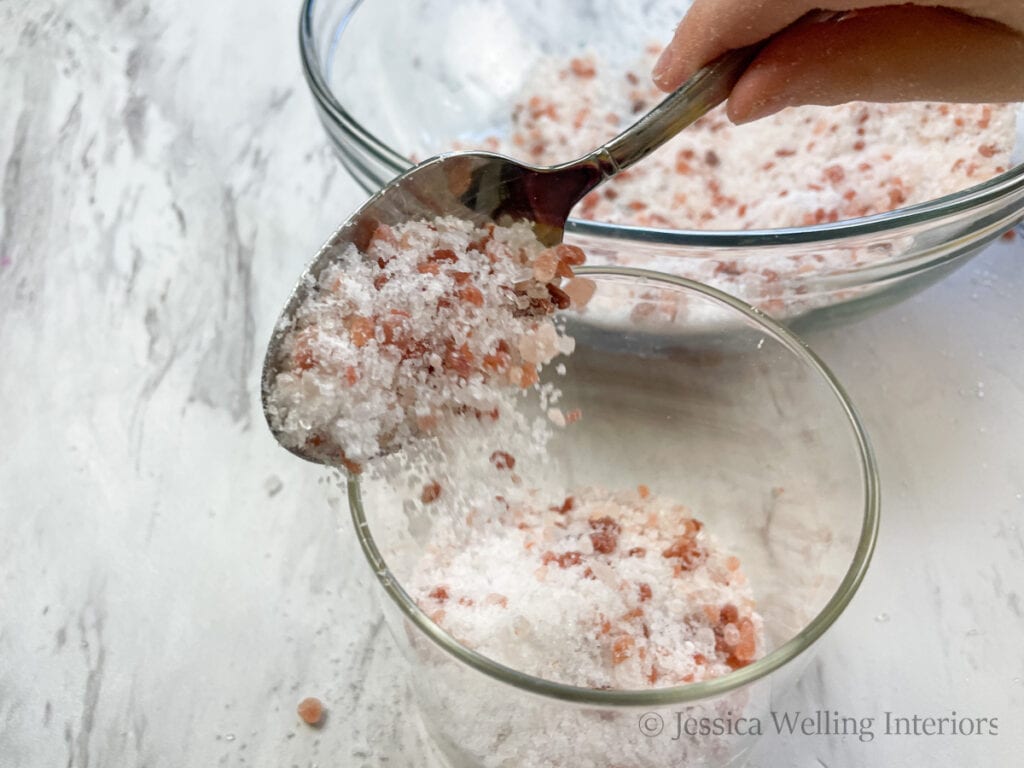 5. Label
I recommend using vinyl sticker labels instead of paper ones, since bath salts are likely to be stored and used in a damp environment. These are my favorite chalkboard sticker labels that I've been using for years. I suggest writing on them with a white paint pen instead of a chalk pen so the ink will stay put.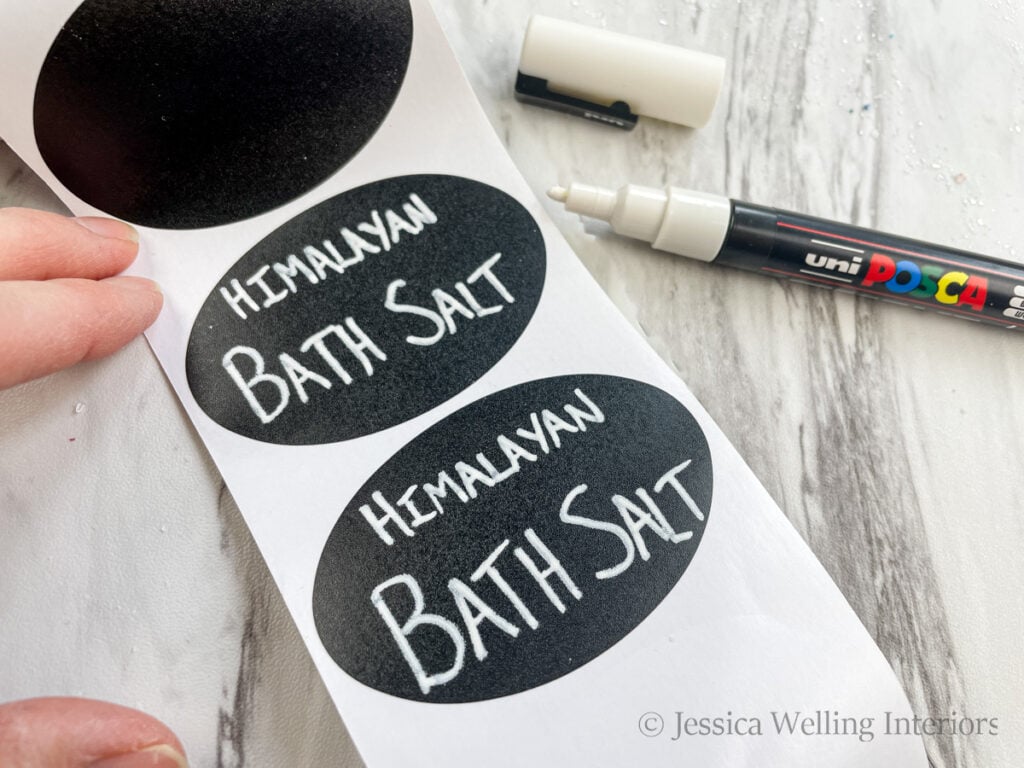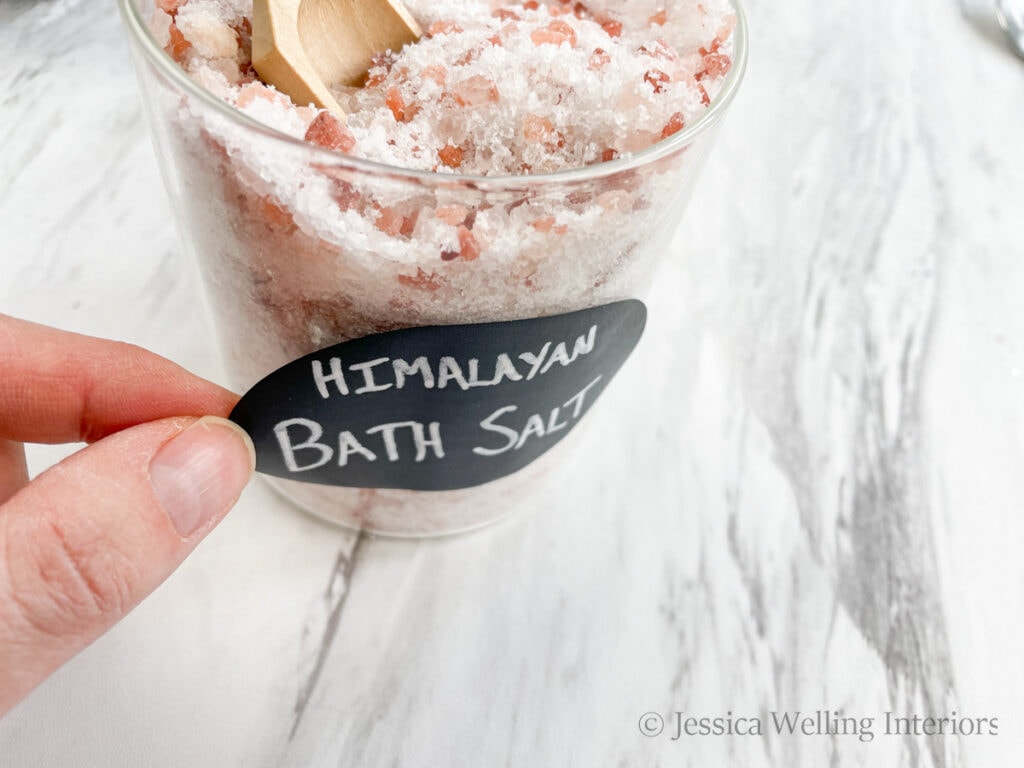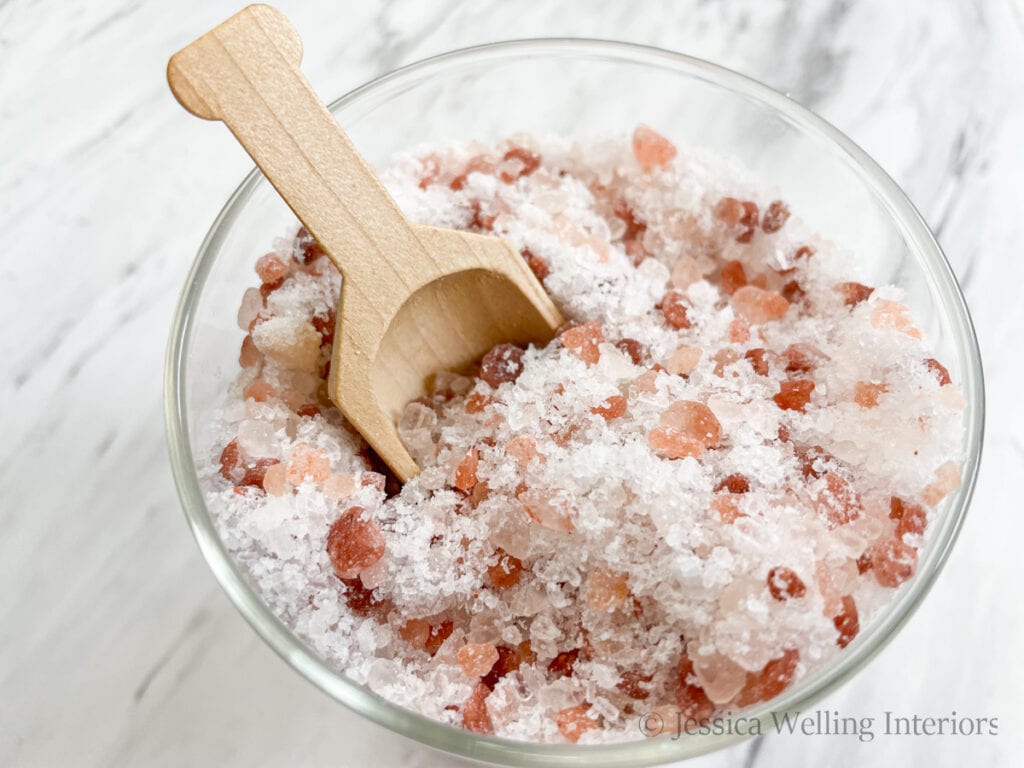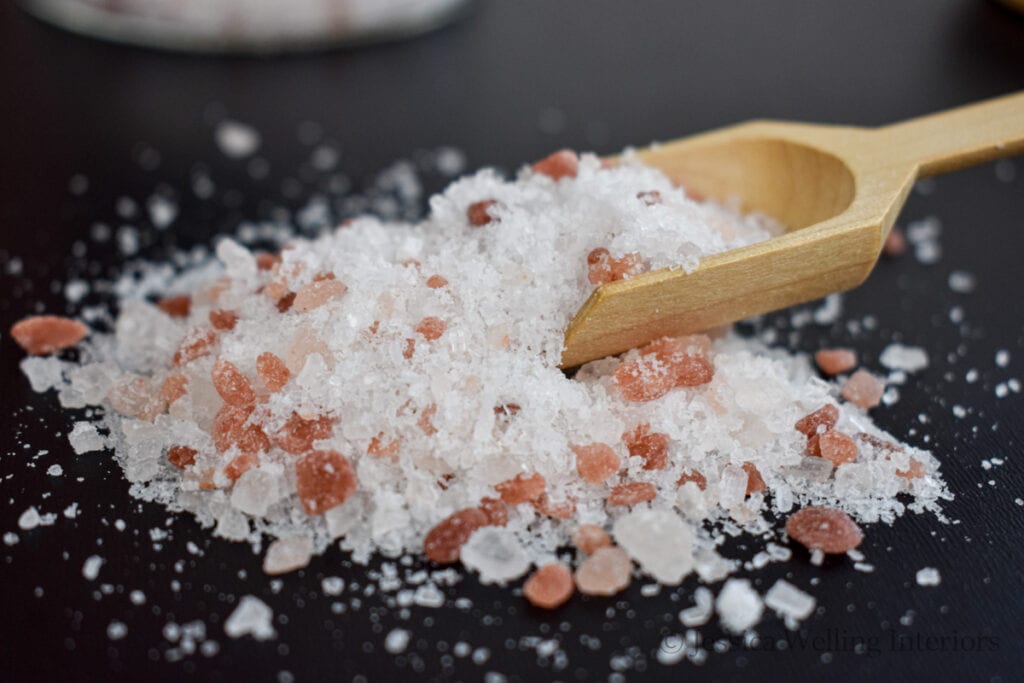 How to Use Bath Salts
For the optimal soak, sprinkle 2-3 scoops of bath salt into your bath water and let it dissolve. The larger pink salt crystals in this recipe will take a bit longer to dissolve. Now lock the bathroom door and enjoy!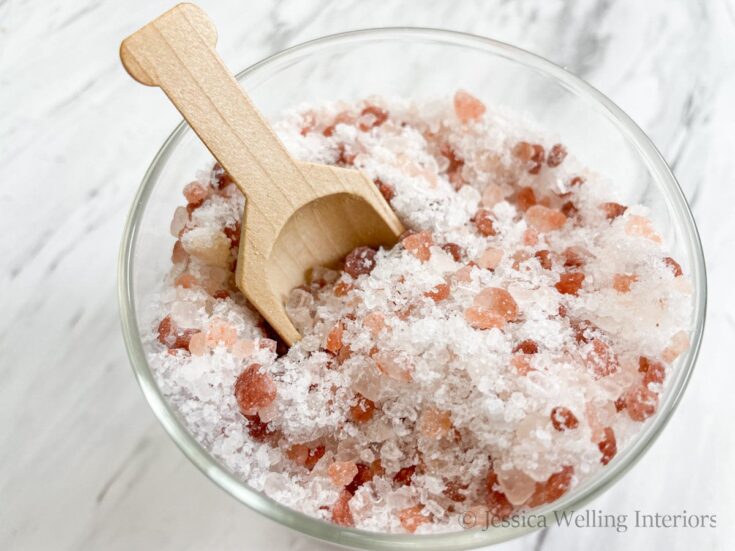 Yield:

2 1/4 cups
Pink Himalayan Bath Salt Recipe
Tools
Instructions
Combine epsom salt, Himalayan salt, and baking soda in a mixing bowl & stir.
Combine sweet almond oil and essential oils in a small bowl & stir.
Add oils to the salt mixture and sift with your hands.
Fill jars.
Label.
More Homemade Bath Products…
How to Make Bubble Bath (That Actually Bubbles!)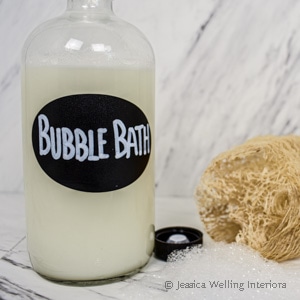 How to Make Bath Salts: An Ultra-Simple Recipe