Learn how to make bath salts with this quick and versatile all-natural recipe. Then customize it with essential oils!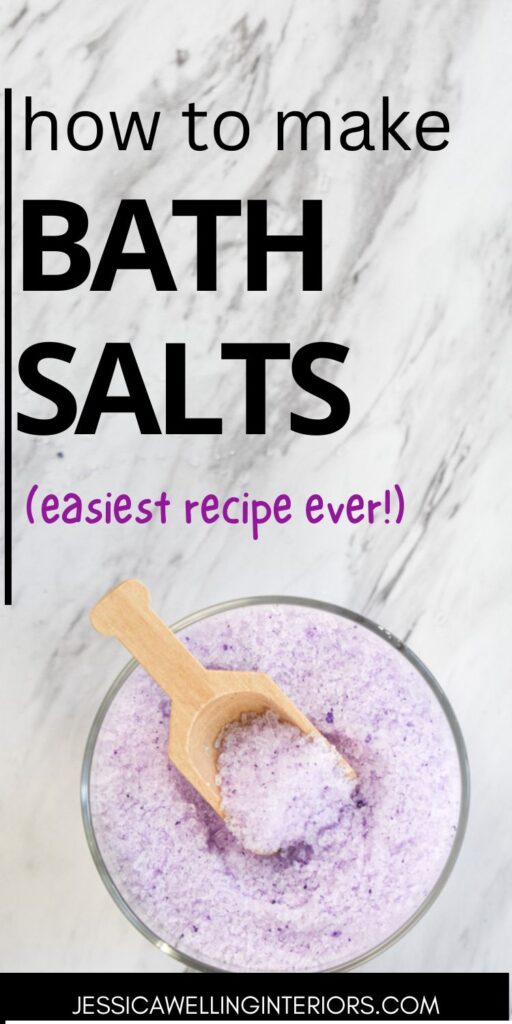 Homemade bath salt is one of my favorite go-to handmade gifts. With just a few simple ingredients and about five minutes, you can whip up a batch. You can change up the recipe and add your own ingredients too, from essential oils, to rose petals, to dead sea salt. You can find more variations on this recipe here:
10 Easy Bath Salt Recipes with All-Natural Ingredients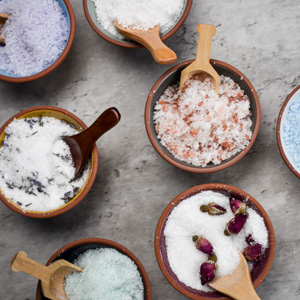 And it makes a great gift for teachers, neighbors, friends, grandmas, moms- anyone, really! The kids love to help make it too. E is helping me out today, so you may see her little hands in some of the photos. Enough talk. Time to make your own bath salts!
Carrier Oils
Carrier oils are naturally-derived oils that have little to no fragrance on their own. They're commonly used to dilute essential oils, especially if they will be applied directly to the skin, since most essential oils are too strong in their undiluted forms.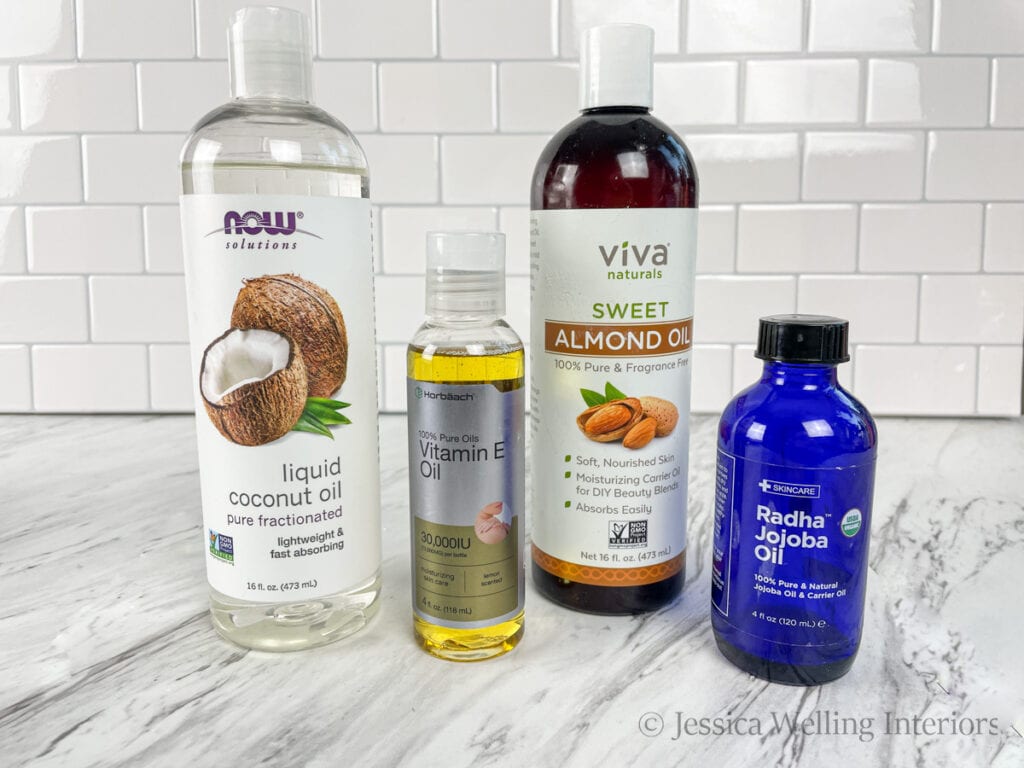 The most common carrier oils are fractionated coconut oil (liquid at room temperature unlike raw coconut oil), sweet almond oil, argan oil, vitamin E oil, and jojoba oil. In bath salts, carrier oils are used to help distribute the essential oils evenly, and to moisturize the skin. They're interchangeable in all of my bath salt recipes, and I generally just use whichever one I have on hand.
Bath Salt Add-Ins
One way to set your homemade bath salts apart is by adding dried flower petals, lavender buds, bits of dried citrus peel, tea leaves, etc. They'll look gorgeous both in the jar and floating in the tub.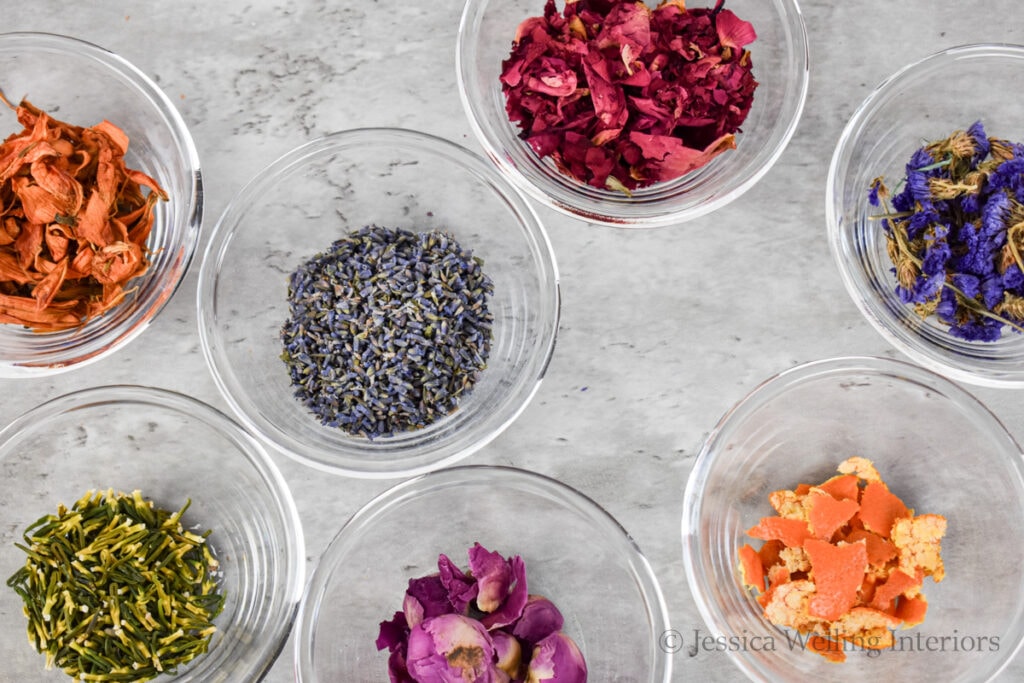 But I would caution you to go light with them. Anything that doesn't dissolve in the bath water will cling to sides of the tub and need to be cleaned up later. It may take some of the joy out of the relaxing bath experience. One work-around is to sprinkle a few add-ins on top of the bath salts once they're in the jar, like these rose-scented bath salts: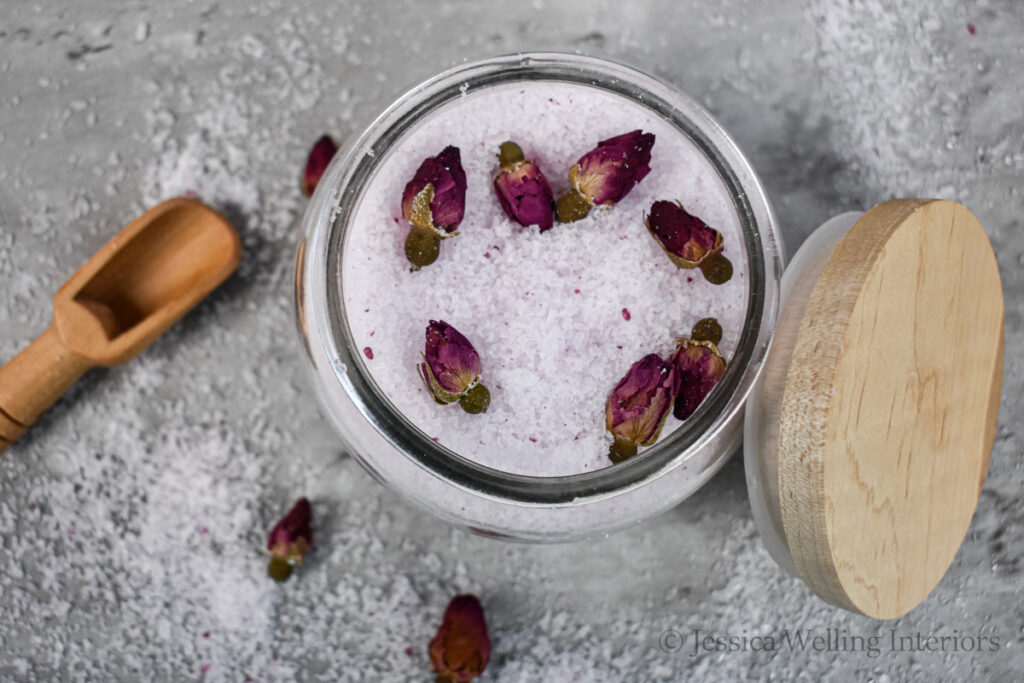 How to Make Bath Salts
You probably already have most of these ingredients in your kitchen or bathroom.
Ingredients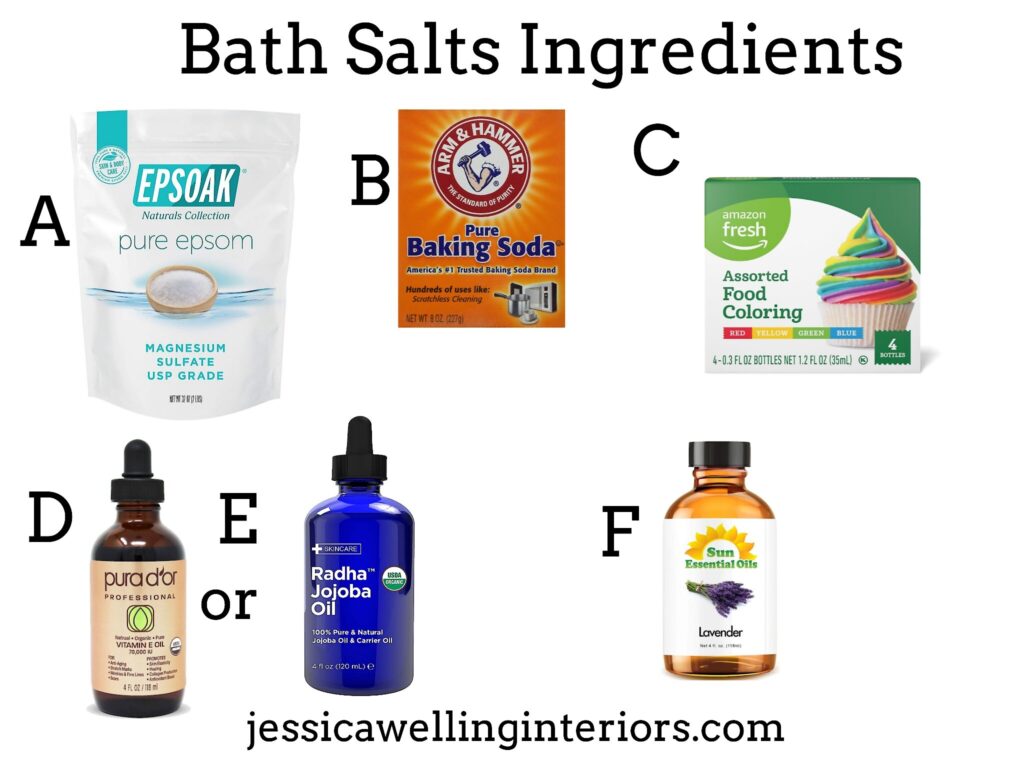 A. unscented epsom salts (magnesium sulfate) I'm using this inexpensive brand from Amazon
B. baking soda (sodium bicarbonate)
C. liquid food coloring (optional, I'm using purple in this recipe)
D. carrier oil (I'm using jojoba oil but you can substitute vitamin E oil, fractionated coconut oil, argan oil, or sweet almond oil)
E. Essential Oils of your choice (I'm using lavender in this recipe but you can substitute any skin-safe essential oils you like.)
Essential Oil Combinations
Here are a few of my go-to essential oil combos.
30 drops peppermint essential oil (This is my favorite inexpensive peppermint oil)
20 drops peppermint essential oil + 10 drops eucalyptus essential oil (awesome if you have a cold!) You can see the recipe for my sniffle stopper bath salts here
30 drops of lavender essential oil (ultra-relaxing)
15 drops lavender + 15 drops vanilla essential oil or extract (smells soooo good!)
15 drops peppermint + 15 drops orange essential oil
30 drops juniper berry essential oil (cool and refreshing-smells like a Christmas tree)
Tools & Materials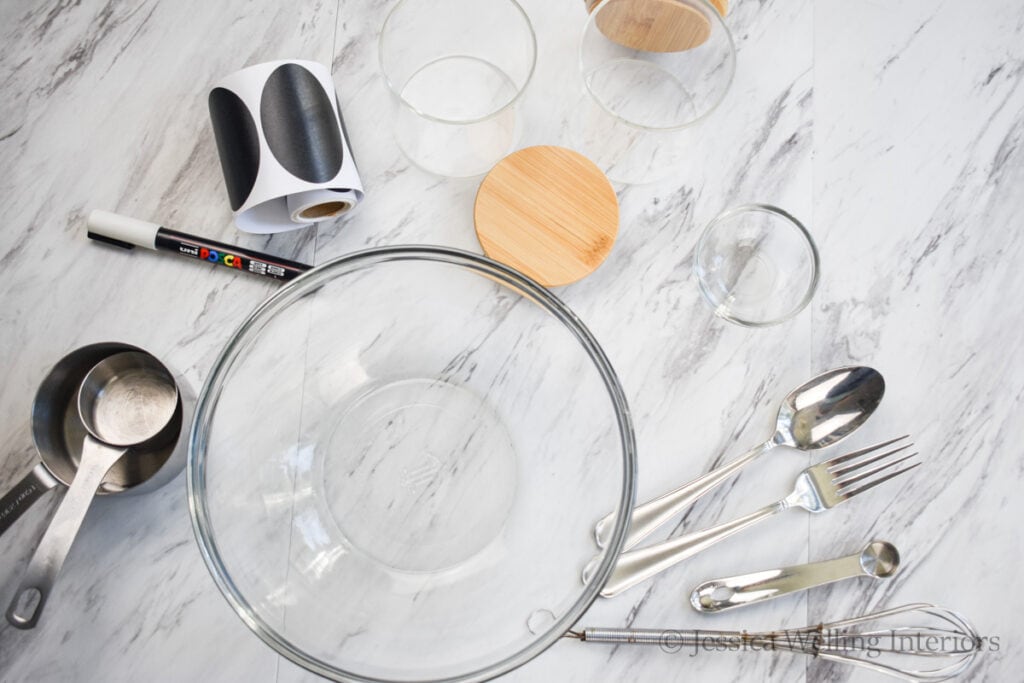 glass jars with airtight lids (without an airtight lid the high humidity in the bathroom will cause the bath salts to harden into one big lump- ask me how I know!)
wood scoops- I'm loving these inexpensive wood scoops, and I think they're a nice touch!
chalkboard sticker labels or other labels (these are my favorite ones from Amazon!)
paint pen (I used white)
2 mixing bowls- 1 medium and 1 extra small
measuring cups & spoons
fork or wire whisk
nitrile gloves (optional- I always wear gloves if I'm adding food coloring so I don't dye my hands!)
Directions
1. Combine Dry Ingredients
Combine the epsom salt and baking soda in a large bowl and stir.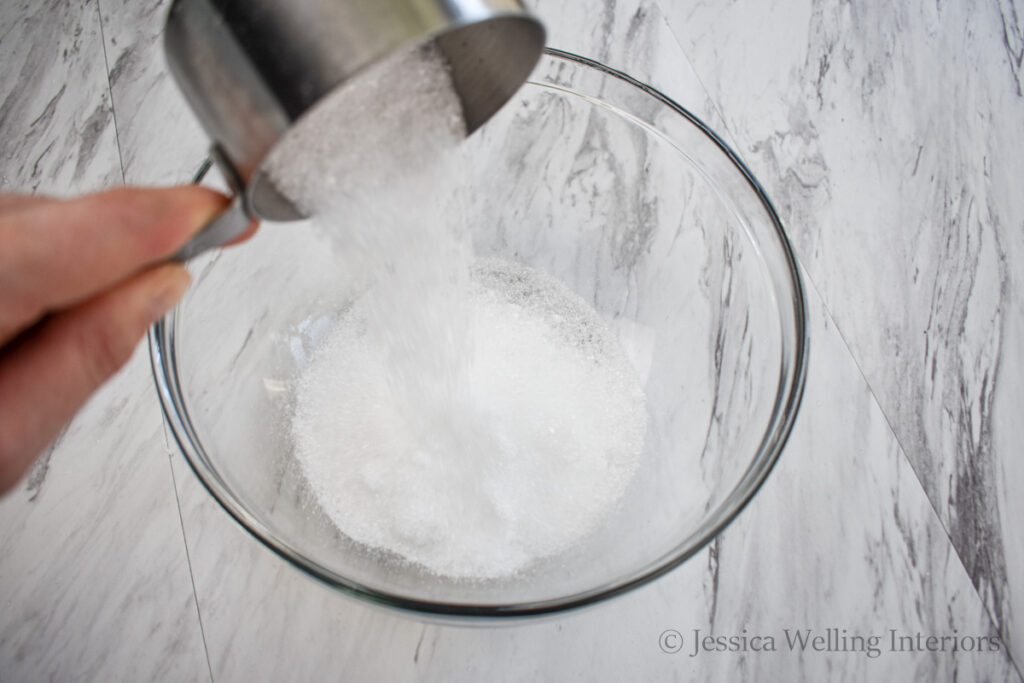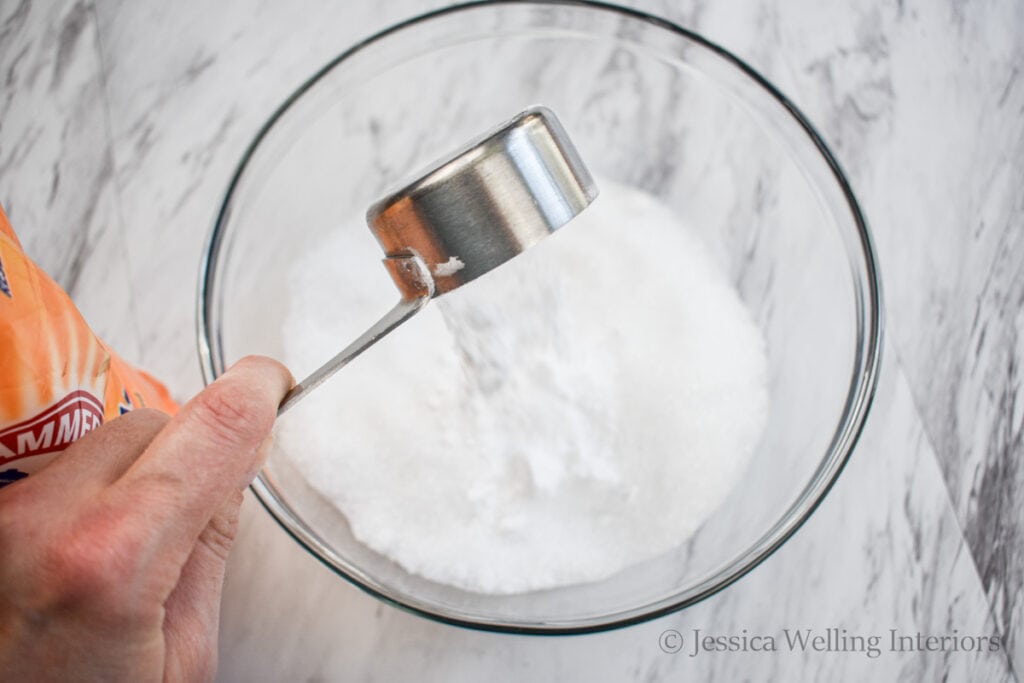 2. Combine Oils
Combine the jojoba oil (or other carrier oil) and essential oils in a separate small bowl and stir well to combine. This will help to disburse the essential oils evenly later.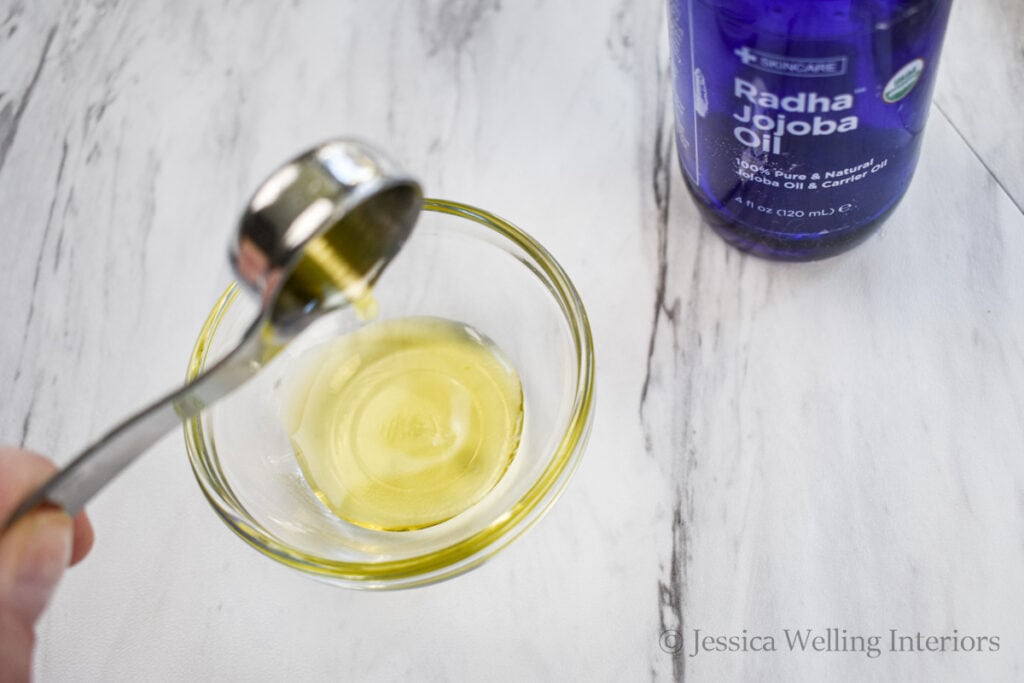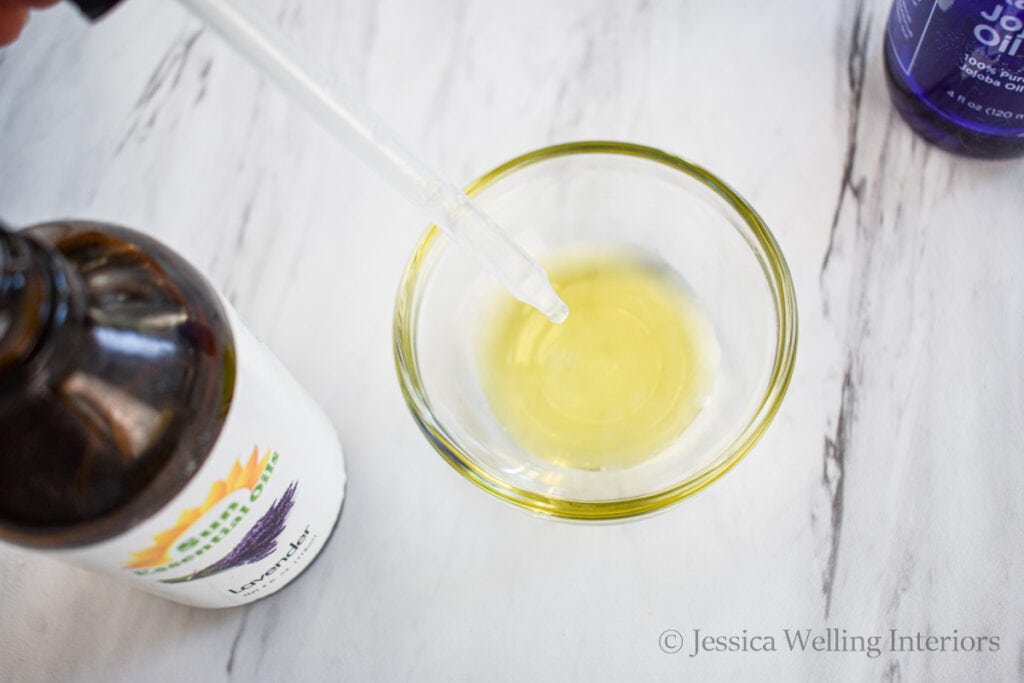 3. Add Oils to Salt Mixture
Pour the combined oils into the epsom salt mixture and stir well. I like to use a wire whisk for this step to help distribute the oils and break up the clumps.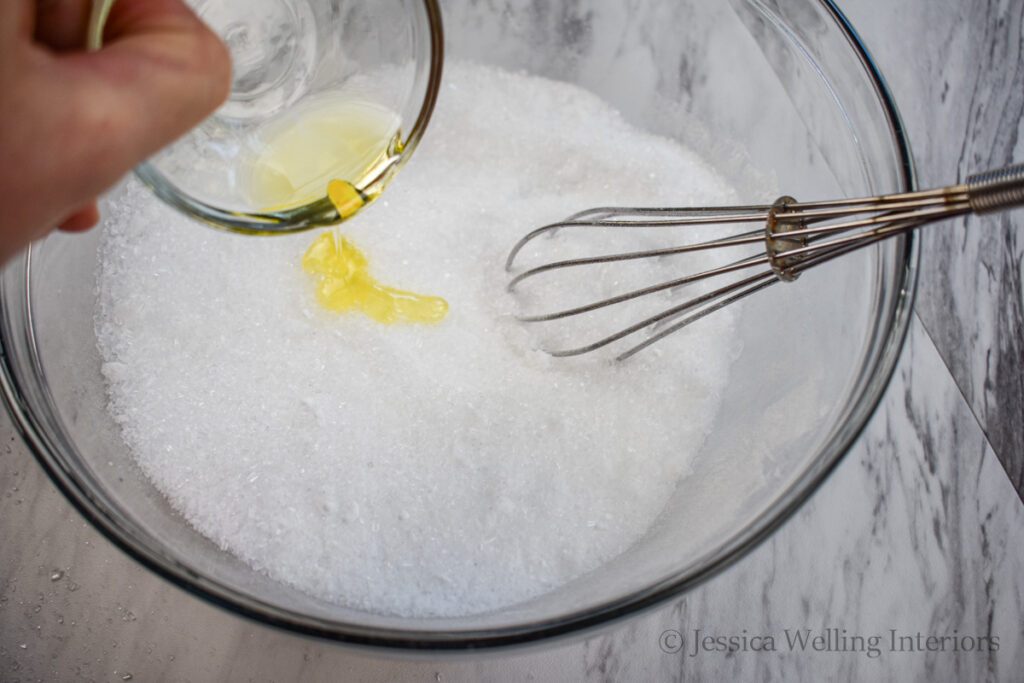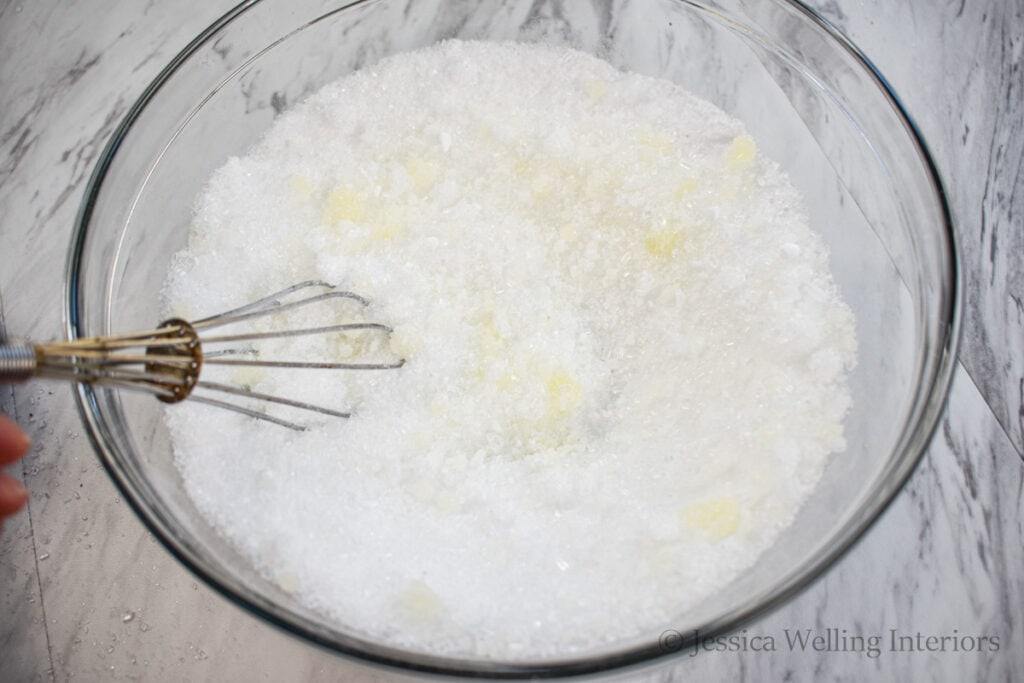 Then get your hands in there and sift the bath salts to really distribute the oils.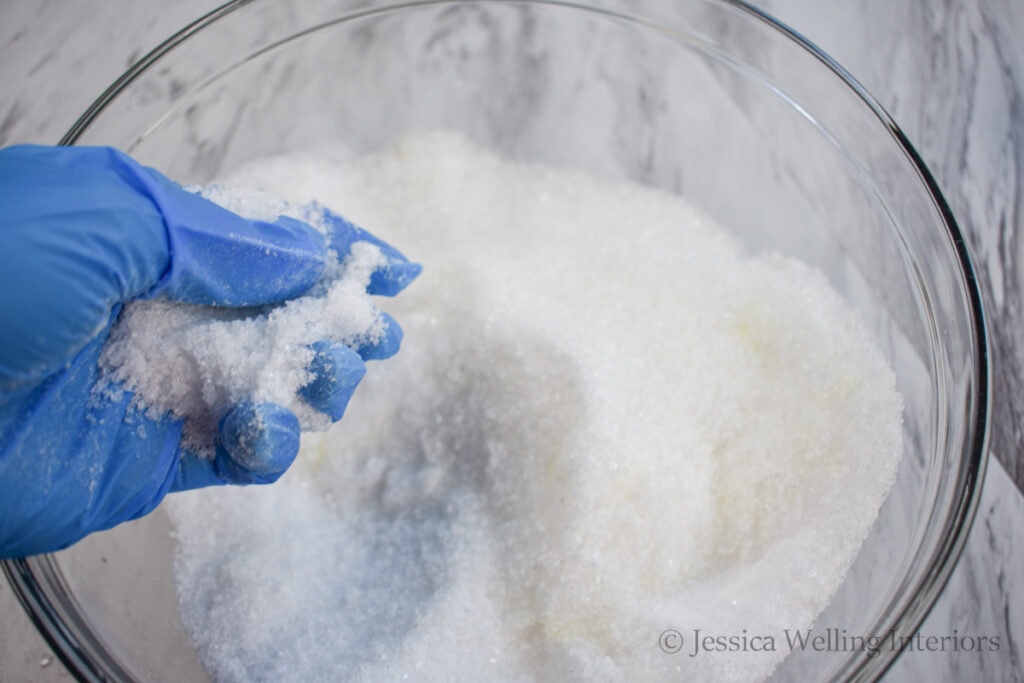 4. Add Food Coloring (Optional)
Add a few drops of food color to your bath salts and stir well.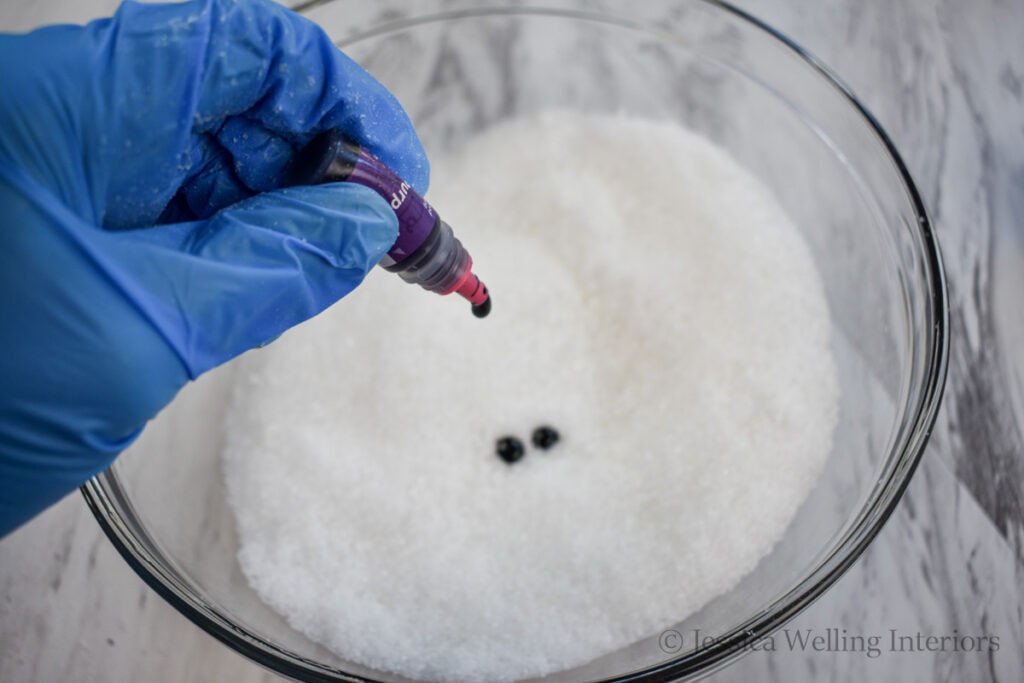 If you have trouble breaking up all the clumps, I suggest putting on some nitrile gloves and getting in there with your hands to really combine the ingredients. The gloves are just so you don't dye your hands purple.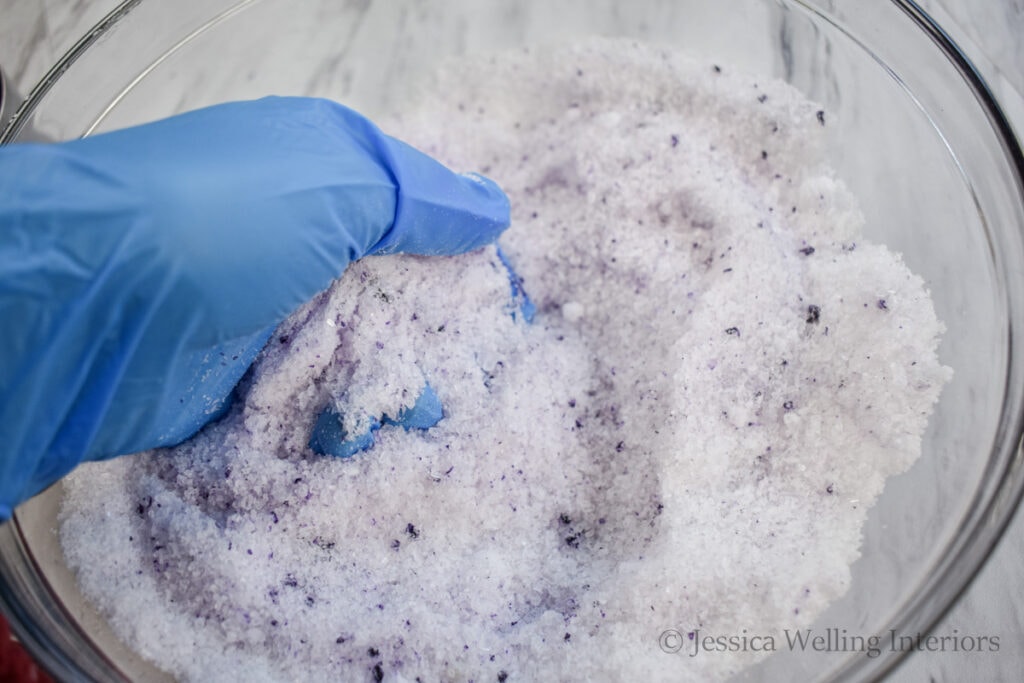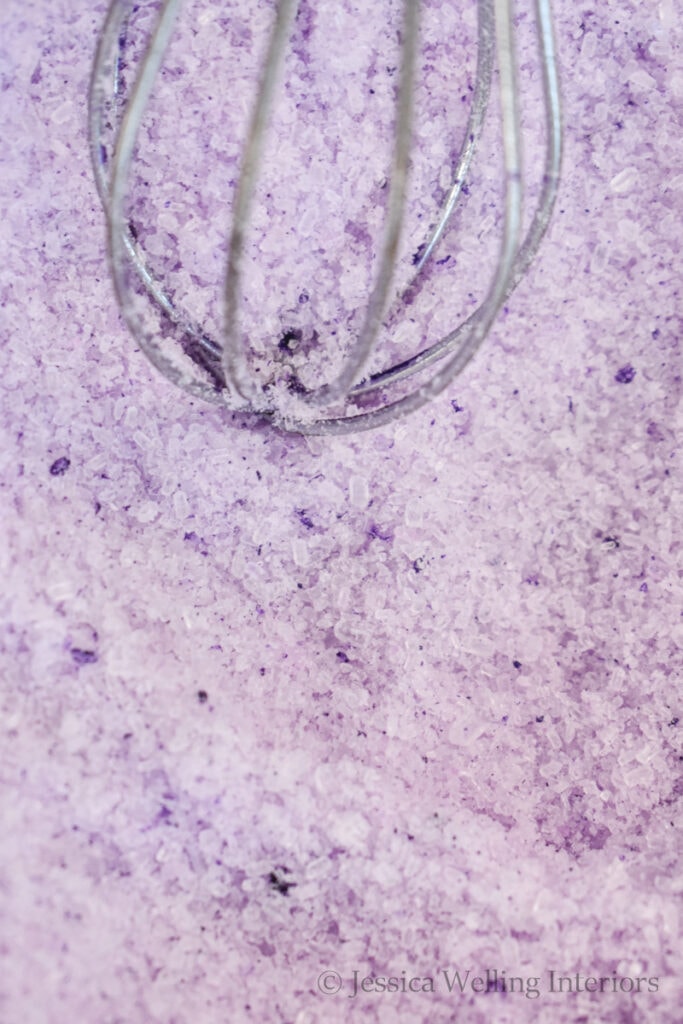 It's important to note that no matter how long you spend mixing, you're never going to get a perfectly even distribution of color using liquid or gel food coloring. I personally think the darker bits add to the bath salts' natural charm and texture.
5. Fill Jars
Spoon the finished bath salt into the jars carefully. Don't pack it down- I've done this and I have a brick of bath salt next to my tub to prove it!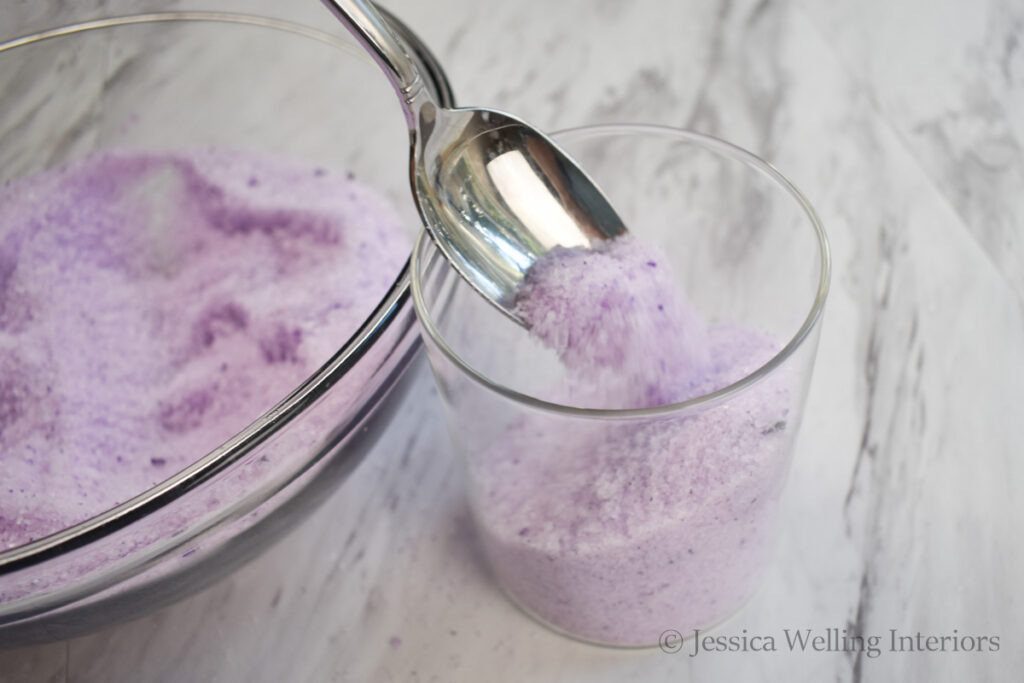 6. Label
Finally, label your jars. It's important to use vinyl sticker labels instead of paper ones, since the jars will likely be in a damp environment.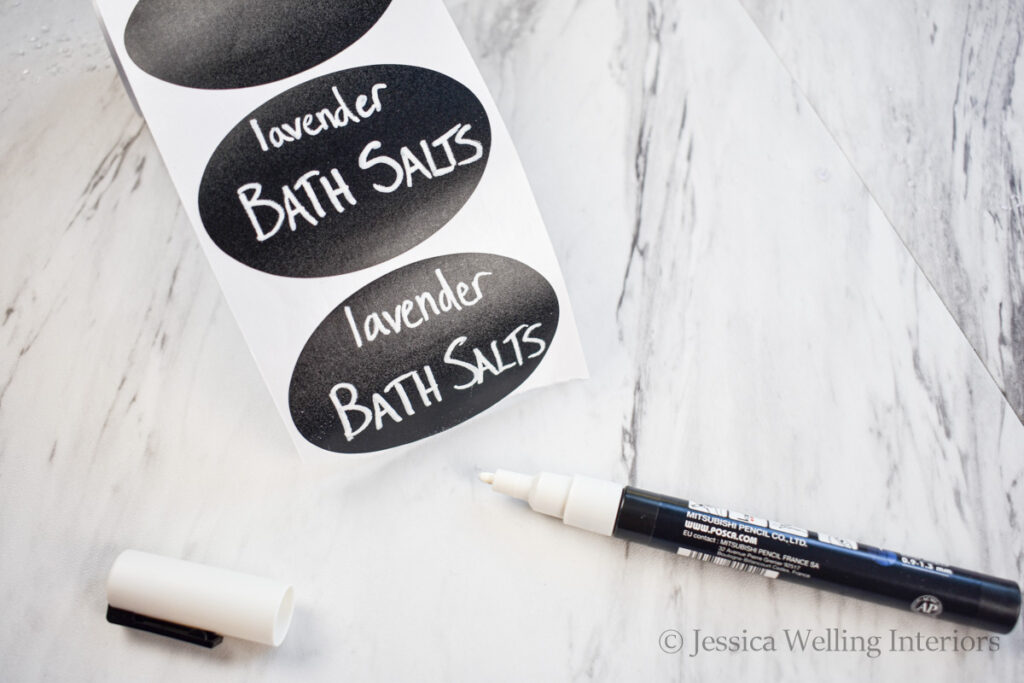 I like to use these chalkboard sticker labels and a white paint pen.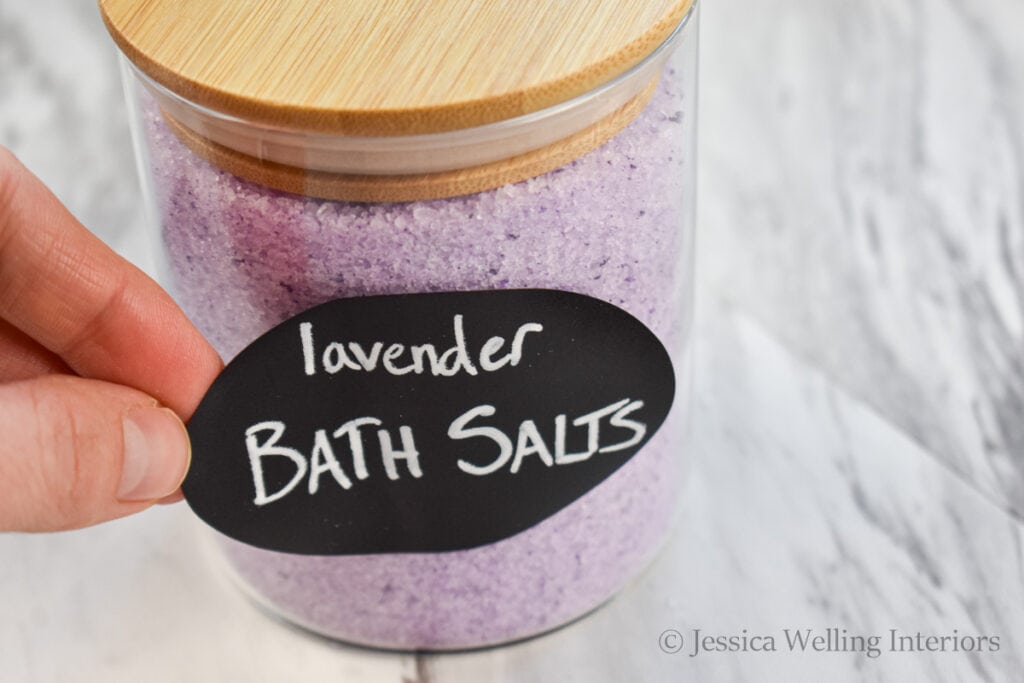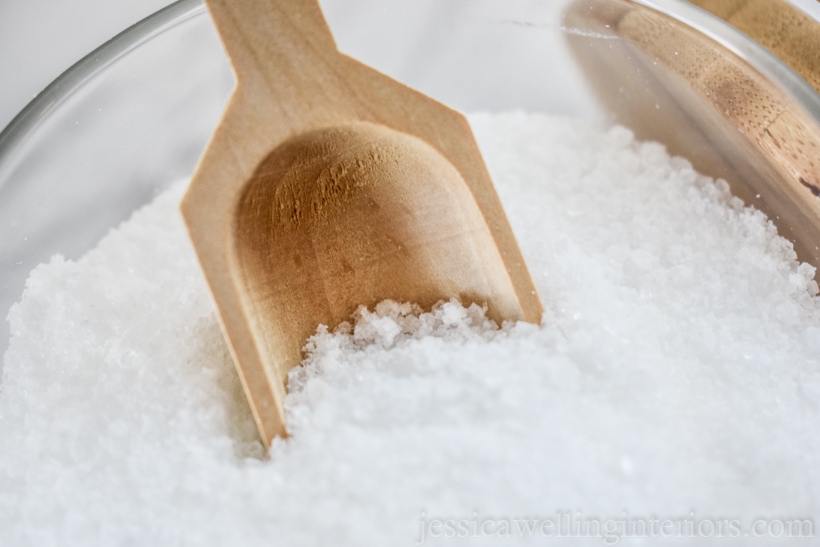 How to Use Homemade Bath Salts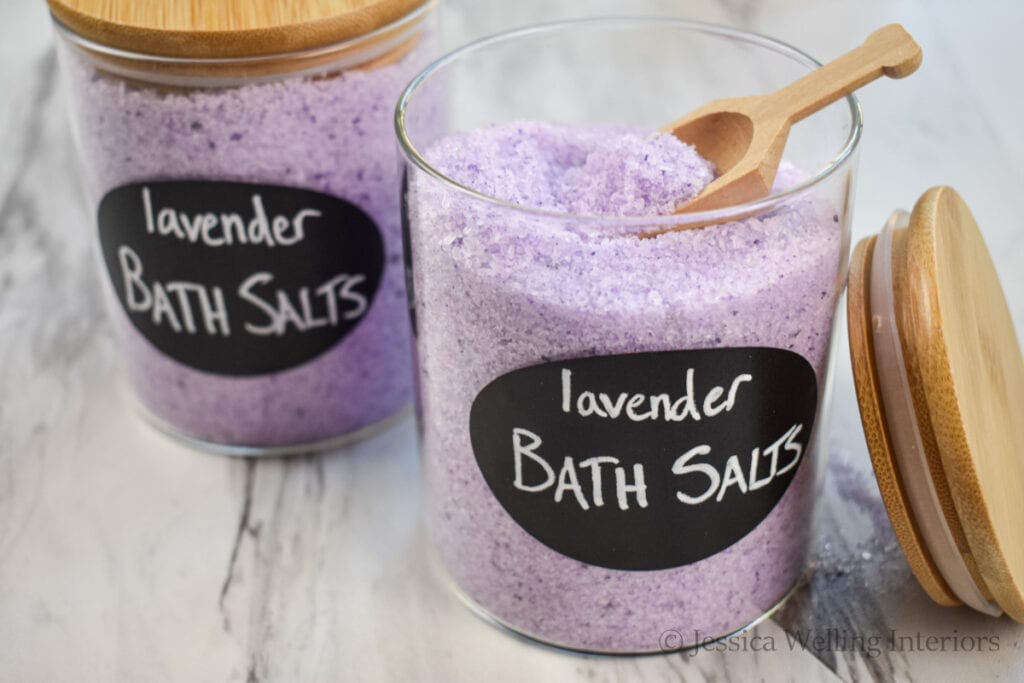 For a fabulously relaxing bath, simply fill the tub with warm water and add 2-3 scoops of bath salts to your hot bath. Let it dissolve, and enjoy!
You can keep a jar of bath salts on the side of your bathtub- just seal it in an airtight container to prevent it from clumping (or worse-turning into a solid brick!).
Now add a bow, one of these cute wood scoops, and a gift tag, and you've got some amazing and thoughtful handmade gifts!
Helpful Tips
Go light on the added oils (coconut oil, jojoba, etc.) as they can cling to the tub and make it slippery!
I've used mica powder in place of food coloring before, but it's pricey, you'll need a lot of it to color your bath salts, and it tends to leave a mess in the tub. Just not worth it in my opinion.
Materials
Instructions
Combine epsom salt and baking soda in a mixing bowl and stir well.
Combine jojoba oil (or another carrier oil) and essential oils in a small bowl and stir.
Add oils to salt mixture and stir.
Add food color (optional) and use gloved hands to combine and break up any clumps.
Fill jars.
Label.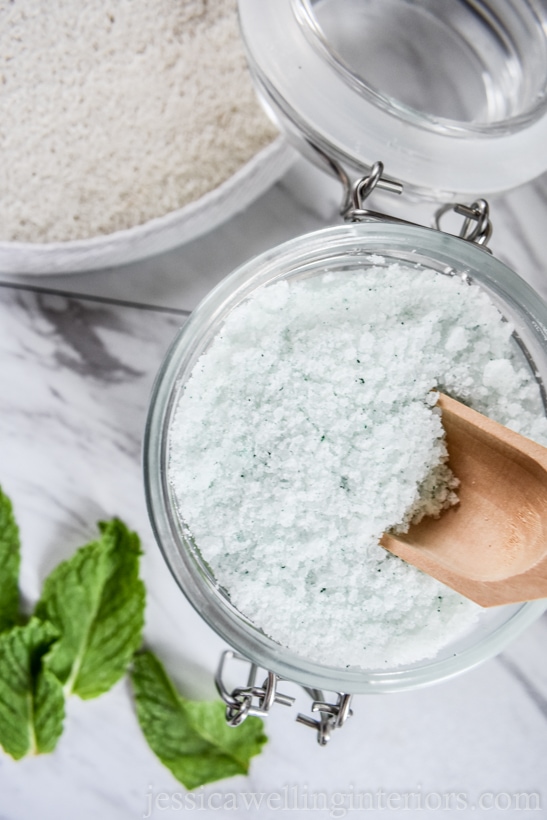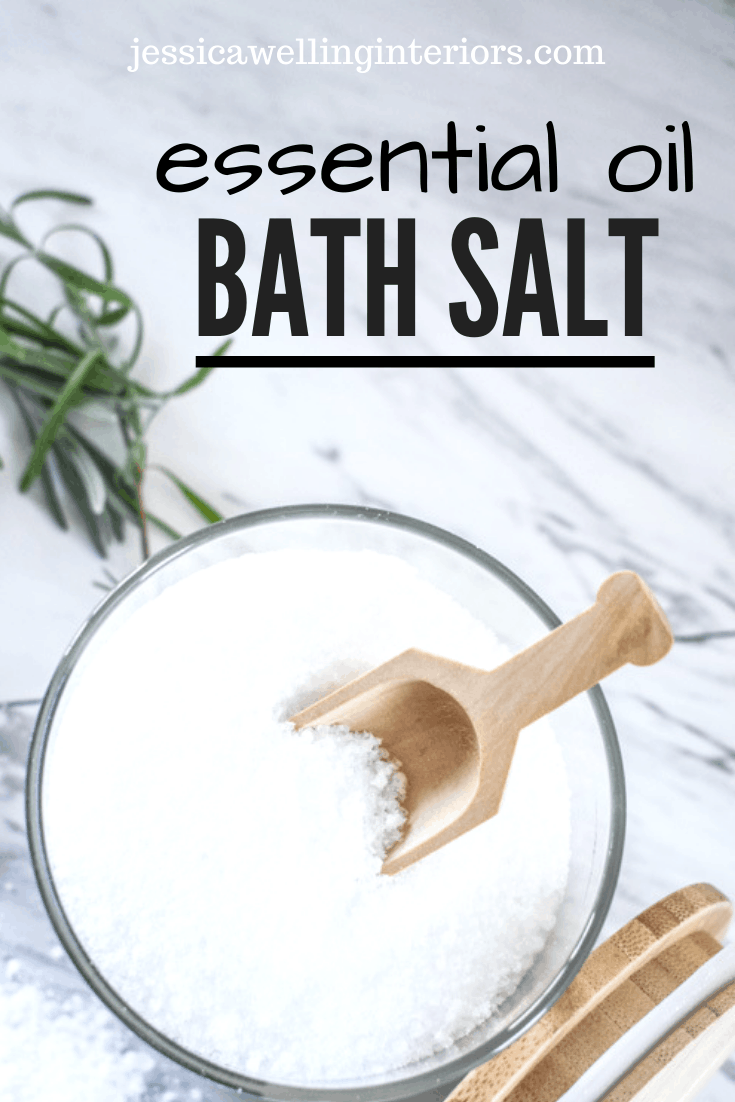 More Homemade Bath Products…
How to Make Bubble Bath (That Actually Bubbles!)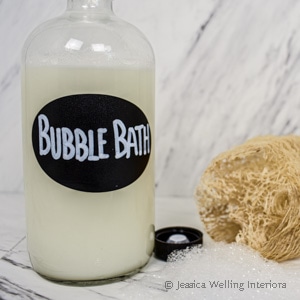 The Best Pink Himalayan Salt Bath Recipe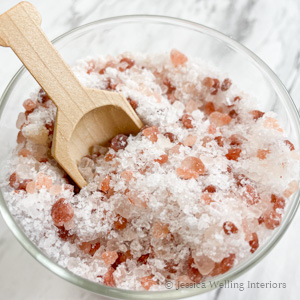 Homemade Bubbling Bath Salts: The Best of Both Worlds!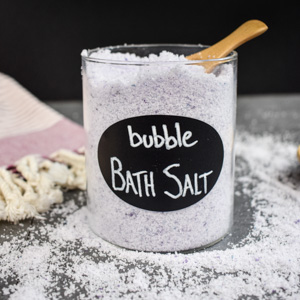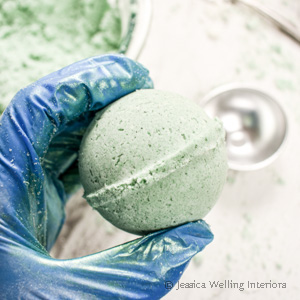 Easy DIY Poo-Pourri Toilet Spray