How to Make Bubble Bath (That Actually Bubbles!)
Learn how to make bubble bath with this quick and easy 3 ingredient recipe and no harmful chemicals.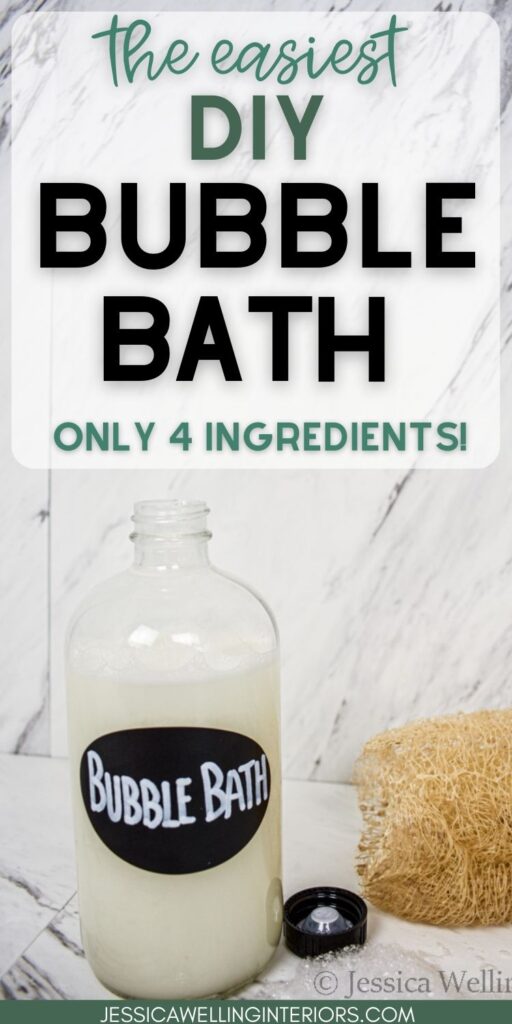 Making your own bubble bath is fun and easy. It's a great project for the kids to help with too. And there's no better way to relax at the end of a long day than a nice long soak in the tub.
We are big bubble bath fans at my house, and the girls were more than willing to test my recipes. Even Fozzy got in on it. I left the tub to fill and came back to find him covered in bubbles and the floor sopping wet. And then we had a very wet and soapy chase through the house!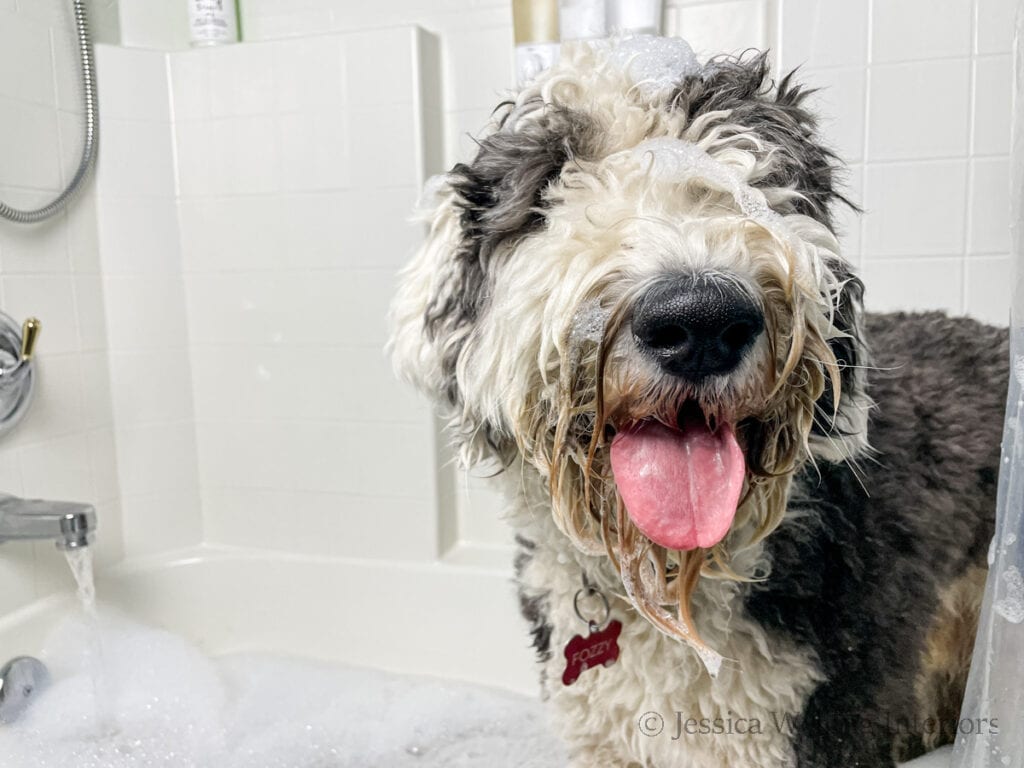 Criteria for Great Homemade Bubble Bath
Lots of Long-Lasting Bubbles
Many recipes use castile soap as the base for the bubble bath. I bought some and mixed up my first batch. I excitedly poured it in and filled the tub… and the bubbles were very underwhelming. There weren't very many, and they were pretty much gone before I ever got into the tub.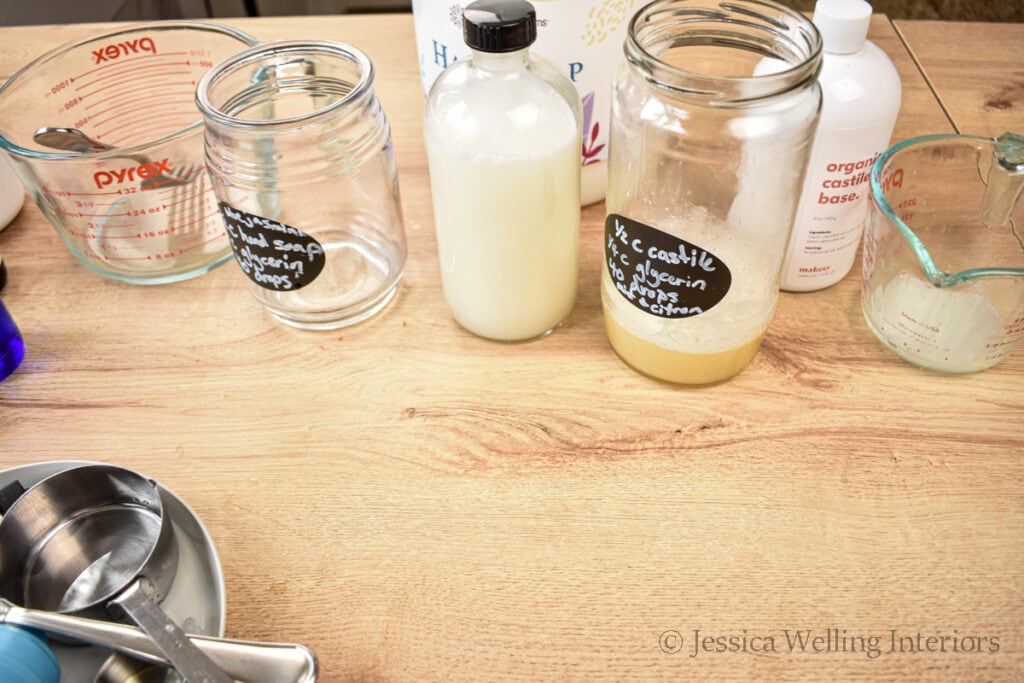 So next I tried an all-natural unscented hand soap as the base. This was much, much better.
All-Natural Ingredients
I wanted to find the best combination of simple, relatively inexpensive, all-natural ingredients for this recipe.
Great Scent
Great relaxing fragrance is one of the best parts of the bath experience. This recipe uses plant-derived essential oils for scent.
Shelf-Stable
I don't want to have to mix up a fresh batch every time someone wants to take a bath… and I'm also planning to give homemade bubble bath as gifts. So I'm only using ingredients that won't grow bacteria and get nasty sitting on the edge of the tub. So we'll skip some of the all-natural ingredients common to homemade bubble bath recipes like egg whites, goat's milk, flower petals, etc.
Bubble Bath Bottles
A standard-sized tub requires about 3/4 cup of bubble bath for optimal suds. So I like to make it in a large bottle so it will last a while. I got these 16 oz glass bottles from Amazon.
And I got these 16 oz plastic pump bottles for the kids' bathroom. I don't know what goes on in there, but there's always A LOT of water on the floor when they're done.
How to Make Bubble Bath
Ingredients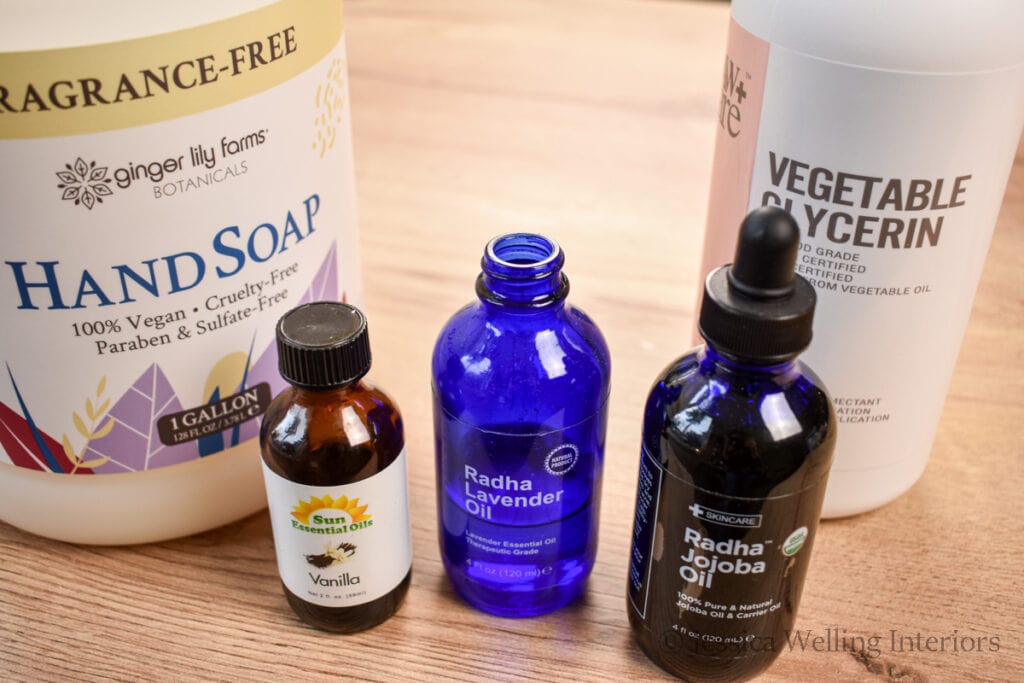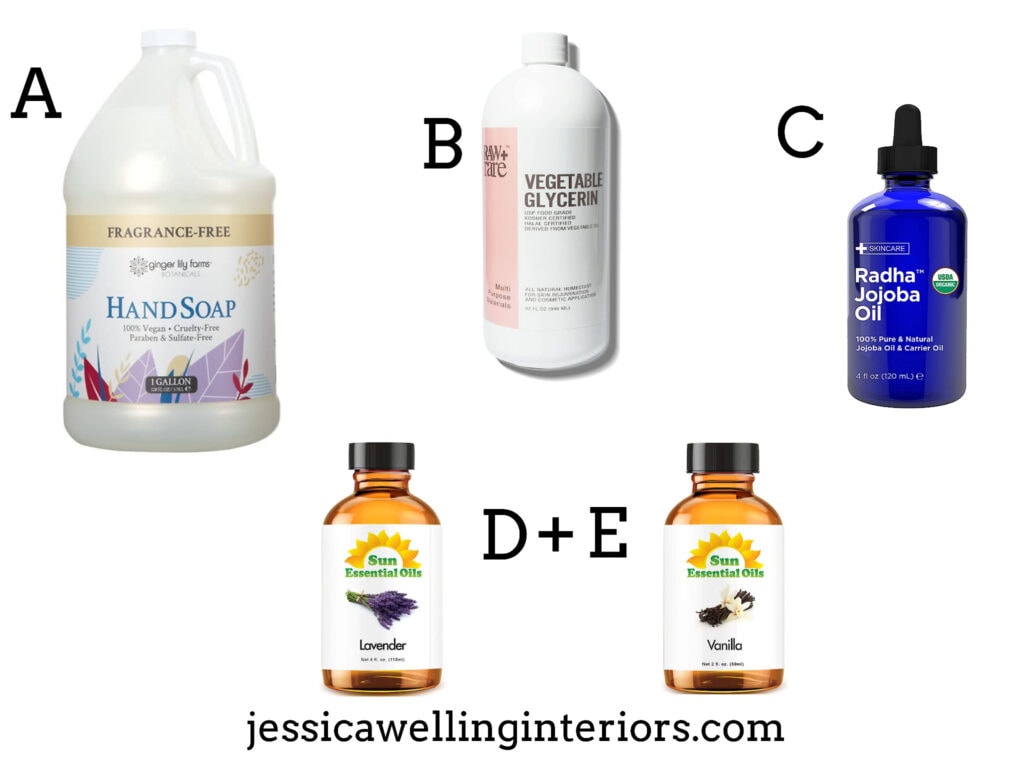 A. Natural Fragrance-Free Hand Soap (I'm using this one from Amazon)
B. Glycerin
C. Jojoba Oil
D. Essential Oils (I'm using lavender & vanilla) See below for more combinations.
Materials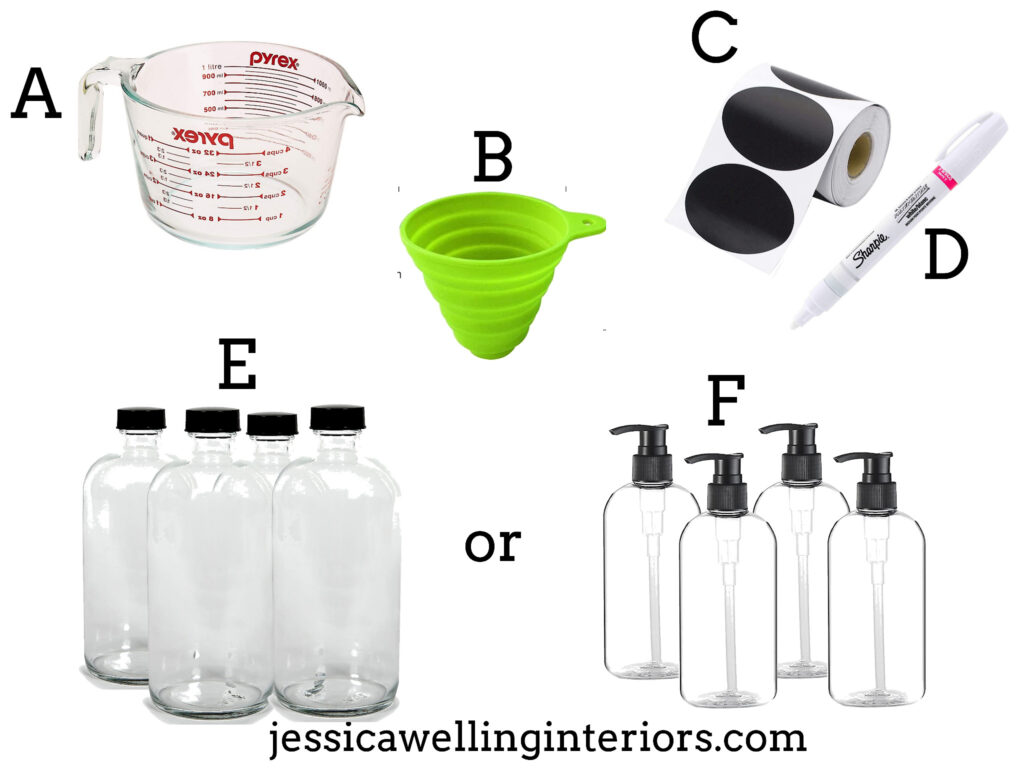 A. Large liquid measuring cup or large bowl & measuring cups
B. Funnel
C. Plastic or Vinyl Sticker labels (these are my favorite chalkboard sticker labels)
D. Fine Point White Paint Pen and Extra Fine Point White Paint Pen
E. Glass Bottle (this recipe will fill one 16 oz bottle)
or
F. Plastic Bottle (I'm using these 16 oz plastic pump bottles for the kids)
Essential Oils
Here are a few of my favorite essential oils for DIY bubble bath. Be sure any oils you use are skin safe.
I really like Plant Therapy essential oils and they have a Kid Safe line. I like to use their Sniffle Stopper blend in bubble bath when the kids are sick, and I also like their Germ Destroyer blend.
Directions
1. Measure & Add Soap Base
Add the hand soap to the measuring cup first. It's not important to get really precise measurements.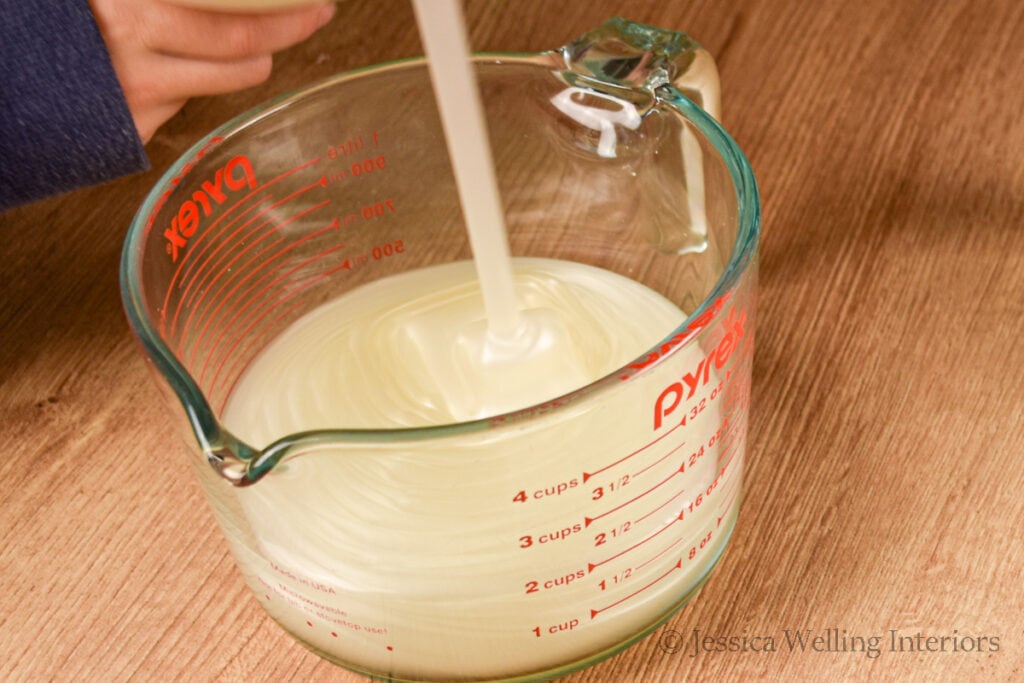 2. Add Glycerin
Next, pour in the vegetable glycerin.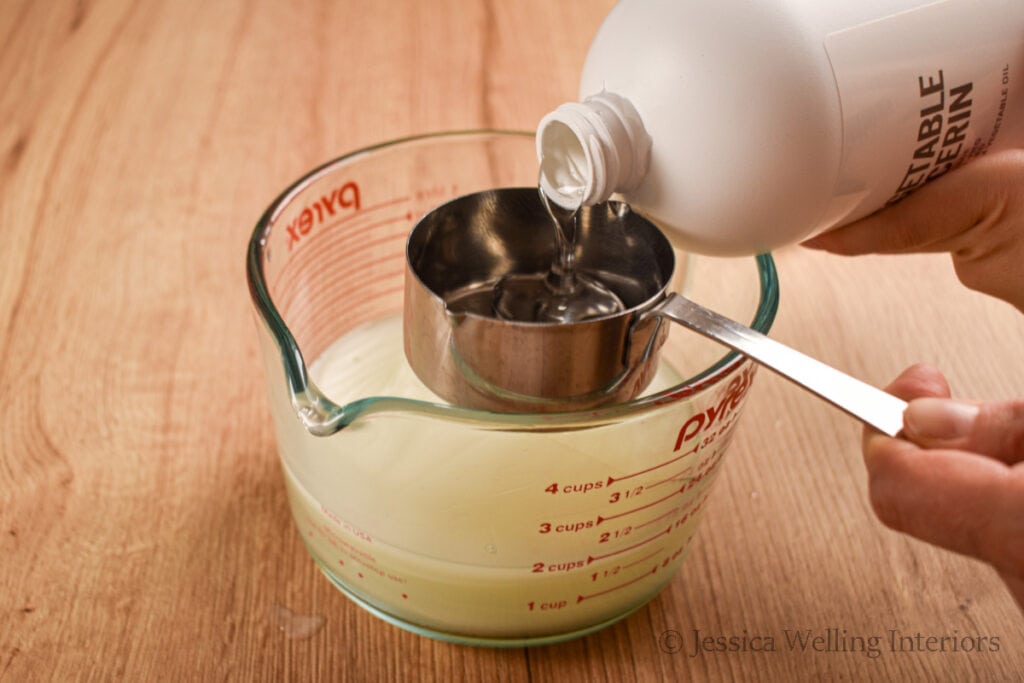 3. Add Jojoba Oil
The jojoba oil is optional. I'm adding it to help counteract any drying ingredients in the soap. I did find that the more oil you add, the fewer bubbles you'll get, and the quicker they will dissolve. Oils can also make the tub slippery, so be careful and don't add too much!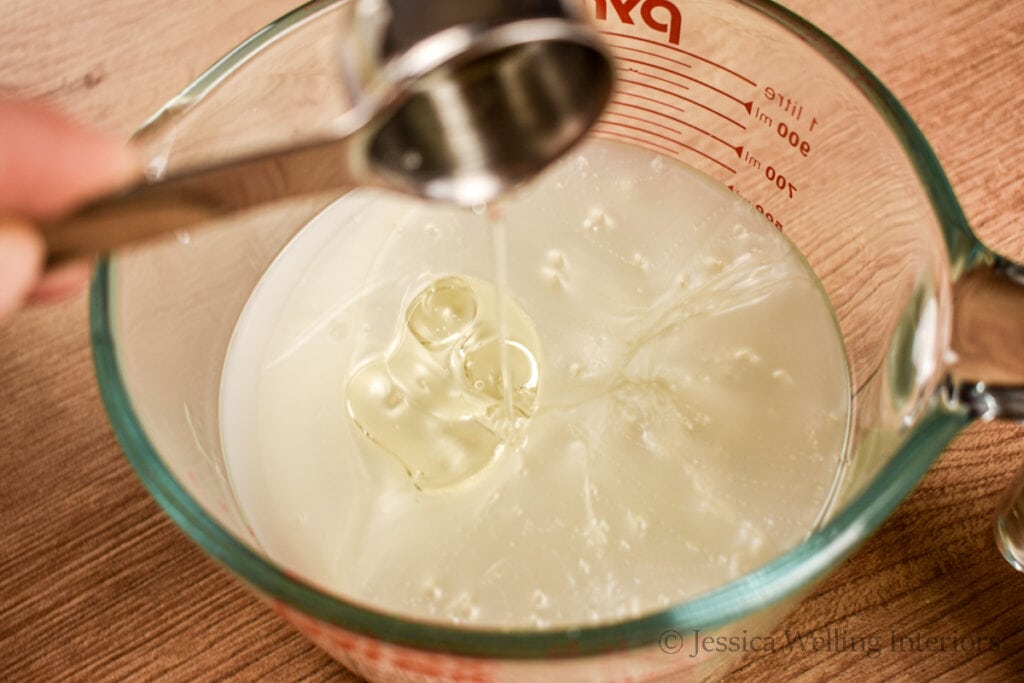 4. Add Essential Oils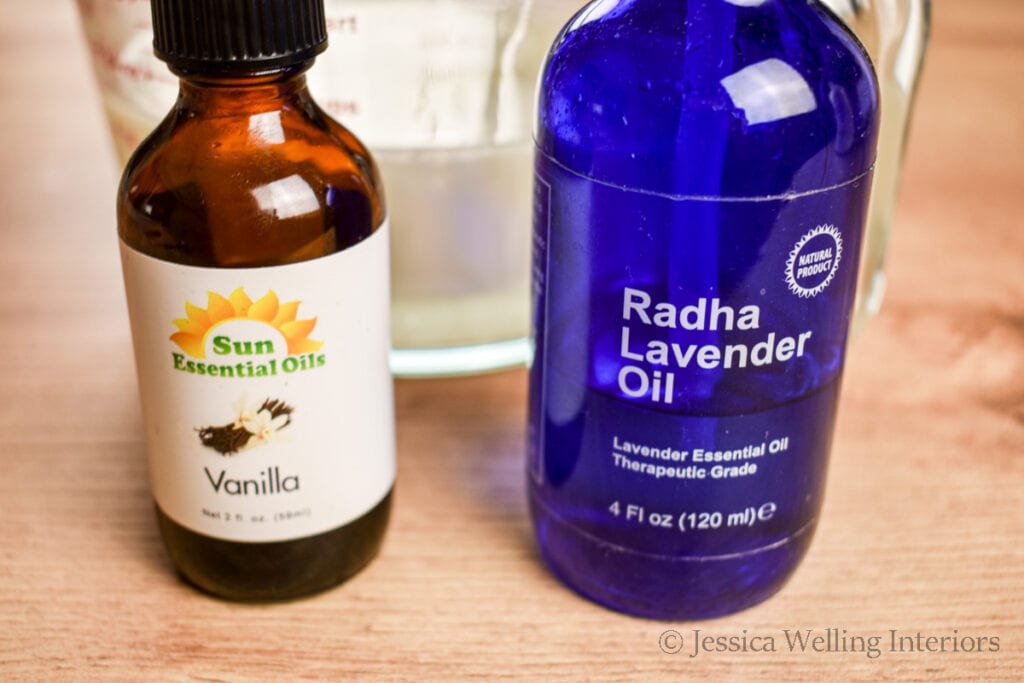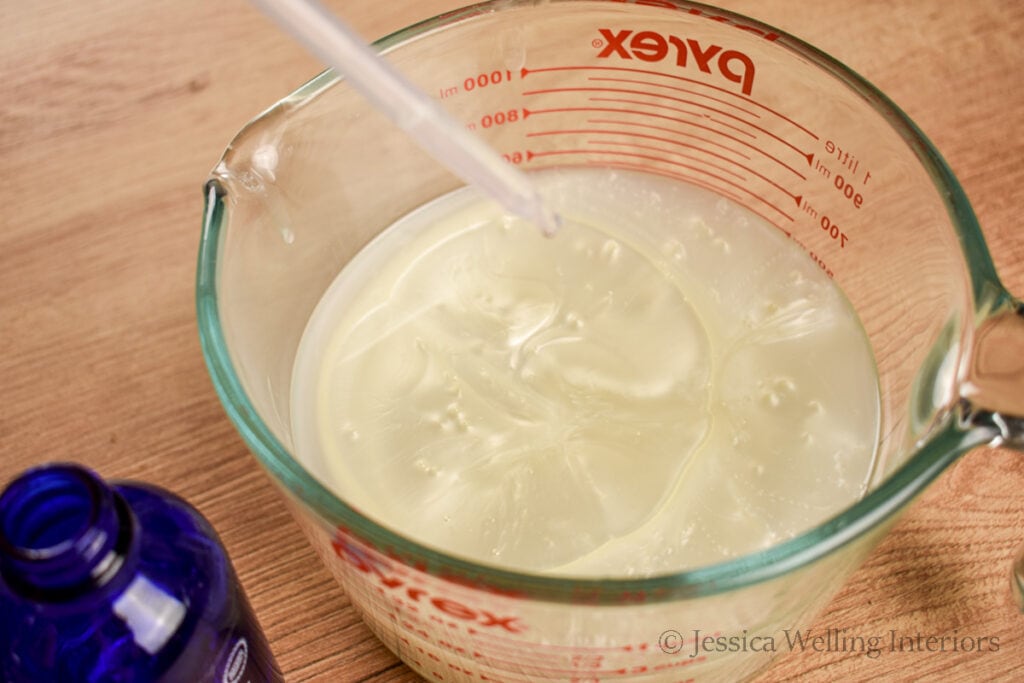 5. Stir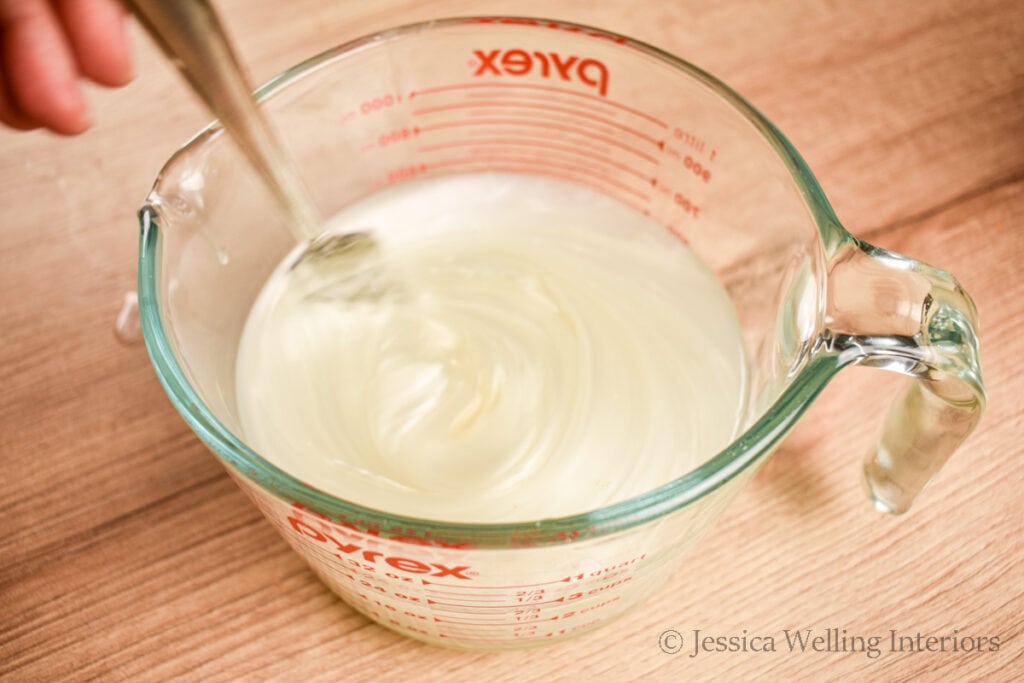 6. Fill Bottles
Place the funnel in the bottle opening and pour the bubble bath in, being sure to leave a little space at the top if you're using pump bottles.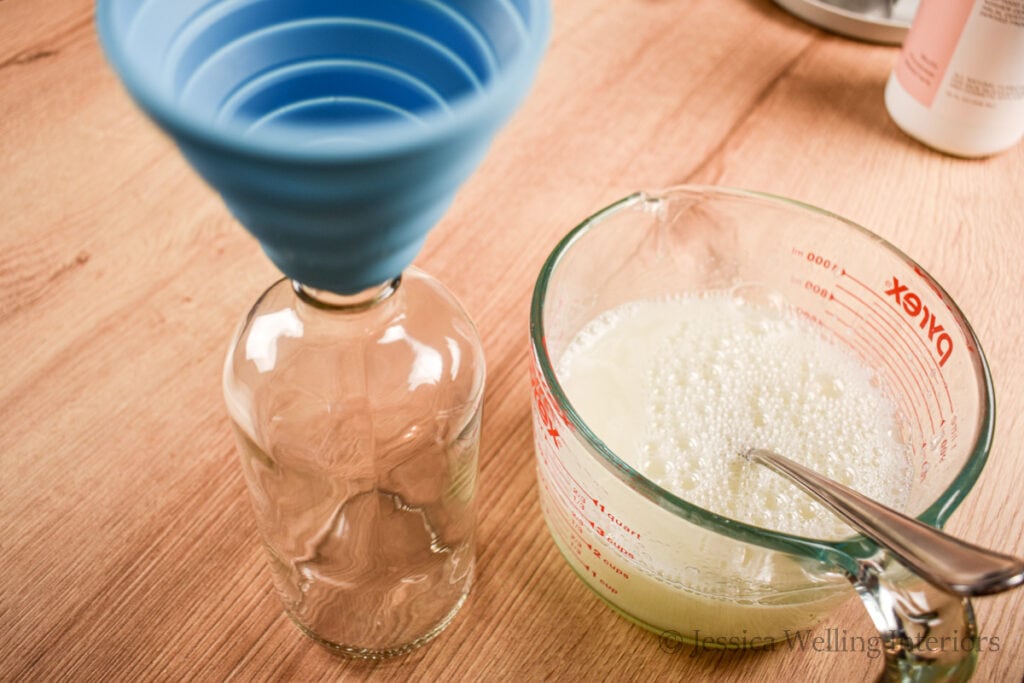 You may want to recruit a helper to hold the funnel in place while you pour. And consider doing this step in the sink to avoid a mess.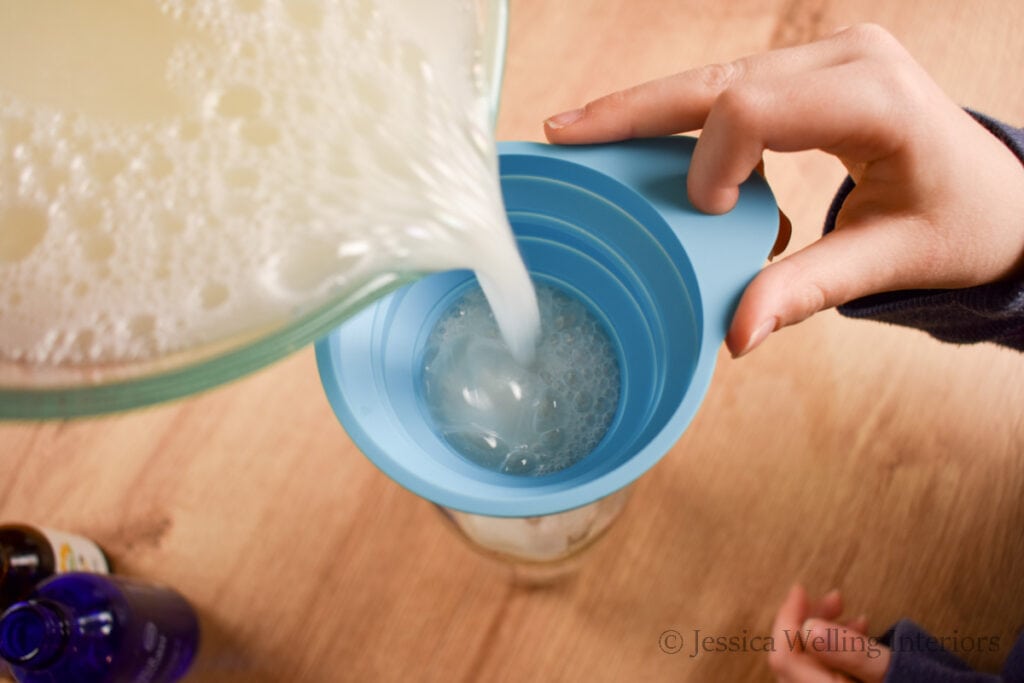 Replace the lid and rinse off anything that spilled down the sides.
7. Label
These are my favorite chalkboard sticker labels, and I'm using a fine point white paint pen to write the labels. You can use any plastic or vinyl sticker labels, but I don't recommend paper labels since the bottle is likely to get wet.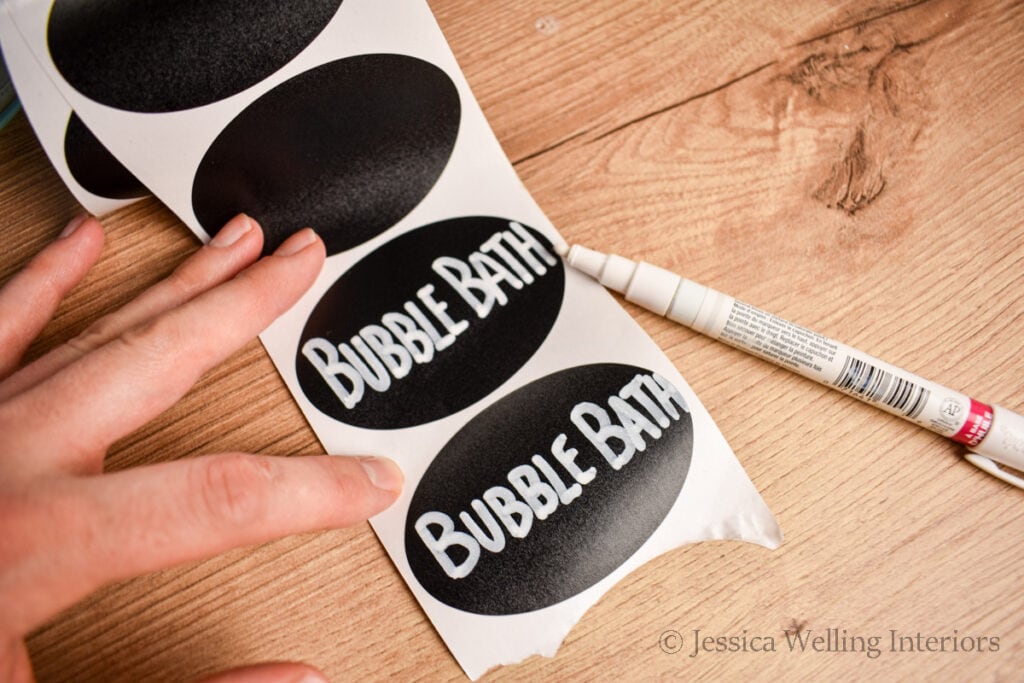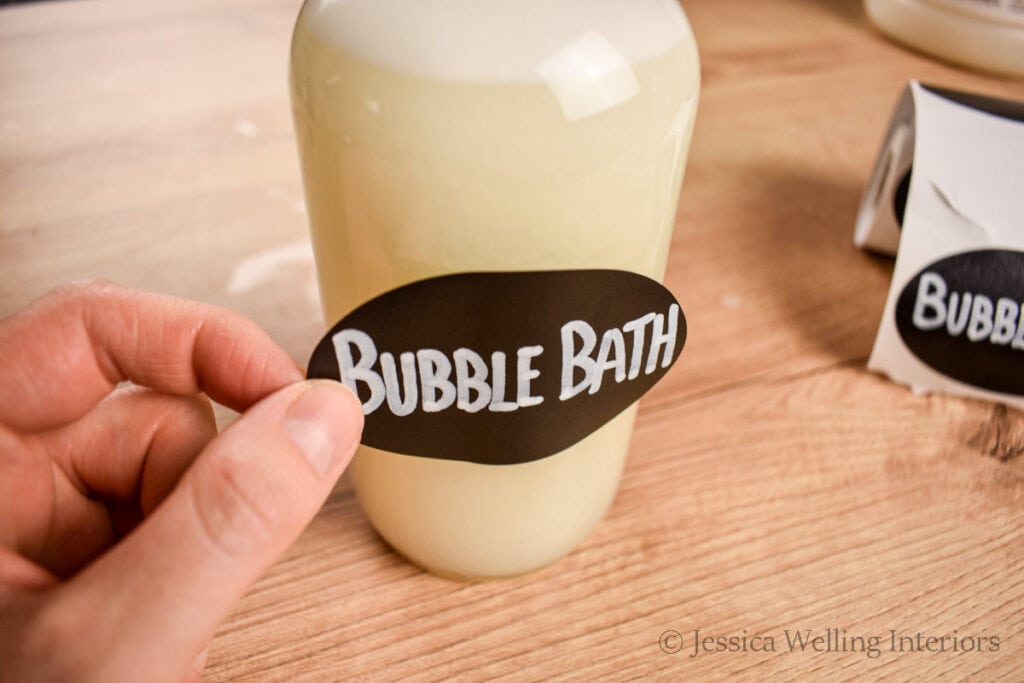 How to Enjoy Your Homemade Bubble Bath
Give the bottle a good shake before use. Then turn on the hot water and pour about 1/2 cup of bubble bath under the running water. Larger tubs may require a bit more. Enjoy!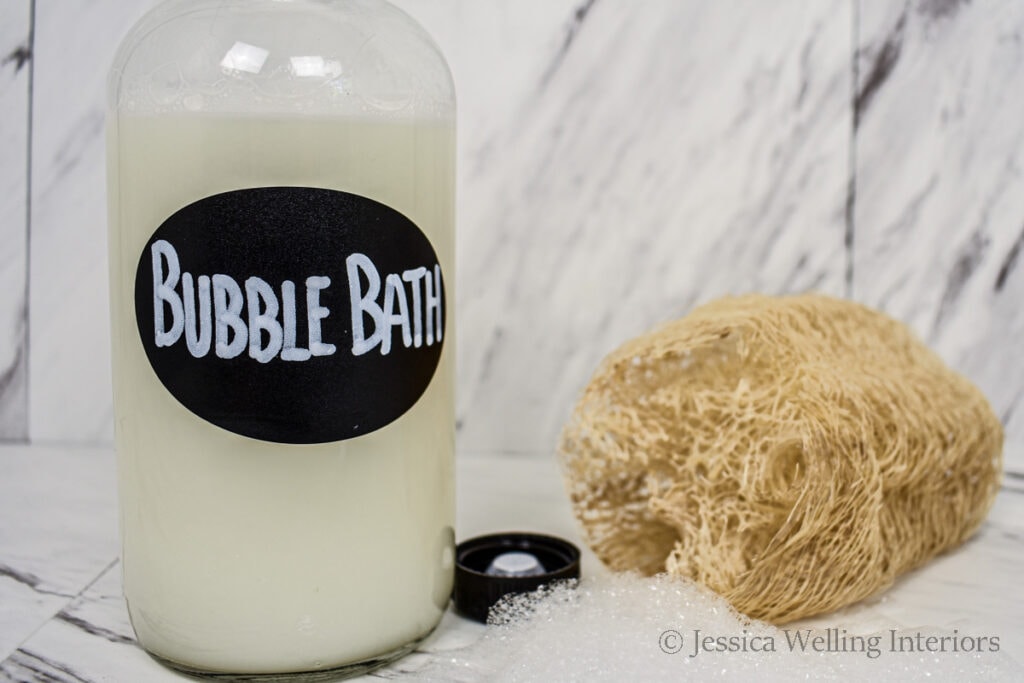 Bubble Bath Conversion Chart
Here's a conversion chart if you want to make a larger or smaller batch.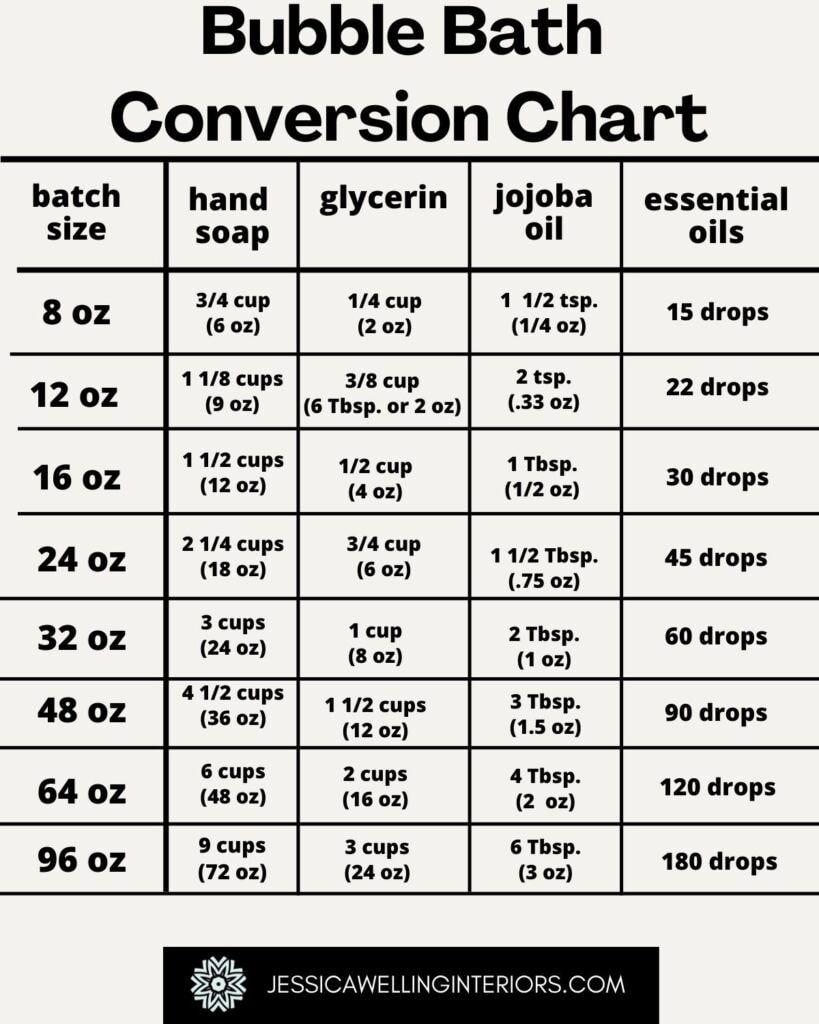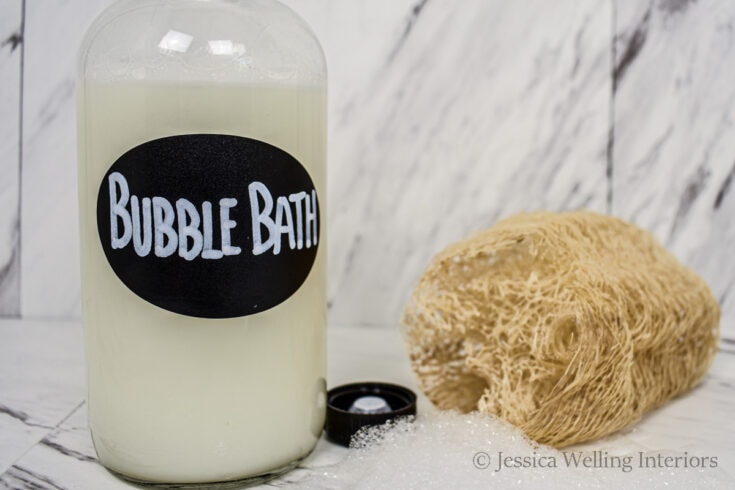 Yield:

16 oz
DIY All-Natural Bubble Bath
Materials
Instructions
Measure & add soap base
Add glycerin
Add jojoba oil (optional)
Add essential oils
Stir
Fill Bottles
Label
More Homemade Bath Products…
DIY Bubble Bath with Epsom Salt