DIY Bubble Bath with Epsom Salt
Make this easy DIY bubble bath with all-natural ingredients for lots of long-lasting bubbles and epsom salt to sooth sore muscles!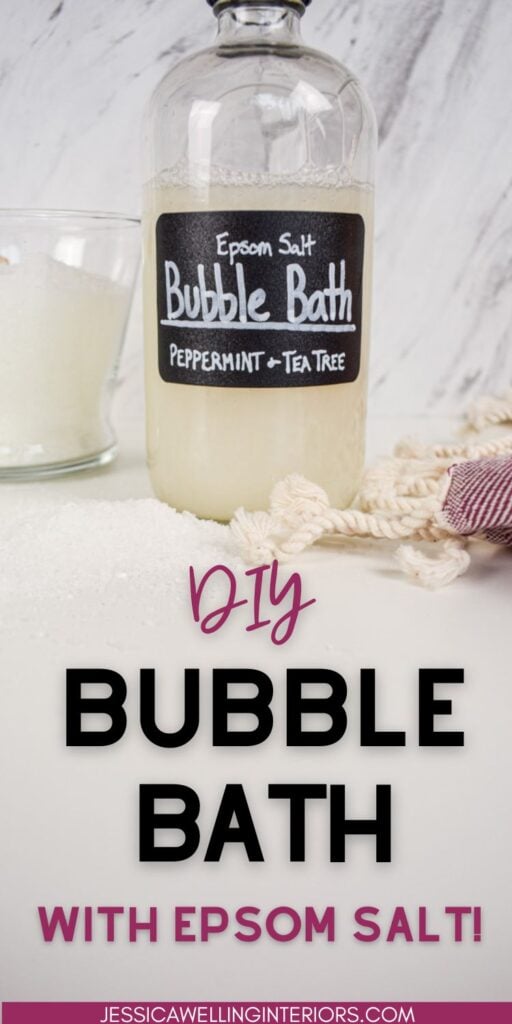 We love taking bubble baths in this all-girl household. So after perfecting my basic all-natural bubble bath recipe, I wanted to try one with epsom salt to help relax sore muscles.
I started with the addition of jojoba oil and found that it made for some very lackluster bubble action (i.e. there was just a bit of froth on top of the water and it quickly disappeared). Once I removed that and made a few other tweaks, I got it just right.
DIY Bubble Bath Recipe
This recipe is quick and really easy. It should only take about five minutes to make!
Ingredients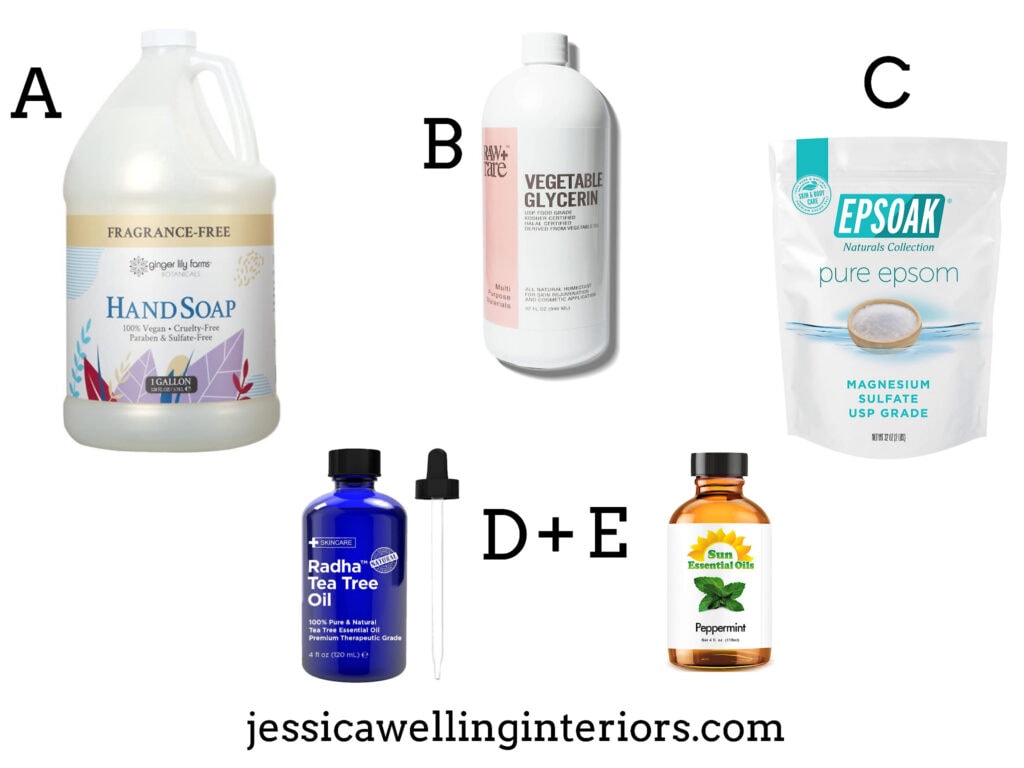 A. fragrance-free hand soap (I'm using this natural soap from Amazon)
D. tea tree oil
Experimental recipe:
1 1/2 Cups hand soap
1/2 C glycerin
1 Cup Epsom Salt
10 drops peppermint oil
35 drops tea tree oil
Tools & Materials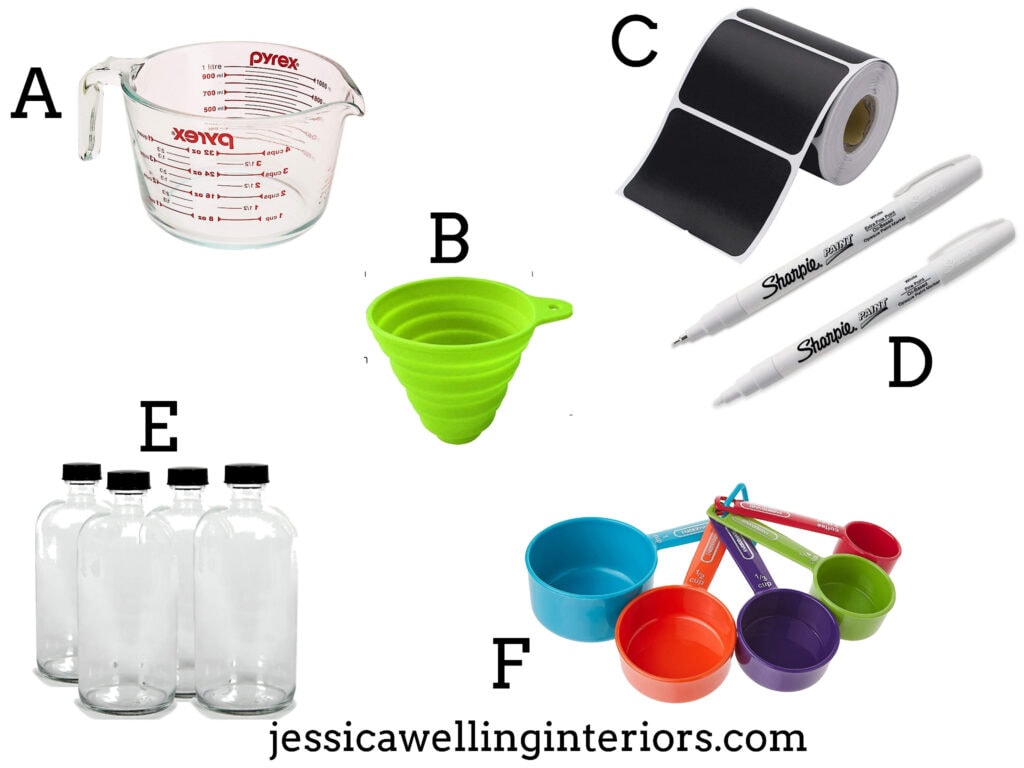 A. large glass measuring cup or mixing bowl
B. Funnel
C. Sticker labels (these are my favorite chalkboard sticker labels from Amazon)
E. Large glass bottles (I'm using these 16 oz glass bottles from Amazon. You could also use plastic bottles)
Directions
I like to make this in a large glass measuring cup because it cuts down on the number of smaller measuring cups I need to use, and the pour spout will come in handy later!
1. Add Hand Soap Base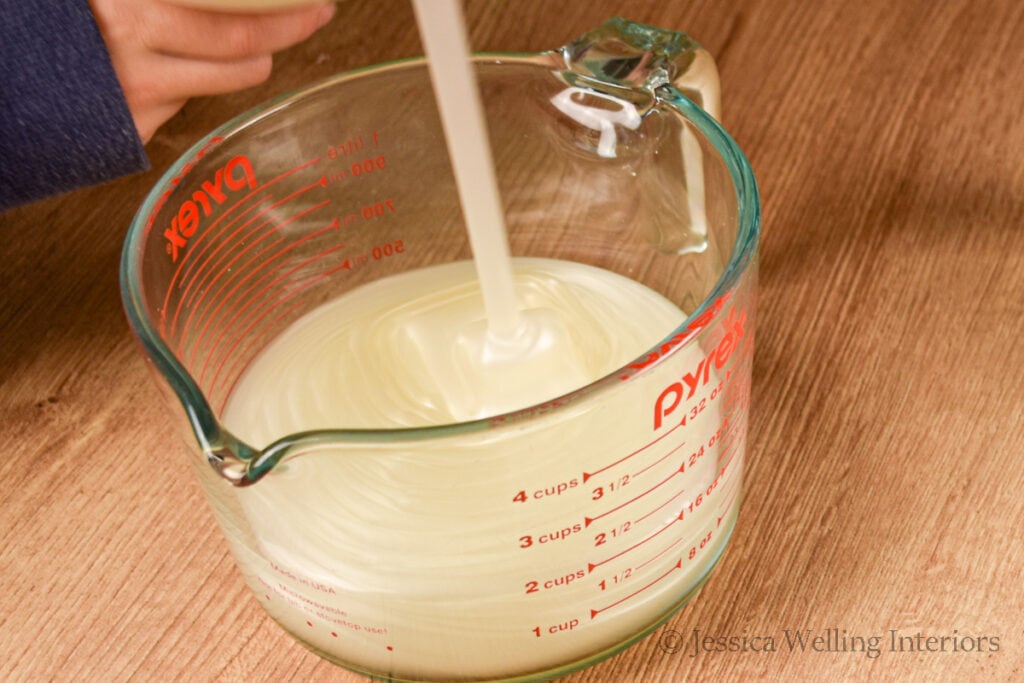 2. Add Glycerin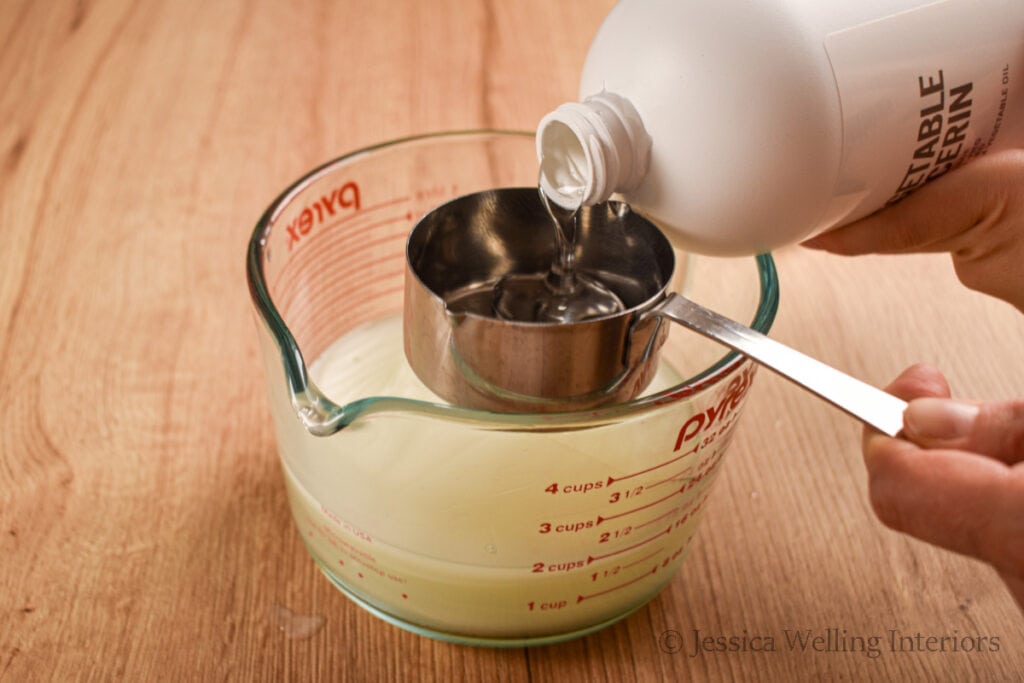 3. Add Epsom Salt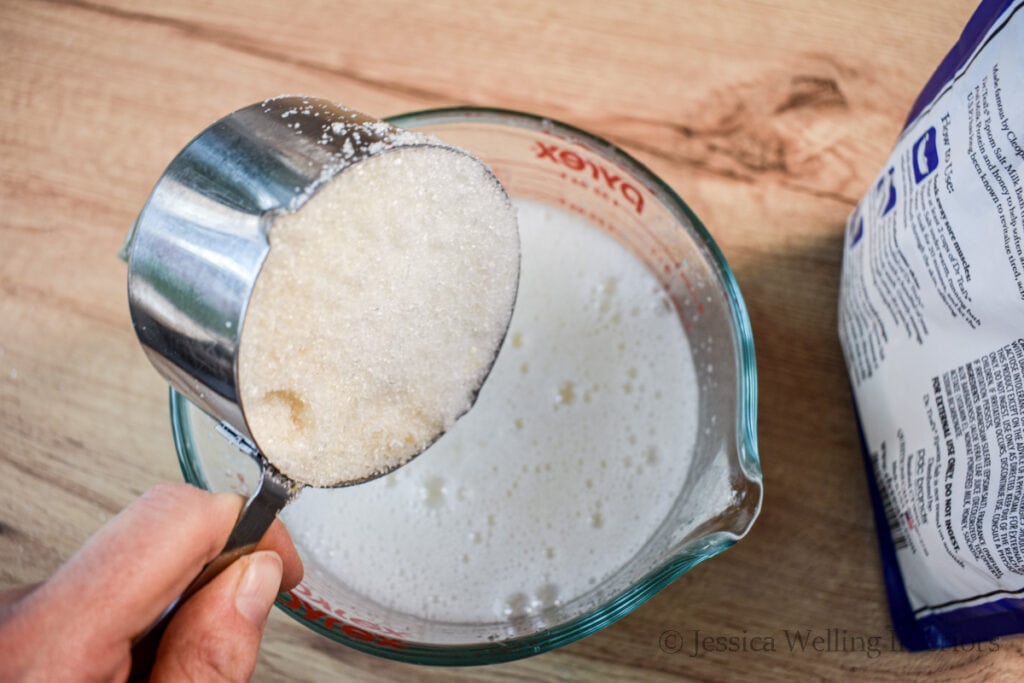 4. Add Essential Oils
The essential oils are added to give the bubble bath fragrance. But feel free to omit them if you have sensitive skin, or replace them with your favorite combination of essential oils.
I don't recommend using more than half peppermint oil though, as too much will make your bath feel cold and tingly!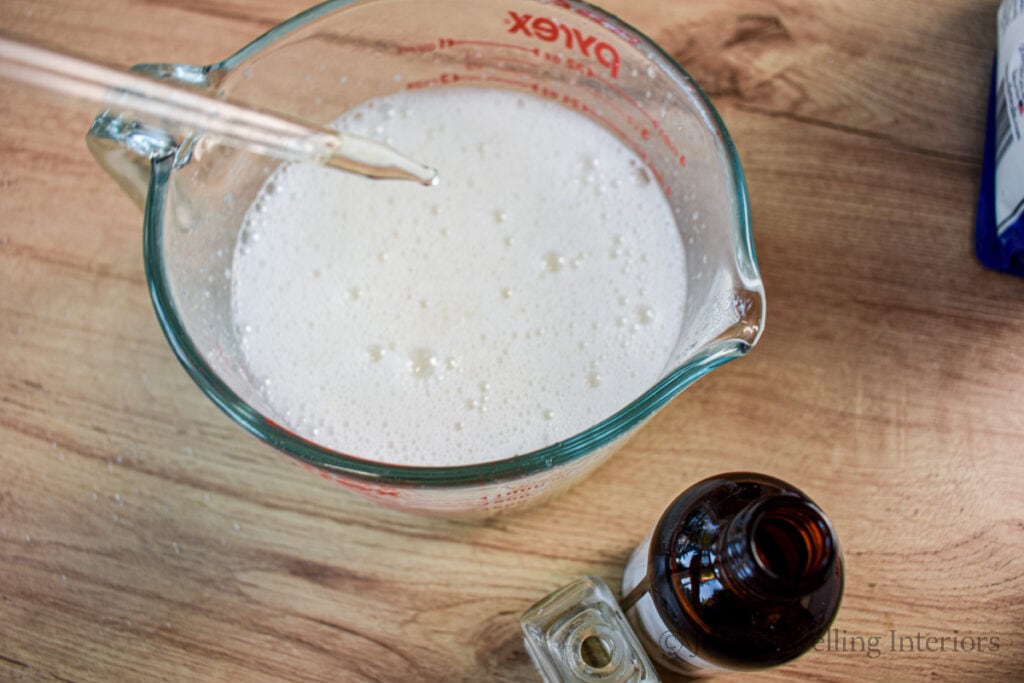 5. Stir
Stir well with a spoon or fork to combine all the ingredients and help the epsom salt dissolve.
6. Wait for Salt to Dissolve
Be sure the epsom salt is dissolved. It should stay dissolved, but you may need to shake the bottle before use if it's been sitting for a while.
7. Fill Bottles
Use the funnel to fill the bottles. If the bubble bath isn't draining into the bottle, try moving the funnel from side-to-side a little to allow some air into the bottle.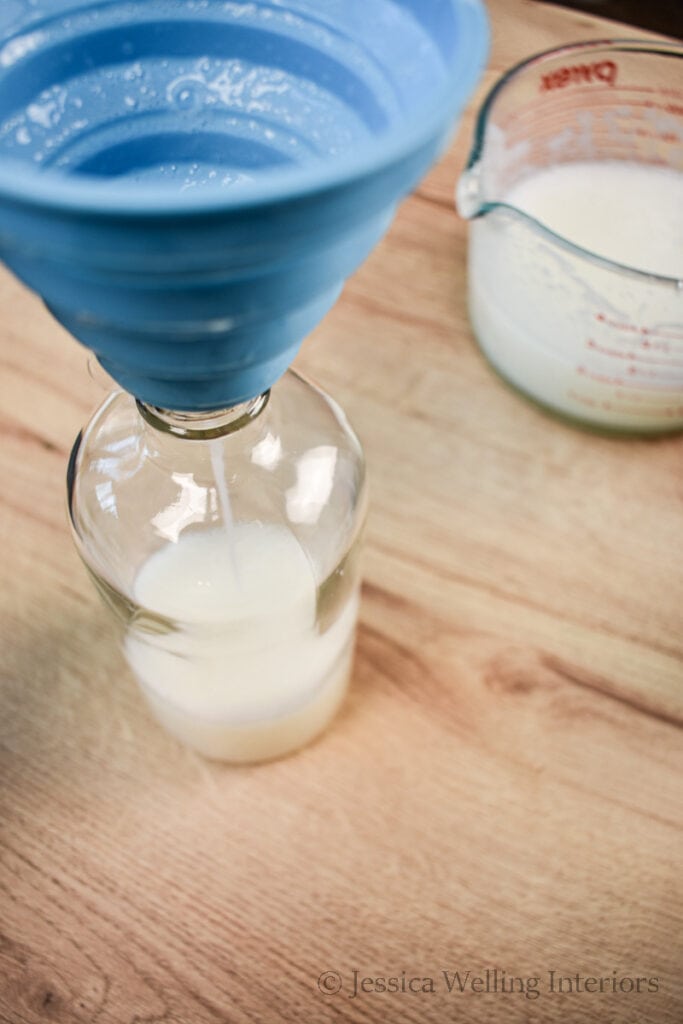 8. Label
I'm using a fine point and an extra-file point white Sharpie paint pen for my labels.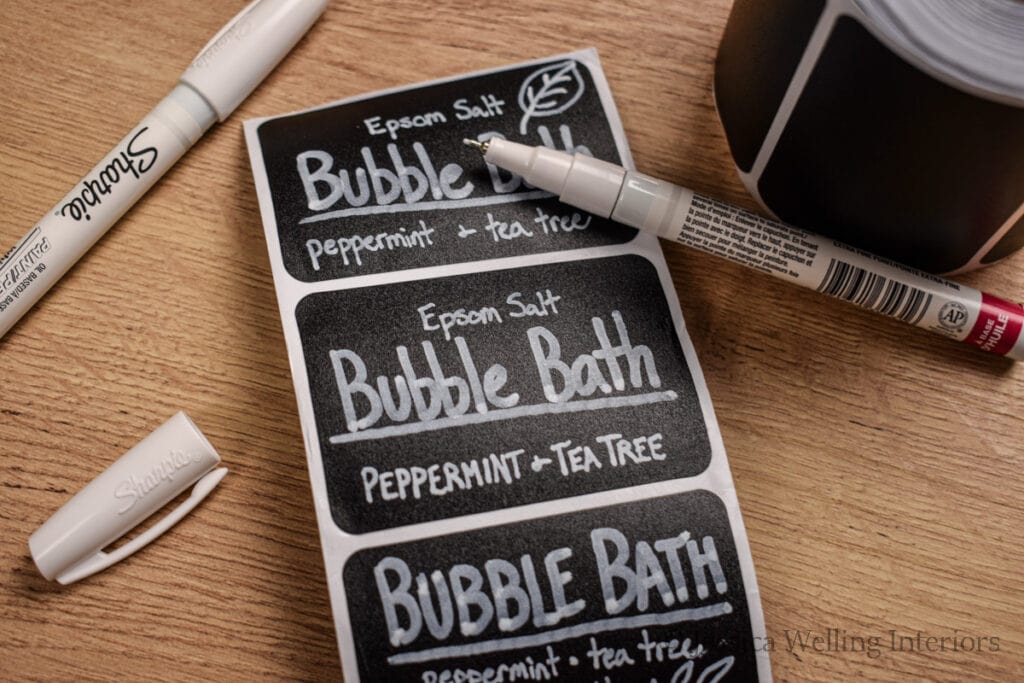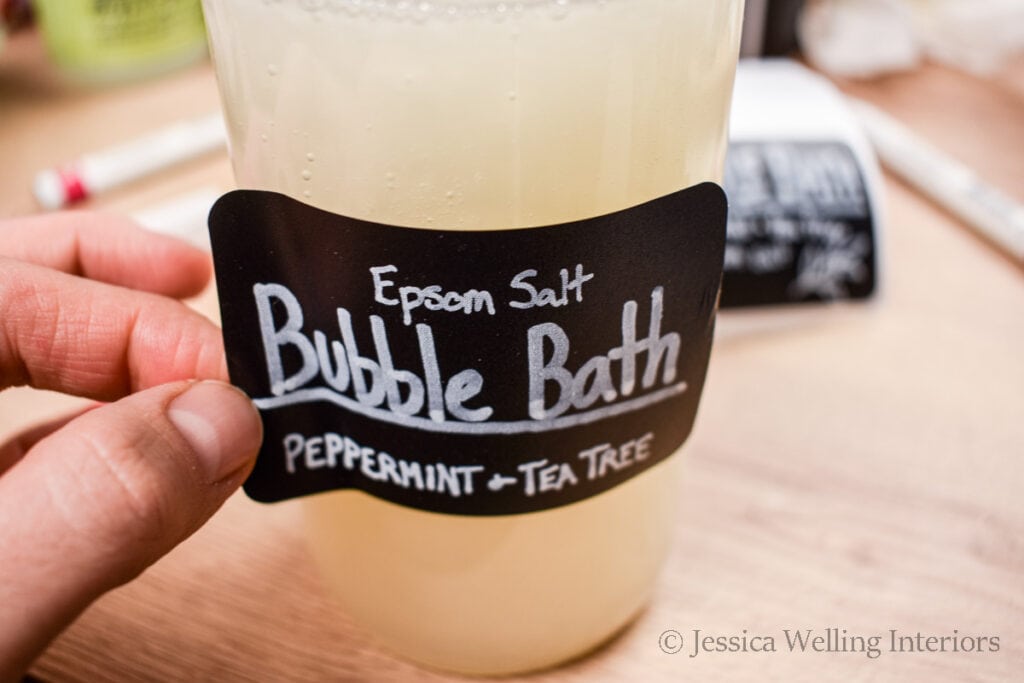 When I'm making this to give as gifts, I like to add a second label to the back of the bottle with instructions.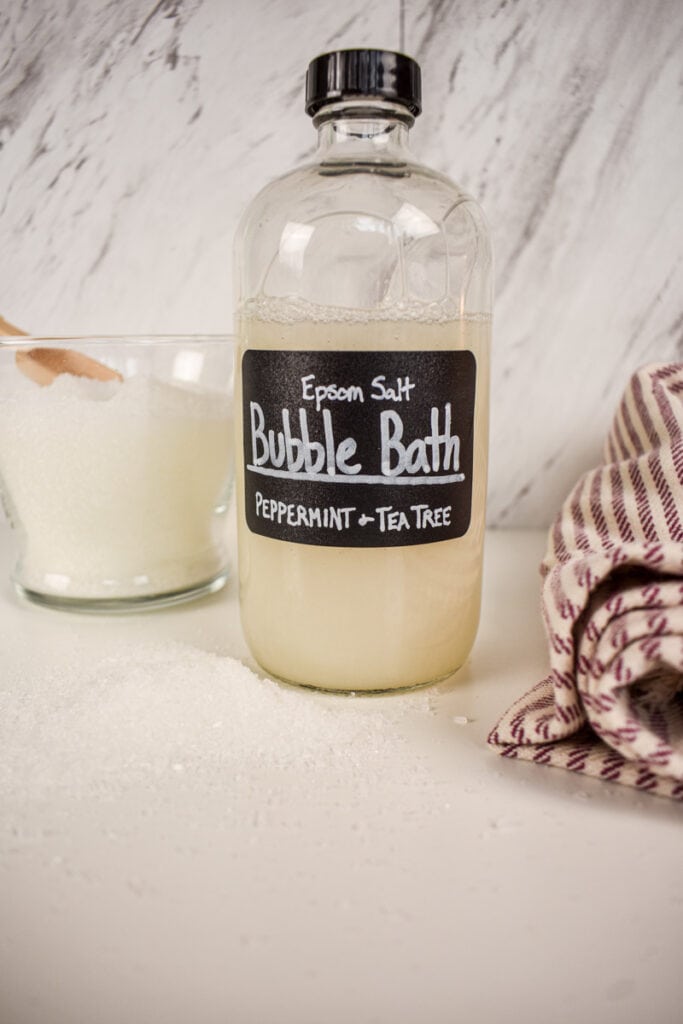 DIY Bubble Bath Conversion Chart
Want to make a larger or smaller batch? Here's a handy conversion chart for you: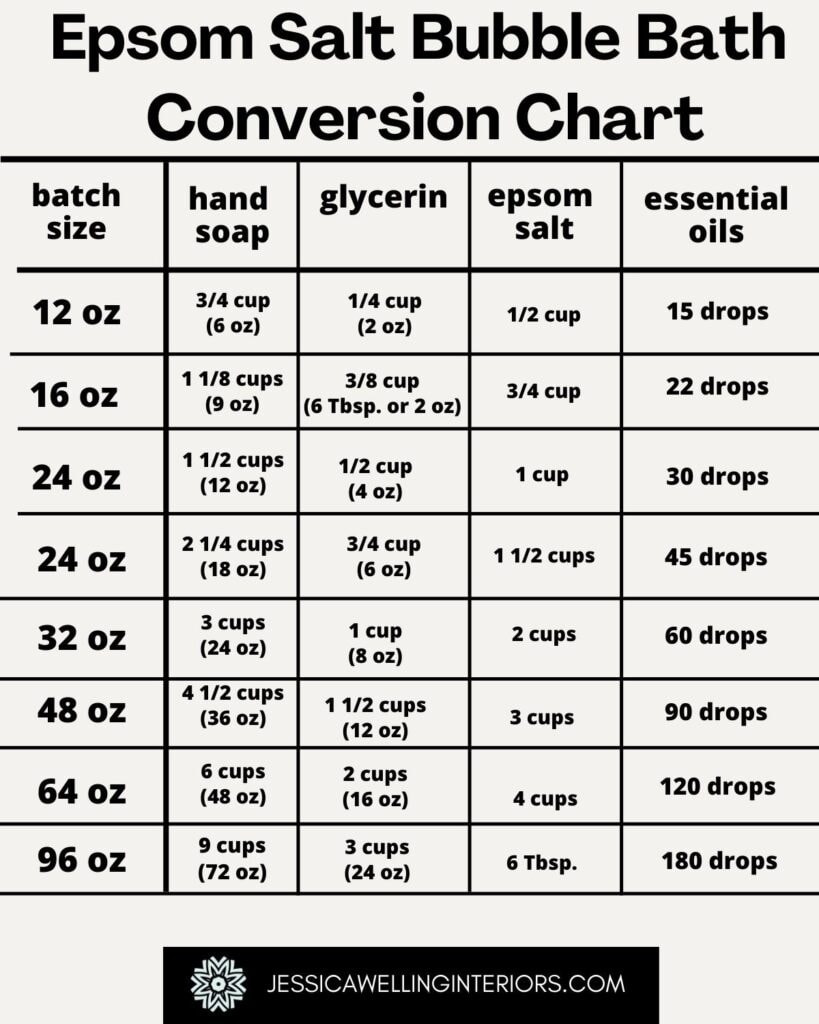 How to Enjoy Your DIY Bubble Bath
Shake the bottle well before use in case the ingredients have separated. Run hot water in the tub and pour about 1 cup of bubble bath under the running water. Enjoy!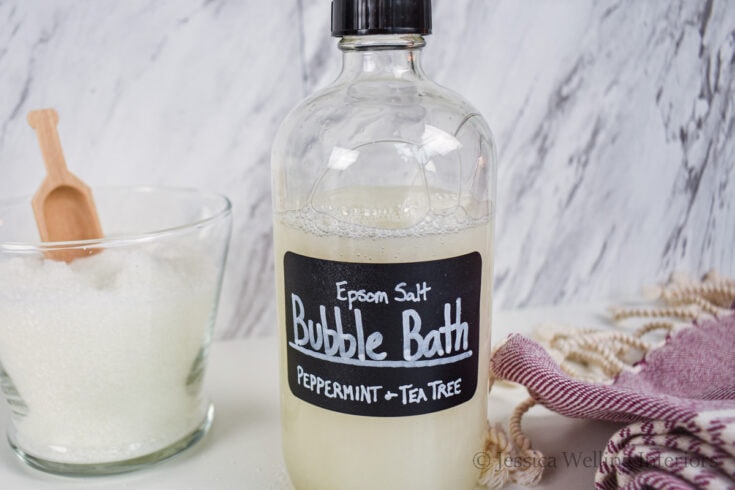 Yield:

16 oz
DIY Bubble Bath with Epsom Salt
Materials
Tools
Instructions
Add hand soap base.
Add glycerin.
Add epsom Salt
Addessential oils.
Stir.
Wait for epsom salt to dissolve.
Fill bottles.
Label.
More Homemade Bath & Body Recipes…
How to Make Bubble Bath (That Actually Bubbles!)