The Easiest DIY Room Spray Recipe!
This all natural DIY room spray recipe will make your home smell amazing, and it's about as easy as it gets, with just three ingredients!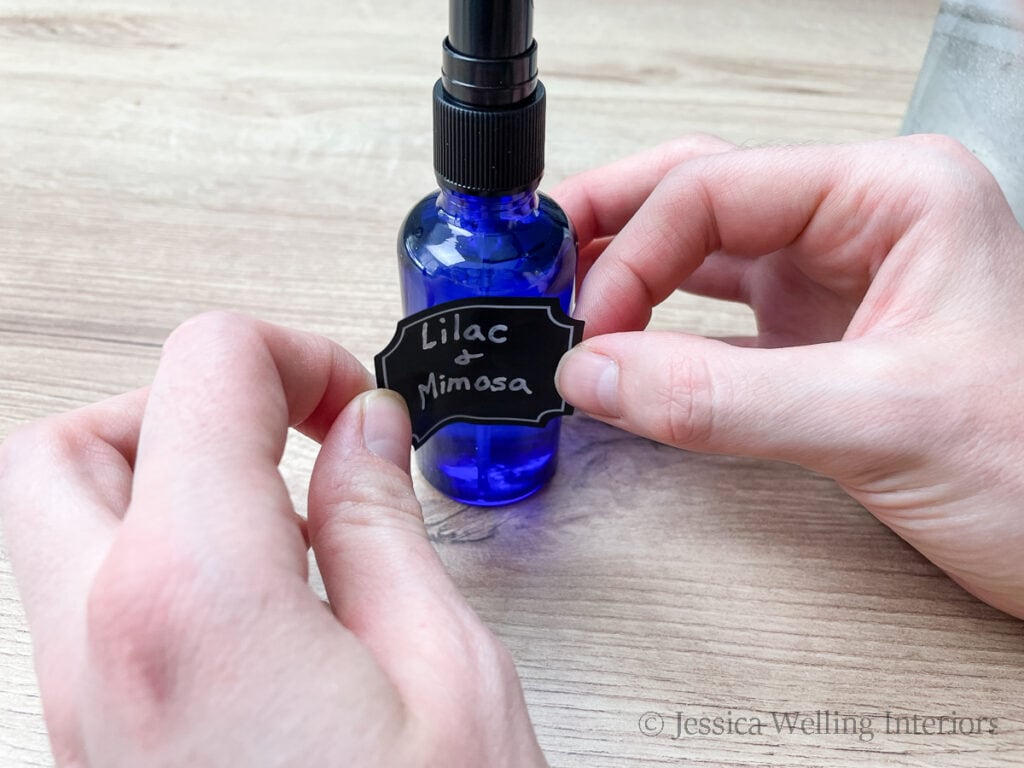 What is Room Spray?
I recently discovered room spray (I'm obviously not the first) and I'm loving it so much that I had to try making my own. I use it to spritz the couch, my bed, the rugs, even Fozzy's bed!
What is room spray, you ask? It's just a simple spray you can use to make a room smell fresh- the way we all used to use Febreze. Sometimes it's also called "linen spray" or "pillow spray" when it's used for bedding.
It's perfect for bathrooms, bedrooms, living rooms, areas where pets hang out, or pretty much any space in your home that you want to smell better.
And did I mention it's a great DIY gift too?
I'm using one of my all-time favorite fragrance oils- Lilac & Mimosa, from Makesy (formerly The Wooden Wick Co.) for this project, but you can substitute any fragrance oil or essential oils you like.
Materials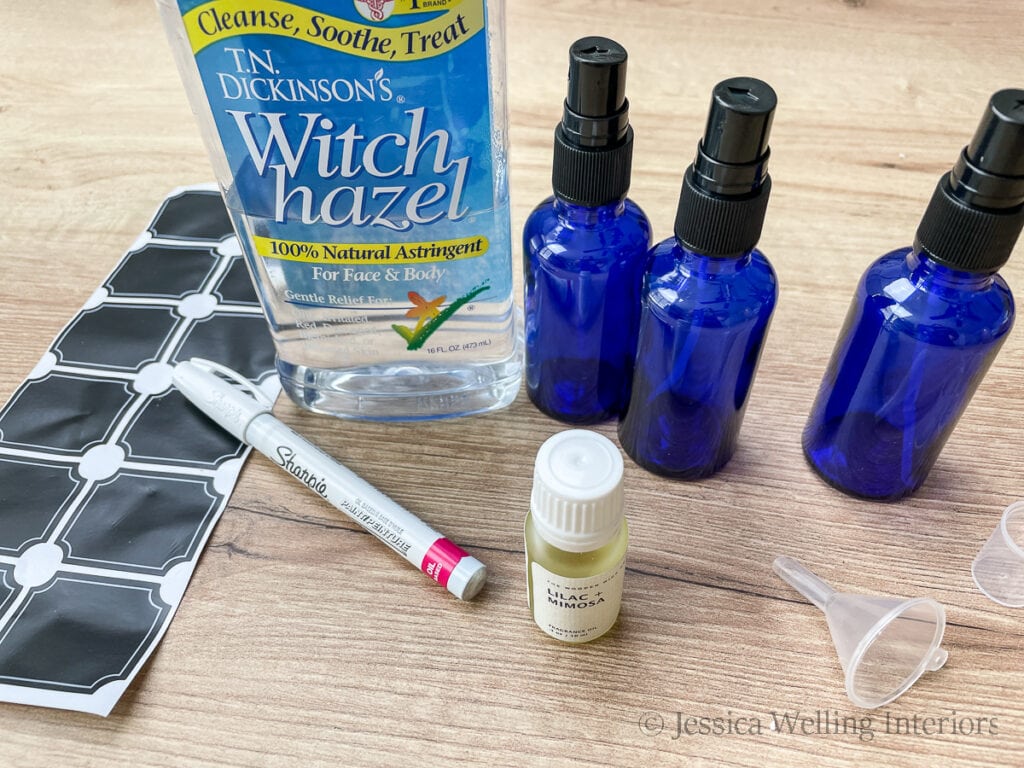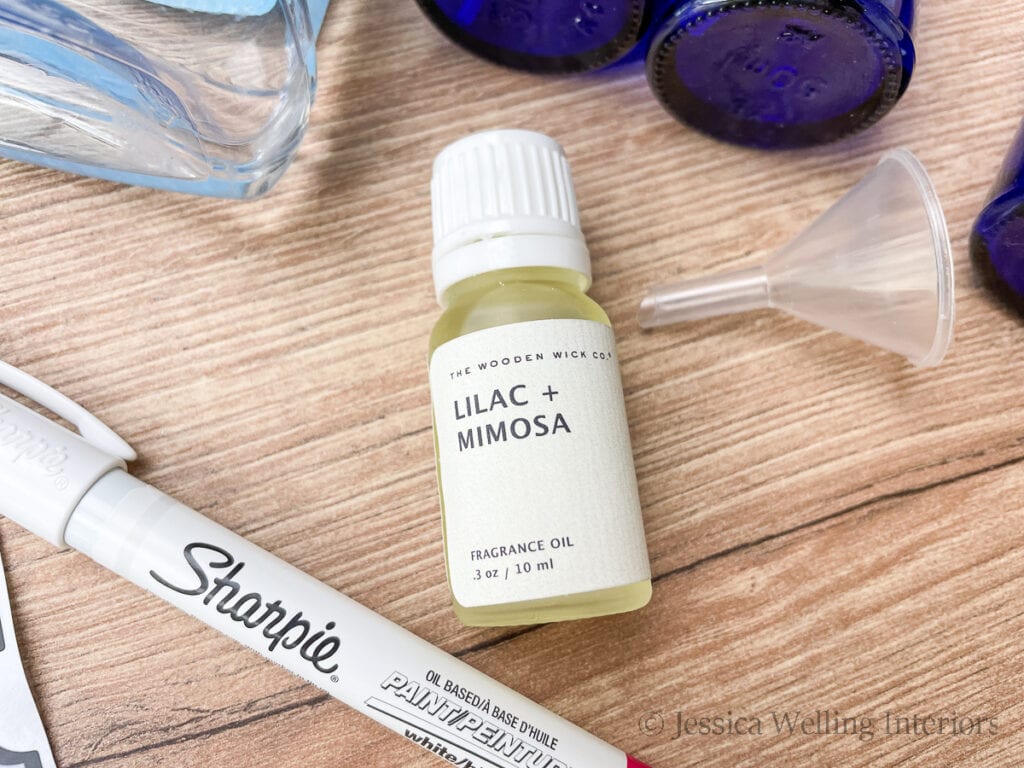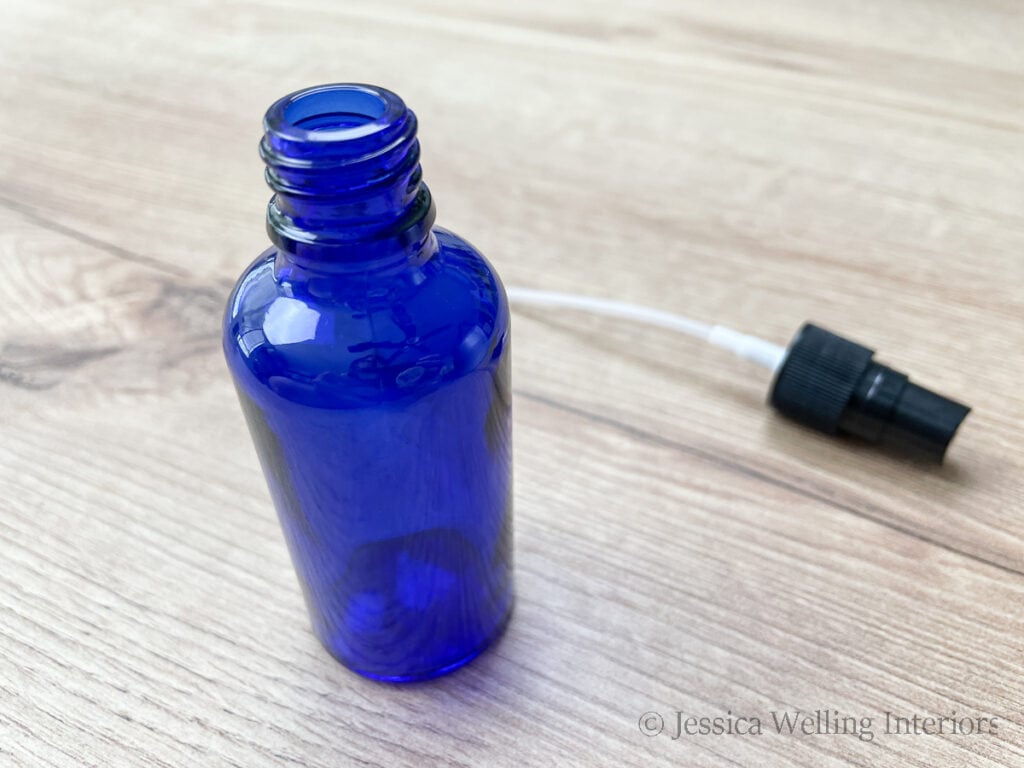 Directions
1. Place Funnel
This tiny plastic funnel came with the blue glass bottles I ordered from Amazon, and it made this project so much easier!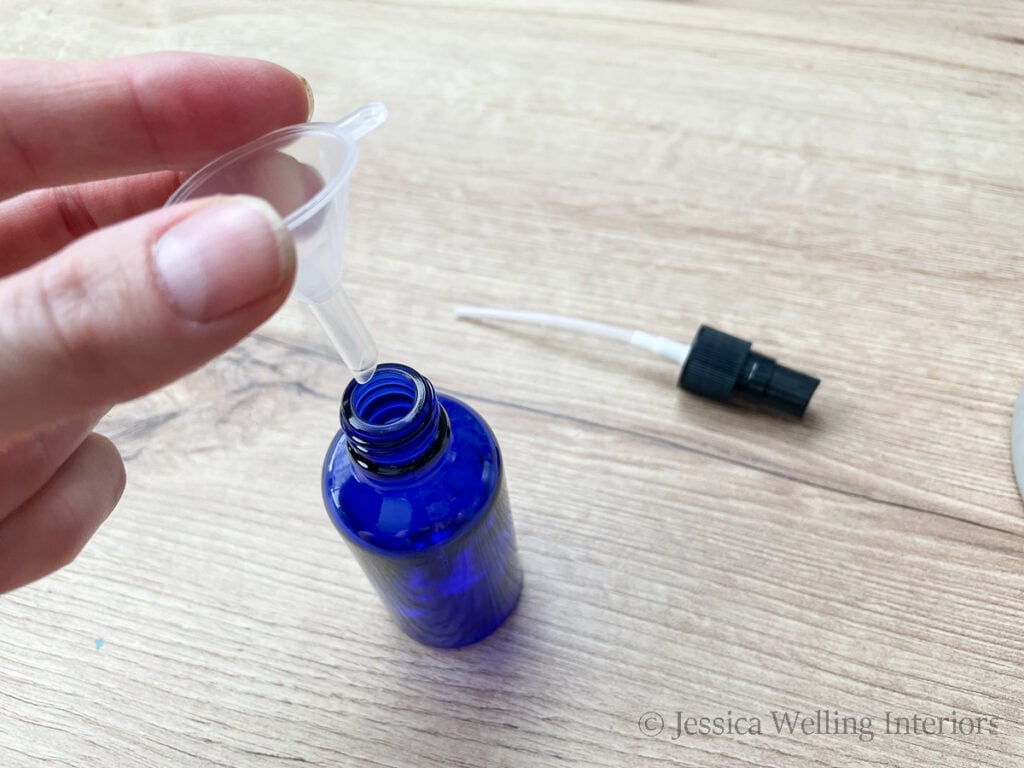 2. Add Witch Hazel
Add about 1 ounce of witch hazel to the bottle. If you're using a 2oz spray bottle like I am, you can just fill it about half way.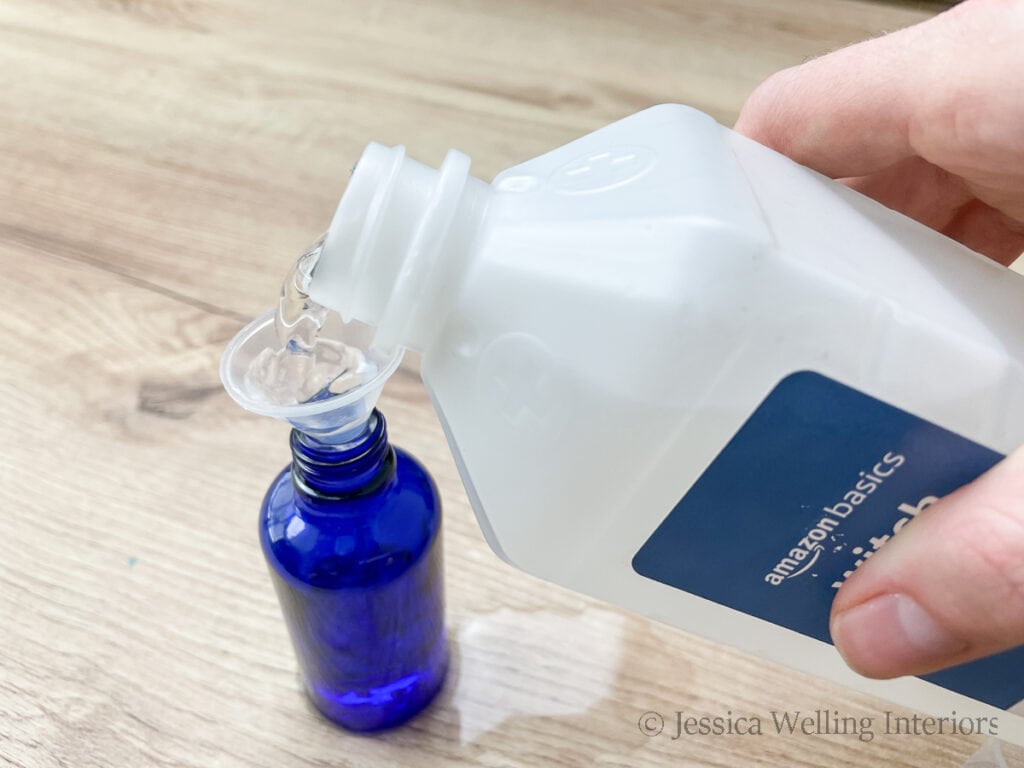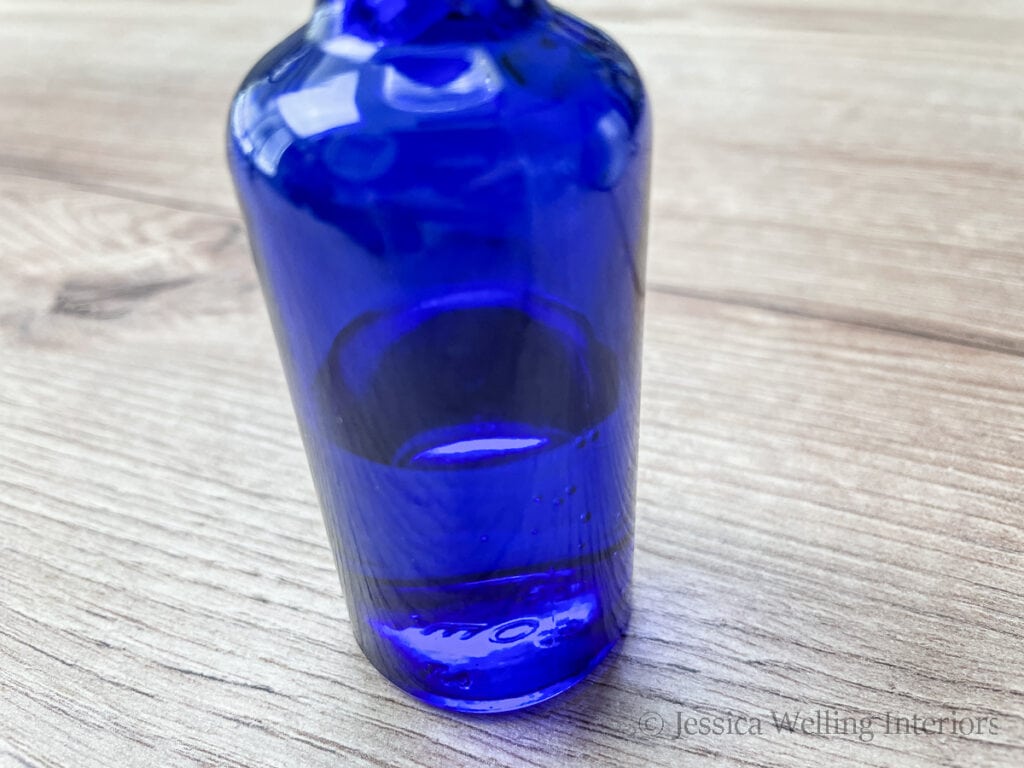 3. Add Fragrance Oil
Add about 40 drops of your favorite fragrance oil or combination of essential oils.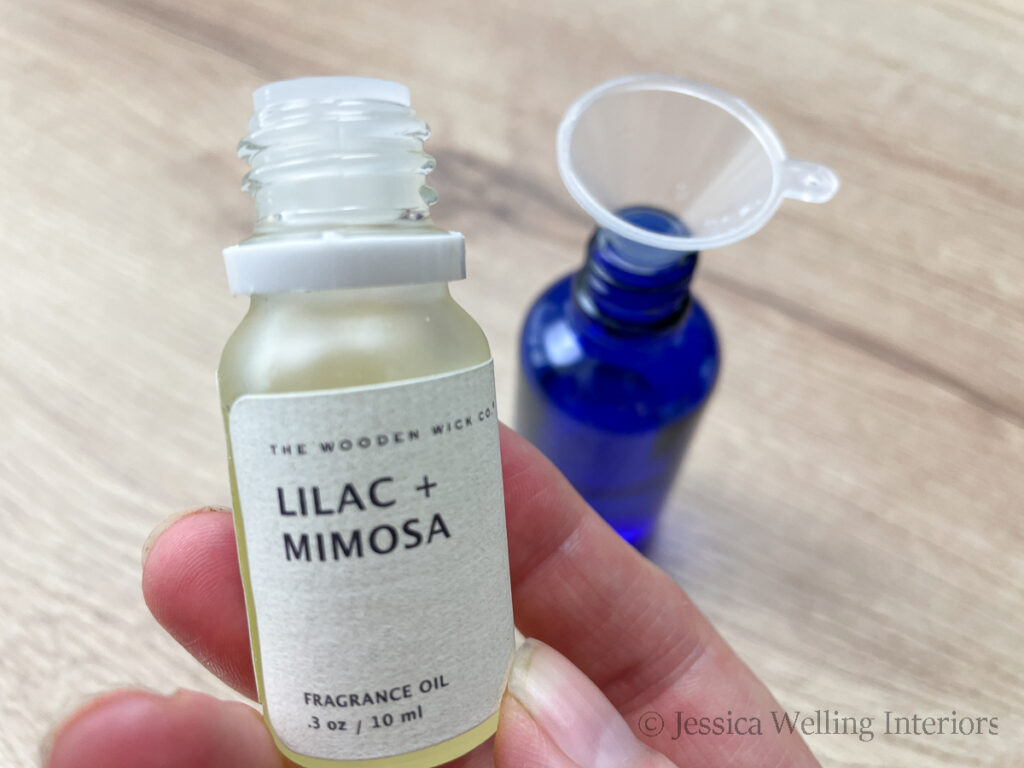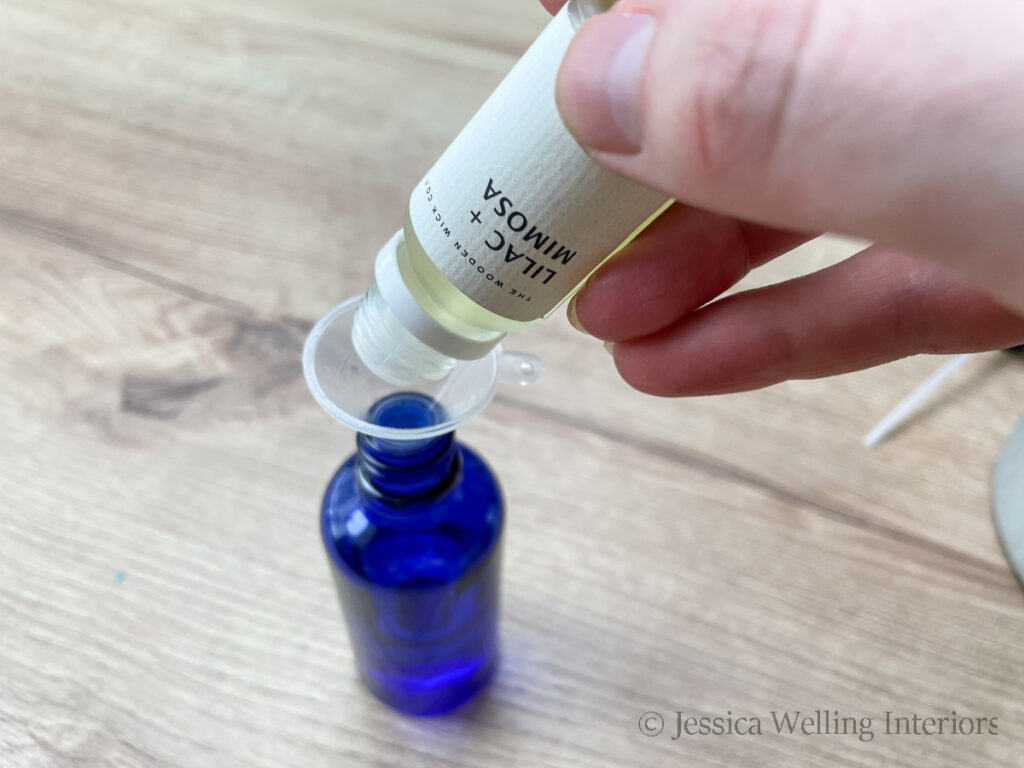 4. Add Water
Fill the spray bottle almost to the top with distilled water.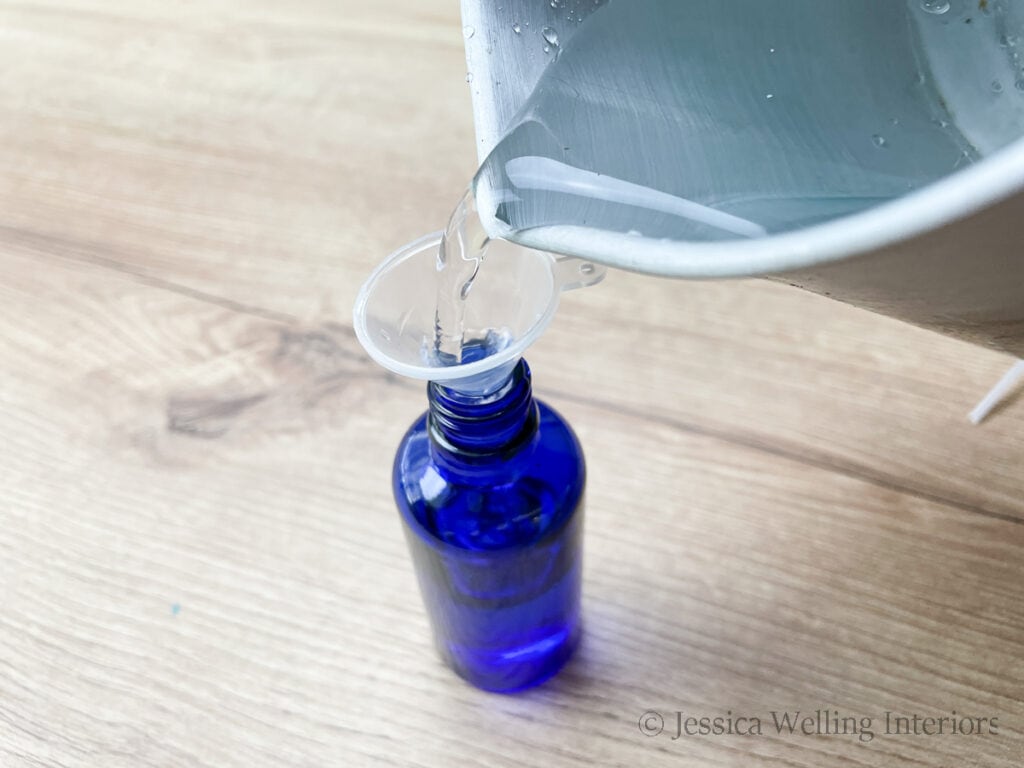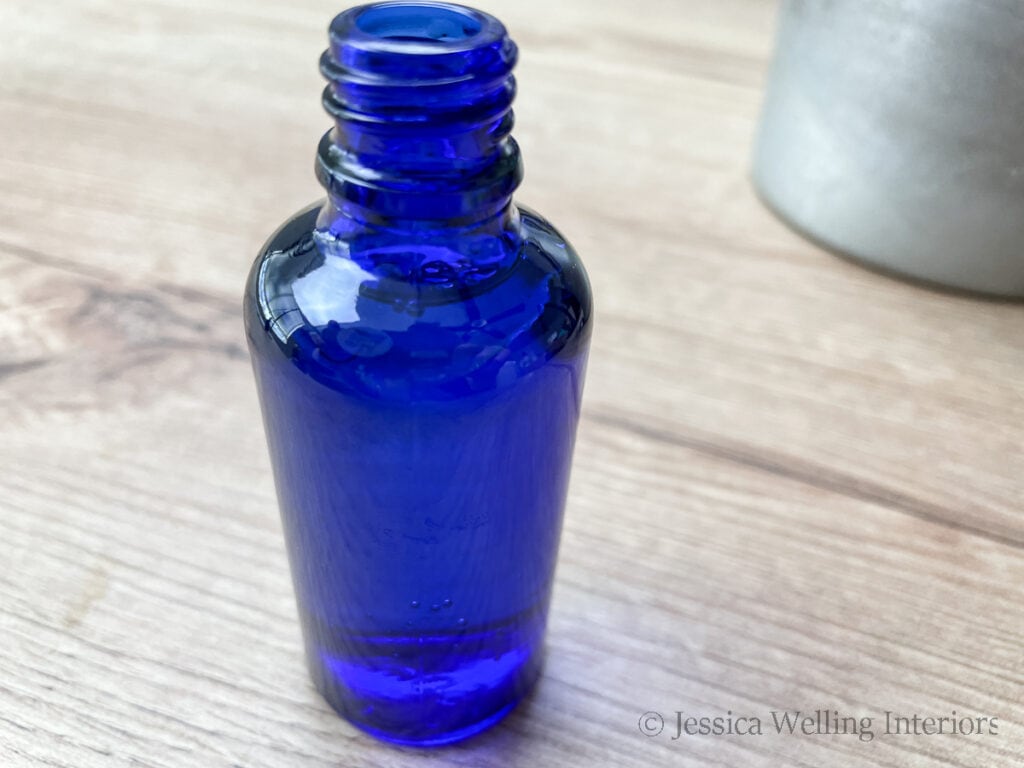 5. Replace Spray Bottle Lid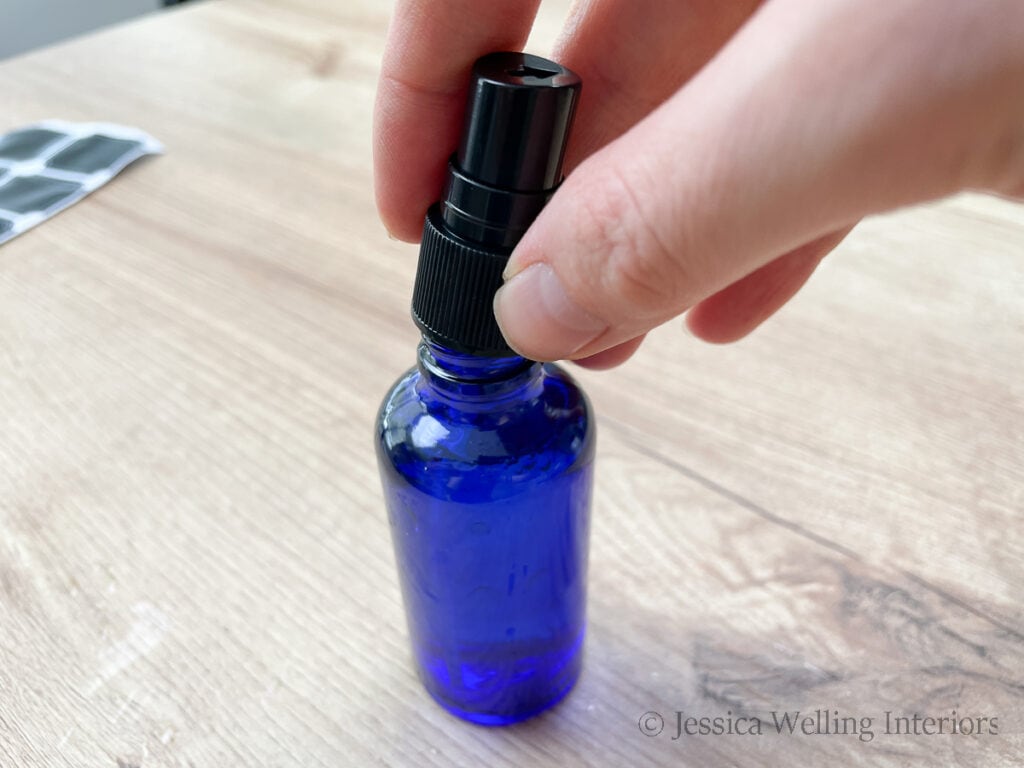 6. Label
I find that paper sticker labels always get oily and gross, so I like to use chalkboard sticker labels instead. These are my favorite ones from Amazon. And although they do come with a chalk marker, I prefer to use a white paint pen, which won't rub off.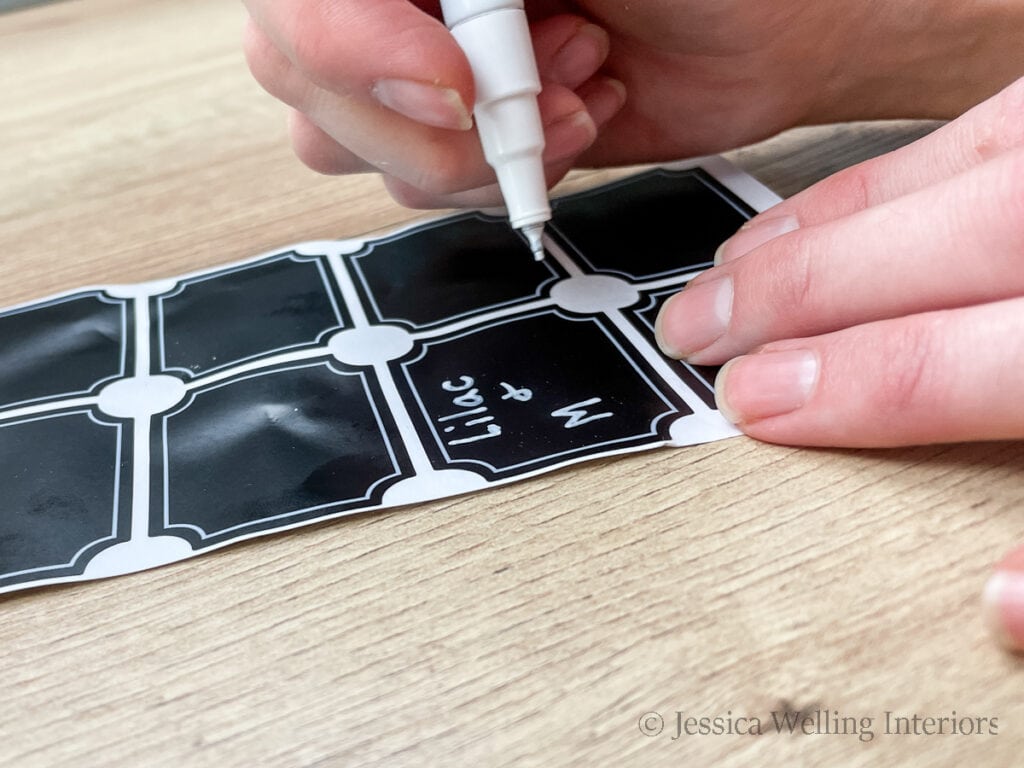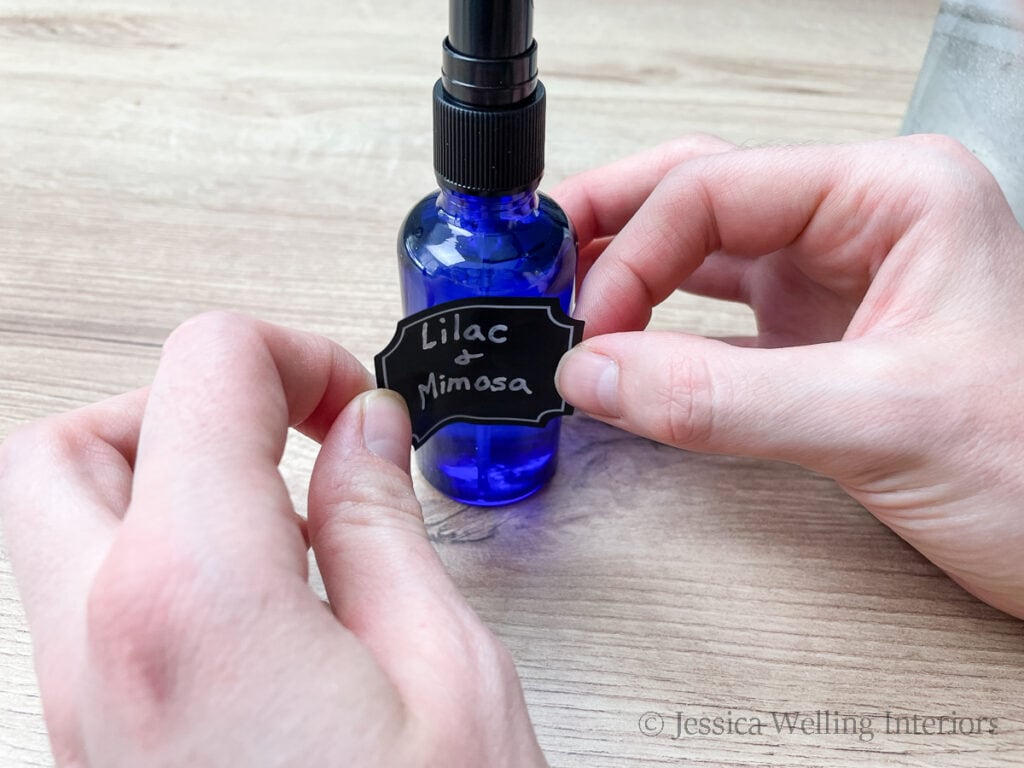 And that's it! Pretty simple, right?
You'll want to be sure and shake the bottle before each use, since the oil and water will separate a bit.
Best Fragrance Oils for Room Spray
I've done extensive testing of fragrance oils for candle making, and found that many just smell like stinky potpourri from the 90's. Remember that smell? Yeah.
So after making a lot of stinky chemical-smelling candles & wax melts and wasting A LOT of money on fragrance oils, I discovered Makesy's (formerly The Wooden Wick Co.) line of all natural fragrance oils. And they're perfect for this project! Here are a few of my favorite scents for room spray: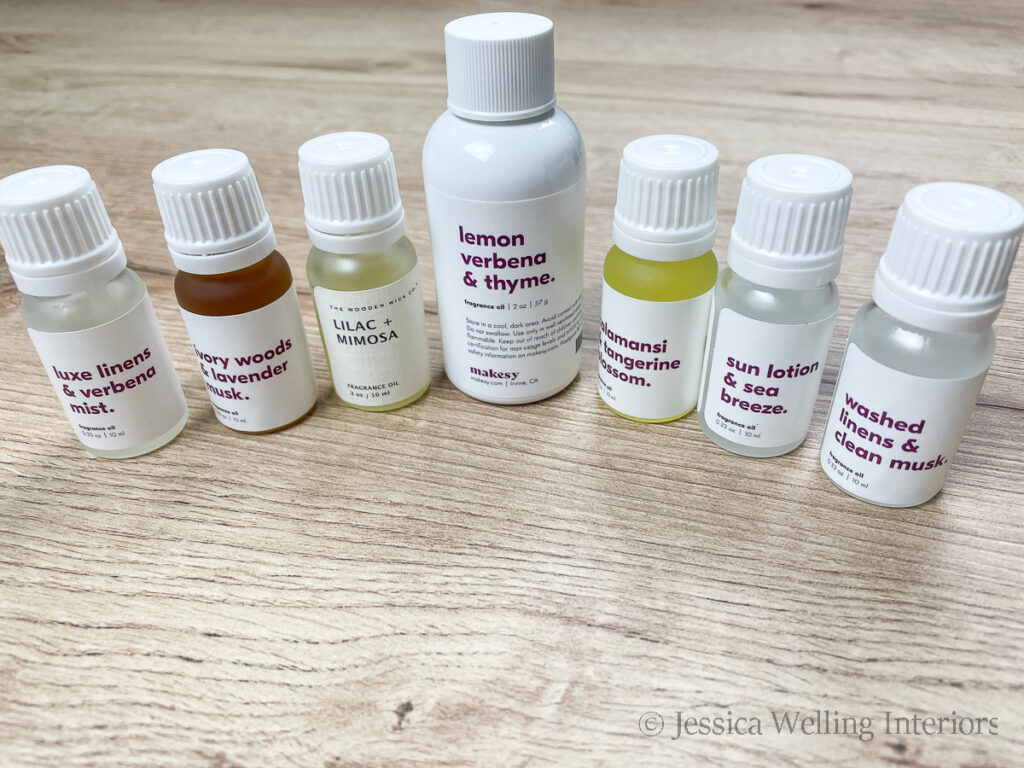 Lilac & Mimosa (from this recipe)
Best Essential Oils for Room Sprays
DIY Room Spray
Equipment
1 small funnel

1 white paint pen
Materials
1

ounce

witch hazel

1

ounce

distilled water

40

drops

fragrance oil or essential oil

1

chalkboard sticker label

1

2 ounce glass spray bottle
More Handmade Gift Ideas…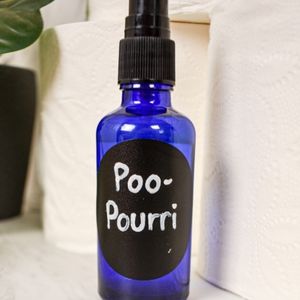 How to Make Soy Candles: A Beginner's Guide