Homemade Bubbling Bath Salts: The Best of Both Worlds!
Make luxurious bubbling bath salts with this easy all-natural recipe and enjoy a fabulous bubble bath with the benefits of epsom salt!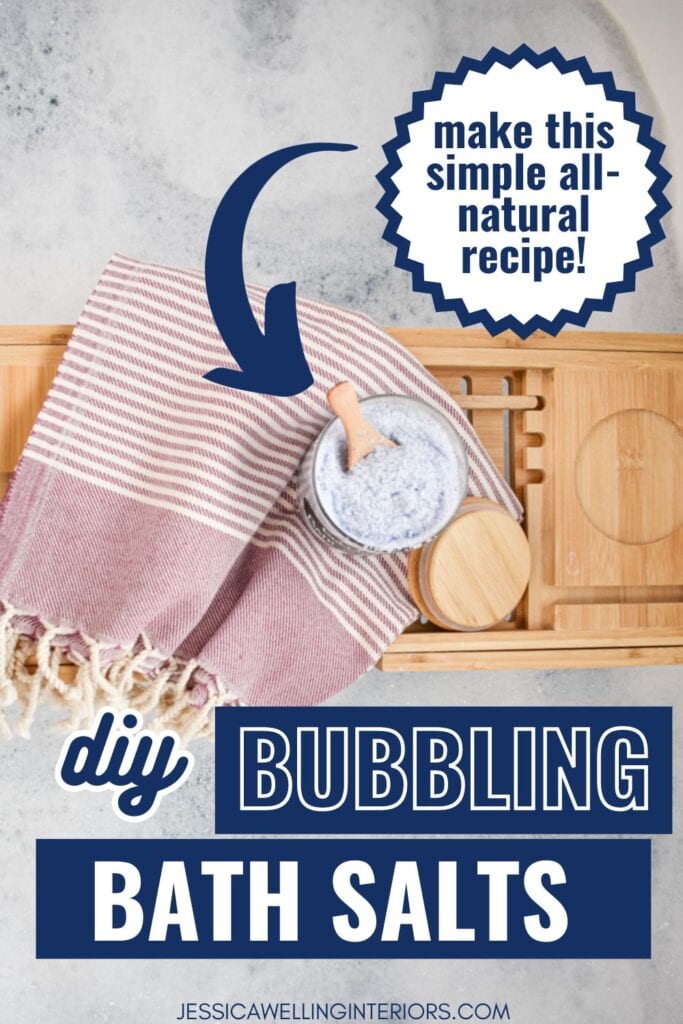 How to choose? A luxurious bubble bath with mounds of foamy bubbles, or a soothing soak for sore muscles? Now you can have the best of both worlds! The answer? bubbling bath salts, of course!
I began my search for the perfect all-natural bubbling bath salt recipe by testing a few others I found online, including ones that use hand soap and body wash for the bubbles. The problem I found over and over was that they just didn't really produce enough bubbles for a respectable bubble bath… and the bubbles they did make disappeared before the tub was even half full.
But I was determined, and I finally figured out the secret to abundant, long-lasting bubbles. It's the combination of SLSA, (not to be confused with SLS, but more on this later), and citric acid.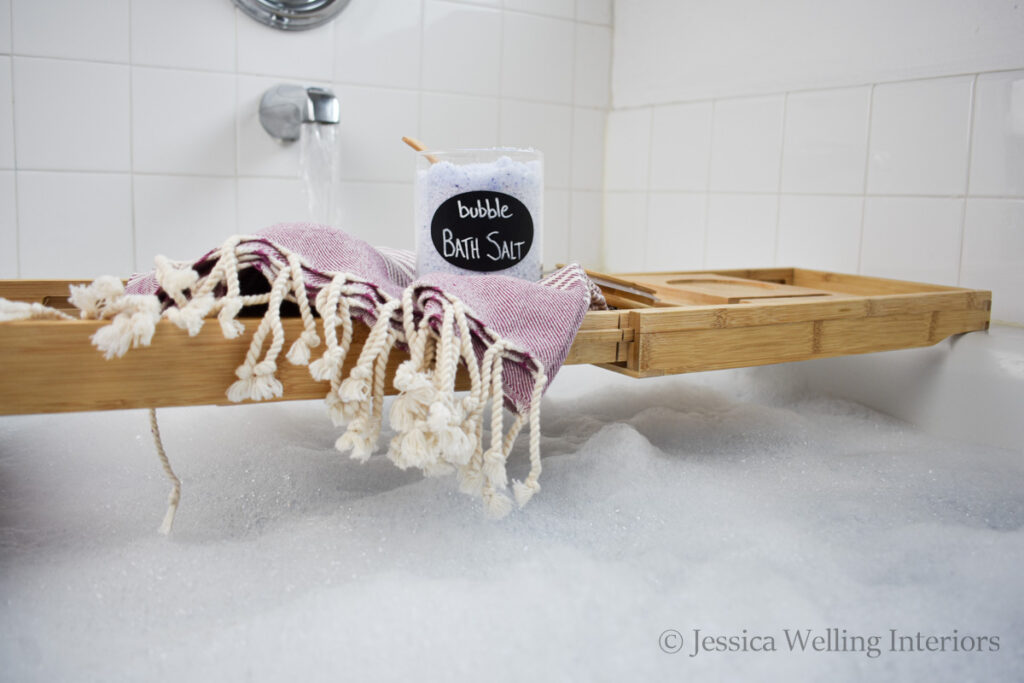 All that said, this recipe does have a few ingredients that you probably don't have in your pantry, so if you're looking for a more basic bath salts recipe, this is my go-to: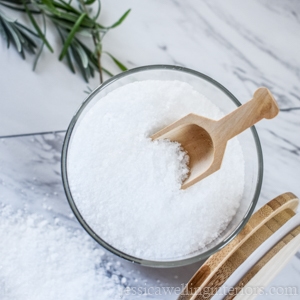 What is SLSA?
SLSA (sodium lauryl sulfoacetate) is a surfectant , not to be confused with SLS, which is a completely different chemical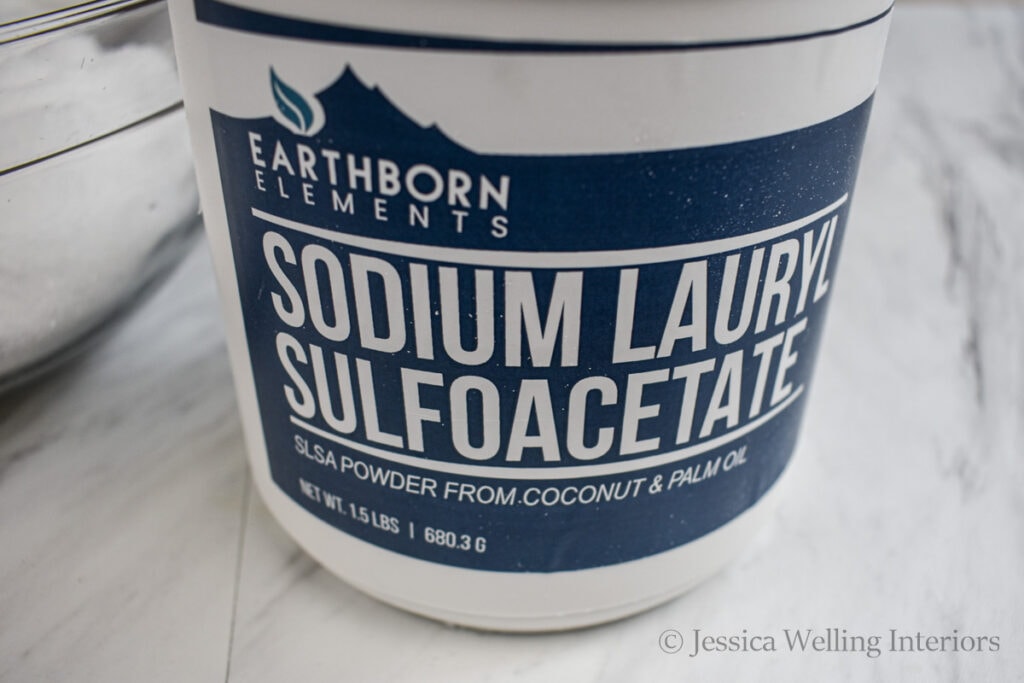 Ingredients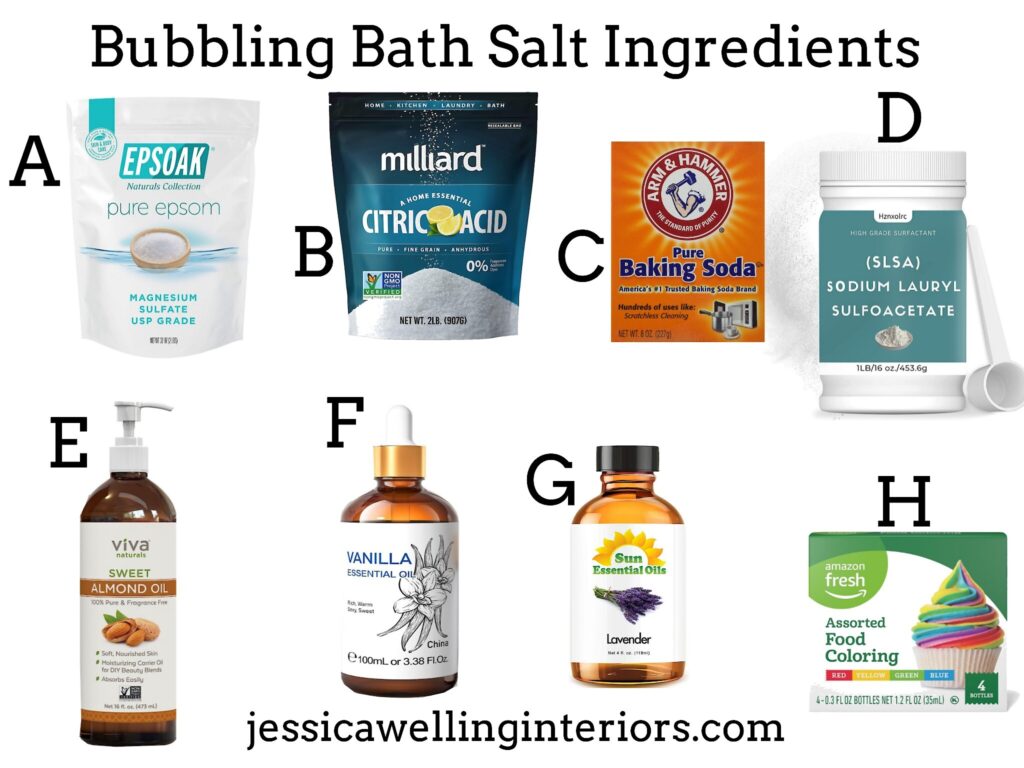 A. Pure Unscented Epsom Salt (magnesium sulfate)
B. Citric acid
C. Baking soda
D. SLSA
E. Sweet almond oil (or jojoba oil, vitamin E oil or fractionated coconut oil)
Tools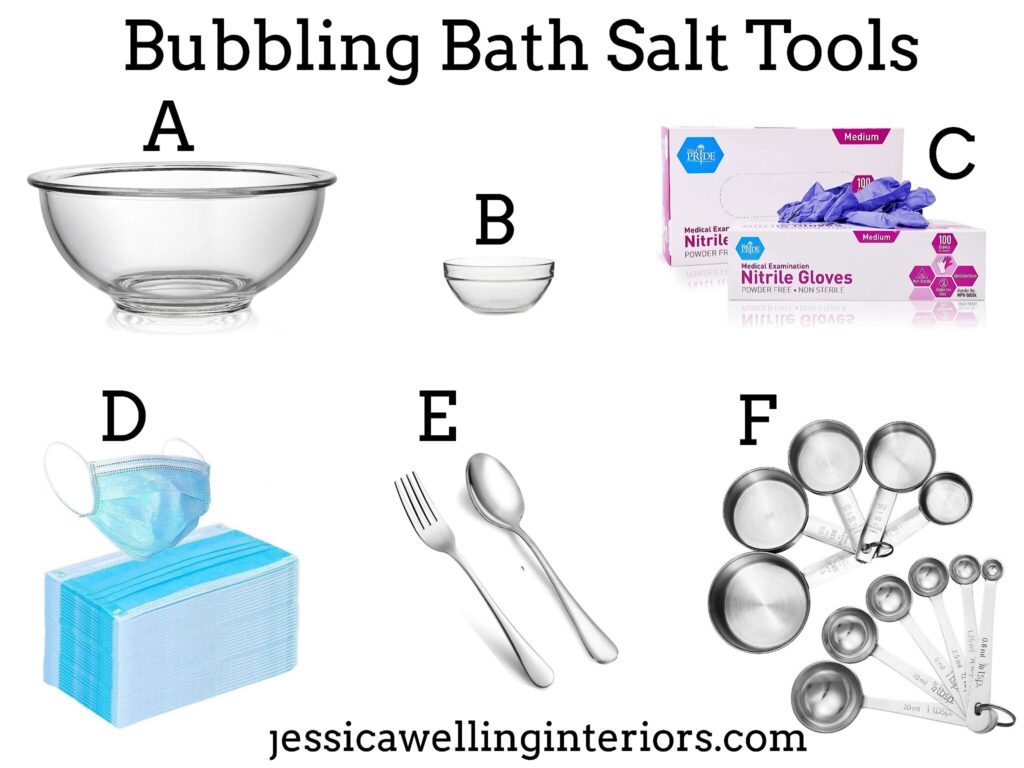 B. small bowl
C. nitril gloves (optional)
D. face mask (trust me you'll want to use one!)
F. fork and spoon
Packaging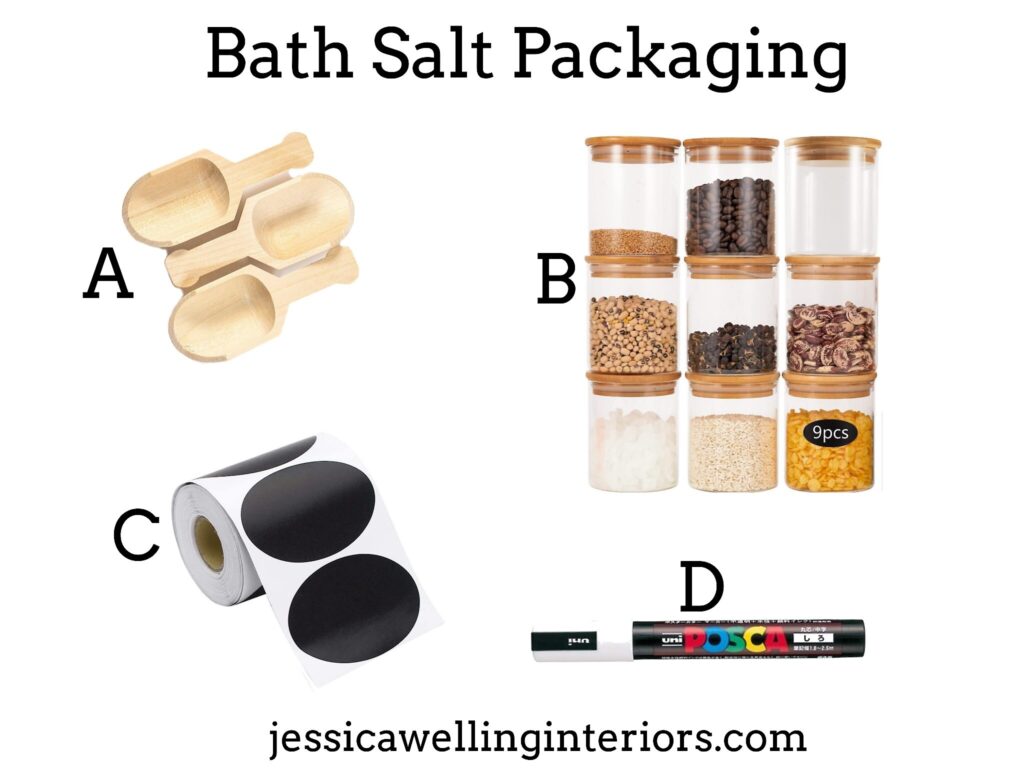 B. glass jars with airtight lids (these are the ones I'm using)
C. chalkboard sticker labels (I love this brand & use them on everything!)
Directions
Before we get started, I just want to note that unlike many other bath salt recipes, the order of operations is actually important in this one. I designed this recipe so that the SLSA (which is a very fine powder) will spend as little time out in the open as possible. You'll understand when you get to this step.
1. Combine epsom salt, citric acid, and baking soda.
Measure the dry ingredients (except the SLSA!) into a medium mixing bowl and stir to combine.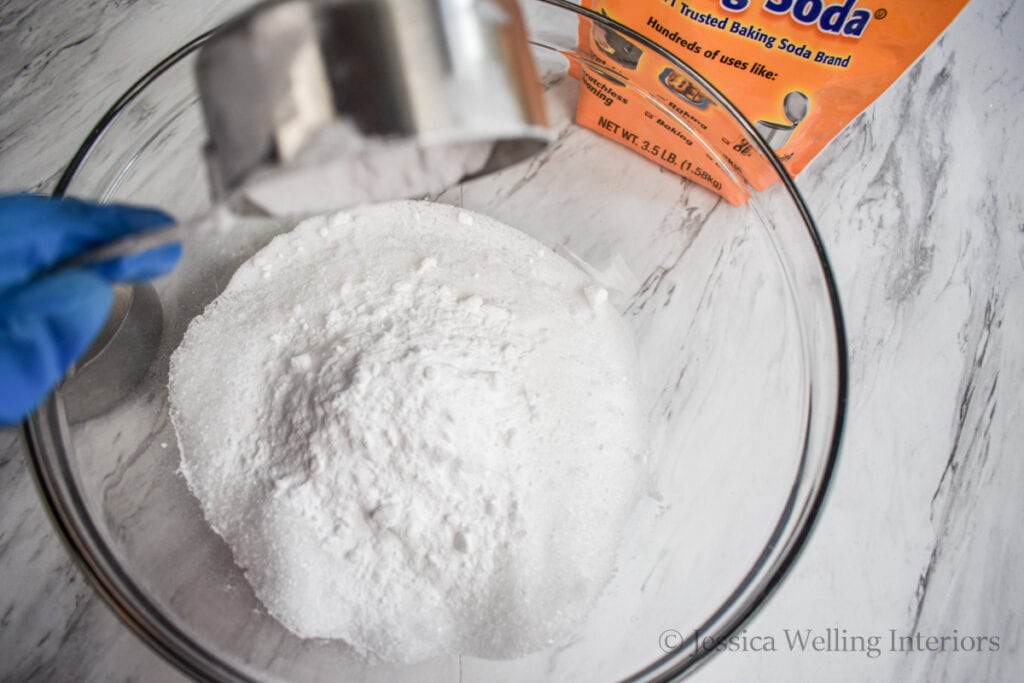 2. Combine oils.
Add essential oils to the sweet almond oil in a small bowl and stir well.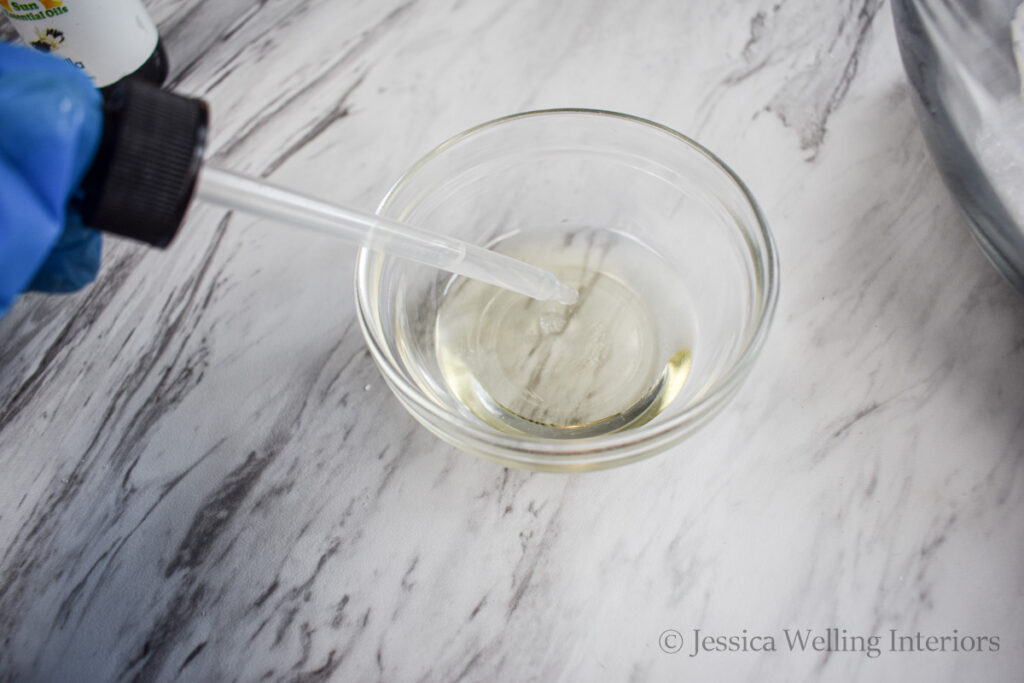 3. Add oils to salt mixture.
Pour the oils into the epsom salt mixture. Stir with a fork first, then use your hands to sift it. This is also a good opportunity to break up any clumps of salt or baking soda.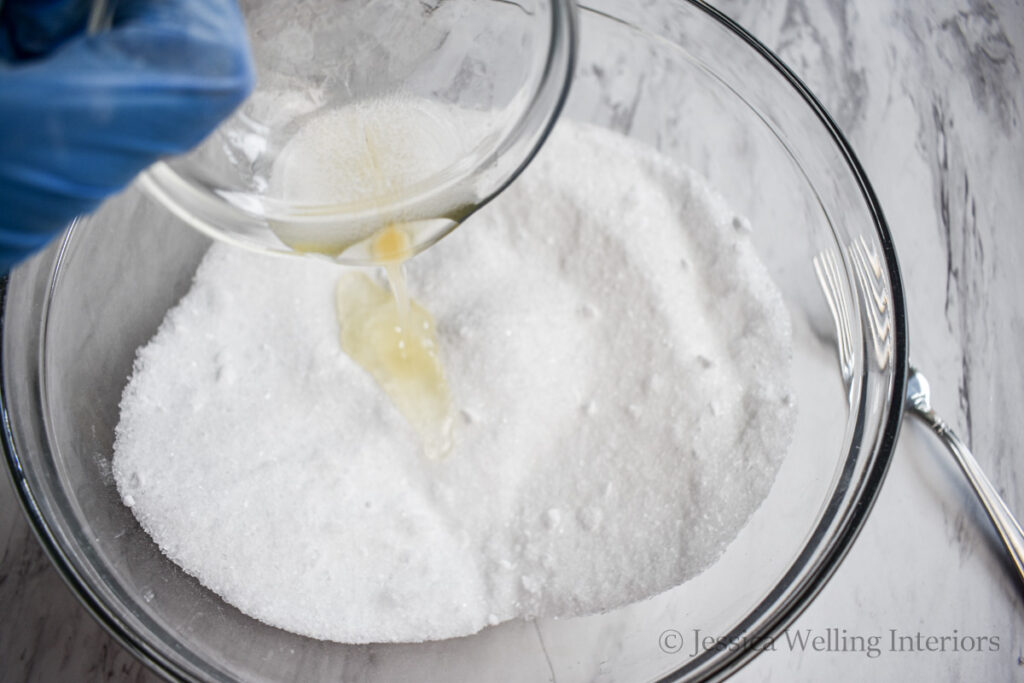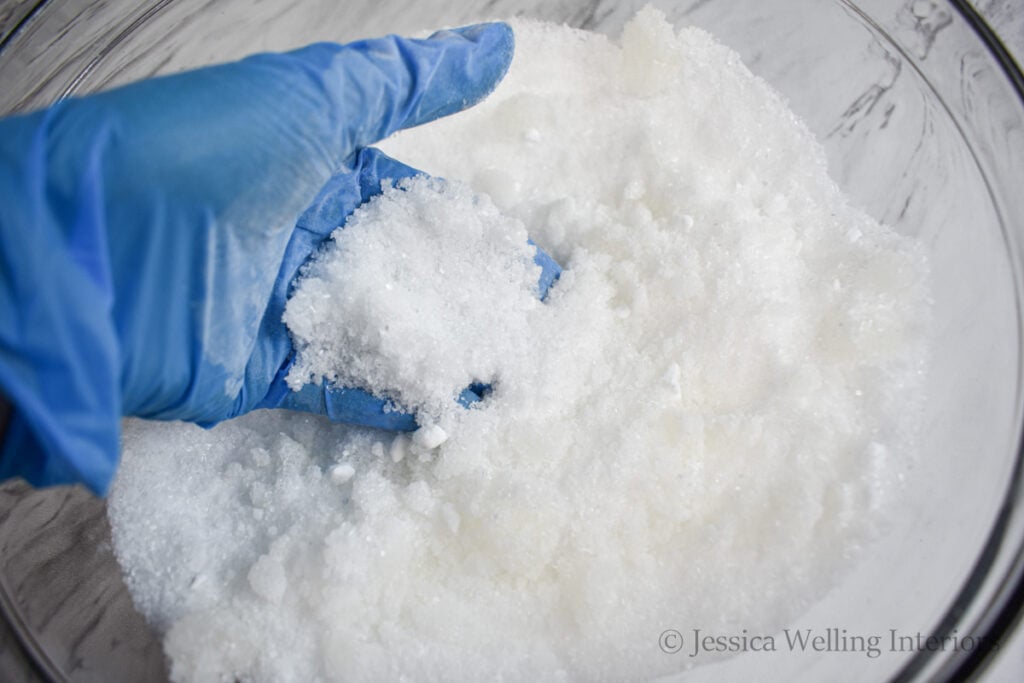 4. Add SLSA.
You'll want to be sure and wear a mask during this step. The SLSA is a very fine particulate and you'll end up breathing it in a coughing all over the place. The reason we added the oils before this step is so the SLSA will have something to bind to immediately. Once it's incorporated into the mixture it won't be a problem anymore.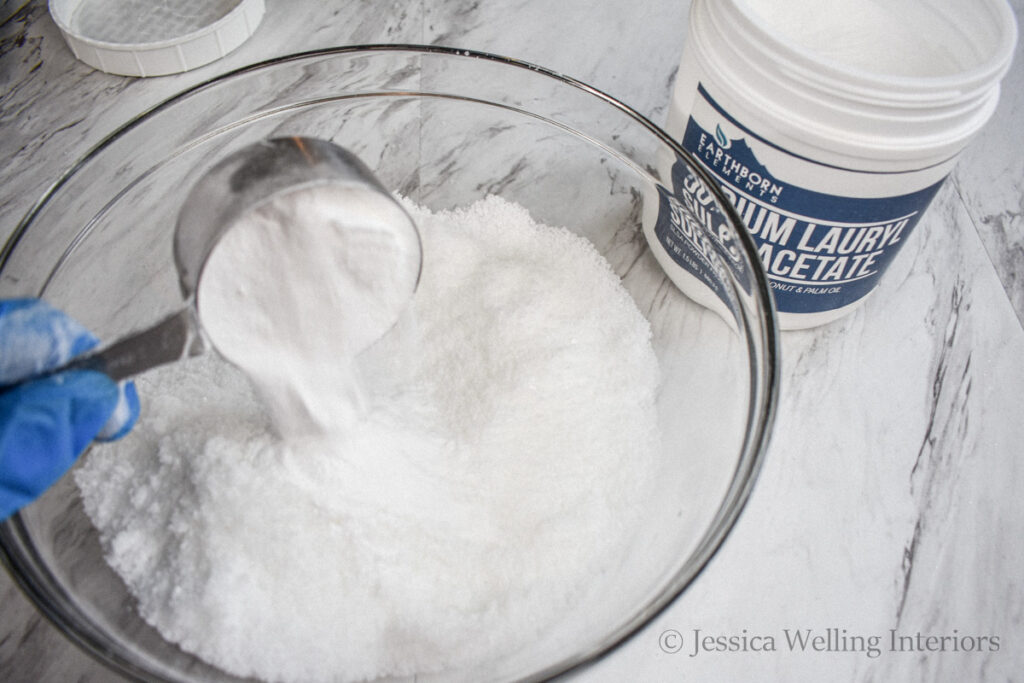 5. Add food coloring (optional).
Start with two drops and see how you like the color. Remember that a little goes a long way! And it will tint the bath water, so choose a color that won't look gross in the tu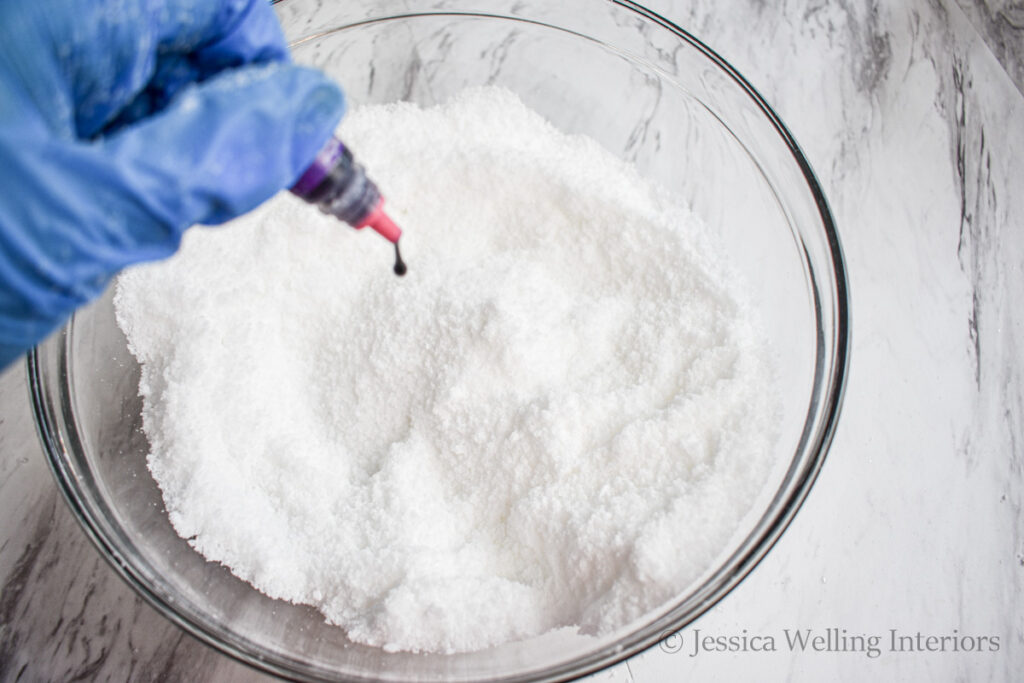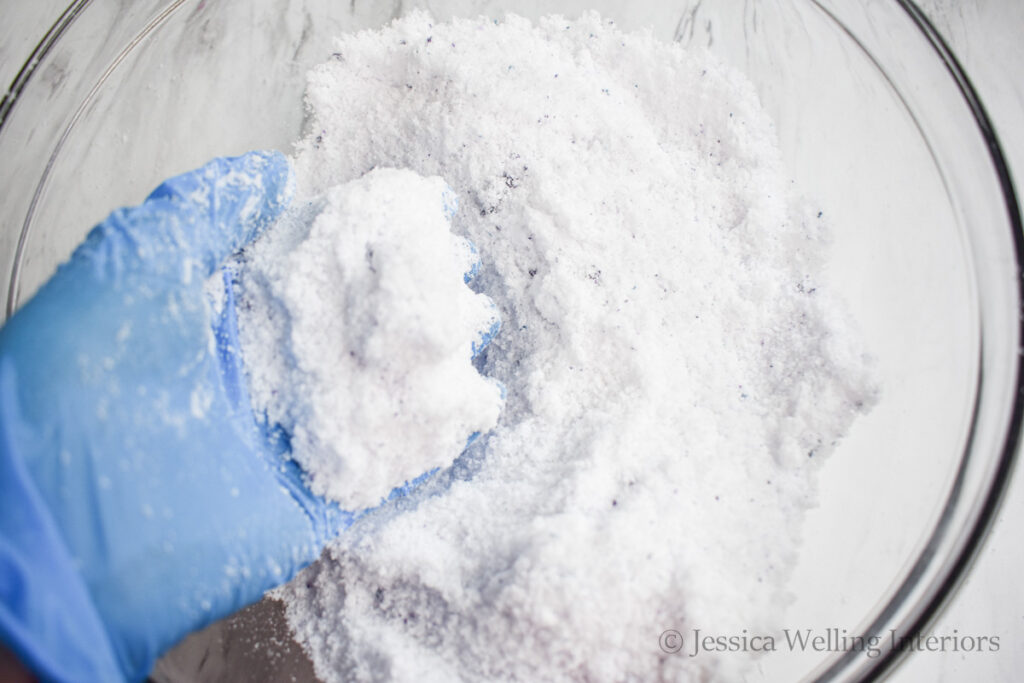 6. Fill jars.
Spoon the finished bath salts into jars, being sure to leave a little space at the top for the lid. It's important to leave them loose and not pack them down like brown sugar so you don't end up with a solid brick later.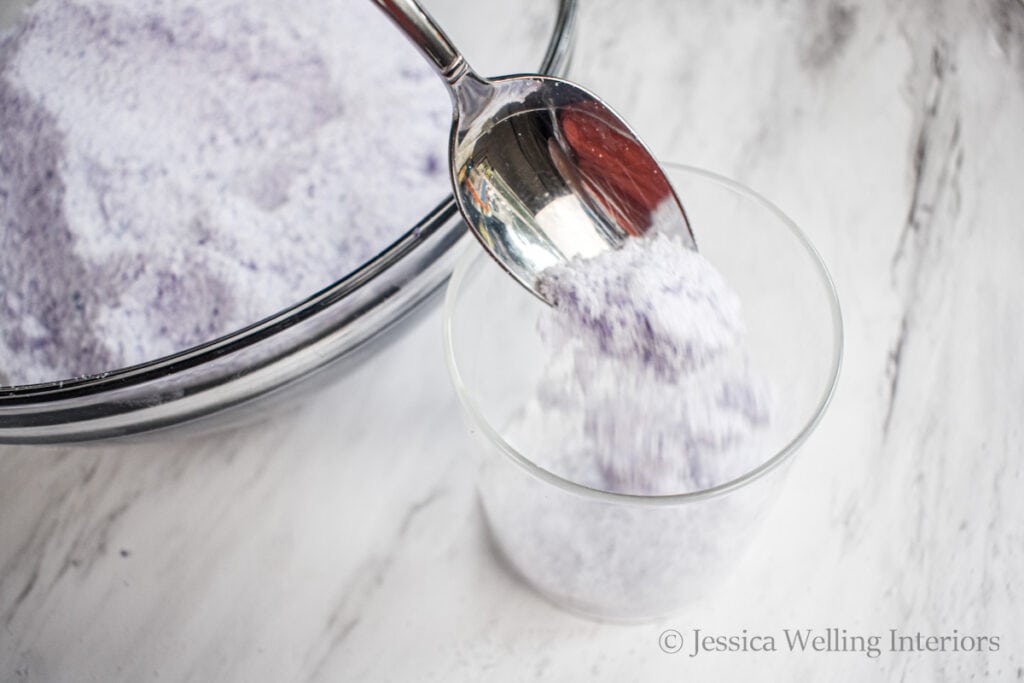 7. Label
I like to use vinyl sticker labels instead of paper ones since these are likely to get wet. These are the chalkboard sticker labels I use for everything.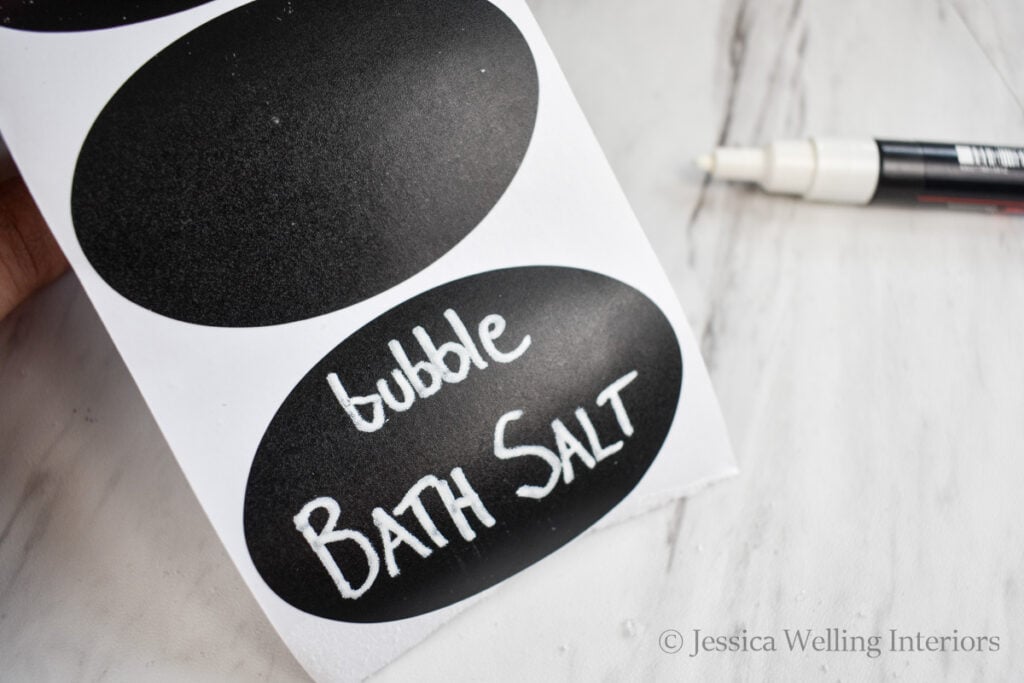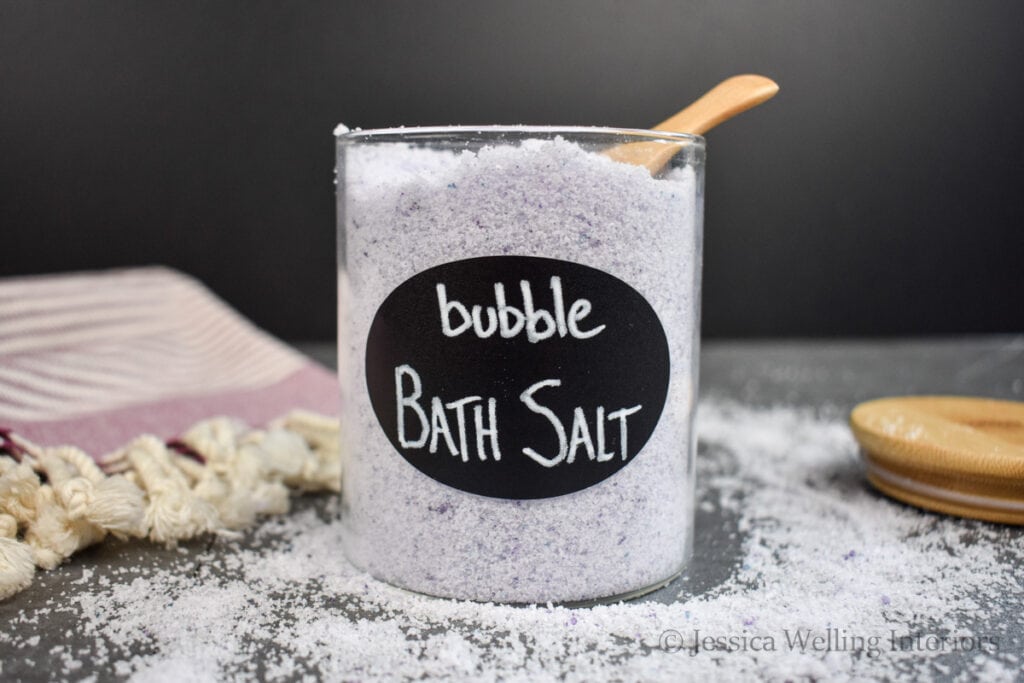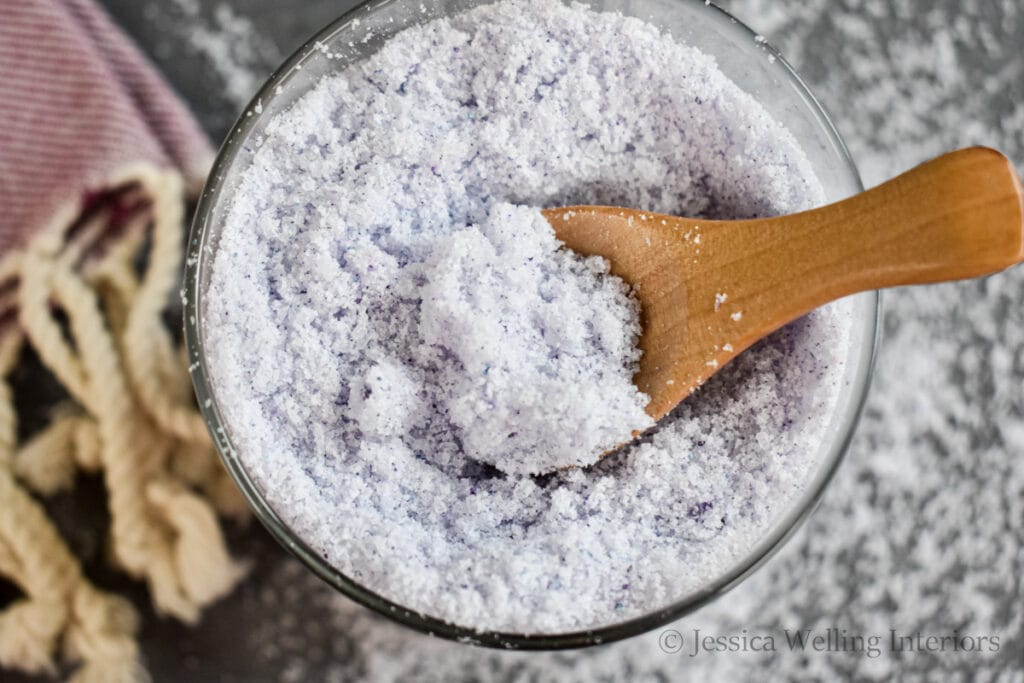 How to Use Bubbling Bath Salts
To enjoy your bubble bath salts, run a hot bath. While the tub is filling, spoon 5-6 scoops of bath salts into tub, pouring it directly under the tap in order to get the best suds. Enjoy!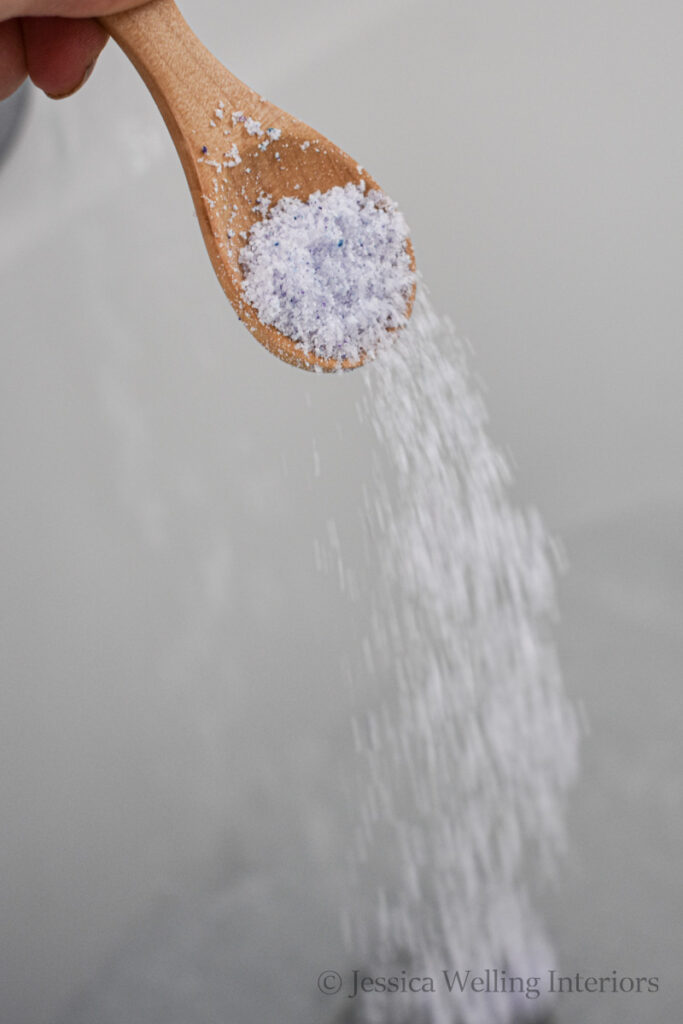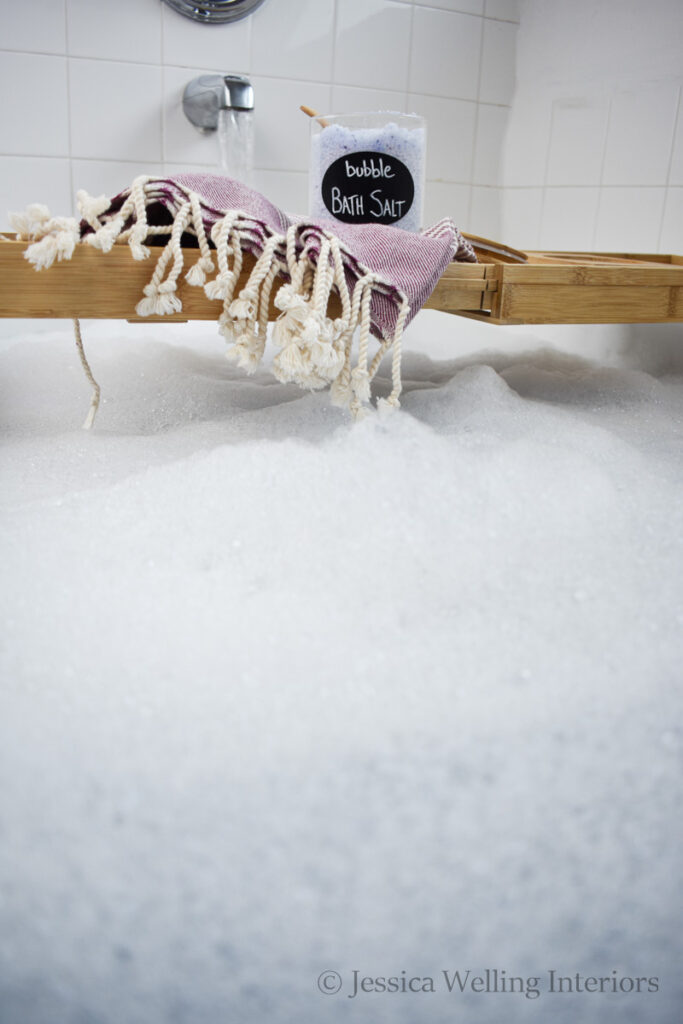 Make these quick and easy bubble bath salts for a luxurious soak. They're made with all natural ingredients and make fabulous homemade gifts!
Materials
Tools
Instructions
Combine epsom salt, citric acid & baking soda in a medium mixing bowl and stir.
Combine sweet almond oil and essential oils in a small bowl and stir.
Add oils to salt mixture and stir. Use your gloved hands to mix.
Add SLSA and incorporate with your hands.
Add 2 drops food coloring and mix with your hands (optional).
Fill jars.
Label.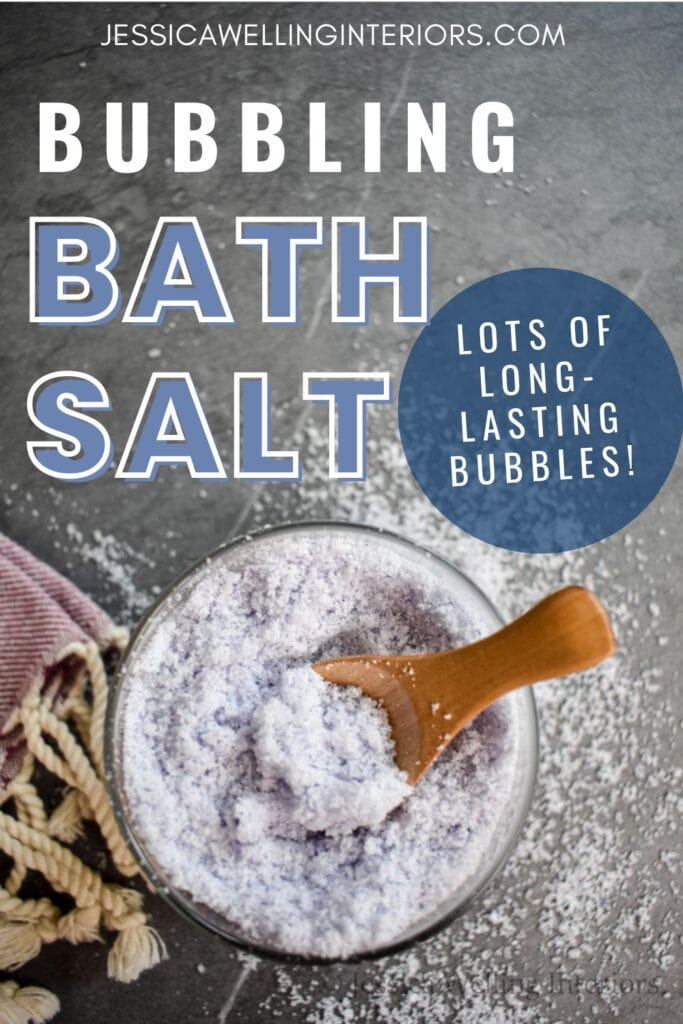 More Homemade Bath Products…
How to Make Bubble Bath (That Actually Bubbles!)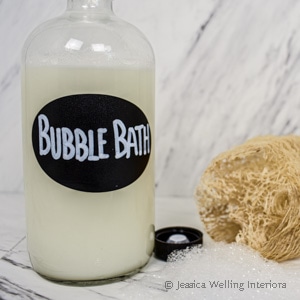 The Very Best Himalayan Salt Bath Recipe