Homeschool Room Reading Nook Reveal!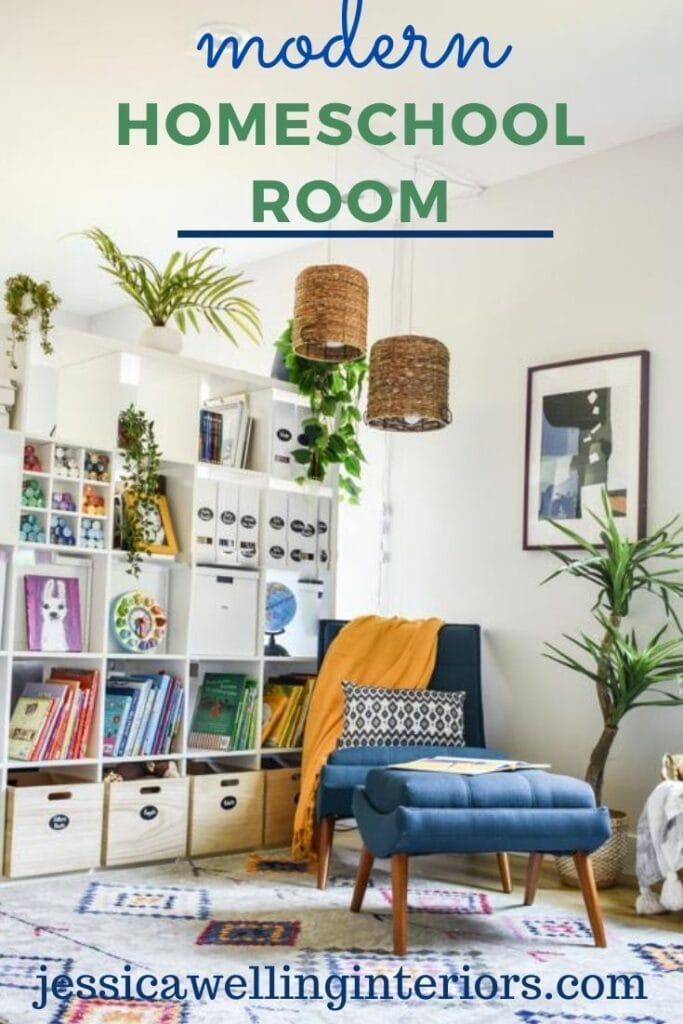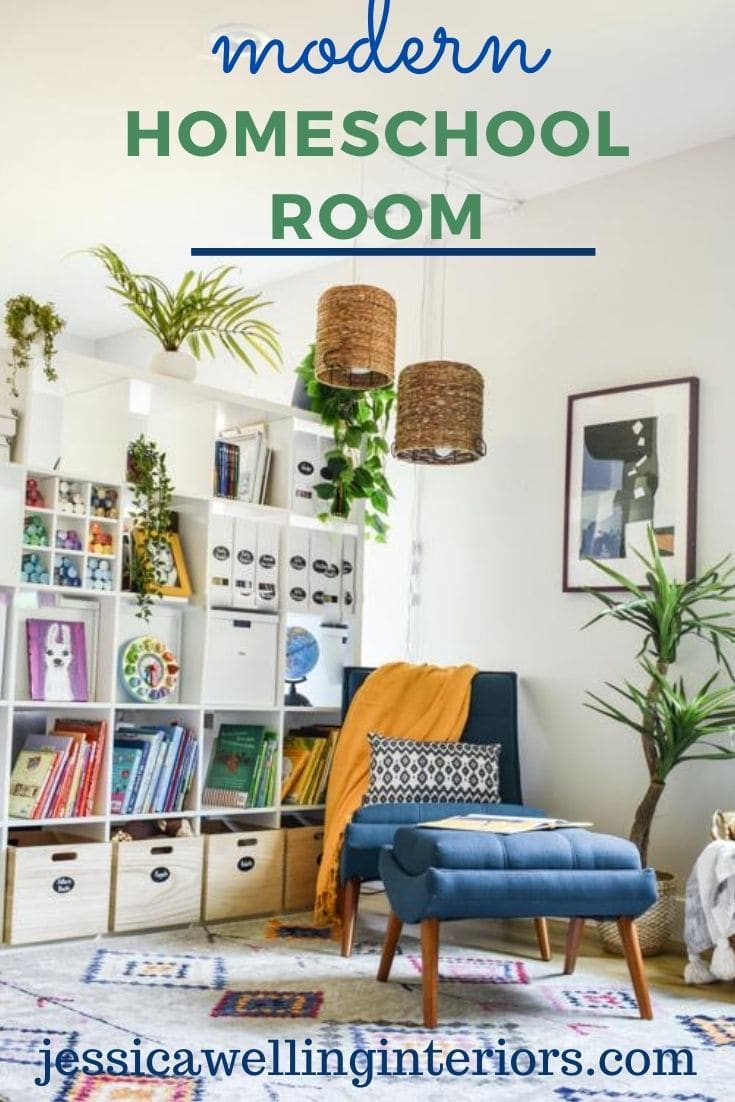 This post was sponsored by AllModern. All opinions are my own.
You guys! The new distance-learning room reading nook is DONE! And I'm so excited I almost want to start school next week. Okay, maybe not quite THAT excited. But still, I'm pretty pumped.
The Plan
In case you haven't been following this whole journey from the beginning, here's the plan I started with for the homeschool room reading corner. This giant bookshelf acts as a room divider, and the other side is my design studio/home office.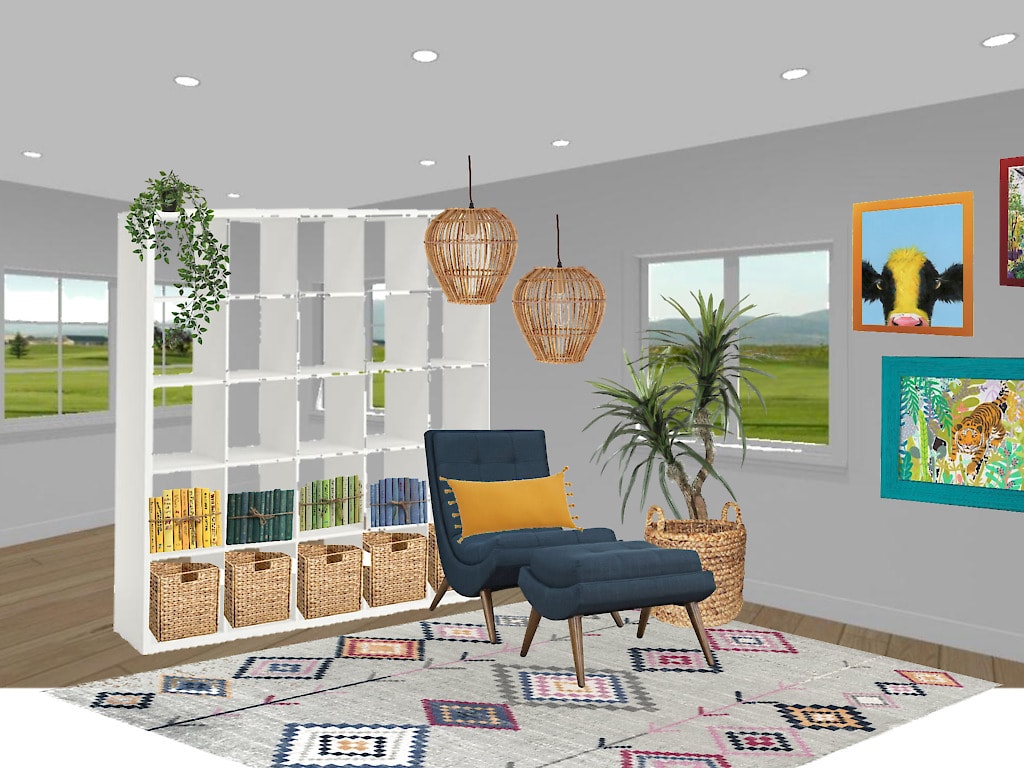 My plan was always to use the lower shelves for toy and book storage in the kids' playroom. But the past several months have turned life on it's head, and now we're getting ready for full-time distance learning this Fall. So the playroom is going to double as a homeschool room.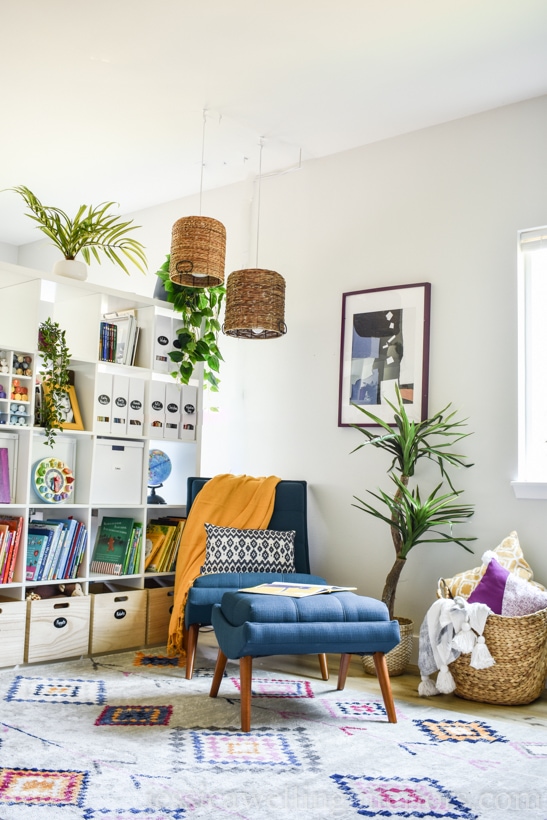 I've been wanting a comfy lounge chair in this room forever- to replace the old couch that didn't quite fit our style anymore. And to free up some floor space for Legos. I also wanted a spot to work on my laptop while the kids do their distance-learning.
And of course, no reading nook would be complete without comfy throw pillows and blankets! To keep them from ending up all over the house, I got this fun Boho basket from AllModern! And I chose a lightweight mustard yellow throw blanket to set off the new chair!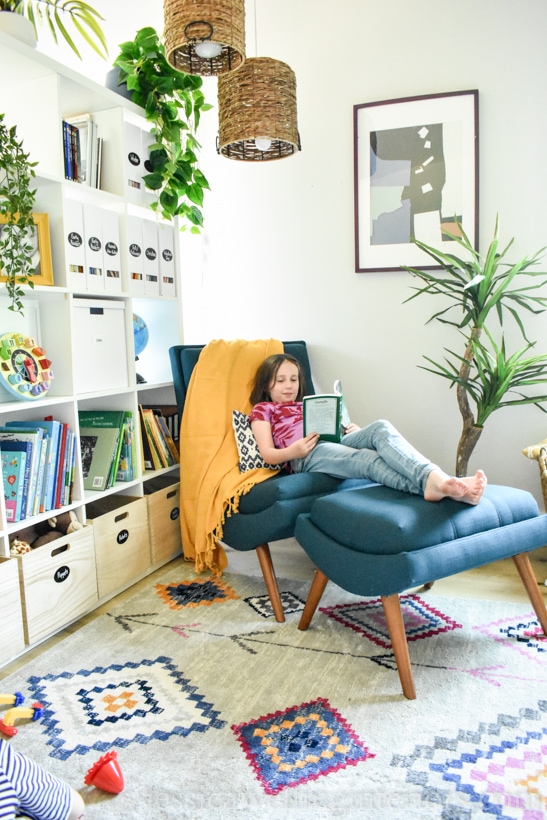 I've always been a fan of faux indoor plants, and this one jumped out at me right away. It reminds me a little of something from a Dr. Seuss book.
Do you see it? Is it a Truffula Tree I'm thinking of? Or maybe Thing One and Thing Two's hair? Well anyway, it's fun and whimsical, and I love it! And it's a very convincing artificial plant. You can see my list of approved and vetted real-looking artificial plants here.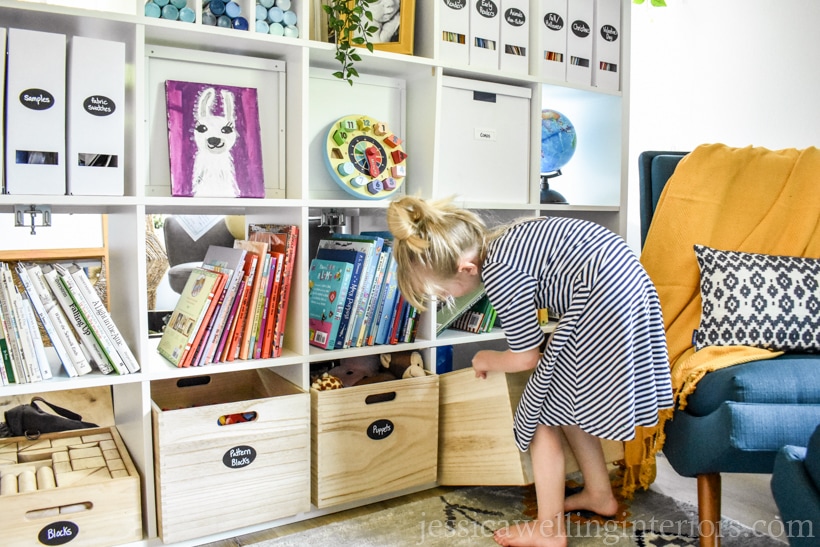 Story Time in the Reading Nook
When Zoe was a puppy, we wanted her to participate in a program called, "Reading with Rover", where very well-trained, well-behaved dogs go to schools and libraries and kids read to them.
But we soon realized that she was probably not the right dog for the job. I'm assuming the folks at the library wouldn't have appreciated a crazy pup jumping around and racing through the stacks and chewing up books. So Zoe's dreams were put on hold.
But I'm happy to say she now has a secure future in being read to at home- as long as there are treats involved! And she's definitely enjoying this fun new rug from AllModern!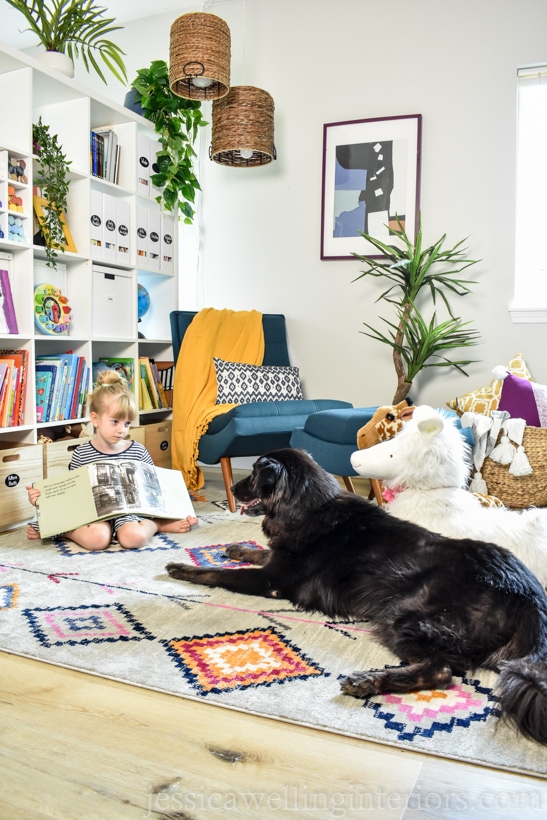 I'm so glad to finally have a space we WANT to spend time in! Especially since we'll be spending a LOT of time in there once online school starts! Are you setting up a distance-learning or homeschool space? Tell me about your plans in the comments!
And be sure to pin this post so you can come back to it!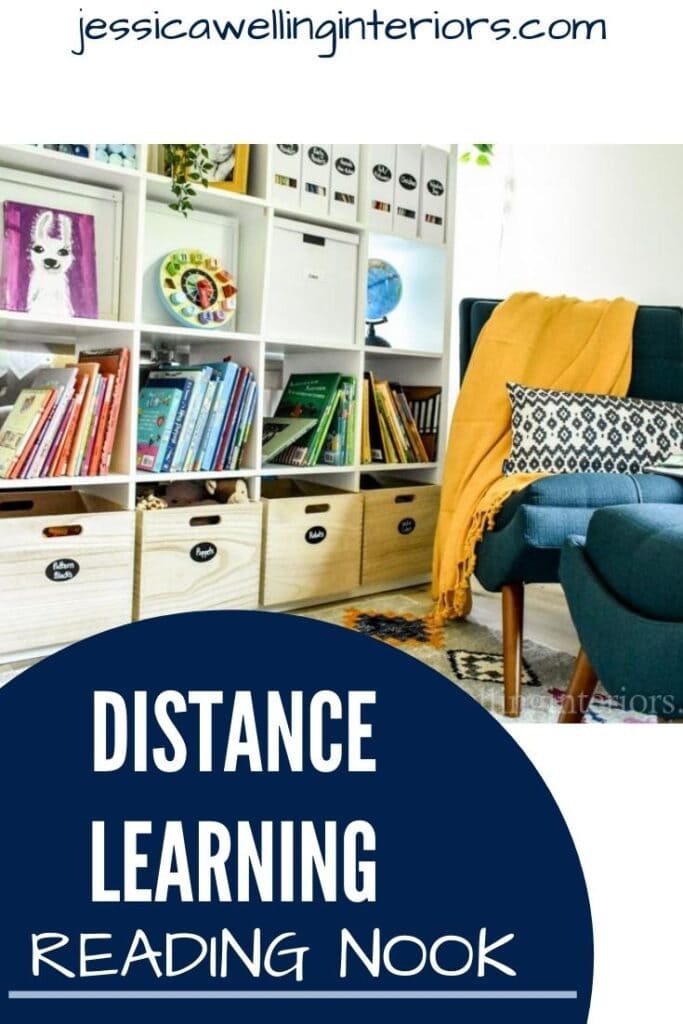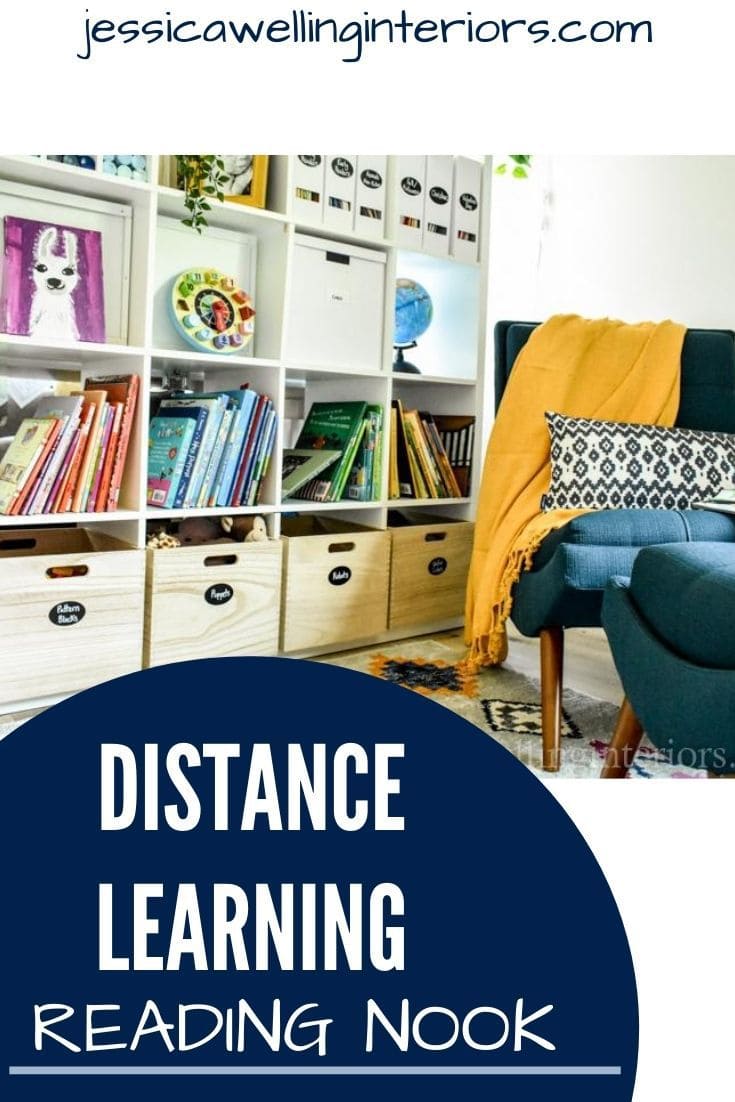 See the Rest of the Homeschool Room…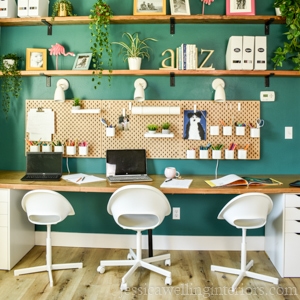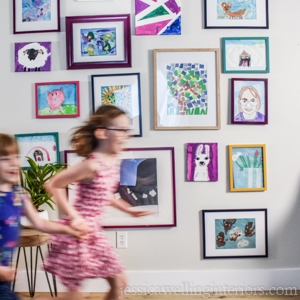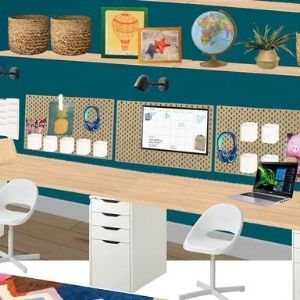 Kids' Desk Chairs on a Budget!