This homeschool room and distance learning space features 3 computer workstations, lighting for Zoom meetings, organization, and more!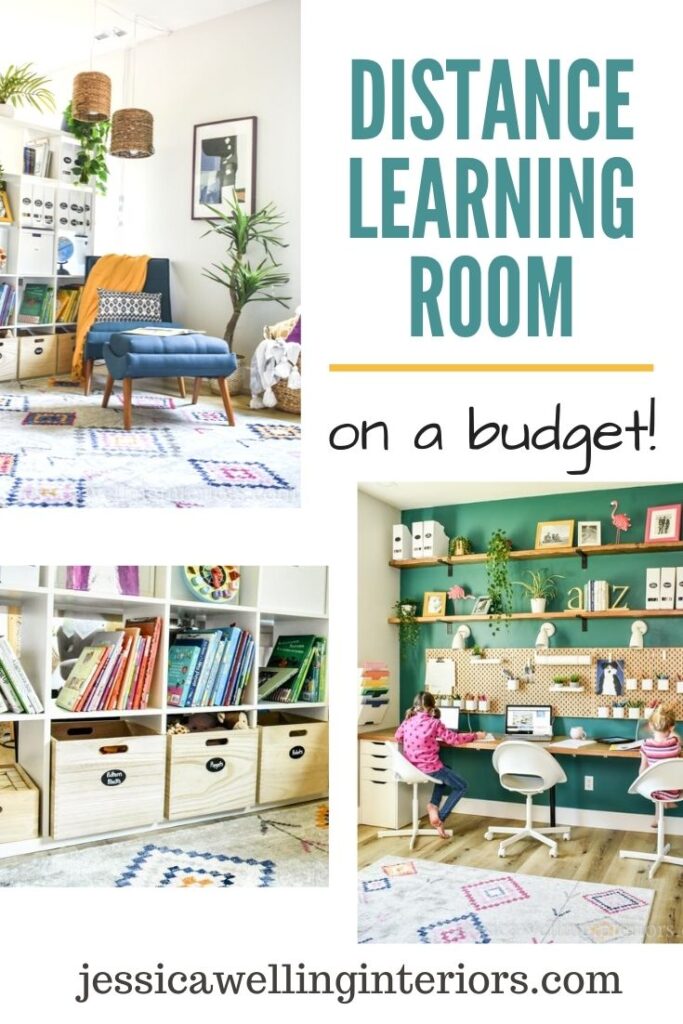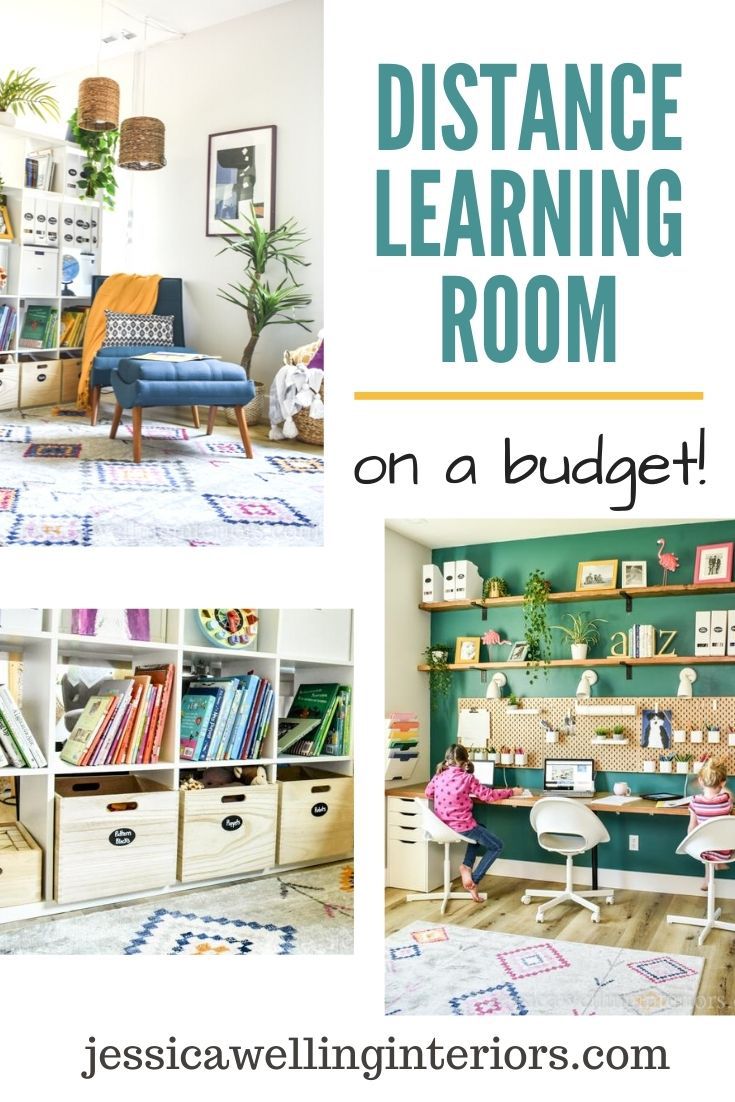 It's done at last! And I can't wait to show you our new distance learning space in all it's glory, before the kids mess it up!
This project is broken down into several parts, so I'll link to the individual posts about each area in case you want to read and see more. And I'll put shoppable links at the bottom in case you see something you like.
Before…
Let's look back for a moment to see how far we've come. Click here to read more about the planning and design process for this space.
In the bottom left corner you can see the folding table we were using for a distance-learning desk before. It was a pretty big mess and I didn't really want to commemorate it with a photo.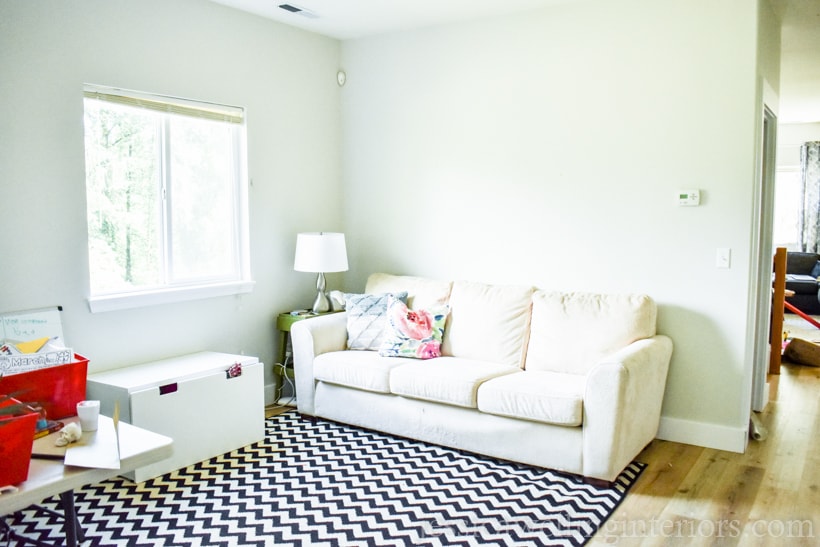 Accent Wall
I started by painting the accent wall to create a focal point in the room.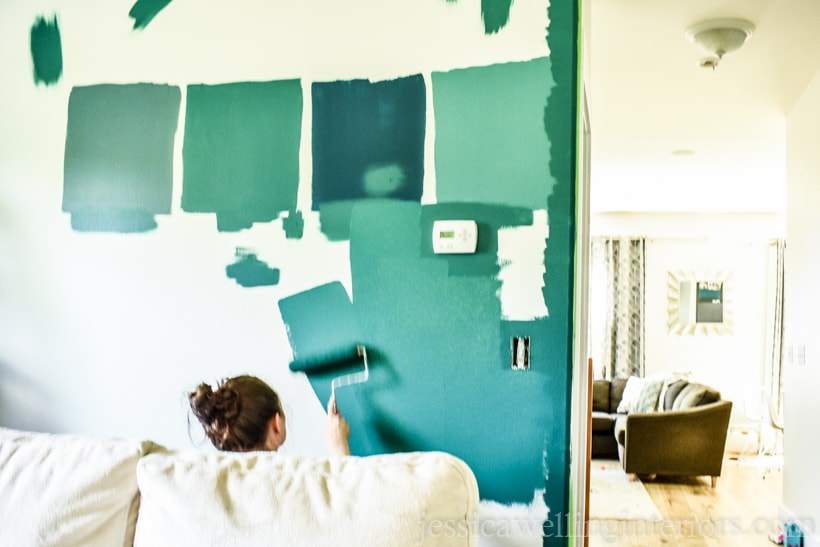 Ikea Distance-Learning Desk
We built a 10-foot-long Ikea-hacked desk with three workstations to give the kids and I a place to work. You can see the school desk for home reveal here.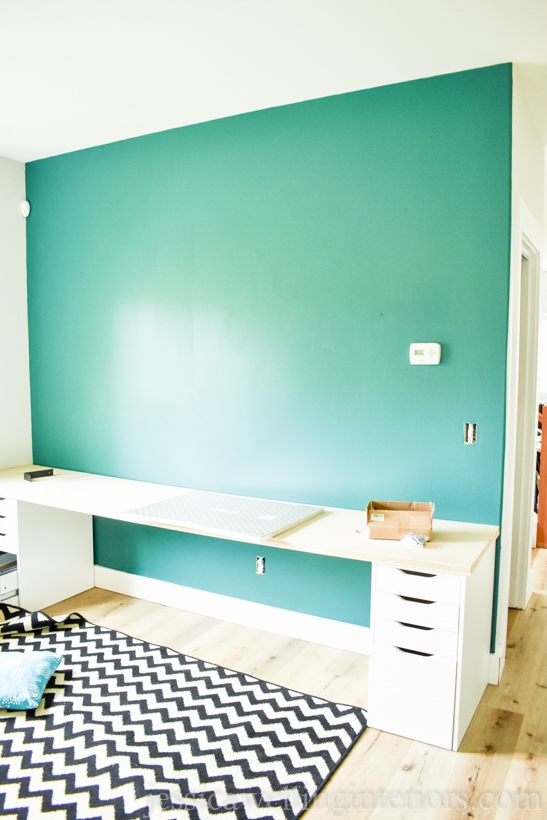 DIY Floating Shelves
I wanted some open shelving to display plants, photos, books, etc. You can see the full tutorial for these easy DIY floating shelves here.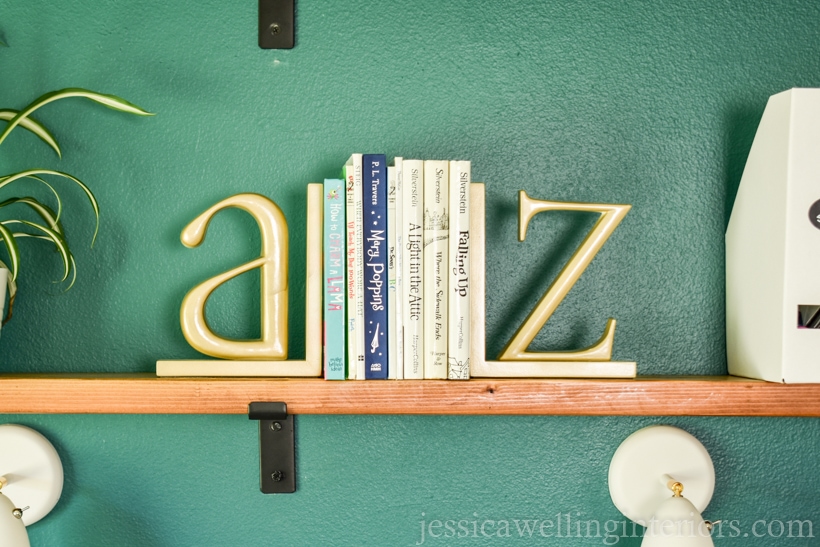 Ideal Lighting for Zoom Meetings
I chose the location of the desk with Zoom meetings and online learning in mind. It's important to have your main light source coming from behind the computer to light your face for virtual classes and meetings.
I chose to use these wall-mounted task lights for this purpose, and to provide lighting for the desk. In my experience, kids knock table lamps and task lamps over. With them mounted to the wall, they're up and out of the way.
Since I just spent all this time shopping for lighting, I rounded up all my favorite reasonably-priced desk lamps and wall-mounted task lights from around the web for you too.
Desk Organization
Kids' desks can end up being a total mess! It's important to me to keep this area relatively tidy, since it's a space we'll be spending a lot of time in, and it's the first thing people see when they come to the front door.
So organization for school supplies, papers, art supplies, and computer cords is important! You can read more about the organization and the lighting for the desk area in this post.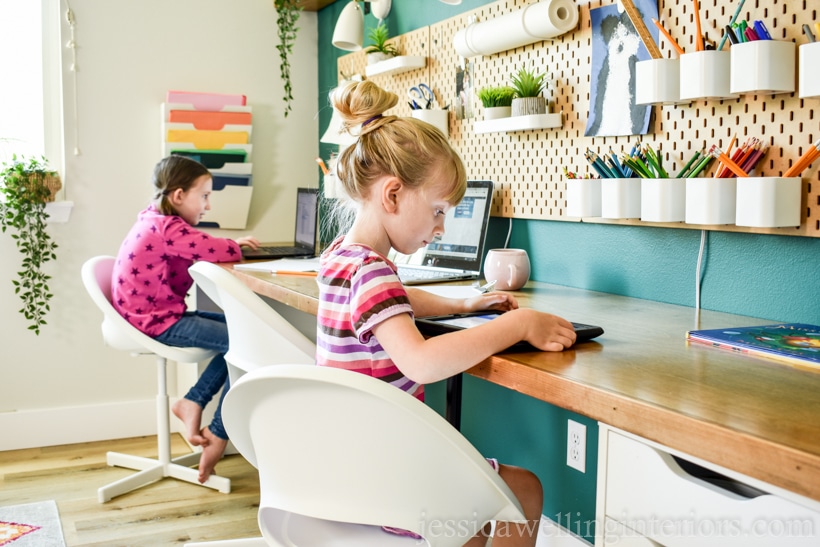 Kids' Desk Chairs
I've put together a great list of cute, reasonably-priced desk chairs for kids and teens. The best part? They're all available online!
Reading Nook
We used to have a large sofa, affectionately named, "Lamb Chop," because it was cream-colored and fuzzy. But it didn't really fit into this new space. Also, word to the wise: Don't buy a cream or white couch if you have kids or pets. I made this mistake first, so you don't have to!
To replace it- after all, I want a comfy place to sit while the kids do their schoolwork- I ordered this awesome mid-century chair and ottoman.
I can't tell you how excited I am about it! In fact, I'm sitting in it as I write this.
I also got some great accessories from AllModern, including the fun whimsical tree, mustard throw blanket, and Boho storage basket!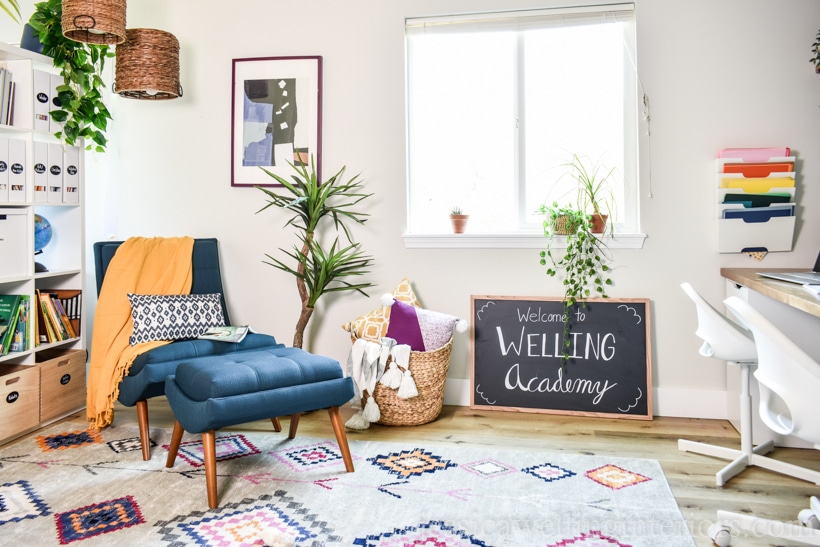 I'm totally loving this fun colorful rug from AllModern!
For more details about the reading corner and to shop the look, check out this post.
DIY Basket Pendant Lights
How fun are these lights??? I promise a tutorial for this ultra-easy DIY project very soon!
Toy & Book Storage
Most of our toys are stored in the toy closet, but we needed some storage for math manipulatives, blocks, and science supplies. So I got these cute wood bins from Target. These are my favorite chalkboard sticker labels– and I've tried several different brands!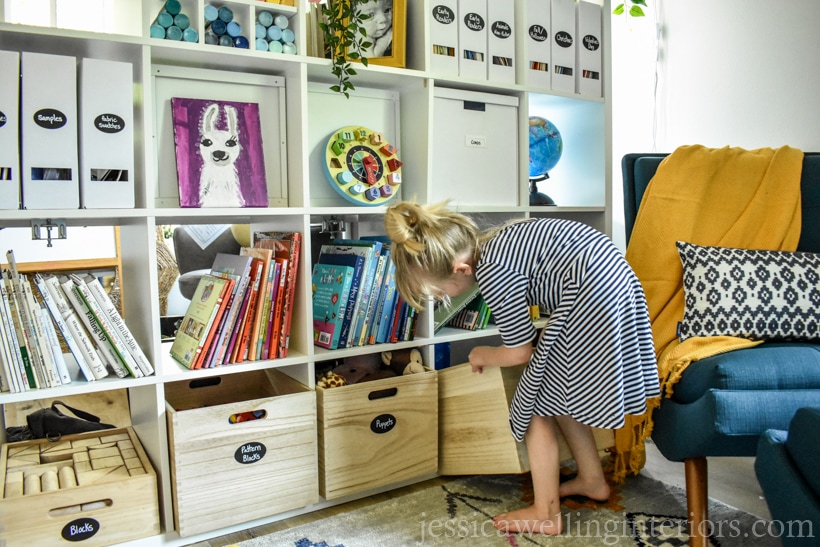 My mom is a retired Kindergarten teacher, so we have a very large collection of children's books. El helped me organize the paperbacks into magazine files. We sorted them by season and topic.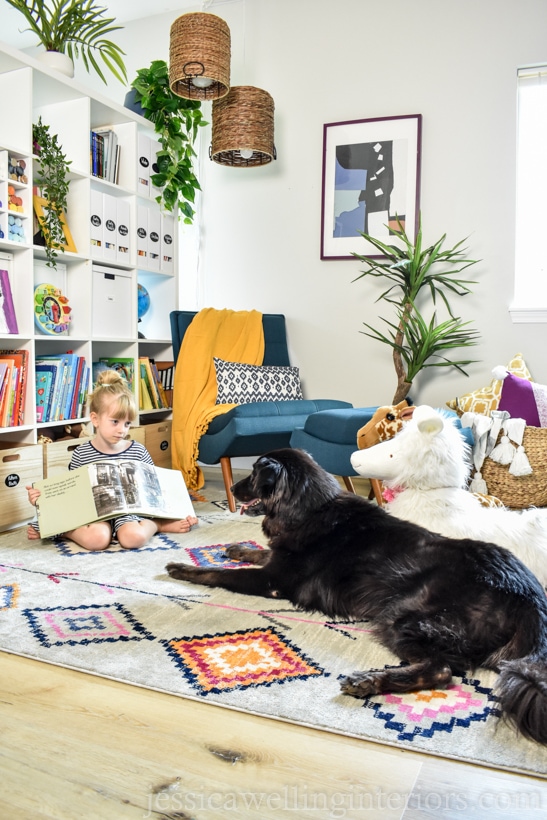 Oh and by the way, the other side of this Kallax shelf unit from Ikea is my design studio/home office. So the upper shelves are mostly for my office, and the lower shelves are for the homeschool room/ playroom.
Kids' Art Display Wall
I've been meaning to put together a gallery wall to display the girls' art for a few years now, and I'm happy to say it's finally DONE!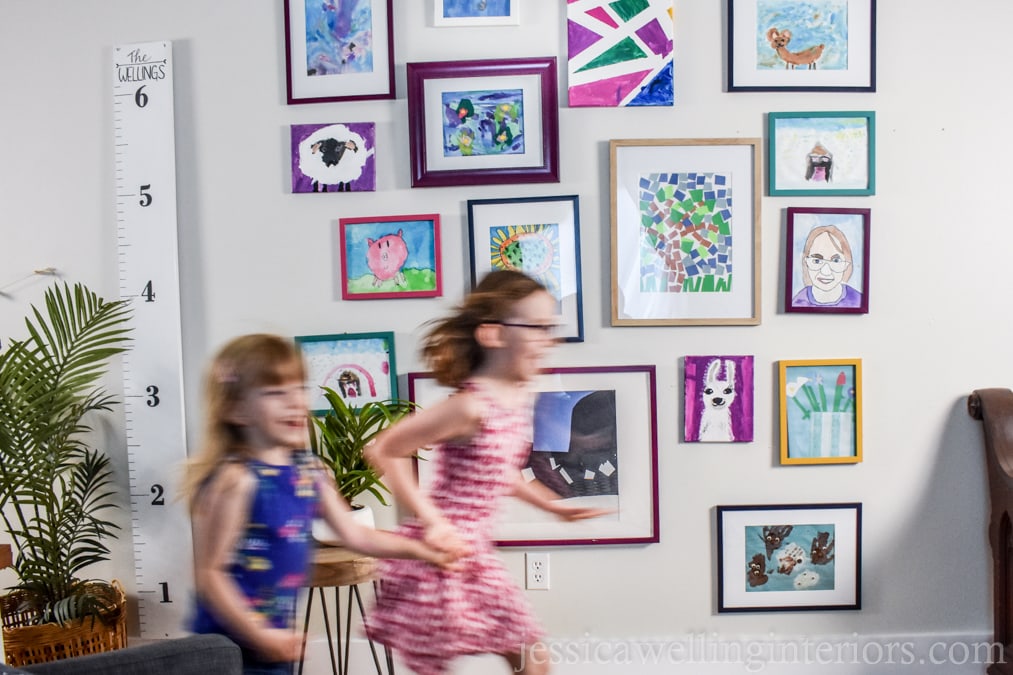 I used inexpensive frames, including some created specifically for kids' art. They open from the front so you can easily change out the art! Read more about the project and how to design your own gallery wall here.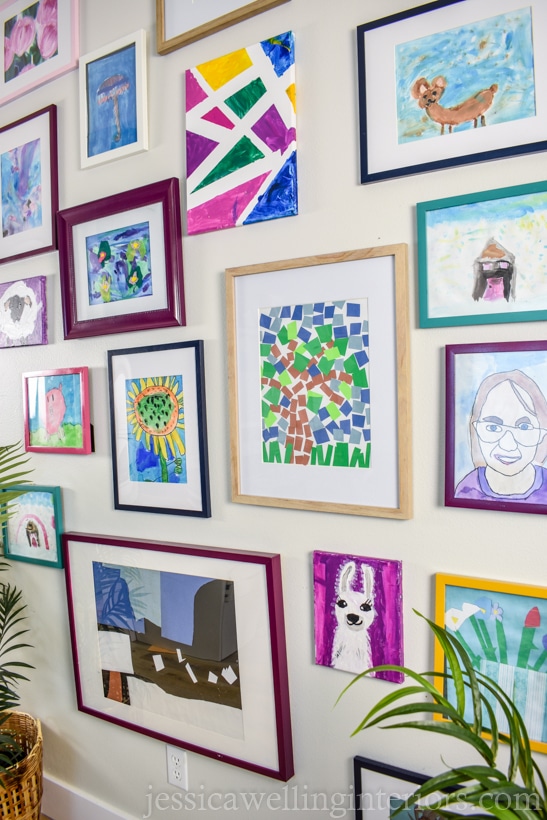 Plants & Accessories
As you can see, I kind of have a thing for indoor plants. But in the spirit of simplifying my life… (I know, you're laughing at me because me life will never be simple!), I'm using artificial plants as much as possible.
My guess is, if you're planning to homeschool or do distance-learning with your kids (or if you have kids at all), you don't need any more complications in your life either! Am I right?
Faux indoor plants are the perfect solution! Also, many of them won't be damaged or spill dirt everywhere if they get knocked over. Perfect for playrooms and kids' spaces. Check out this post for my favorite real-looking artificial plants!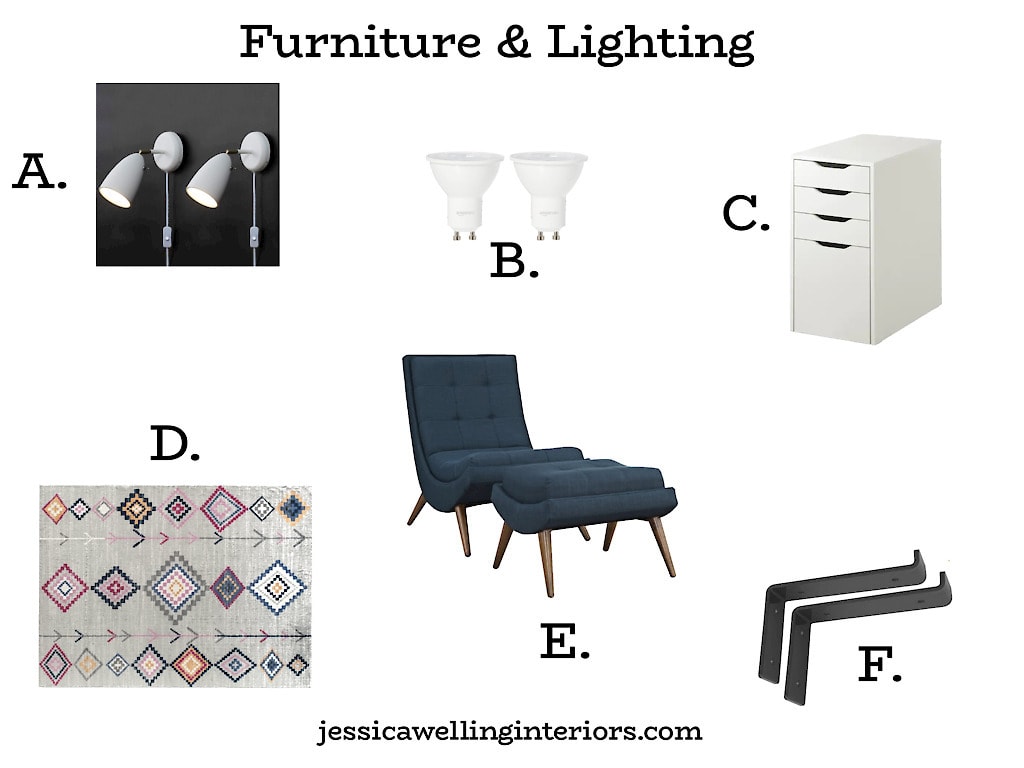 A. Industrial Plug-in Wall Sconces, by Chiyan Lighting
B. GU10 LED Light Bulbs, from AmazonBasics
C. Alex Drawer Unit, from Ikea
E. Mid-Century Ramp Chair & Ottoman, by Modway
F. 8″ Heavy Duty Metal Shelf Brackets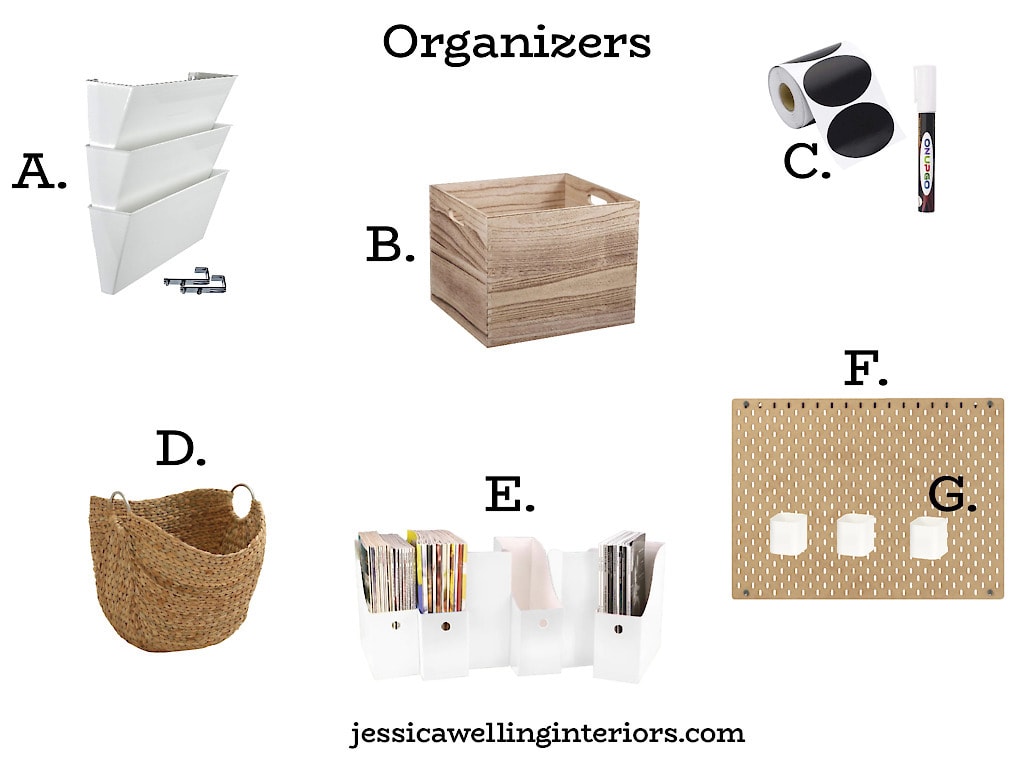 A. Acrimet Office File Organizer
B. Large Wood Milk Crate Toy Storage Bin, by PillowFort
C. Onupgo Chalkboard Labels & Chalk Pen
E. Evelots Magazine Files in White
G. Skadis Pencil Cups from Ikea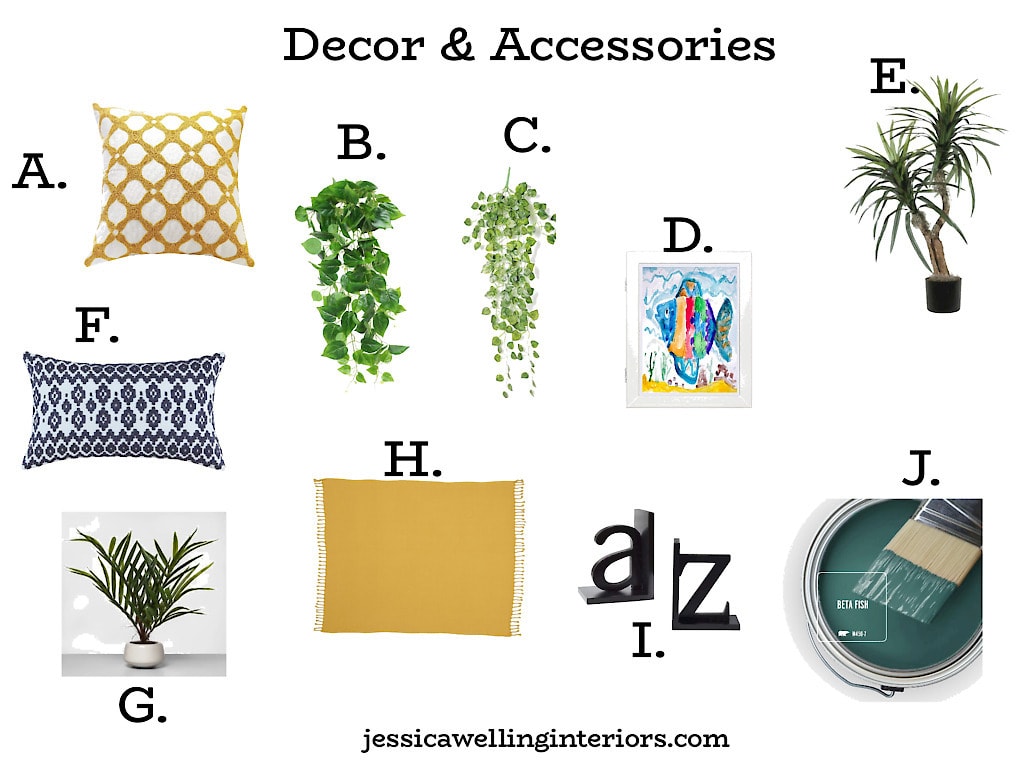 A. Slow Cow Cotton Embroidery Pillow Cover, in Yellow
B. Luyue Artificial Hanging Plant
D. Front-Opening Art Frames for Kids' Art
F. Aitliving Embroidered Cotton Lumbar Pillow Cover
G. Artificial Potted Palm, by Project 62
H. Mulhall Throw Blanket in Yellow
J. Behr Marquee Paint, in Beta Fish
I would love it if you would help me out by pinning this post!
More Ideas for Playrooms & Homeschool Rooms…
Where to Find The Best Desks On The Cheap!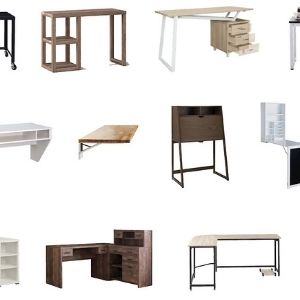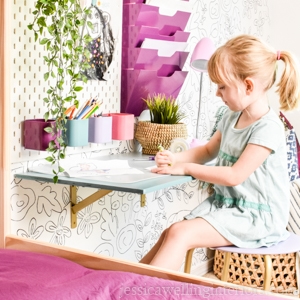 Kids' Desk Chairs On A Budget!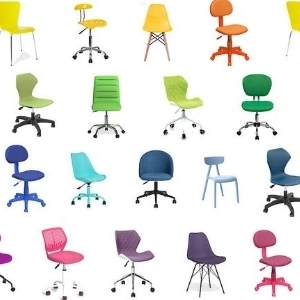 Toy Storage Ideas: How We Tamed the Playroom Chaos