Ikea Home Office Ideas: My New Design Studio Reveal!
This Ikea home office makeover is full of simple Ikea home office furniture ideas to inspire you! It features the Kallax bookshelf as a room divider.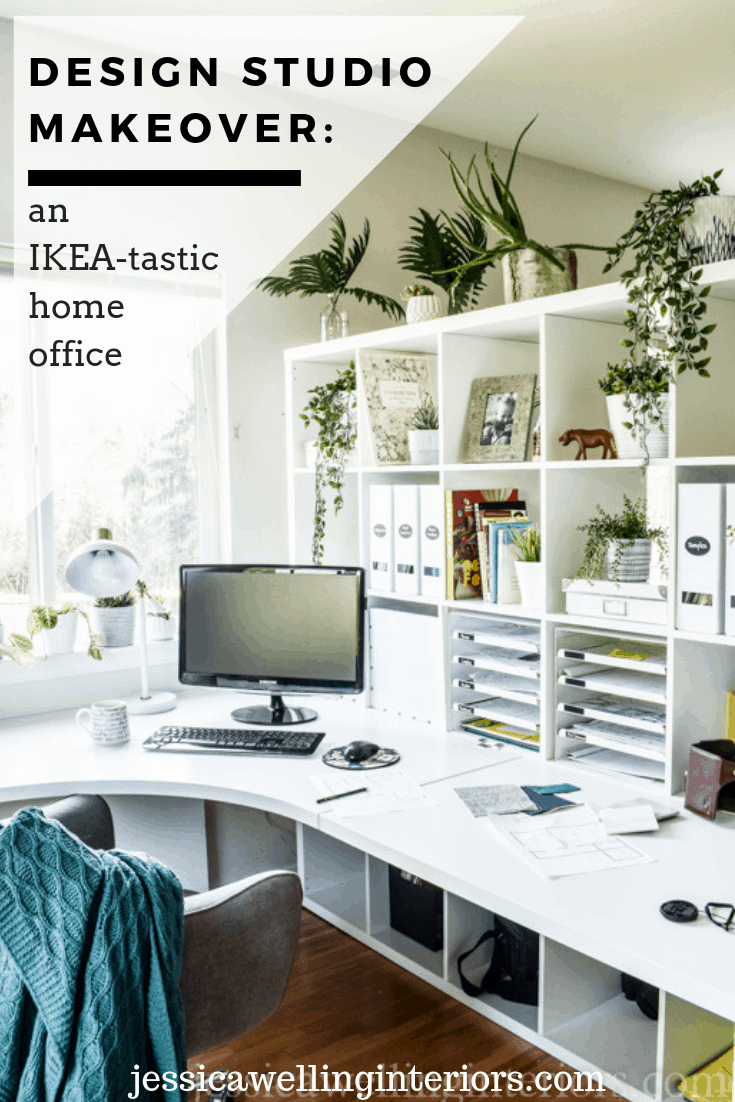 Ikea Home Office Ideas…
As my design business and blog have grown, I've realized that I need a larger dedicated workspace, as well as some storage for files and camera equipment, backdrops, art supplies, etc. Today I'm excited to show you my brand new home design studio/workspace! The best part about this makeover was the price tag- about $400 total!
ikea home office Location
I chose this spot for one reason: It's near two windows and has the best and brightest natural light in the whole house. So, of course, it's where I want to spend my time. I also need that light for photography. Oh, and I have a nice view of the pond from here too. Hello, otters!
Before the Ikea Office makeover…
This isn't a transformation from terrible to amazing. I liked the look of my drafting table before. It just had zero storage. And contrary to what they would have had me believe in design school, I really don't need a drafting table that tilts up- though it was nice for keeping the dog off of it.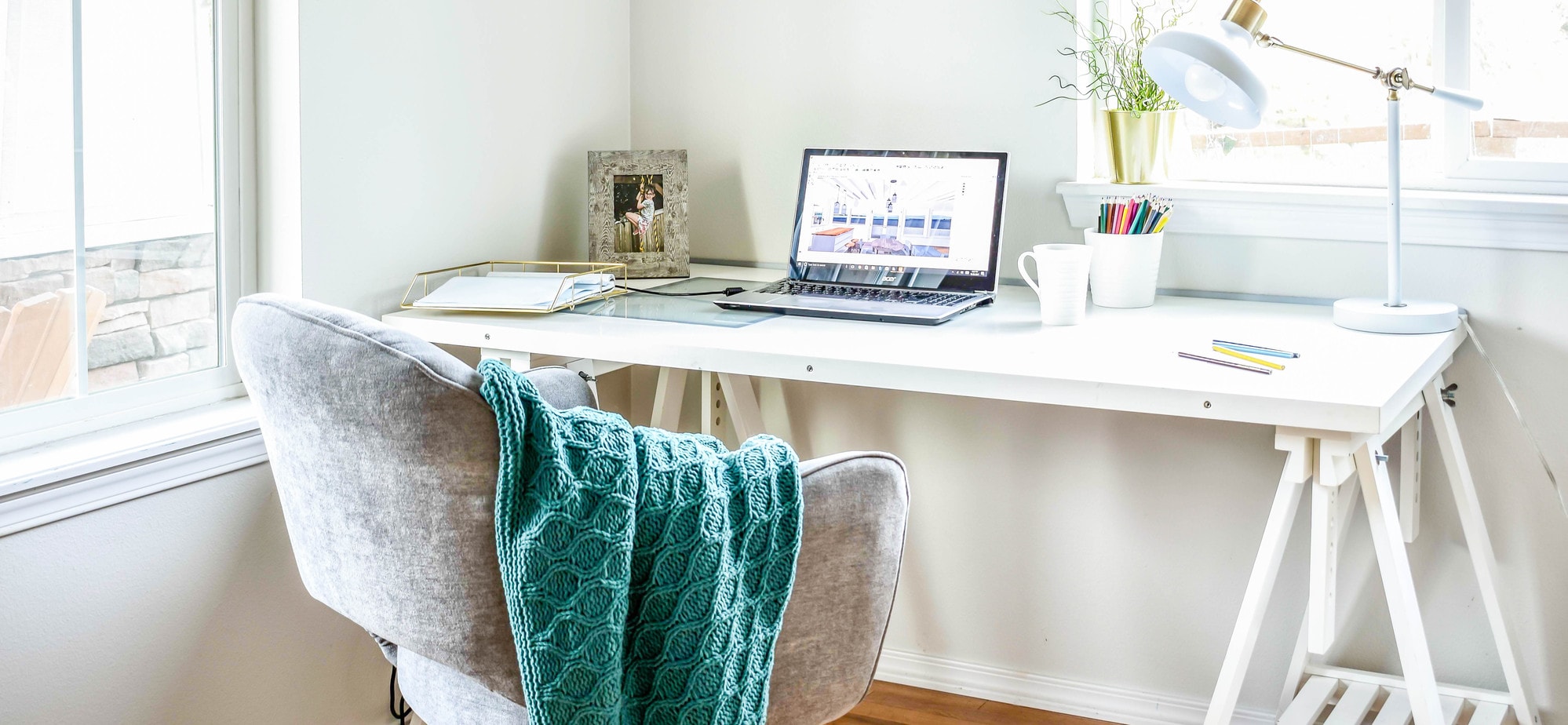 And after…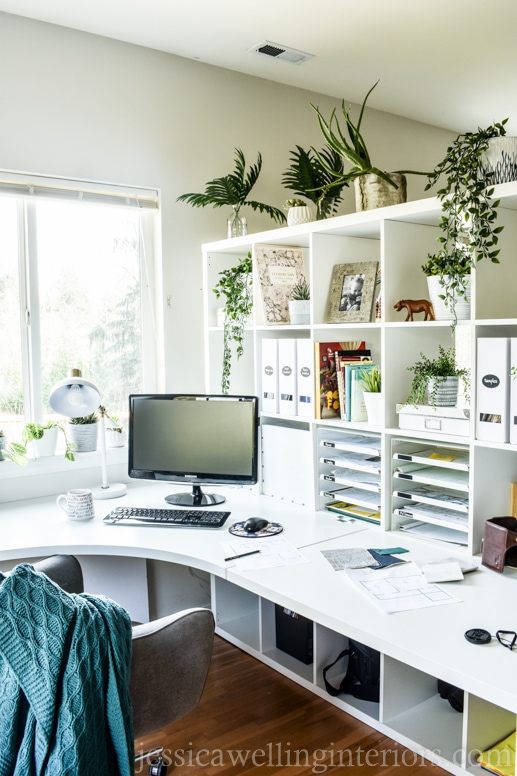 We have this big rectangular room at the front of our house. It's the entryway/not-sure-what-to-do-with-it room. I think it may have been intended to be a formal dining room, but it's nowhere near the kitchen, so that doesn't really make sense for us.
My neighbors all have a room like this, and no one seems quite sure what to do with it. I've seen exercise equipment, random junk, grand pianos, and more. We mostly use the space as a playroom for the kids.
You can see a bit of the soon-to-be-made-over playroom area on the right in the picture below. UPDATE: The new playroom & distance-learning room is done!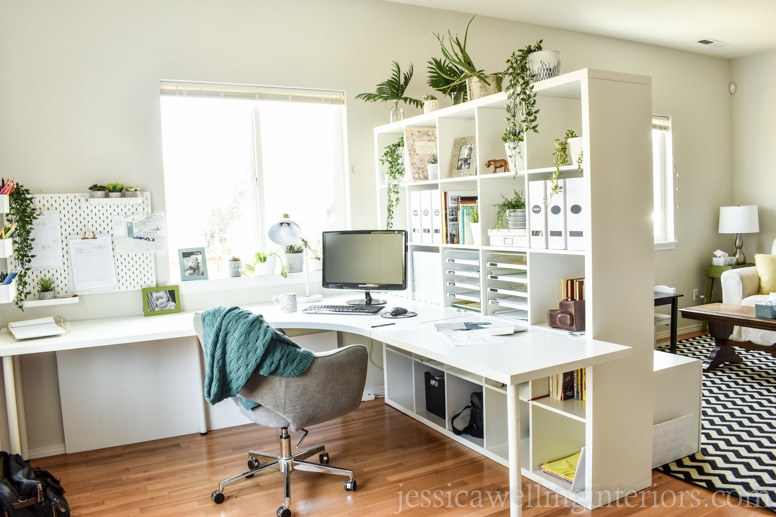 ikea Kallax Bookshelf
I got this IKEA KALLAX bookshelf to use as a room divider. I love all the storage it offers- and that it allows light to pass through. Eventually, I plan to use the lower shelves for toy storage bins on the playroom side. But one project at a time! (Actually more like 12, at least in this girl's head).
I love this Serta Valetta home office chair. It's comfy and I've had it for almost two years now- and it still looks brand new!
My thinking was that this would create a separate, dedicated workspace. No kids allowed! No tiny pieces of construction paper cut into bits and stuck to the desktop with strawberry jam. But who was I kidding?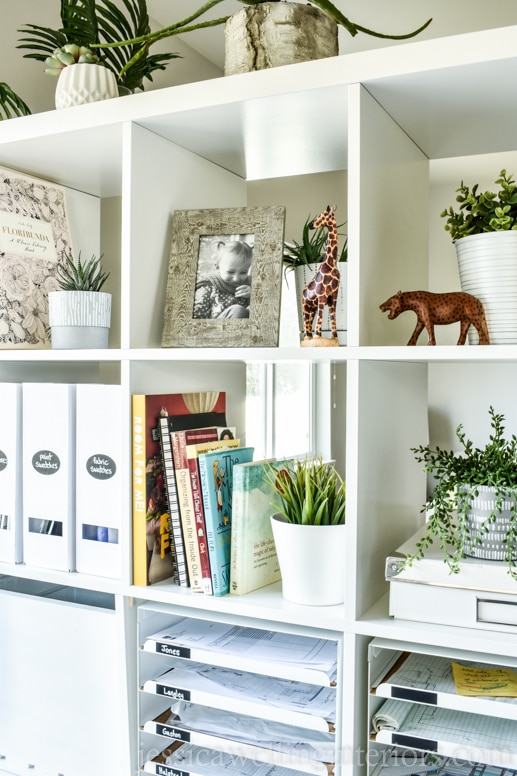 I love these IKEA KVISSLE stacked letter trays because they fit perfectly into the cube shelves, and they're great for client projects. Plus, "KVISSLE" is kind of fun to say!
I also picked up some of these TJENA magazine files to hold fabric and paint swatches, window treatment samples, flooring pieces, and more. I suspect my collection will grow, so I may have to go back and get more. And they're all labeled with my favorite chalkboard sticker labels from Amazon, (which can be found all over my house).
ikea Linnmon Desk
The Ikea LINNMON tabletop is designed to work with the Kallax bookshelf- so the top of the desk lines up with the third shelf.
We used these brackets to attach the desk and bookshelf. I got this LINNMON corner desk piece, and two 4′ long LINNMON tabletops to extend it in both directions. Then we used these white ADILS legs.
Indoor Plants
This is the first spot in my house that I've really gone nuts with indoor plants. I decorated most of the inexpensive plant pots in the photos myself with paint pens and/or spray paint. You can see the tutorials below. You can also check out my tips to style indoor plants.
And here's a list of all my favorite artificial plants that totally look real!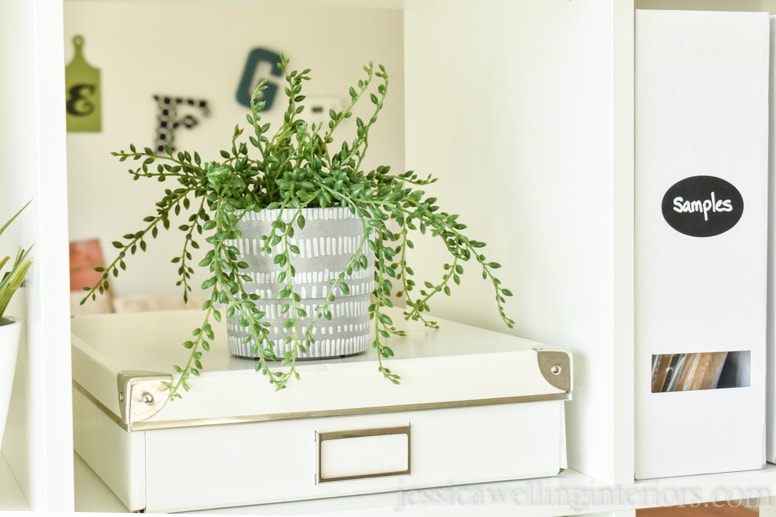 ikea Skadis Pegboards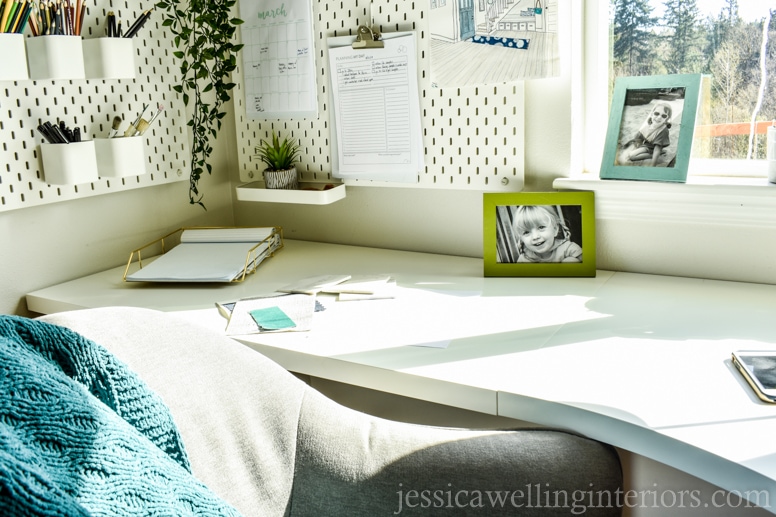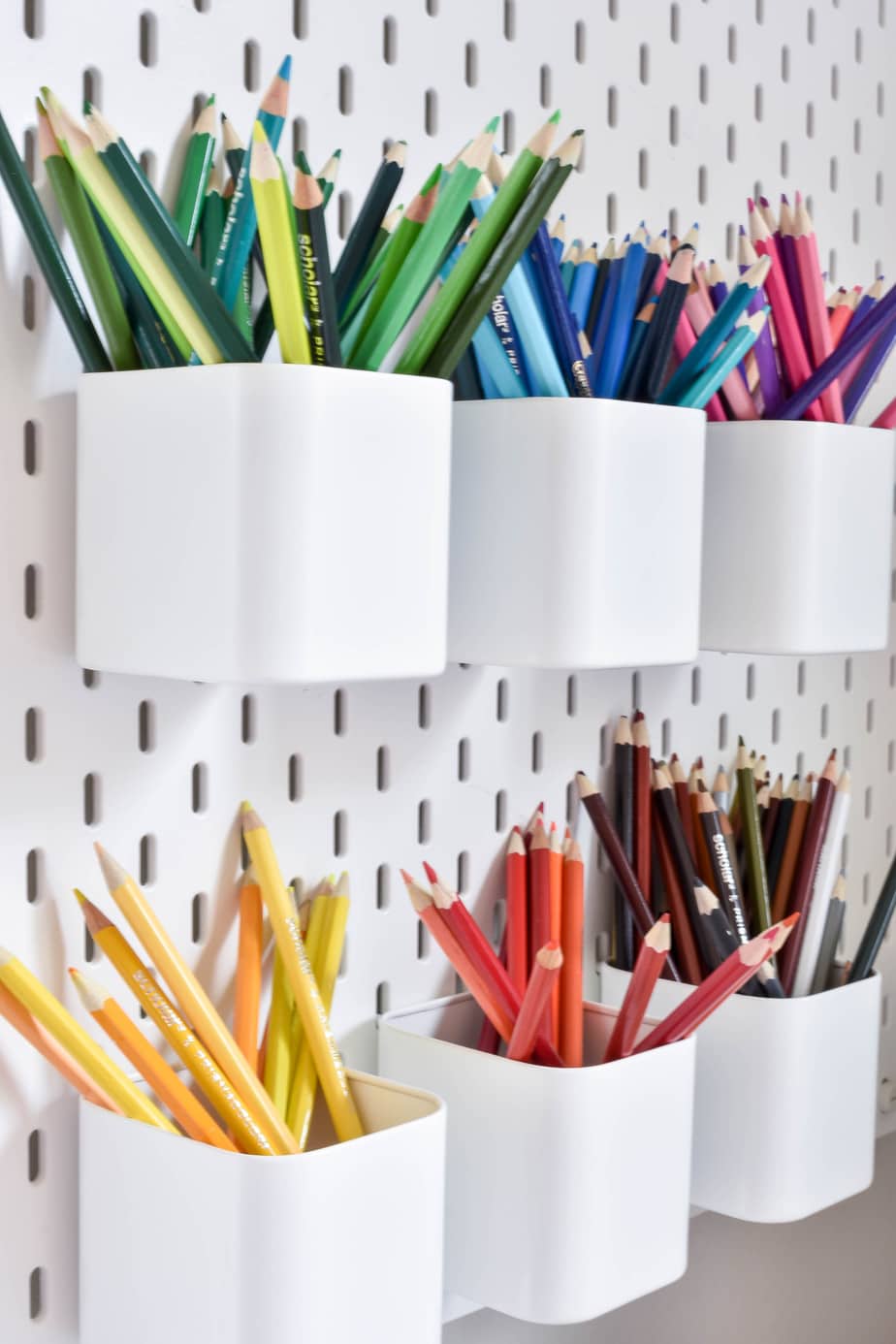 I love these SKADIS pegboard systems, also from Ikea. They hold my colored pencils, drawing pens, paintbrushes, and clipboards. They also have clips so I can hang papers and fabric swatches up if I need to.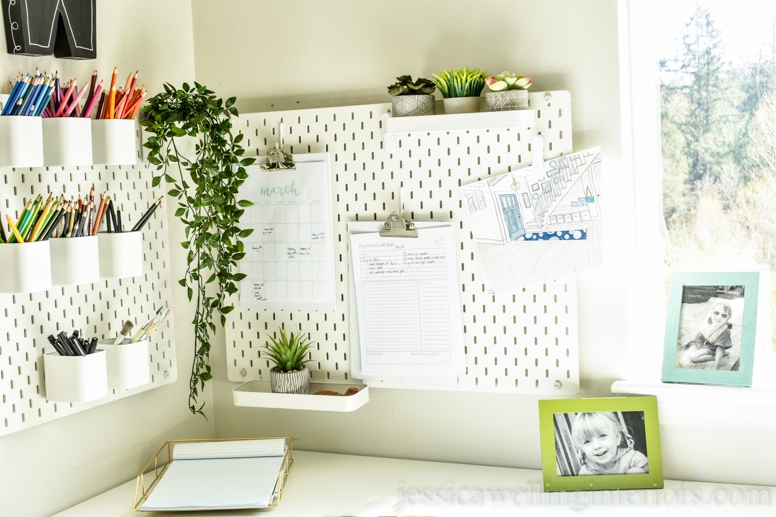 Now my only problem is that Zoe likes to hop up on my desk to look out the window. I'd been wondering why my desk was getting mud on it. But with kids, you never know.
Then I caught her in the act the other day. I was sitting at my desk and she brazenly hopped up next to me in one leap. She likes to look out at the pond and bark at the ducks.
So it looks like I'll be adding another leg to this section of the desk- just to be sure the whole thing doesn't come crashing down!
I'm sure this design studio space will continue to evolve.
UPDATE: Many of you have asked to see the other side of the bookshelf. And there's a good reason I wasn't showing it to you before- it was ugly over there! But no more! You can see our brand new homeschool/distance-learning space here. It has an Ikea-hacked desk too!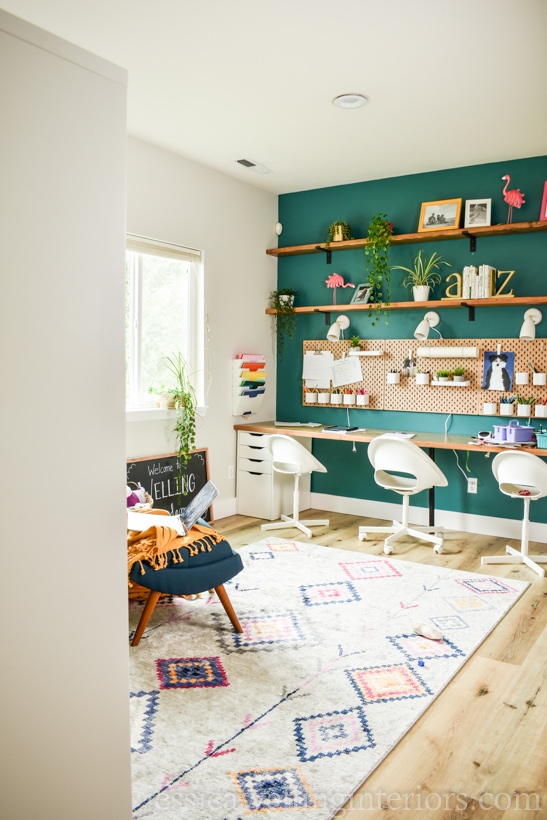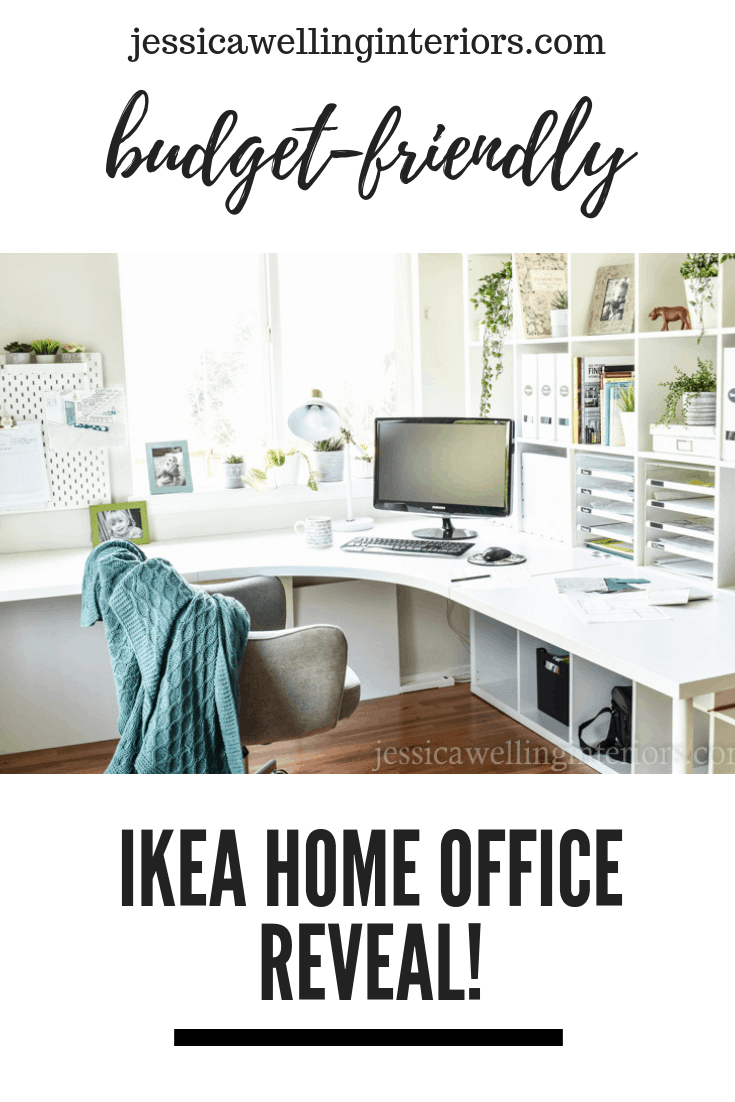 More Home Office Ideas…
The Best Home Office Desks On The Cheap!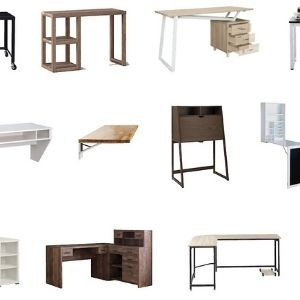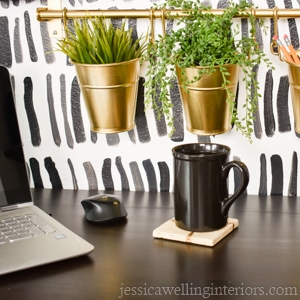 Home Office Lighting: How to Choose The Right Desk Lamp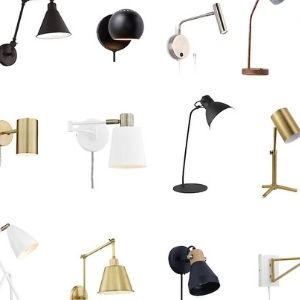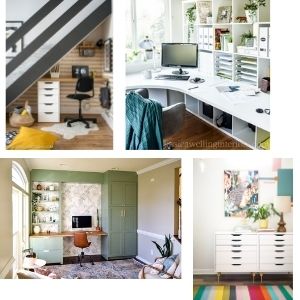 How to Style Indoor Plants: 6 Designer Tips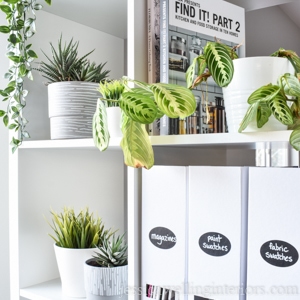 Turn Dollar Store Pots Into Modern Indoor Planters!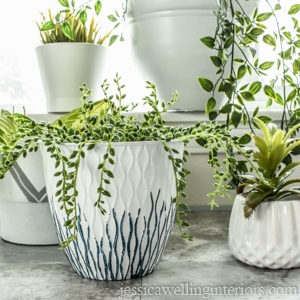 DIY Faux Cement Tile Fireplace Makeover