TV Console Makeover Ikea Hack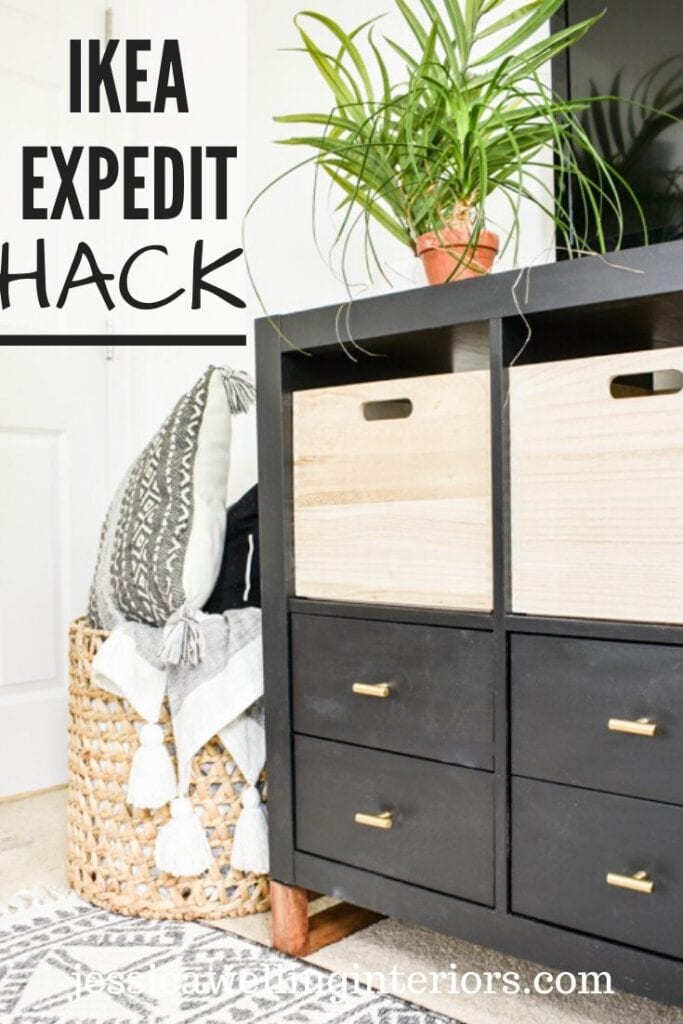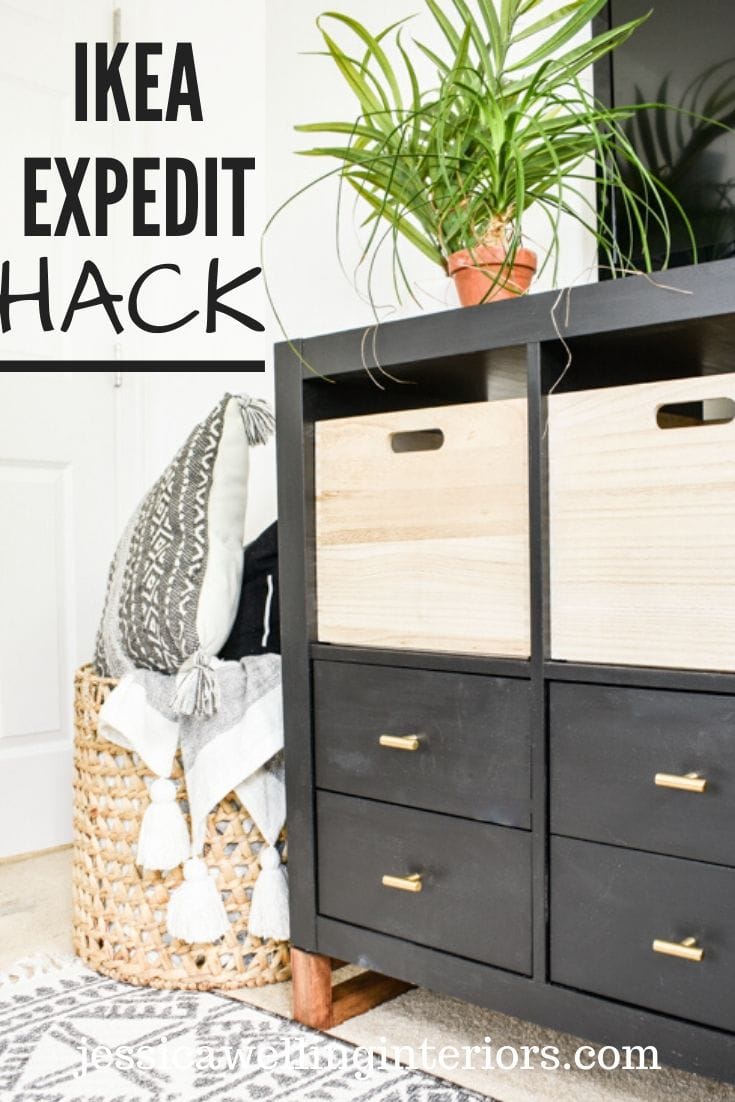 This post was sponsored by Blue Ridge Tools. All opinions are my own. It originally appeared on Hometalk.com.
Raise your hand if you have an old Ikea Expedit or Kallax bookshelf somewhere in your house! You know the ones with the cubes… I think it's safe to say just about everyone has owned at least one… or maybe three.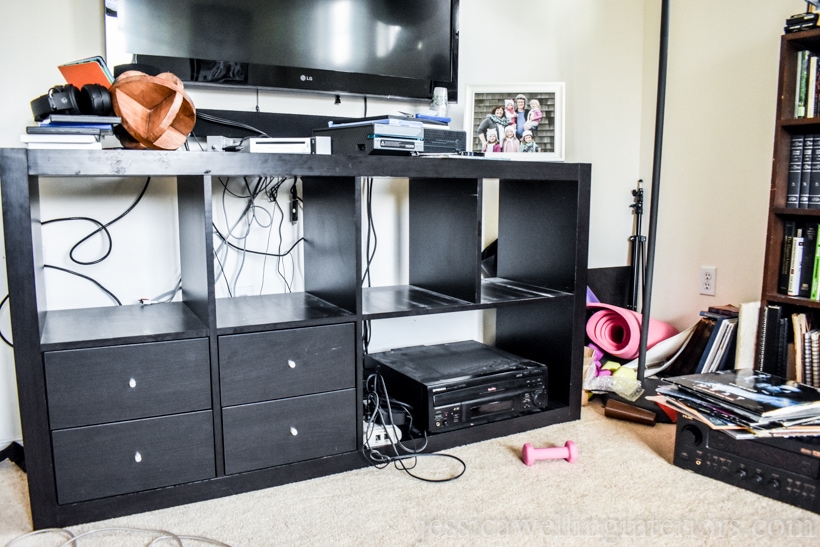 These units are great and very versatile, but the one in our TV room had seen better days. And it was giving off a bit of a dorm room/bachelor pad vibe. See what I mean? I'm sure the nest of cords wasn't helping either. Time for a makeover!
Tools:
Materials
BIN shellac-based primer (available in spray form too)
Varathane Wood Stain in Special Walnut
Varathane Ultimate Polyurethane in Matte
1 quart Behr Urethane Alkyd Satin Enamel paint
2 8′ long pine 2×2's
1. Remove Drawer Hardware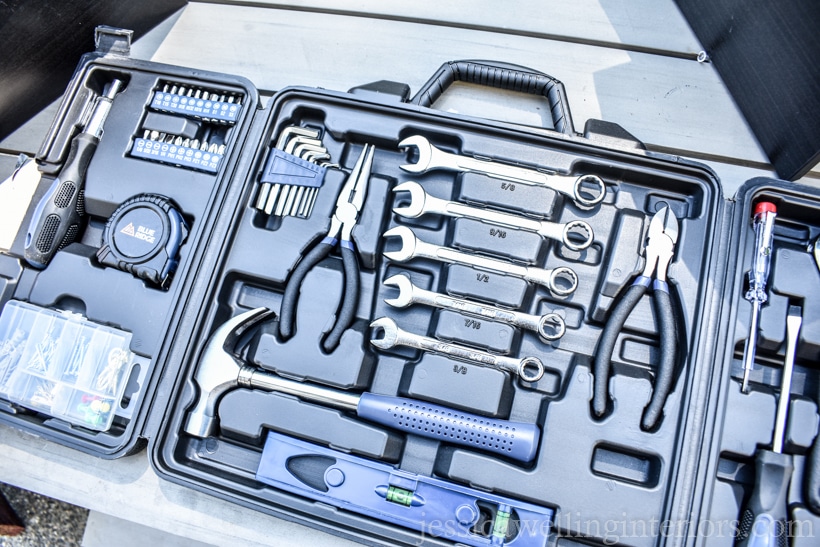 I'm loving this 145-Piece Deluxe Household Tool Set from Blue Ridge Tools. I used these tools for everything, from opening paint cans, to measuring wood, to attaching new cabinet hardware. So handy! I used the ratcheting screwdriver to loosen and remove the drawer pulls.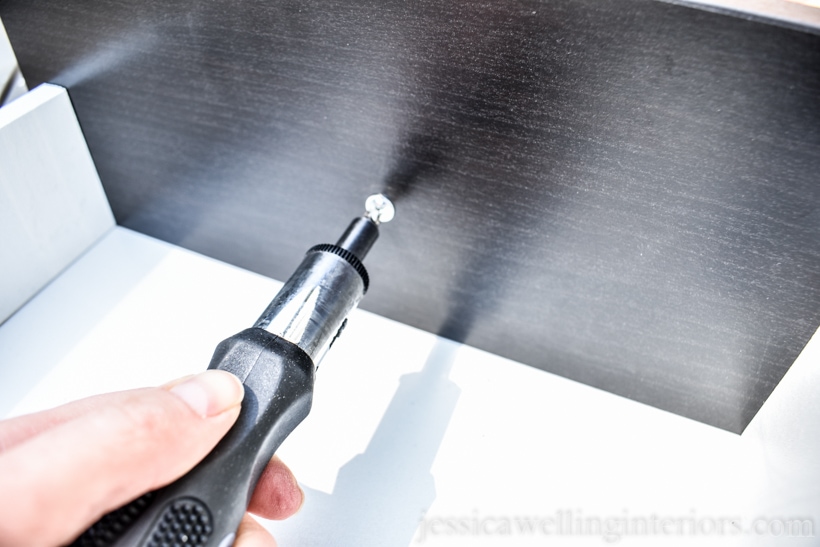 2. Lightly Sand the Surface.
I used the Blue Ridge Tools detail sander and 80 grit sandpaper (below left) to lightly rough up the surface of the bookshelf before painting.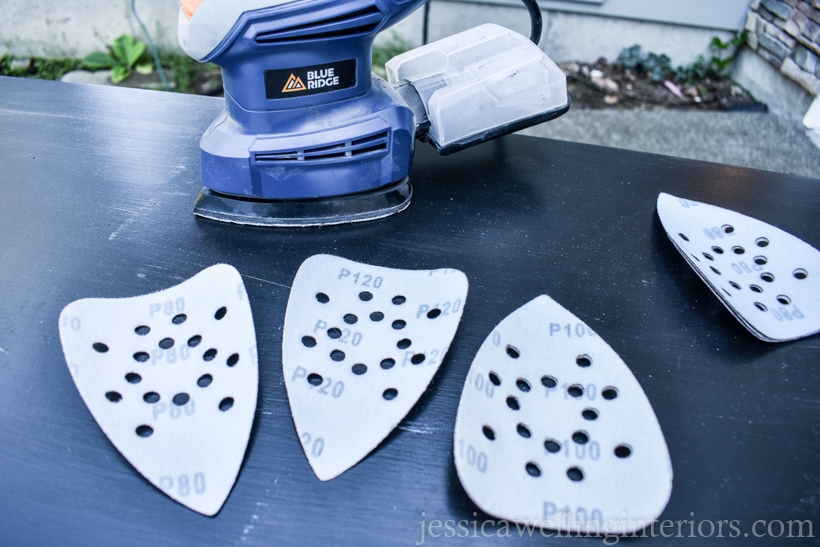 The detail sander is perfect for this because it's shaped like an iron, and can get into nooks and corners where my big orbital sander can't reach.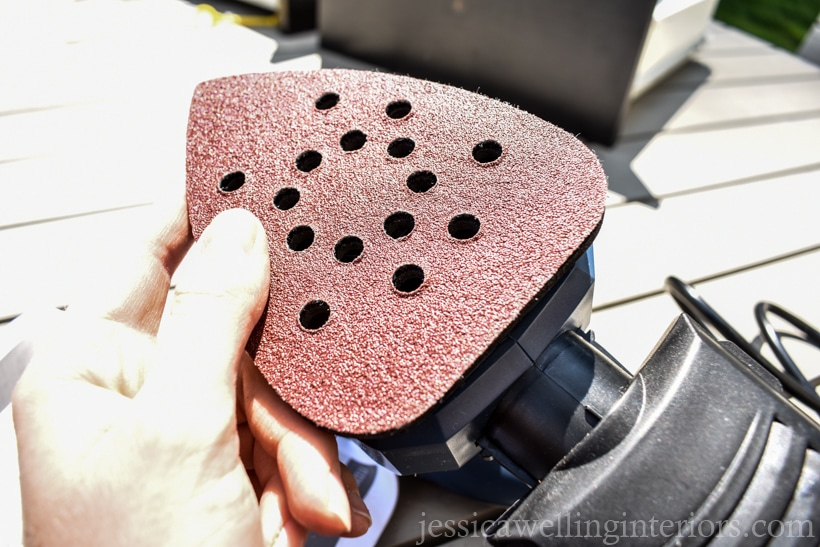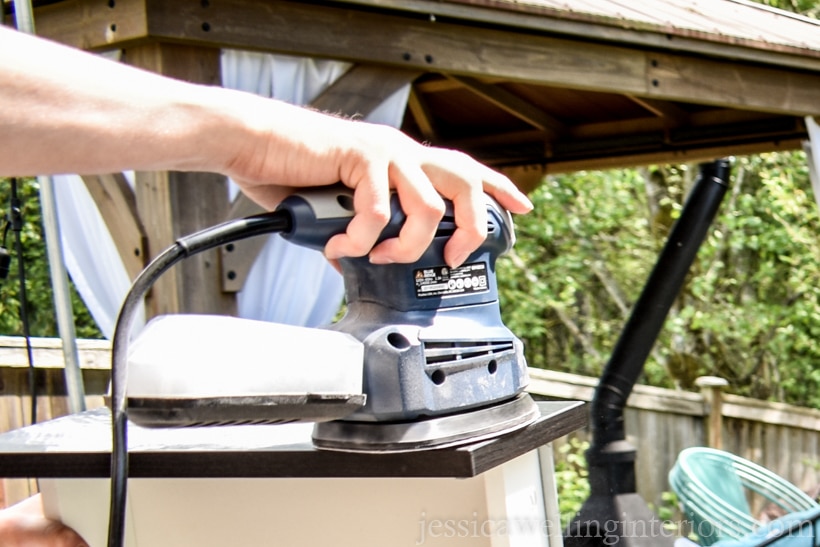 3. Wipe Down.
Next, I used a damp rag to wipe all the sawdust off the shelf.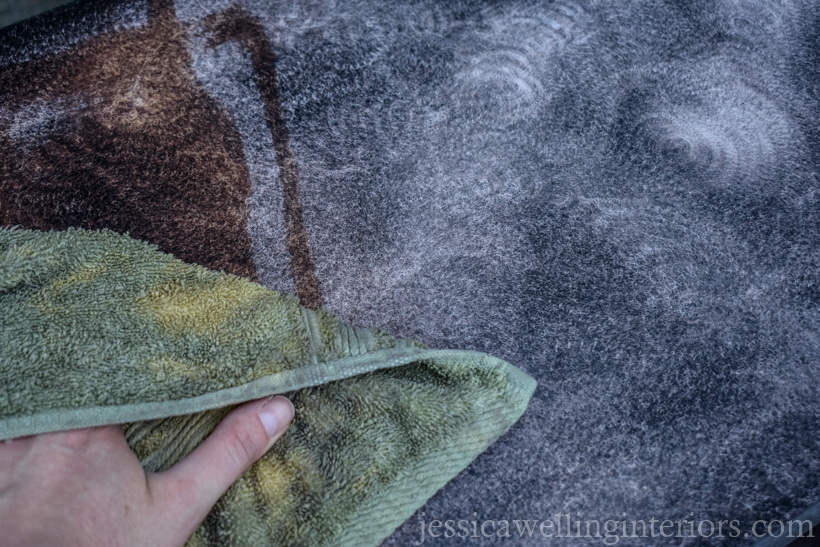 4. Apply Primer
I like to use a shellac-based primer like BIN for furniture-painting projects because it will stick to just about anything! I applied it with a disposable paintbrush, since it doesn't clean up easily.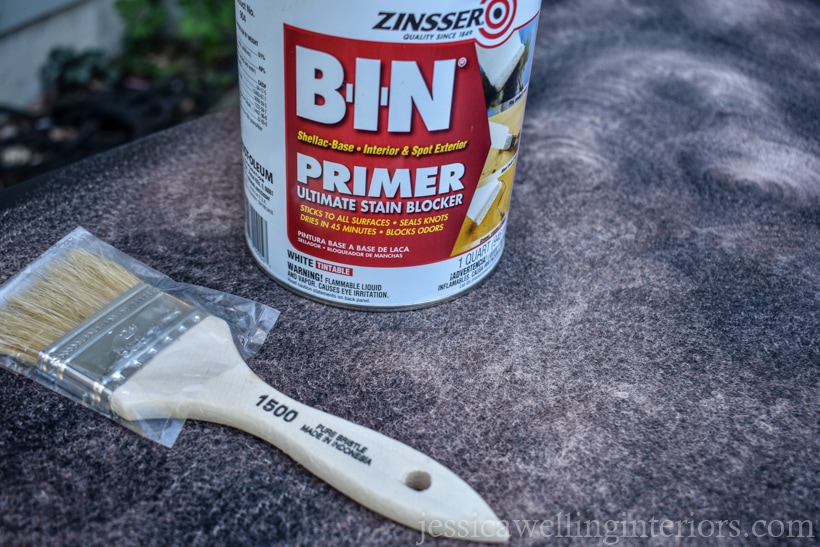 You might consider wearing disposable gloves as well if you don't want to have primer on your hands for a few days. I gave the primer at least 40 minutes to dry.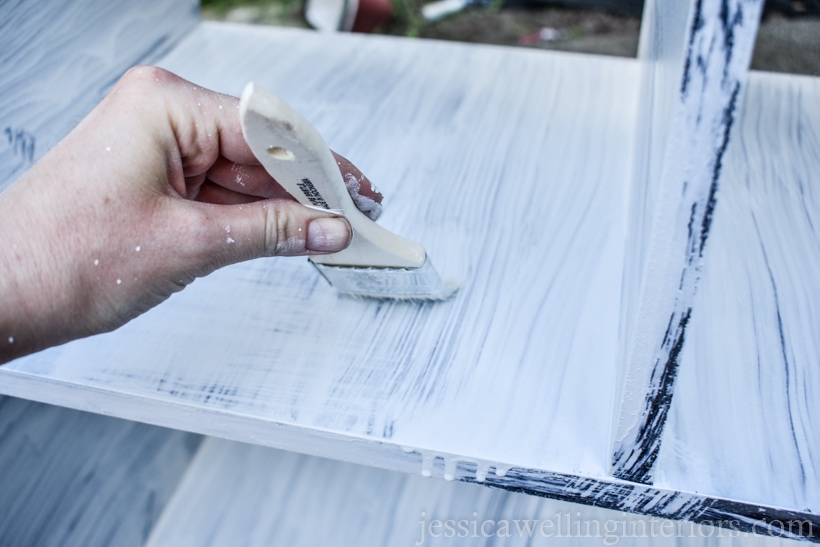 5. Apply First Coat of Paint
Once the primer was dry, I applied the first coat of black paint. It didn't give full coverage with the first coat, and that was fine.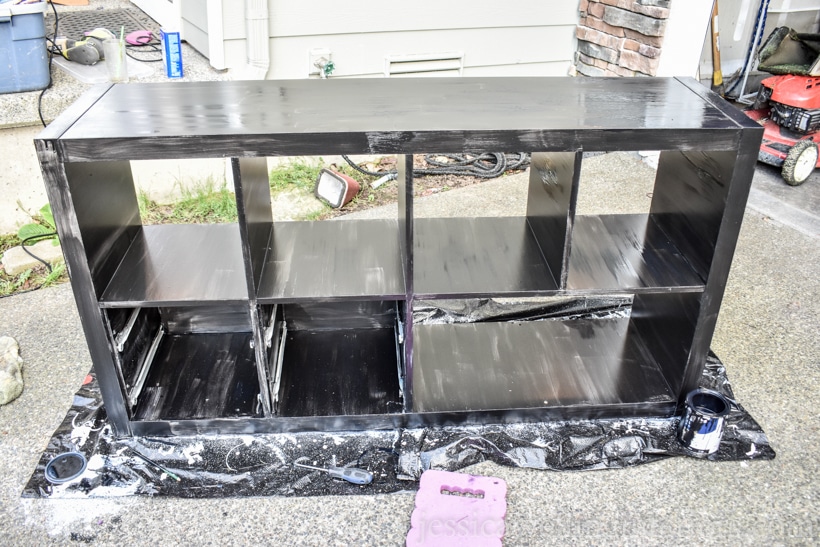 Let's talk about paint for a minute. I'm an experienced painter, but I made the mistake of trying a matte finish latex paint for this project.
Next time I paint furniture or cabinetry, I'll use an Alkyd Enamel paint with a satin finish, because it has a harder finish and is self-leveling, which means the brush strokes won't be as visible.
6. Sand
But I will say that I was VERY glad to have the Detail Sander to sand out the lumps and drips caused by the bad paint. This time I used the 120 grit sandpaper, which is finer, just on the rough spots and edges where extra paint had built up.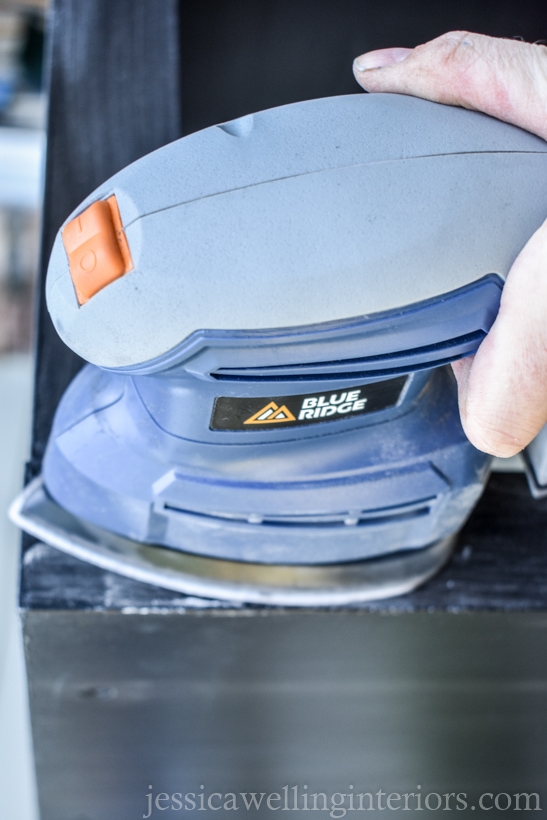 7. Apply Second Coat of Paint
Next, I painted the second coat, making sure to do long brushstrokes all in the same direction.
8. Measure & Cut Leg Pieces
Here's the plan for the legs: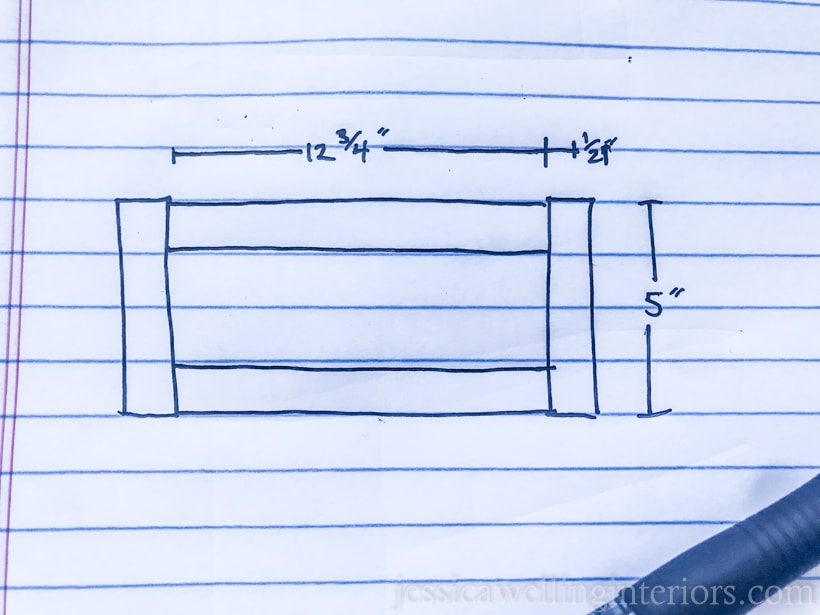 I measured and marked the 2×2's, then cut them with a chop saw.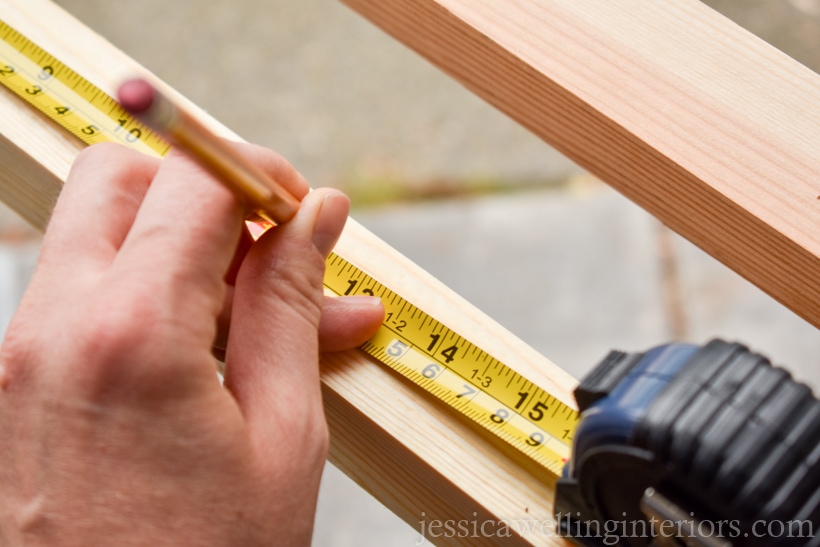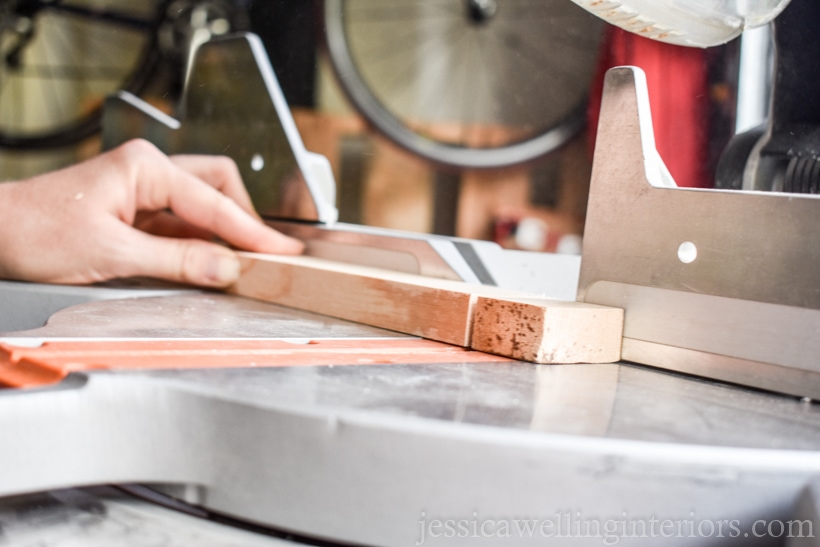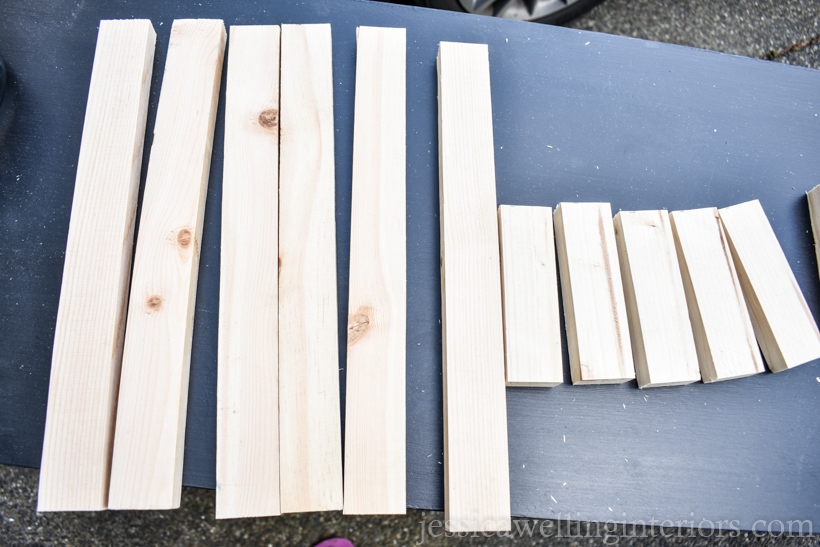 9. Sand Leg Pieces
I used the detail sander with 120 grit sandpaper to smooth out the leg pieces before assembling them. Again, the sander's small size was perfect for this!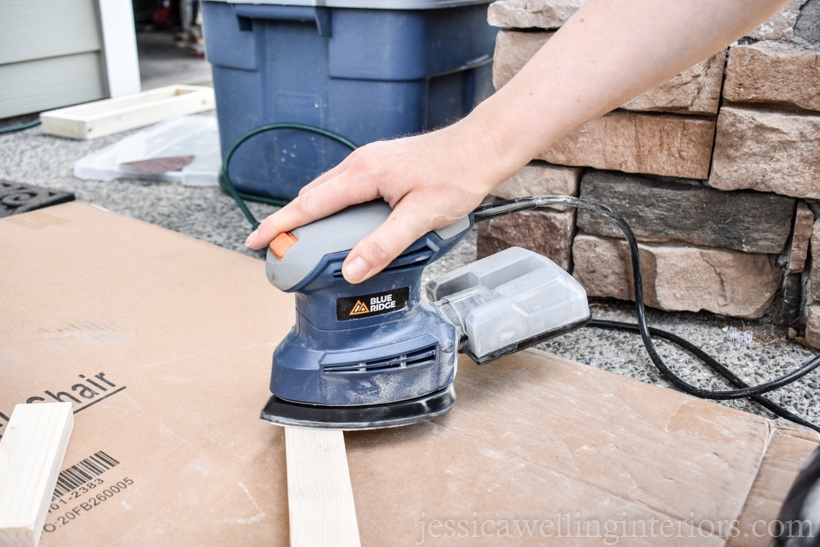 10. Assemble leg Pieces
We used the brackets to attach the 2×2's together, drilling pilot holes, and then driving the screws in.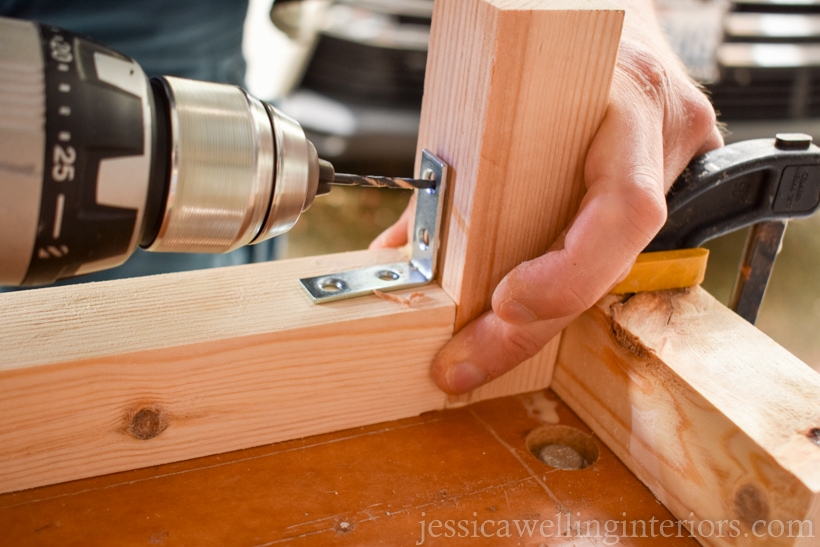 To attach the top, we used a pocket hole jig to drill a diagonal hole, and then a 2" pocket hole screw to attach it.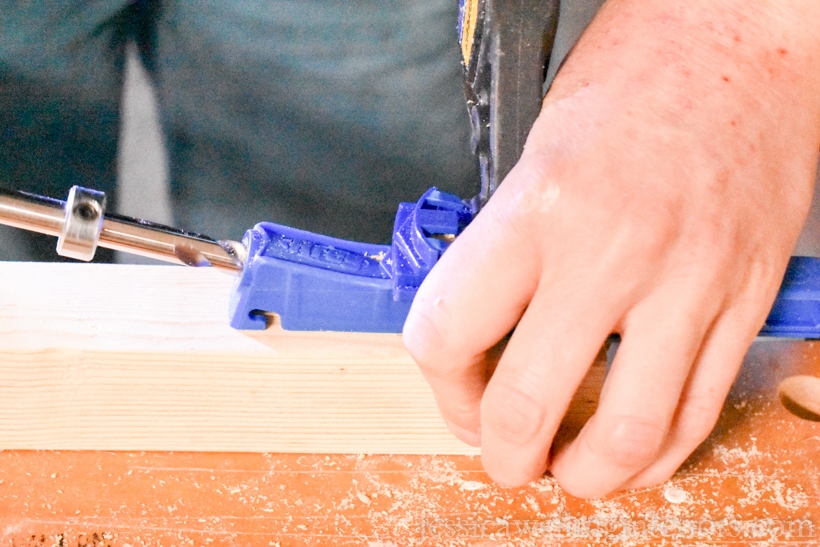 We repeated this process to make 3 leg supports.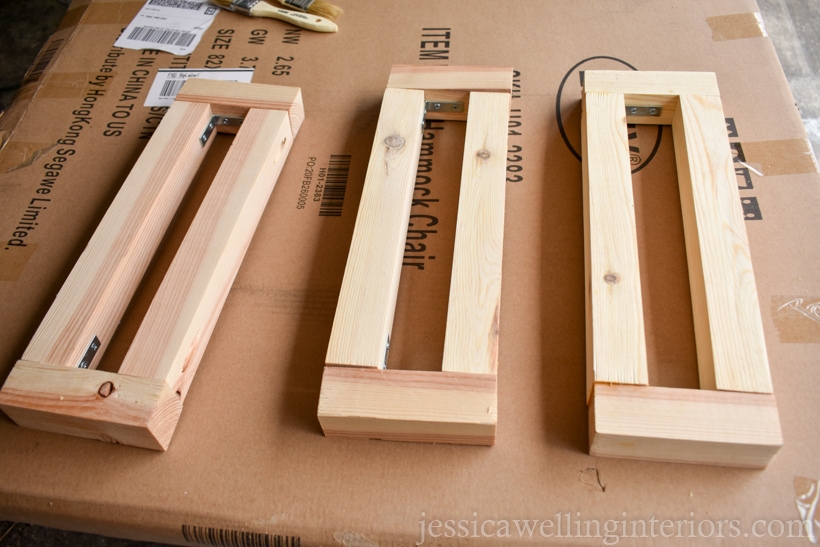 11. Condition Legs
I used a disposable paintbrush to apply wood conditioner to the legs, then wiped them down with a dry paper towel after letting the conditioner soak in for ten minutes or so. This helps soft woods like pine (which I'm using here) take the stain more evenly.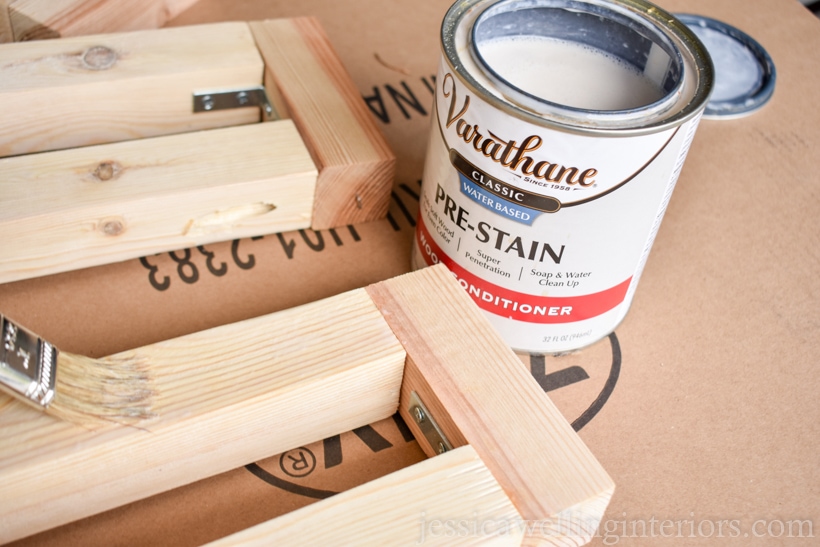 12. Stain Legs
I used a fresh disposable brush to apply the stain. You could also use an old rag or even a paper towel. I do recommend wearing gloves for easier clean-up. Let the stain sit for 10 minutes, and then wipe the excess off with a paper towel.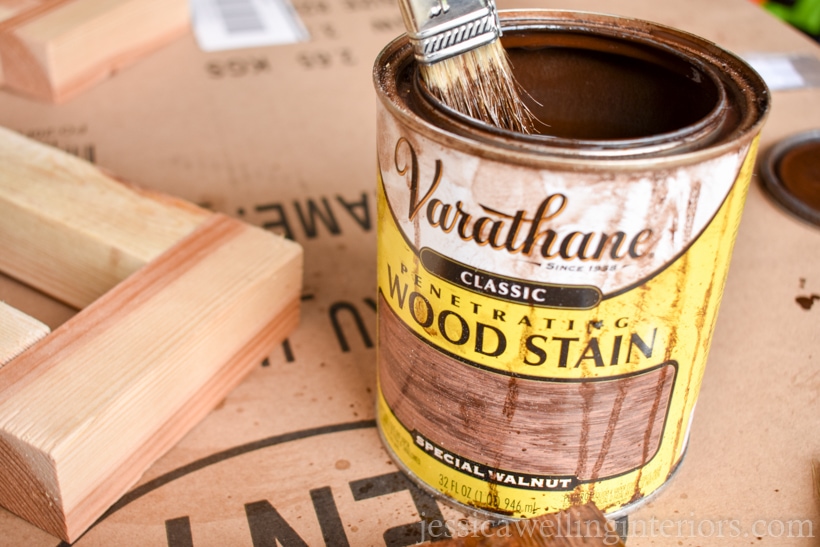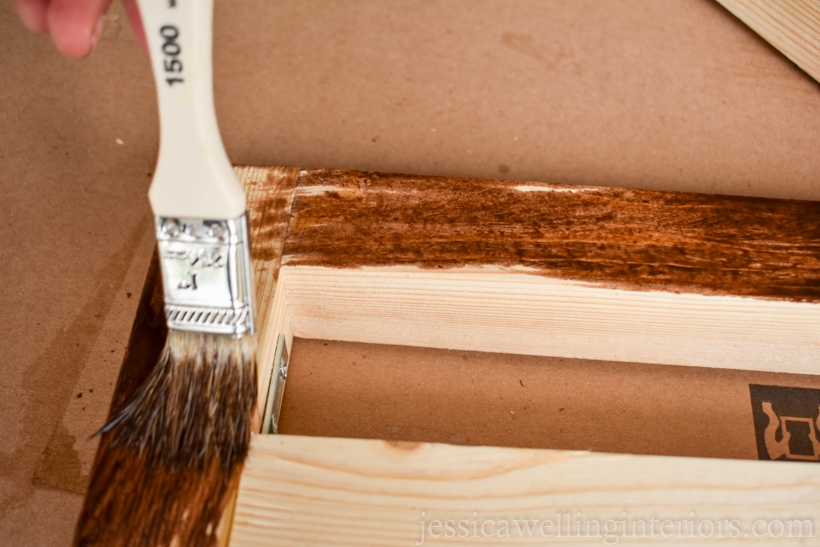 I let that dry, then applied a second coat of stain. I usually find that the second coat of stain makes everything look more even.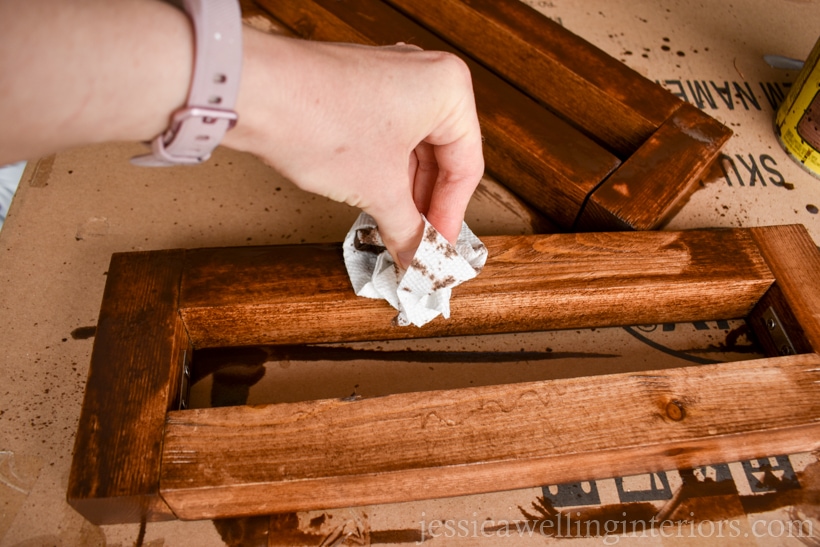 13. Seal Legs
I used a regular paintbrush to apply a polyurethane top coat, since it's water-based. It goes on white, but dries clear.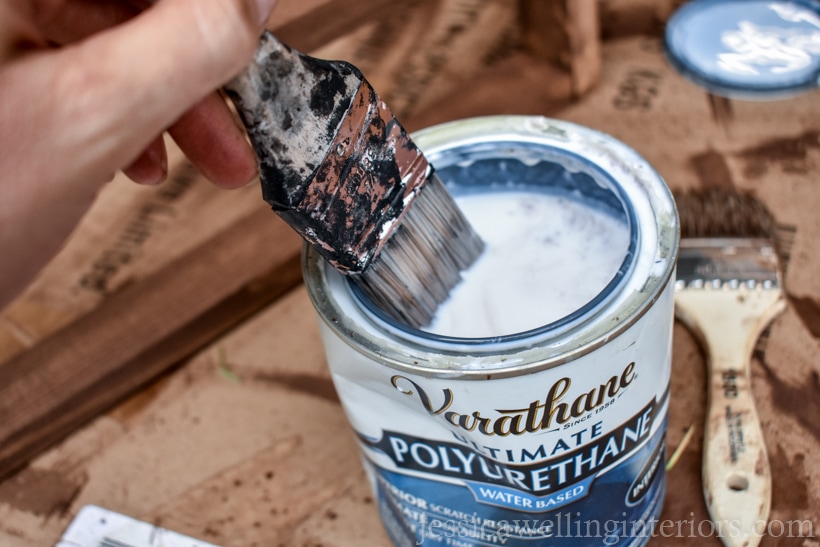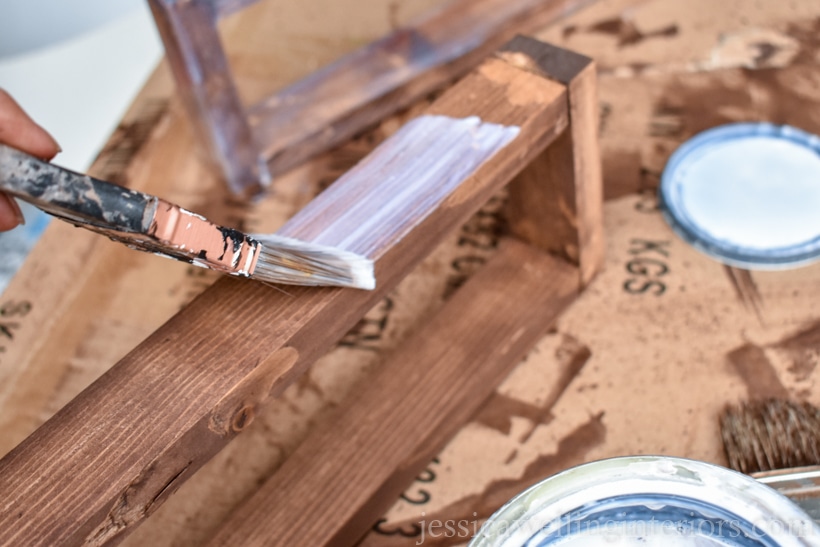 14. Attach Legs to Bottom
We used the impact driver to attach the legs to the bottom of the unit with 3" wood screws, two in each leg.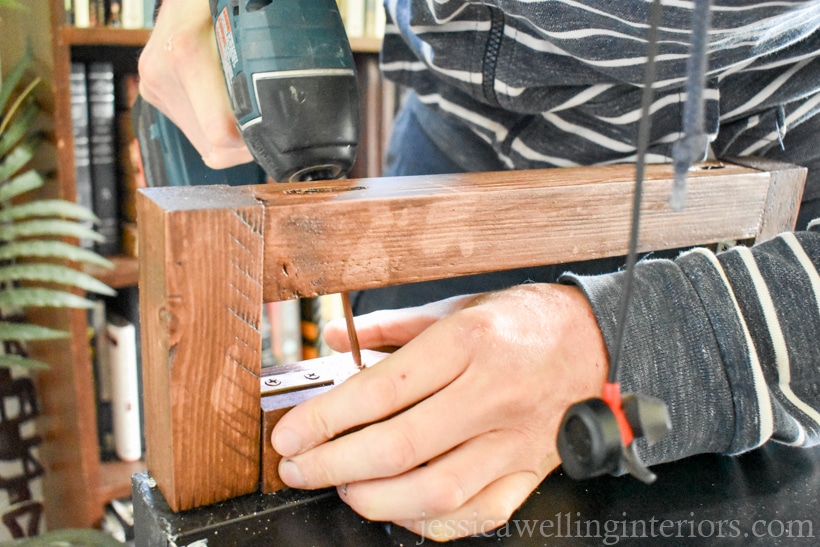 15. Add New Drawer Hardware
I ordered these new gold pulls from Amazon and they were very easy to twist into place, and I think they add some class to this piece!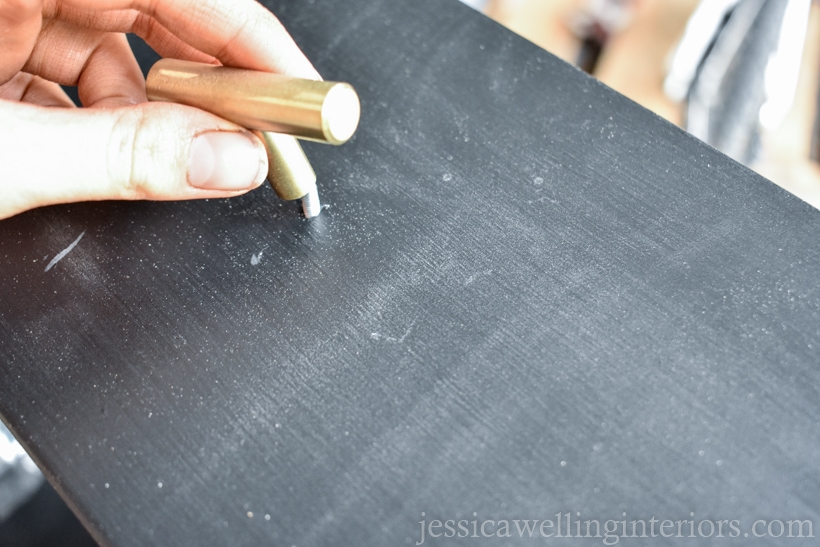 And it's finished! I'm so excited to finally have a nice-looking TV console. Dorm room no more!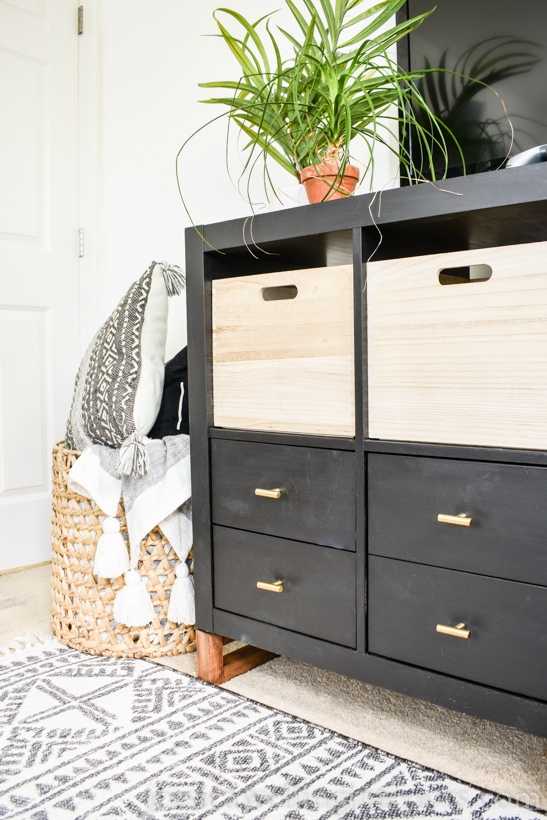 I'm getting a lot of questions about the bins. You can get there HERE!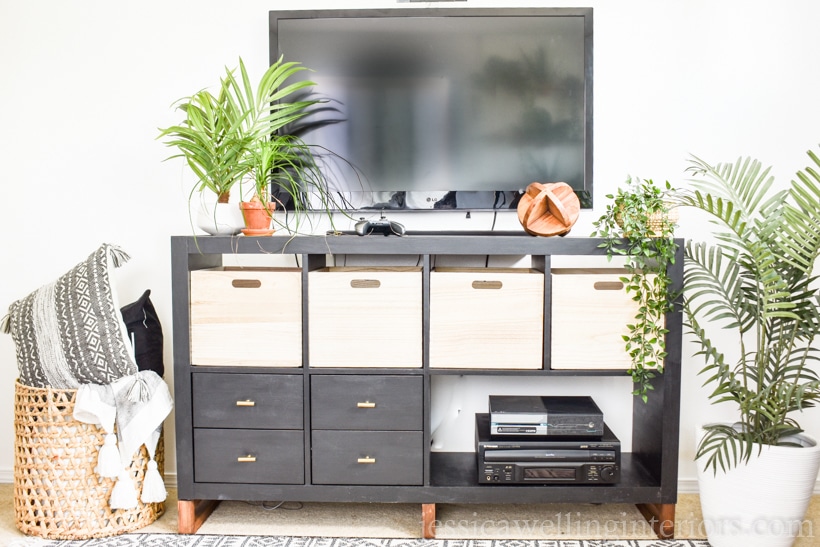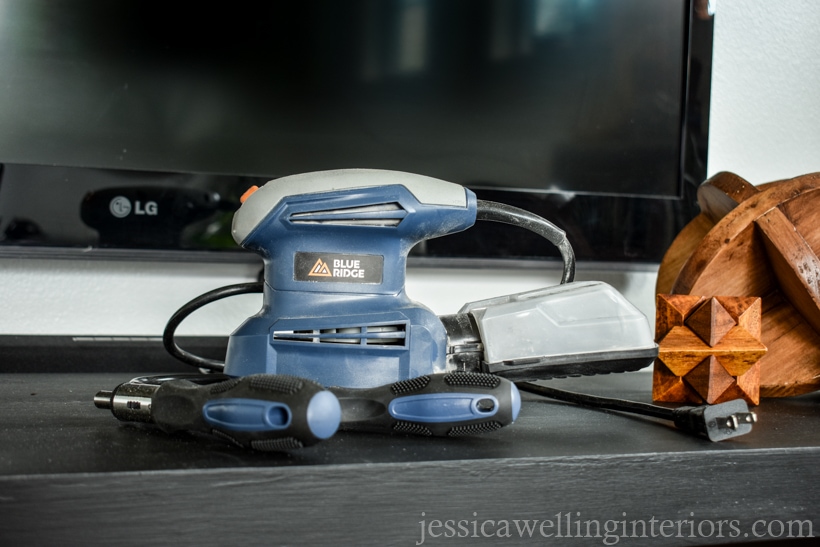 See More of Our TV Room Makeover…
Update an Old Sofa with New Legs!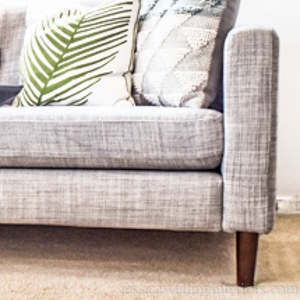 Create an Ultra-Easy Accent Wall with Paint!