12 Clever Space-Saving Laundry Room Organization Ideas
These brilliant laundry room organization ideas will help you make the most of your laundry space and keep everything tidy!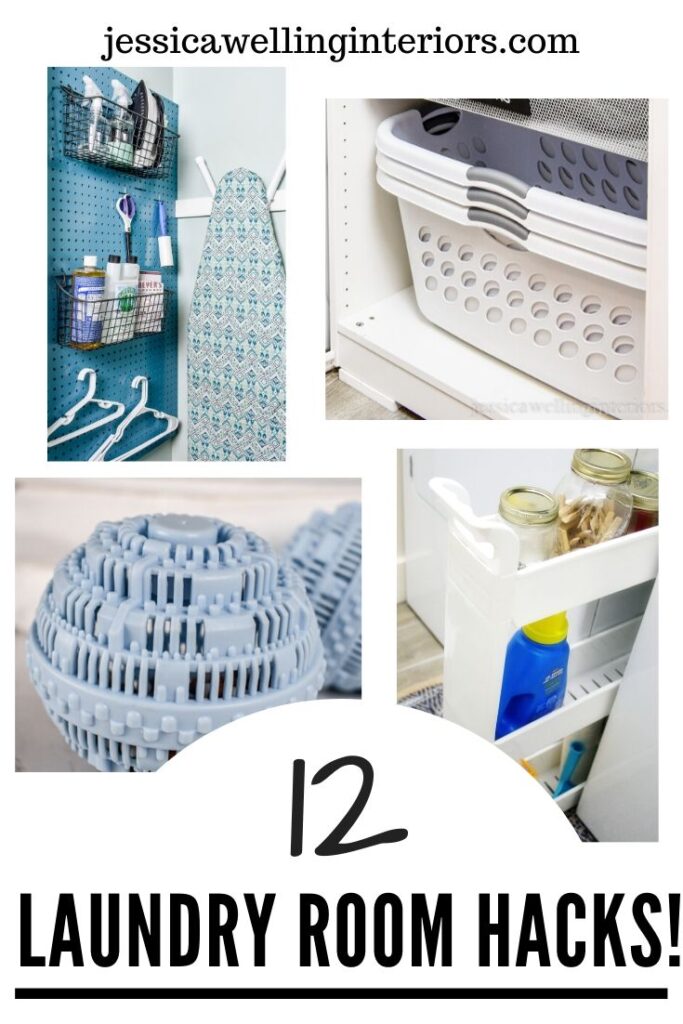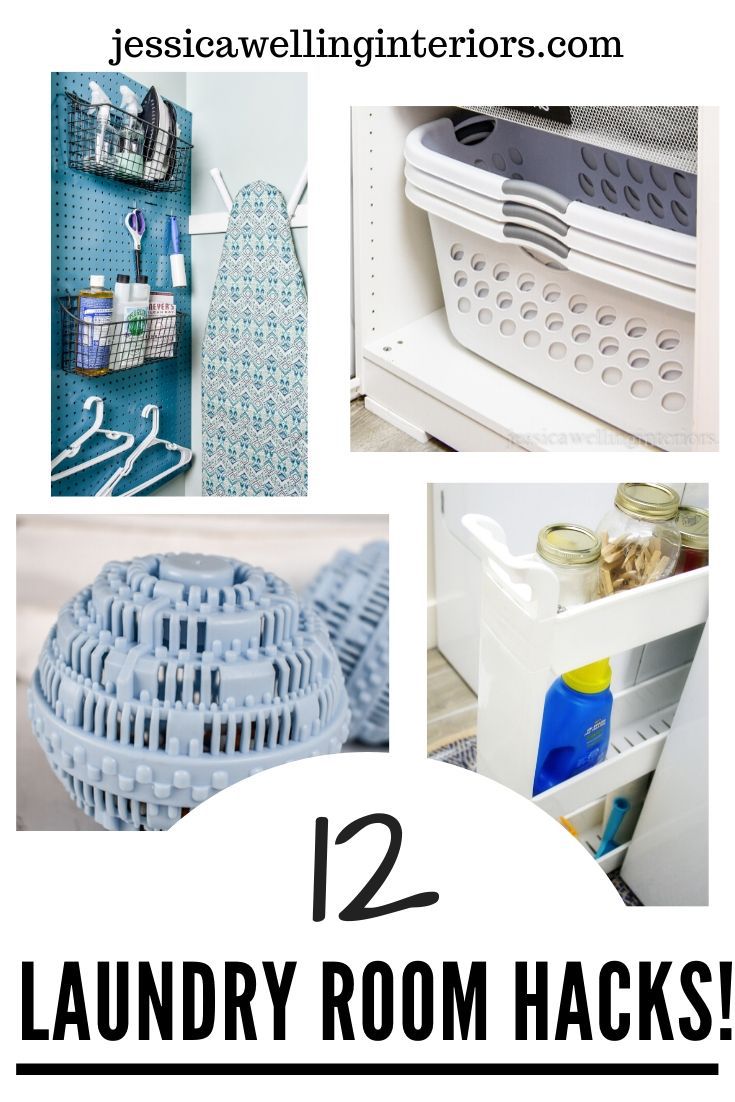 Laundry Room Organization Ideas
A couple of years ago, one of our biggest problem-areas in our home was the laundry room. It was small, ugly, and really didn't use the space well. So we spent a weekend and about $300 on a mini-renovation.
We maximized the space, and it has been life-changing! You can check out our small laundry room makeover here. Since every laundry space is unique, I went on a hunt for the most innovative and practical, and budget-friendly laundry room ideas I could find to share with you today.
Function is king, and cute comes second. But we will absolutely take cute too if we can get it!
Several of my blogger friends have graciously allowed me to use their photos. If you want to pin any of their photos, please go to their sites to do it.
Stacked Washer & Dryer
Stacking the washer and dryer can save a TON of space! In our small laundry room, it made room for an Ikea-hacked cabinet that stores laundry detergent and cleaning supplies, sorts the dirty laundry, and even has a spot for laundry baskets!
You can see the rest of this ultra-efficient room here. If your laundry room (or laundry closet) is small, I strongly recommend stacking!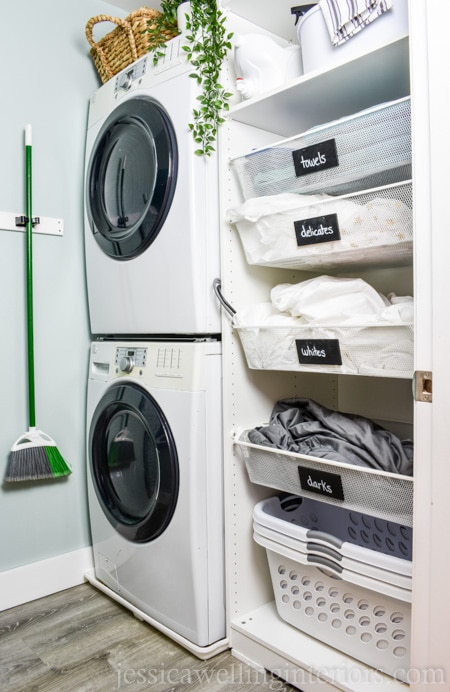 Build a Countertop
If the washer and dryer are side-by-side front-loaders, adding a simple DIY countertop can give you a great folding surface… and prevent your detergent from walking it's way to the edge and jumping off during the spin cycle.
I love the gorgeous wood countertop in this beautiful makeover from Kippi at Home. And the rest of her laundry room is pretty cool too!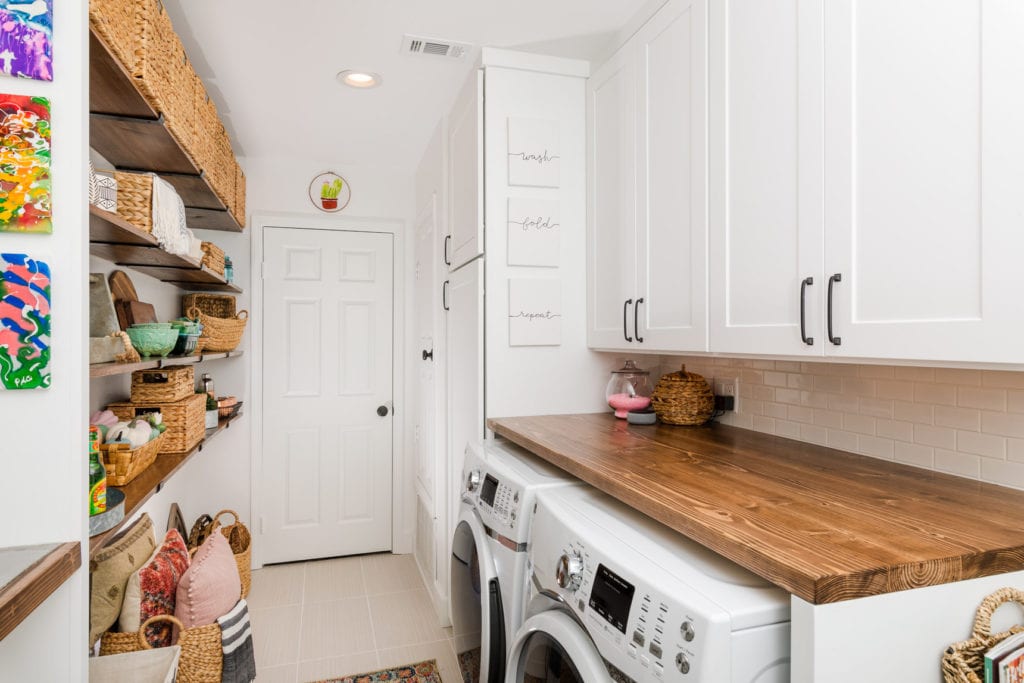 Use A Skinny Cart Between The Washer & Dryer
If you've got unused space between the washer and dryer (or anywhere else for that matter), consider getting an inexpensive cart that you can slide into that space!
It's perfect for detergent, stain remover, dryer sheets, bleach, and whatever else you might need close at hand. Here's a great example from Lora at Craftivity Designs.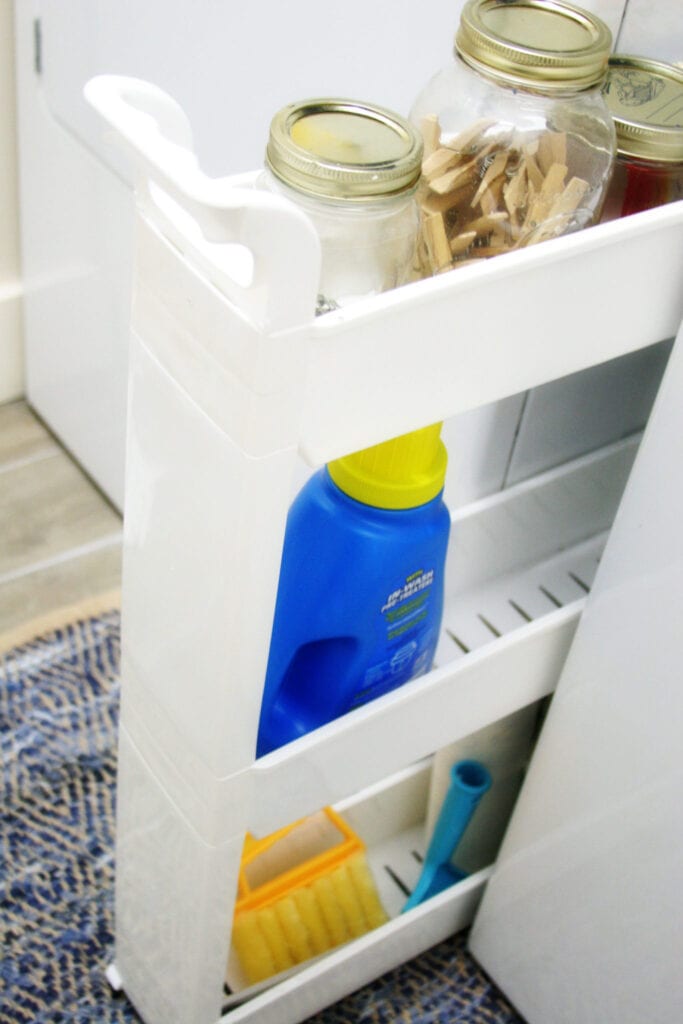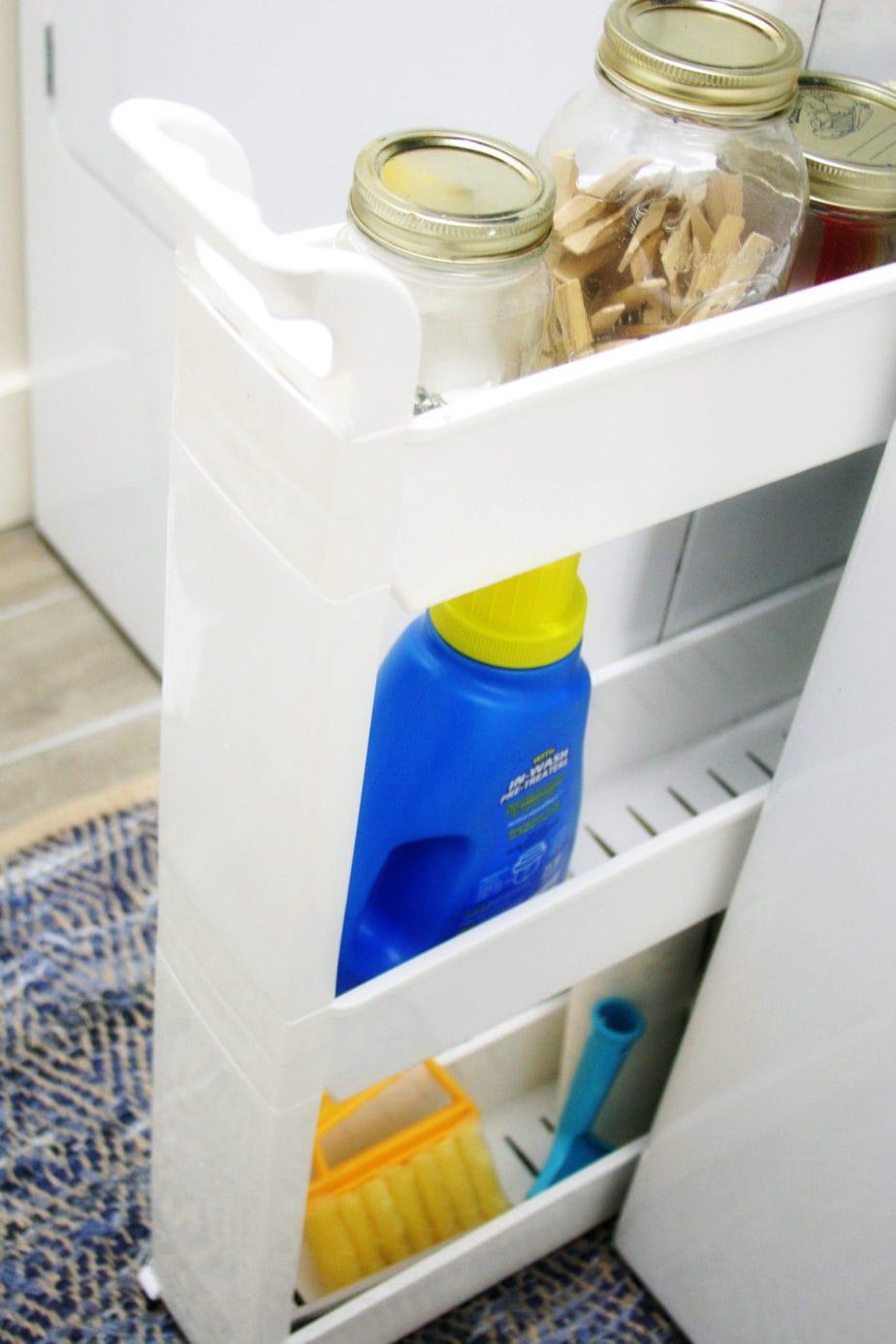 Get Rid of the Detergent
Whaaaaat??? Yes, you read that right. I just got these awesome laundry balls that I'm now using instead of detergent. They're supposed to last for 1500 loads! I'll admit, I was skeptical at first. But I took the leap and they really clean the laundry amazingly well! And I've washed some icky things (specifically, mud, pee, and doggy smell so far, if you must know).
Everything has come out clean and smelling fresh! You just put them in with your load, and that's it. No chemicals. So, I guess I can get rid of the big jug of laundry detergent and use that space for something else! Oh, and did I mention that my washer isn't overflowing anymore?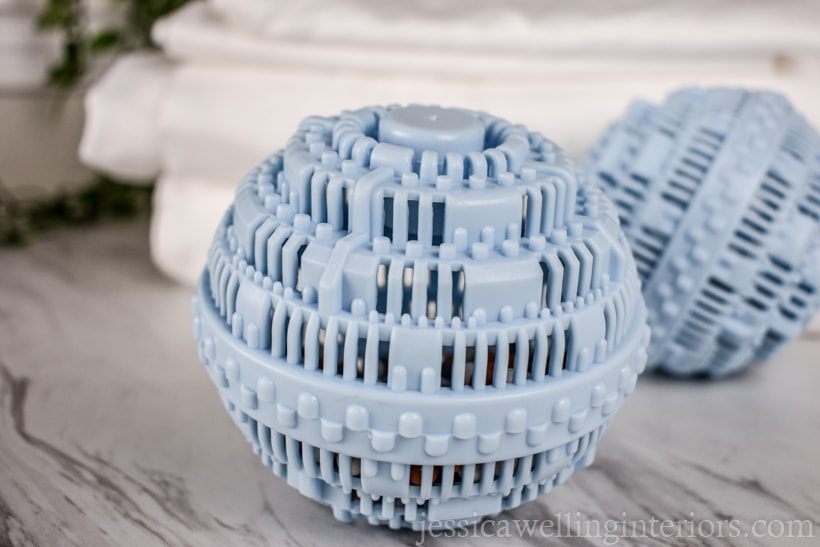 Install a Wall-Mounted Drying Rack
We seem to have a lot of delicates to wash at my house… mostly tutus and such. And I'm always having to hang things to dry in the bathrooms and over doors. A wall-mounted accordion clothes drying rack would be the perfect fix for this!
Add Some Cabinets
If you've got wall space above your washer & dryer, think about mounting some cabinets on the wall. But be sure to keep everything you need often (stain removers, detergent, dryer sheets, etc. on the lowest shelf, since the washer & dryer will make it harder to reach items stored up high.
I love this setup from Melissa at Polished Habitat, and the bins to corral small items are key!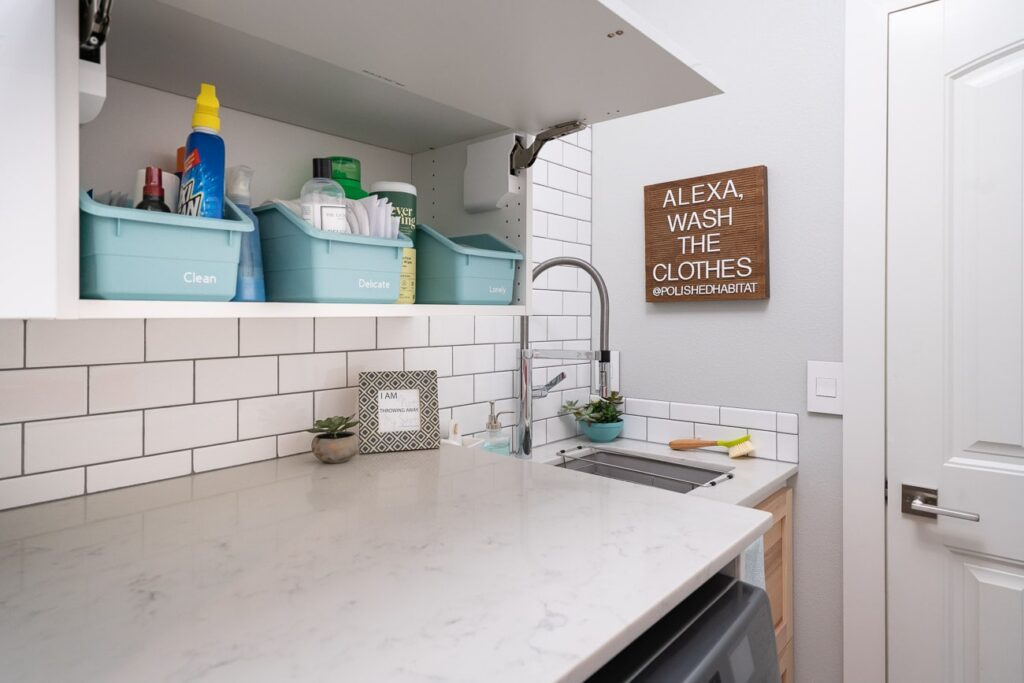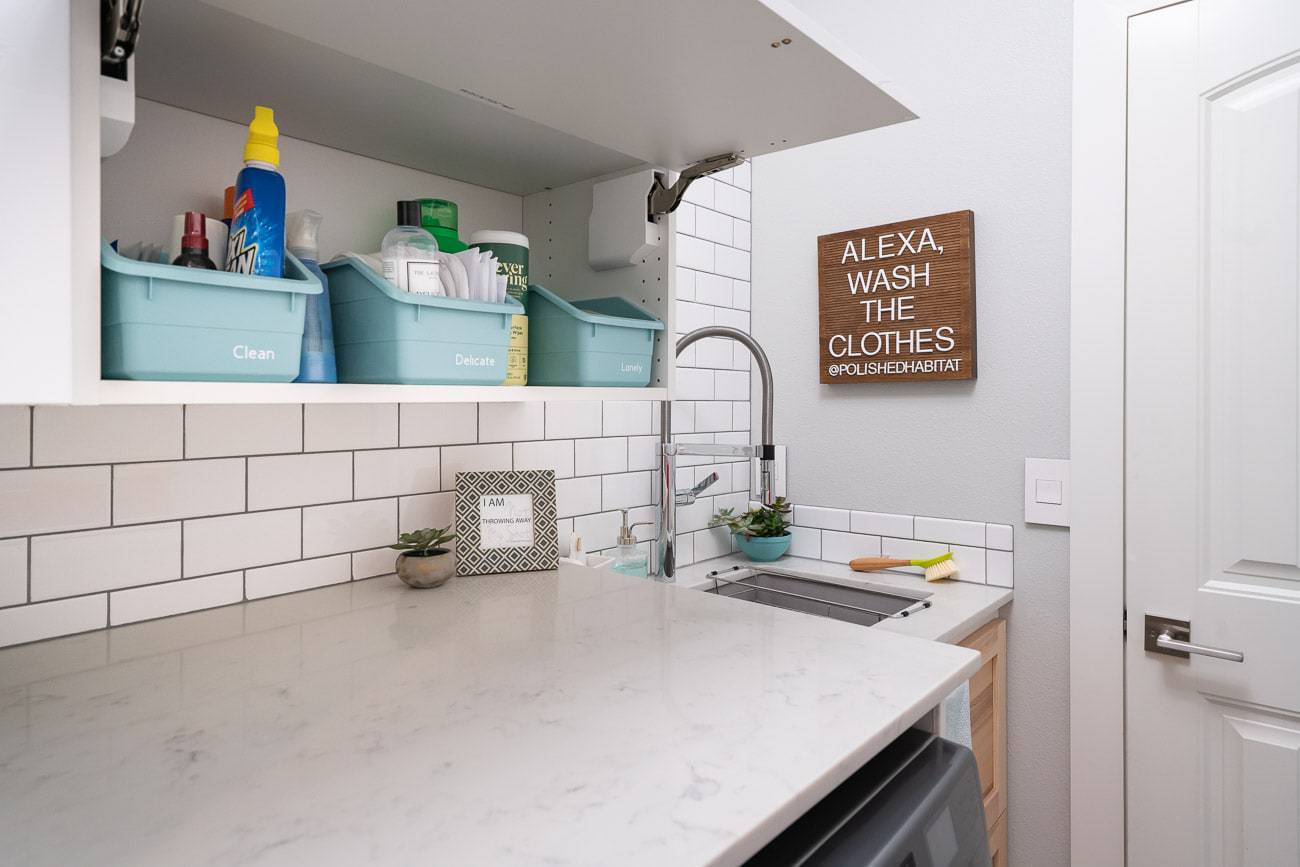 Use a Lint Bin
I'm loving this DIY lint bin, also from Melissa at Polished Habitat! Having this close-by will eliminate free-floating fluff! If you have a wood-burning fireplace or a backyard fire pit, the lint makes great fire-starter.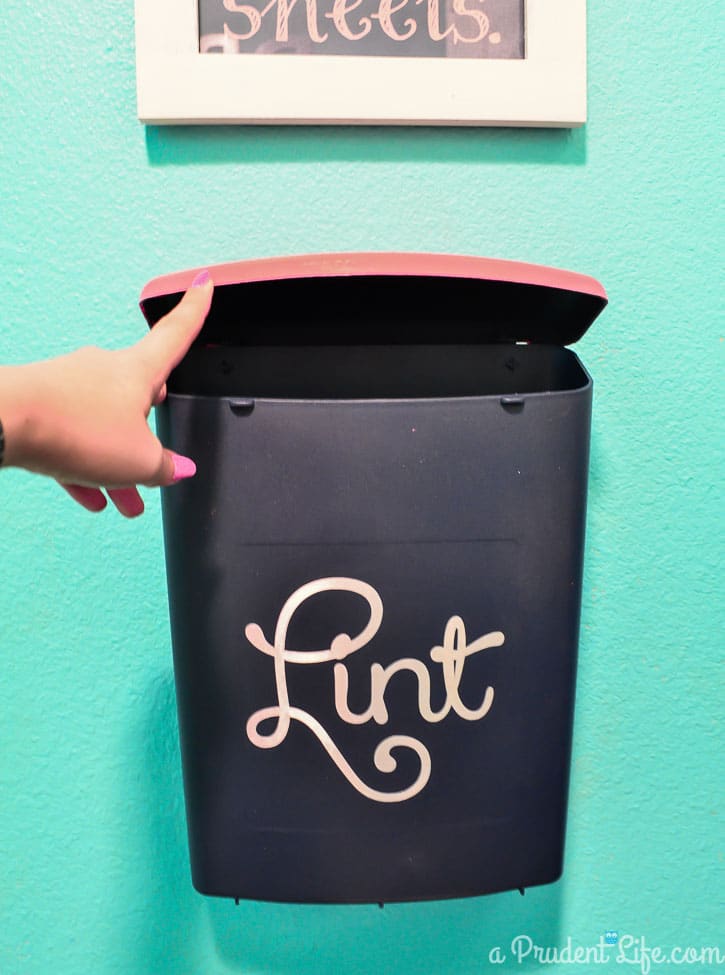 Or, if you're not in a DIY-sort-of-mood, you can also get one from good ole' Amazon. This one has magnetic backing in case you want to stick it to the side of the dryer.
Make a Quick-Reference Stain-Removal Guide
Isn't this stain-removal guide genius? Especially if you've got more than one person doing laundry in your house! Head over to Lori Greco's post at Ideas for the Home by Kenarry for the details. Did I mention it's a free printable?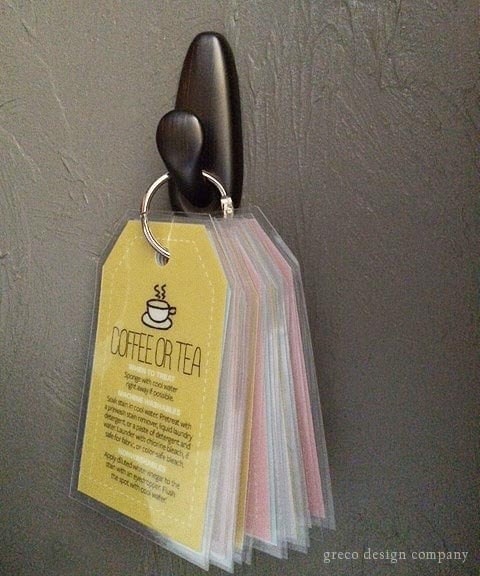 Very Useful Printable Wall Art
Katelyn at What's Up Fagans created this cute free printable sign to demystify all those care instruction symbols on your clothes' tags. You can click over to her site, print it out, put in in a cute frame, and mount it on the wall.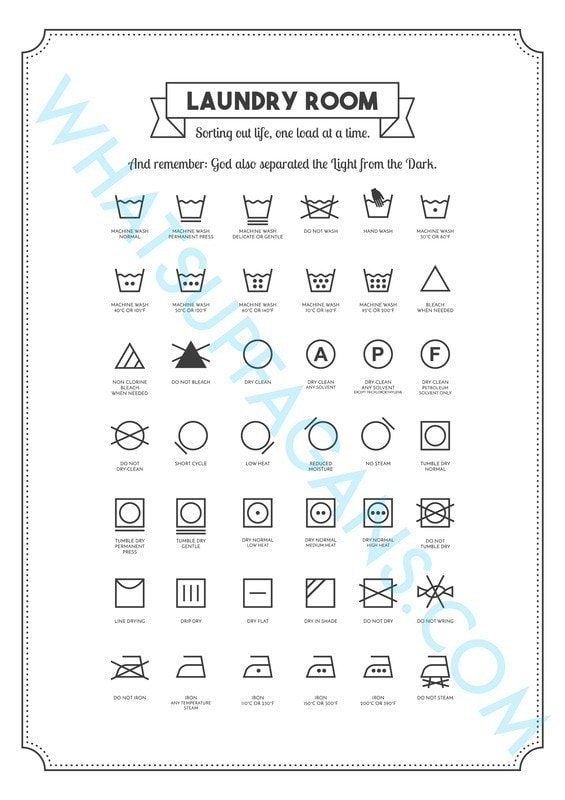 Wall Storage for Laundry Supplies
Pegboards are great because you can hang all sorts of things on them. We installed one in our laundry room because we needed a spot for all the small items that can be tricky to keep track of- scissors, spray bottles, lint rollers, dryer sheets. hangers, etc.
And the best part is that my iron fits into one of these wire baskets. I also grabbed a kit of pegboard accessories to hang the smaller stuff.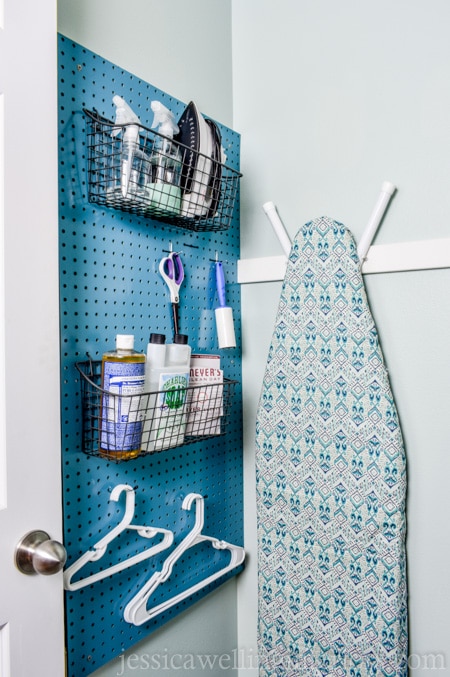 You can get
">metal pegboard in multiple colors from Amazon. Or something like this is a great and inexpensive all-in-one solution if you have the width for it:
Keep Cleaning Supplies in a Caddy
If you want to store cleaning supplies in the laundry room, a cleaning caddy with a handle like this one is perfect. I use this one for cleaning bathrooms, and I can easily carry everything from bathroom to bathroom.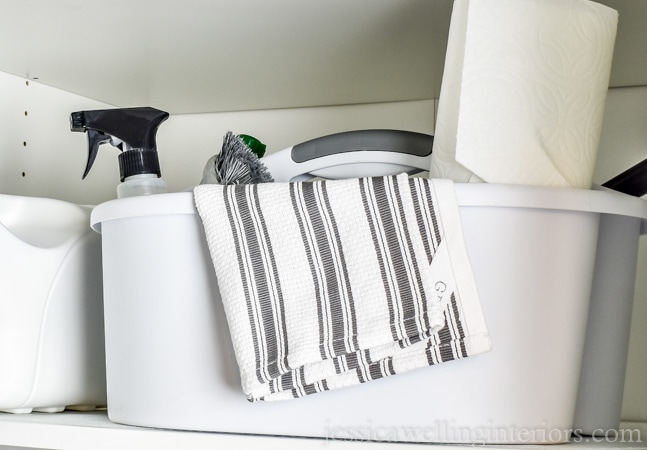 Matching Laundry Baskets
I know this may seem trivial, but having all one kind of laundry baskets is important. Why? They can stack together when not in use. That's kind of a big deal when you're short on space. And it helps things look tidy. These are the laundry baskets I use.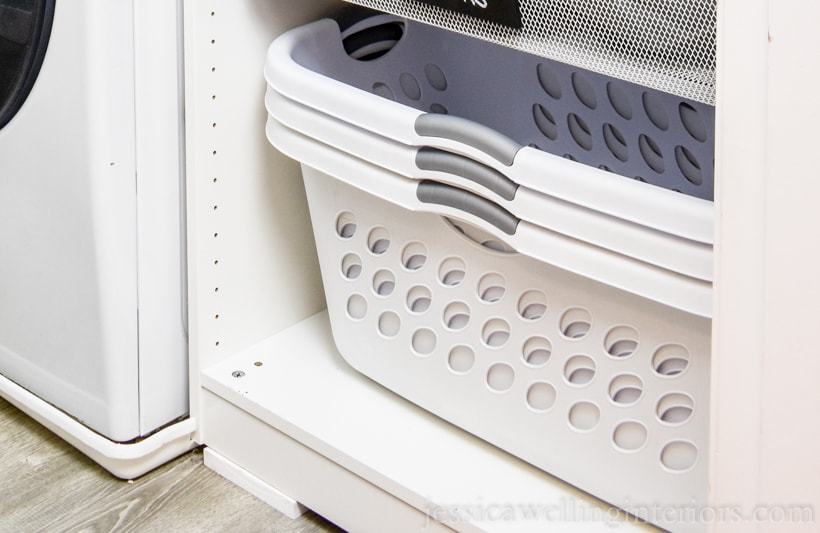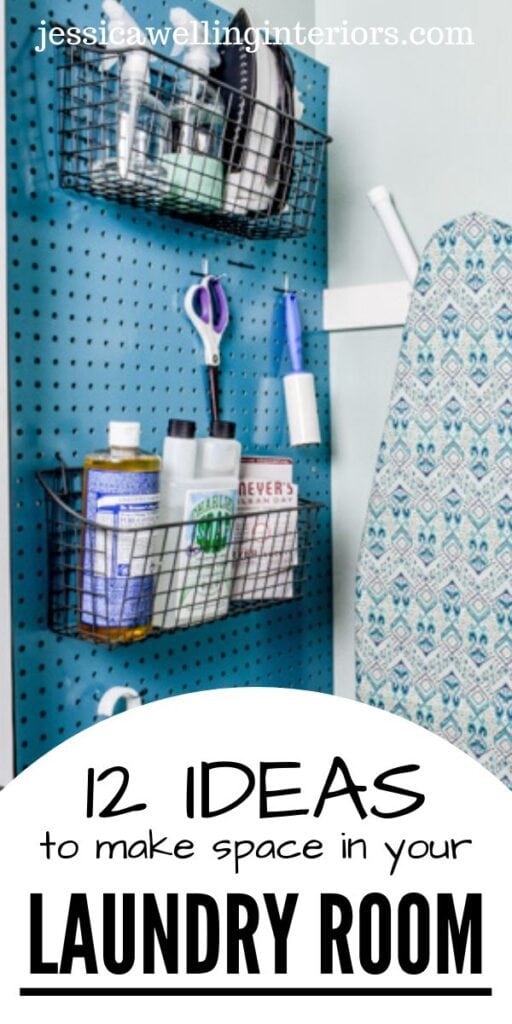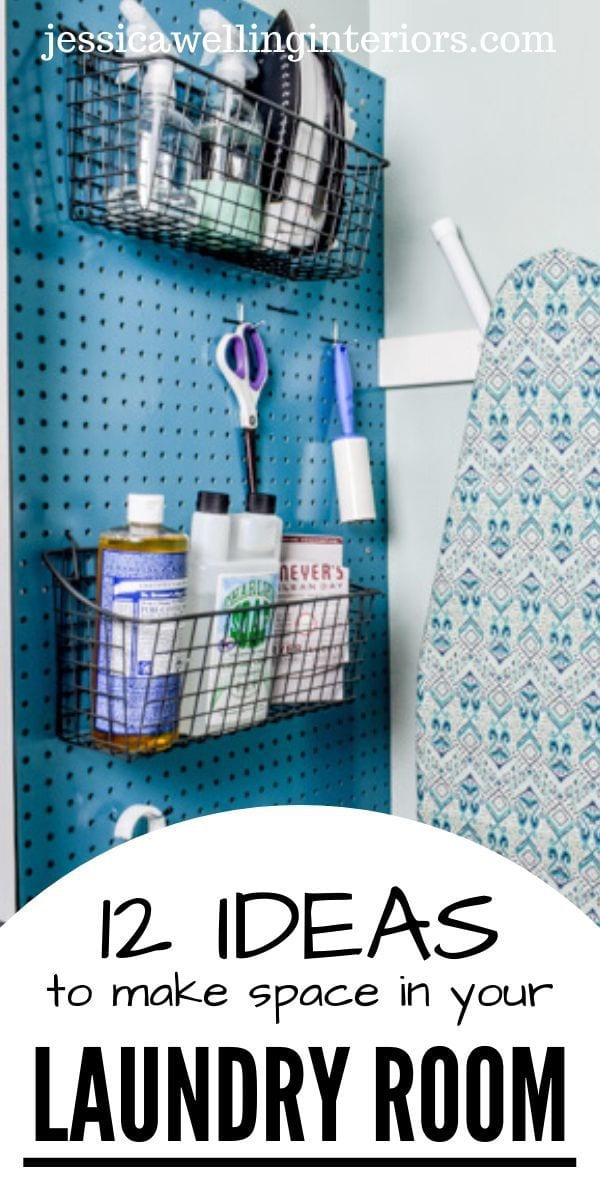 More Laundry Room Organization Ideas…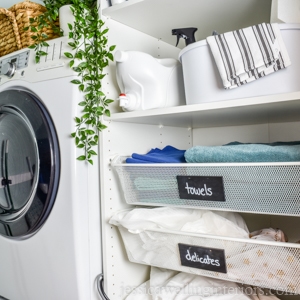 Organize Kids' Clothes for School!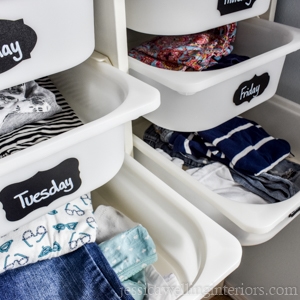 Easy Painted Chalkboard Labels