Costco Gazebo Review: Our Experience After 5 Years
Considering a backyard gazebo or pergola? We bought and installed a Costco Gazebo by Yardistry Structures five years ago. Read about our experience with our Yardistry gazebo before you buy!
Why the Costco Gazebo?
We did a major backyard overhaul five years ago. One of the top items on my wishlist was some kind of covered outdoor living room with comfy seating. I wanted to lay on the couch and read a book in the shade while the kids played.
At first, I was thinking a pergola. But the more we talked, the idea of an actual roof sounded more practical. This is Seattle, after all. It rains, even in the summer months.
I was strolling through Costco one day, when I spotted the cedar gazebo they had set up, It was love at first sight. I bought the last kit they had, borrowed my dad's truck to get it home, and went to work getting the site ready.
Just for the record, this is not an affiliate post and it isn't sponsored by Costco or Yardistry Structures. Just our own experience to help you out if you're considering getting one yourself.
What's the difference between a gazebo and a pergola?
A gazebo has a fixed roof, while a pergola has an open roof, which can be left open or covered seasonally with vines or canvas.
Many people hear the word "gazebo" and immediately think of a cutesy white octogon-shaped garden structure. But as you can see, they actually come in many different forms and styles.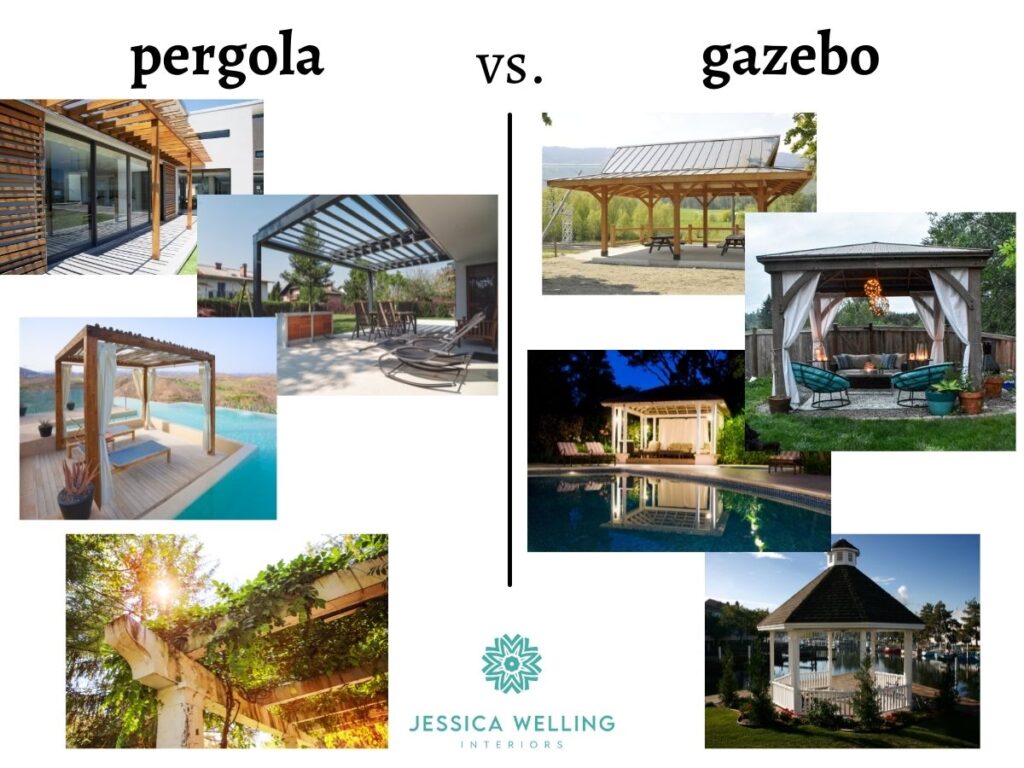 Check out this post for a more in-depth look at backyard shade structures and patio covers, and how to choose the best option for your outdoor living space.
Yardistry Gazebo
The model we bought is the 12'x12′ Yardistry Gazebo. For the past couple of years, the Costcos in my area have displayed a 12'x14′ model in the stores in the springtime. When Costco runs out for the year, you can often still get them here.
Preparing the Gazebo Site
If you've already got a nice level patio or deck, then great! This will be easy.
If, like me, you want to put your Costco gazebo in a less than level spot, you're going to have some work to do. The spot we chose on the edge of our yard seemed relatively flat until we got the level out.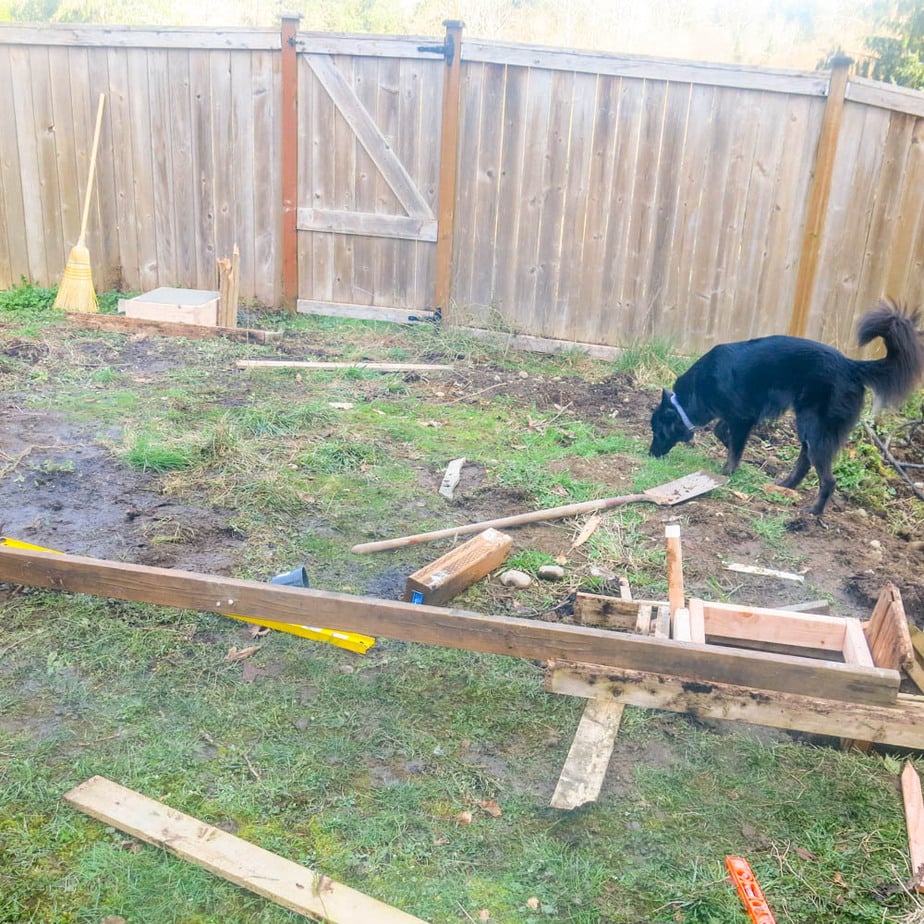 Without going into too much painful detail, we built wood forms and poured four cement blocks to support the cedar gazebo posts. Once the concrete was set, we built a border for the patio using landscape stackers- and we had to build it up at least 18 inches on the fence side.
We lined the area with weed paper and filled it in with crushed gravel to create a patio. The gravel comes up to the top of the cement blocks. I chose crushed gravel for the patio because it was a cheaper alternative to pavers or cement.
I cover most of the patio with a plastic outdoor rug in the spring and summer, so it's not a big deal that it's gravel.
By the way, I am a huge fan of plastic outdoor rugs and I use them all the time! Here's more info on them and my top picks for 2022! If you're looking for an outdoor rug made from more traditional materials check out my post, 75 Outdoor Rugs Under $150!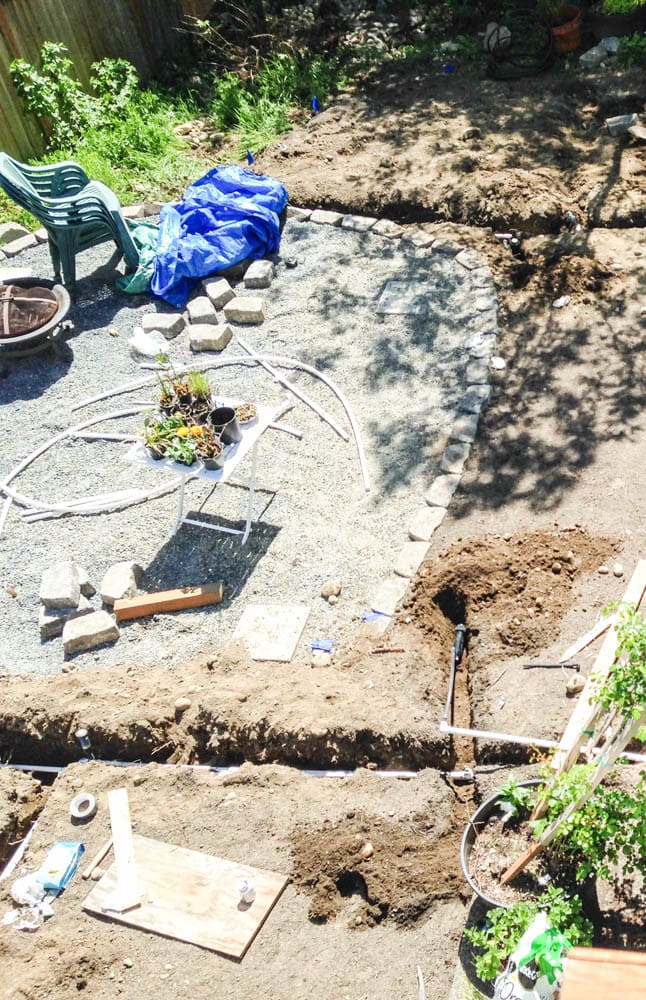 All this to say, building the support and patio for the gazebo was a lot more work than putting the actual gazebo together.
We extended the patio out a few feet on one side (top of photo above), because we knew we wanted to add some kind of fireplace in the future.
Assembling the Costco Gazebo by Yardistry
Unless your friends want to come over and help for a several hours, we recommend changing the order of operations from what the directions suggest.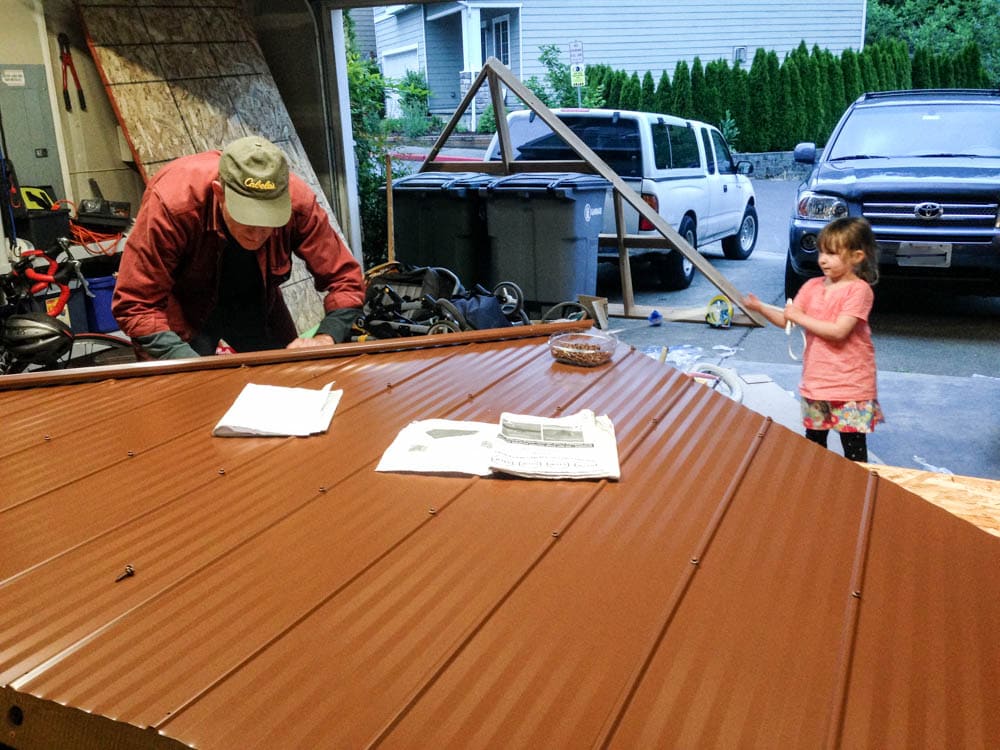 You can build each of the sections separately by yourself, and then have a work party to assemble the whole thing.
A few months after assembly, we bolted the gazebo down to the concrete pads. It's hard for me to imagine the wind picking this thing up, but I sleep better at night knowing I won't wake up and find that it's blown into the pond.
This photo was taken 5 years after installation.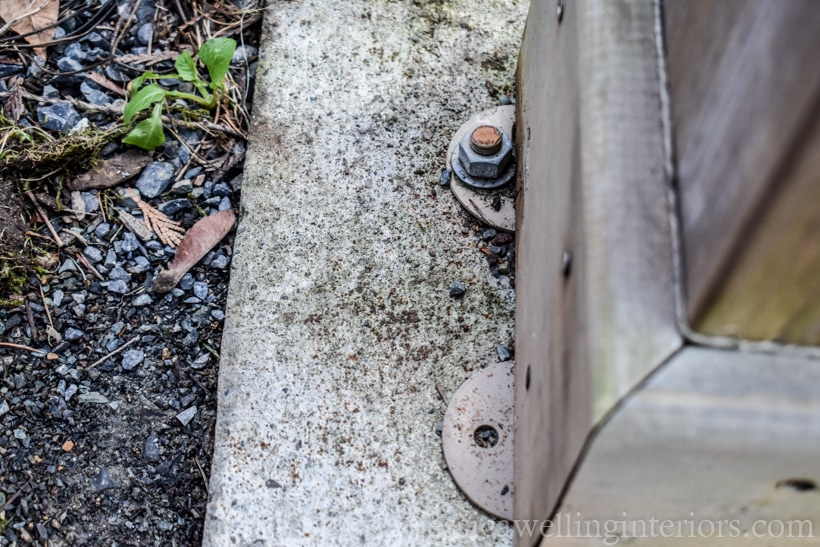 Styling the Costco gazebo
Now, of course, my Costco gazebo is not just a gazebo, it's an outdoor living room.
I added these inexpensive extra-long shower curtains from Amazon, an outdoor sofa, chairs, an outdoor rug, coffee table, chandelier, and outdoor fireplace, as well as landscape planters. You can check out the finished Outdoor Living Room Reveal and shop the room here!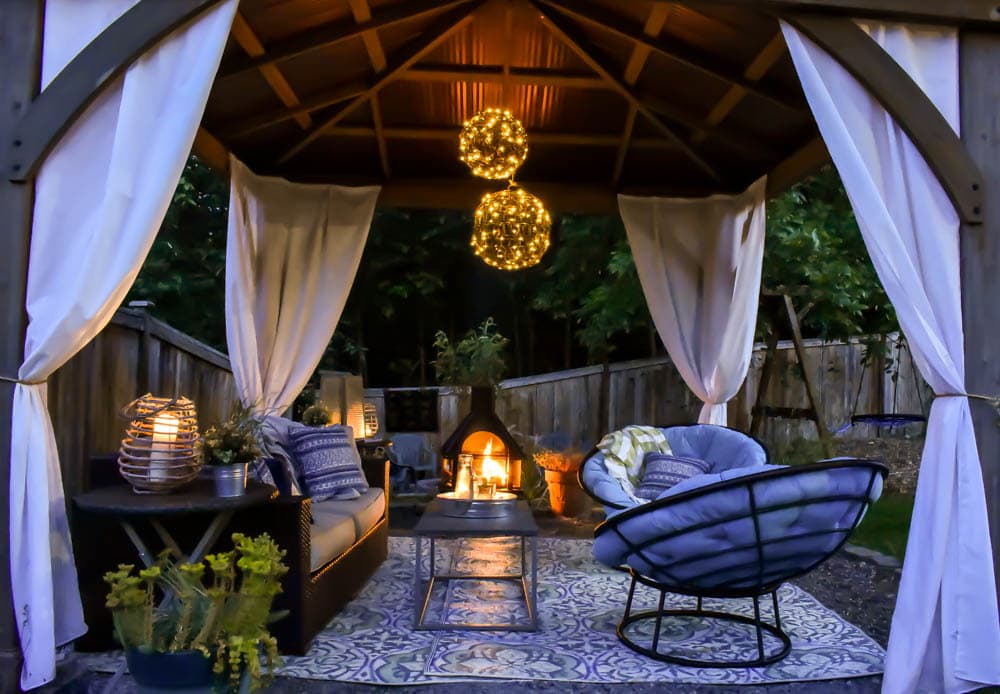 This will be our sixth Summer with it, and so far everything is holding up great! There are a few small rust marks on the roof and one small crack in one of the cedar posts, but nothing too concerning. I will probably stain it either this year or next to protect the wood.
I absolutely love my gazebo- I would say it's one of the best investments we've made in our home and quality of life. It allows us to put the cushioned outdoor furniture out in April and leave it until October (not something we could do in this climate without a roof!).
I gave it a Boho patio makeover this year. You can see the updates and shop the look here.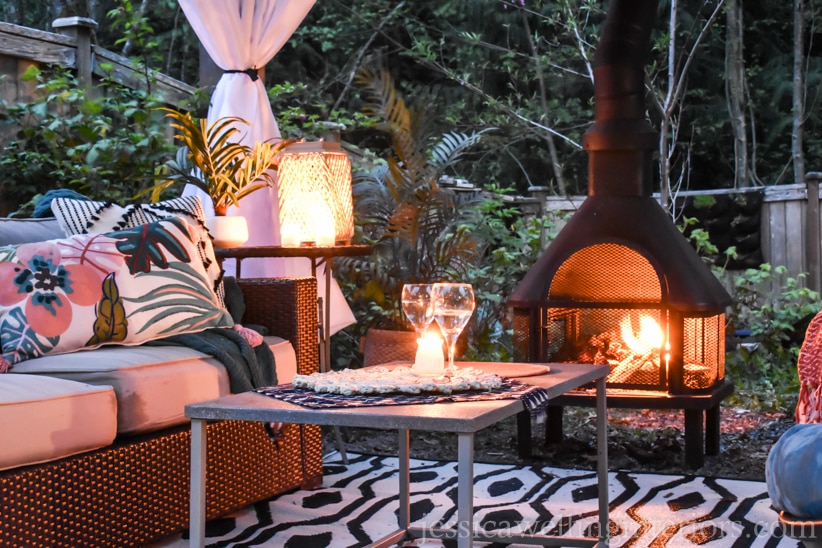 I love to spend time out there with friends after the kids go to bed too!
Oh and one last thing. We can hang a movie screen from the side of it for a backyard movie theater! What could be more fun? I promise a post on this soon, but in the meantime, here's a very grainy picture.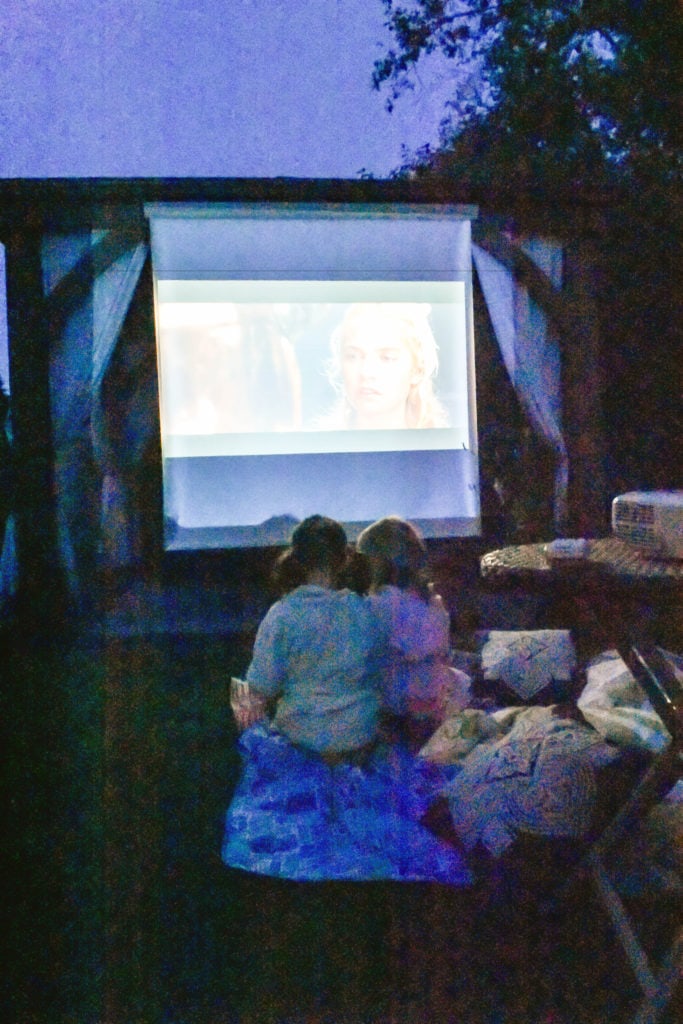 Okay, I hope that helps if you're on the fence! Costco's website is full of reviews too, and I'm happy to answer your questions in the comments.
What is the best outdoor gazebo?
We're partial to our 12'x12′ model, of course. But Costco has featured other models in the past few years as well. Some friends bought and assembled the 12'x14′ version last Summer and are very happy with it.
And my Aunt and Uncle just installed the 11'x13′ gabled pavillion and love it. So it's mostly a matter of space and budget.
Thinking About a Costco Pergola?
Come check out this post about the different backyard shade structure options out there. If you're interested in a Costco pergola, this aluminum one looks nice and is reasonably priced!
More Outdoor Living Ideas…
Patio Shade Ideas: How to Choose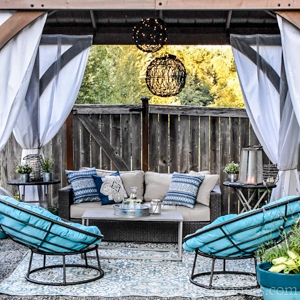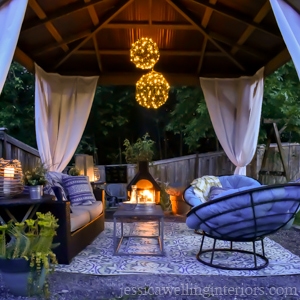 Backyard Lighting Ideas: A Simple Guide for Outdoor Living Spaces