A cozy backyard patio gets a colorful Bohemian makeover!
We added a Costco gazebo to the backyard several years ago, and I've been in love with my outdoor living room ever since! But it was time for a little refresh!
This time I wanted brighter colors and a fun Boho-chic vibe. Almost everything in this space is available online too! You can scroll to the bottom of the post to shop my patio!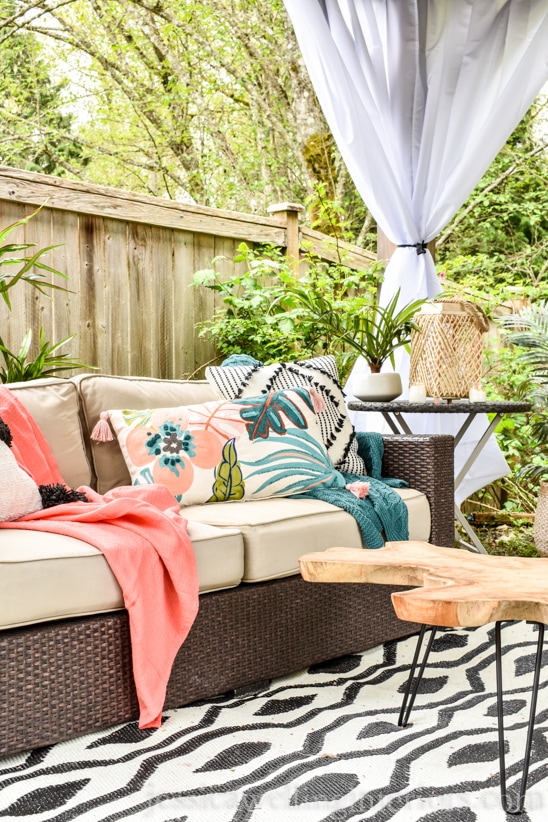 Outdoor Sofa
The outdoor sofa is one of the bigger investment pieces, so I chose this basic one with neutral (not white!) cushions. I've had it for five years now, and it's still going strong!
I love to sit out here in the morning and drink my tea! Or the afternoon, as long as there isn't a water fight going on in the backyard! And the very best time to enjoy it is the evening!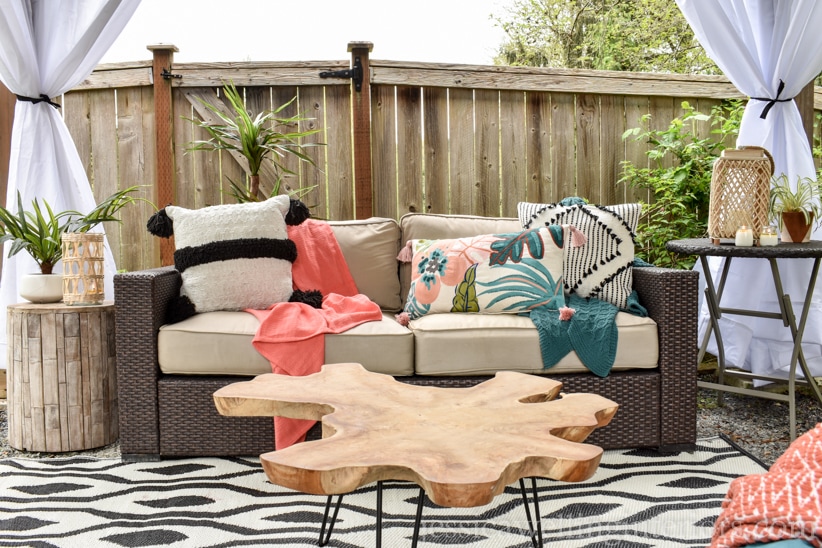 My Favorite Outdoor Pillows and Blankets
I'm a sucker for outdoor pillows. And indoor pillows too, for that matter! I really love this floral applique pillow from World Market, and I used it to create a color scheme for the rest of the space.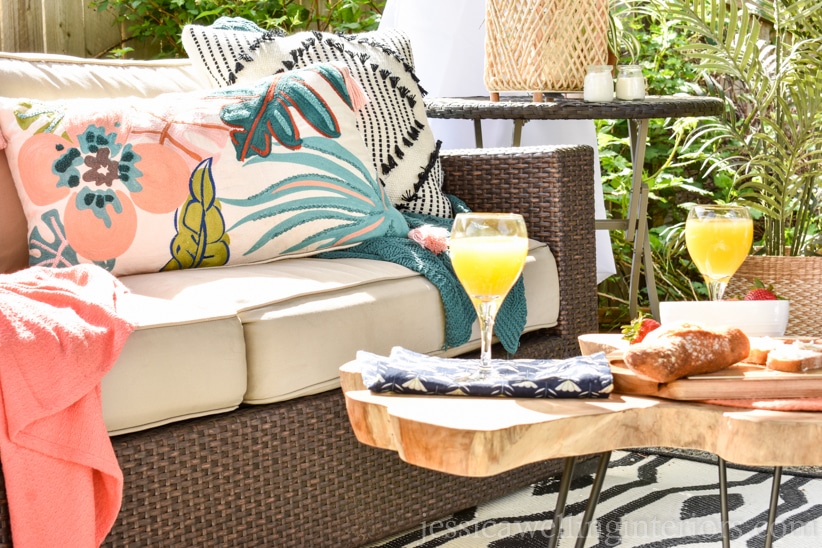 Outdoor Papasan Chairs
I'm also a sucker for papasan chairs. They're always calling to me! I've had these chair frames for about five years, but I decided to replace the cushions this year, and I'm really loving these dark blue/teal ones!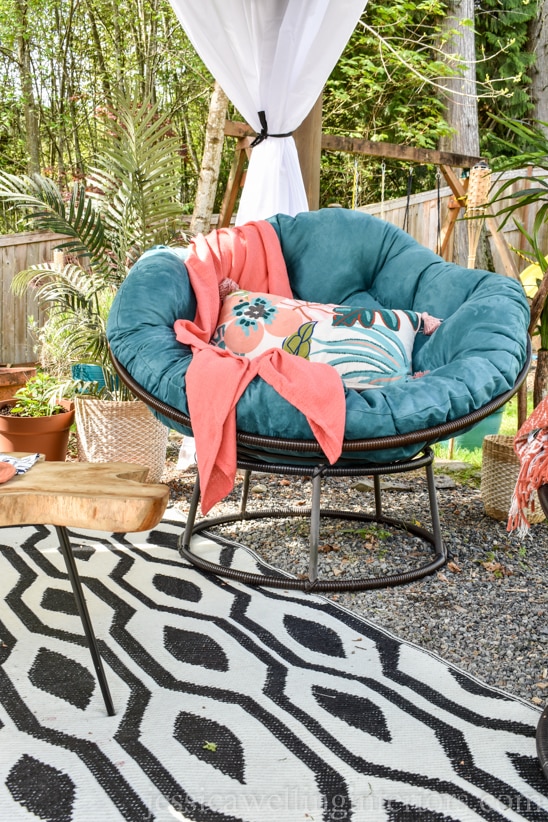 Outdoor Rug
I'm a HUGE fan of outdoor rugs. I know they're still catching on, but they really make an outdoor living space feel cozy and pulled together. Plus you can have fun with bolder patterns and brighter colors than you would choose for indoors.
I found this bold black and white rug at World Market last year, and I was excited to see that they have it again this year! These are called Rio mats, and they're made of tiny woven tubes of plastic. They're definitely my favorite type of outdoor rug because they're soft on bare feet, waterproof, and very easy to keep clean! I have the same rug in a smaller size on my front porch too.
You can see my guide to choosing the right size and shape of outdoor rug here! And a list of my favorite outdoor rugs here!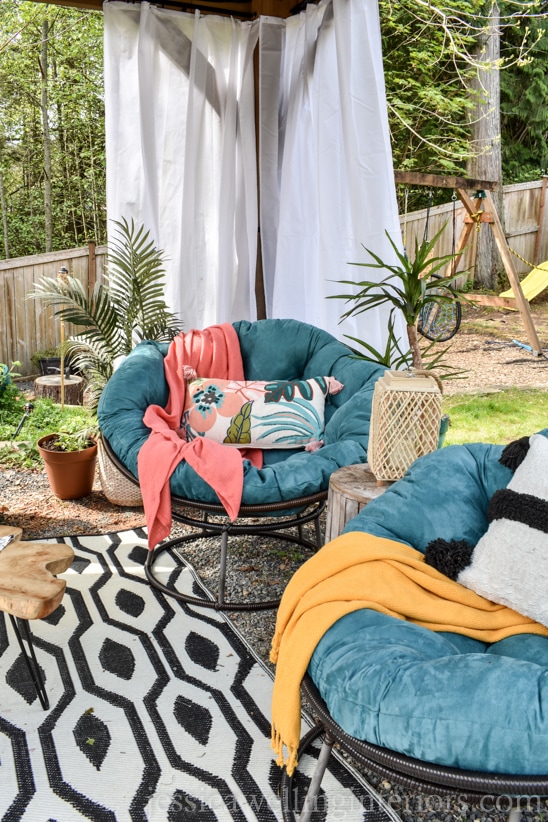 Outdoor Curtains
I made these ultra-easy outdoor curtains too. You can see the ten-minute tutorial here.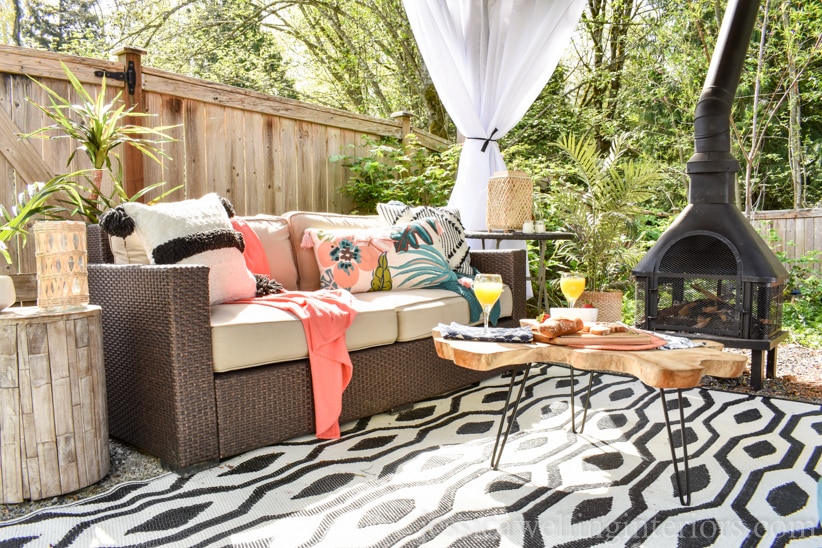 Shop the look!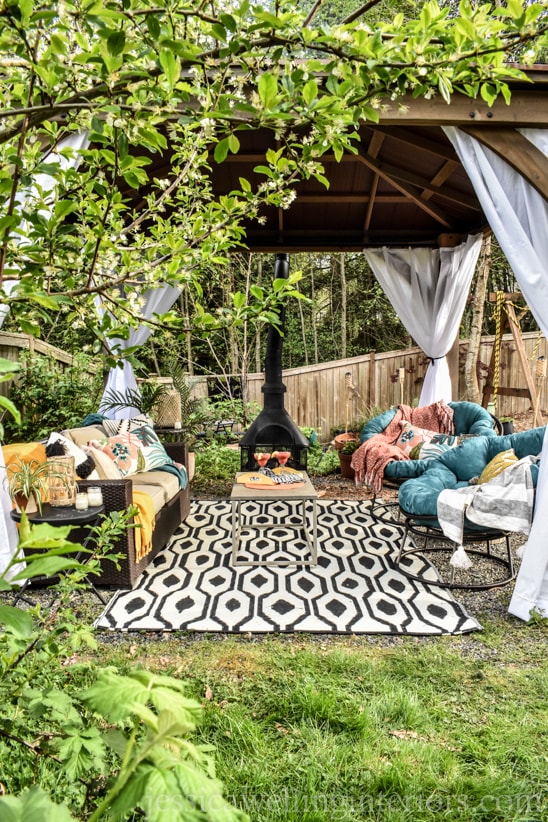 Patio Lighting
I was excited to find these fun Boho candle lanterns at Target. They have a tropical feel that I can't get enough of!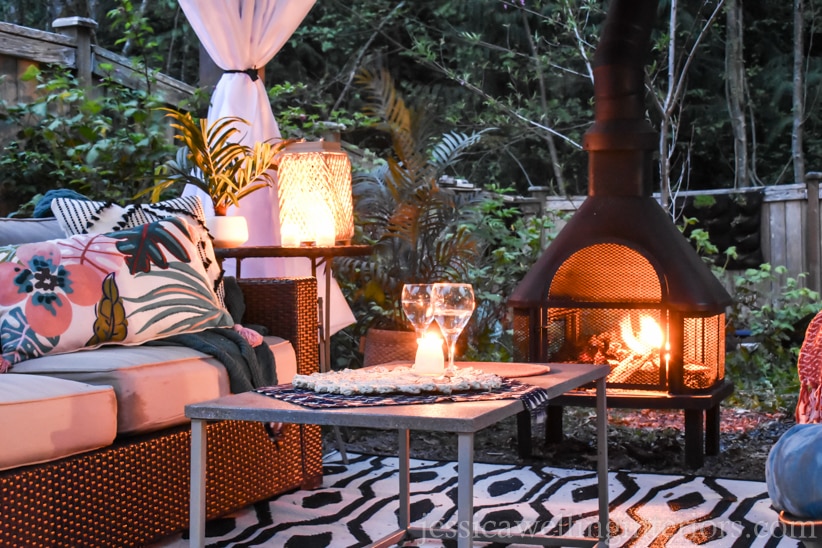 Sitting out here at night after the kids go to bed is my absolute favorite!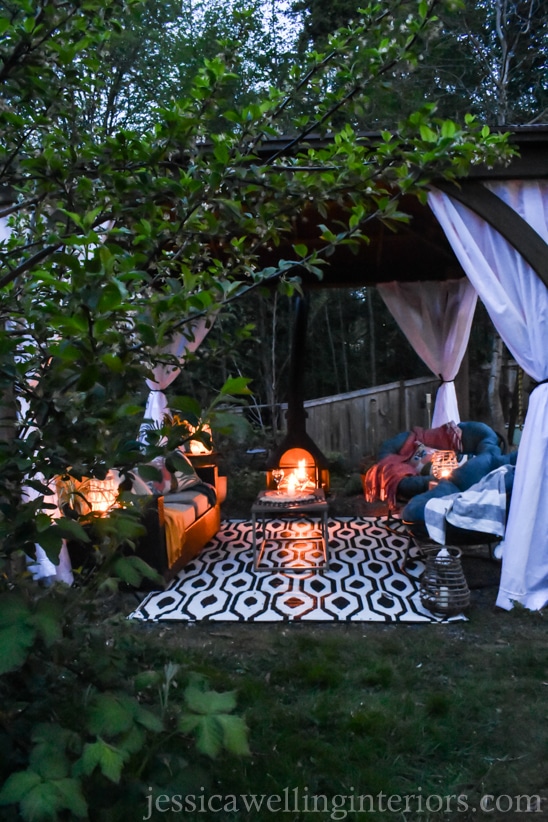 Patio Shade Ideas: How to Choose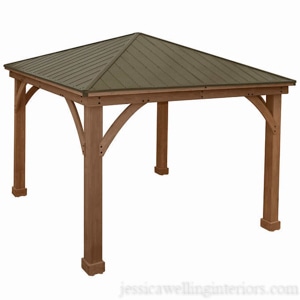 How To Hang Outdoor String Lights: An Ultra-Easy DIY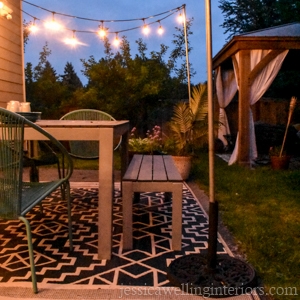 Boho Porch Swings Reveal: Small Front Porch Decorating Ideas