Beach House Bunk Room: Part II
This DIY beach house bunk room has 6 space-saving bunk beds, Ikea storage hacks, ladders, and beach decor, it's perfect for vacation sleepovers!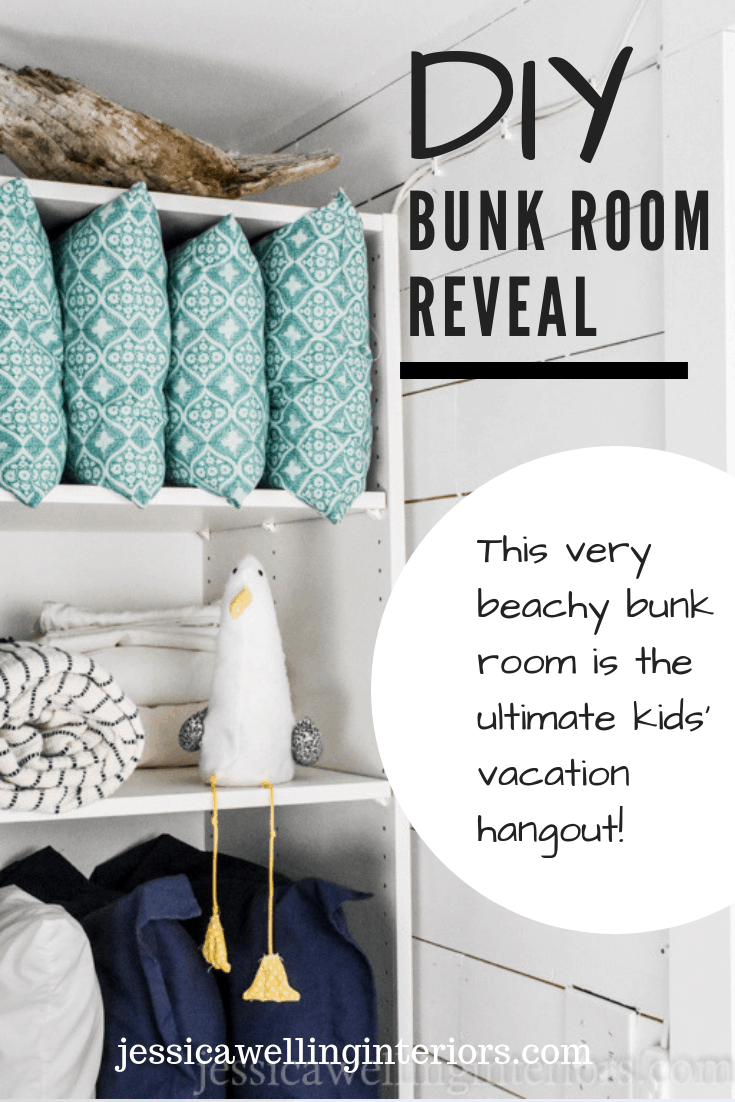 We've been trying to decide what to do with this awkward tiled room off the garage at my folks' beach house for a few years. And once most of the grandkids got out of the toddler stage, we had a stroke of brilliance: We could turn it into a super-fun bunk bed room!
About a year ago we had most of the room finished, so we had a "grand opening" night where all the kids got to see the room and sleep in their new bunk beds for the first time. You can check out my first post about this bunk room here. But that post doesn't show the entire room because we still had a few lingering projects and finishing touches. We spent some time working on it over Memorial Day Weekend, and now I'm excited to show you the rest of the room, as well as some of the products and tricks we used to make the most of this small space.
Storage Shelf
Any kids' space that doesn't have some good storage has not been well-thought out. Am I right? The fact of the matter is, with 5 little girls sleeping and playing down there, things can get pretty messy. Make that REALLY messy!
Space is tight in this bunk room, so I was thrilled to find that this IKEA PAX wardrobe shelving unit fits perfectly between the end of the last bunk bed and the wall. In fact, this isn't the first time this exact PAX unit has come to my rescue! You can see it here in my Small Laundry Room Makeover too.
This is where we store the extra bedding- and with 6 beds, there's a LOT of bedding!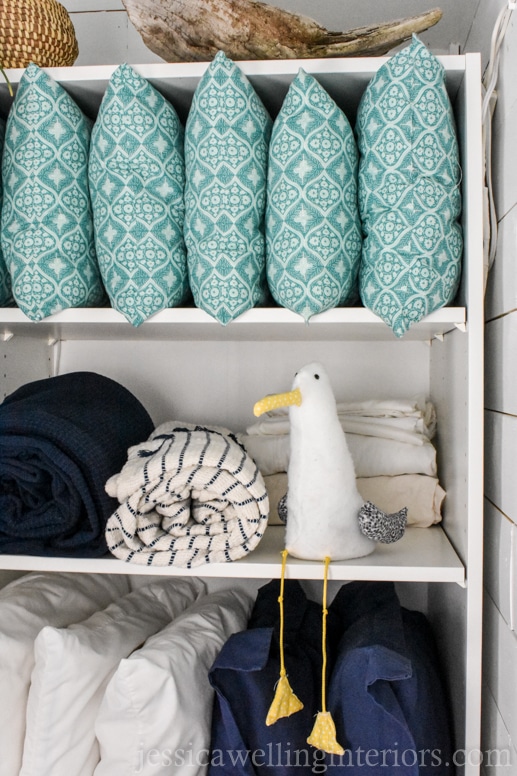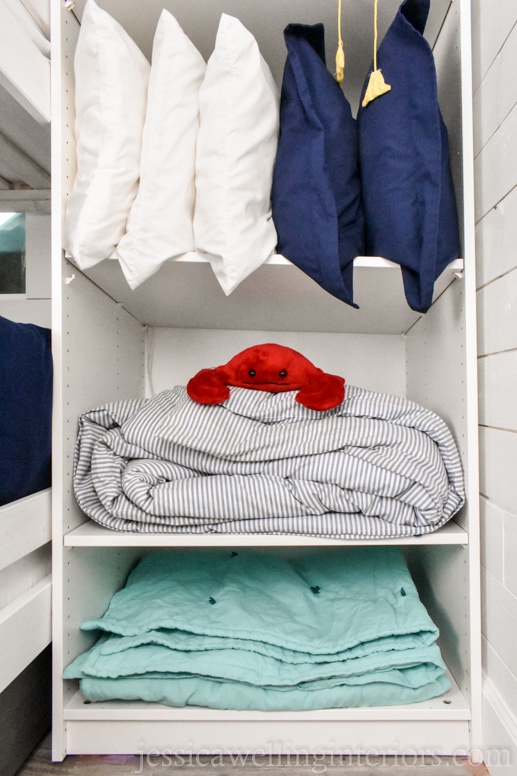 Under-Bed Storage
We had originally planned to build storage drawers for the kids' clothes and suitcases. But then we found these HEMNES under-bed storage drawers at IKEA. They fit the space perfectly and they roll. We bought these in a grey-stained wood finish so we (my mom) could sand them down and stain them to match the bunk beds.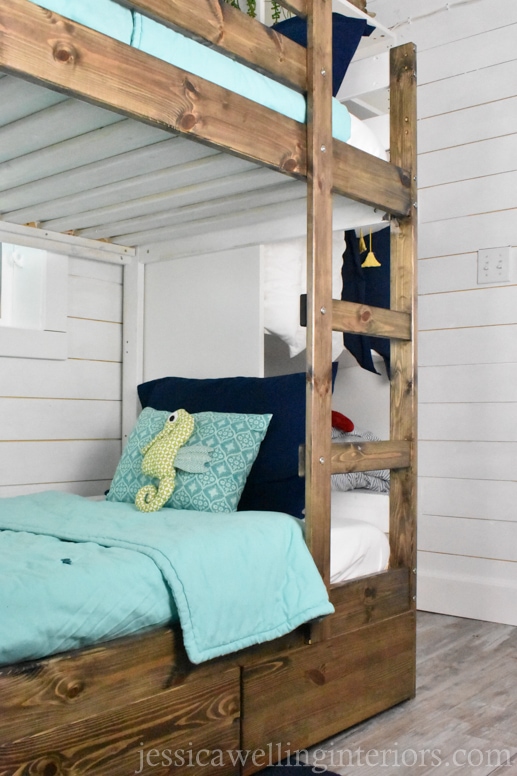 I love these so much, I'm planning to use them for my own girls' upcoming room makeover! I think they really complete the built-in look and they also prevent random junk from getting stashed under the bed. Big problem at my house! Update: See the Under Bed Storage Ikea Hack tutorial HERE!
And aren't you impressed with my KonMarie folding? I'm still working on the rest of the family. We'll see how it goes!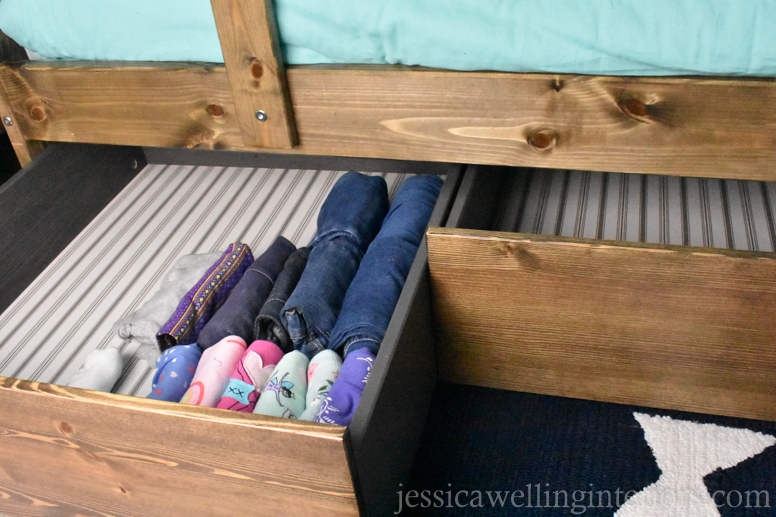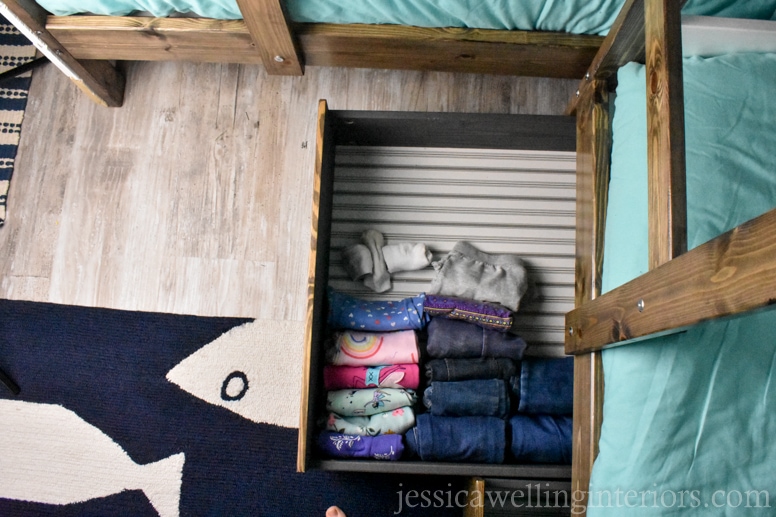 Entryway
Every bedroom needs hooks. As many as possible, in my opinion. It's one of my biggest pet peeves when I stay at a hotel or Airb&b: no hooks for towels, coats, cameras, etc., so they end up on the floor. So of course, this bunk room needs hooks! Since it's right off of the garage, we created a bit of an entryway by ship-lapping the bottom of this bunk bed.
I'm thinking we may add another row of hooks on the right side below. Six kids on vacation = lots of stuff everywhere!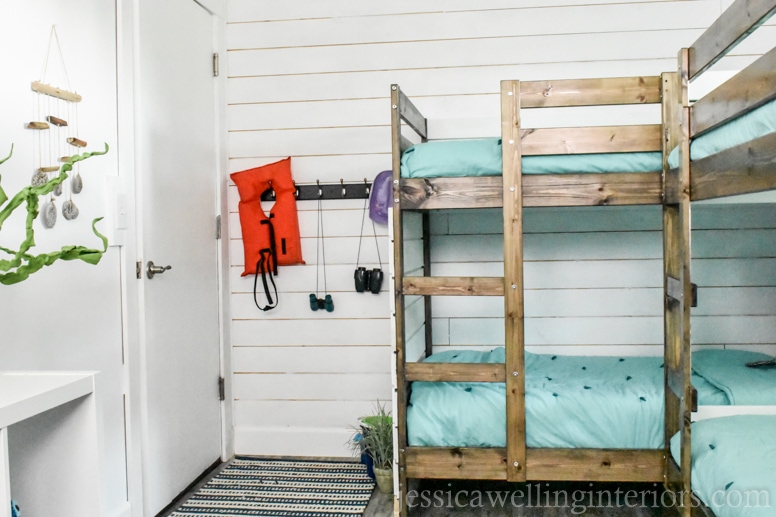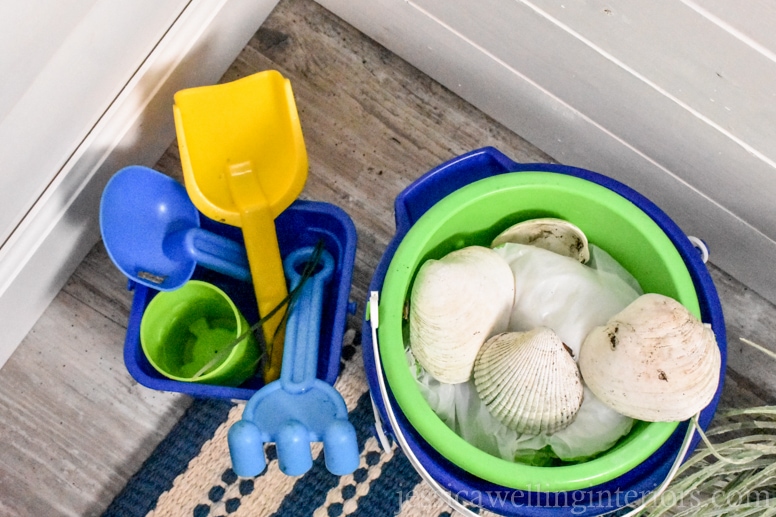 The Jellies
My mom and I have been looking for an opportunity to make jellyfish lights forever (yes I know that's kind of a strange ambition), and the bunk bed room seemed pretty perfect for some glowing sea jellies.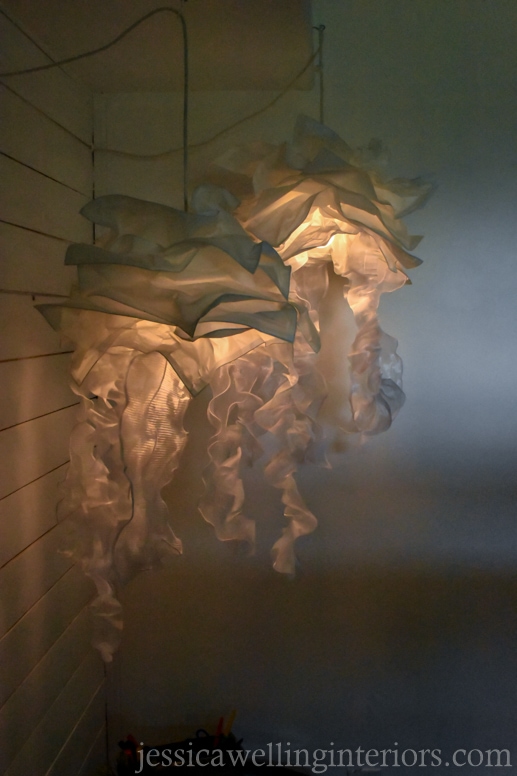 And who wouldn't want sea jellies floating around them as they drift off to sleep? No one. That's who!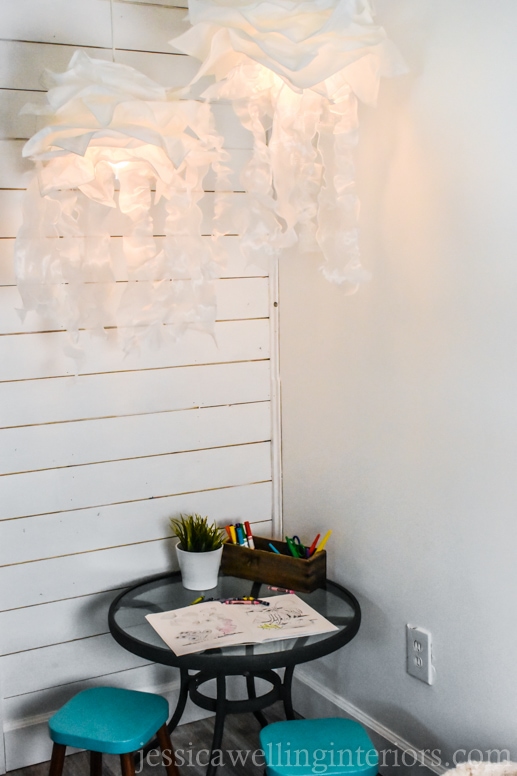 I found these KRUSNING pendant lights at IKEA (noticing a pattern yet?) and they were just begging to become jellyfish. My dad set them up with a dimmer switch so they can provide a very soft glow for a nightlight. And my mom and I sewed organza fabric and ruffly ribbon on to make tentacles. I don't think they're really called tentacles on a jellyfish. Do you know what they're called?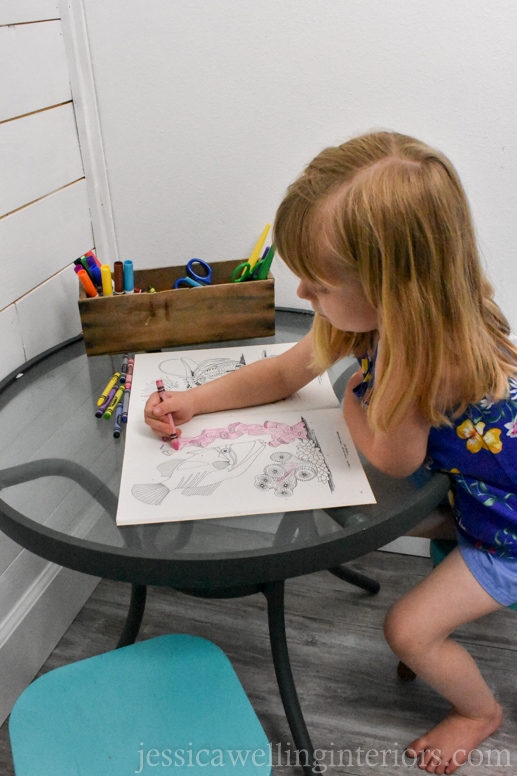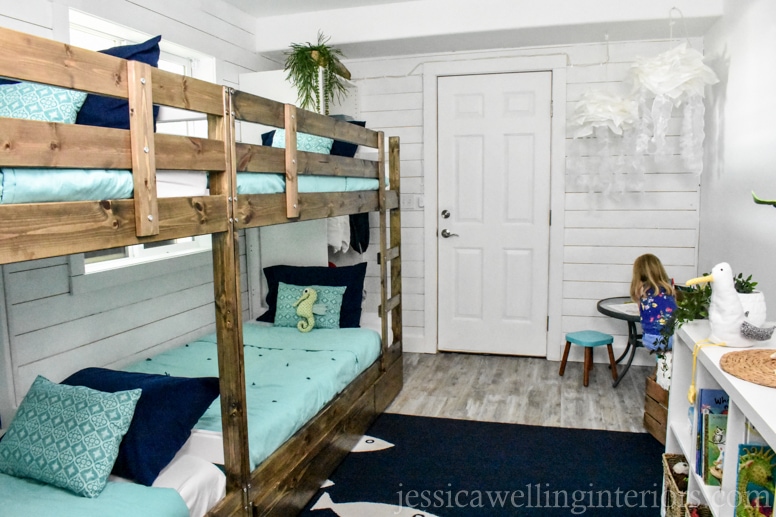 Toy Storage
The kids use this as a playroom too, so we needed some toy and book storage.
My mom is a former Kindergarten teacher and she has an adorable collection of beach and ocean-themed children's books at the beach house. Here are a few of our favorites: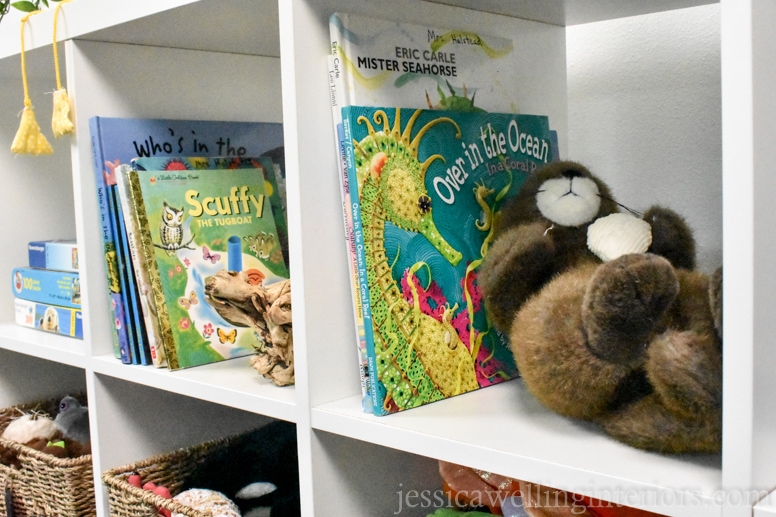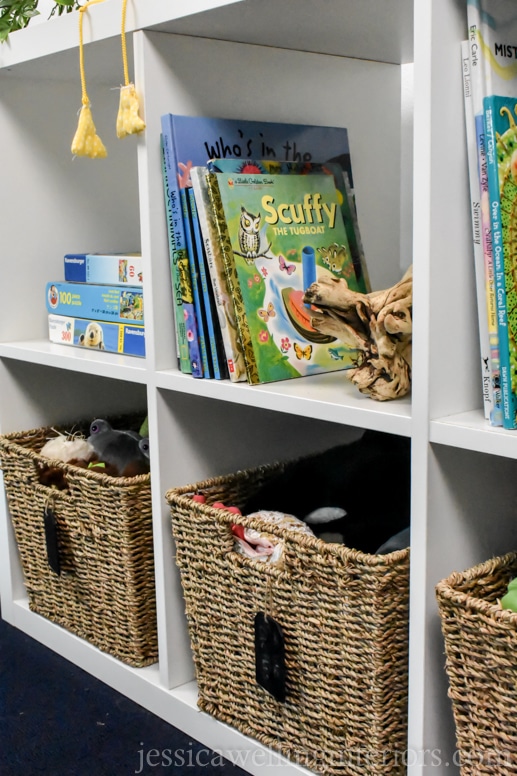 Photo Gallery Wall
I took some pics of the kids at the beach one day last summer for this gallery wall. I swear I have more photos and frames somewhere to add to it… hopefully I'll find them soon!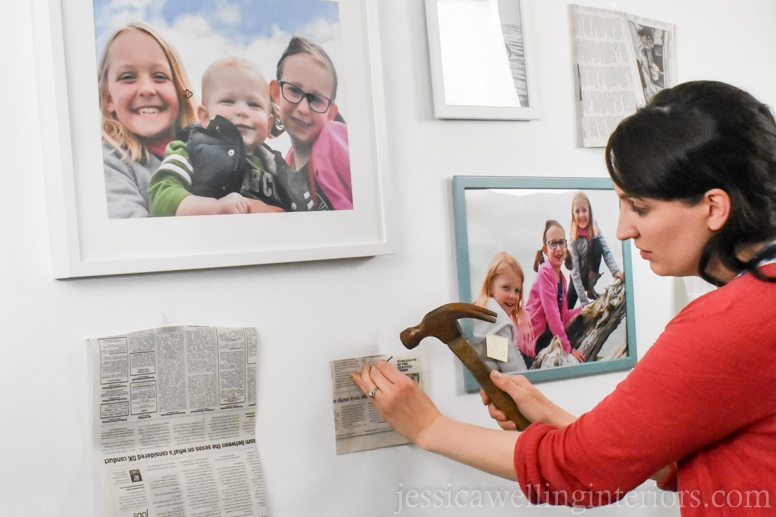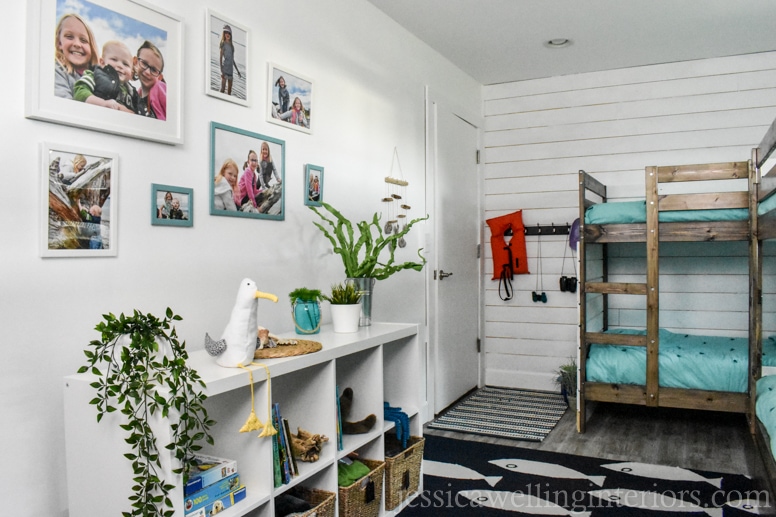 Stuffed Sea creatures
Each of the kids got to choose their favorite sea animal to go on their bed. I already showed you a few in the original bunk room reveal, but I've got a couple more that weren't quite finished. Here ya go!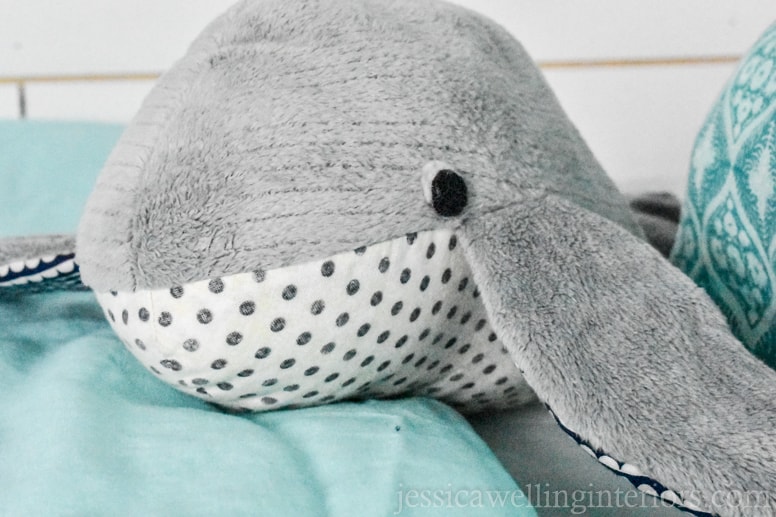 Sedgwick the Seal was the trickiest to make of all the sea creatures. I got myself into a jam with his nose and had to have my mom figure out how to fix him. But he turned out pretty cute, huh?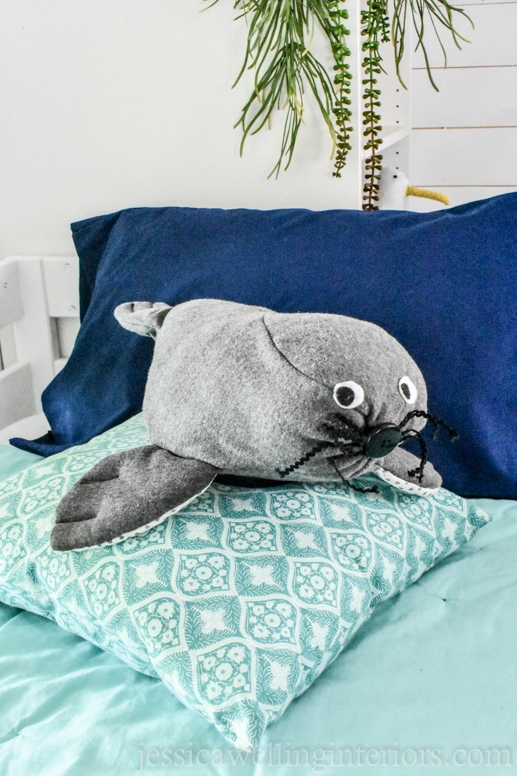 Ok if you haven't already seen it, come check out the original bunk room reveal to see the rest of the space!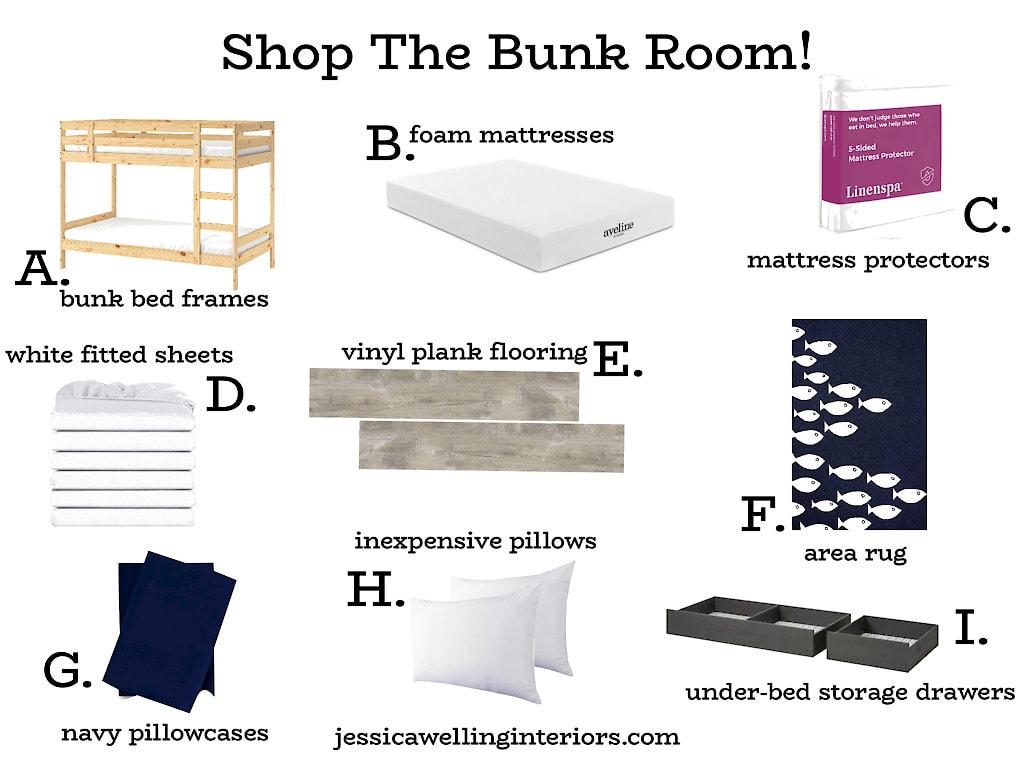 B. 6″ Memory Foam Mattresses– We actually tried 3 different mattresses before finding these inexpensive and just-right 6″ mattresses!
C. Waterproof Mattress Protectors– I've tried multiple brands and these are the winner- they're soft, survive the dryer, and most importantly, they don't leak!
E. Lifeproof Vinyl Plank Flooring in Lighthouse Oak
I. Hemnes Under-Bed Storage Drawers
more diy and organization ideas for kids…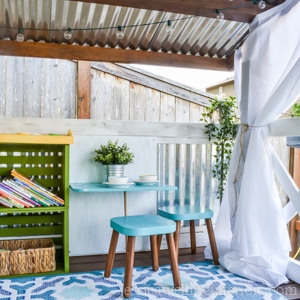 Organize All the Toys, Books, & Games!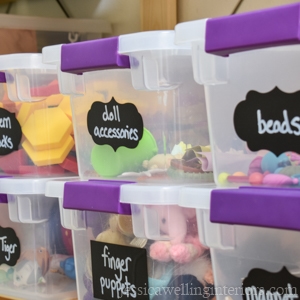 Beach House Bunk Room Reveal (Part I)