How to Design a Home Office- 5 Questions to Ask Before You Begin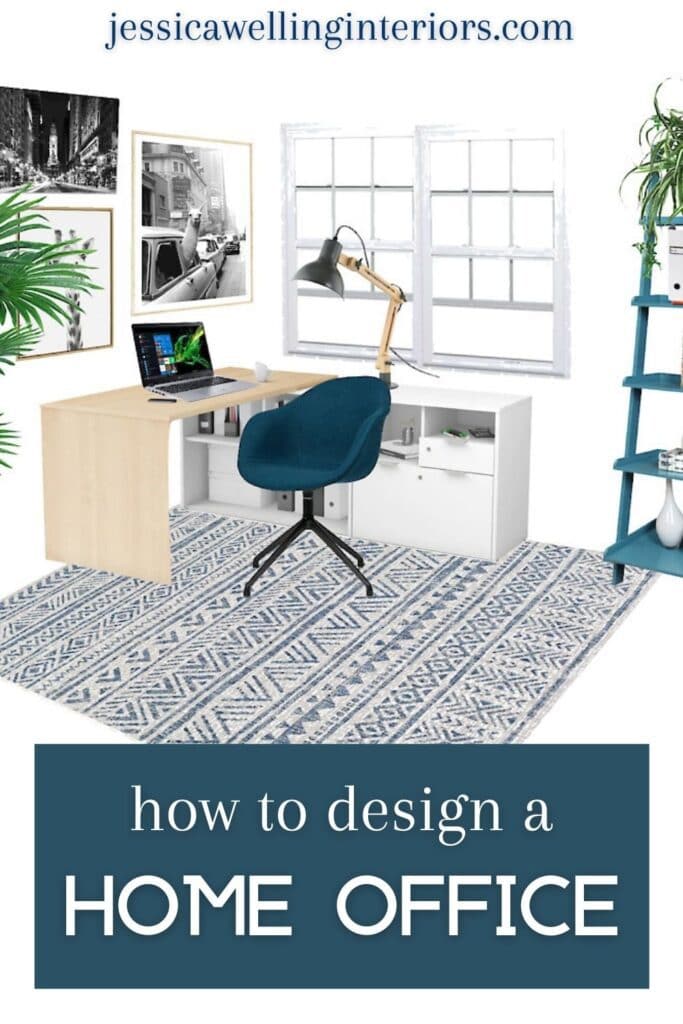 When many of us started working from home back in March of last year, we set up a folding table in the corner, borrowed a chair from the dining room, and hung an old bed sheet on the wall behind the desk to block the messy kitchen from view.
And that worked… for a little while. But now that so many people will be working from home for the forseeable future, and will likely continue to work remotely a few days a week even post-pandemic, it's time to get a real home office set up
Imagine a space where you actually WANT to spend time. Where you can focus on work, and be productive. A space you feel good about your boss and clients seeing in video calls!
If you don't think this is possible, I'm here to prove you wrong.
I'm writing a series to help you design your own home office. But before we get started, I have some questions I want you to consider. Go ahead and write down the answers.
Thinking through exactly what you want to use your workspace for, your storage needs, lighting, and more will make all the difference in your end result. You can thank me later.
1. Who Will Be Using the Office?
I know this seems obvious, but stick with me. Is the office just for one person? Do you have kids that need to sit next to you while they do homework? Does your cat like to sit on the back of your chair? Will your pooch need space to sprawl out under the desk?
If you need workstations for more than one person, you'll want to know that in advance.
Many home offices are used for both work and home-management tasks, such as paying bills, keeping track of records, etc.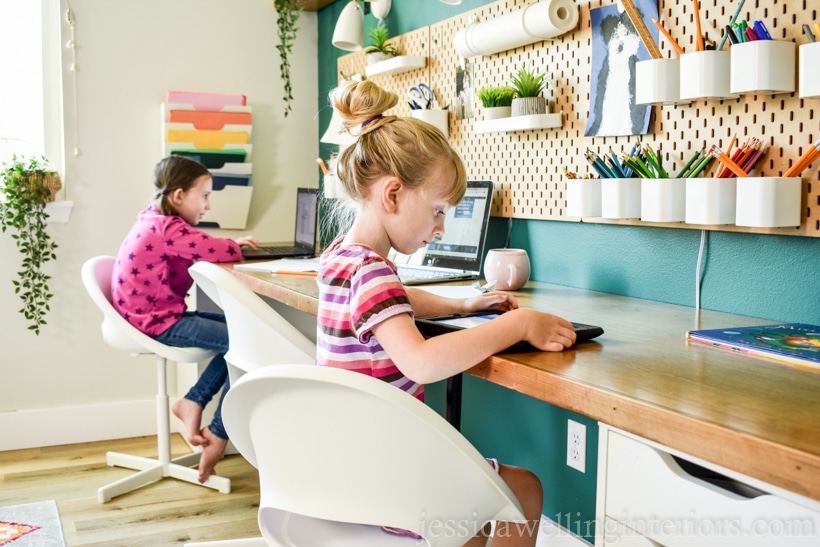 2. What Will The Home Office Be Used For?
This may seem obvious, but stick with me. In order to create a workspace that meets all your needs, it's important to think through all of the activities you'll do there.
Many people use their desks soley to work on a laptop and for Zoom meetings. My own office is also my design workspace, crafting room, and project photography studio, so I need a lot more storage and desk space than many people do.
Zoom meetings and video conferencing
work on a laptop or desktop computer (consider the size and how many monitors you need)
phone calls
dealing with physical paperwork
anything else?
printing/scanning, shredding, etc.
reading
3. What Do You Need to Store?
I've found that an office with no storage space is doomed to be a mess. Actually that's the case for any room.
Home offices are often home to some of the following, especially if you have a dedicated room. Make a list of everything you need/want to keep in your office. Here's a list to get you started:
files & records
office supplies- envelopes, stamps, address stickers, paper clips, staplers, hole punches, pens, pencils, scissors, tape,
books
If you're giving your existing office an overhaul, this would be a good time to go through and weed out some items that you don't really need or want.
4. Where Is The Best Spot For Your Workspace?
You may already have a spare bedroom or study. If you do, and you don't need to also supervise kiddos while you work, then fabulous! If not, you may have to get creative. But that's okay.
5. What's Your Budget?
A $0 home office makeover is probably not feasible. But if you're willing to put in some time and effort, it's absolutely possible to do it on a small budget.
If you're going to splurge on one item, it should be a great desk chair that's both stylish, and designed to be sat in for several hours at a time.
If you're on a tight budget, I've put together 6 home office designs using only inexpensive products available online.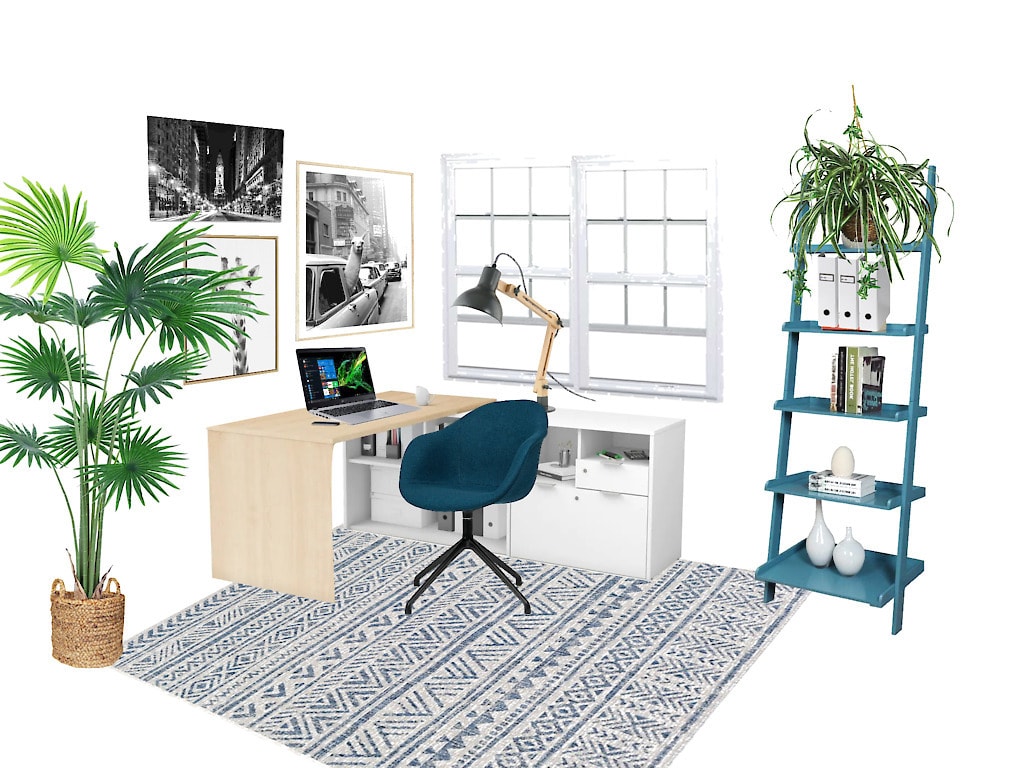 More Home Office Ideas…
The Best Home Office Gifts for Her On Any Budget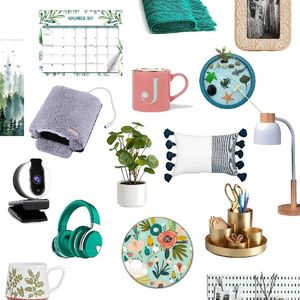 The Best Home Office Desks On The Cheap!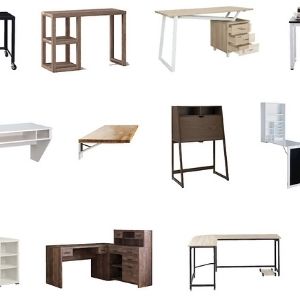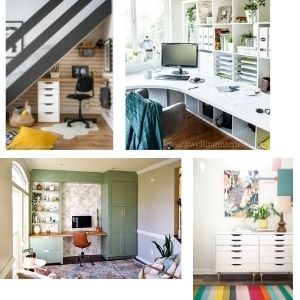 Ikea Home Office Ideas: My New Design Studio Reveal