Home Office Lighting: How to Choose a Desk Lamp
How do you choose the right desk lamp for your home office or kids' distance learning space? Learn what to look for in this simple guide!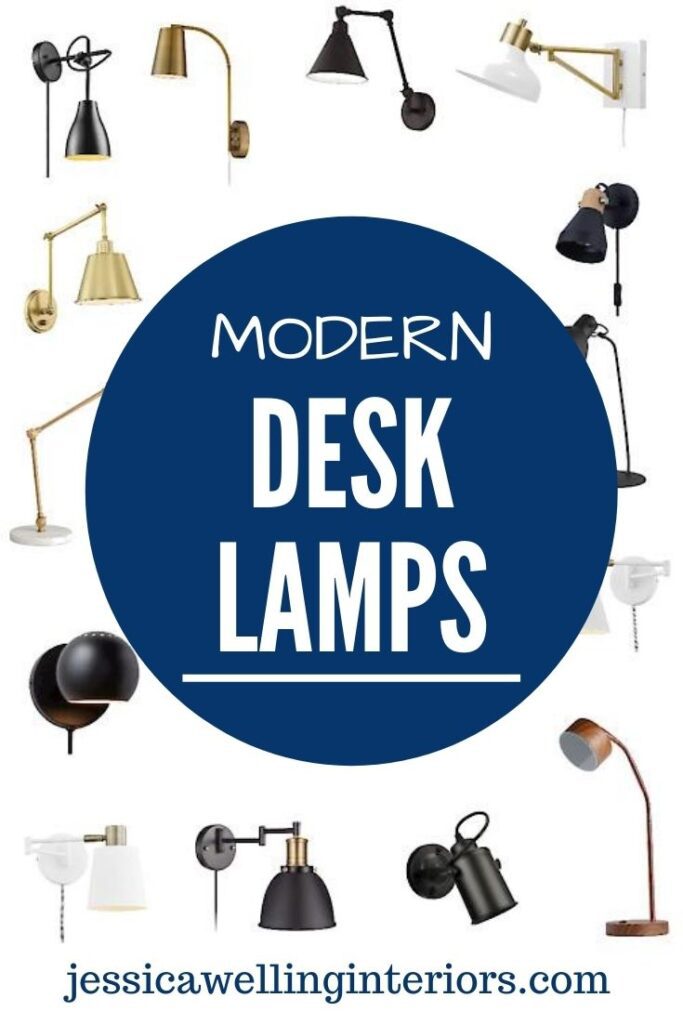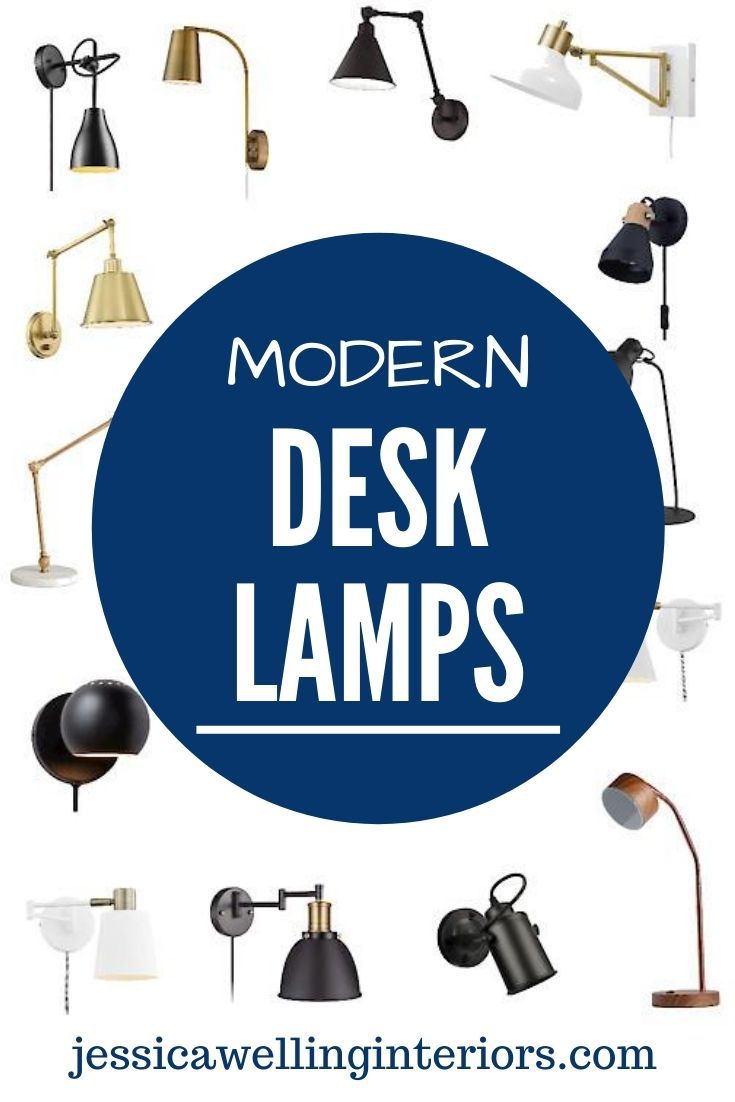 How to Choose The Right Desk Lamp
Desk lights or "task lamps," as they're sometimes called, are specifically designed to provide bright, focused light to a specific area, such as a desktop or reading chair.
And now that so many of us are working from home and distance-learning, these desk lights also need to light our faces during online classes and Zoom meetings.
I'm sharing my top picks for stylish and functional desk lamps from my favorite online retailers, with an eye toward budget-friendliness. They're organized by category, so if you already know you want a wall-mounted task light, you can scroll down to that section. Enjoy!
Don't Have A Desk Yet?
If you need a desk, I recommend choosing that first, before the lighting. Here are my favorite inexpensive home office desks from around the web, organized by size and shape.
Kids' Desk Lamps
Many cute and inexpensive kids' desk lamps will say "USB charging". I assumed this meant they had a place you could plug in your phone charger on the base. Not so.
It means that the lamp itself has to plug into a USB block or your computer, instead of having a traditional wall plug.
I bought my girls inexpensive USB lamps for their homework stations in their bedroom. They're cute and they work fine, but I find them to be a bit of a pain because of the whole USB thing. But in terms of bang for your buck, they're usually the least expensive option.
If you prefer a lamp that plugs directly into the wall, here are some fun modern kids' desk lamps that fit the bill.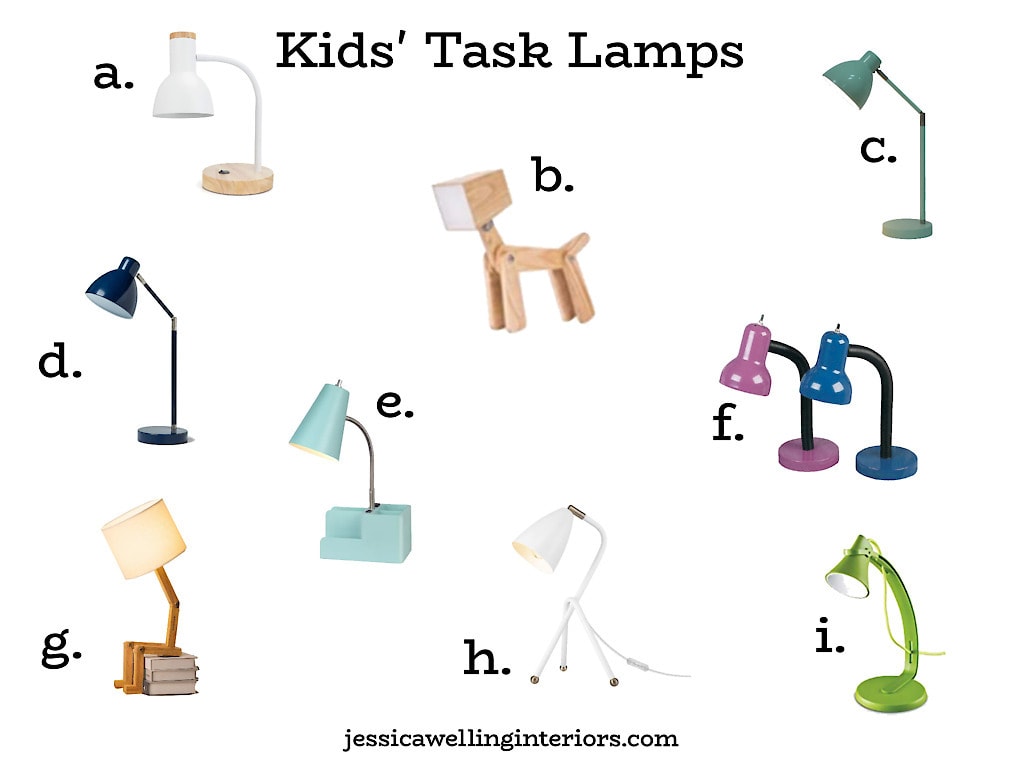 a. White Goose-Neck Lamp, from Amazon
b. Adjustable Dog Lamp, from Amazon- how fun is this???
c. Pillowfort Desk Lamp in Green, from Target
d. Pillowfort Task Lamp in Blue, from Target
e. Room Essentials Organizer Task Light in Aqua, from Target
f. The Goosy Collection Desk Lamps in Blue & Purple, from Walmart
g. HAITRAL Bedroom Table Lamp, from Amazon
h. Globe Electric Novogratz Lamp, from Amazon
i. OTTLight LED Desk Lamp in Green
Tabletop Task Lamps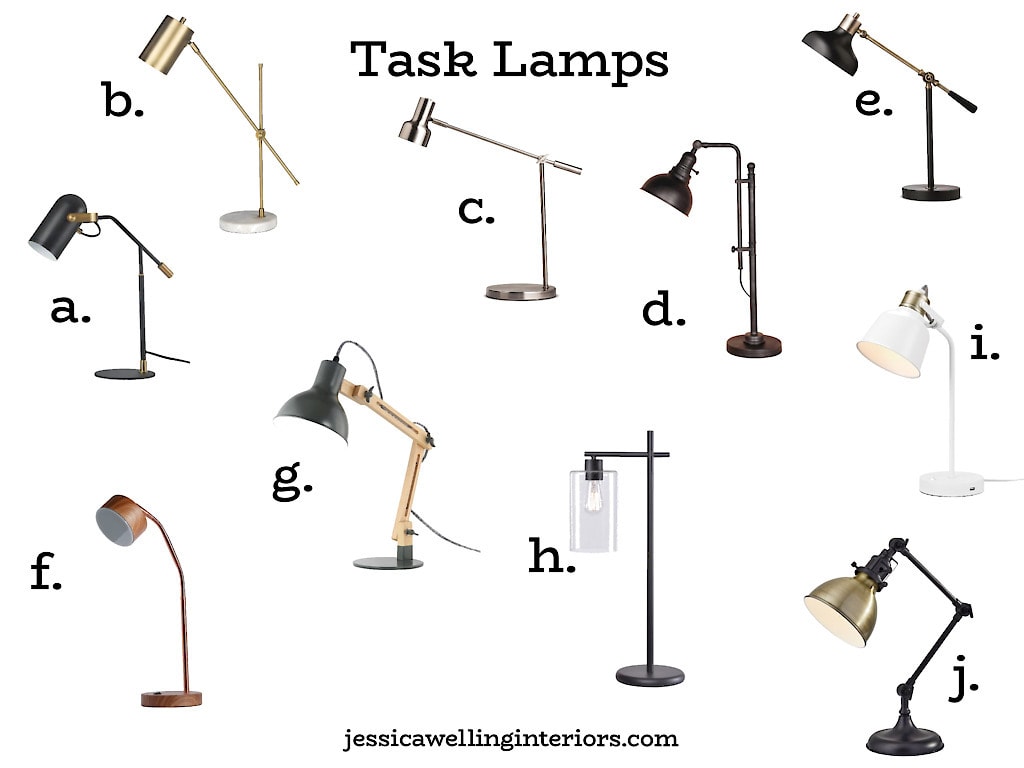 a. StyleCraft Home Collection Table Lamp
c. Threshold Cantilever LED Desk Lamp
e. Crosby Schoolhouse Desk Lamp in Black
Wall-Mounted Desk Lights
I really like to use wall-mounted desk lights in home offices and for kids' desks, because they're up and out-of-the-way. They don't clutter up the surface of your desk, and you don't have to move them to clean.
I also like wall-mounted lights for Zoom meetings. Since they're usually mounted higher than a traditional table-top desk lamp, you can adjust them so they can light your face. Even better if you have two to provide more balanced lighting.
Plug-In Vs. Hardwired Wall-Mounted Lamps
A corded or plug-in wall-mounted light is attached to the wall, usually with screws, and the cord hangs down. You may need an extension cord, but you won't have to cut holes in the walls or do any electrical work. We used three of these for our new homeschool desk.
A plug-in light is the best option if you want your project to be as simple as possible, you're renting, or you might move your desk in the future.
A hard-wired task light requires a hole in the wall and some wiring work. It is a more elegant look, since there's no cord hanging down.
Many of the lights I've found come in both options- just be sure to choose the right one for you. Some only come one way or the other.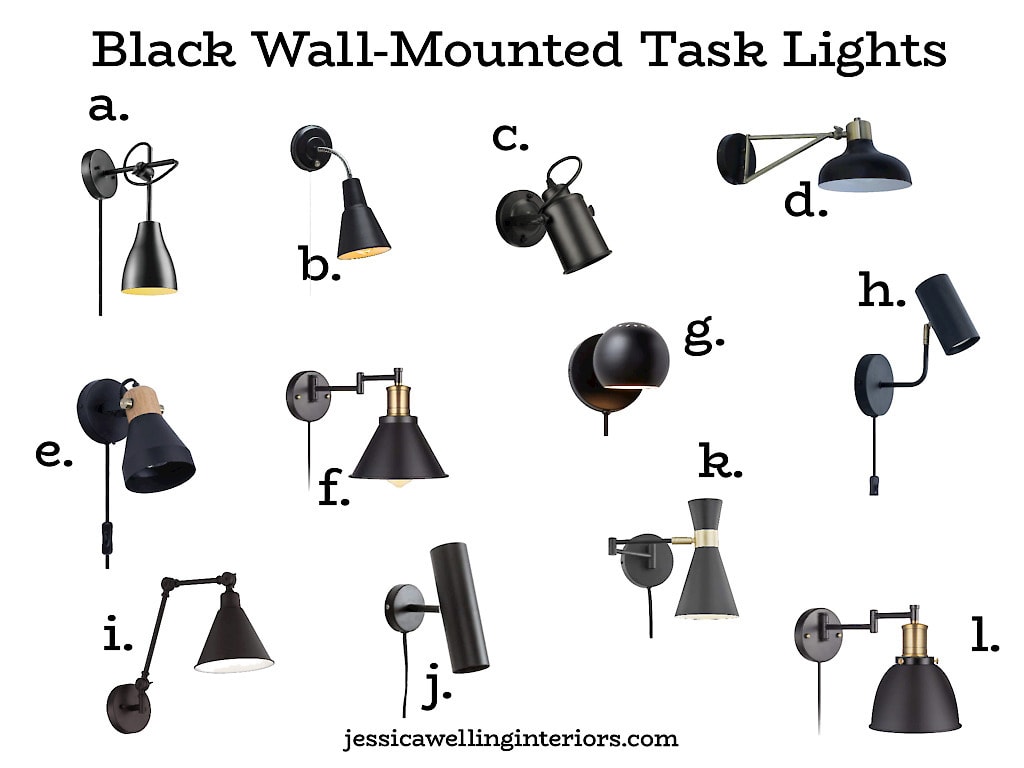 a. Easthampton One-Light Dark Bronze Armed Sconce
b. Globe Electric Balance Arm Wall Sconce
c. Industrial Retro Black Wall Lamp
d. Crosby Swing Arm Sconce in Black
e. Modern Rotatable Wall Lamp in Matte Black
f. ArcoMead Swing-Arm Wall Lamp
g. Rivet Mid-Century Modern Wall-Mounted Wall Light in Matte Black
h. Adjustable Minimalist Plug-in Wall Light
i. Wray Industrial Wall Lamp in Dark Bronze
j. Modern Minimal Plug-In Wall Sconce
k. Light Society Beaker Light in Matte Black
l. Swing Arm Wall Light in Bronze and Black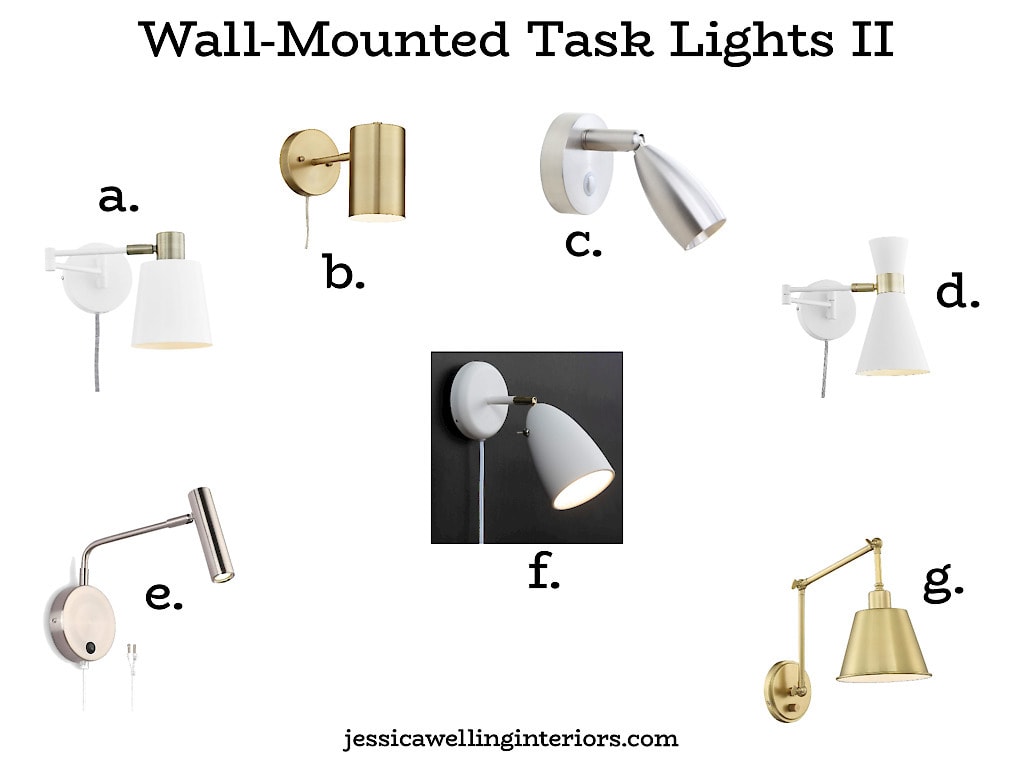 a. Light Society Alexi Plug-in Wall Sconce in White
b. Carla Modern Task Lamp in Polished Brass
c.
d. Light Society Beaker Wall Sconce in Matte White
e. Wall-Mounted Plug-in Reading Light
f. Plug-in Wall Sconces in White (we have 3 of these mounted over the kids' homeschool desk and love them).
g.
I hope this helps you find the perfect light for your home office or homework desk!
More Home Office Ideas…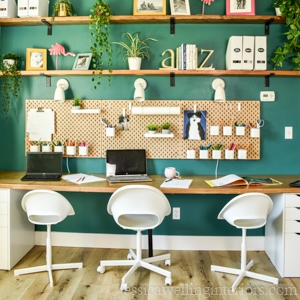 The Best Home Office Desks On The Cheap!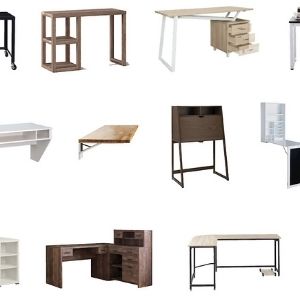 Ikea Home Office Ideas: My New Design Studio Reveal!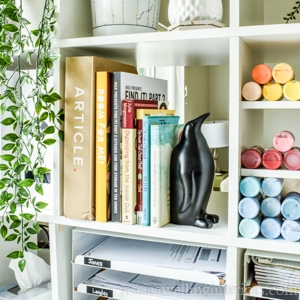 Kids' Desk Chairs On A Budget!