These 10 Ikea office ideas are perfect and budget-friendly solutions if you need to work from home, whether you have a large or small space!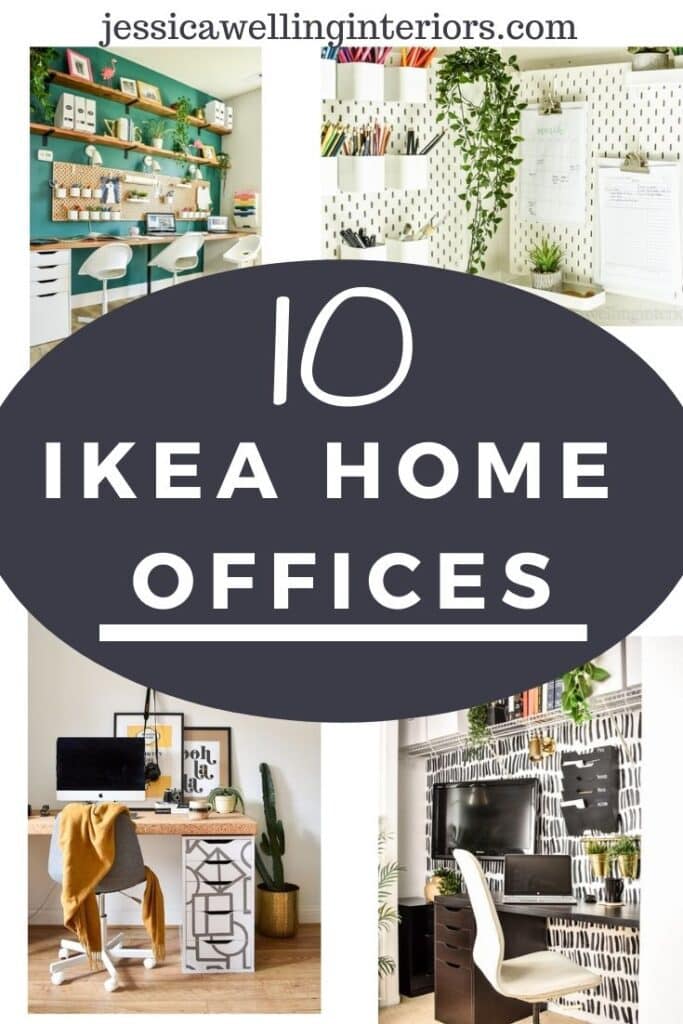 I'm on a home office kick, and since the kids needed a distance-learning space for school this year, I got to design and set up another Ikea office/ desk over the Summer.
Note: Ikea seems to be out of a lot of products right now (mid 2022). If you don't want to wait months for these products to come back in stock, check out these 10 home office designs I put together using inexpensive products from other sources:
Why Ikea Office Furniture?
I often gravitate toward Ikea when I need office furniture. Why? It's inexpensive, stylish, and modular. It's also easy to make some tweaks to the Ikea pieces to make them fit your space perfectly.
Plus, I love that they make so many inexpensive storage pieces- from bookcases, to file cabinets, to pegboards.
I usually end up supplementing with a few things from other retailers, but it usually starts with a few simple pieces from Ikea.
If you don't have an Ikea near you, here's a list of my favorite inexpensive desks for home offices. These are all available online in 2021!
1. My Ikea Corner Office
When I created this Ikea home office for my growing business, I never imagined how popular it would be. You can see more pictures and all the details of how we hacked it with just a few brackets from Home Depot below!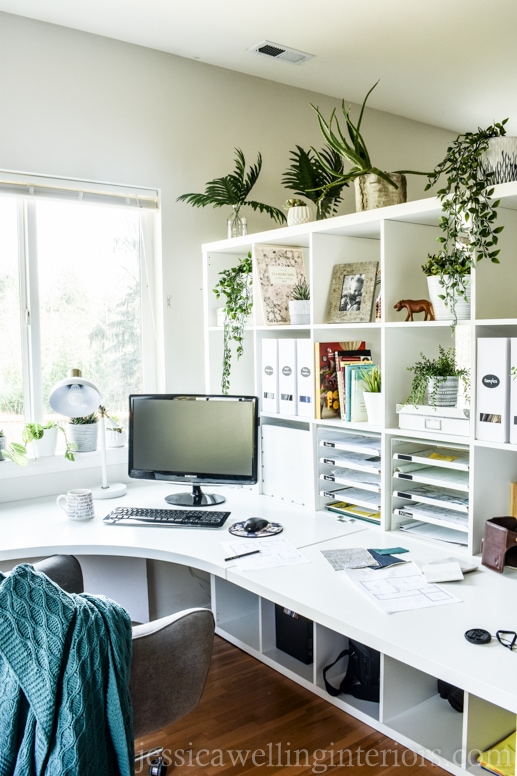 And here's my comfy desk chair that I absolutely love! I've had it for almost 4 years now and it's still going strong.
2. Long Ikea Alex Desk With Multiple Workstations
This one isn't technically an office- I actually designed it to be a distance-learning desk for the kids, with a chair in the center for me.
But it would work just as well as a shared home office. By building an extra-long desk top to go with the Alex drawer units from Ikea, we were able to create a more custom look.
If it was going to have just two workstations, I would add a third Alex drawer unit in the center for a bit of added support.
You can see all the details of how we put this together and shop the space below.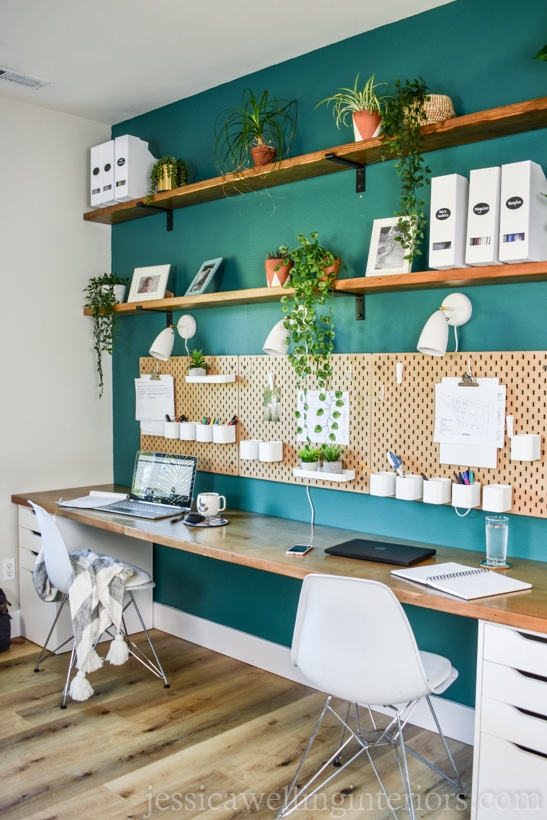 3. Closet Office
What should you do if you don't have room for a workspace? Transform an under-used closet into a closet office or "cloffice."
I gave this closet office a fun makeover a few months ago- back when we all thought we would just be quarantined for a few more weeks! Again you'll see the Ikea Alex drawer unit. It's my favorite piece of Ikea office furniture and I use it over and over!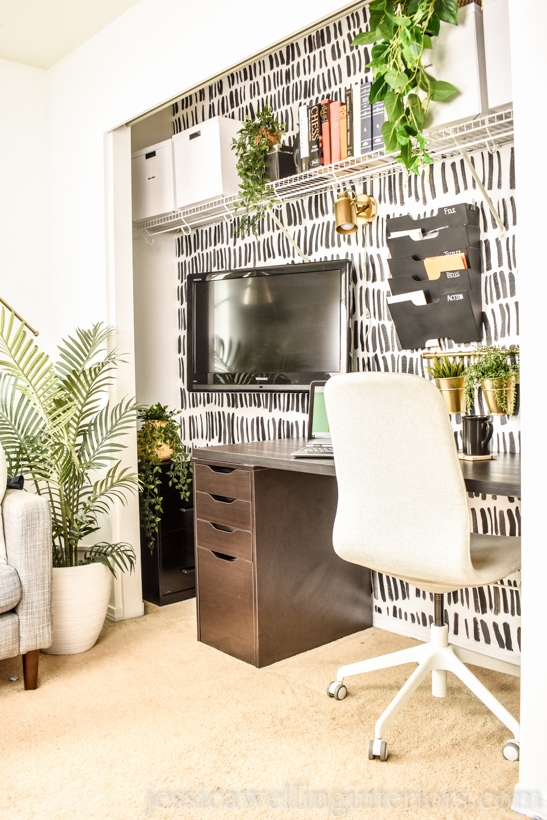 4. DIY Foating Desks
The desk itself isn't from Ikea, but all the Kvissle and Skadis wall organizers are! If you just need a small workspace for a laptop or a child's bedroom, this is a great space-saving and inexpensive DIY desk option to consider! You can see how we built it below.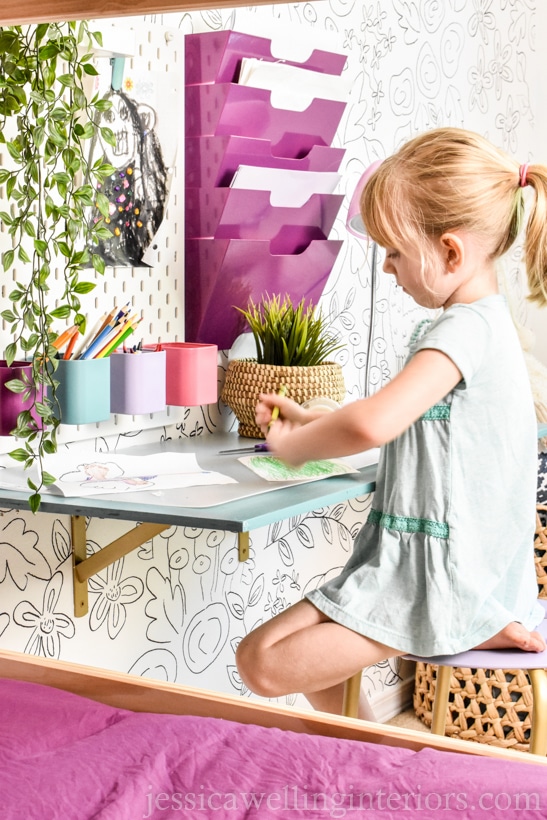 5. Ikea Alex Drawer Unit Makeover
Medina from Grillo Designs gave an Alex drawer unit from Ikea a super-chic modern makeover! Isn't this so cool? Check out her post to see how she did it!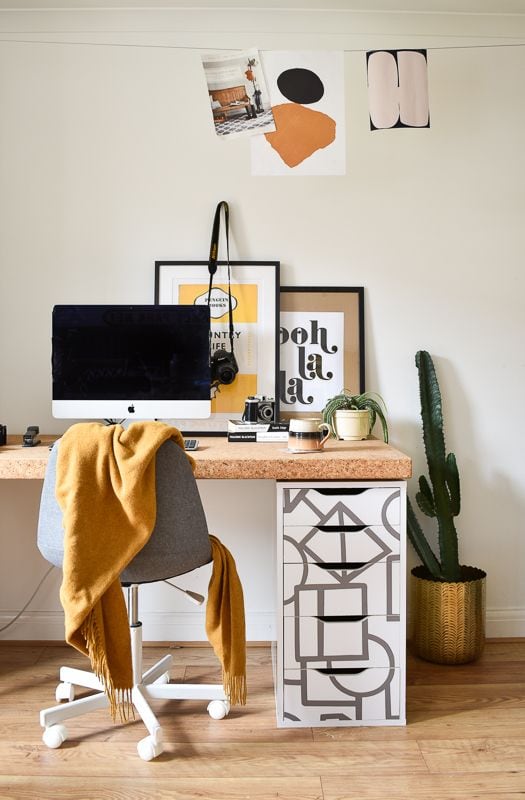 6. Ikea Alex Drawers With Fun New Legs!
My friend Stephanie, from Casa Watkins Living created this stunning office in her basement. It's full of Ikea pieces, and I'm especially loving her Alex drawer unit hack!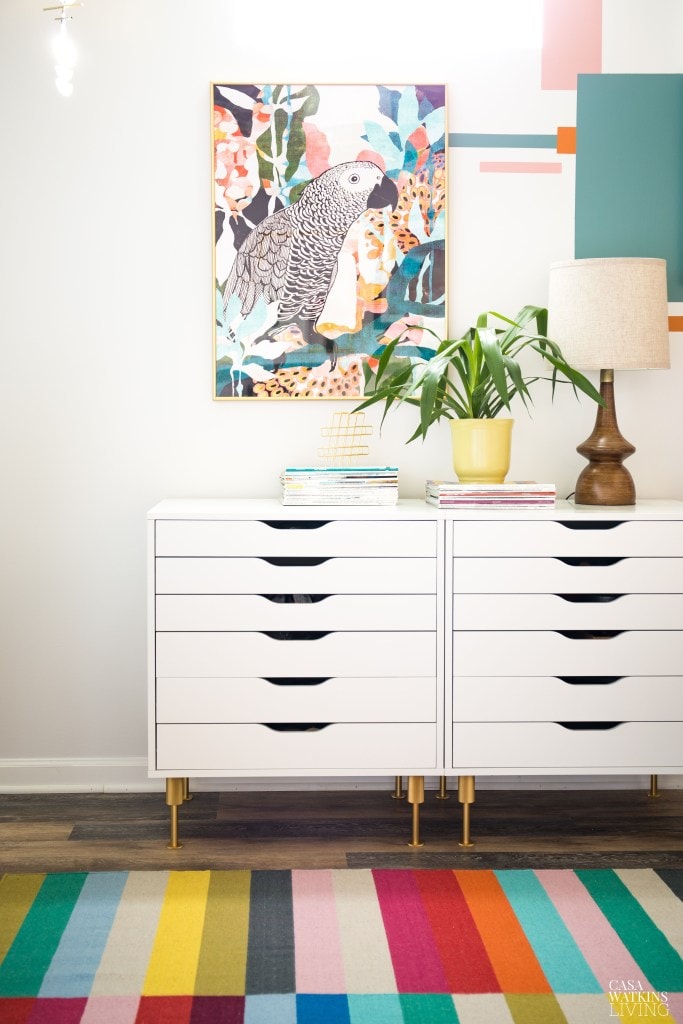 6. Glam Ikea Office
I love the dramatic modern Ikea cabinetry in this office from Love Create Celebrate.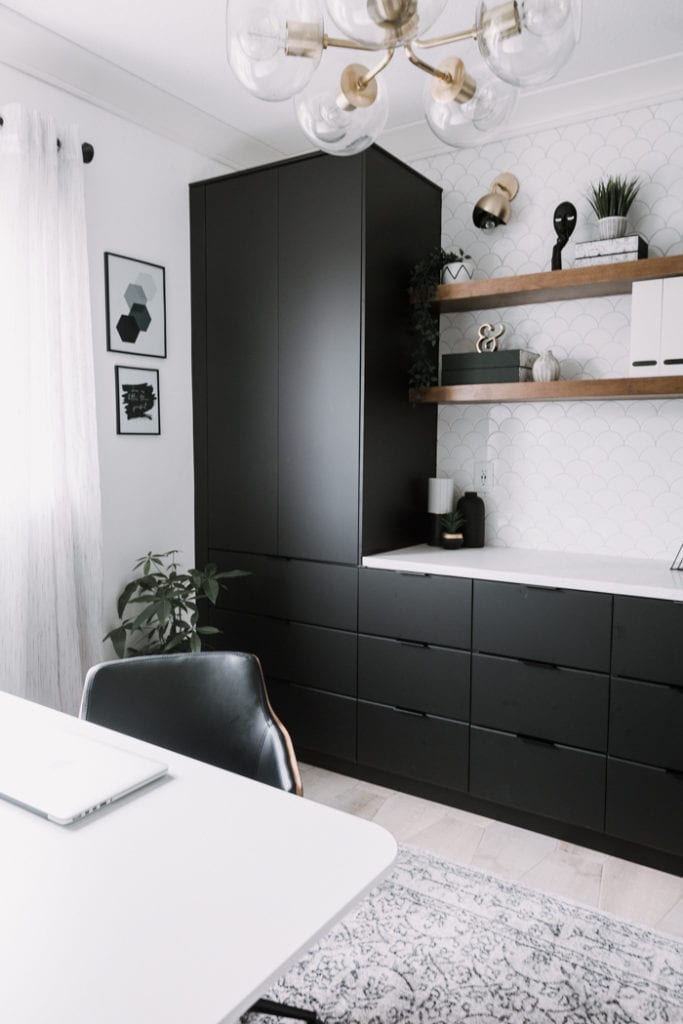 7.
Sarah from Making Joy and Pretty Things did some amazing Ikea-hacking in this gorgeous home office space!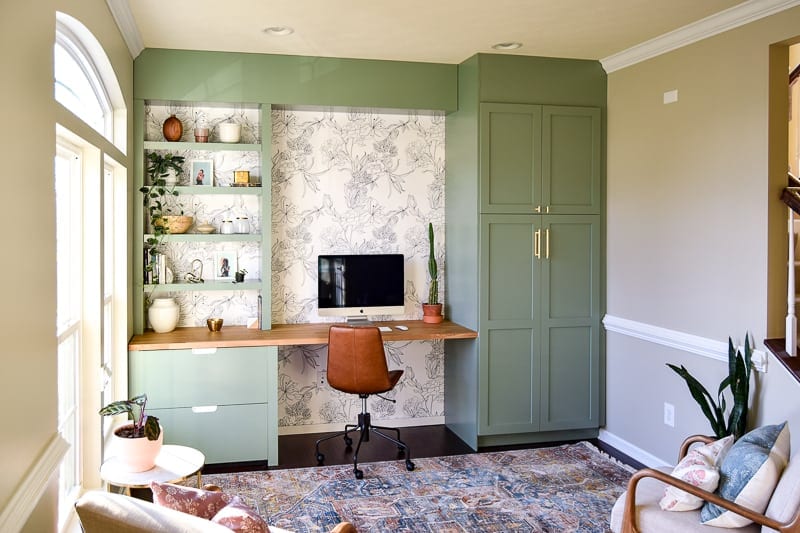 8. Ikea-Hack Office Nook Under the Stairs
I love this creative small-space office nook under the stairs by Medina of Grillo Designs. It's perfect for a kid's or teen's room or any tight space.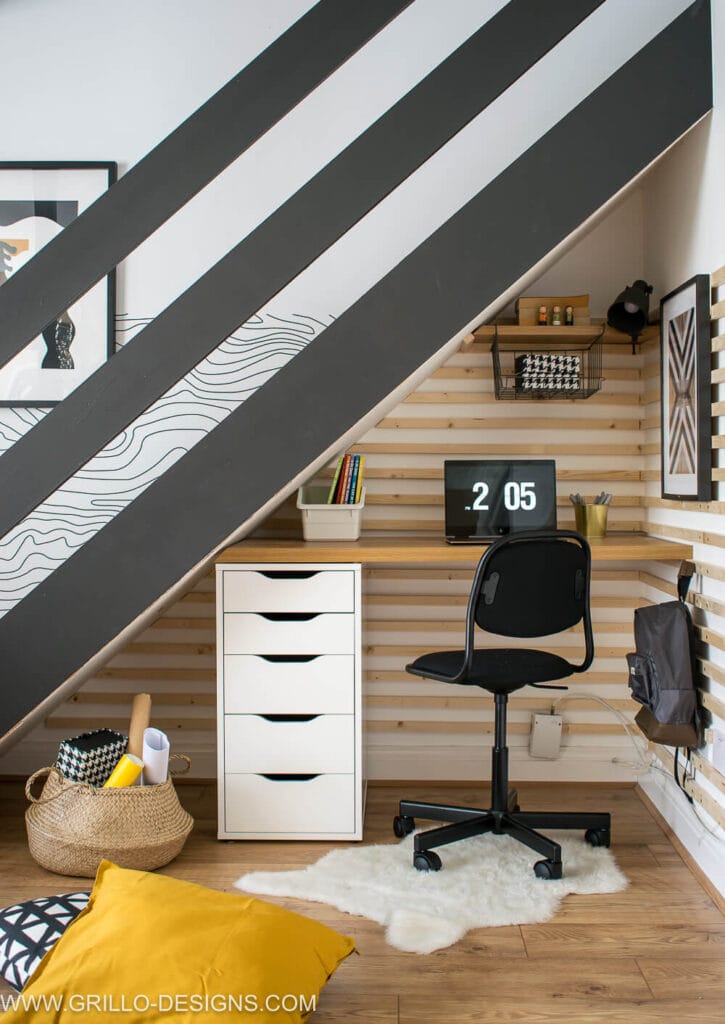 I hope this gives you some great ideas for your own workspace!
Shop My Favorite Home Office Products
More Home Office Ideas…
8 Ikea Alex Desks You Need to See!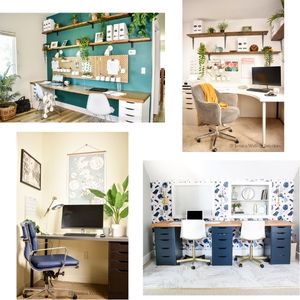 The Best Home Office Gifts for Her On Any Budget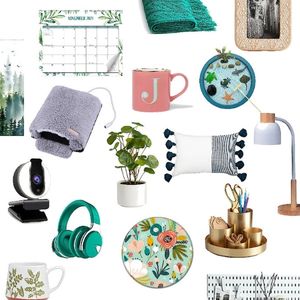 10 Home Office Mistakes to Avoid!