How to Organize A Pantry With Deep Shelves (So You Can Actually Find Things!)
Learn how to organize a pantry with deep shelves so that you can make the most of your food storage space and recover your sanity!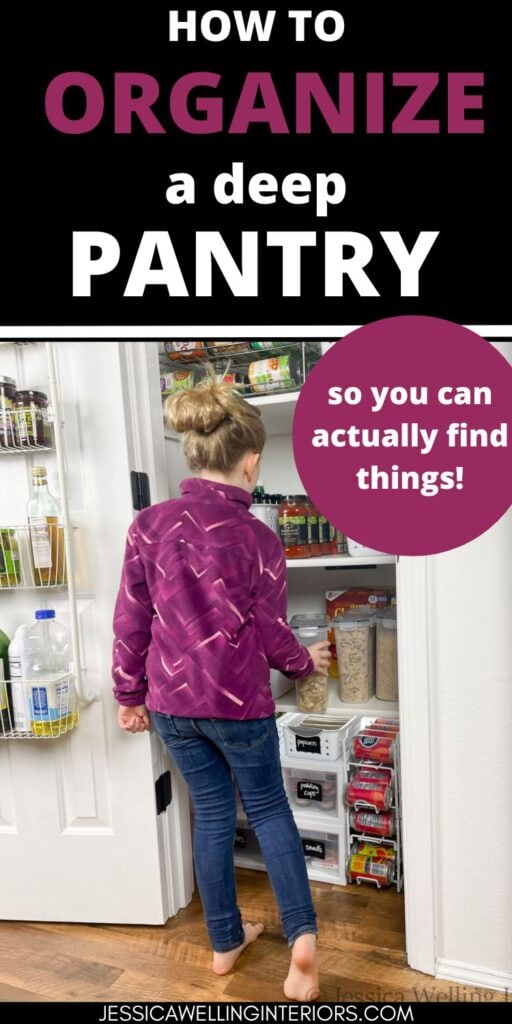 For years I really struggled with keeping my pantry organized. Then I finally got my act together and came up with a system that worked (pretty well) for my messy family. You can see that system here:
A Messy Girl's Guide to an Organized Pantry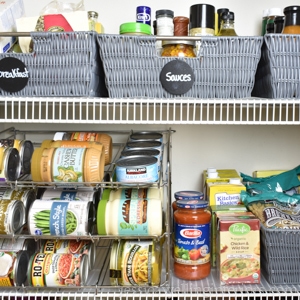 That was great for a few years… and then we moved to a new (to us) house.
The new pantry is a small closet like the old one. But this one is narrower, with deep shelves. I don't like deep pantry shelves because they make it difficult to see things in the back. They tend to breed chaos and that's something I'm always looking for less of in my life! Plus we end up with a ton of food waste.
Here's what it looked like when we moved in two years ago: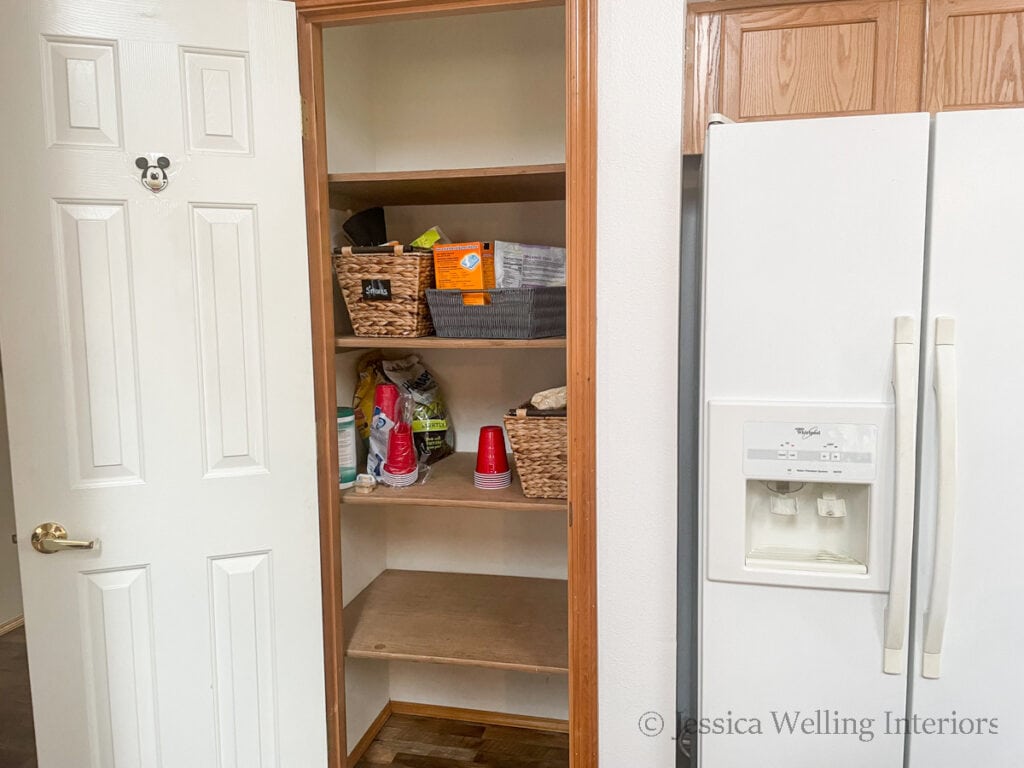 It's hard to see in this photo, but the shelves and walls were pretty grimy. I know my messy self and my messy kids- and I was pretty sure these deep pantry shelves were going to set us up to fail when it came to keeping the food items organized.
So I'm going to show you a few cheap and easy hacks I did to make this space function better for us. Hopefully these ideas will help you too!
Improving a Pantry With Deep Shelves
Paint Everything White
One of the multiple reasons I don't love deep pantry shelves is they tend to be dark- which makes it hard to see things toward the back. So the first thing I did was remove the wood shelves and paint them a nice bright white.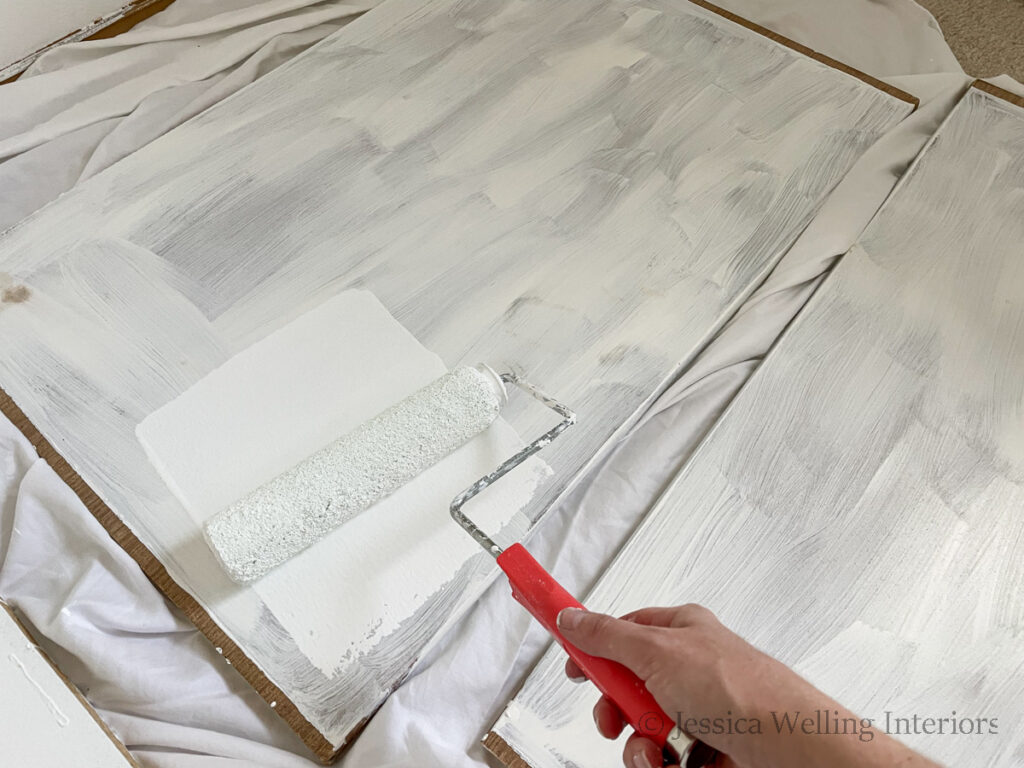 I used Killz primer first because there were a few greasy old stains on the shelves that I knew would bleed through the paint otherwise. Then I rolled on 2 coats of Behr semi-gloss to ensure the surface would be easy to wipe clean.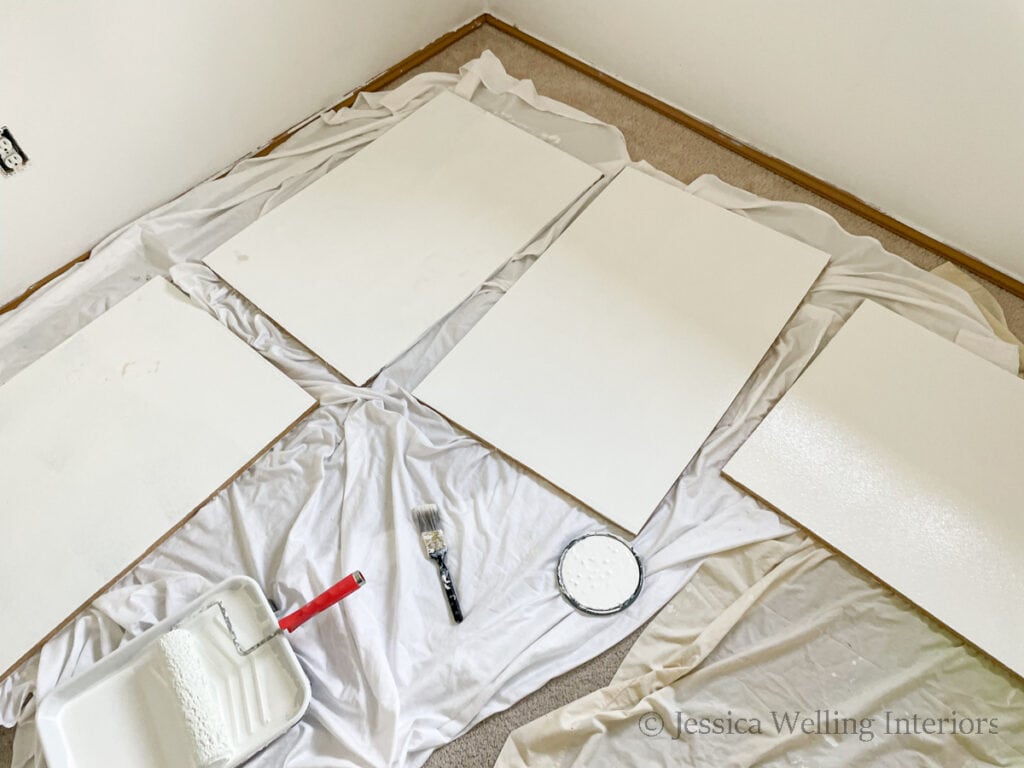 I also painted the pantry walls with a fresh coat of white paint to brighten everything up.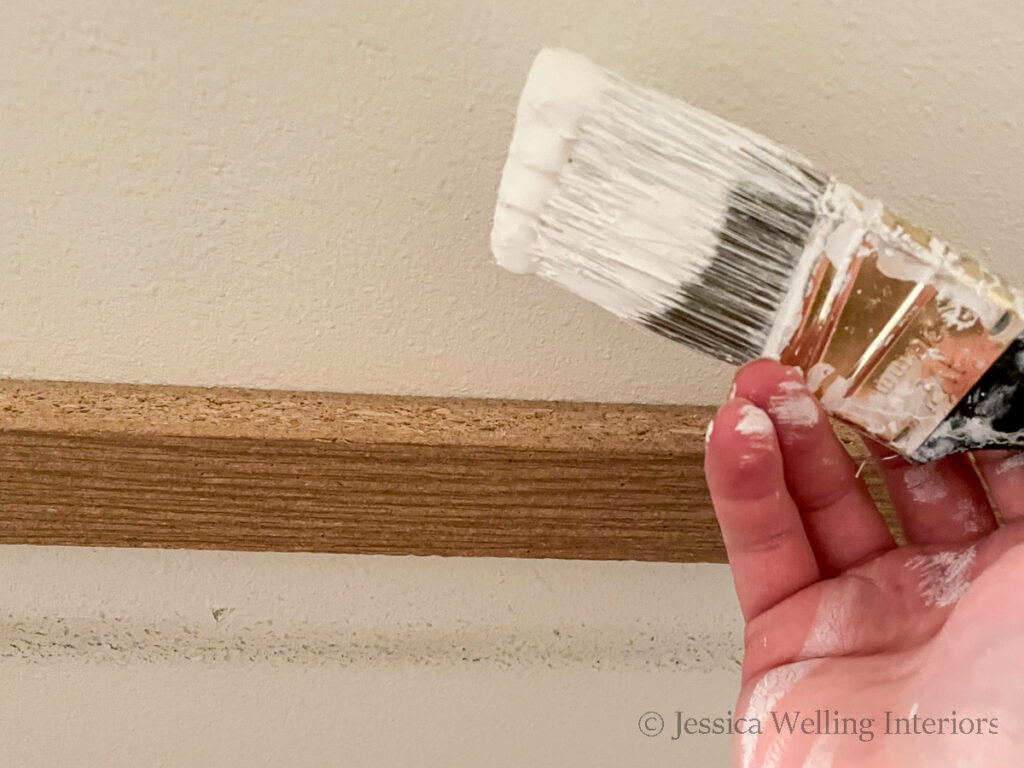 Cut the Shelves Down
Next we cut a few inches off of each of the shelves to make them shallower. I know this may seem counter-intuitive in a small pantry where space is at a premium, but there's a good reason for it, so stick with me.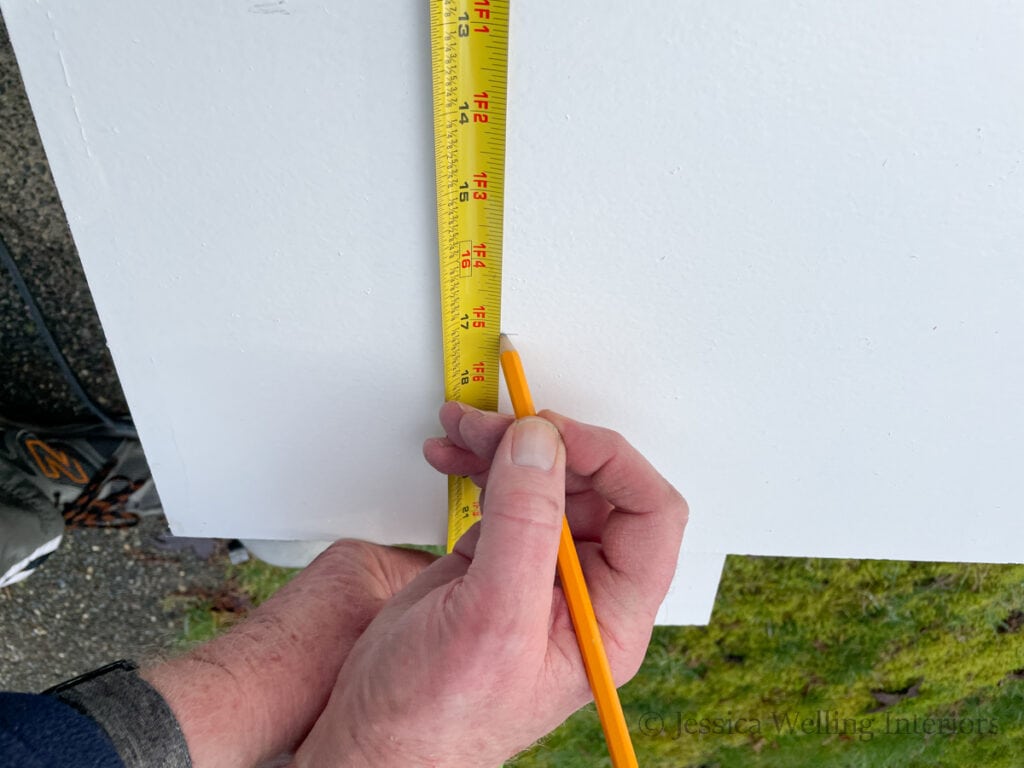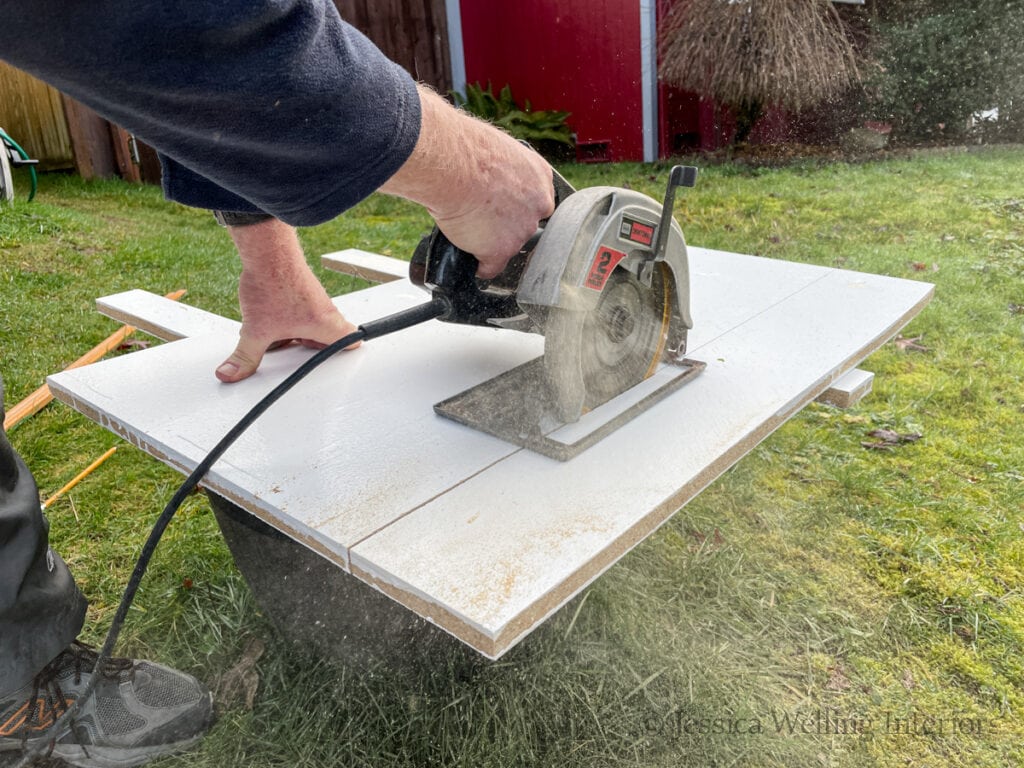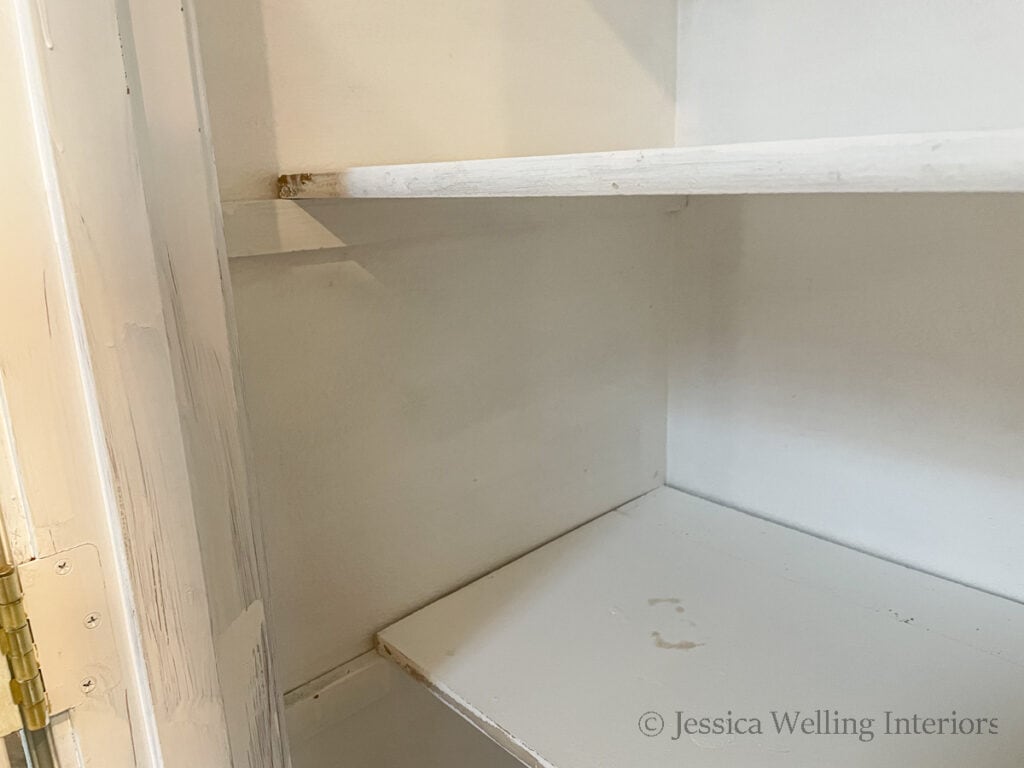 The shallower shelves have three major benefits:
They allow us to see everything
They prevent things from getting lost in the back
They provide space for a back-of-the-door organizer
Add a Pantry Door Organizer
I wanted to spread things out so I could see them, so I ordered a wire basket pantry door organizer from Amazon. It turns out these are NOT all created equal. It would whack against the door every time we opened and closed it, and bottles were always falling out. No good.
It must have really been bothering my boyfriend because he ordered me this one, which is MUCH better. As you can see, the baskets on the door fit right into the space created by the shallower shelves when the pantry door is closed, and the baskets are tall enough that nothing falls out.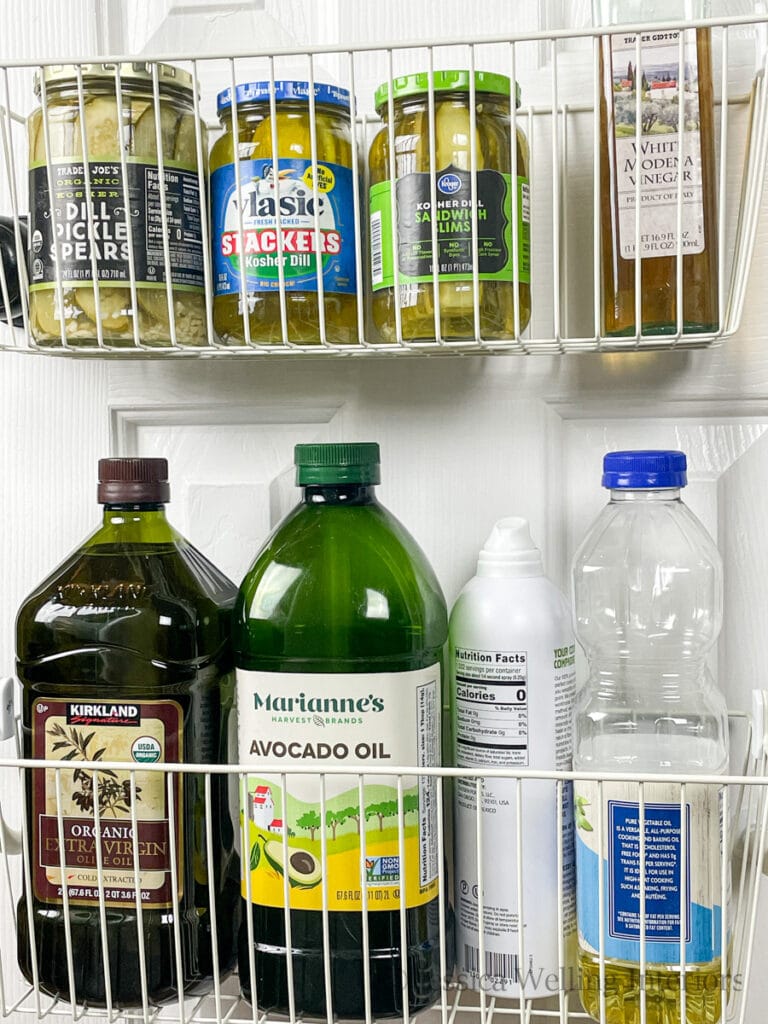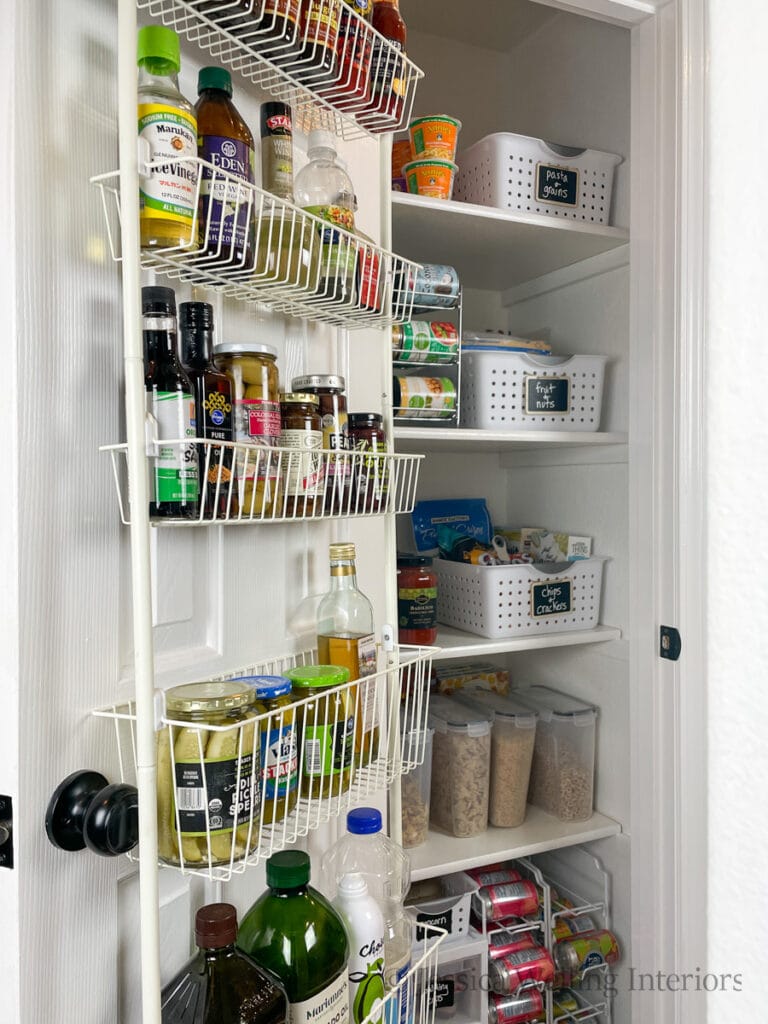 Add Lighting
I got these inexpensive stick-on battery-powered LED lights from Amazon to help light things up even more. They have motion sensors that turn them on whenever the closet door is opened.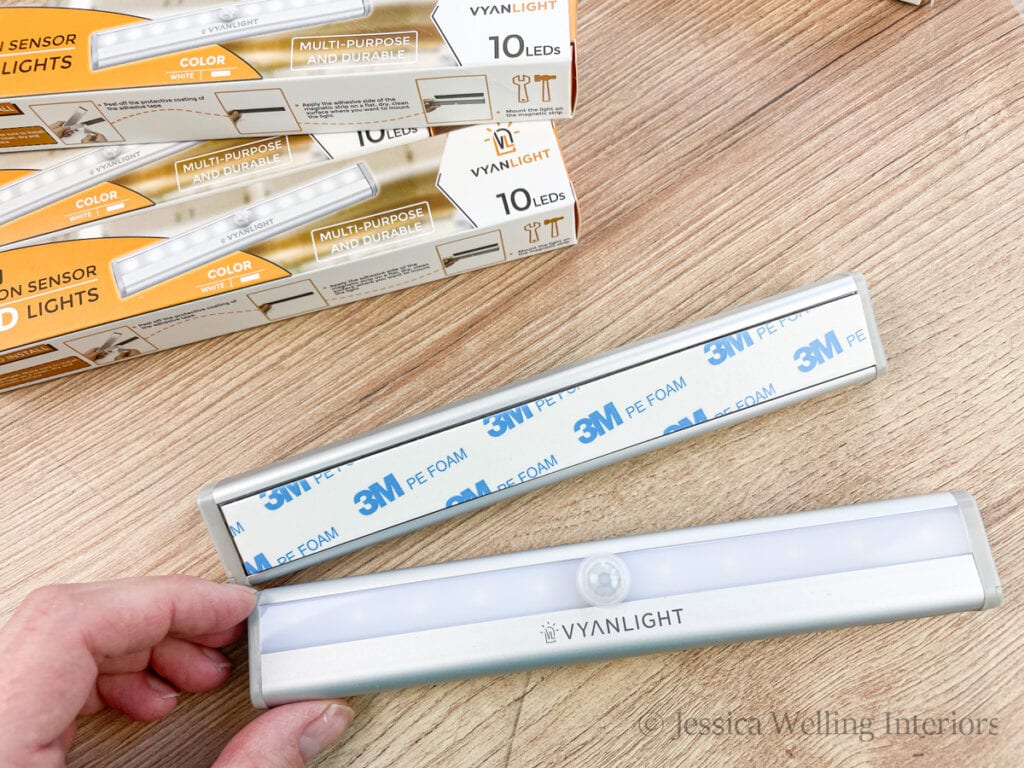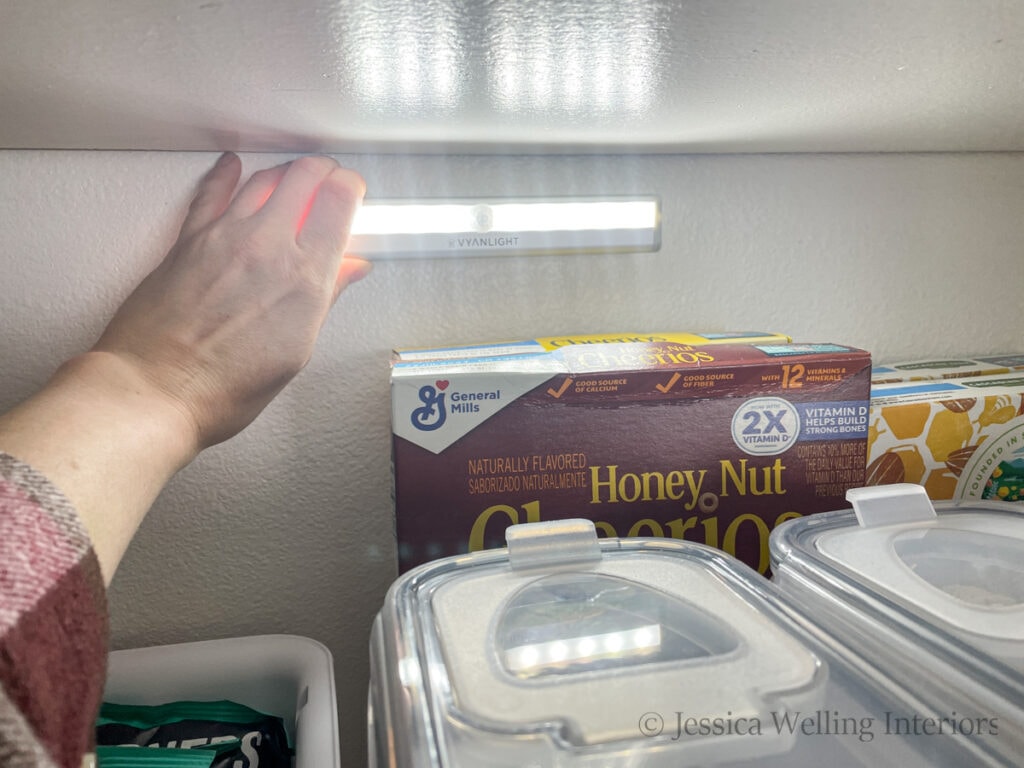 I placed mine at the back of each shelf facing forward to ensure their sensors would catch the door opening and closing.
Each light has a magnetic strip that sticks to the wall. Then the lights stick to the magnet. This makes them easy to remove to change out the batteries.
How to Organize Deep Pantry Shelves
Now for organizing those shelves…
Organizers to Avoid
If you search "pantry organizers" on Amazon (or anywhere else) you're going to come up with all kinds of gimmicky products, containers, and contraptions. A few may be helpful, but what I've found is that we just need a simple system.
I'm not a big fan of lazy susans (except in corner cabinets) or shelf risers because while they might provide easy access to food items, what are the chances the kids will actually put them away perfectly so that nothing falls off the other side?
Finding the Right Pantry Bins
The ideal pantry bins fill as much of the space on the shelves from back to front as possible, and their sides are 4-6 inches high. This makes them tall enough to contain bottles jars, bags, etc., but shallow enough that you can easily see and access what's inside.
I prefer plastic bins or baskets over traditional baskets because it's pretty much inevitable that something is going to spill in there. I think I'm still traumatized from the fish sauce incident of 2014!
It's easy to find shallow bins and baskets, but surprisingly difficult to find ones that are long enough to make optimal use of the shelf space. And when I say, "long" I really mean "deep" but that's going to get confusing. I'm talking about the length from the front of the pantry to the back.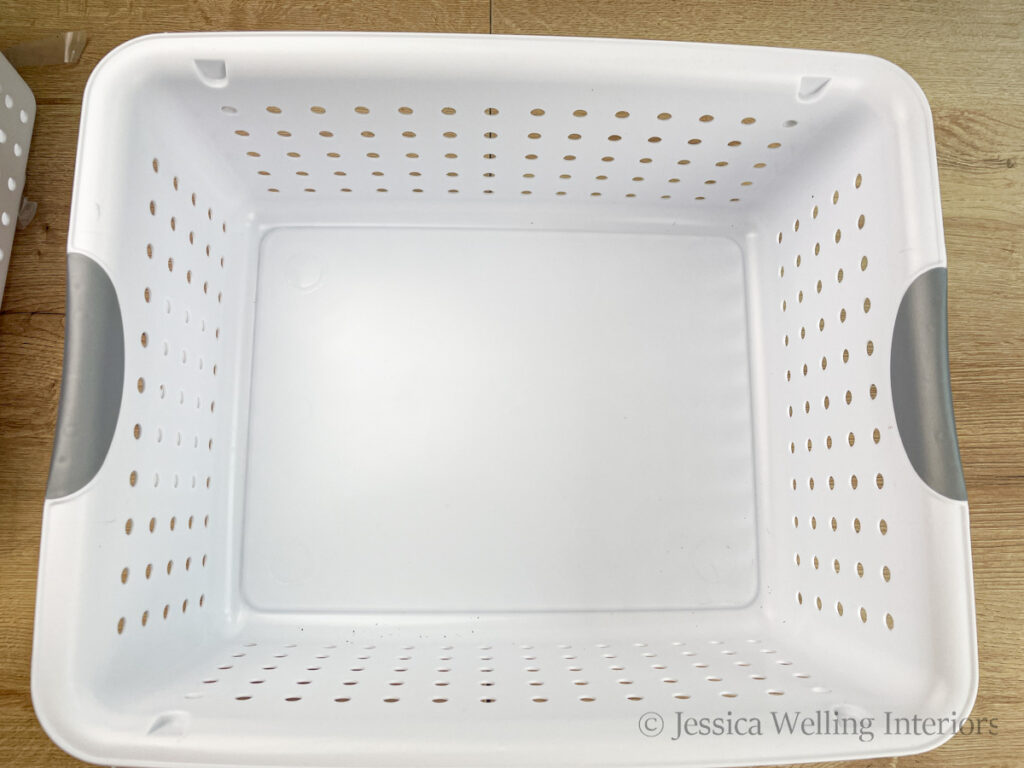 For this project, I'm using these Sterilite Ultra Baskets (large size). I chose these because they're almost 16 inches long, sturdy, and have reinforced handles. Plus I was hoping that white bins would give my pantry a uniform look (to fool people into thinking I'm more organized than I actually am).
Choosing Categories
A pantry is a notoriously difficult space to keep organized since there's always different items coming in and leaving. This makes choosing categories to organize your food a challenge. I recommend picking broad categories. You'll see I have "pasta & grains" and this will hold everything from rice to spaghetti to mac & cheese.
Pantry Labels
Labels are important- especially if you have multiple family members using the pantry.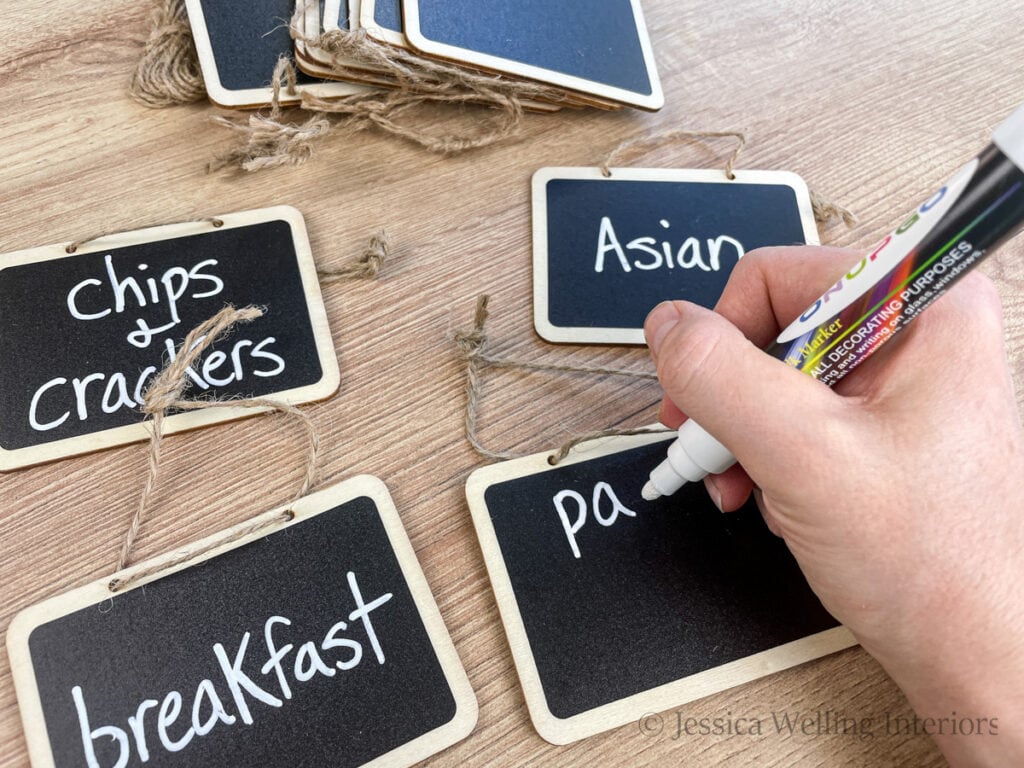 I got these chalkboard signs to hang on the baskets. They came with twine attached and replacement chalkboard stickers so I can replace them if I decide to change up my food categories at some point.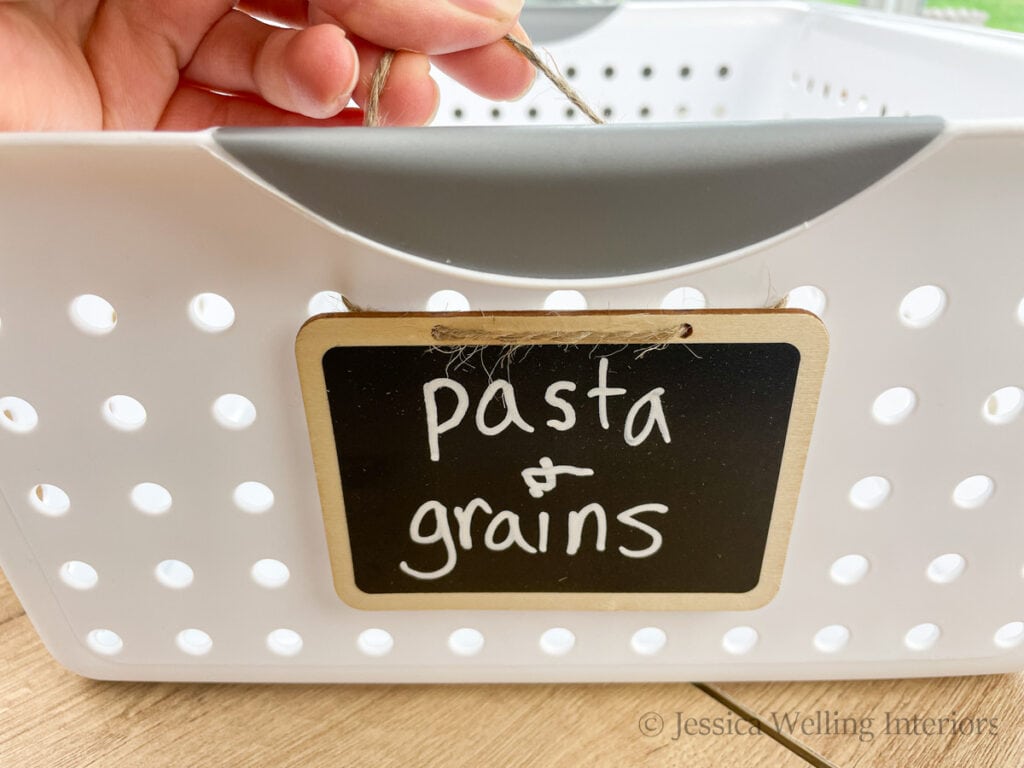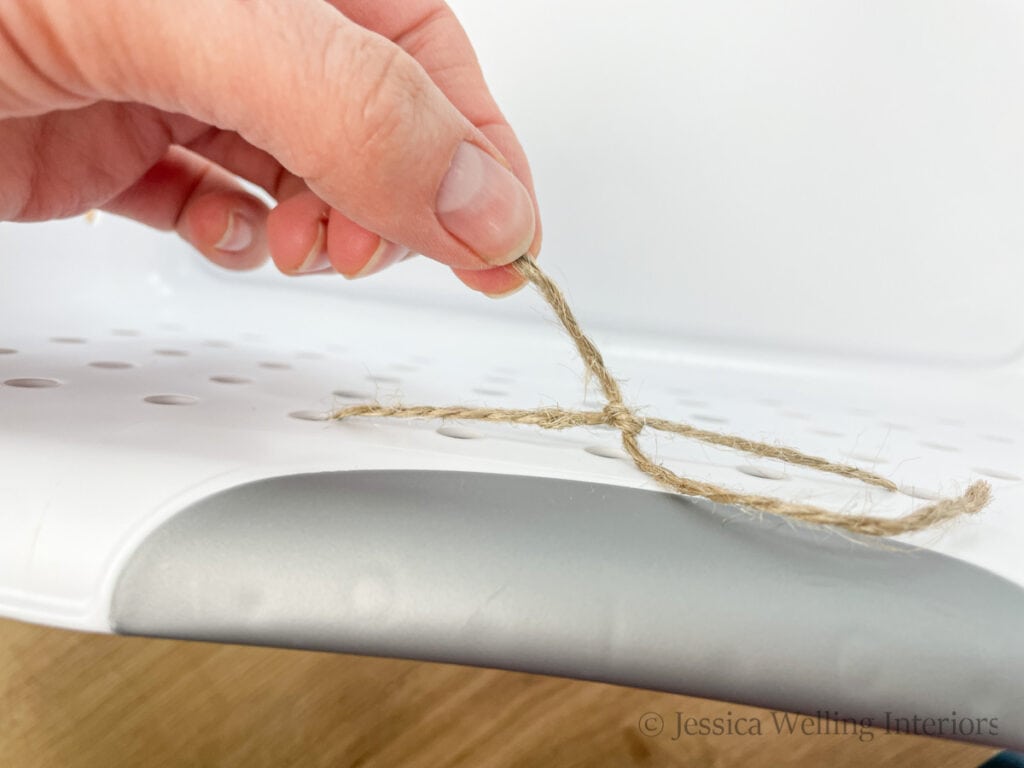 There were a few places where I just needed stickers, so I used these chalkboard sticker labels (which I use all over my house). These are both from the same company, and the chalk marker that comes with them is actually pretty decent. If you prefer, you can use a white paint pen, which will be more permanent.
Can Rack Organizer
I've had this can organizer for several years now and it's still going strong. Plus hundreds of my readers have found it helpful too! It helps to maximize the space and it keeps the cans up and visible instead of buried under a stack of cans. I recently ordered a couple of these for my mom's new pantry as well.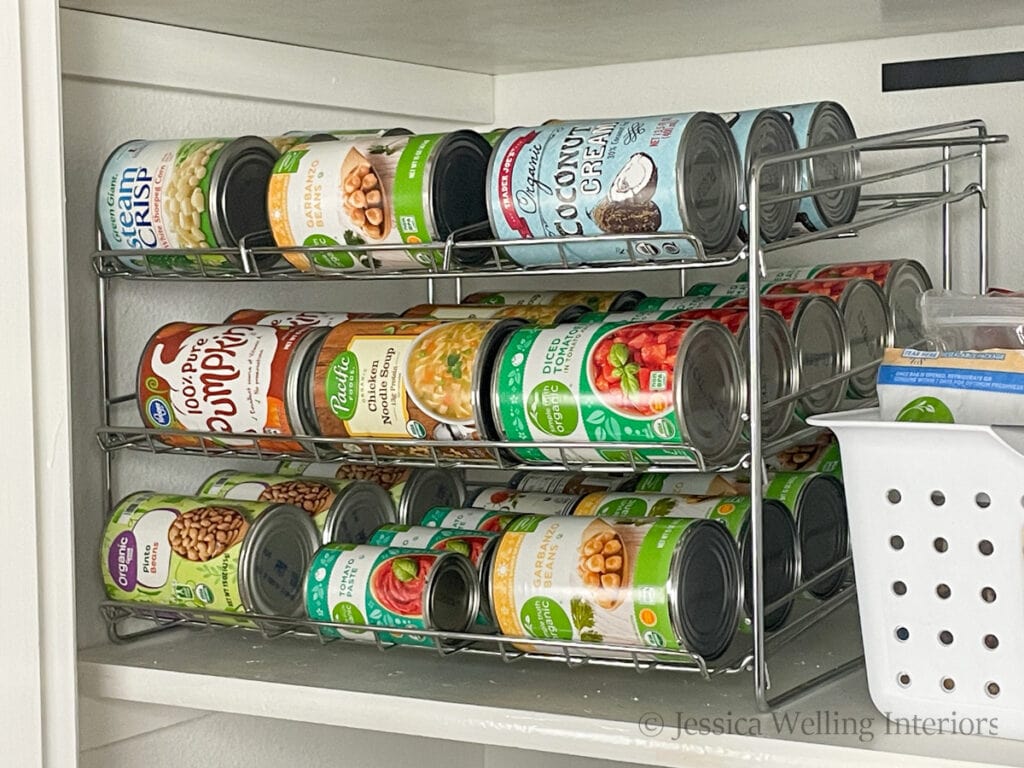 If you're going to place one of these on a shelf, just be sure the shelf can support the weight. These bad boys are heavy once they're loaded with canned food!
Soda Can Racks
We go through A LOT of seltzer water in my household, so I ordered these soda can dispensers to put on the floor. Plus its kind of fun to put the cans into the top and watch them roll down. I don't get out much, okay?
These were actually the second soda can racks I tried. The first ones were not user friendly at all so they went back to Amazon.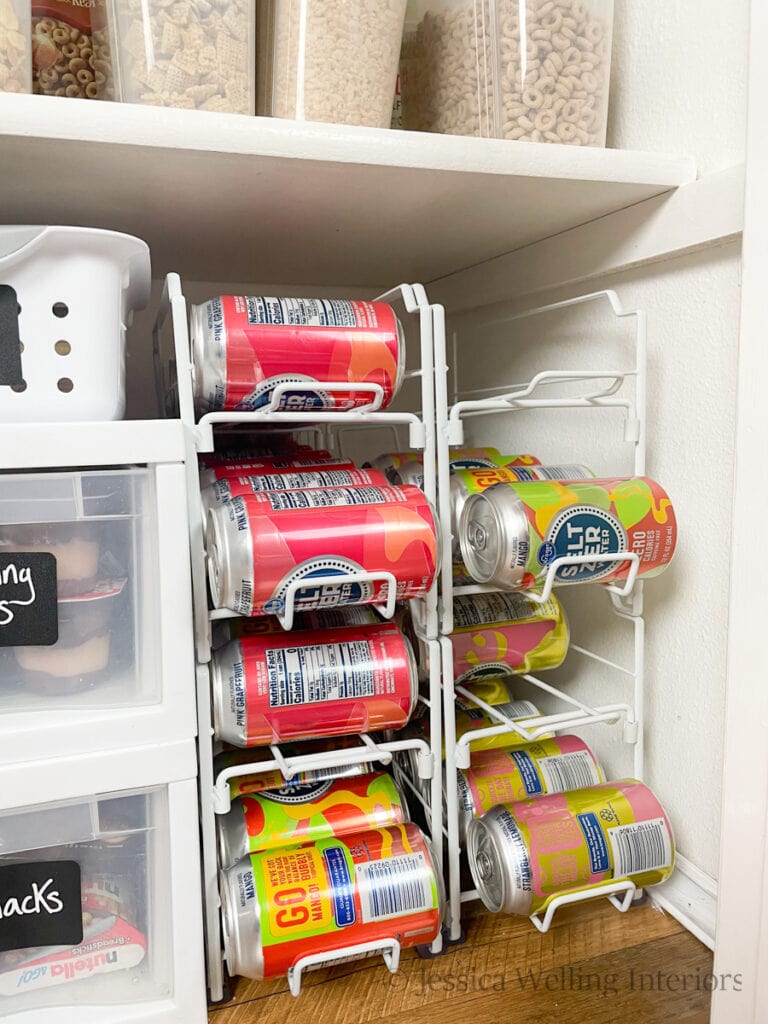 Again, these are heavy when full, which is why mine are on the floor. They should be fine on a shelf, as long as it's well-supported.
Cereal Containers
I'm not gonna lie. I've always never quite understood people who put cereal into containers. After all, they're just more containers that will have to get washed eventually… right?
But after SO MANY BOXES of cereal going stale because the kids didn't close them up, I decided to give the containers a try. So far, so good! But it's only been a week and a half, so I'll come back and update this when they've stood the test of time. These are the inexpensive containers I'm using.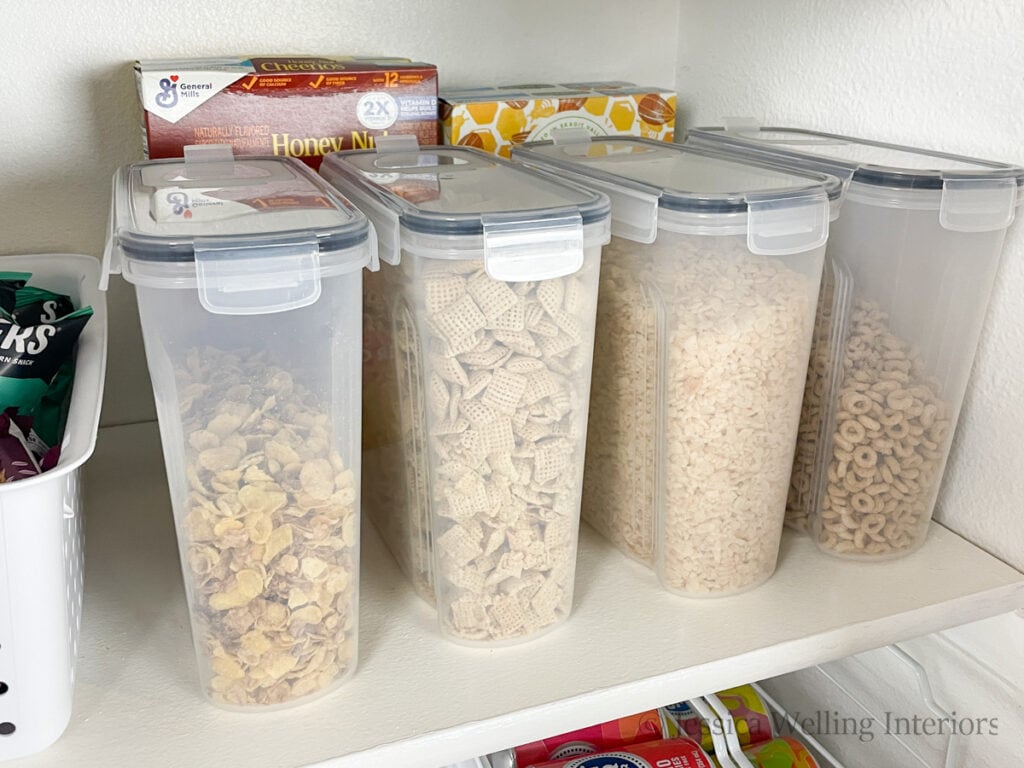 I opted not to label these, since the type of cereal may change, and they're clear so we can see what's inside anyway. And you'll probably notice the cereal boxes behind the containers. I realized that I will always have some cereal that didn't quite fit into the container, so I used the space in the back for these.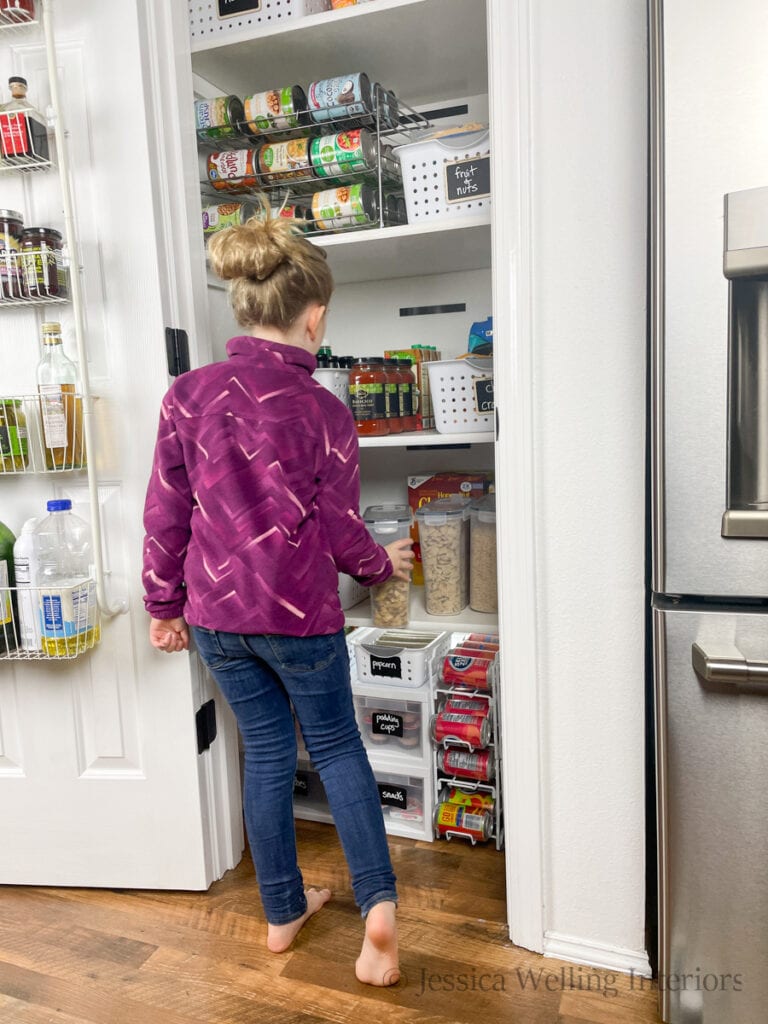 Since the kids are the cereal eaters in this house, I'm putting the containers down low. Now there are no excuses for leaving them out!
This picture just warms my heart… one of my little darlings actually putting something back where it goes! Yes I asked her to model for my photo, but still it feels like a glimmer of hope.
Modular Drawers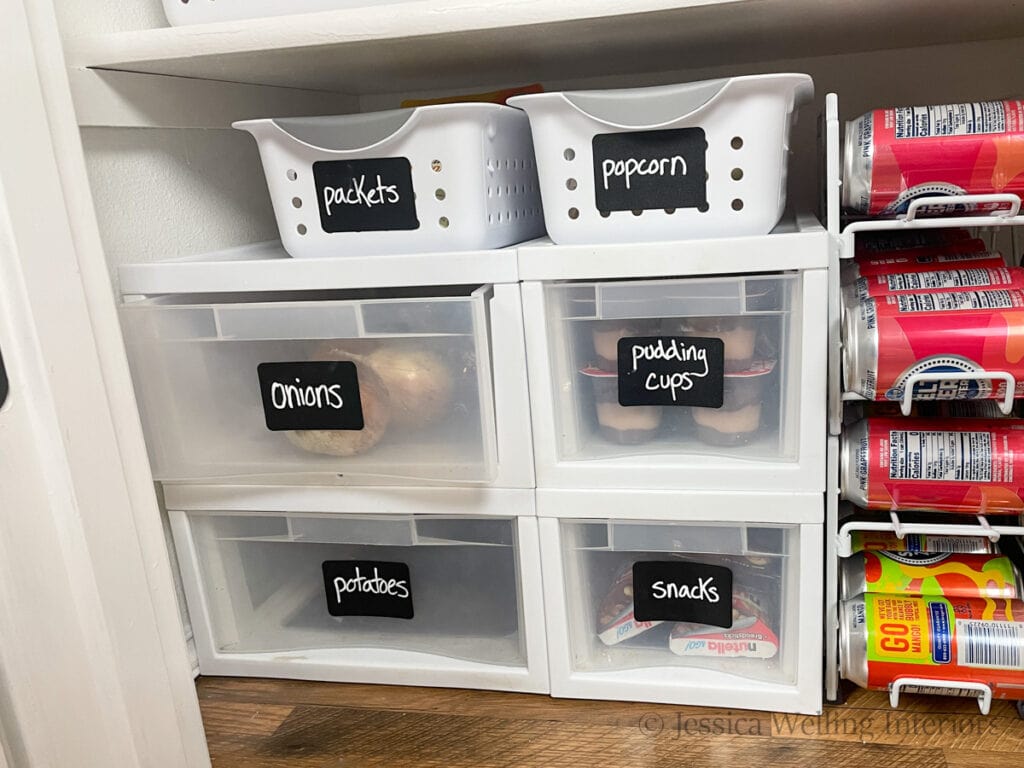 I've had these modular plastic drawers for seven or eight years now and they're still going strong. They've held different things over the years. What I love about them is they're long, so they make use of the space.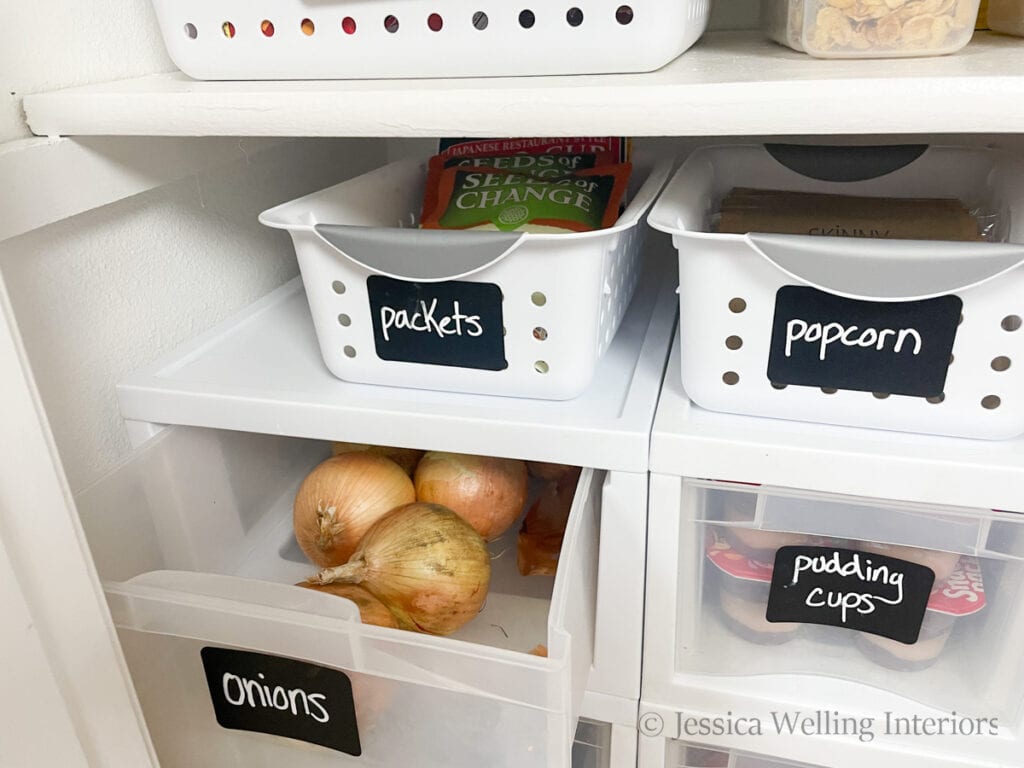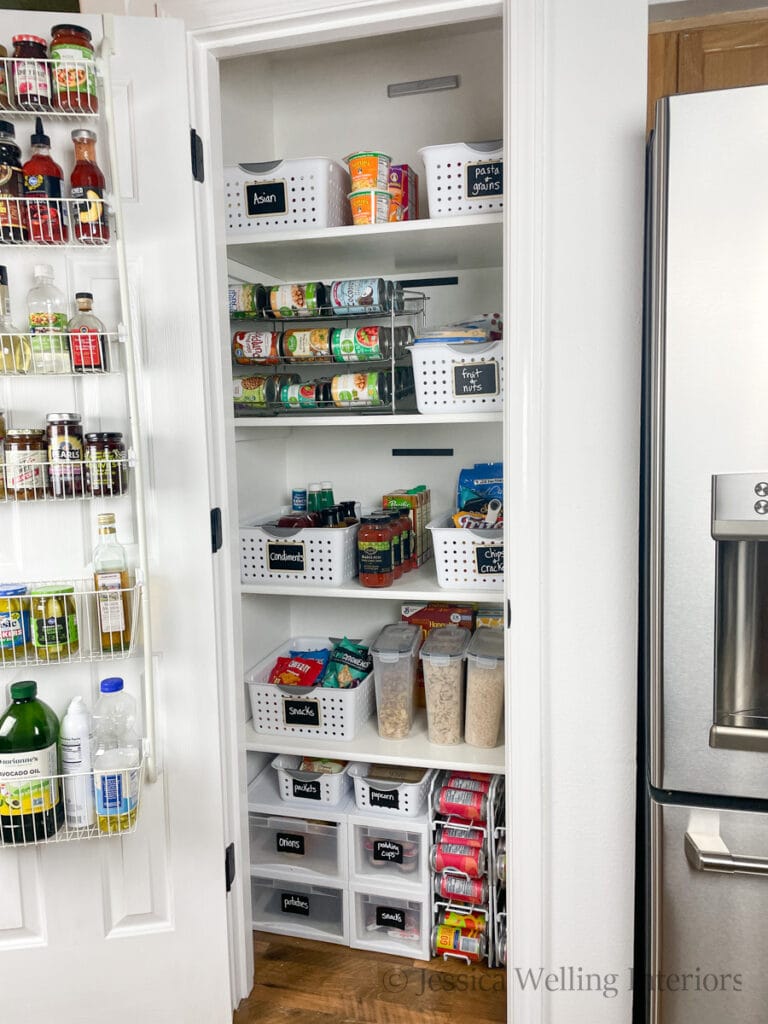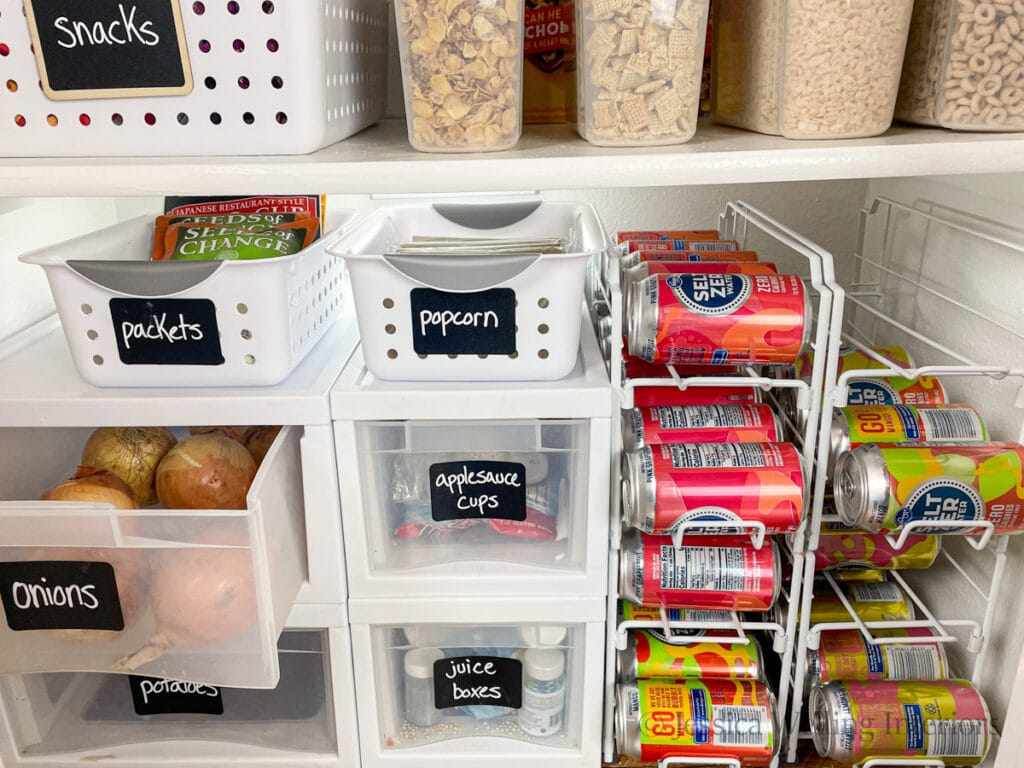 Pantry Products
Here are links to the bins, organizers, labels, and lights I used again all in one place: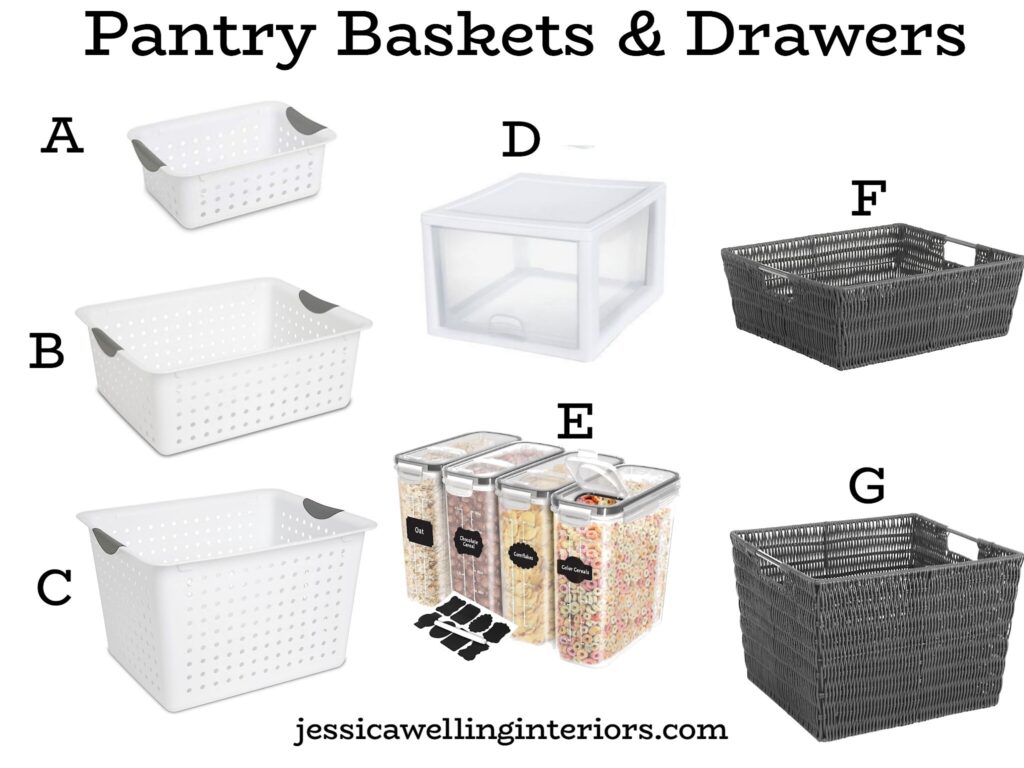 A. Sterilite Small Ultra Baskets, from Amazon
B. Sterilite Large Ultra Baskets, from Amazon
C. Sterilite 10″ Deep Ultra Baskets, from Amazon
D. 27 Quart Stacking Drawer, from Amazon
E. Airtight Cereal Containers, from Amazon
F. Pantry Basket Tote, from Amazon (I used these baskets in this pantry makeover and I actually prefer them to the Sterilite baskets because they're slightly longer, but also pricier)
G. Deep Pantry Basket, from Amazon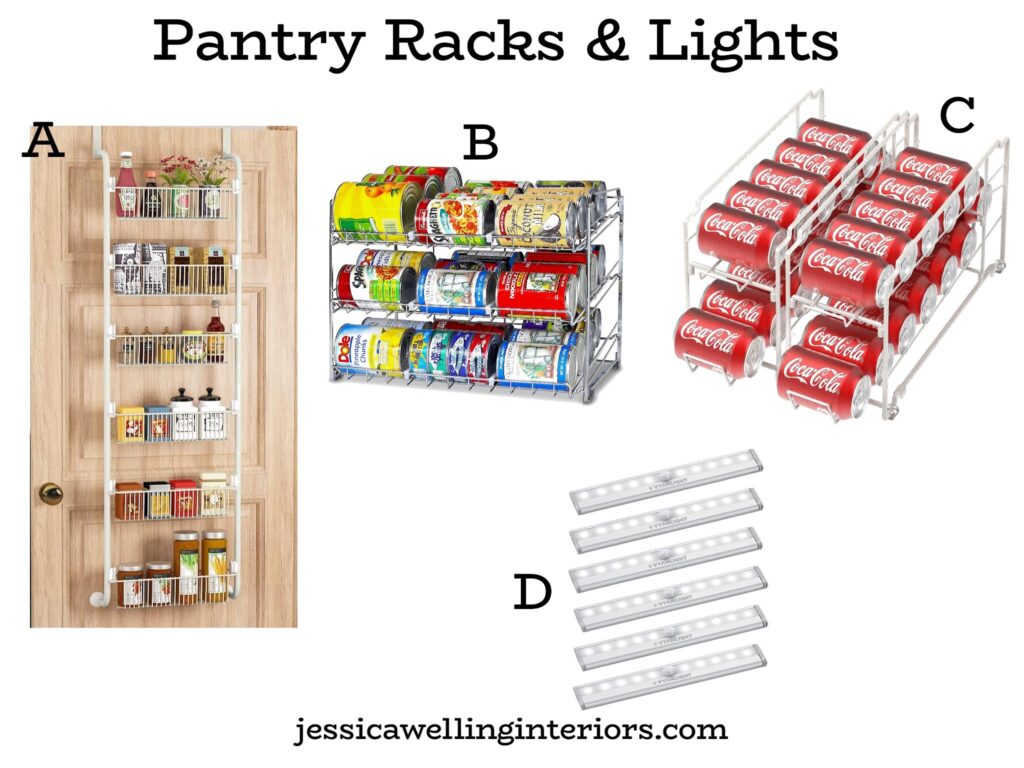 A. 6-Tier Over The Door Pantry Organizer, from Amazon
B. Canned Goods Rack, from Amazon (comes in multiple colors)
C. Stackable Soda Can Dispenser Racks, from Amazon (these also come in different finishes)
D. Peel and Stick Motion Sensor LED Lighting, from Amazon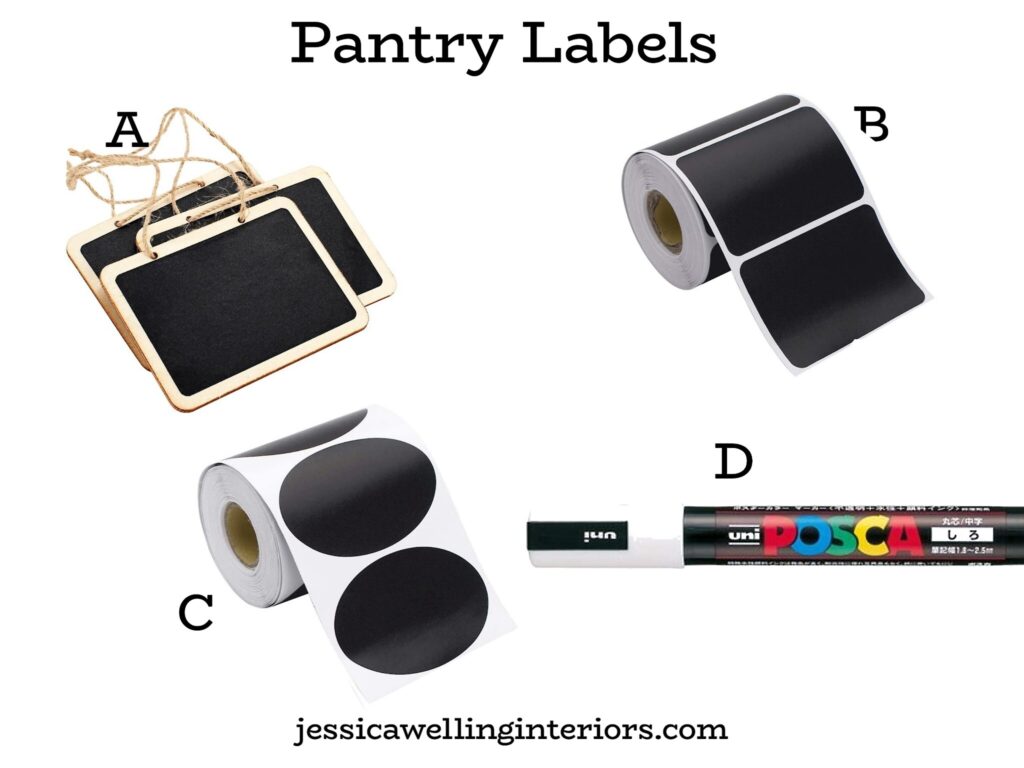 A. 16 Pack Chalkboard Tags, from Amazon
B. Rectangular Chalkboard Sticker Labels, from Amazon
C. Oval Chalkboard Sticker Labels, from Amazon
D. White Paint Pen, from Amazon
I hope this gives you some hope for your own deep pantry!
More Pantry Organization Ideas…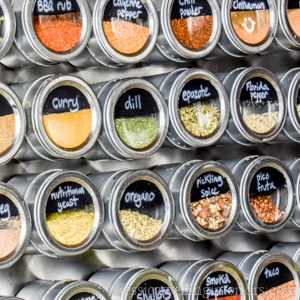 How to Organize Baking Supplies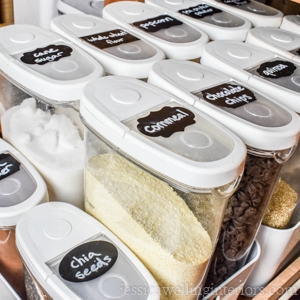 Create a School Lunch Prep Station