30 Inexpensive Black & White Rugs (2024)
An interior designer shares her favorite inexpensive black and white area rugs in modern and Boho styles for every room of your house.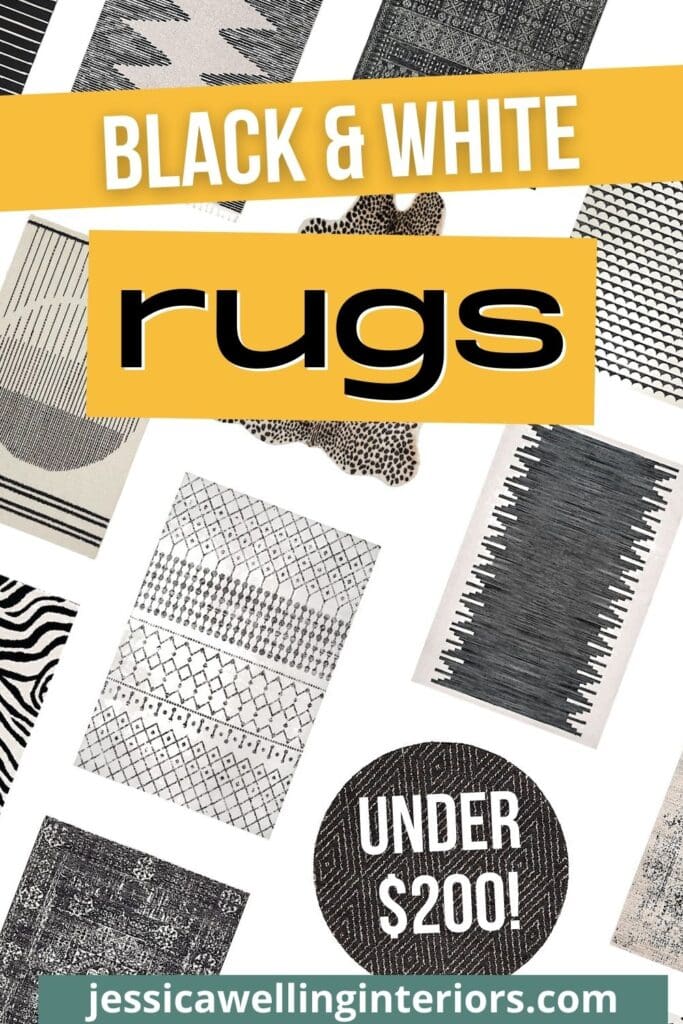 I've always been a sucker for black and white patterns. They're classy but interesting, and never boring. I'm keeping a shoppable list of my favorite inexpensive modern black and white rugs. If you're looking for other neutral rugs, like beige, grey and cream, you'll want to check out this post below:
50 Modern Neutral Rugs Under $200!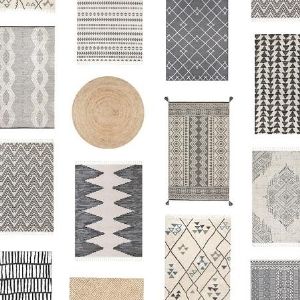 A lot of folks get stuck when it's time to choose an area rug, and they end up either going without a rug altogether or they choose something solid grey or beige. And I completely get it. Mixing colors and patterns is tricky.
When I'm designing a room from scratch, I almost always start with the biggest piece of furniture. So in a living room, this would be the sofa. In the dining room, the table, in a bedroom, the bed, etc.
Next, I choose the smaller furniture items, such as accent chairs, a buffet in the dining room, TV console, dressers, etc.
Once the main furniture is chosen, it's time to find a rug. After that come the decorative accessories like throw pillows, curtains, plants, etc.
If you're not sure which size of rug you need, check out this article:
Standard Rug Sizes: The Right Sized Rug for Every Room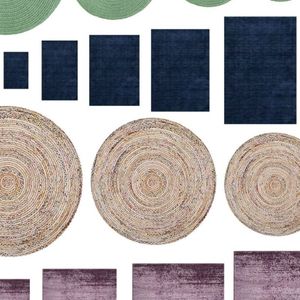 When & Where to Use Bold Patterns
Here's my general framework for mixing and matching patterns in a room. For the sake of simplicity I'll use a living room as an example. The
If you fall in love with a black and white rug with a big, bold pattern, that's great! You'll want to make that the main pattern in the room, and choose curtains, throw pillows, etc. in more muted and smaller patterns to complement it. Notice I didn't say all solid colors- just patterns that aren't quite as eye-popping.
And the reverse is true as well. If you already have bold geometric wallpaper in your living room, you should let that be the main event and choose an area rug with a smaller pattern and less contrast.
Black & White Oriental Rugs
Oriental rugs are gorgeous and have made a huge comeback in recent years, since they pair perfectly with modern Boho home decor. They often feature busy, intricate patterns, but they can be bold or more muted, depending on the amount of contrast in the colors used.
Pros
Aside from being beautiful, oriental rugs have a major benefit for families with kids and pets. Their intricate patterns disguise stains and hide dirt really well! This is
Cons
One hiccup you may run into with Persian rugs is their symmetrical patterns. They often feature a border of some sort and a mandala pattern that expands from the center of the rug.
This symmetry can be a problem if it doesn't line up with other features and furniture in the room. And it can feel a bit "off" to have your coffee table sitting just left of center when you have a pattern like this. But you also don't want to have to place your coffee table out of reach from the couch.
What I'm saying is your oriental rug could get a little bossy and dictate all your other decorating choices. Just something to consider.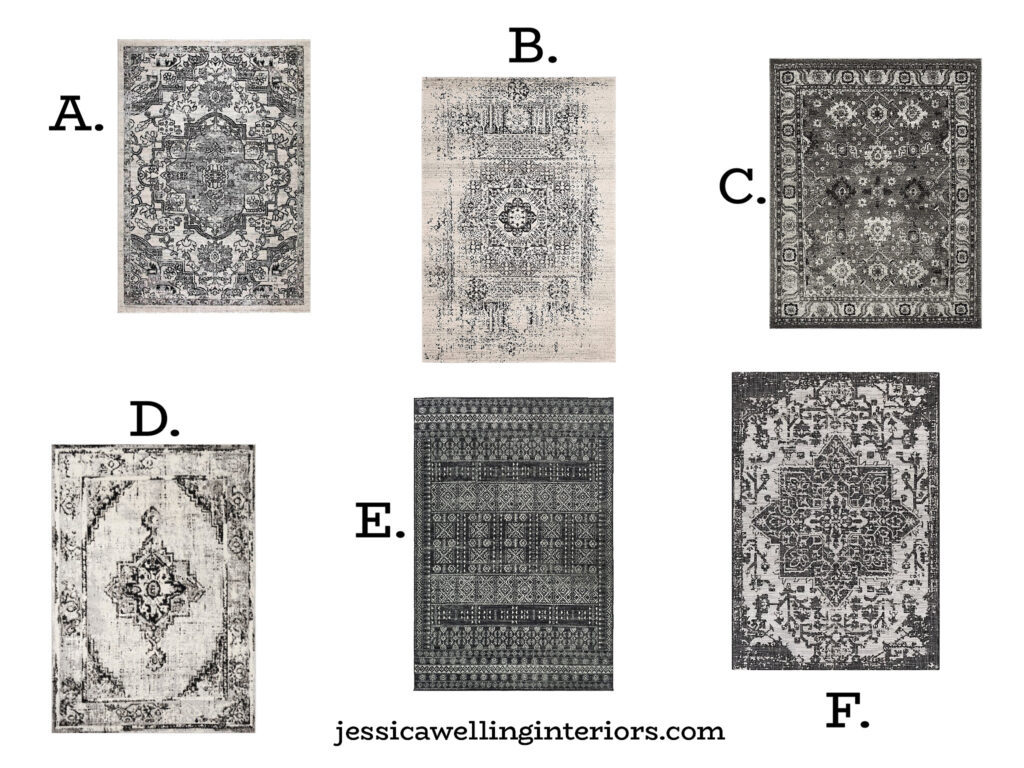 A. Thirsk Oriental Black Area Rug, from Wayfair
B. Safavieh Oriental Rug, from Amazon
C. Safavieh Persian Rug in Grey & Black, from Amazon
D. Greeley Oriental Rug, from Wayfair
E. Elaziz Oriental Black Area Rug, from Wayfair
F. Cheyanna Oriental Rug, from Wayfair
Black & White Striped Rugs
I love black and white striped rugs. As you can see below, I've taken some liberty with the term, "striped," and included some stripe-like Boho patterns too. These modern striped rugs aren't cutesy, so they would be excellent choices for a man cave, home office, or bachelor pad.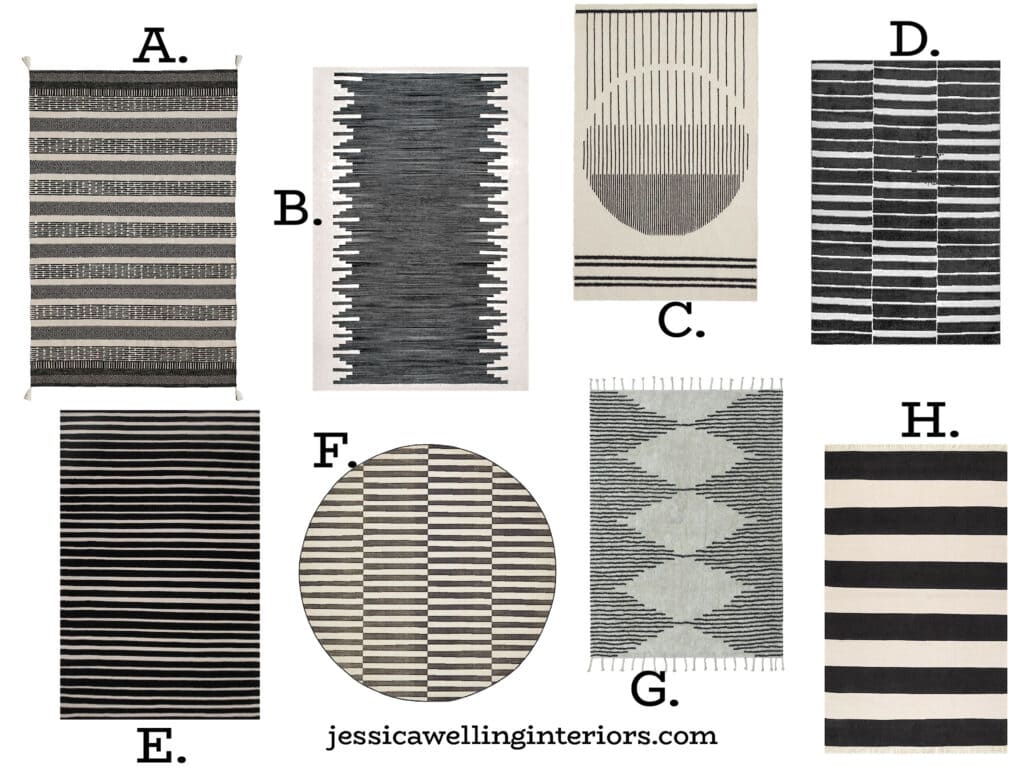 A. Geometric Striped Cotton & Wool Levi Area Rug, from World Market
B. Charcoal Metropolitan Area Rug, from Rugs USA
C. Ivory & Black Geometric Kilim Area Rug, from World Market
D. Gray Accordion Stripes Area Rug, from Rugs USA
E. Black Wool Striped Area Rug, from Rugs USA
F. Round 8′ Geometric Area Rug, from Wayfair
G. Black and Ivory Diamond Moroccan Cotton Shag Area Rug, from World Market
H. Black and White Striped Rug with Tassels, from Rugs USA
Black & White Geometric Rugs
Black & white geometric rugs are a great choice for almost any room, with their bold, modern feel.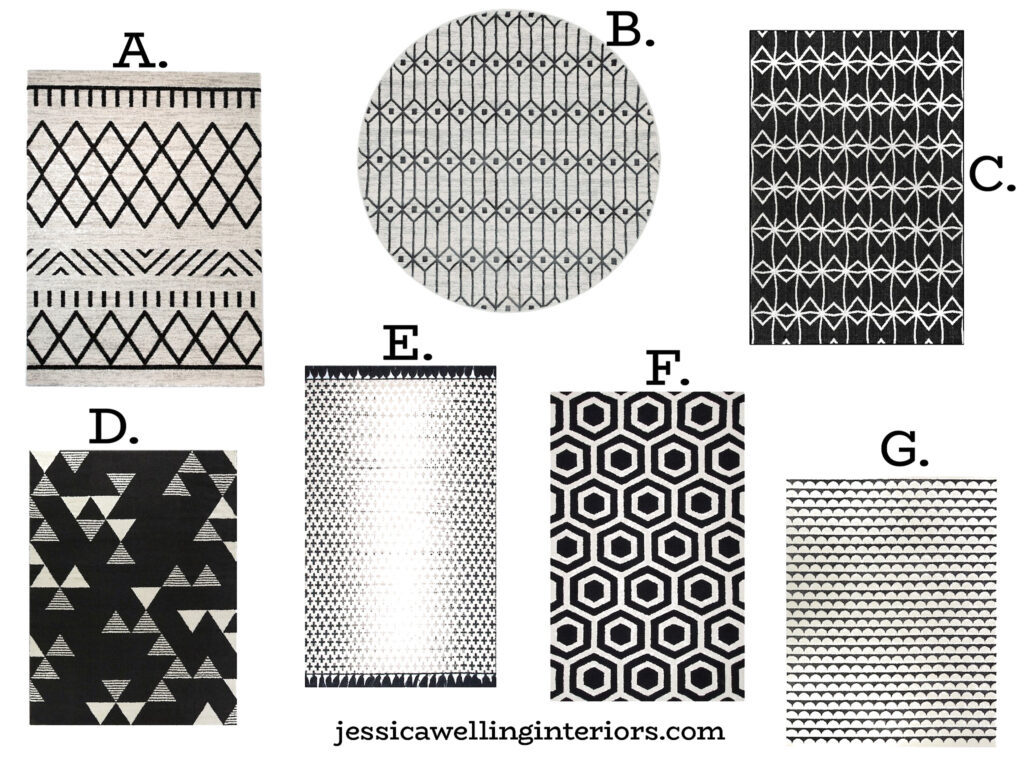 A. Carson Carrington Geometric Area Rug, from Overstock
B. Lattice Trellis Round Rug, from Rugs.com
C. Dark Grey Ivied Trellis Indoor/Outdoor Flatweave Area Rug, from Rugs USA
D. Modern Geometric Rug, from Overstock
E. Ivory Reversible Cross Area Rug, from Rugs USA
F. Palmer Modern Scale Area Rug, from Overstock
Black & White Tribal Rugs
The black and white tribal rugs below will give you all the benefits of a rug with a consistent allover pattern, while still being interesting and cool.
And most of them are what I would call, "medium-bold". They have distinctive patterns, but aren't in-your-face. And their patterns are a bit softer than the bold geometric patterns above. If you're in doubt about which style of rug to choose, one of these tribal patterns will be a safe win.
I actually have D in a grey and white version in my own living room, and it's great!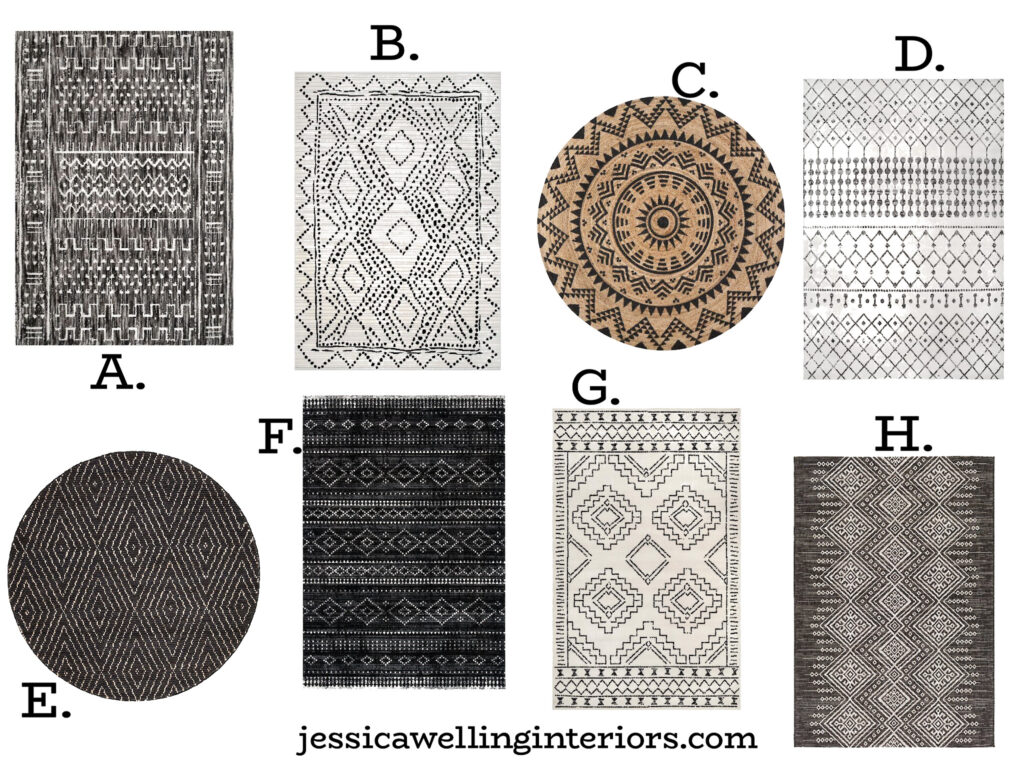 A. Gray Geometric Etched Area Rug, from Rugs USA
B. Gray Dotted Diamond Trellis Area Rug, from Rugs USA
C. Round Natural and Black Jute Cortez Area Rug, from World Market
D. NuLoom Boho Zola Geometric Moroccan Area Rug, from Target
E. Handmade Bohemian Gillie Boho Jute Rug, from Overstock
F. Ragnar Southwestern Gray & Black Indoor/Outdoor Area Rug, from Wayfair
G. NuLoom Noa Tribal Area Rug, from Walmart
H. The Curated Noman Global Bohemian Area Rug, from Overstock
Black & White Animal Print Rugs
Faux animal print rugs are fun and exotic. Plus their allover patterns will make them easy to work with when it comes time to arrange your living room furniture. I'm really excited to see this trend coming back, and you'll probably see one of these show up in my house soon! Bring on the stripes and spots!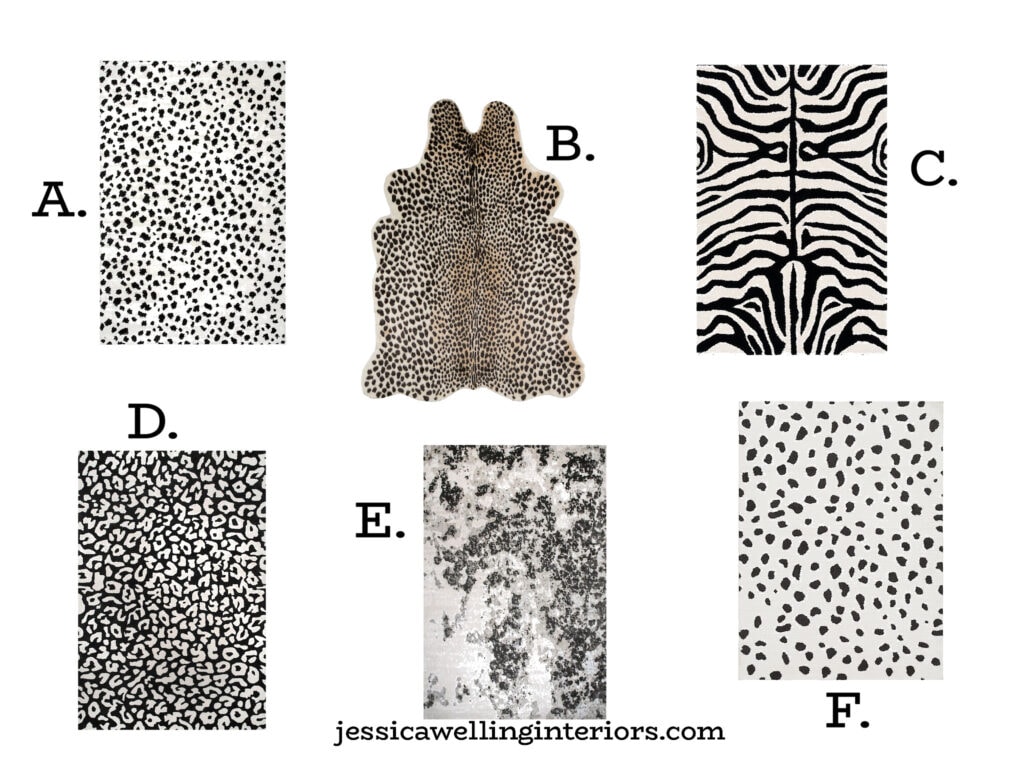 A. NuLoom Brooks Leopard Print Area Rug, from Target
B. Acadia Animal Print Faux Cowhide Black & White Rug, from Wayfair
C. Safavieh Handmade Zebra Wool Rug, from Overstock
D. Black Josephine Wool Leopard Print Area Rug, from Rugs USA
E. Gray Moonlight Abstract Rug, from Rugs USA
F. Tommen Spotted Black & White Rug, from Wayfair
More Modern Rugs…
Living Room Rug Placement: The Ultimate Guide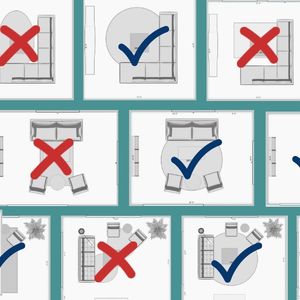 50 Neutral Modern Rugs Under $200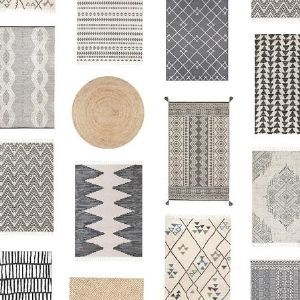 Complete Guide to Plastic Outdoor Rugs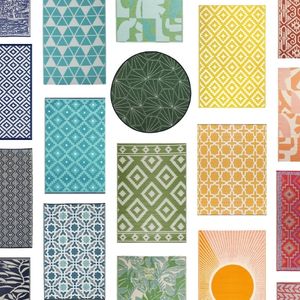 Boho Rugs Under $200 In Every Color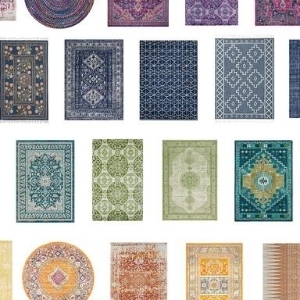 70 Outdoor Rugs Under $150: Colorful, Modern & Stylish