Girls' Room Ideas: Boho Bedroom Reveal
This shared girls' bedroom gets a stylish Boho makeover with Ikea bunk beds, DIY floating desks, a window seat, and a fun accent wall.
The long-awaited girls' bedroom makeover is finally finished! I know it's been a long time coming. And the reason it's finally finished? We're moving! Nothing like getting the house ready to sell to light a fire under me!
We had so much fun designing and creating this room together. Of course there were some strong little opinions that needed to be taken into consideration.
Before
This was before. I did love their room, but they weren't feeling the pink anymore. And I jump at any chance for a room makeover.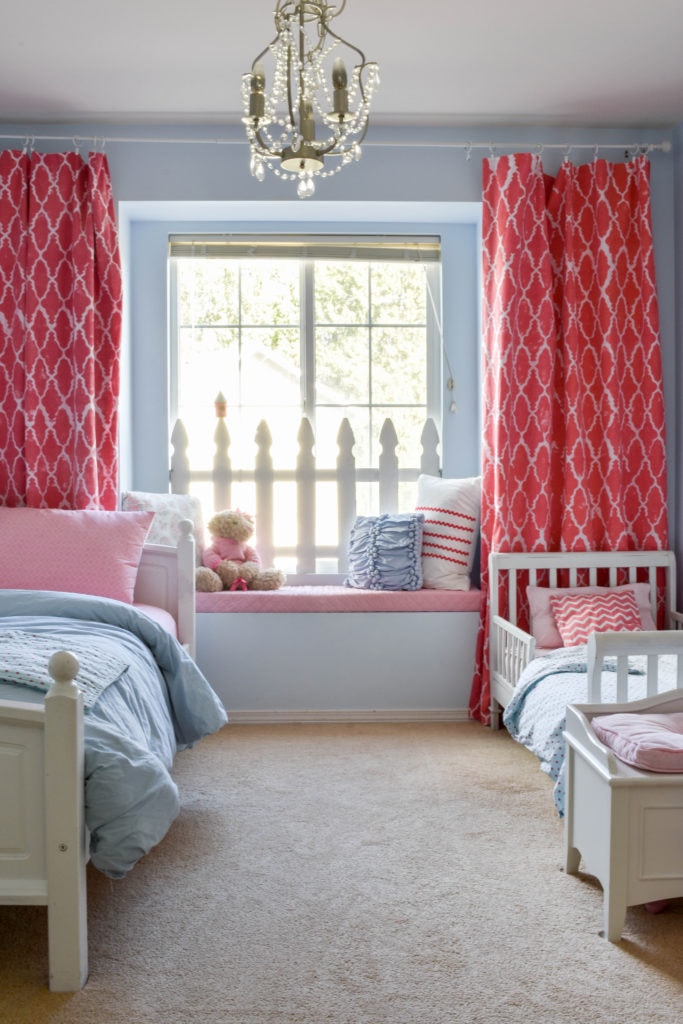 Paint Color
I started by painting the walls Polar Bear (Behr). This is one of my favorite white paint colors because it's fairly clean and bright and has just a touch of warmth, but not too much yellow.
Faux Wallpaper
And since we couldn't all agree on wallpaper for the accent wall, we decided to draw a pattern on the wall with Sharpies instead. We got both flowers and alpacas in there to make everyone happy. You can see the tutorial here. And the girls even got to help!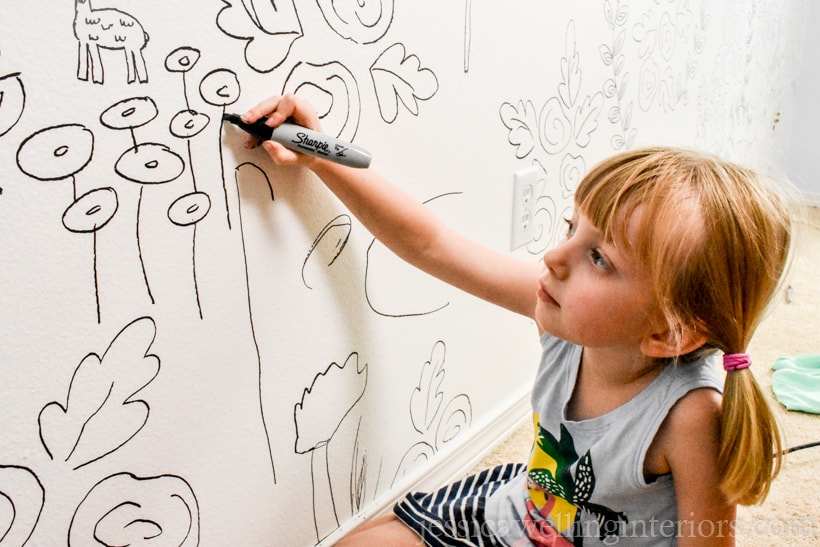 Ikea Bunk Beds
I love to use Ikea bunk beds because they're inexpensive and have clean lines. We used the same MYDAL bunk beds in the beach house bunk room and love them there too.
For the girls' bunk beds, I wanted to keep the original pine light wood tone, but I did finish them with a coat of satin polyurethane after they were assembled to protect the wood and make it easier to wipe down when stuff happens. This is especially important on the ladder, since that can get dingy.
Twin Bunk Bed Mattresses
I've now tried 5 different inexpensive bed-in-a-box-style twin mattresses for various projects.
The ideal mattress thickness for a top bunk is 5-6 inches. If the mattress is too thick, it will make the top bunk railings ineffective at keeping a kiddo from falling out of bed. And since E sleeps like a drunk octopus, this is important!
After much trial and error, my favorite twin bunk bed mattresses are these 6″ Aveline memory foam ones. They're medium firmness, robust enough to be played on, and fit perfectly into the bunks.
Have you ever tried getting a bed-in-a-box foam mattress back into the box to return it after it's been expanded? Well I have… and I suggest you try to avoid this if you can! It required 3 adults and one dog, A LOT of duct tape, and a bigger box than the one the mattress originally shipped in.
Ikea Under Bed Storage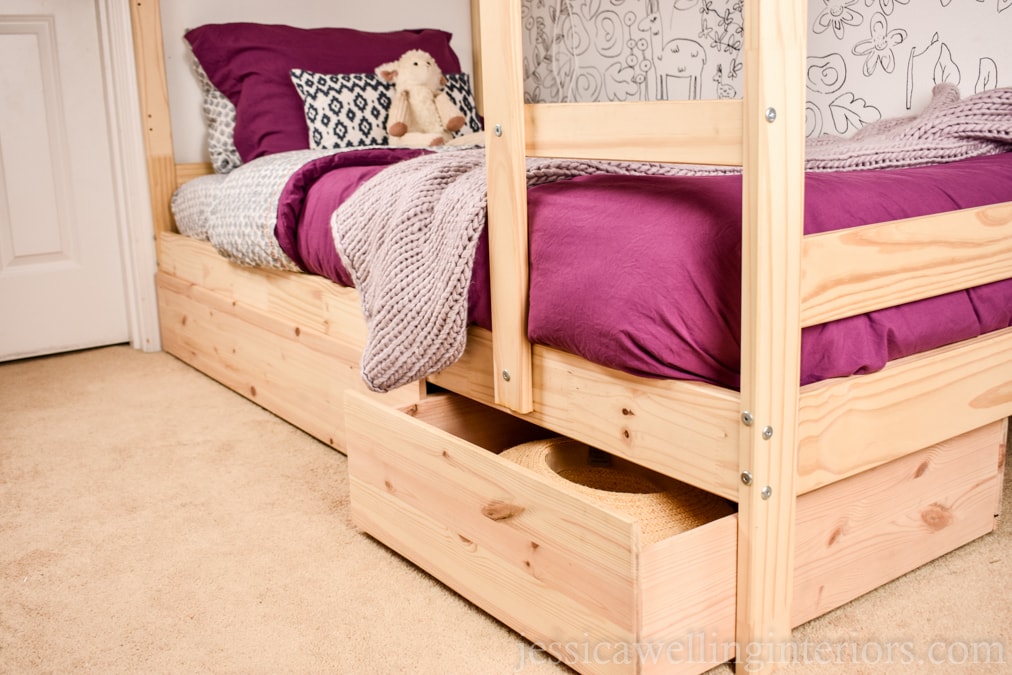 Anyone with kids knows that the dark space under their beds can be a frightening place where stinky socks, 2-year-overdue library books, and contraband candy wrappers go to die. I wanted to make use of the space under the bunk beds. And more importantly, I wanted to make sure no one could shove junk under there.
These under bed storage drawers aren't specifically made to go with the MYDAL bunk beds. They're actually designed to go with the HEMNES twin beds. They didn't come in a finish to match the bunks either, so I sanded the finish off to match the pine.
The drawers are the perfect place to stow princess dresses and fairy wings.
Boho Bedding
I found these inexpensive purple duvet covers on Amazon and these navy printed sheets at Target. And my all-time favorite embroidered navy blue and white lumbar throw pillow covers (also from Amazon).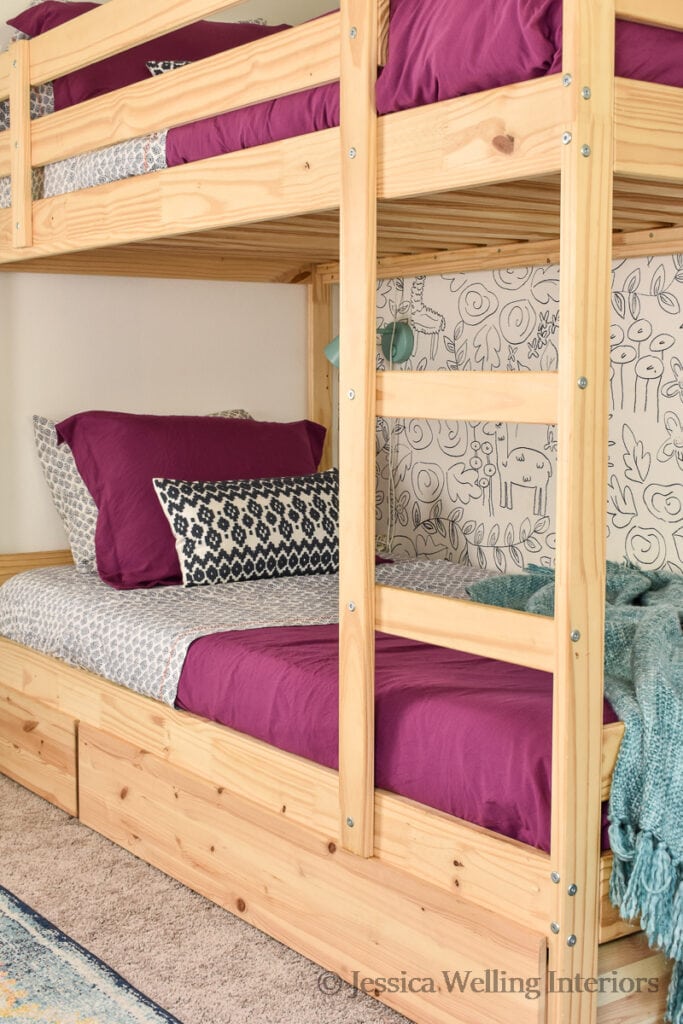 DIY Floating Desks
The girls had their hearts set on each having their own desk. I wanted something that could grow with them as they got older. So I built these ultra-simple wall-mounted floating desks. They're mounted to the wall with brackets, and they can be adjusted as the kids grow.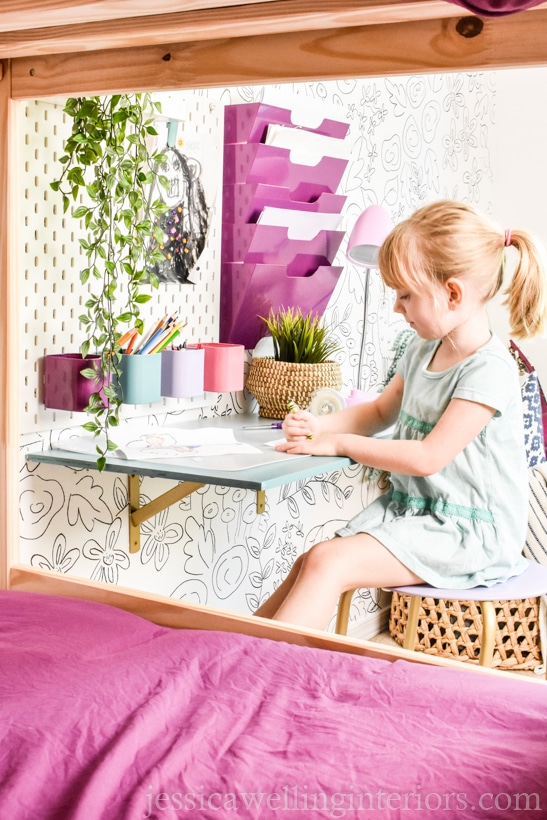 DIY Upholstered Window Seat
The window has a small ledge. Not really big enough for an adult to sit on, but it's perfect for a kid-sized window seat. I made this easy window seat cushion to fit in the nook.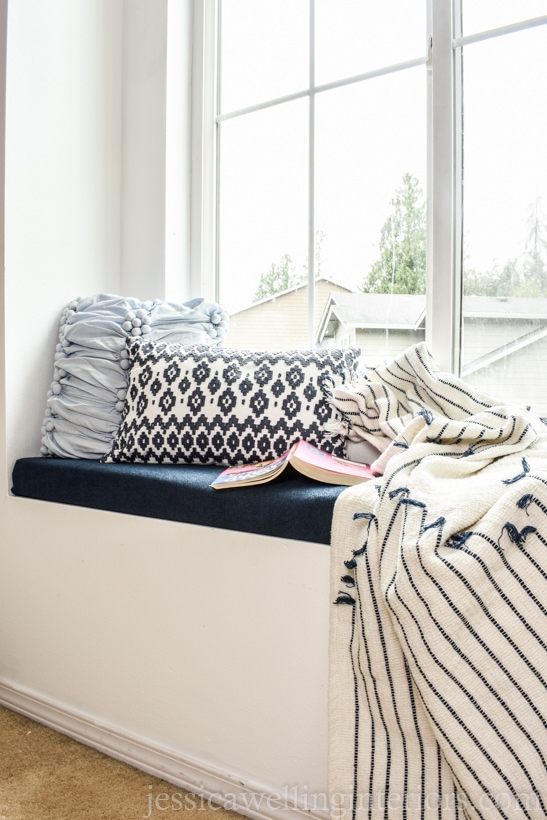 Rug
I was shocked to find this really nice Boho rug at GoodWill for $20! Here are my favorite inexpensive colorful modern rugs available online (sorry not quite $20 inexpensive, but still good deals). And this post has all my favorite neutral rugs.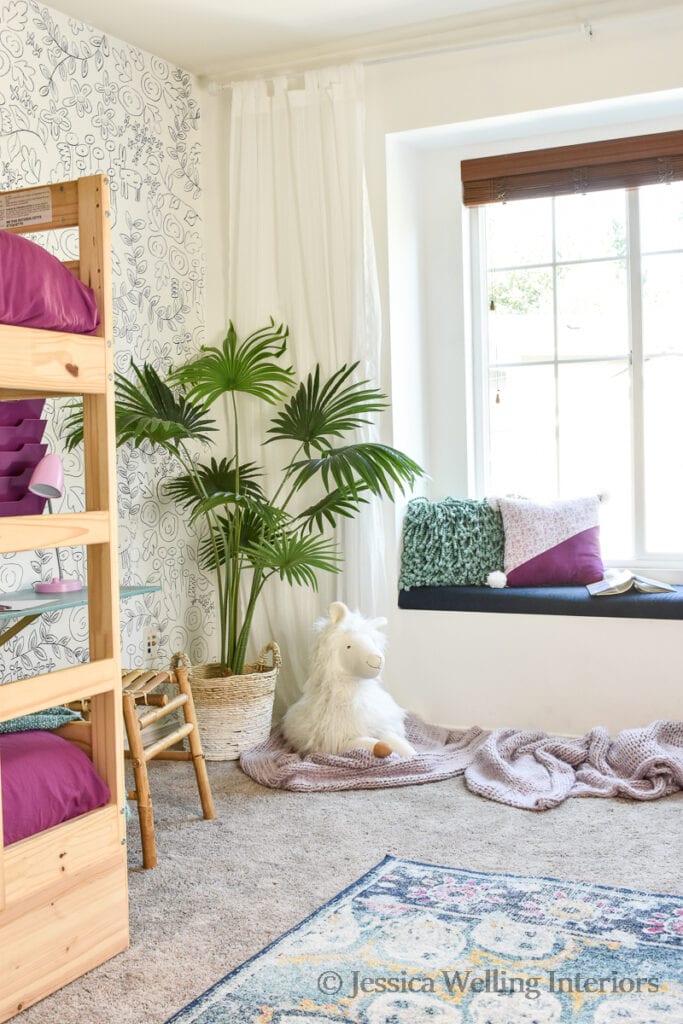 Wall Hooks
I've become a bit obsessive over wall hooks lately. I actually just built 8 coat racks for the entryway and several other rooms in the house because I'm just tired of things being left on the floor! These are actually Ikea wall hooks that I spray painted for the girls' room.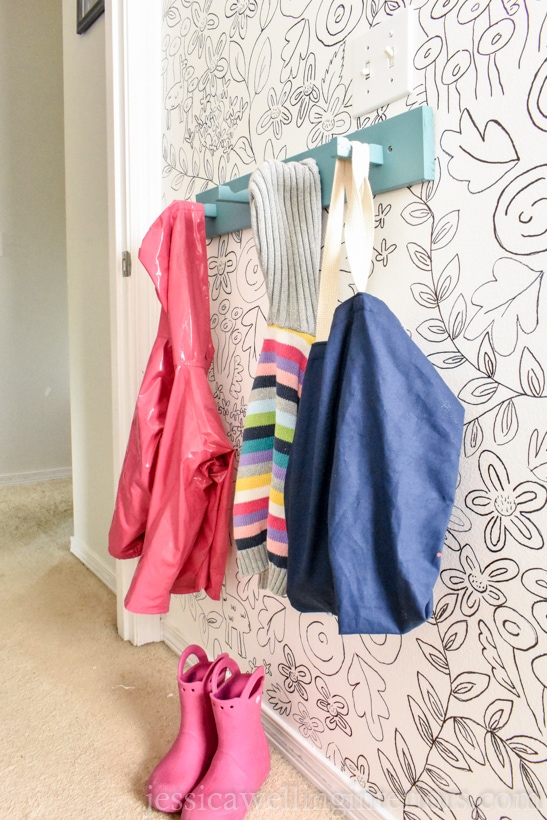 The Finished Room
And here's the finished room! We're definitely a bit sad to leave it… but the girls and I are already dreaming up plans for their new bedrooms at our new house!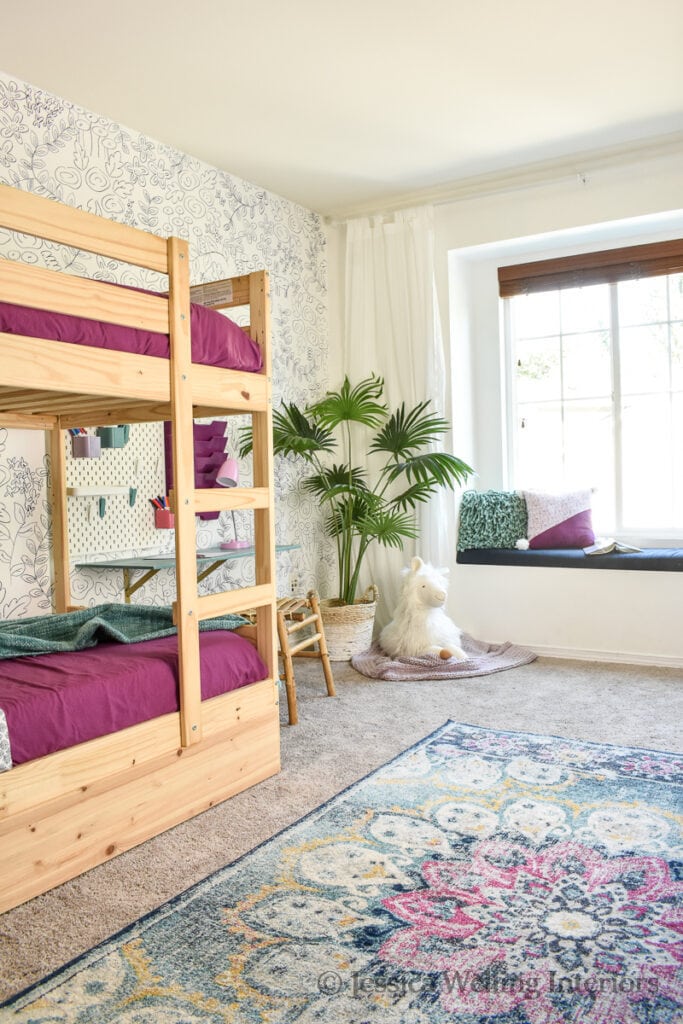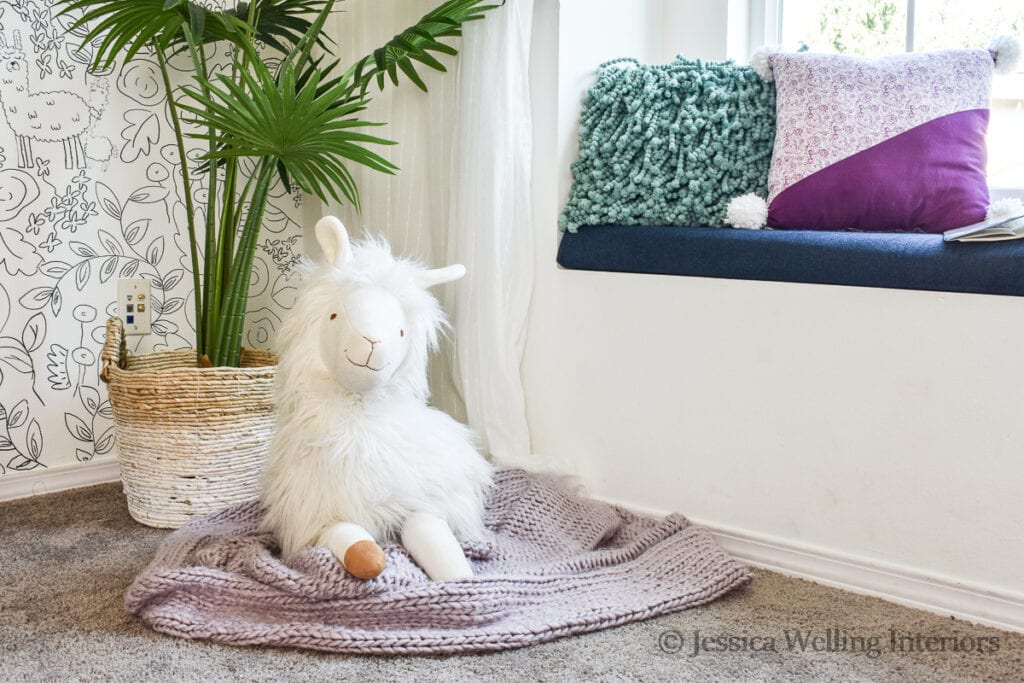 Shop The Look!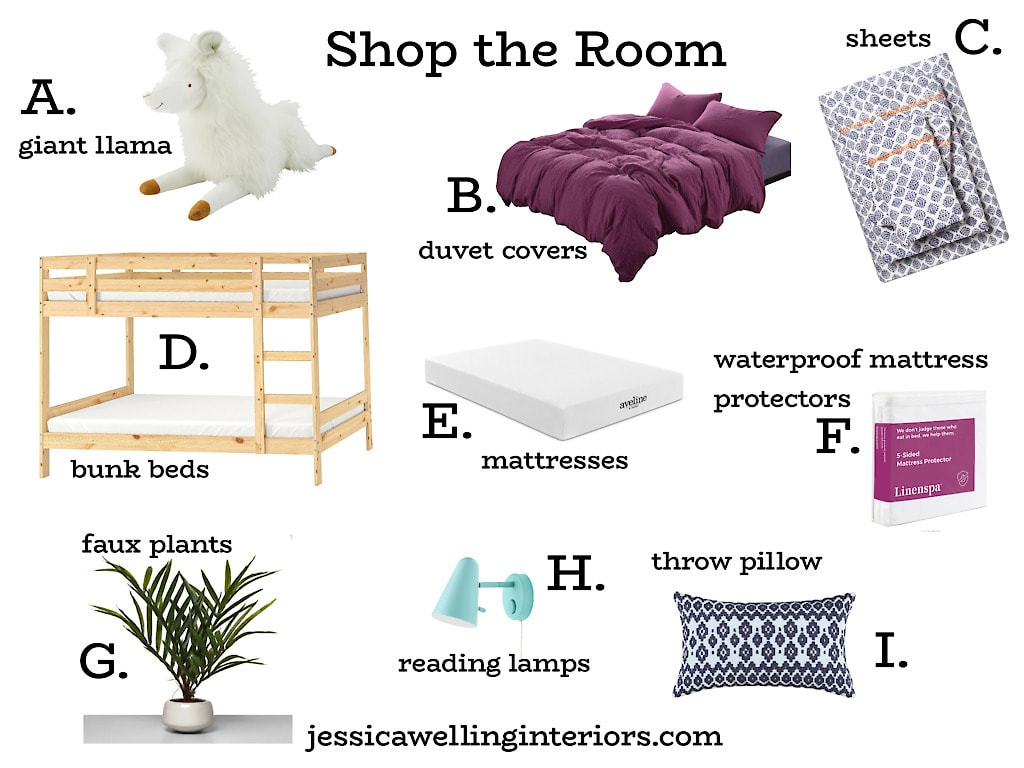 C. Printed Percale Opalhouse Sheets
E. Twin Memory Foam Mattresses
F. Waterproof Mattress Protectors
I. Navy Boho Throw Pillow Cover
More Kids' Bedroom Ideas…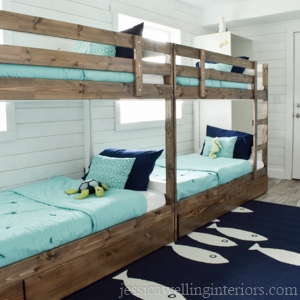 A Very Beachy Bunk Room: Part II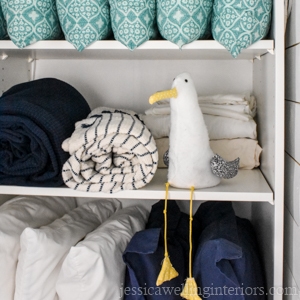 Organize Kids' Clothes for School