How to Choose The Best Outdoor Rug For Your Deck or Patio
Everything you need to know to choose the best outdoor rug for your deck or patio to create a gorgeous outdoor living space!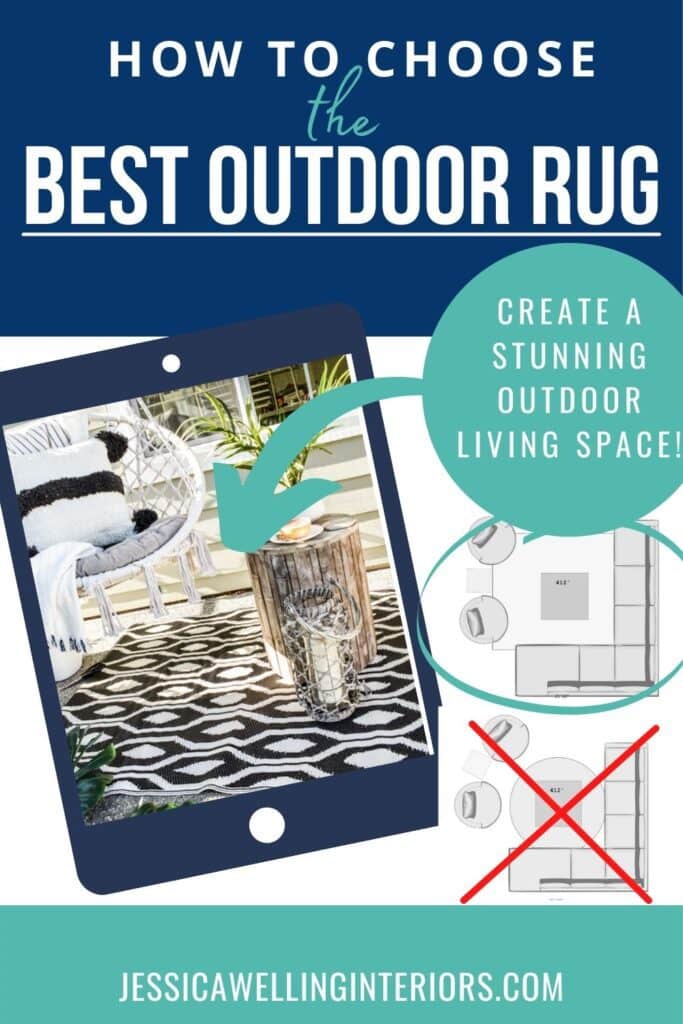 I discovered the joy of outdoor rugs about eight years ago, and now I'm obsessed! I love using rugs indoors too, and you can see all my favorite inexpensive Boho indoor rugs here. So let's talk about the reasons to use indoor/outdoor rugs and how to find the right one for your deck, porch, or patio.
Why Use Outdoor Rugs?
When you're indoors, you generally have walls and sometimes different types of flooring to define different spaces. But when you're outside, this is usually not the case. The right outdoor rug will make an outdoor dining space or seating area feel cozy and pulled together.
Plus it can bring color and pattern and tons of style to your outdoor living room. What's not to love?
If you already know what size of rug you need, here's a list of my favorite stylish and inexpensive outdoor rugs for 2022!
What Size Rug Should You Choose For your Outdoor Dining Area?
So how do you know which size rug to get? The biggest mistake I see people make when choosing any type of rug is getting one that's too small. And I totally get it. Rugs are expensive, and the prices increase as they get bigger.
But a too-small area rug will just end up looking funny and be a total pain to deal with. And possibly even a tripping hazard.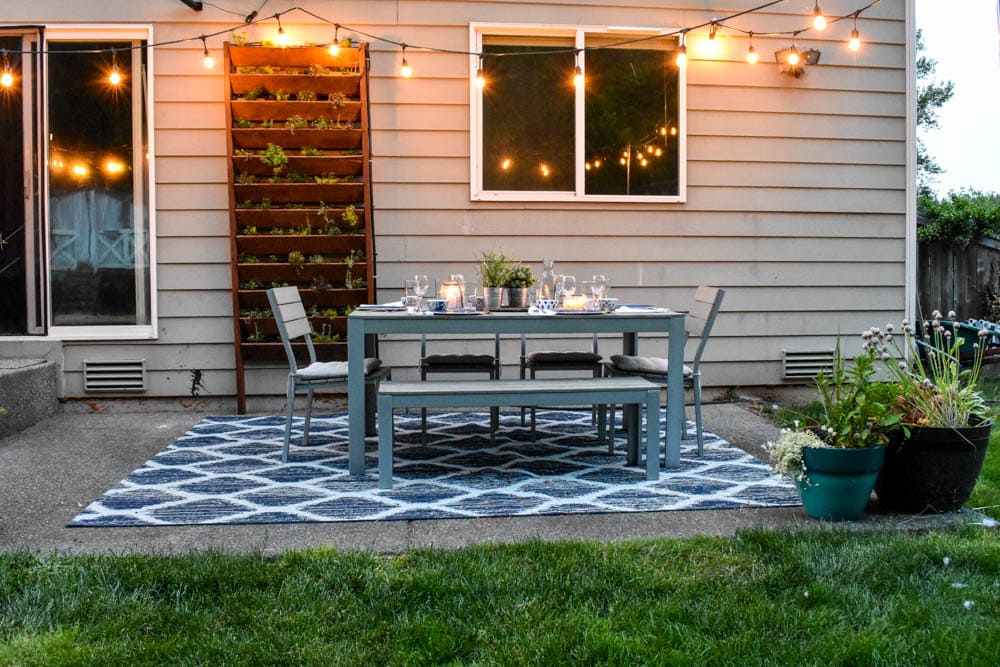 Here's the problem: If the back legs of your dining chairs end up off the rug when they're pulled out, you're going to be fighting with the rug all the time! This will be very irritating. You want all the chairs to stay on the rug!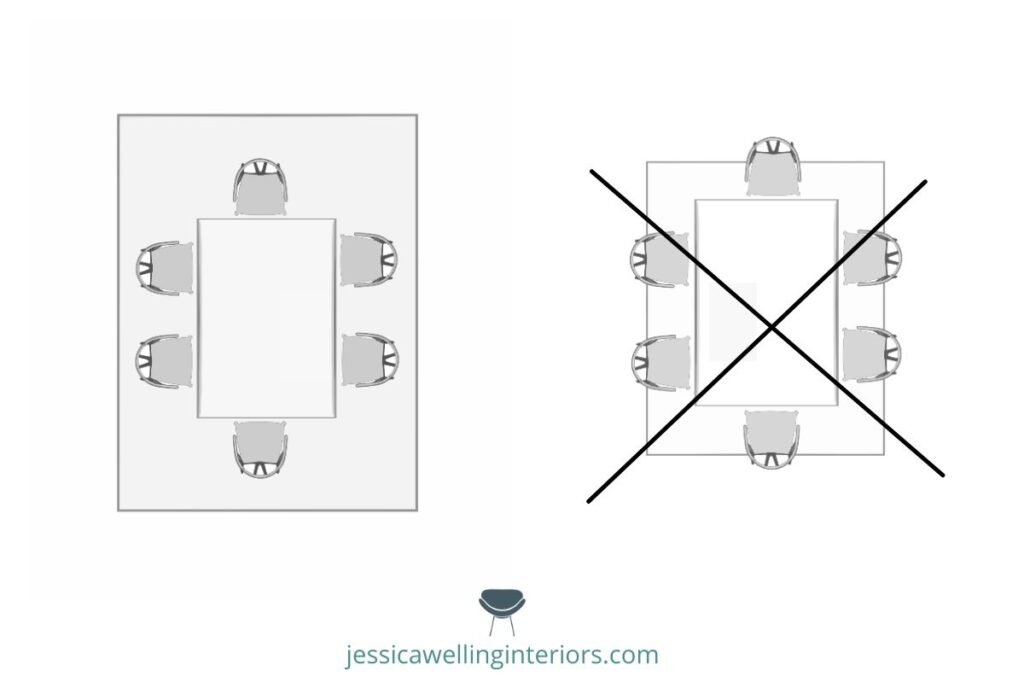 Here's the rule for choosing an outdoor rug for your patio dining area: you want 24-30″ of rug sticking out from under the table in all directions to allow room for the chairs. So you take the dimensions of your table and add about 50″ to each to get your minimum rug dimensions.
Here's my patio dining space with this perfect-sized outdoor rug: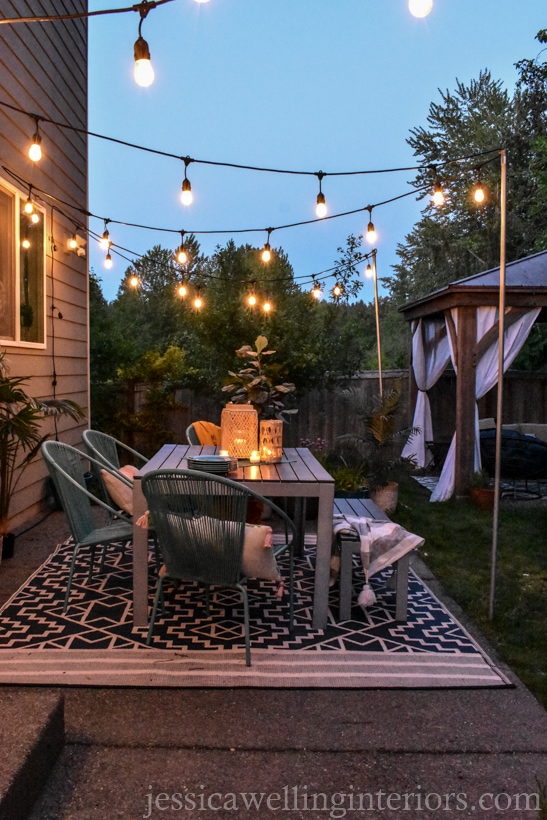 Here are a few layouts that work great: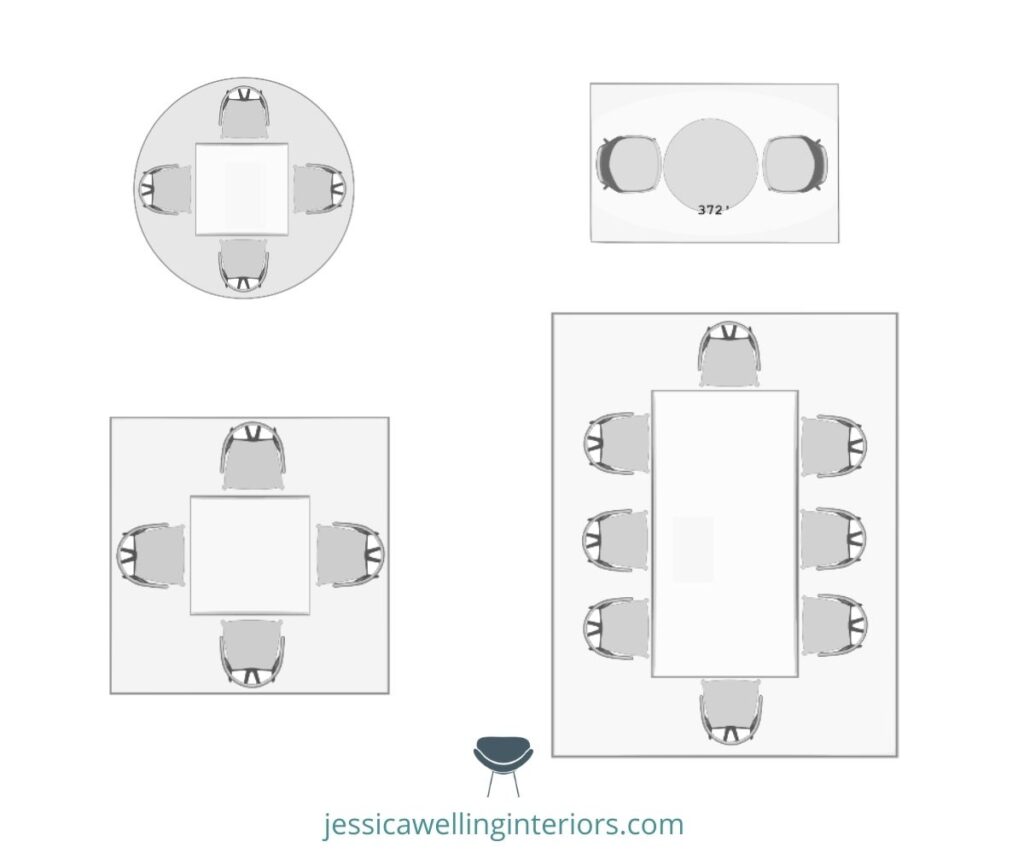 Which size rug should you choose for an outdoor seating area?
The rules for choosing outdoor rug sizes are essentially the same ones we apply to indoor rugs. The goal is to have at least the front legs of all your important seating furniture sitting on the rug.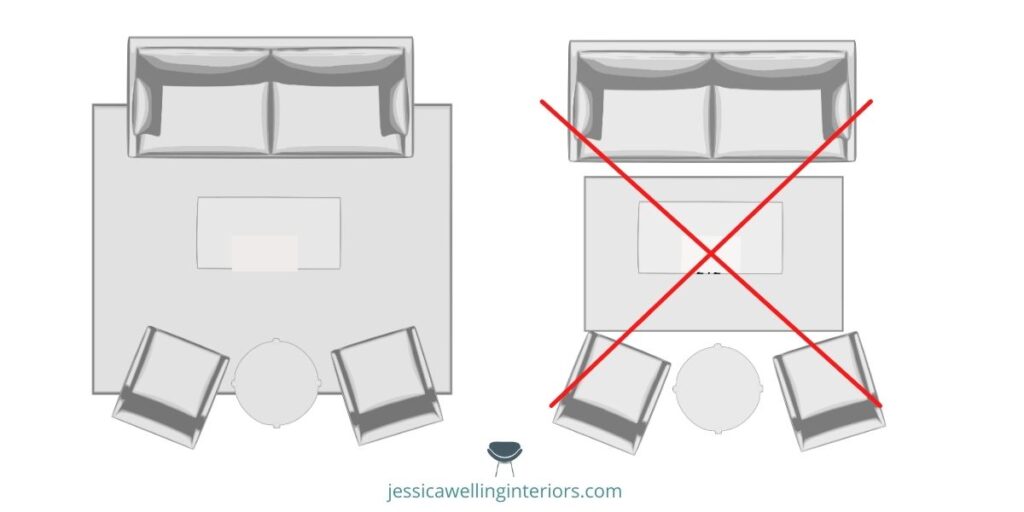 In the photo below, you can see my client's deck with the front legs of the outdoor sofa sitting on this rug.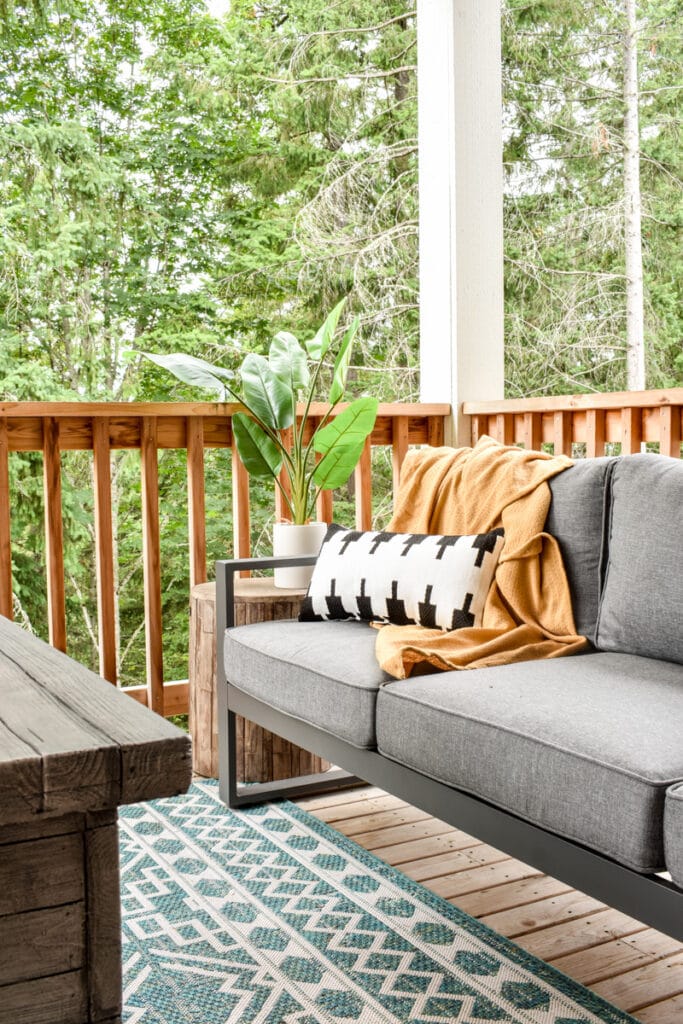 This will often mean that you need to get a size larger than you had originally planned on.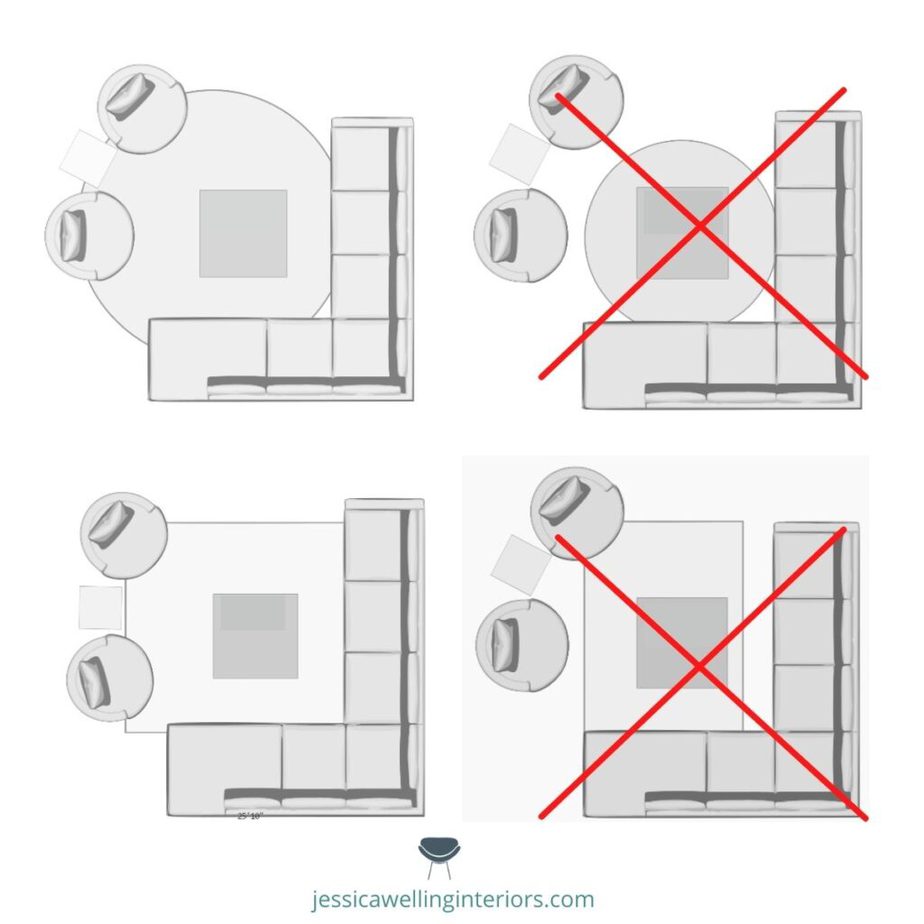 Which size rug should you choose for a small patio seating group?
If you just have a patio chat set or a couple of chairs, the same rules apply. You'll want to be sure the front legs of the chairs are sitting on the rug. The end table can be on the rug, but it's not essential.

Outdoor Rugs Sizing Guide
The most common sizes you'll see outdoor rugs in are below. They're often within a few inches of these measurements.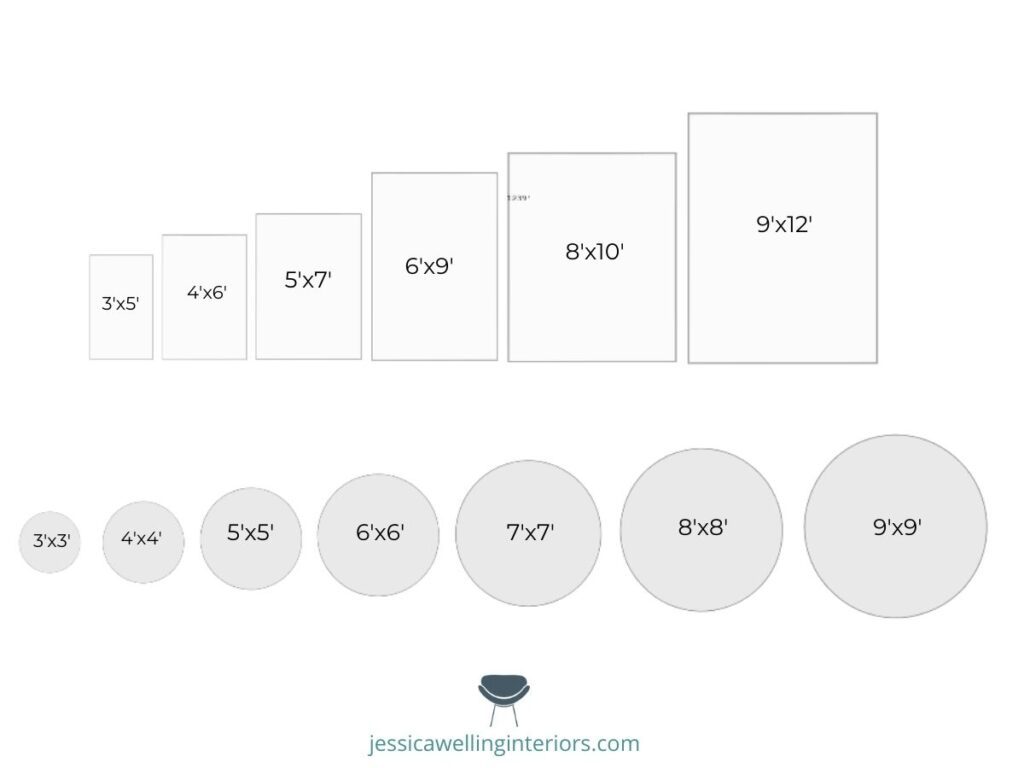 For more rug size guide information, check out this post:
Standard Rug Sizes: The Right Sized Rug for Every Room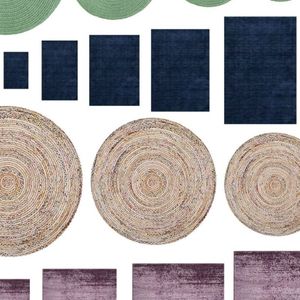 Here are some of my favorite black and white picks for Summer 2023. Or click here for my favorite
My Favorite Outdoor Rugs for 2023…
Black & White OUtdoor RUgs
More Ideas For Your Outdoor Living Space…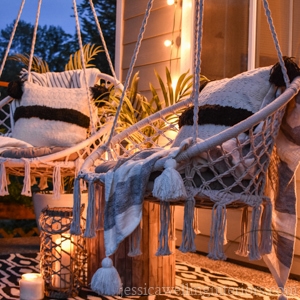 Backyard Lighting Ideas: A Simple Guide for Outdoor Living Spaces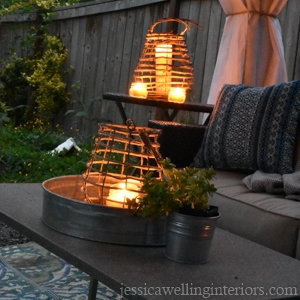 Patio Shade Ideas: How to Choose