50 Neutral Modern Rugs Under $200!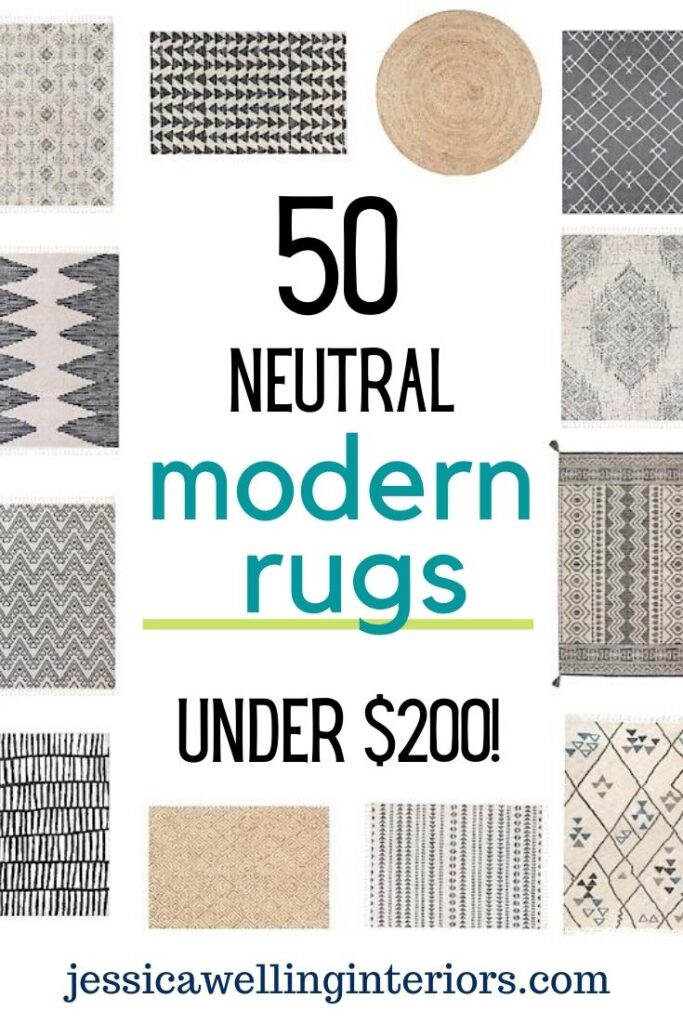 A beautiful Boho area rug can really update and add style to a living room, bedroom, office or dining room. I've scoured the web for the best deals on stylish modern and Boho rugs, so you're sure to find one that's perfect for your space.
The best part? They're all under $200 for at least a 6'x9′ rug at the time of this writing. That's important, because a little 4'x6′ rug is probably not going to do your living room much good.
Why Neutral Area Rugs?
I do love color, and I sometimes use colorful rugs in my designs. If you're looking for a more colorful rug, check out this post.
But I find that most people are more comfortable with a neutral rug that is stylish, but not the main focal point of the room.
Also, since a rug is generally one of the more expensive pieces in a room, it needs to last longer than say, a throw pillow. Neutral rugs stand the test of time, because you can change your color scheme in a few years when mauve is no longer the "it" color, and the rug will still look great in your space.
Best Rugs for Kids & Pets
But a word of caution if you have young kids, pets, or wear shoes in the house like we do… white and cream rugs don't hide dirt well. Trust me, I've made this mistake more than once. And these paws can pick up (and deposit) A LOT of mud!
So I recommend choosing something with a busier pattern and/or slightly darker color. Most of the rugs in this post should hide dirt just fine.
Area Rug Size Guide
Not sure which size and shape of rug is best for your space? Check out this article:
Standard Rug Sizes: The Right Sized Rug for Every Room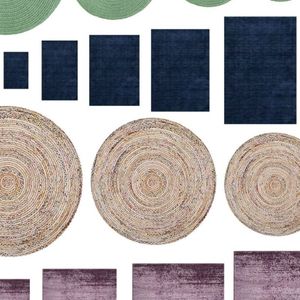 Beige Area Rugs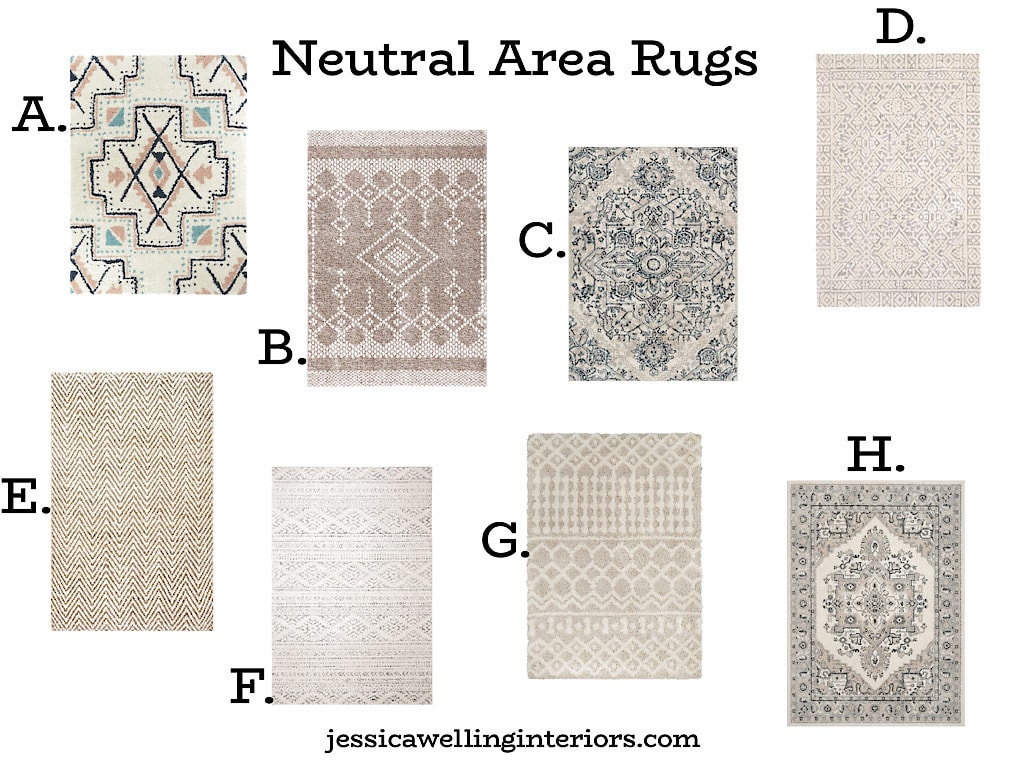 A. Stace Shag Area Rug in Pink & Blue
B. Safavieh Tunisia Collection Boho Rug in Tan & Ivory
C. Well Woven Carpi Oriental Medallion Area Rug
D. Persian Style Charlton Rug in Grey and Ivory
E. nuLOOM Vania Chevron Jute Rug in Off White
F. Safavieh Tulum Boho Moroccan Area Rug in Ivory & Light Grey
G. Artistic Weavers Hapsburg Beige Area Rug in Beige
H. Well Woven Persian Medallion Rug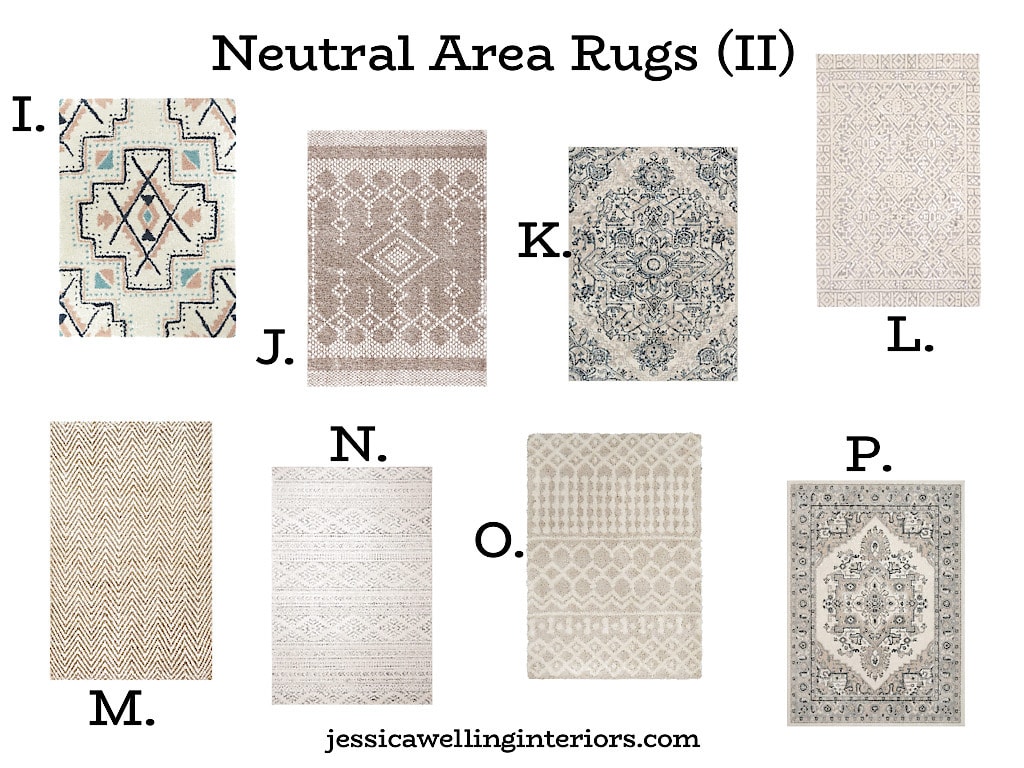 I.
J. Safavieh Tunisia Collection Modern Moroccan Area Rug
K. Well Woven Forti Grey Persian Medallion Area Rug
L. Gray and Ivory Persian Style Charlton Area Rug
M. nuLOOM Vania Chevron Jute Rug
N. Safavieh Tulum Moroccan Distressed Area Rug, in Grey
O. Artistic Weavers Hapsburg Rug
P. Well Woven Scafa Beige & Grey Rug
Black & White Rugs
Black and white area rugs are so popular that I made a separate roundup of them. Click here to see my 30 favorite modern black & white rugs under $200!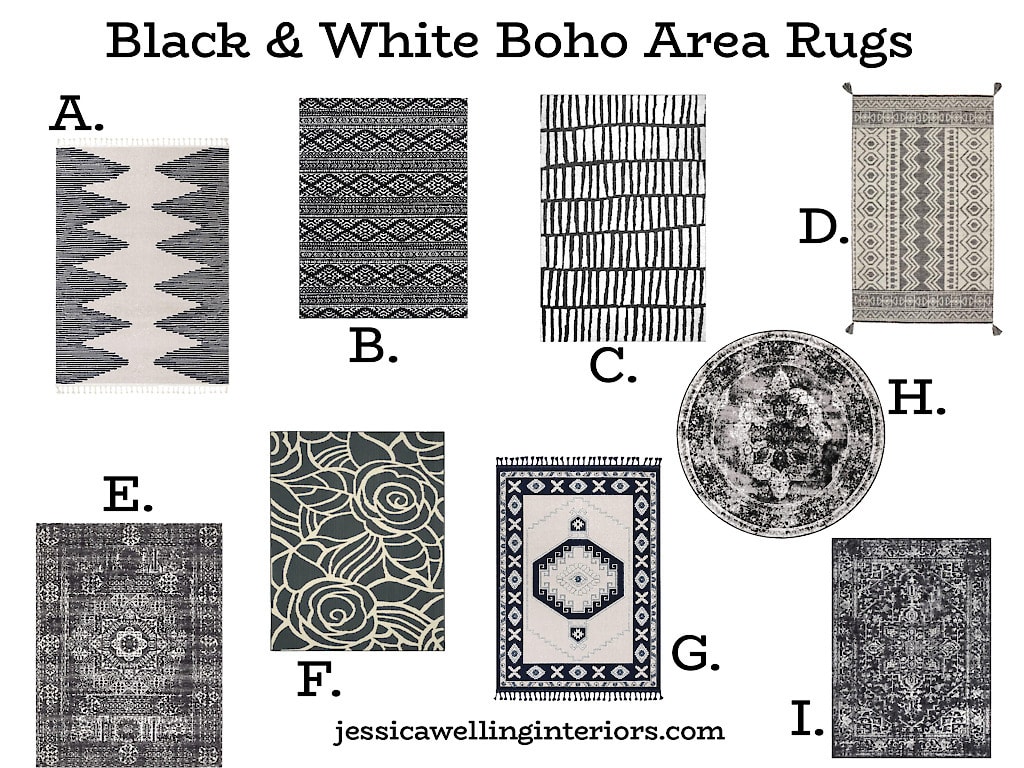 A. Well Woven Zella Ivory Tribal Diamond Area Rug
B. Safavieh Tulum Collection Boho Moroccan Area Rug
C. nuLOOM Quinlee Abstract Striped Area Rug
D. Black Cotton & Ivory Wool Moroccan Area Rug
E. Unique Loom Maria Traditional Area Rug
G.
H. Unique Loom Rug in Black & Grey
I. Arteaga Black & Silver Area Rug
Grey Area Rugs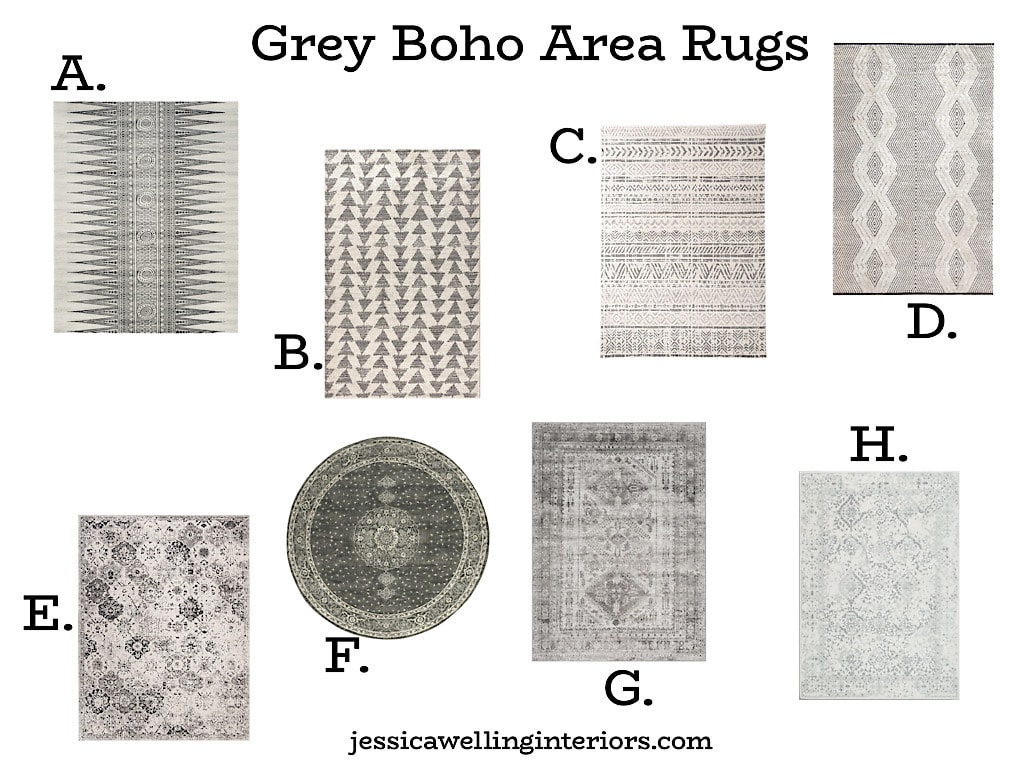 A. Elson Southwestern Ivory & Grey Area Rug
B. Aisha Moroccan Geometric Area Rug, in Grey
C. Rugshop Geometric Bohemian Area Rug
D. Tufted Tribal Hand-Woven Black & White Area Rug
E. Safavieh Madison Collection Bohemian Chic Area Rug
F. Copper Grove Meghri Round Area Rug in Dark Grey
G. Bonney Light Grey & Charcoal Area Rug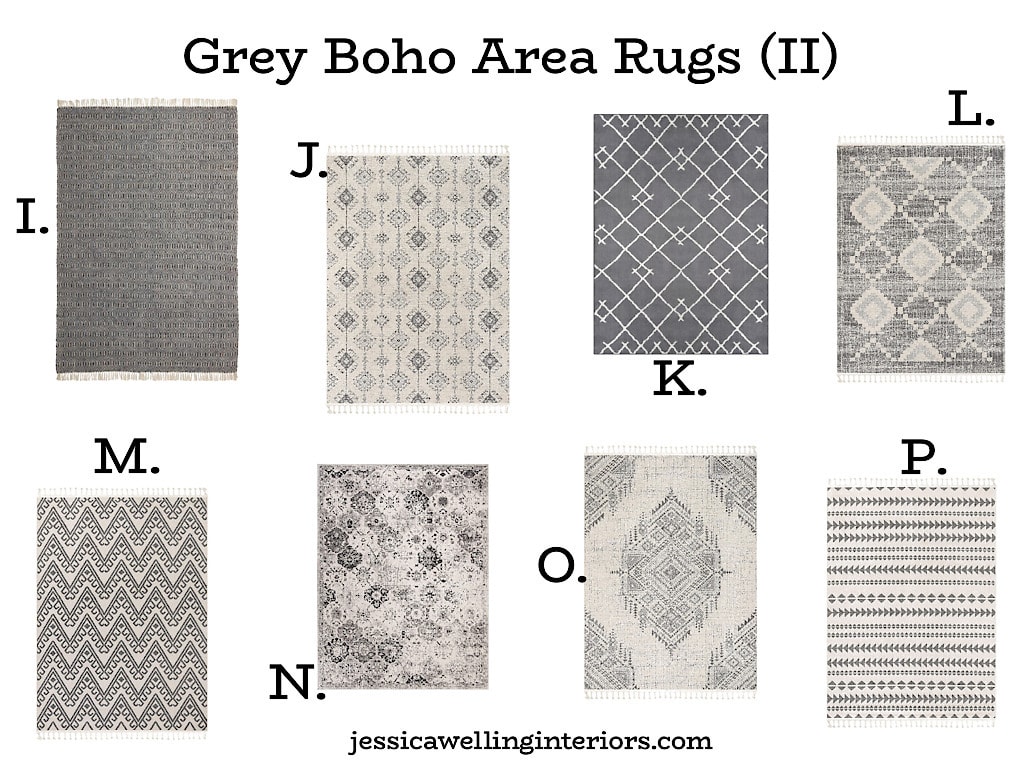 I. Slate Gray Leather Natural and Jute Area Rug
J. Well Woven Cetta Grey Moroccan Area Rug
K. Kenya Fleece Tufted Rug, by Project 62
L. Well Woven Julia Tribal Area Rug
M. Well Woveb Teibo Tribal Geometric Area Rug
N. Safavieh Madison Collection Vintage Distressed Area Rug
O. Well Woven Anita Tribal Medallion Area Rug
P. Well Woven Grotto Grey Tribal Geometric Area Rug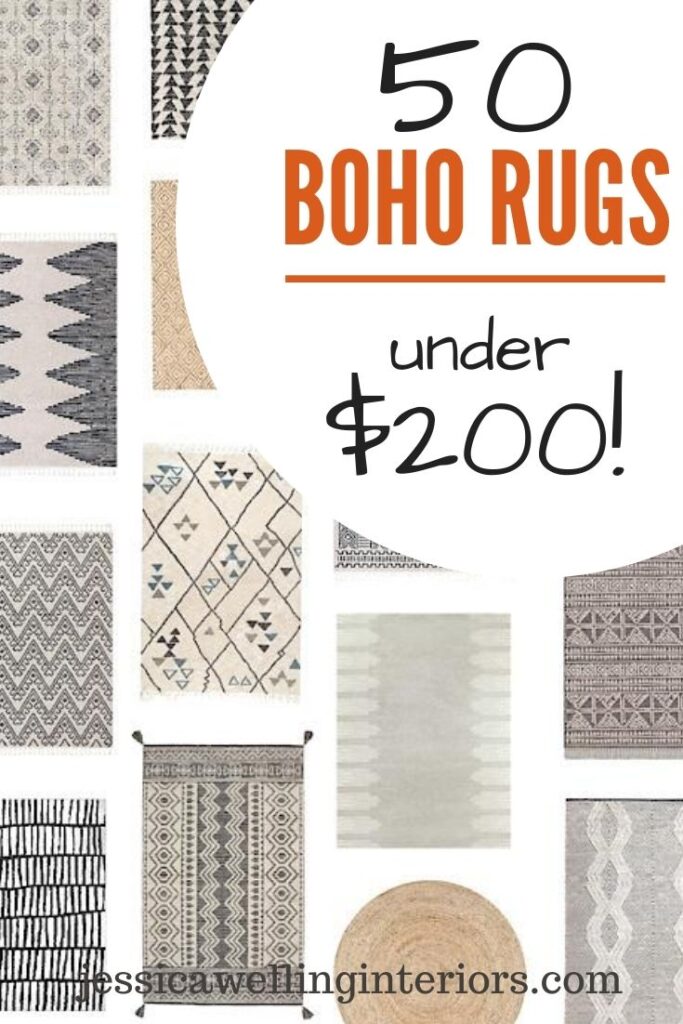 More Modern Rugs…
Living Room Rug Placement: The Ultimate Guide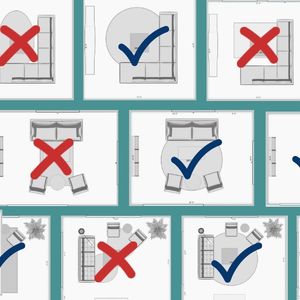 60 Modern Boho Rugs Under $200 In Every Color!