Boho Patio Makeover for Summer!
A backyard dining space gets a stylish Boho patio makeover for Summer!
Today I'm so excited to share my new patio refresh. My old Ikea patio dining set was still in great shape after five years. All except the plastic composite table top, which seemed to absorb everything that touched it. Anything oily seemed to stain it. Bird poop, spilled salad dressing, EVERYTHING left it's mark. And after five years it was looking a little sad. You can see how I refinished the set here.
I wanted an outdoor rug made of plastic because this space doesn't have a roof overhead. And hosing off and scrubbing outdoor rugs? Not really my thing.
I'm really loving this black and white tribal rug from Fab Habitat– one of my favorite sources for outdoor rugs. It's actually made of little plastic tubes woven together, so it's soft on the feet, completely waterproof, and ultra-easy to clean. You can see all my top picks for inexpensive outdoor rugs this season here.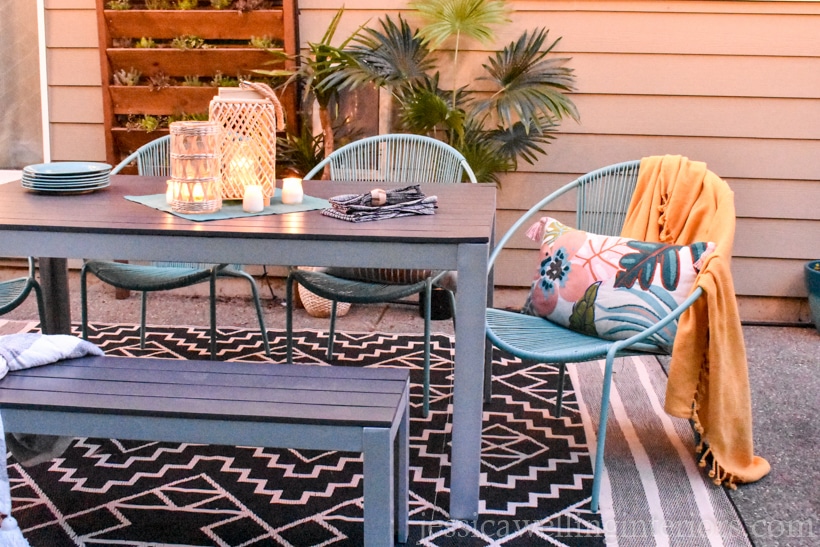 We built this wood vertical garden a few years ago, and I absolutely love it!
I can't get enough of these floral applique outdoor throw pillows from World market! You can spot them in my outdoor living room makeover too!
We made these ultra-easy outdoor string light poles a few years ago. I can hang the lights from hooks on the side of the house, but didn't have anything to hang them from on the other side.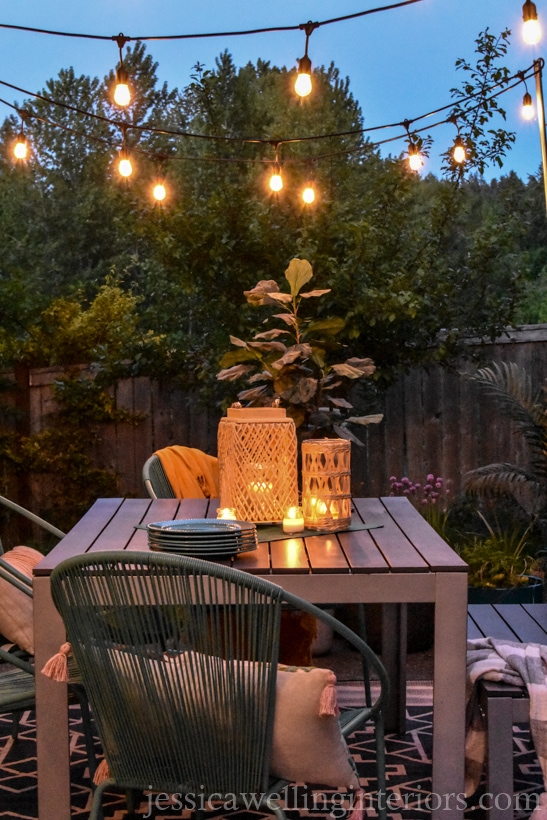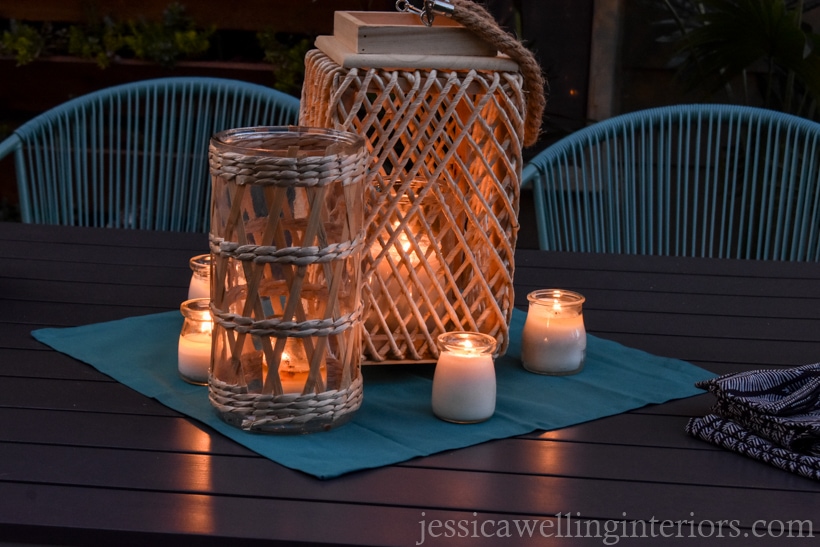 That's my Costco gazebo in the background, with these ultra-easy DIY outdoor curtains.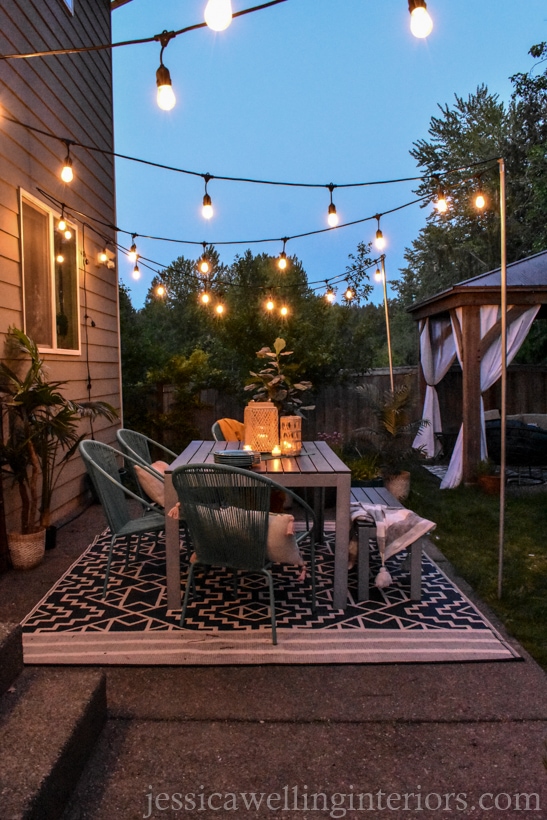 Here are the products I used in my modern patio makeover!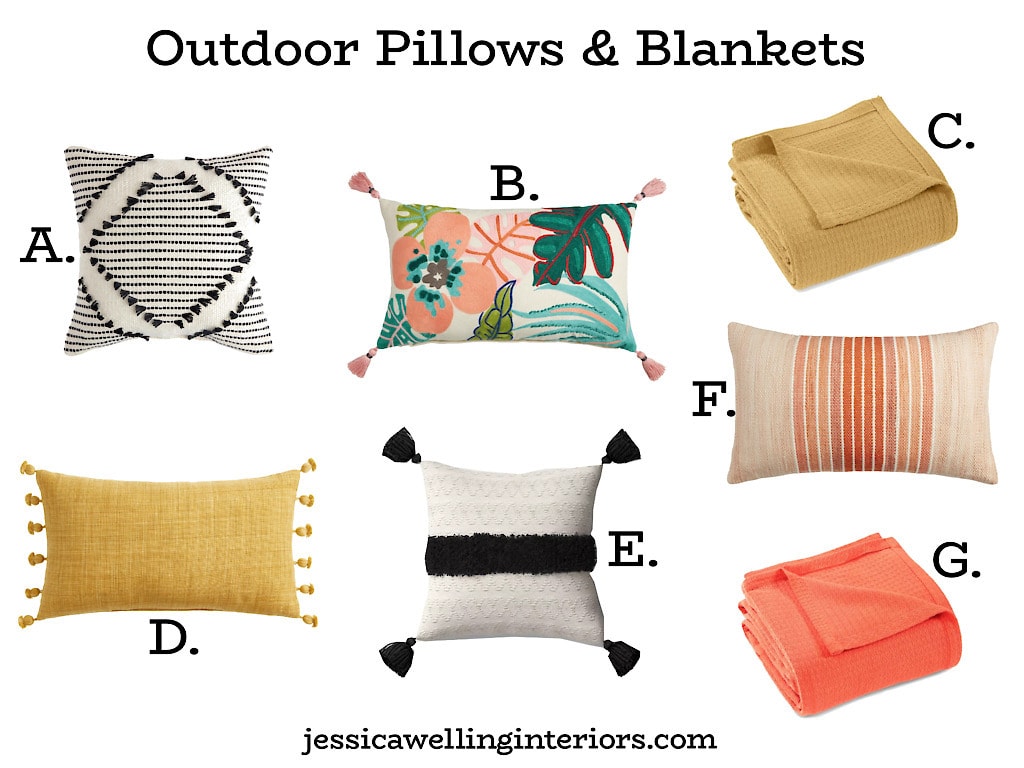 A. Black & Diamond Outdoor Pillow
B. Tropical Print Indoor Outdoor Pillow
C. Sahara Woven Cotton Throw Blanket
D. Woven Tasseled Outdoor Lumbar Pillow
E. Woven Tasseled Outdoor Pillow
F. Center Stripe Indoor Outdoor Pillow in Coral
G. Cotton Solid Throw in Coral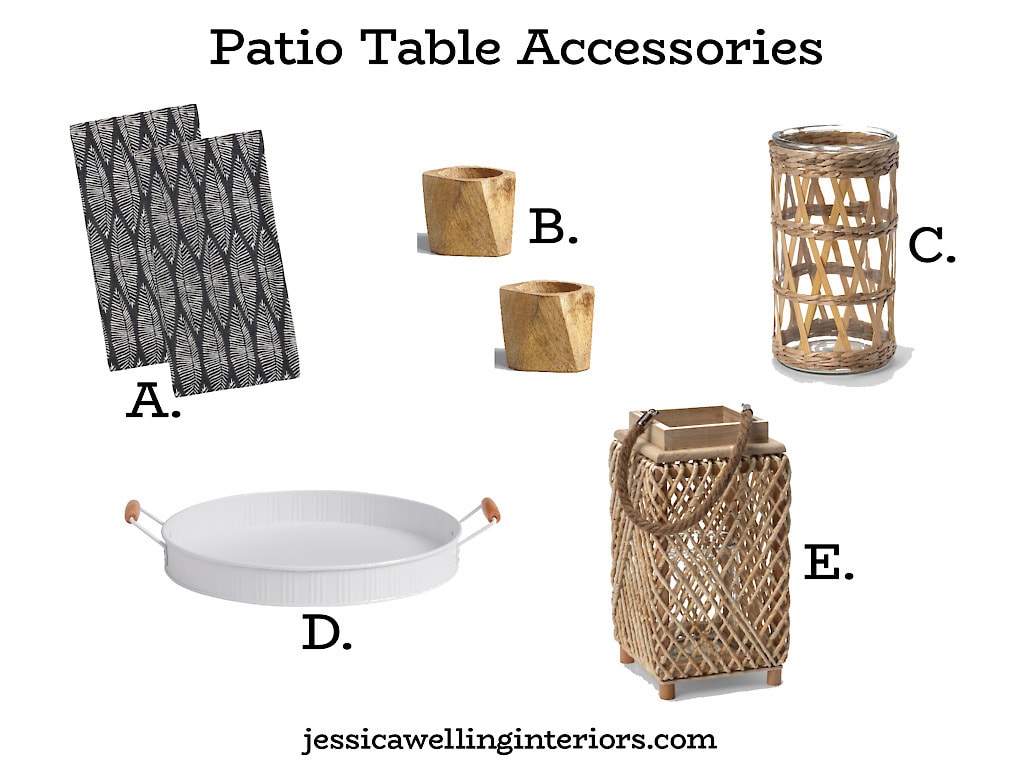 B. Natural Wood Geometric Napkin Rings
C. Bamboo & Straw Outdoor Lantern
D. Round White Galvanized Serving Tray
E. Maize & Wood Outdoor Lantern
More Patio Ideas…
8 Budget-Friendly Patio Dining Rooms To Copy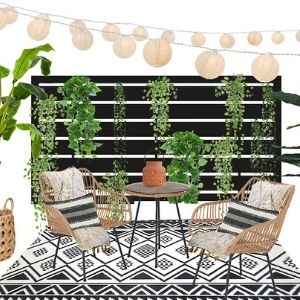 How to Hang String Lights: 10 Different Ways