The Easiest DIY Outdoor Curtains!
Want to make your backyard feel like a fancy beach resort? Make these easy DIY outdoor curtains. They seriously take 10 minutes, and cost about $15 each.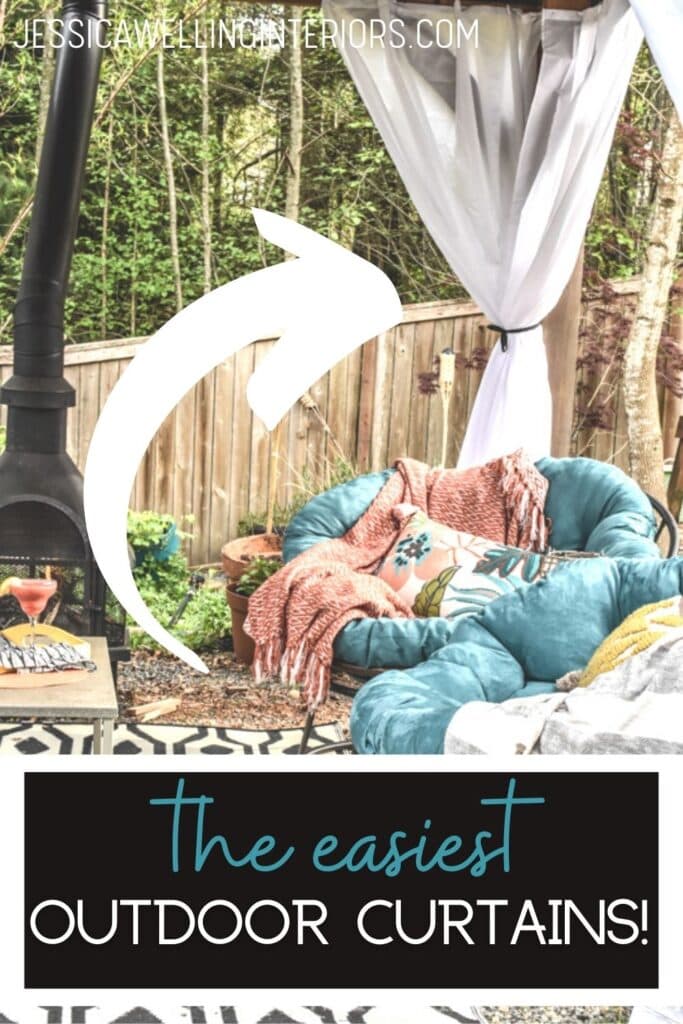 Check out the new video tutorial:
I wanted curtains for my Costco gazebo, but the pristine whiteness was part of the appeal. And the idea of taking my gazebo curtains down to wash them once a week did NOT hold much appeal for me.
Did I mention I live in Seattle, where we have rainy days even in July and August? And of course rain makes mud. So one of my top priorities when I originally created these curtains was for them to stay clean and white, with as little maintenance as possible.
After plenty of research, I landed on polyester shower curtain panels. They look and drape like fabric, but they're waterproof and can shed moisture and mud. They're easy to rinse off with the hose if something really messy happens… and I'm sure it will this year with our newest family member: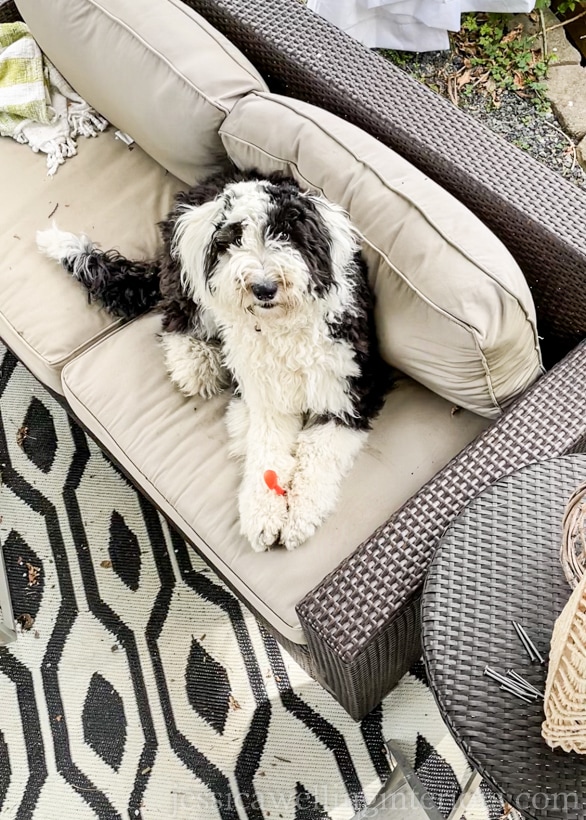 And I can throw them in the washing machine with some detergent and a little bleach at the end of the season before I put them away for the year.
This will be my sixth summer with patio curtains. They don't stay 100% perfectly pristine and white, but they look darn pretty good! I've found that they'll last about 3 years. I've never had any trouble with them fraying or shredding in the wind, but they do get a little dingy after a few years.
One year I made the mistake of leaving them up all winter, and they did need to be replaced after that. You can see them in all their glory in my Boho Patio Makeover.
If you're confused about why I'm calling these "DIY" curtains, it's because I hemmed them so they wouldn't bunch up on the ground and get really dirty. You could, of course, buy fabric and sew your own. But I think you would be hard-pressed to find the fabric and materials for less than the cost of a pre-made shower curtain.
How to Make DIY Outdoor Curtains
Supplies
Tools
sewing machine
sewing pins
scissors
tape measure
hammer
1. Measure
Use a tape measure (or laser measure) to find the distance from the curtain rod (or whatever you're going to attach the curtains to), to the ground. I try to get it to the nearest inch.
You don't want your panels dragging or puddling on the ground because they will get filthy! But you also don't want them to end too high off the ground. It's the same principle you would use for indoor curtain panels.
I measured from the outside edge of the gazebo roof to the ground. My curtains need to be 90 inches long. I plan to keep mine tied back, so it's okay if they're off by an inch or two.
2. Find the Right Curtain Panels
Once you know the length you need, you can go ahead and order your panels.
A standard shower curtain in the US is 72″x72″. That won't be long enough for most places you would hang outdoor curtains, so you'll likely need extra-long panels. These are the best deals I've found on the different lengths:
72″x96″ Panels (these are the ones I used for this project), 72″x84″ Panels, 72″x72″ Panels (I used these for my kids' playhouse)
I used 8 panels for my gazebo this year to give the curtains a really full look. In general, the more curtain fabric you use, the more luxurious and high-end your project will look. But in years past I've just used four panels, and that looked good too.
For the kids' playhouse, I just have one panel on either side.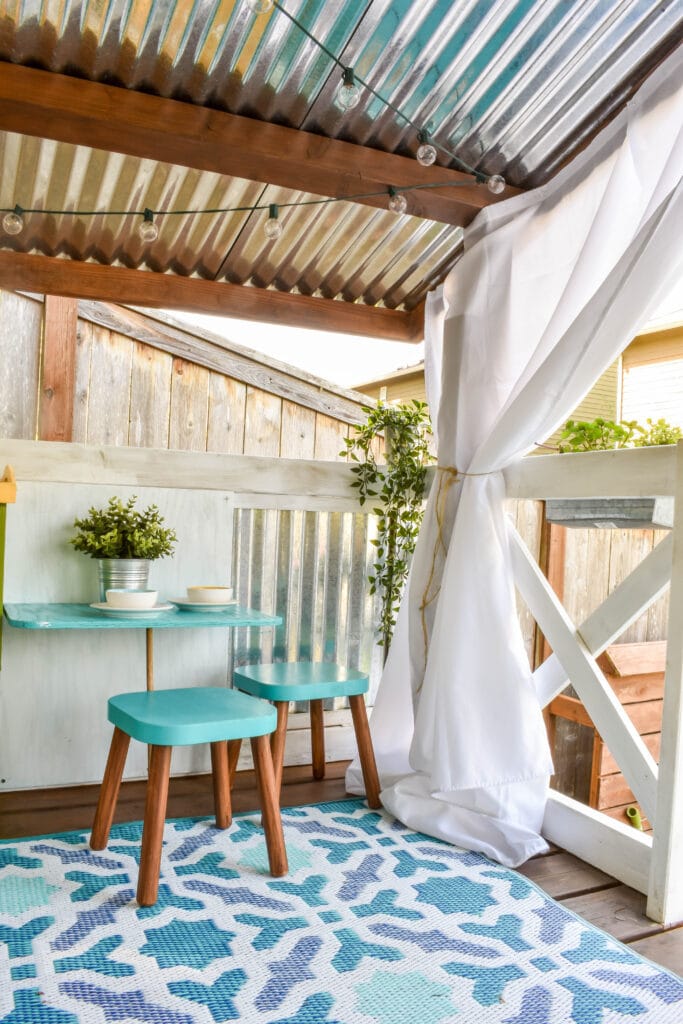 3. Lay The Curtain OUt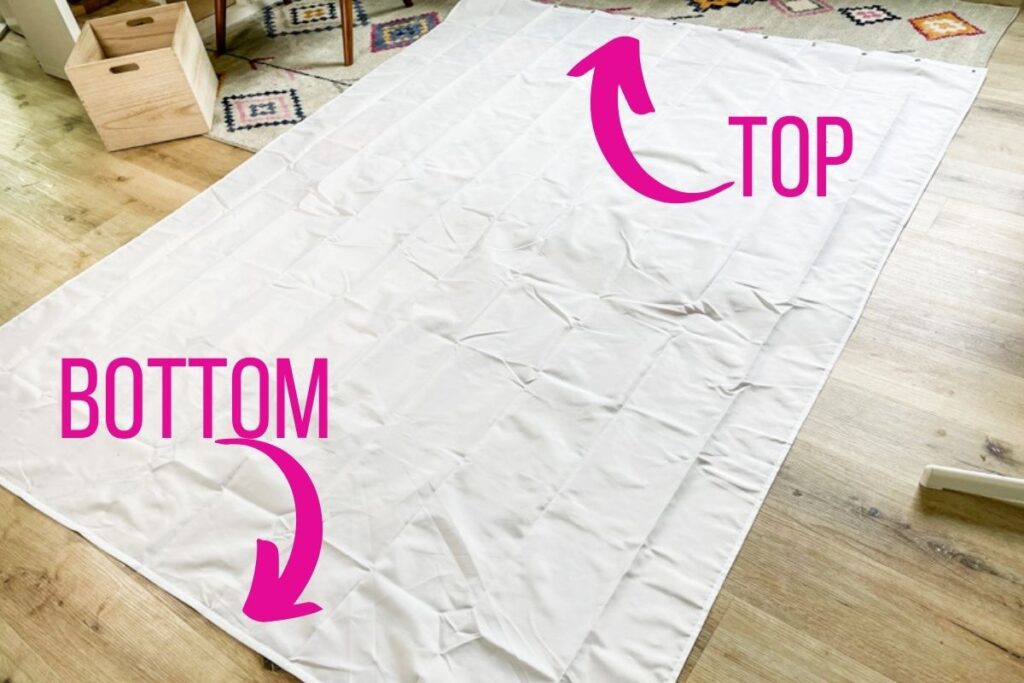 Lay the curtain out flat on the floor and find the bottom. On this curtain, you can see that there are metal grommets across the top. Some fabric shower curtains will have reinforced holes (similar to button holes) across the top instead. And there will often be some kind of weights sewed into the bottom of the curtain. You can just ignore these.
4. Measure And Fold The Hem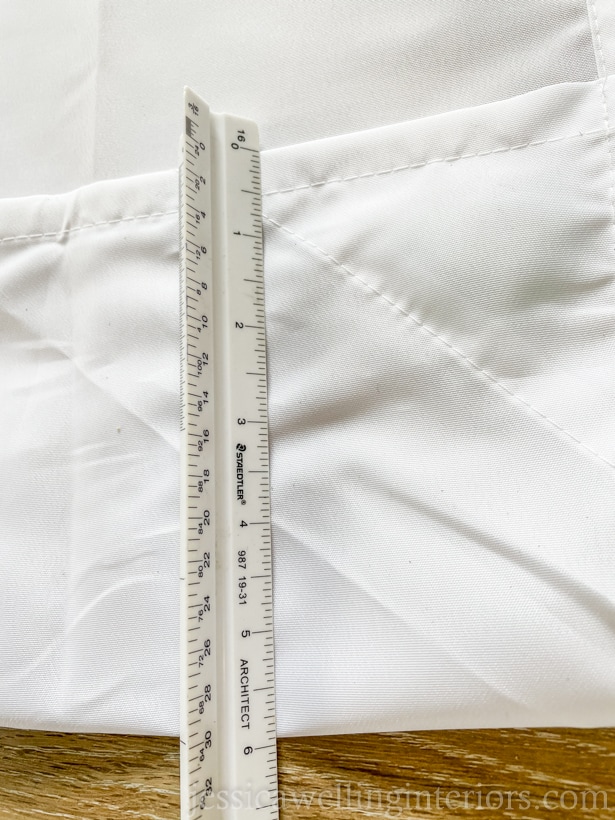 Use a ruler or tape measure to measure the fold to your desired length. Make sure the fold is the same across the whole width of the curtain panel.
5. Pin The Hem
Several sewing pins to hold the hem in place while you sew it.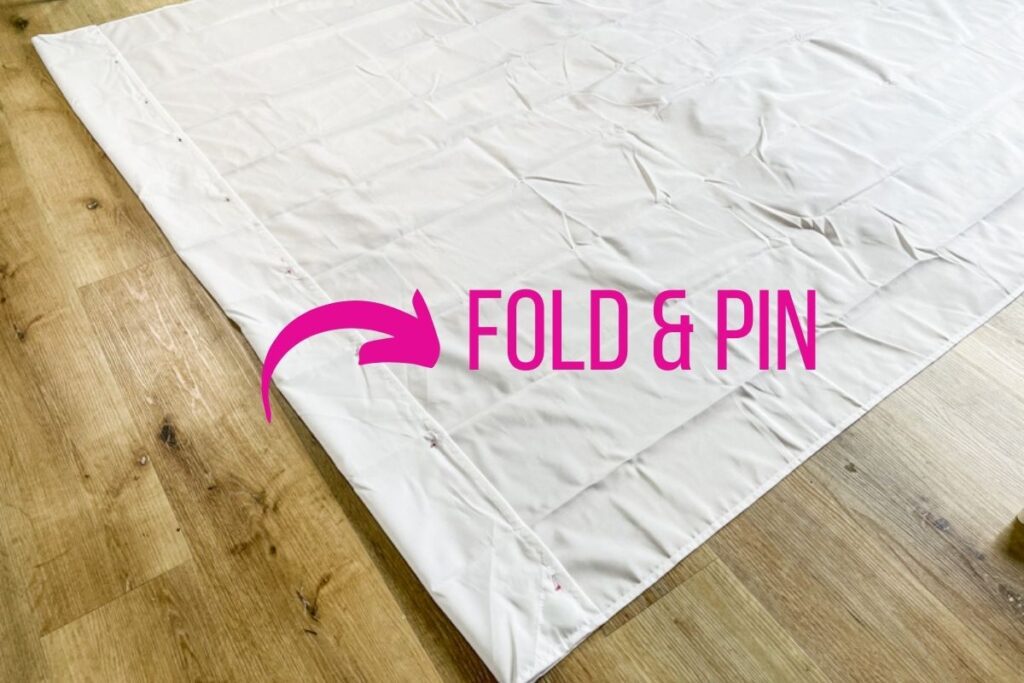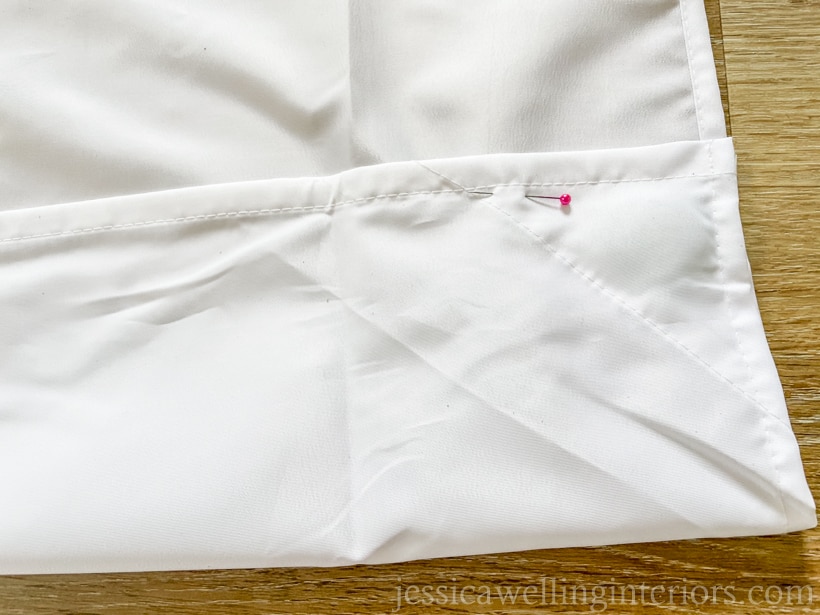 6. Sew the Hem
Use white thread and sew a straight line across the fold to create a hem. It doesn't need to be perfect.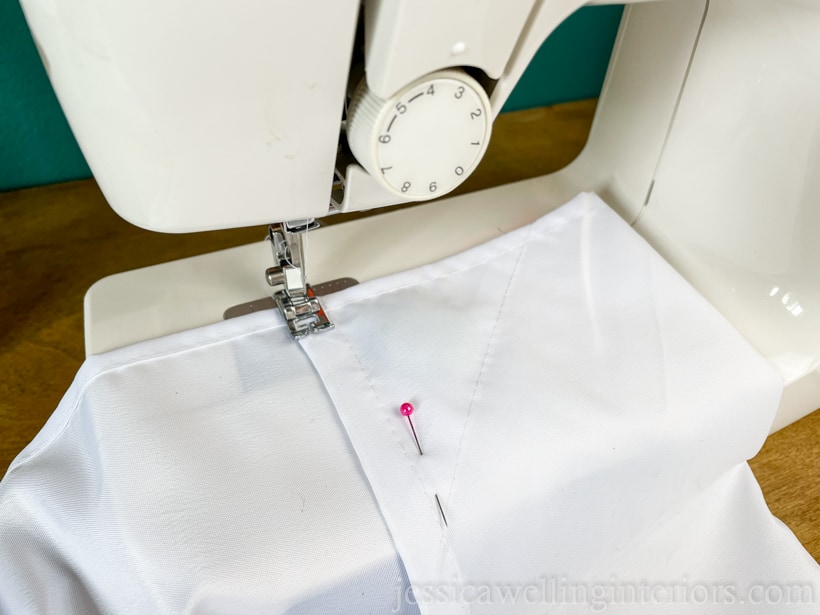 7. Hang the Curtains
My gazebo curtains are really just for decoration and a touch of shade. I don't need to move them back and forth. So instead of installing outdoor curtain rods, I just nailed them up inside the gazebo.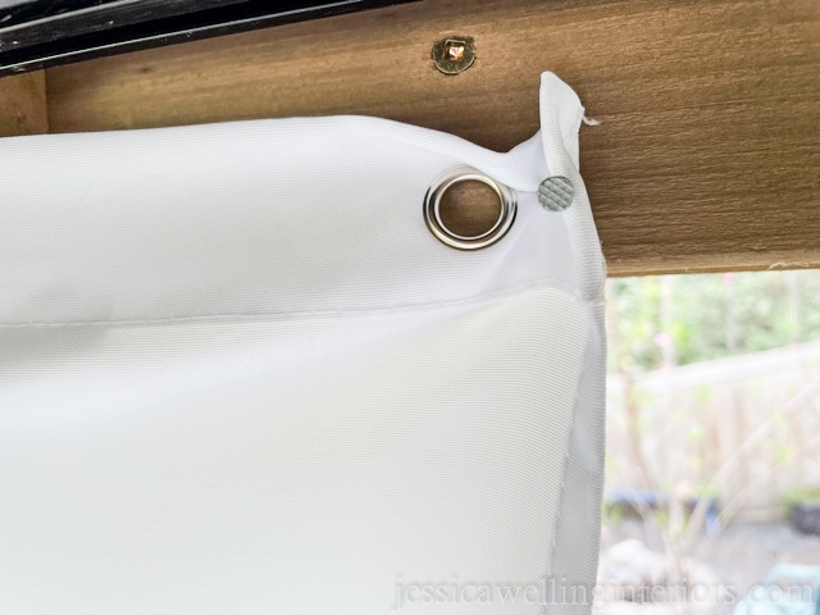 I create pleats and put a nail through each pleat. It's not the prettiest thing up close, but this is up high and it's really not noticeable at all once they're up. It takes about 5 minutes to hang each panel, and that's it for the season.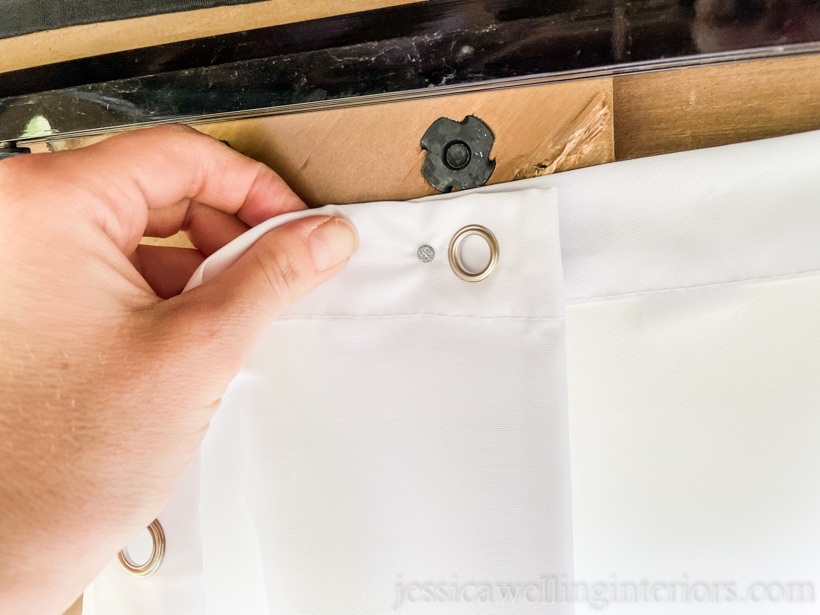 The black hardware you see above the curtains is for the mosquito netting that I bought for my Costco gazebo from Yardistry structures.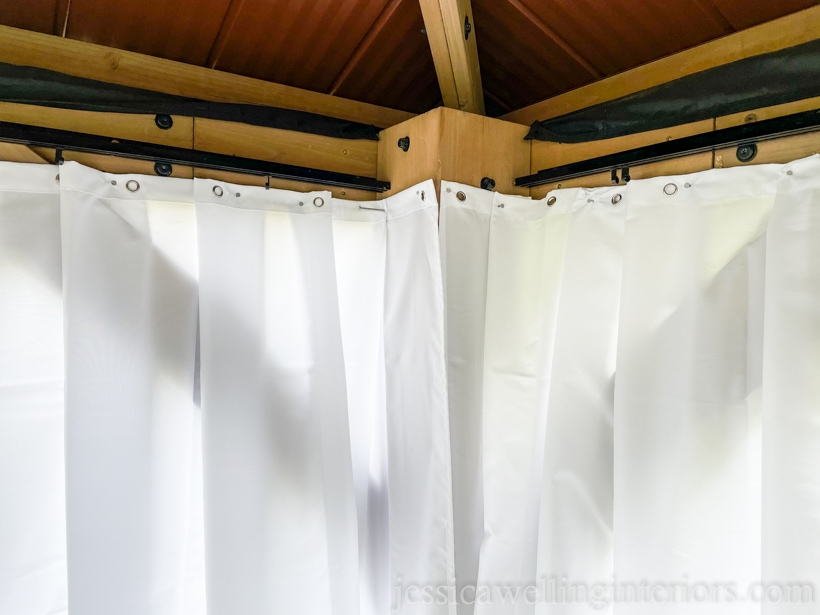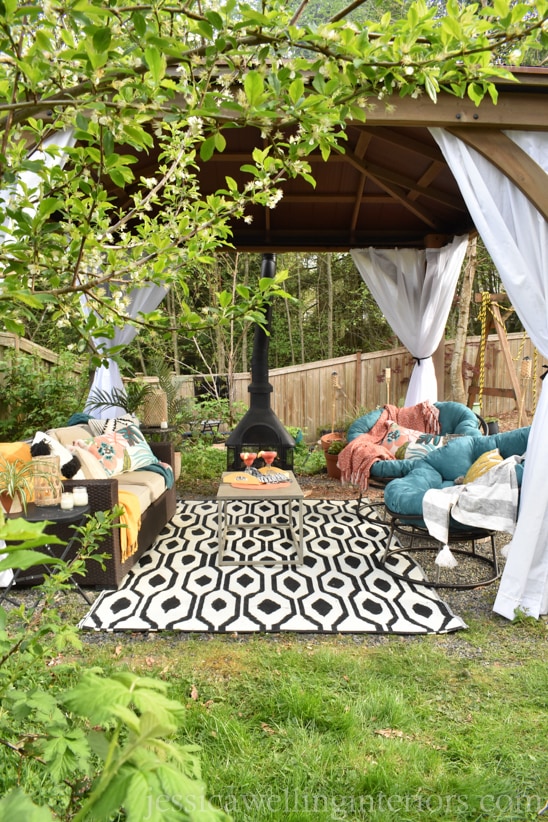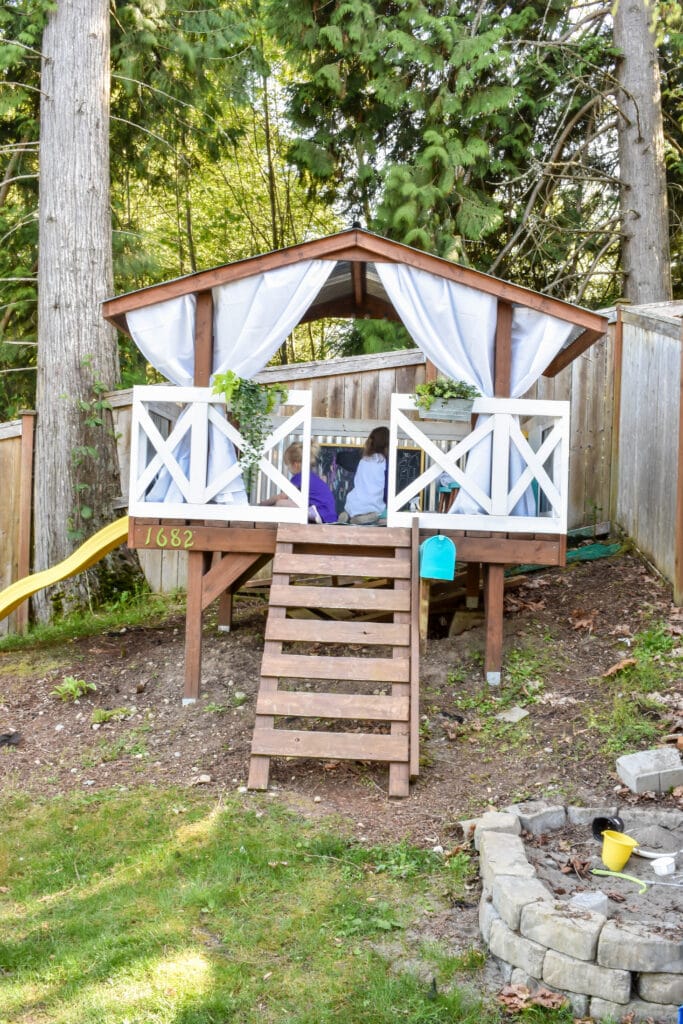 Frequently Asked Questions
Are outdoor curtains machine-washable?
Yes! Wash them on the delicate cycle with detergent and some bleach. If you want to put them in the dryer, be sure to use a cool setting so they won't melt! They also dry quickly in the sun.
Will outdoor curtains tear & fray in the wind?
I expected the curtains to fray after a few years, but they never have. I live in a moderately windy place. If you have a lot of wind, I recommend keeping your patio curtains tied back with twine or rope.
How long do outdoor curtains last?
This depends on your climate. I recommend taking your curtains down for the Winter and storing them indoors. I've been using these curtains for five years now, and I've replaced them once. They will begin to get dingy after a few years, but I've never had problems with them ripping of fraying.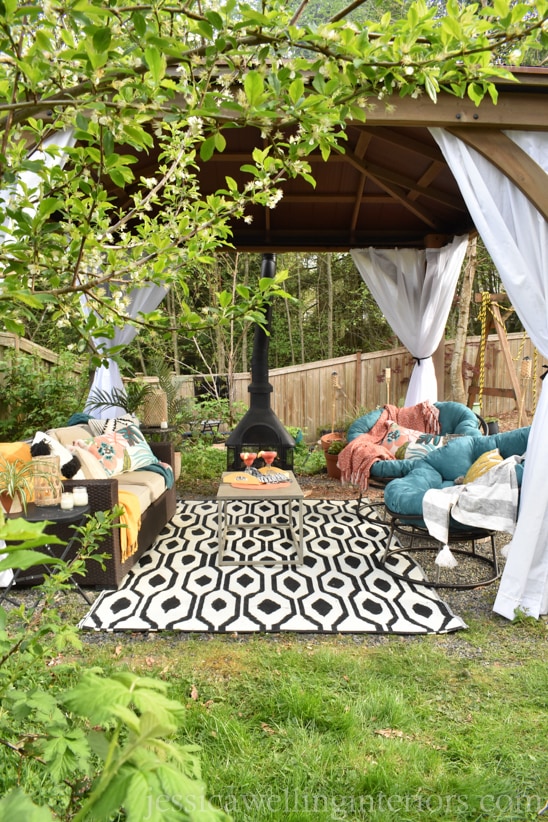 Yield:

1 curtain panel
The Easiest DIY Outdoor Curtains!
Additional Time:
5 minutes
Customize polyester shower curtain panels to create stunning outdoor curtains for your deck or patio!
Materials
1 extra-long shower curtain panel
Heavy Duty white thread
Tools
Sewing machine
sewing pins
scissors
Tape measure
Hammer
sewing machine
Instructions
Use the tape measure to measure from the top of where you want to hang your curtains to the ground.
Lay the curtain panel out on the floor and measure and mark the length you want it to be.
Fold the bottom of the panel up and pin it. (If the panels are more than 6 inches too long, cut off some of the excess fabric and fold it over twice).
Sew a straight stitch across the bottom of the panel to hem it.
Attach the panel to your curtain rod or nail it in place.
More Outdoor Living Ideas…
Patio Shade Ideas: How to Create Shade in Your Backyard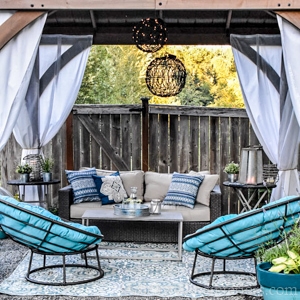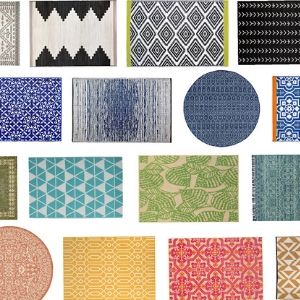 Backyard Lighting Ideas: A Simple Guide for Outdoor Living Spaces