The Easiest DIY Outdoor String Light Poles Tutorial!
Create these ultra-easy portable outdoor string light poles in 15 minutes! They're perfect if you're renting or don't want to dig holes!
A few years ago, I wrote this post on how to hang string lights from simple removable poles. It quickly became the most popular post on my entire site. I've created some variations on these poles for different settings.
So what can you do if you're renting, or don't want to dig holes in the ground? Or perhaps you want glowing string lights for your wedding reception or an outdoor party? I have an ultra-simple and inexpensive solution you're going to love!
Before You Begin:
I recommend mapping out where you want your lights to go before you get started. Just draw a really rough sketch of your patio or deck and add measurements. Then draw a line where you want your lights to go. Graph paper is helpful if you have some handy.
This will help you determine how many strands of lights you need, how many poles you need, and whether you need to attach the lights to anything else, like the side of a building, tree, fence, or deck railing.
Don't worry if your drawing isn't pretty. That's not really the point!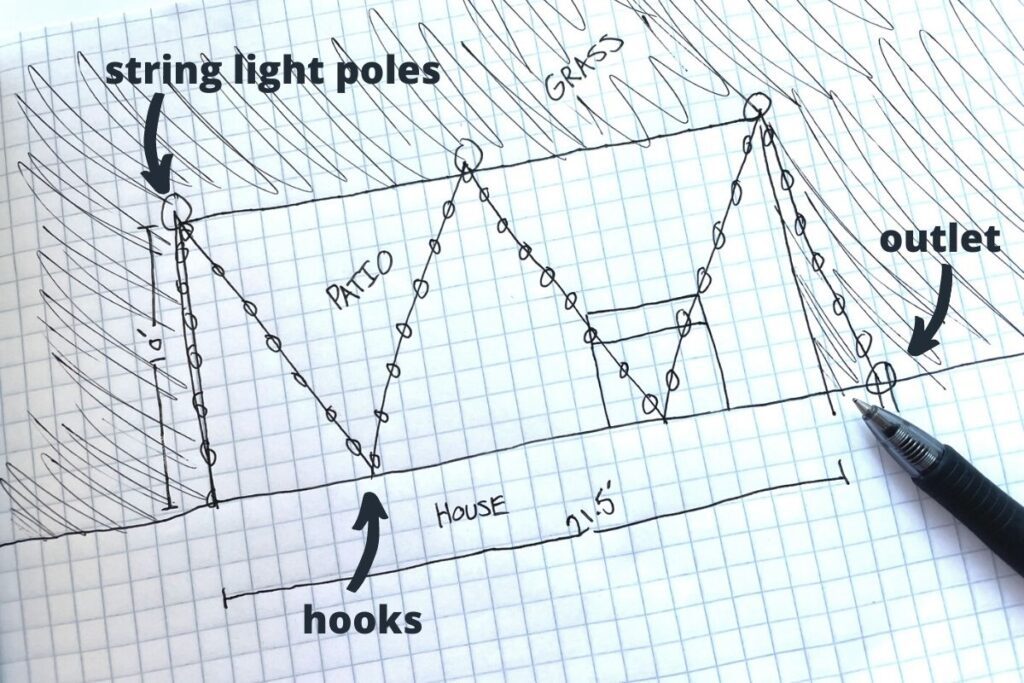 Above is a rough drawing of my back patio. As you can see, the patio measures 10'x 21.5′. I've planned 3 string light poles, and 4 hooks on the side of the house to hang the lights from. I've also included the location of the outlet on the side of the house.
Materials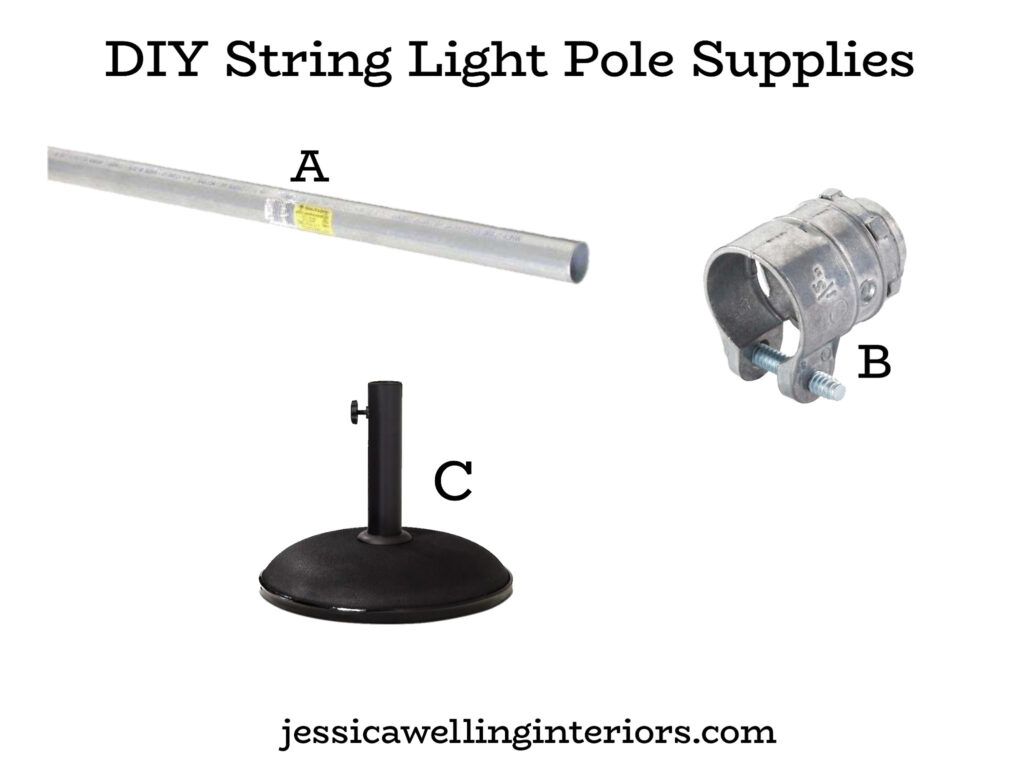 A. Electrical Metal Tubing Conduit (10′), from Home Depot
B. 3/4 Inch Flexible Metal Connector, from Home Depot
C. Umbrella Stand, from Walmart (this is the best and cheapest one I've found)
1 rigid coupling
1 threaded clamp
Tools
screw driver
hack saw
step ladder or step stool
Inexpensive Umbrella Bases: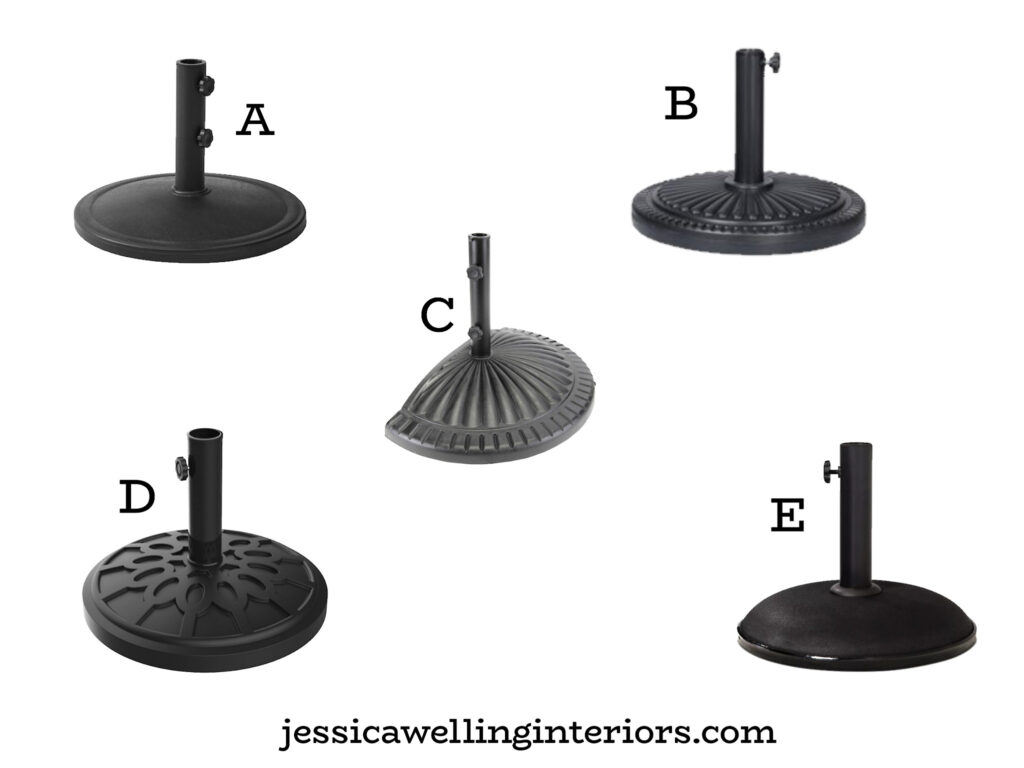 A. 30 lb Round Black Umbrella Base, from Walmart
B. Heavy Duty Umbrella Stand, from Walmart
C. Half Round Patio Umbrella Stand, from Wayfair
D. Freestanding Umbrella Base, from Walmart
E. Concrete Umbrella Base in Black, from Target
How to Make An Outdoor String Light Pole
1. Cut The Pole Down To size
If you're starting with a 10-foot piece of electrical conduit (and you most likely are, because that's the size they come in), you'll need to begin by cutting it down to the size you want.
If you're in a large open space, 10-foot-tall poles might work for you, but for most backyards, decks, or patios, you'll probably prefer the look of eight-or nine-foot poles. Use a hack saw to cut the pole down to size.
2. Attach the Rigid Coupling and Threaded Clamp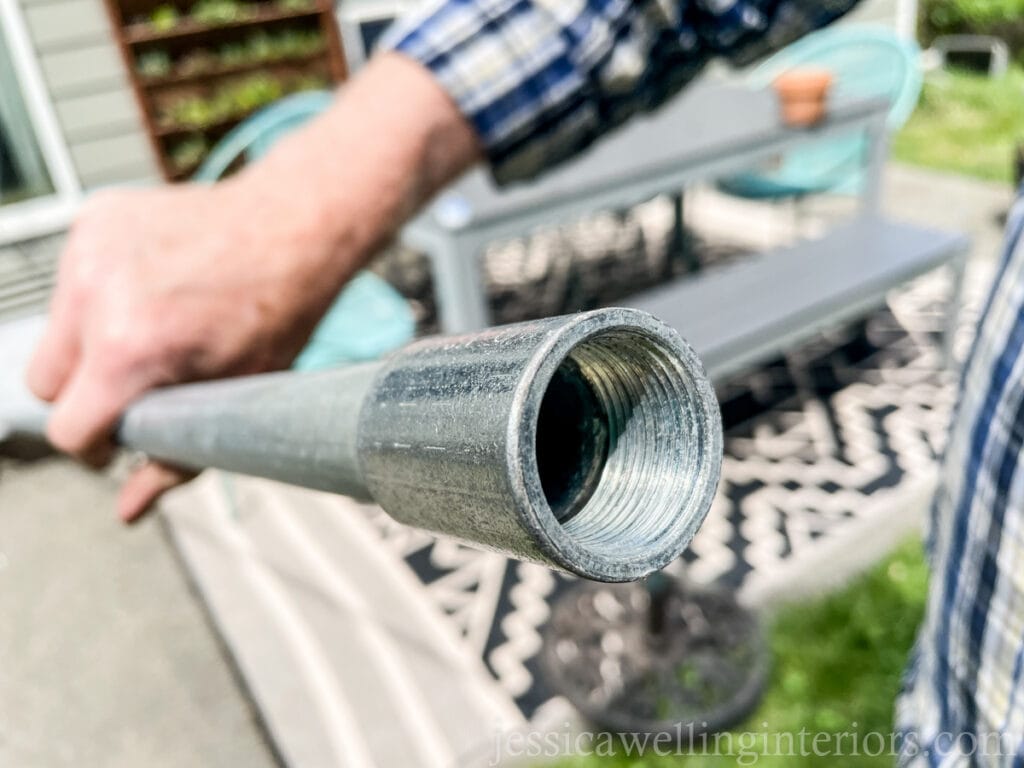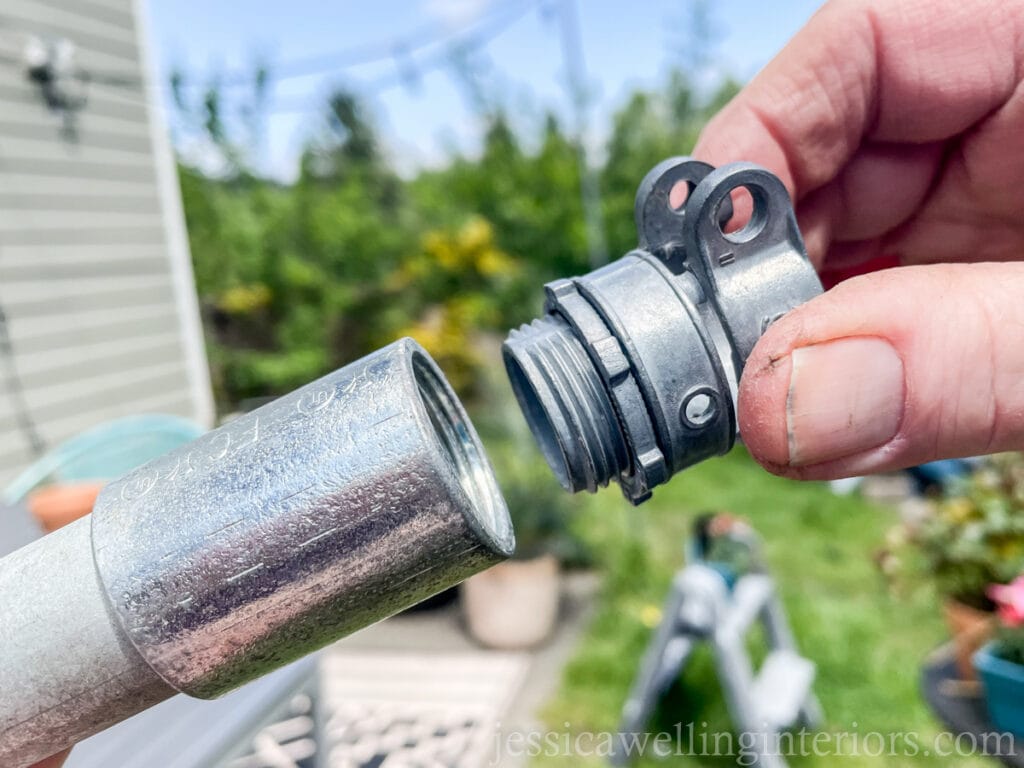 3. Set Up the Pole
Place your umbrella stand where you want it. Be sure to place it where it won't be a tripping hazard in a low-light environment. Insert the metal pole into the umbrella stand so the pole is standing upright.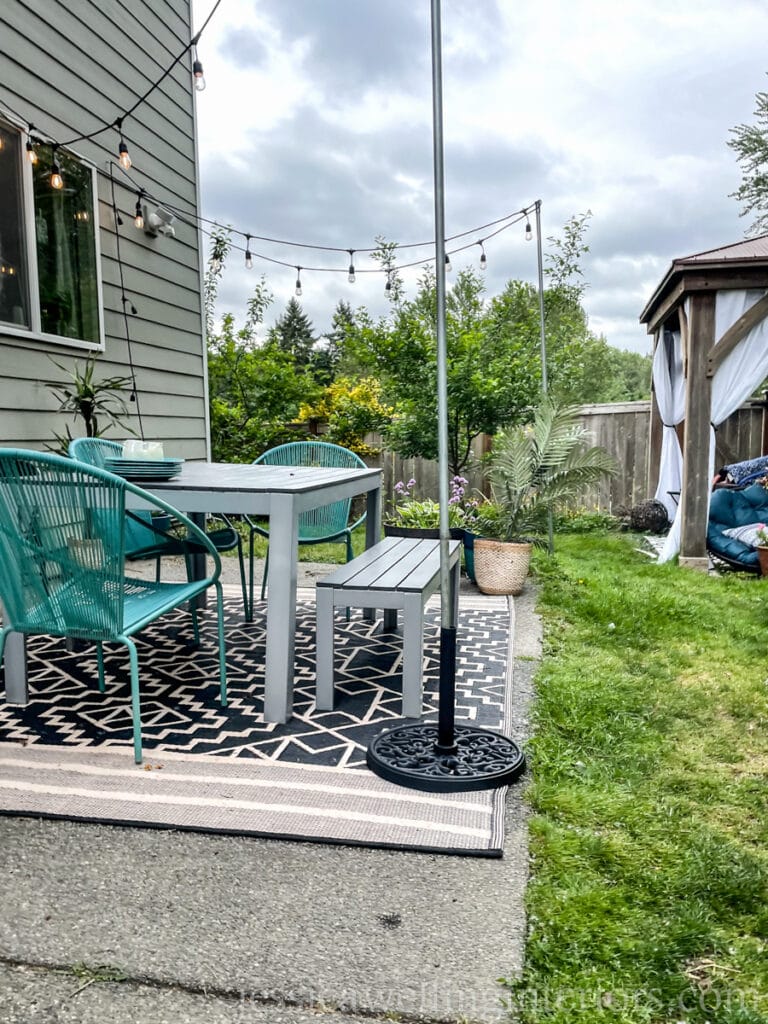 4. Attach String Lights to Poles
Use the screwdriver to unscrew the squeeze connector. Run the string light cord through the opening, and then replace the screw.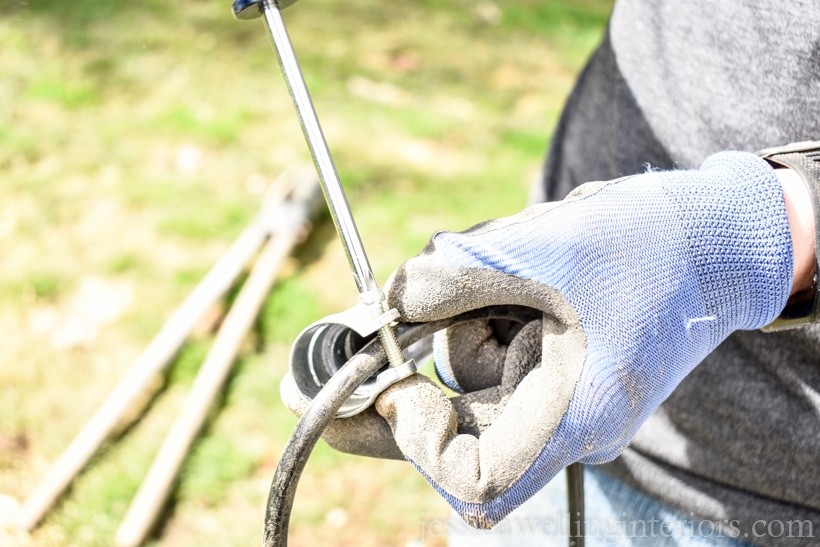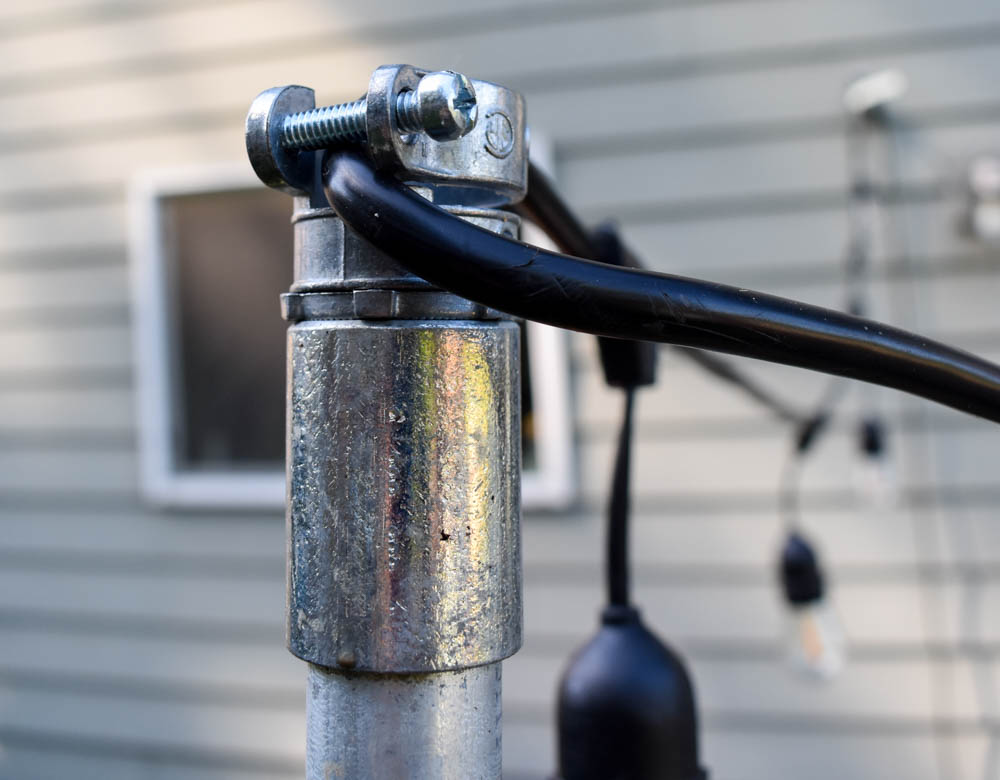 5. Screw In Bulbs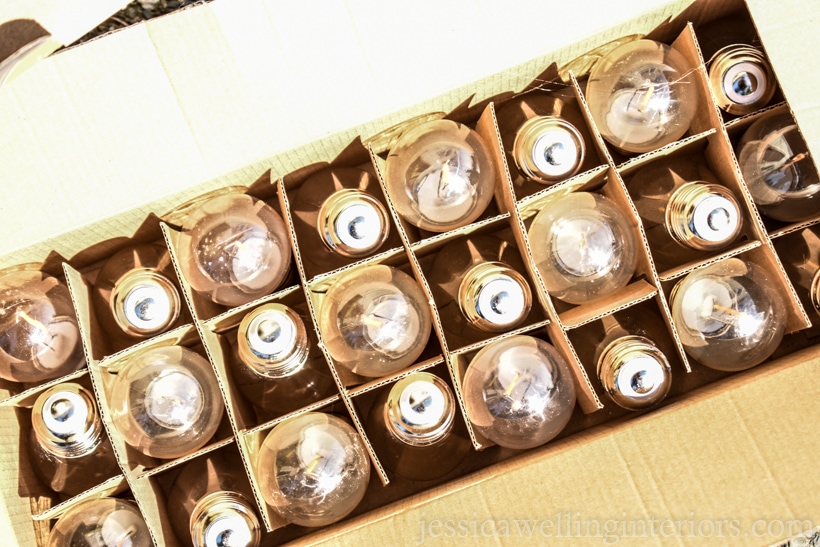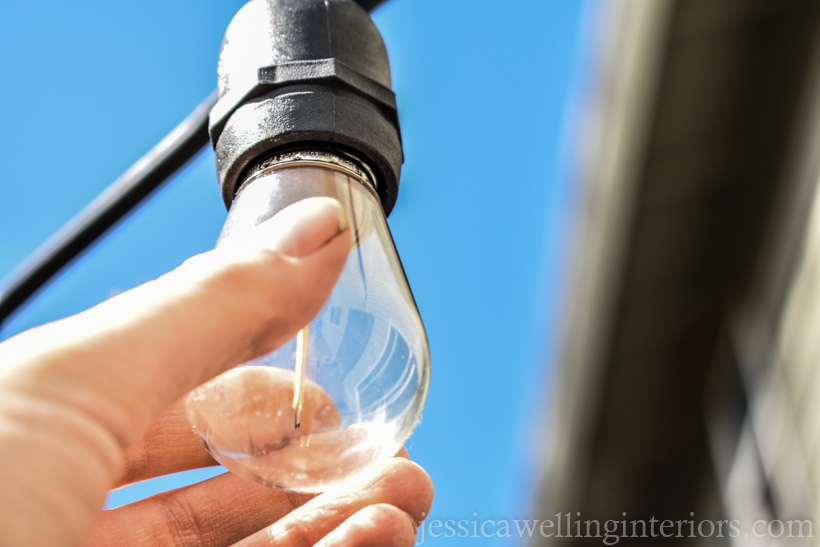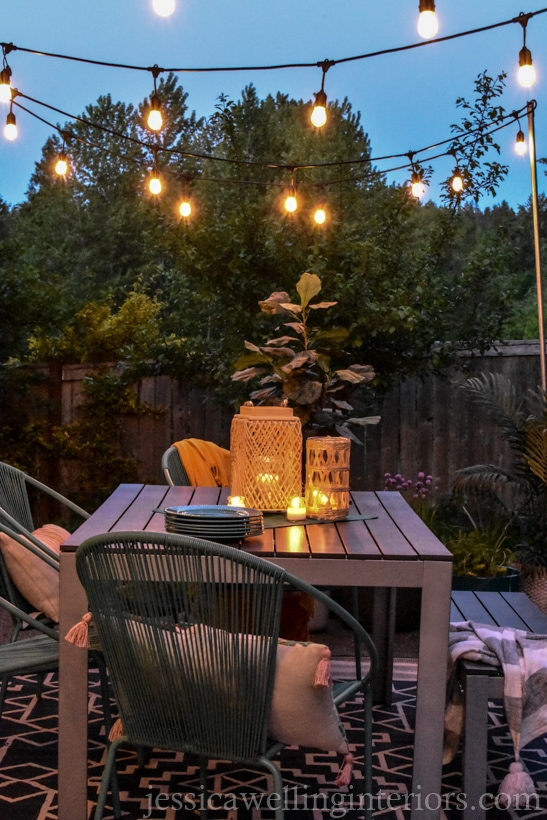 Helpful Tips for Hanging String Lights:
Hang the patio light strand without the bulbs first, and screw them in once everything is in place. It's easy to break bulbs when they're being jostled around.
Be sure to plan a little extra length of your light strands to swag the lights a bit. They'll look funny if they're pulled taught and it will cause your poles to lean.
Remember that the total number of lights will affect how bright your space will be. The closer together you place the poles, the brighter the light will be. String lights are generally one of the brighter backyard lighting options. If you're concerned about attracting insects or need lower light for any reason, you might consider a different option, such as candle lanterns, tiki torches, or an outdoor chandelier.
You can get these half-circle umbrella bases if you need to place them up against a wall or railing.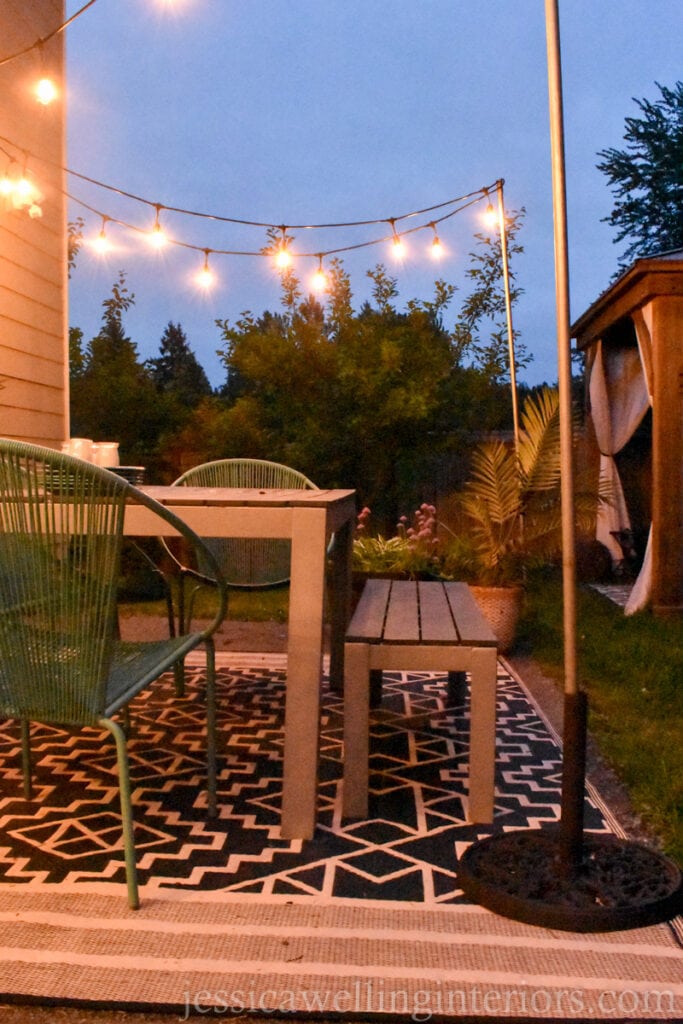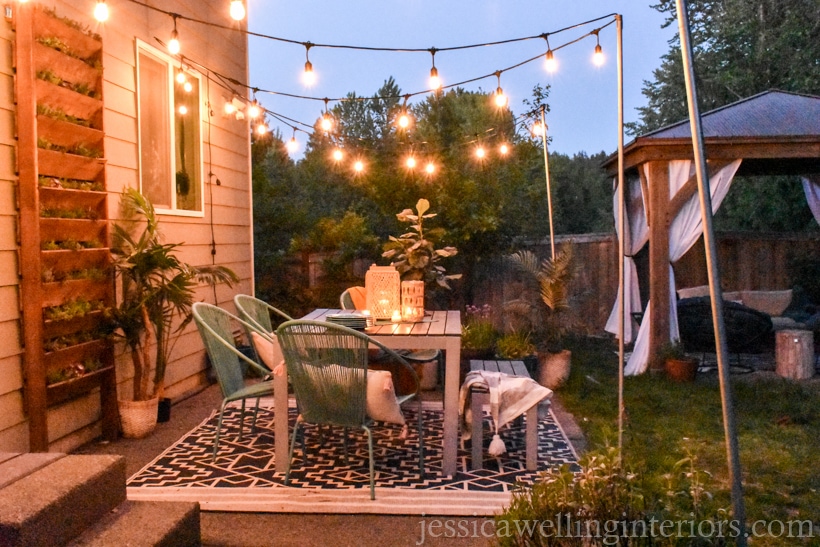 You can see the details of my Boho patio makeover here!
More Outdoor Living Ideas…
How to Hang String Lights: 10 Different Ways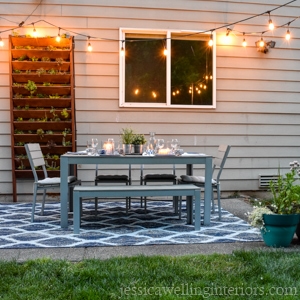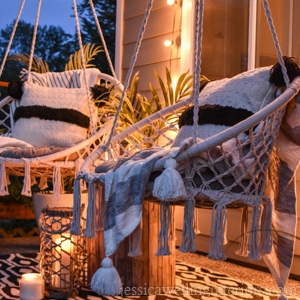 Patio Shade Ideas: How To Choose