How to Hang String Lights: 10 Different Ways
Learn how to hang string lights over your deck, patio, or backyard with these string light ideas and step-by-step tutorials.
Outdoor string lights are wildly popular, and for good reason! They feel magical and bring a warm, intimate ambiance to any party or outdoor living space.
Inexpensive, simple for the average person to DIY, relatively easy to put up and take down with the seasons, and the list goes on…
And if you're still not sure what kind of lighting is best for your outdoor living space, I walk through more backyard lighting options in this post.
The Best String Lights
If you're shopping for string lights, you'll want to check out this post where I test and review 20 different brands. Spoiler: These are my top pick.
The Best Outdoor String Lights: Tested & Reviewed for 2023
What's the Best Way to Hang Outdoor String Lights?
The answer, of course, is "It depends." But never fear! We're about to go through 10 different ways to hang outdoor string lights.
The best option for you will come down to what's around your outdoor space to secure the lights to, whether you need to install your own posts, and whether you plan to leave the lights up year-round or take them down for the colder months.
Make a Plan
I recommend getting out a tape measure, paper, and pencil. Do a quick sketch of the layout of your patio, and label it with a few basic measurements.
Be sure to include the outlet or power source, and any nearby trees or structures you could make use of.
String Light Poles & Posts
Buy Ready-Made String Light Poles
The very easiest way to hang outdoor string lights is to buy ready-made poles. This year I bought and tested 15 different poles to review, and I was pleasantly surprised with the quality of some (though not all) of them. These 10′ fork-style poles were the all-around winners for best quality, ease of installation, and value. You can read all the reviews here: The Best String Light Poles: Tested & Reviewed.
DIY String Light Poles: The In-Ground Method
My patio dining space at my old house was right next to the house, with no convenient trees nearby. So while we could hang them from hooks on the house side, we really needed some poles on the other side of the patio.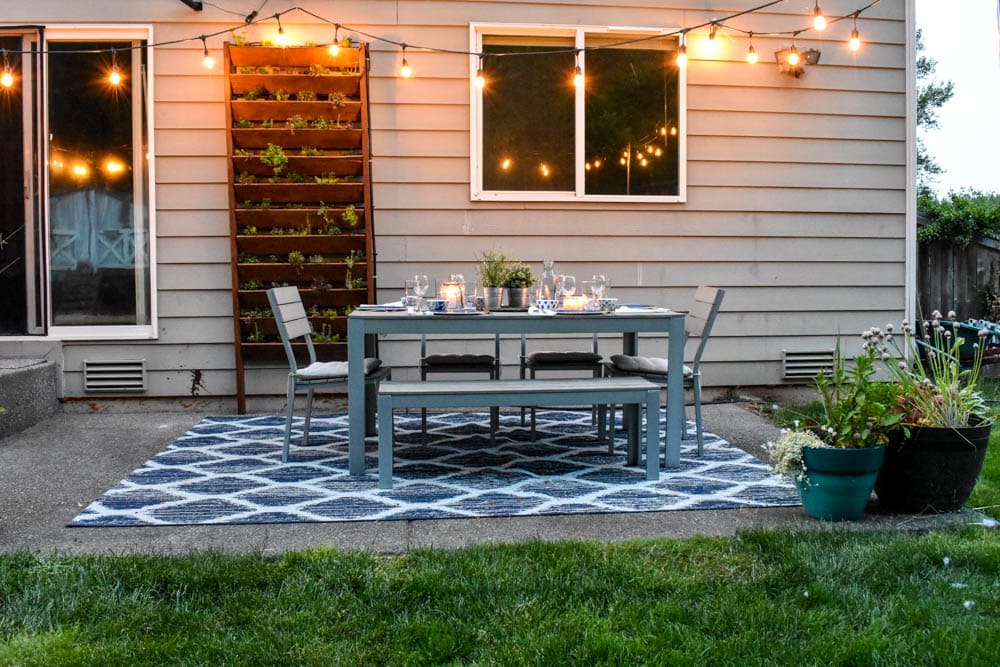 We came up with this ultra-simple and inexpensive method for installing string light poles. The PVC stays in the ground year-round, but the poles themselves can be pulled out at the end of the season and stored in the garage. You can watch our quick video tutorial here:
How to Hang String Lights When You're Renting
Here's a slight variation on the string lights poles above. These poles use a patio umbrella stand as the base. They can be moved around easily and are perfect for wedding receptions, outdoor parties, or anywhere you don't can't dig holes in the ground. And did I mention this one only requires 3 tools and takes about 20 minutes tops?
More DIY String Light Posts…
Wendi from H2O Bungalow has a great tutorial for freestanding DIY Planter String Light Poles, which are moveable.
And here's another planter post idea from Lauren at Mom Home Guide.
How to Hang String Lights On A Deck
I recently got these inexpensive deck railing string light poles for my parents' new deck, and the installation took about 20 minutes. The poles come with brackets that attach them to the deck railings.
We tested two different brands of poles and were equally happy with them. Here's the tutorial: How to Hang String Lights on a Deck
If you have a deck with railings, you're already halfway there. Check out this ultra-simple tutorial from Jenna Kate at Home:
Julie from Red Head Can Decorate hung them on the deck railing.
How to Hang Outdoor Lights From Trees
If you've got big trees near your patio or deck, you're in luck! You can use eye hooks, cup hooks, or coaxial staples to secure them to the tree.
Cyndy from The Creativity Exchange anchored her patio lights to a tree in this beautiful outdoor dining space.
Ariel from PMQ for Two made use of some nearby trees to hang lights over her super-fun outdoor living room.
Or drape them in the lower branches of a tree, like my friend Kippi did for this gorgeous backyard 4th of July party.
How to Hang String Lights From a wall, fence, or building
If you want to hang your cafe lights from your house or another wall or fence, simply drill a pilot hole and screw either an eye hook, a cup hook, or a coaxial staple into the wall.
We used this method on the house side of our patio.
I hung string lights on the wall behind my new boho porch swings! You can see the whole porch makeover here.
Jenna from Jenna Kate At Home hung string lights along her house next to her patio to create this ultra-casual look.
Hang String Lights from A Ceiling or Covered Patio
April from Love Our Real Life has a roof over her deck, and she has a great tutorial for hanging patio lights from the ceiling.
I hung string lights in the kids' playhouse using a similar method- small cup hooks in the rafters. It takes 5 minutes to hang the lights up each Spring and take them down at the end of the Summer. You can see the whole playhouse makeover here.
Emily from Table & Hearth used a similar method to hang her string lights under her covered patio… but she hung them in a criss-cross pattern.
I hope these tutorials were helpful! Now go enjoy your outdoor spaces!
More Ideas for Your Patio…
100 Boho Outdoor Rugs Under $150!
Backyard Lighting Ideas: A Simple Guide for Outdoor Living Spaces
Bamboo Chain-Link Fence Cover Tutorial
Shop My Favorite Inexpensive Patio Furniture & Outdoor Rugs…