20 Modern Patio Bistro Sets Under $200!
A patio bistro set is the perfect outdoor furniture for a small deck or apartment balcony! These are the best affordable sets for 2023.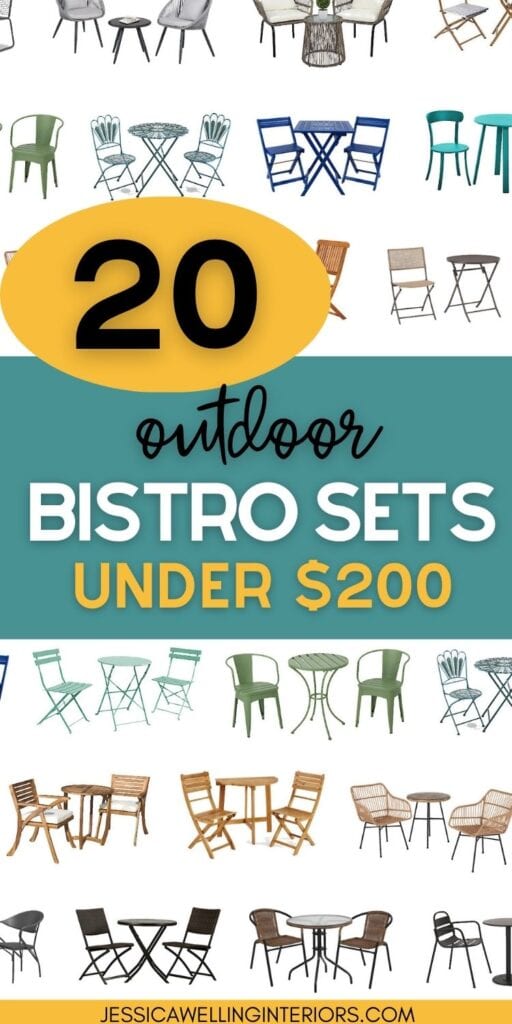 Dining outdoors is one of the great joys of Summer! And what could be more romantic than a cozy dinner with your sweetheart, lit with string lights and candle lanterns?
If you have a small outdoor space, a patio bistro set is the perfect thing. I've rounded up my favorite inexpensive outdoor bistro sets for 2023. And they're all under $200!
Folding Patio Bistro Sets
First, we'll look at patio bistro sets that fold up for convenient off-season storage. These are a great option if you only have a small apartment balcony or limited storage space.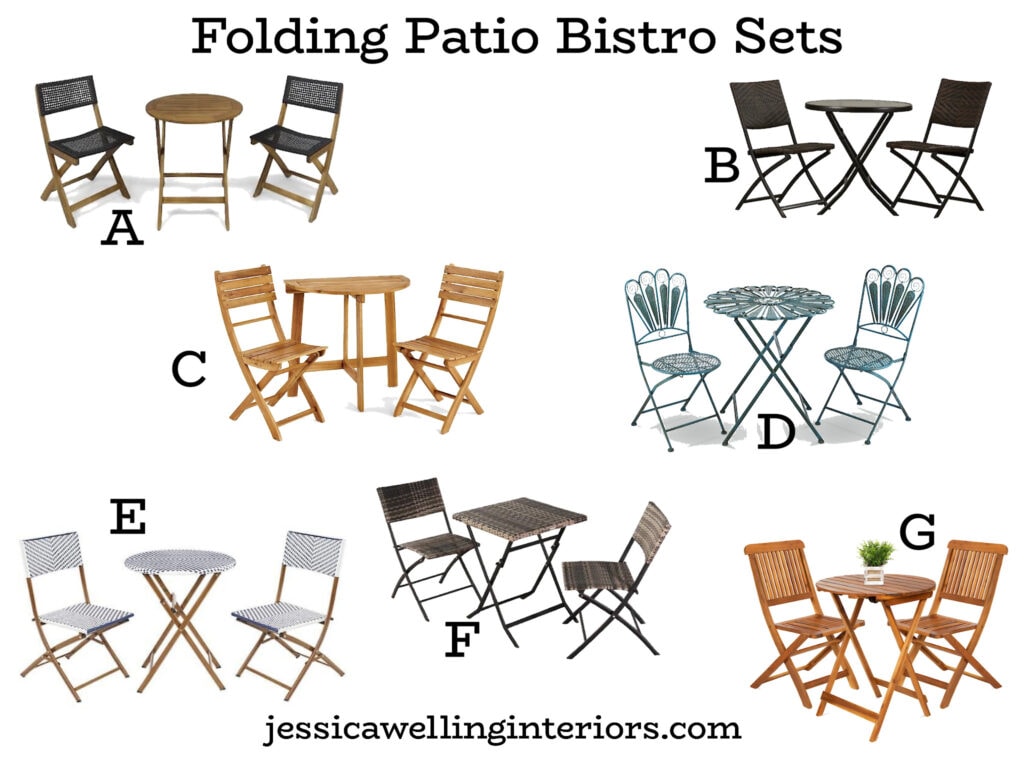 A. Acacia & PE Rattan Patio Bistro Set, from Overstock
B. Round Folding 2-Person Outdoor Dining Set, from Wayfair
C. Half Round Two Person Outdoor Dining Set, from Wayfair
D. 3 Piece Outdoor Feather Metal Bistro Set in Blue, from Walmart
E. Wicker Folding Patio Bistro Set, from Home Depot
F. Gray 3-Piece Patio Dining Set, from Home Depot
G. 3-Piece Acacia Wood Bistro Set, from Target
Modern Outdoor Bistro Sets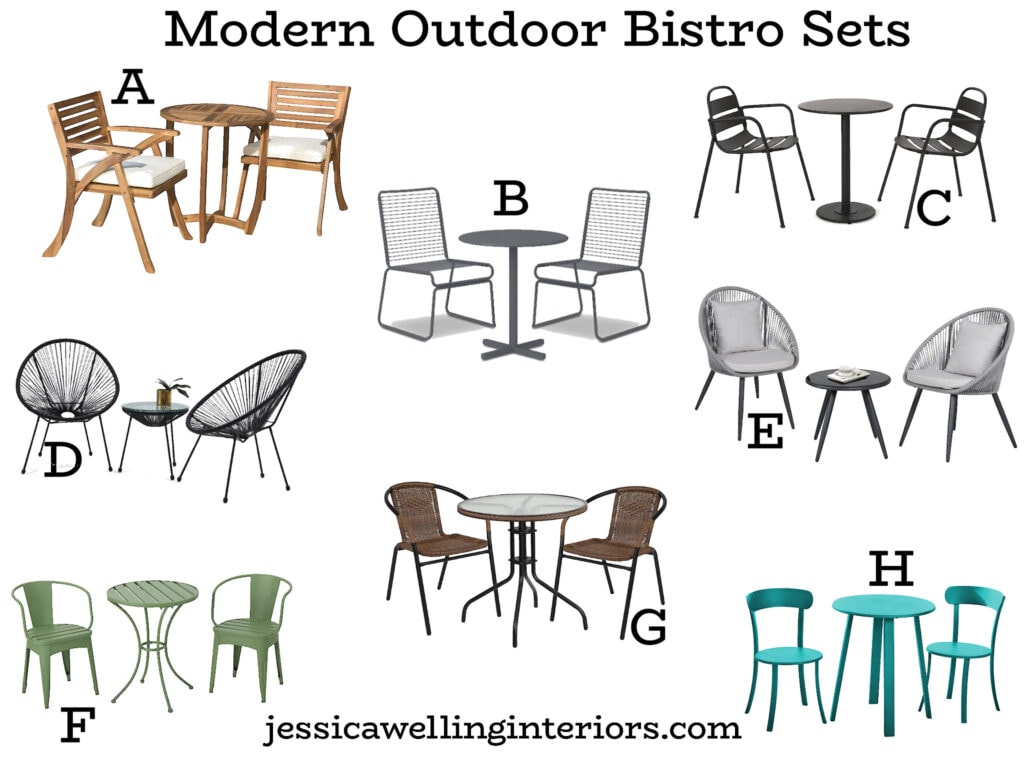 A. Acacia Wood Patio Bistro Set with Cushions, from Target
B. 3pc Patio Bistro Set in Charcoal Grey, from Target
C. Round 2-Person Outdoor Dining Set in Black, from Wayfair
D. Modern Outdoor Bistro Set in Black, from Wayfair
E. 3 Piece Woven Rope Outdoor Bistro Set, from Amazon
F. 3- Piece Iron Bistro Set in Matte Green, from Walmart
G. Round 2 Person Outdoor Dining Set in Brown, from Wayfair
H. Matte Teal Patio Bistro Set, from Target
Wicker Patio Bistro Sets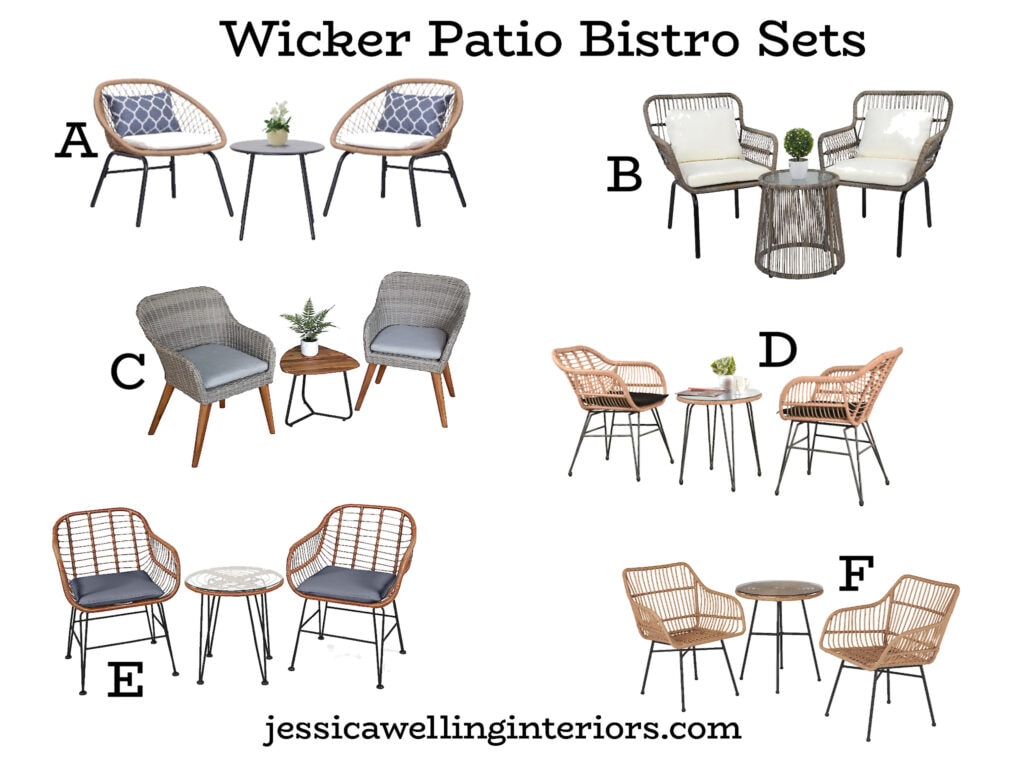 A. 3 Piece Outdoor Wicker Dining Set, from Walmart
B. All-Weather Wicker Patio Bistro Set, from Walmart
C. 3-Piece PE Rattan Outdoor Seating Set, from Amazon
D. Round 2-Person Outdoor Dining Set with Cushions, from Wayfair
E. Rattan Patio Dining Set for 2, from Wayfair
F. Wicker Outdoor Bistro Set, from Walmart
I've used several of these patio sets in my collection of shoppable inexpensive patio decor ideas this year. You can see and shop the designs here: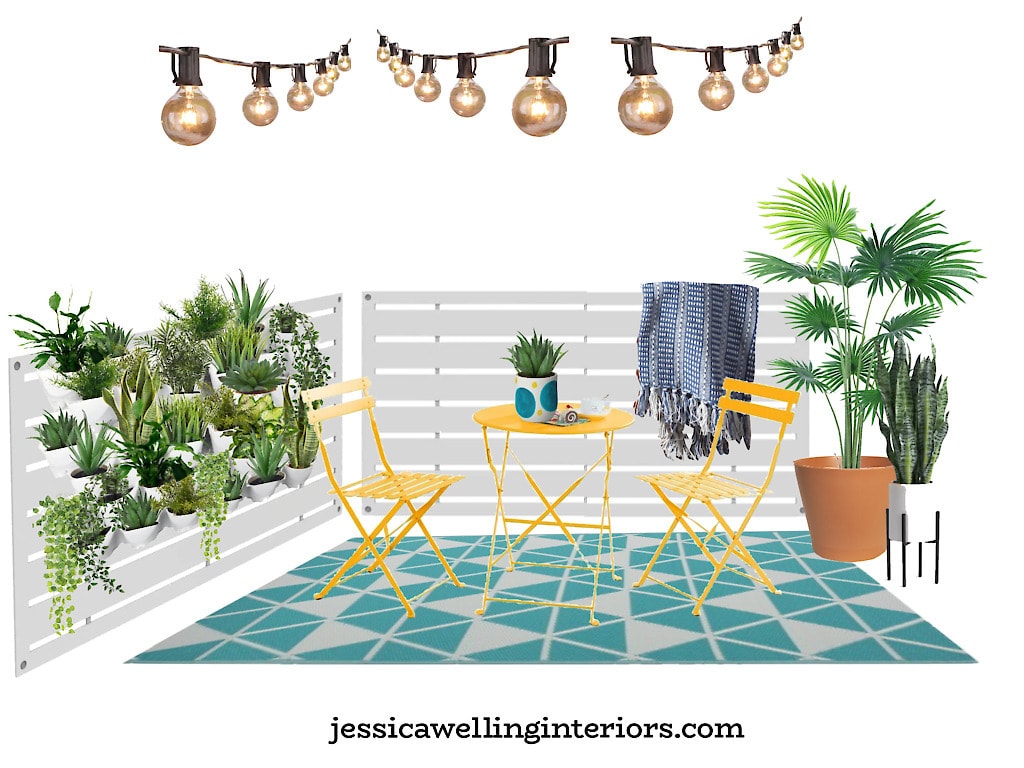 Shop My Favorite Outdoor Furniture & Accessories…
More Patio Ideas…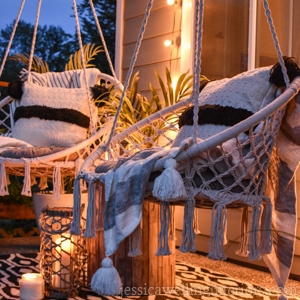 Costco Gazebo Review: Our Experience After 6 Years