15 Mini Christmas Tree Decorating Ideas!
Mini Christmas trees from Dollar Tree are perfect for centerpieces, office Christmas decor, small apartments, or wherever!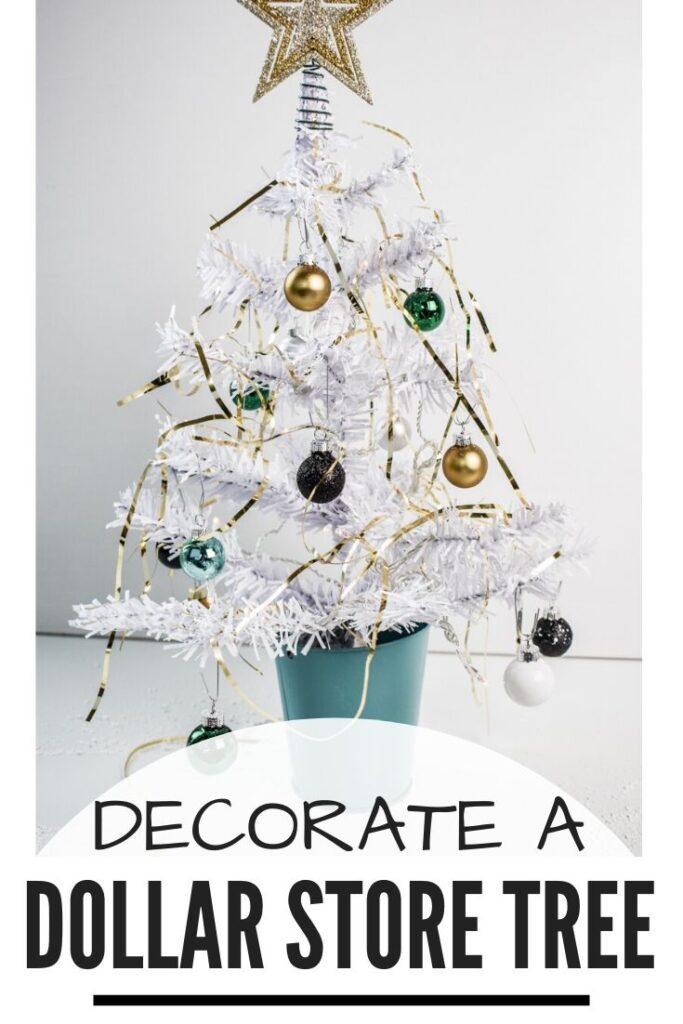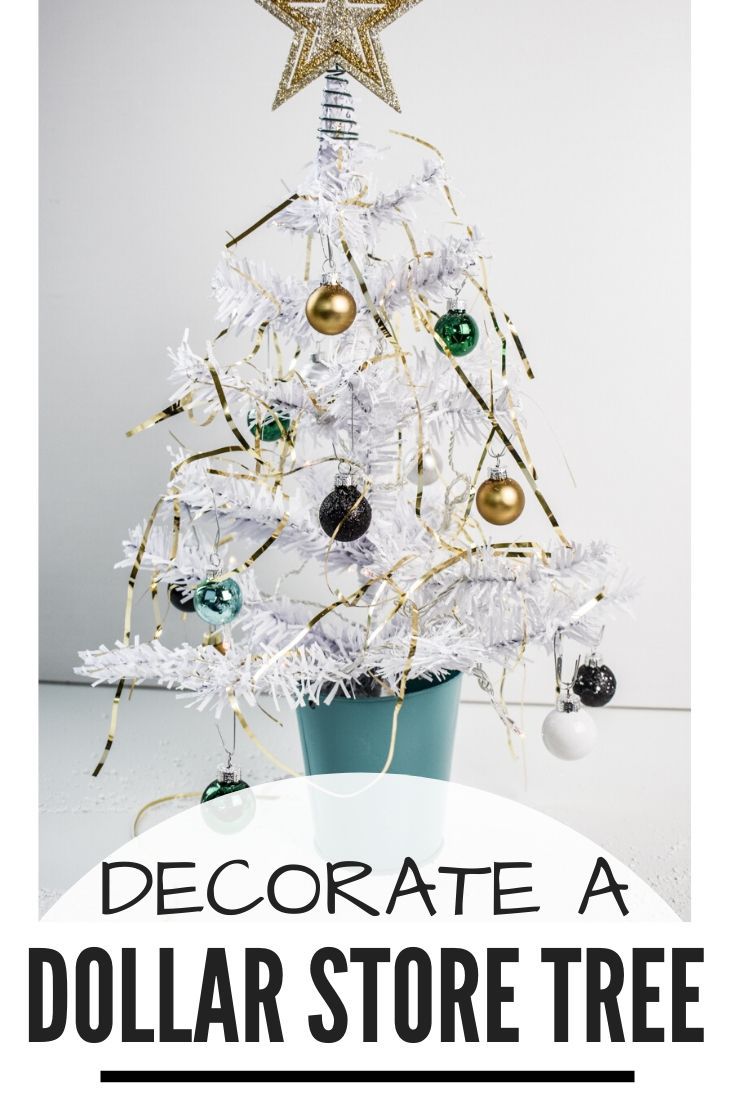 I'm super excited, because today, my friend Terrie from Decorate and More with Tip is hosting a blog hop, and several blogger friends and I are sharing our dollar tree mini Christmas tree makeovers! I'll show you my tree in a minute, but first, I want to give you a sneak peek at all my friends' amazing and fun mini Christmas tree makeovers!
Scroll down to the bottom of this post for links to their sites and to see how they decorated their trees!



how to makeover a dollar store tree
I'm going to show you how I decorated my tree.
1. flock the tree
These Dollar Tree Christmas trees are cute (and a steal!), but you've gotta admit they're a bit forlorn looking when they first come out of the box. I decided to add a bit of flocking to give my tree a little more body.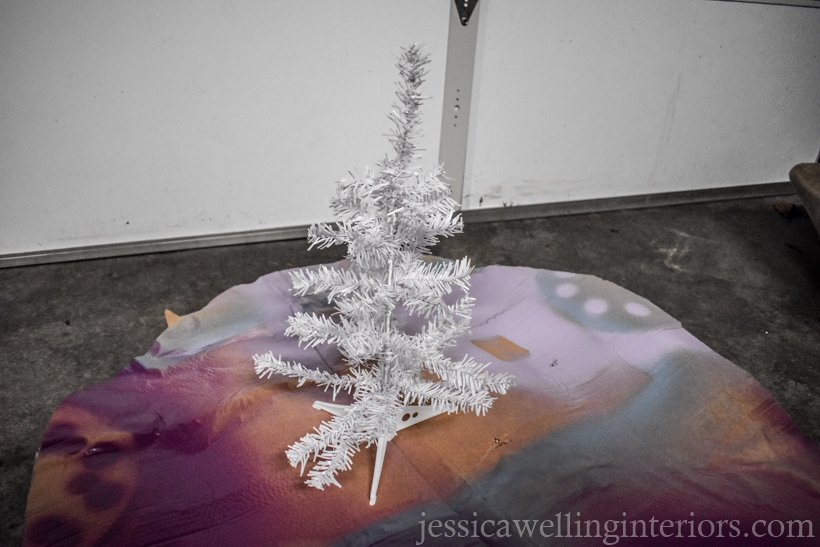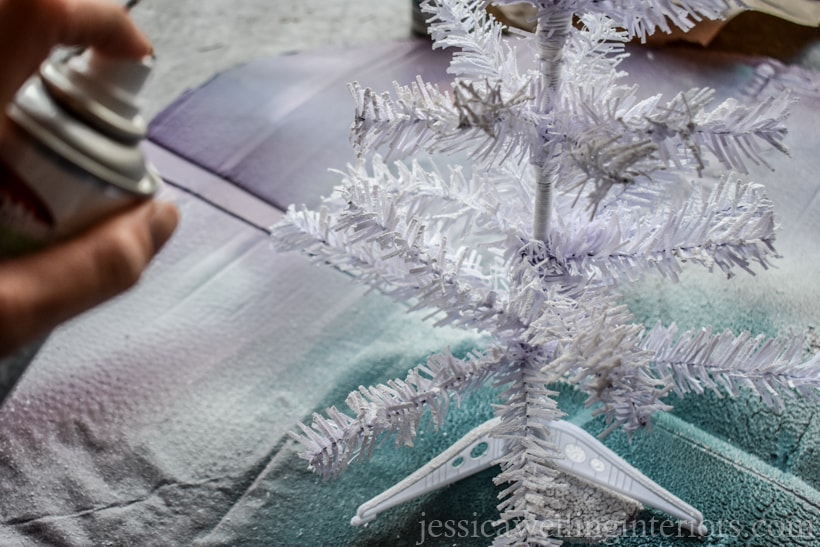 This was my first time using flocking spray, but it wasn't much different than spray painting. If your can of flocking has been sitting in a cold garage, be sure to warm it up in a bowl of warm (not hot) water for a few minutes and shake it up well before spraying.
It takes several hours to dry, so I did this the night before, and brought my tree inside to dry overnight.
2. paint the bucket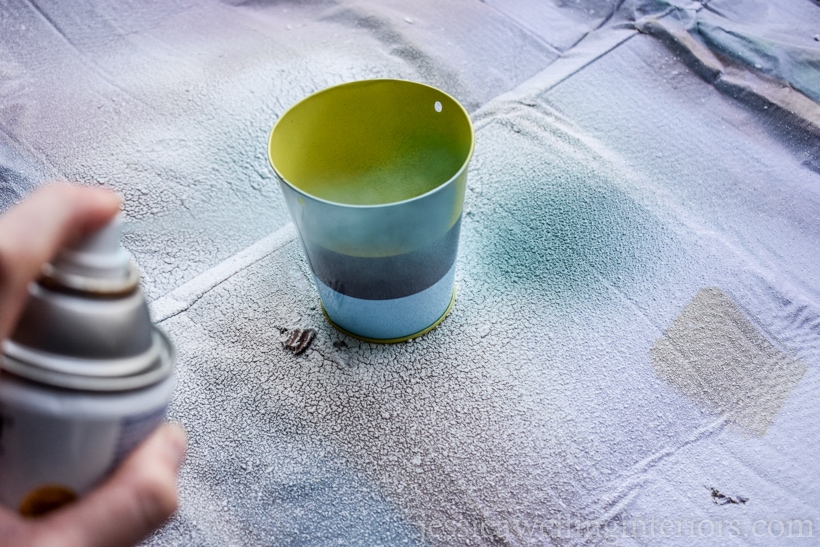 I had this old bucket from the Target dollar section laying around, so I spray painted it aqua to go with my mini ornaments.
3. cut the floral foam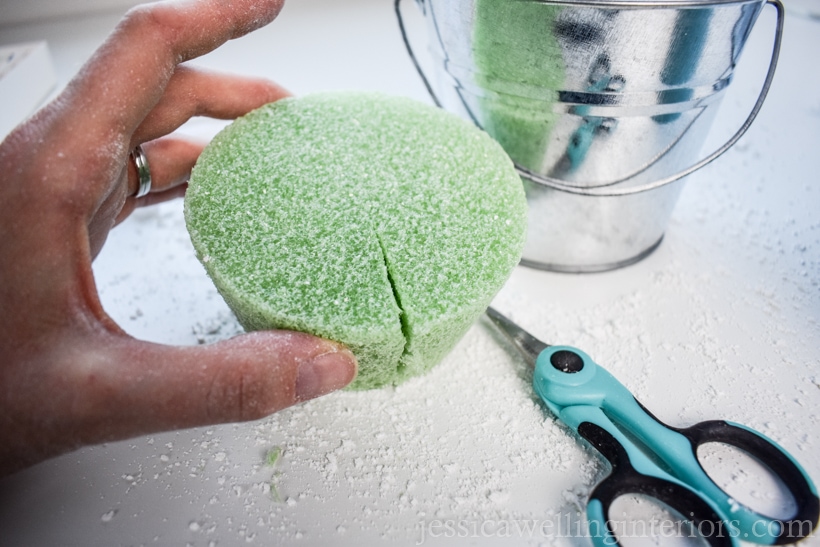 My mini battery-operated lights have a battery pack that needs to fit into the bucket. So I cut the floral foam in half with a pair of scissors. A knife would work too.
4. wrap lights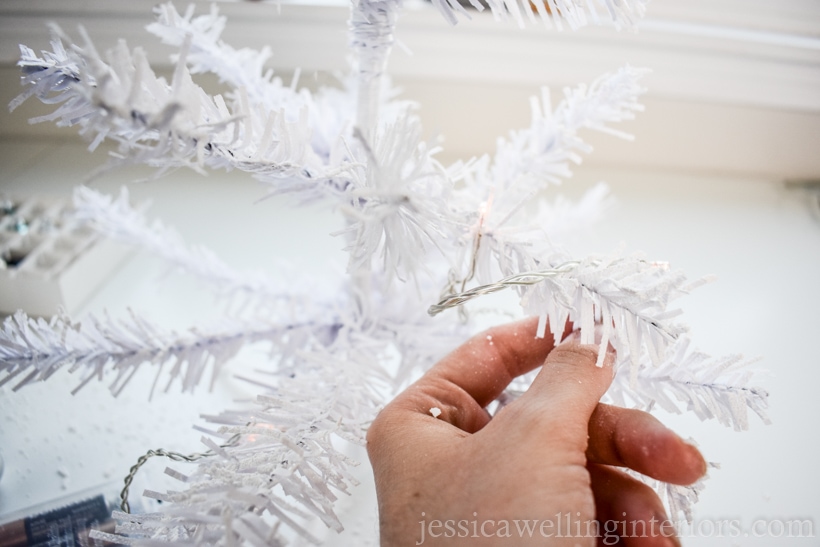 5. remove tree bottom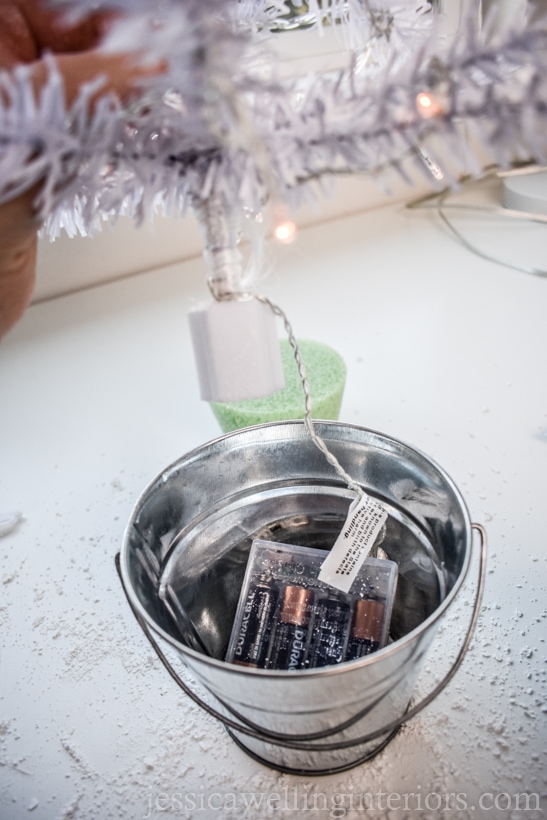 Remove the tree stand. Unscrew the plastic piece at the bottom of the tree to remove it.
6. insert tree into floral foam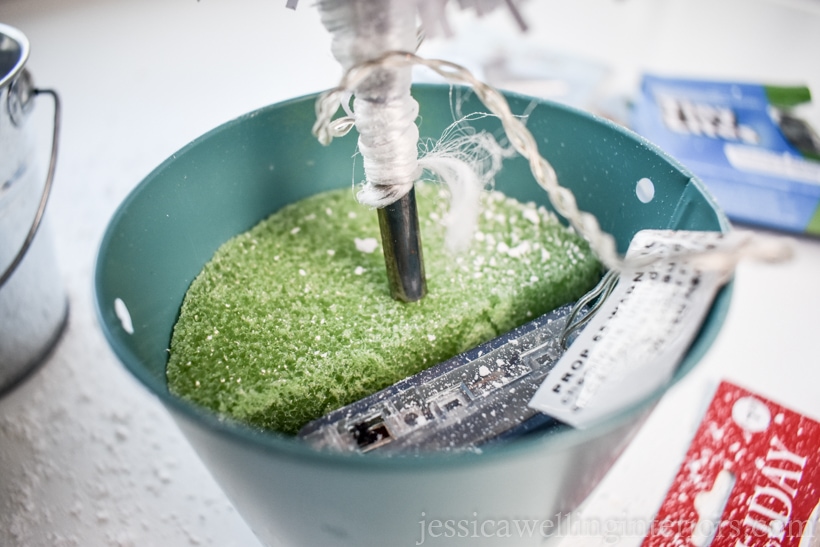 Now arrange the battery pack and the half piece of floral foam in the bucket, and stick the bottom of the tree into the foam, so that it feels secure.
7. hang christmas ornaments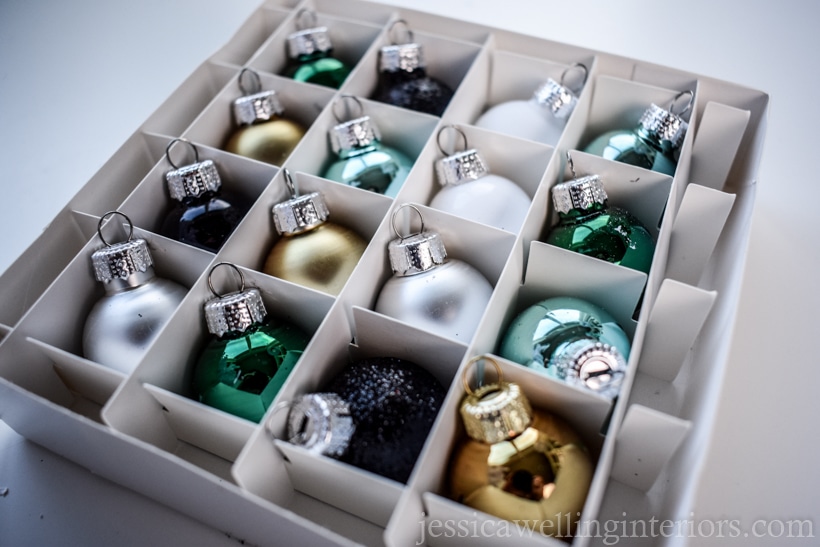 I used these mini glass baubles to decorate the tree.
8. hang tinsel
My Christmas tree still needed something, so I draped a little bit of gold tinsel on the branches.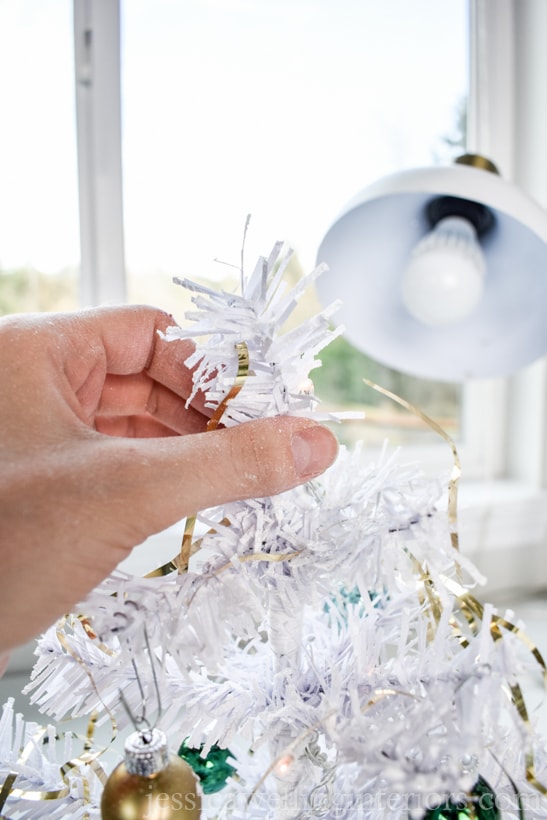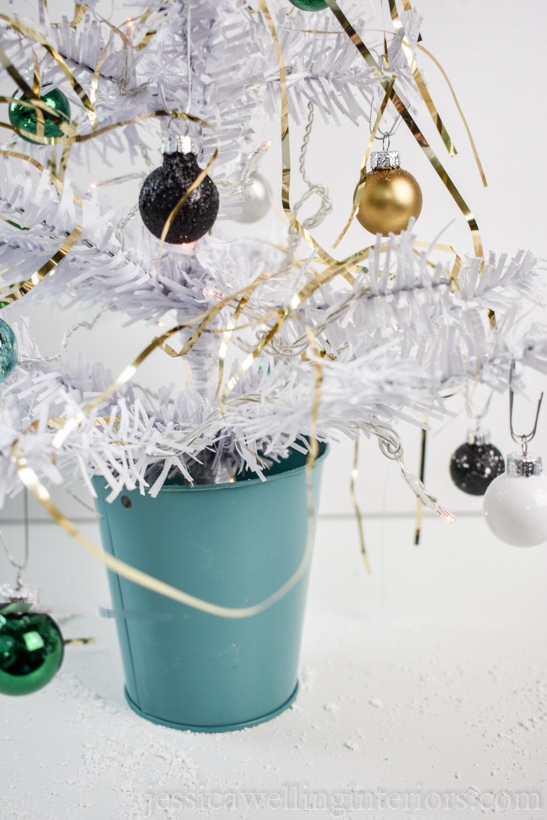 9. add a star
Finally, I added a mini star topper, and that was it!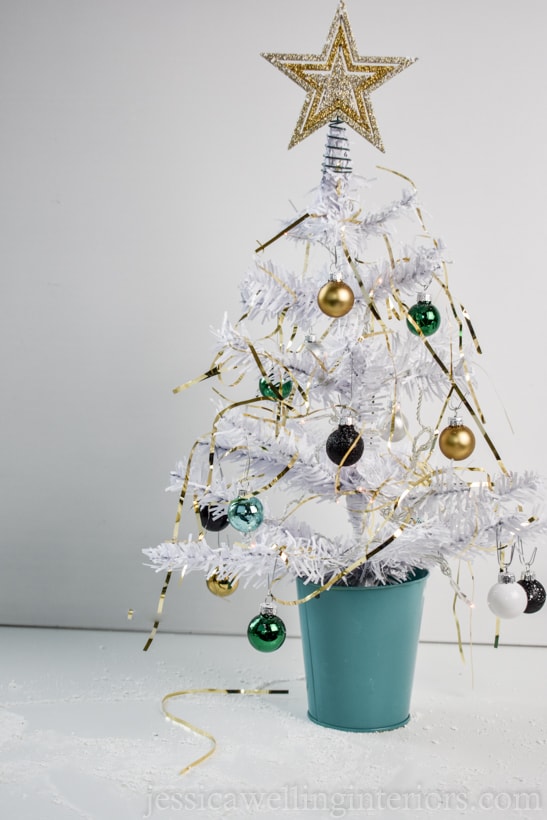 Okay, now go check out my friends' super-fun mini trees! I've numbered them from left to right.


6. Christine, from CD's Country Living
7. Dani, from Welcome to the Taborhood
8. Tammy, from Patina and Paint
9. Carol, from Blue Sky at Home
10. Mary, from Shady Oaks and Sassafras

11. Mine
12. Teresa, from Through a Vintage Door
13. Michelle, from Blessings by Me
14. Jessica Simmons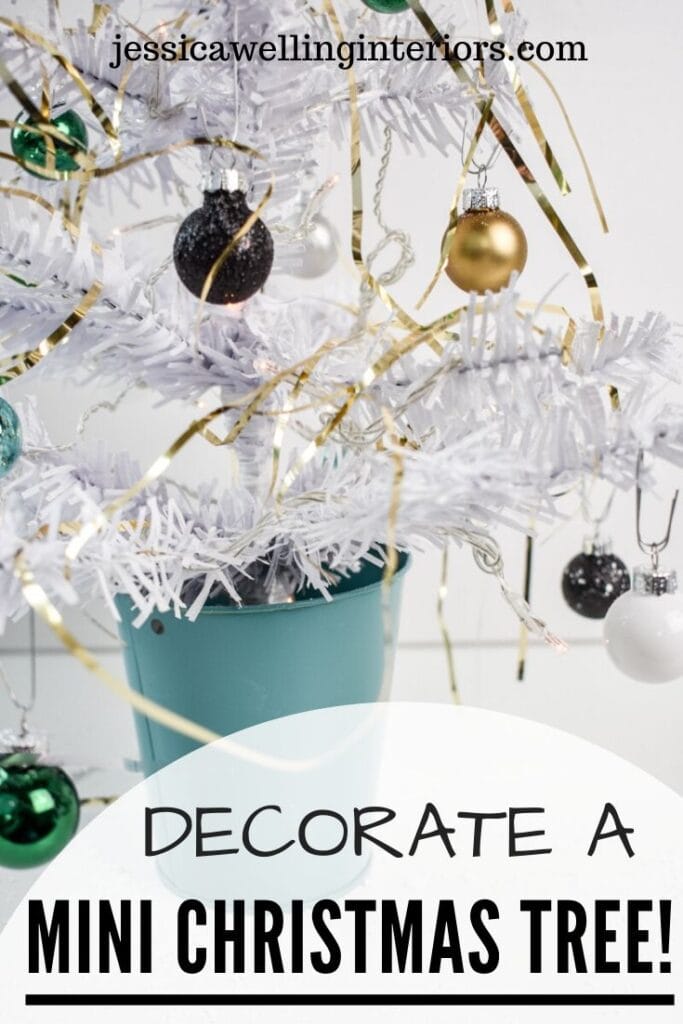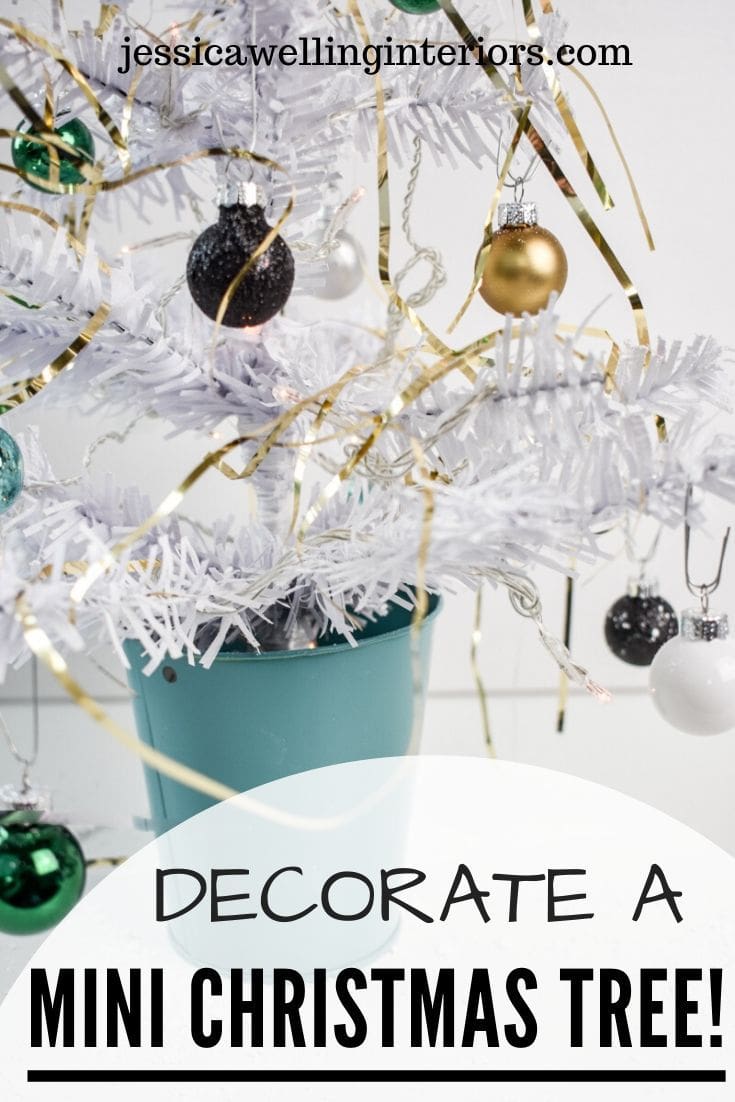 more easy christmas decorating ideas…
DIY Christmas Ornaments: Metallic Stars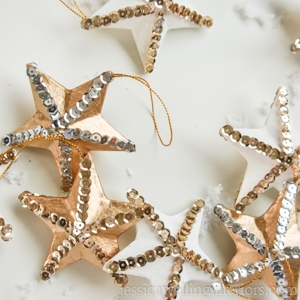 Easy Kintsugi DIY Christmas Ornaments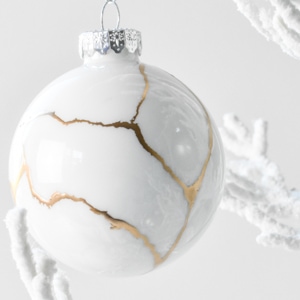 DIY Christmas Ornaments: Gold-Dipped Baubles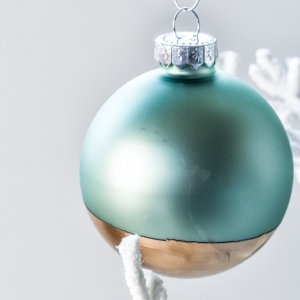 Make Your Own Advent Calendar!