How To Choose Nightstand Lamps for Your Bedroom
Many people treat lighting as an afterthought when they're designing and decorating their bedrooms. After all, there's usually a light fixture mounted smack in the middle of the ceiling. What more could you need?
A lot, as it turns out! Lighting a bedroom (or any room) is part art, part science. But never fear! We're going to walk through the whole process together. And there may be some trial and error involved… and that's totally fine!
Bedroom Lighting Sets the Mood
First and foremost in my mind when designing a bedroom, is relaxation. Most of us want a calm, soothing space where we can transition from wakefulness to sleep, and vise-versa.
With that goal in mind, we're going to choose soft and diffused lights that are just the right level of brightness, and the right color of light. The right color is warm white, by the way. We'll talk more about choosing lightbulbs later.
Someone laying in bed doesn't want to look up at a recessed can light blaring down at them.
Traditional Bedroom Lighting
A traditional bedroom set up (and when I say traditional, I'm referring to the furniture layout, not the decor style) features a bed with the headboard against a wall, a nightstand on either side, and a table lamp on each nightstand.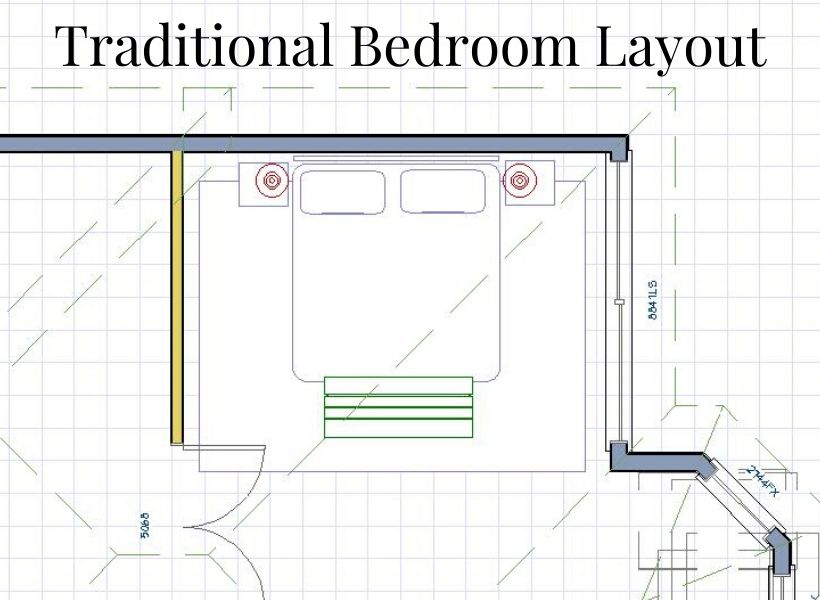 In more recent years, we've added the possibility that those lamps could be mounted to the wall, or even hung from the ceiling as pendants. But with every new decade and decor style, the layout hasn't changed much… and for good reason! It works really well in most spaces!
How to Choose The Right Reading Lights
The main purpose of bedside lights is reading in bed. And perhaps we'll add getting in and out of bed without tripping over the dog to the list. Bedside lamps can also add some nice style, and often symmetry, to your space. Here's a perfect example from my friend Jennifer Morrell at An Inspiring Home: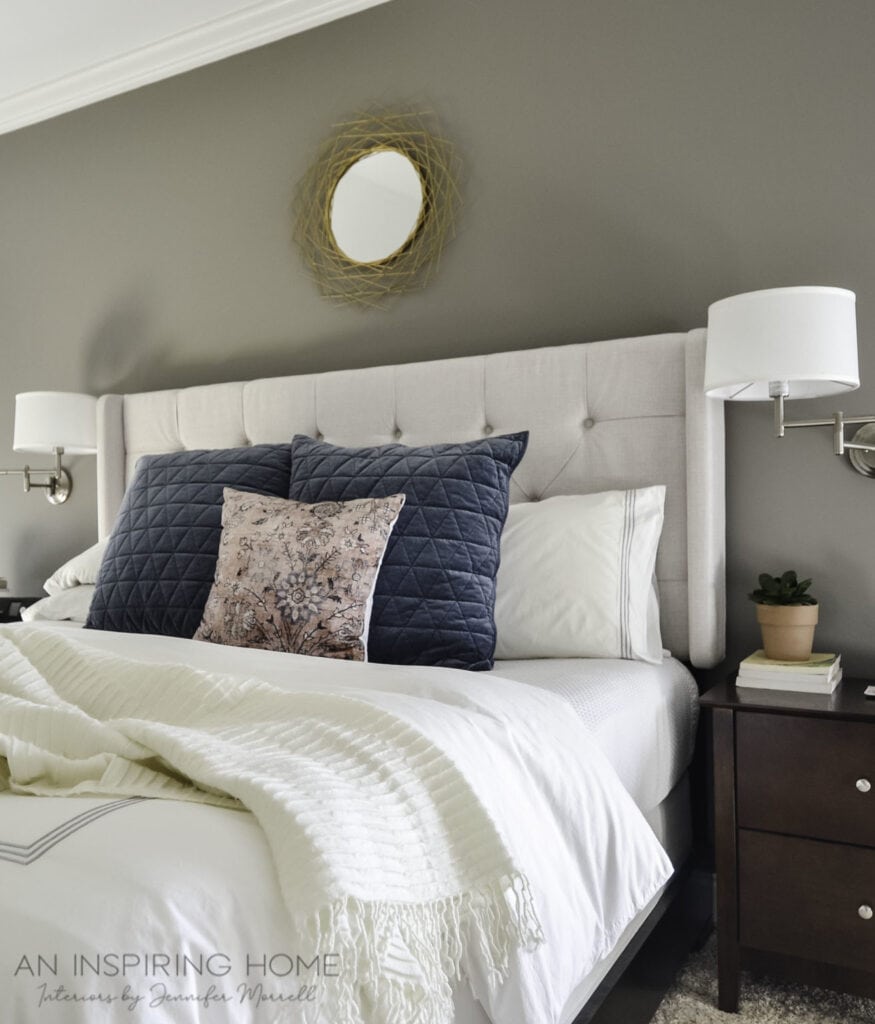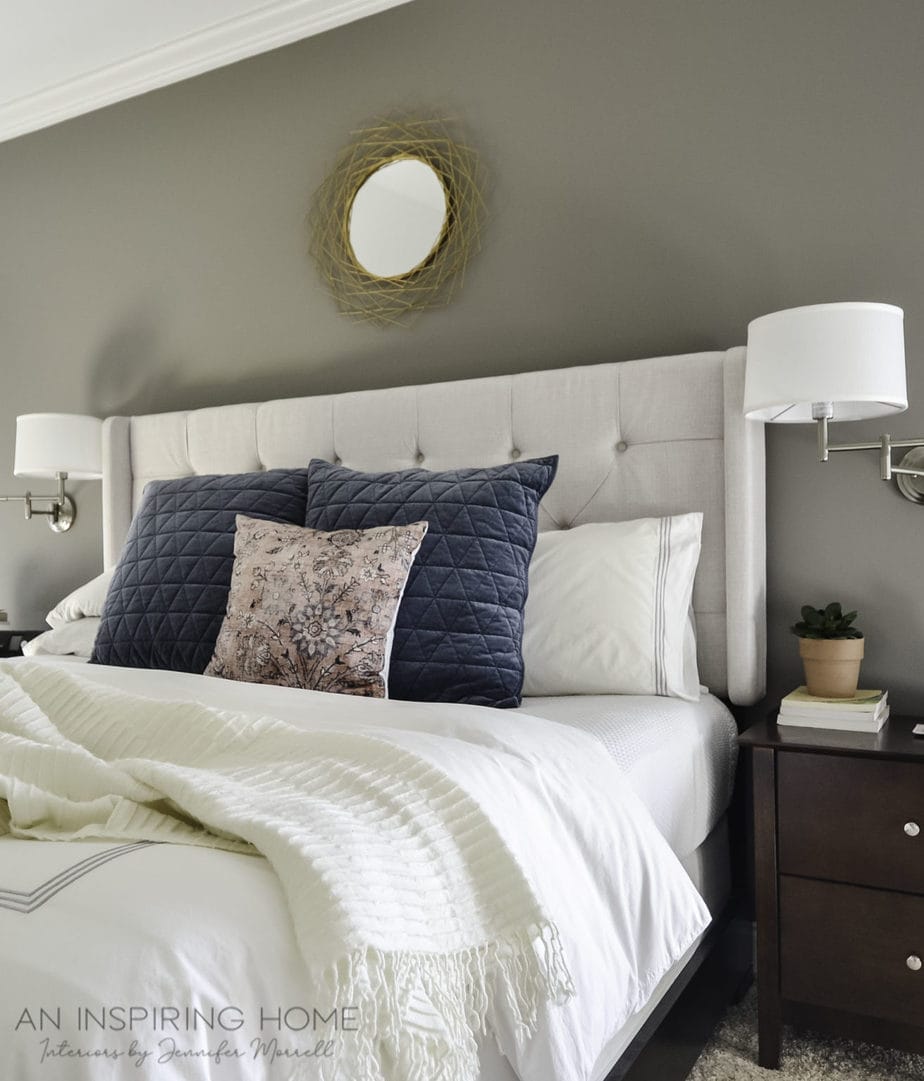 What's Your Design Style?
Getting your design style nailed down is no simple task… but I've got a design style quiz in the works and hopefully coming out very soon! In the meantime, if you're not sure what your style is, I recommend spending some quality time on Pinterest, and making boards of bedrooms you like.
Once you've got several photos, examine them for similarities. Do they all have blues and greens? Do they have mid-century accents? Are they all filled with gorgeous natural light?
Then look at the light fixtures and other hardware, such as curtain rods, drawer pulls, and table legs. Do you notice any patterns? Are they mostly black with gold accents? Brass? Brushed Nickel? Wood?
Now choose one of those finishes as your primary hardware material, and choose a secondary finish as well. You'll be looking for lamps in those finishes.
Table Lamps
Table lamps are the old standby when it comes to bedside reading lights. And there's absolutely nothing wrong with that!
In general, you'll want to look for table lamps that are in the range of 26-30″ tall. It can be tempting to pick short ones because they're usually a lot less expensive… but resist! Getting this right is worth it.
Here are are a few of my favorite tall table lamps that are perfect for nightstands from around the web. And I'm listing their heights with the links below.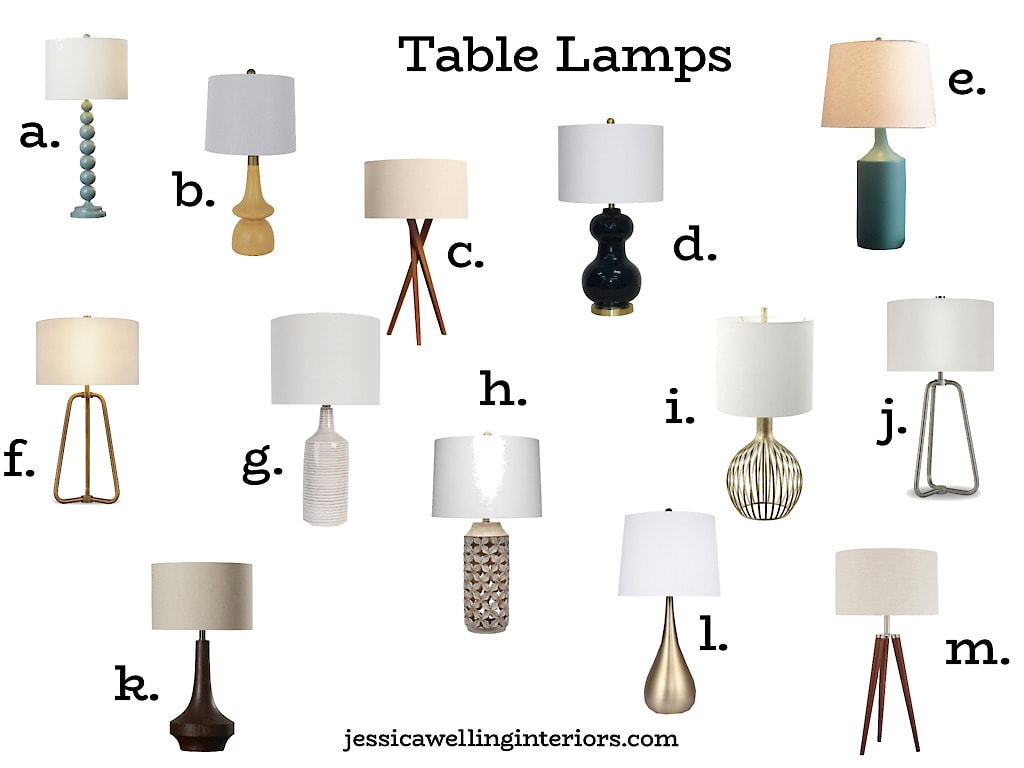 a. Willa Arlo Table Lamp Set, in Marine Blue– 30″
b. Carlita Table Lamp in Natural Wood– 26″
c. Fiona Tripod Table Lamp – 30″
d. Deasia Table Lamp in Black – 30″
e. . Cunha Table Lamp in Teal – 26″
f. Huron Table Lamp in Antique Brass – 26″
g. Pellston Table Lamps– 25″
h. Three Way Flora Table Lamp– 26″
i. Messer Table Lamp– 31″
j. Huron Table Lamp in Brushed Nickel – 26″
k. Annika Table Lamp– 26″
l. . McMunn Table Lamp Set– 28″
m. Elenora Tripod Table Lamp– 27″
Task Lamps
There's a trend toward using task lamps as bedside reading lights in modern bedrooms, and I'm embracing it! Instead of a warm glow, they will produce more focused direction light, the same way that most wall-mounted reading lights would. They're also very adjustable, which is useful, especially if you and your spouse are significantly different heights.
The height rules on these are a little different.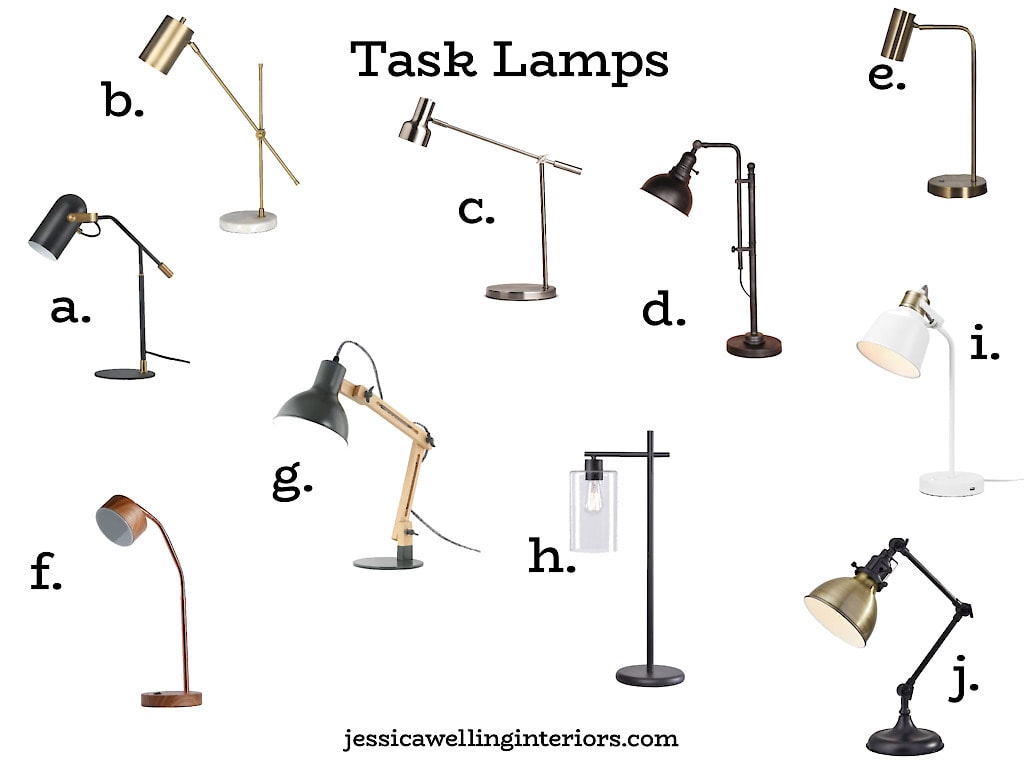 a. Stylecraft Home Matte Black Table Lamp
c. Threshold Cantilever Desk Lamp
e.
h. Hibbell Desk Lamp
j. Laurel Foundry Orrstown Desk Lamp
Wall-Mounted Reading Lights
If your bedroom is small, or you have limited space on your nightstands, consider mounting the reading lights to the wall. This won't work with every bedroom setup, but it's beautiful and styling when done right.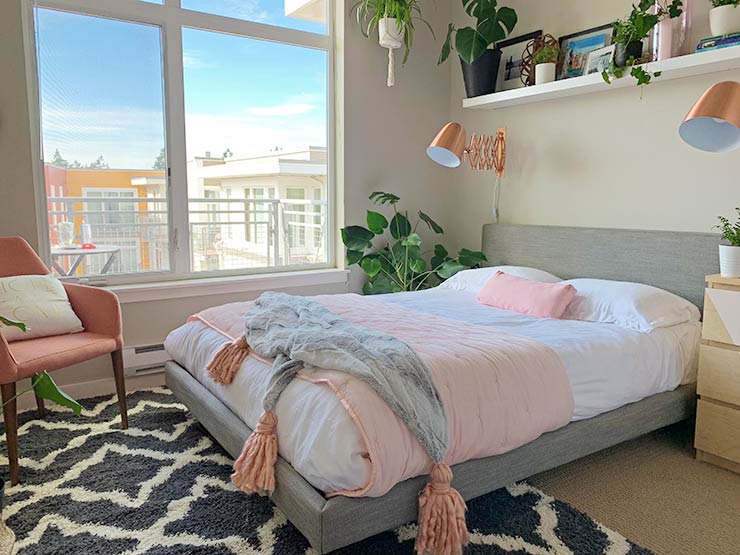 Some are hardwired in, while others attach to the wall, but have a (hopefully discreet) cord that hangs directly down and plugs into the wall. Many of the options below are set up so you can choose which option works best.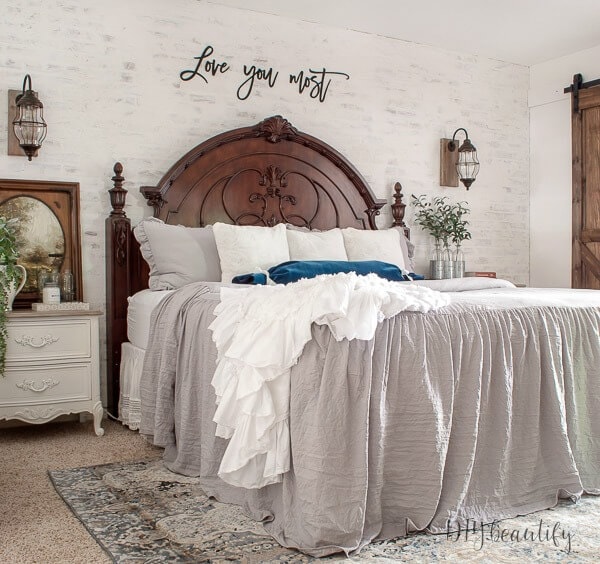 Here are a few of my favorite modern reading lights from around the web: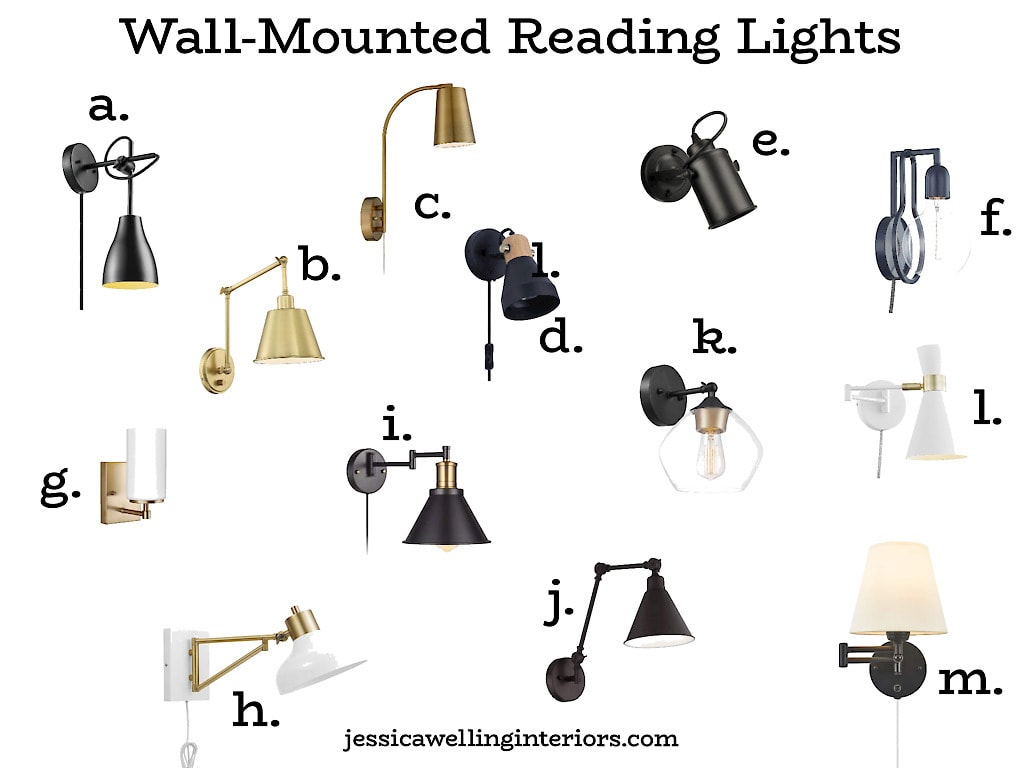 a. Easthampton 1-light Armed Sconce
b. Mitchell Wall Light in Aged Brass
c. Sully Modern Wall Lamp in Warm Brass
d. Tehenoo Matte Black Wall Sconce
e. Industrial Wall Light in Matte Black
f. Darcie One-Light Navy Wall Sconce
g. Raine 1-Light Armed Sconce in Satin Bronze
h. Globe Electric Berkeley Swing Arm Wall Sconce
i. AcroMead Swing Arm Wall Lamp and Bronze and Black
j. Wray Industrial Wall Lamp in Rich Bronze
k. Globe Electric One-Light Wall Sconce in Matte Black and Gold
l. Light Society Beaker Wall Light in Matte White
m. Swing Arm Wall Lamp with Ivory Linen Shade
Bedside Pendant Lights
Last, but not least, many designers are using pendant lights as beside reading lights. This is another great option for getting your lamps up off the nightstands. They are usually comparable or slightly less expensive than traditional table lamps. The only downside is that pendant light need to be hardwired in, which often requires calling in an electrician.
If you choose to go this route, you'll want to hang the lights somewhere around 27″ above the surface of your nightstand. Be sure they're off to the side enough that you won't hit your head on them. And the two lights on either side of the bed should be hung at the same height.
Here are a few of my favorite modern pendant lights for bedside lamps: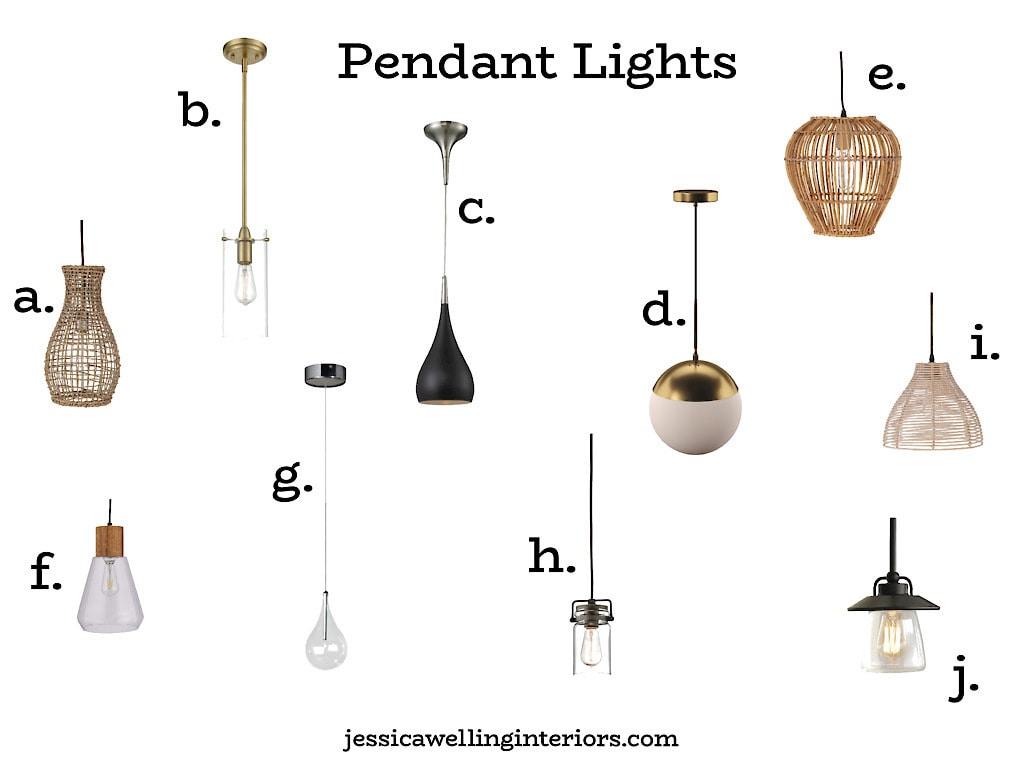 a. Minna Bohemian Domed Rattan 1-Light Pendant
b. Light Society Montreal Clear Glass Pendant
c. Westmore Lighting Sydney Satin Nickel Transitional Pendant Light
d. Mercury Row Yearby-1 Globe Pendant
e. Minna Bohemian 1-Light Pendant
g. Neal 1-Light Single Teardrop Pendant
i. Minna Boho Rattan Basket Pendant Light
j. Allen & Roth Bristow Mission Bronze Clear Glass Pendant Lamp
More Home Decorating Ideas…
The Best Artificial Indoor Plants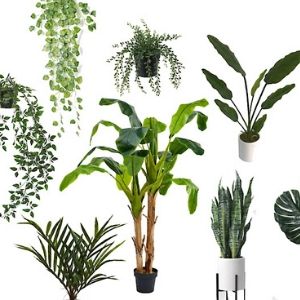 How to Brighten a Dark Room: 6 Easy Thing You Can Do Right Now!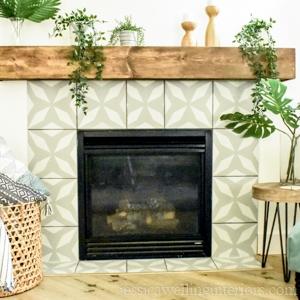 Modern & Cheap Throw Pillow Covers in Every Color!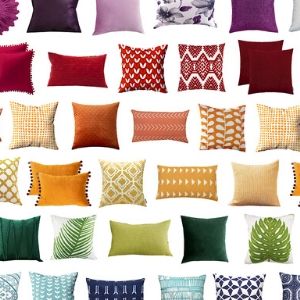 How to Paint a Mural: An Inexpensive Wallpaper Alternative