Easy DIY Coasters with Sharpies and Alcohol!
Create gorgeous DIY coasters using Sharpies and alcohol! It's an easy project for kids and grown-ups alike! Learn how with this simple tutorial.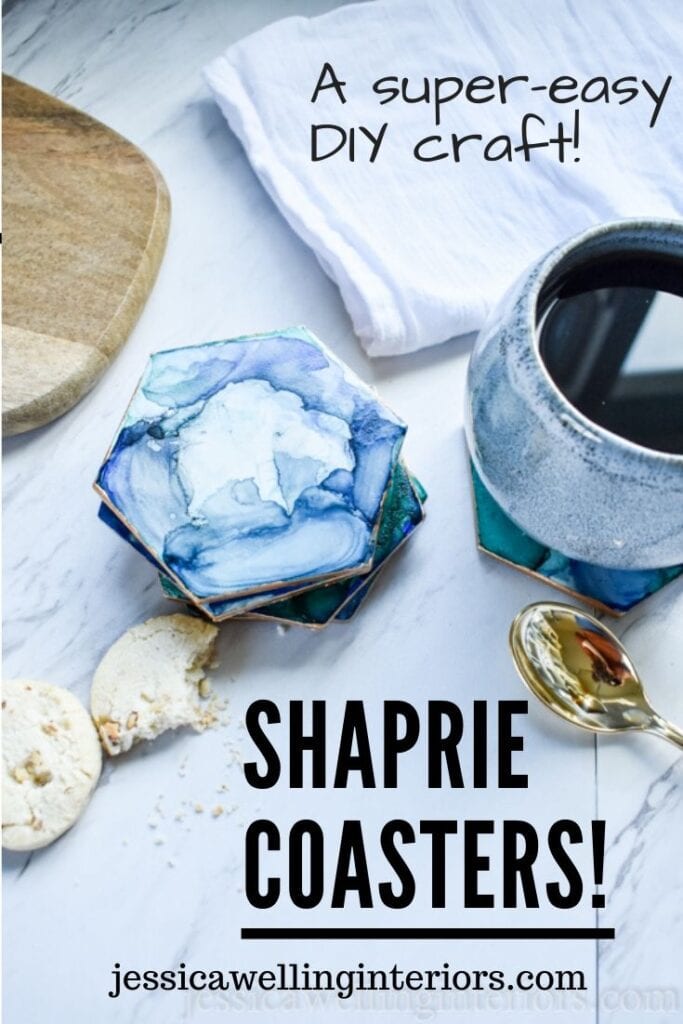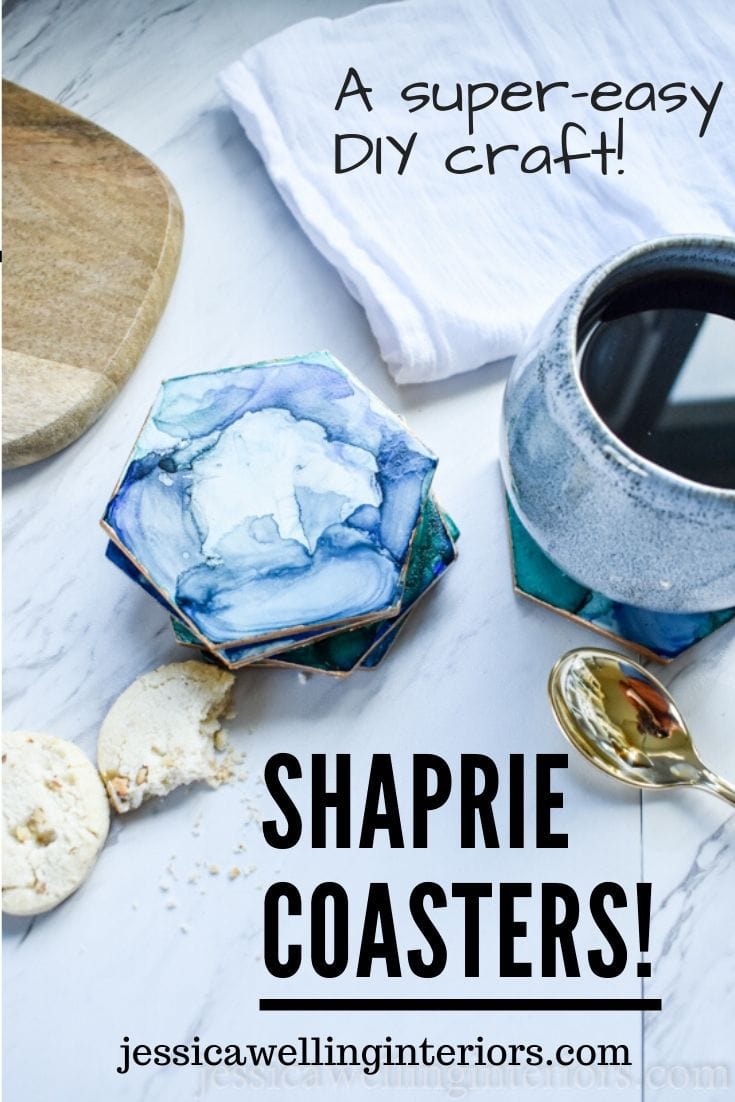 A friend and I were asked to come up with an art project for B's second-grade class to make for the school auction.
I wanted it to be something cool and useful… who wants to pay $70 for something you can't really display or use?
So we came up with the idea to have the kids make coasters out of tiles. I did quite a bit of experimenting to get here.
But what I didn't realize until after I'd bought most of the supplies, was that it involves fire. And everybody knows the best kids' art projects always involve alcohol and fire!
But stick with me- the fire part is actually really cool and not scary.
How To Make Tile Coasters
Materials: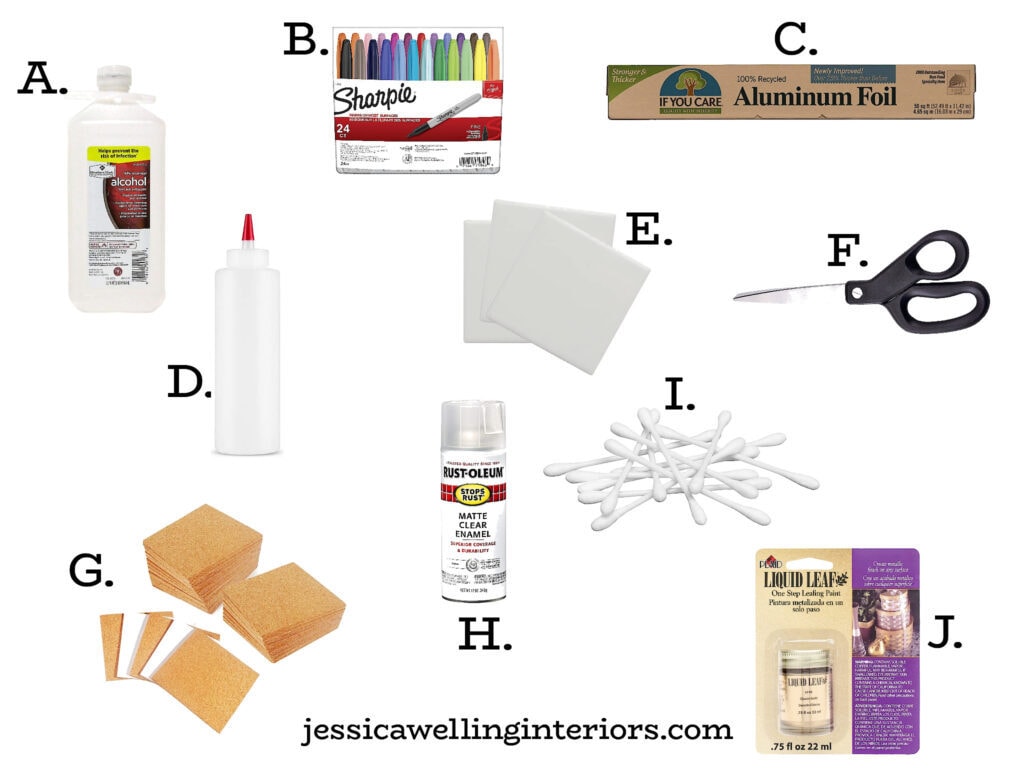 H. Rustoleum Matte Clear Enamel Spray Paint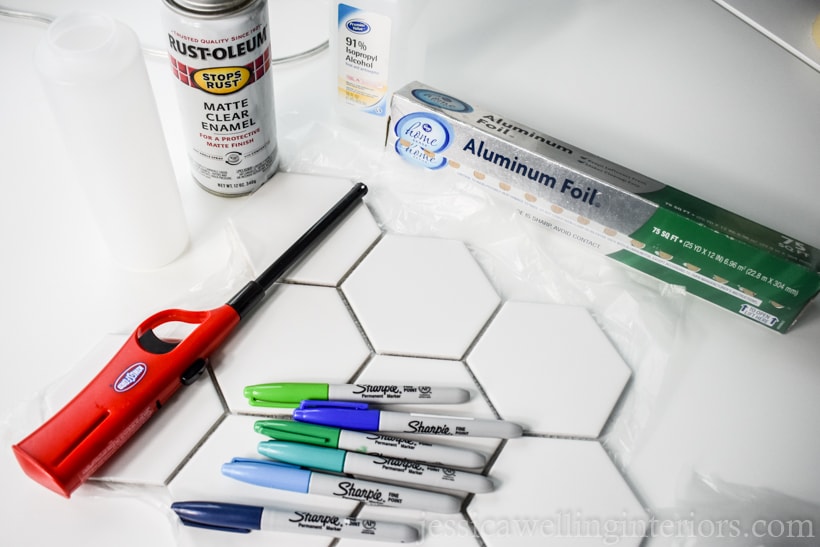 Directions:
1. Remove Tiles From Backing
If your tiles come on a netted backing like some of mine did, carefully pull them off. You'll want to get all of the netting peeled off- it will be important later.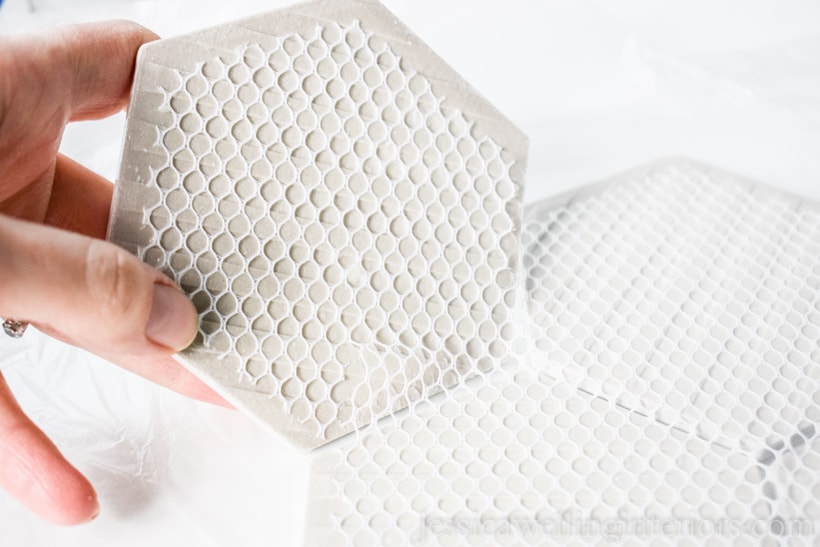 2. Color Tiles With Sharpies
Color the whole surface of your tile with sharpies. I found that the coolest-looking ones used multiple colors, but all in the same color family.
I chose to go with blues, greens, and teals for the kids' project because they just looked best. It's important to cover the whole surface with ink.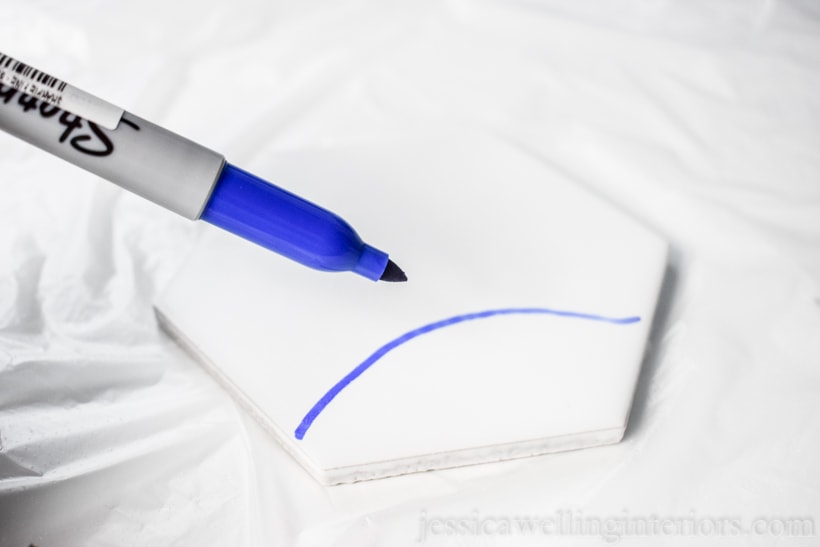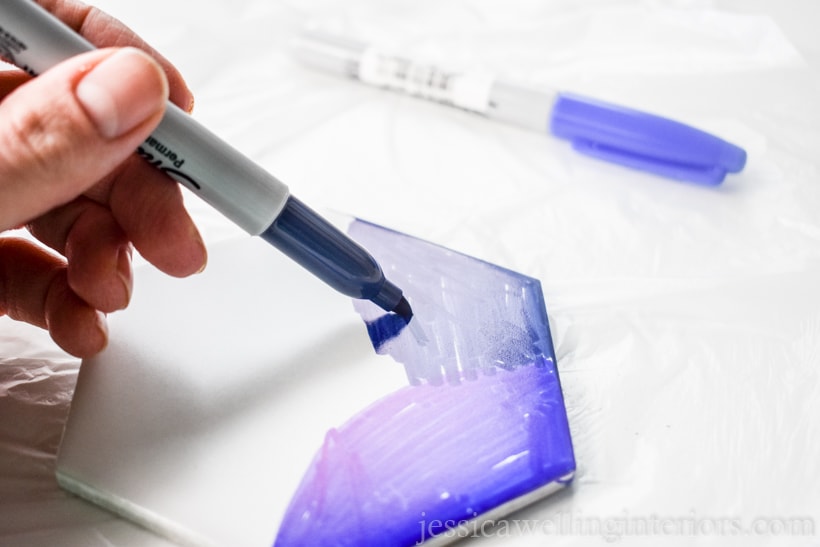 3. Drizzle Tiles With Alcohol
I poured my alcohol into a squeeze bottle, but I'm guessing it would work without one too. Lay down some aluminum foil on the ground (this is definitely an outside activity!) and then place your colored tiles on the foil, face-up. Drizzle the alcohol on them.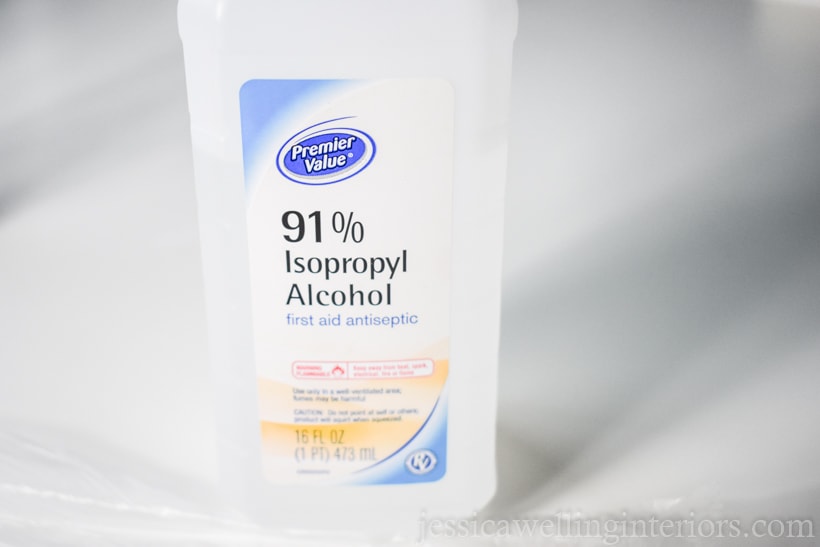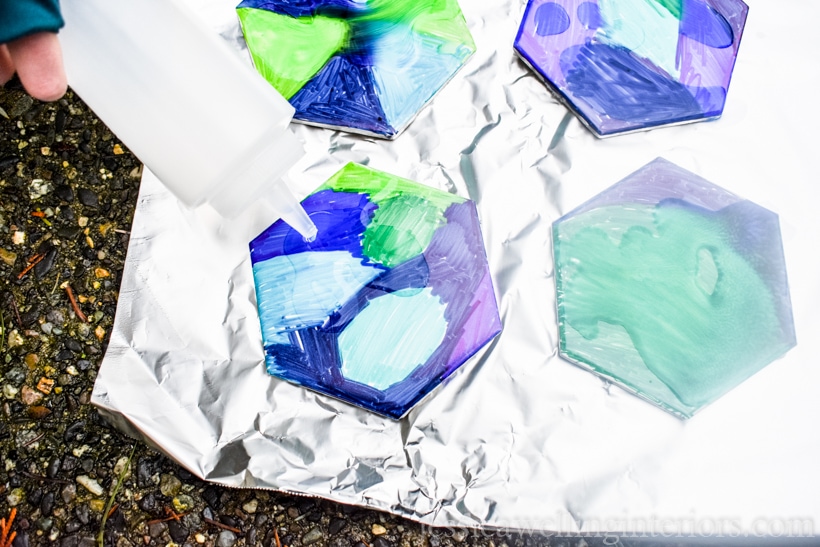 You'll see the colors start to blur and run together once the alcohol hits them- that's what you want.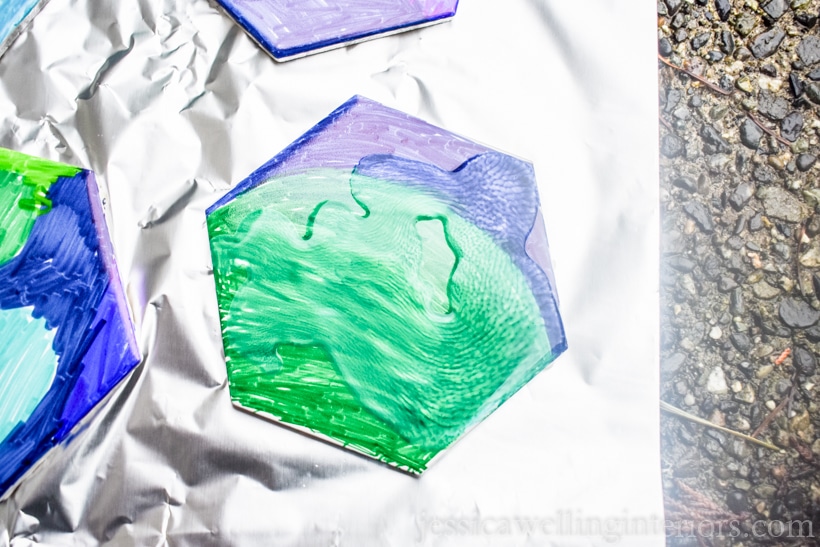 4. Burn the Tiles
This part is actually really cool! I was imagining an explosive fire like you'd get with gasoline, but it's just a little tame fire. Use a lighter to light the alcohol. You can burn them all at once if you want. The flames will create a design with the ink and alcohol.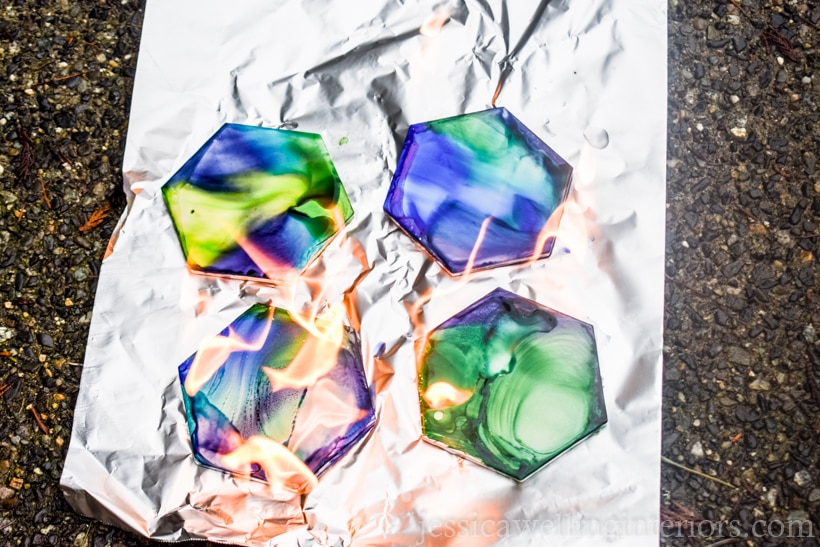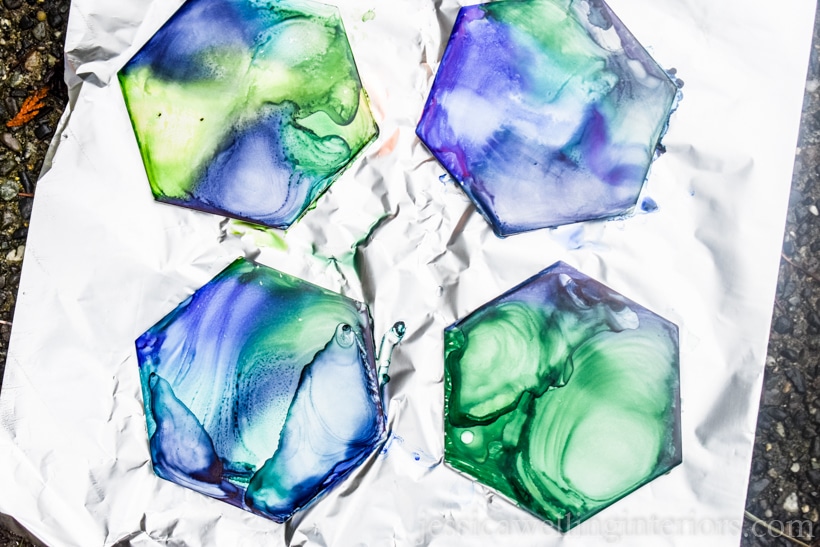 5. Bake the Tiles
Once all the fire is out and your tiles have cooled, place them into a cool oven, and turn the heat to 300 degrees.
Bake them for about 2 hours, letting them cool in the oven.
The ink will rub off easily before you bake them, so be careful not to touch the top surface when moving them to the oven.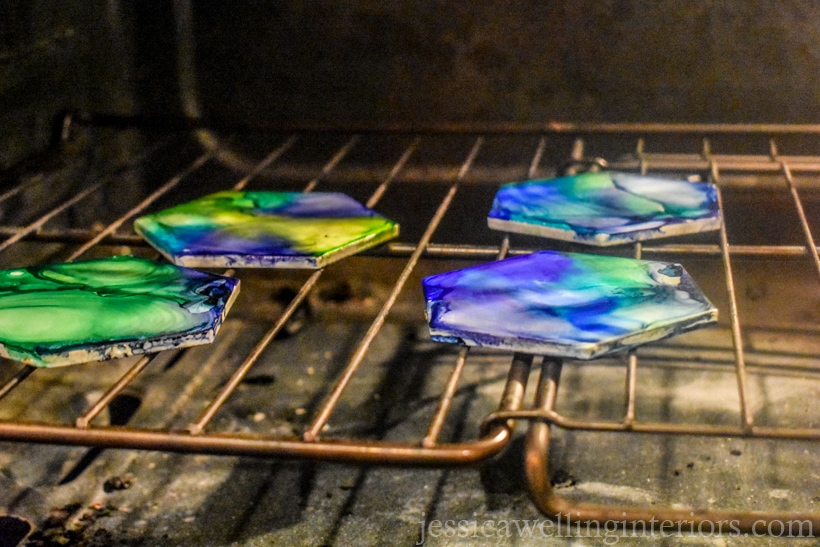 6. Paint Edges Gold
This step is optional, but I feel like it makes the project look more finished… and not just like someone spilled something on a tile!
This is my favorite gold leaf paint. It's not water-based, so use a small paintbrush you don't care about or a Que-tip to paint the edges of the coasters, and let that dry for at least a few hours.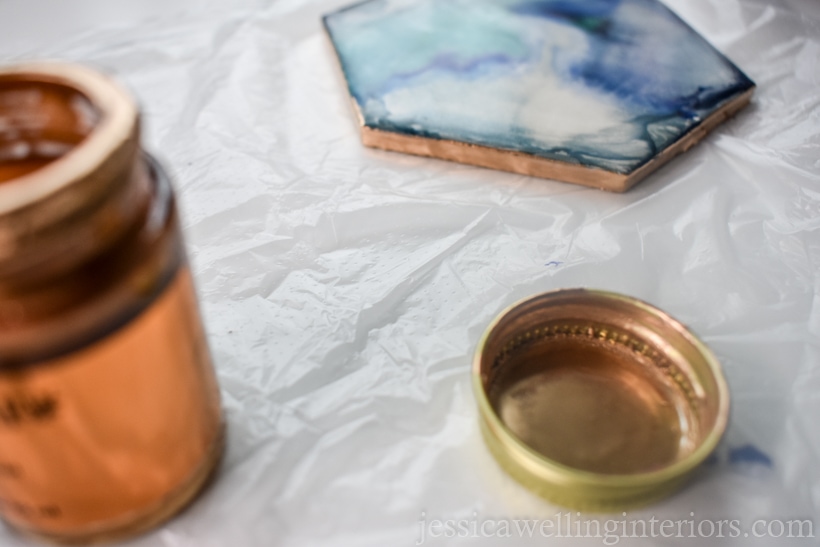 7. Clear Coat
Once the gold leaf paint is completely dry, spray the coasters with a thin coat of clear gloss spray paint.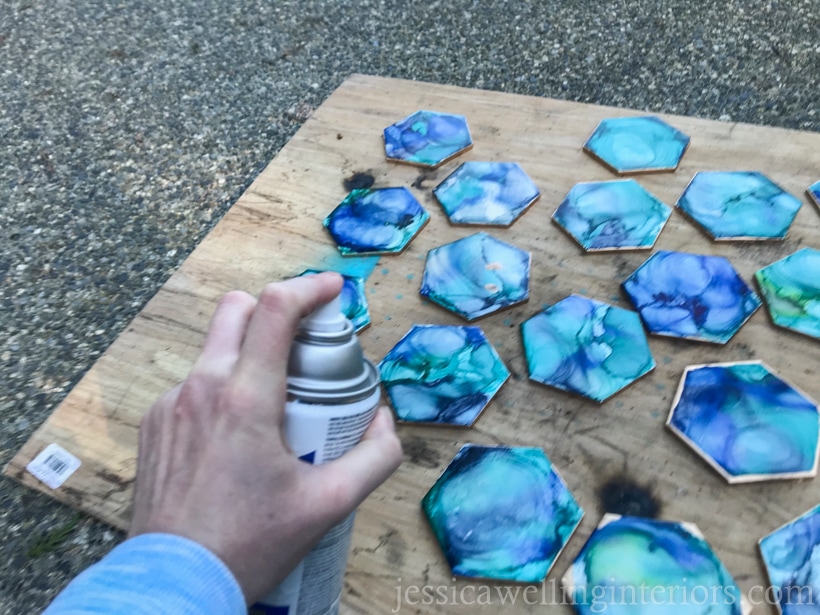 Let that dry for an hour or so, then do a second coat.
8. Apply Cork Backing
Once your spray paint is very dry, apply the cork backing. With the hexagon-shaped tiles, we had to trace and cut them down a bit.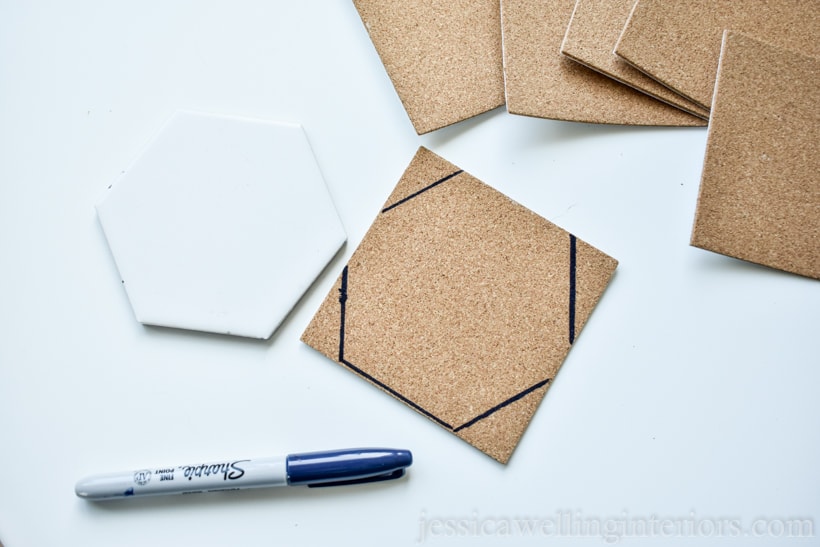 These cork pieces are self-adhesive, so sticking them on was easy. And I've used this brand before and never had problems with them falling off.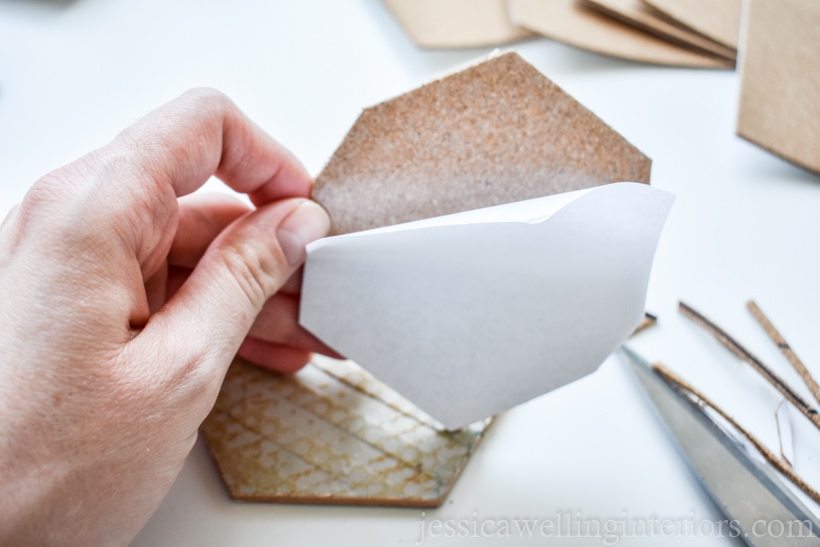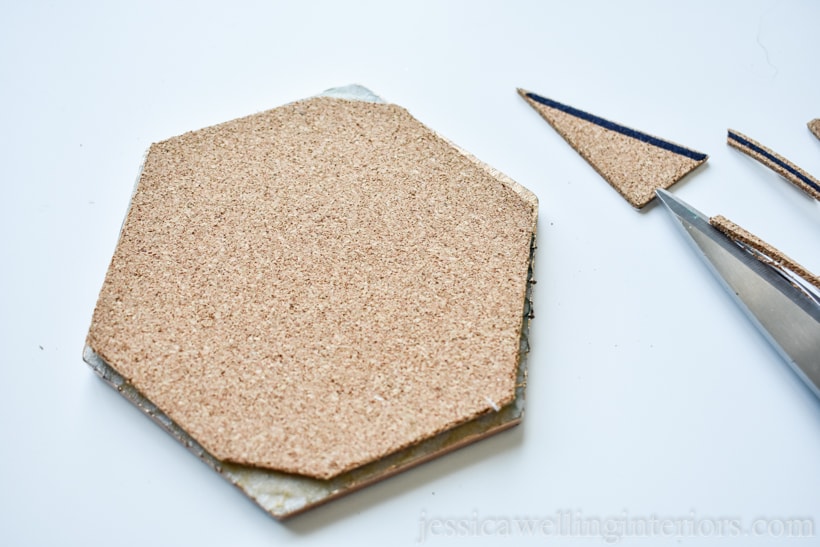 And that's it!
Helpful Tips for Making Tile Coasters
I tried 4 different kinds of tile while experimenting for this project. Here's what I found: cream-colored tiles didn't look great with the colors on them, I think bright white is the best background.
The most successful tiles had a matte finish. I tried some very porous tumbled travertine tile, and the alcohol didn't really move the ink around much. I tried high-gloss ceramic tiles, and the ink rubbed right off them, even after baking!
As you can see, I only gave the kids blue and green Sharpies to work with, because I didn't want muddy colors.
I'm so excited about how these turned out!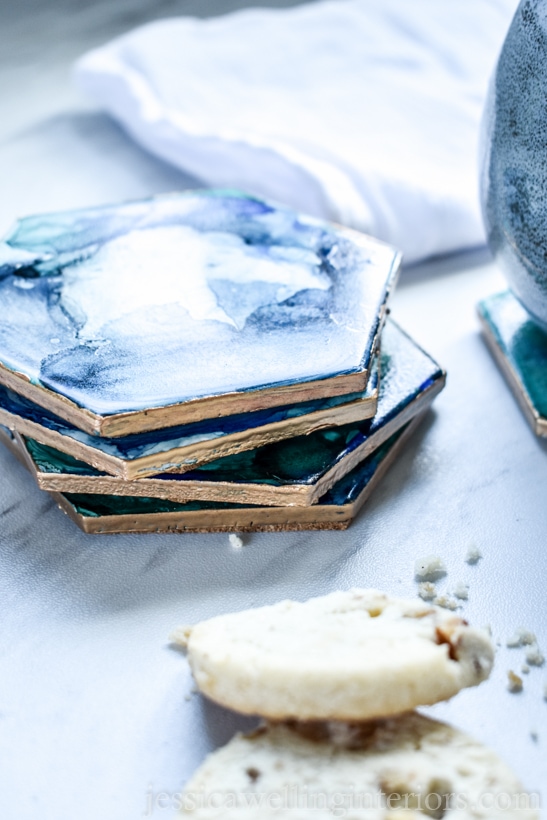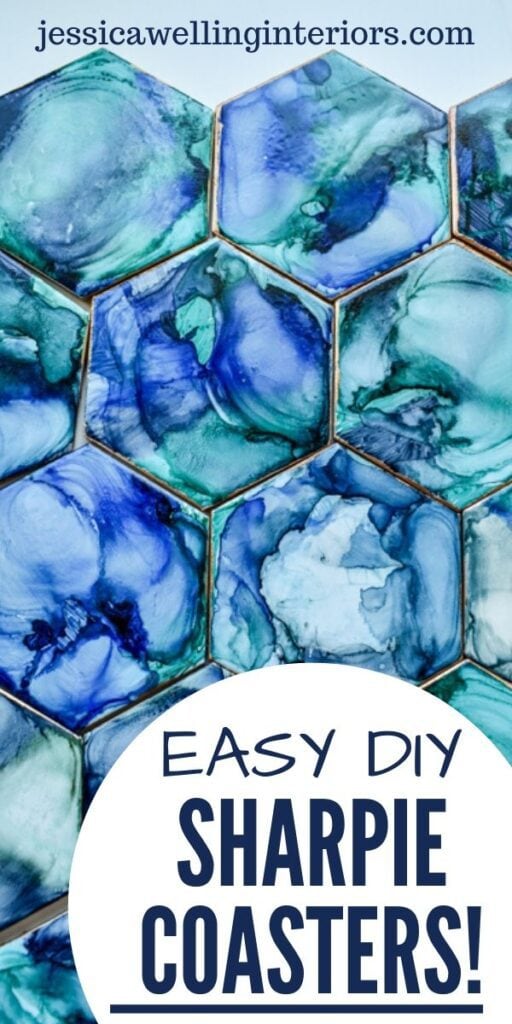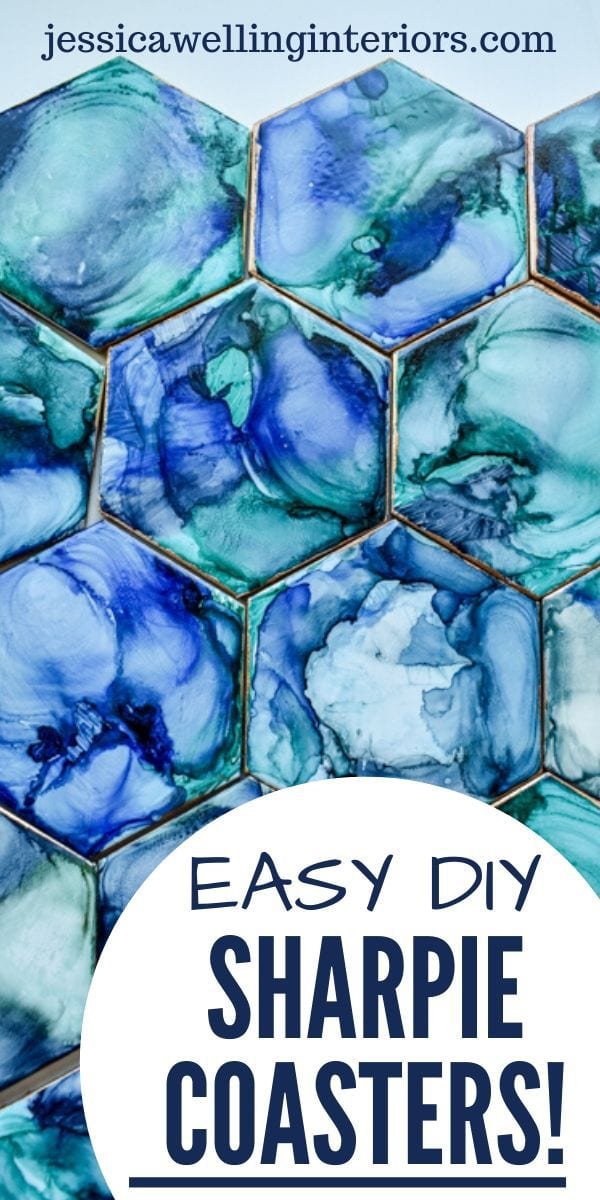 More DIY Coasters & Homemade Gift Ideas…
Kintsugi How-To: Easy Tile Coasters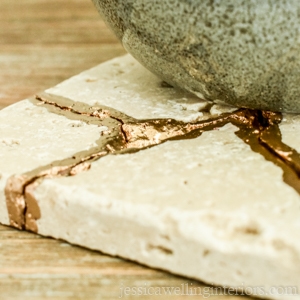 How to Make Candles: A Beginner's Guide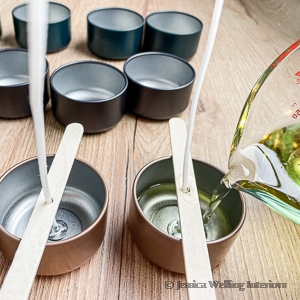 Citrus-Stamped Tea Towels: Easy Handmade Gifts