How to Brighten a Dark Room: 6 Easy Things You Can Do Right Now!
Learn how to brighten a dark room using natural light right now with these easy and cheap interior designer tips!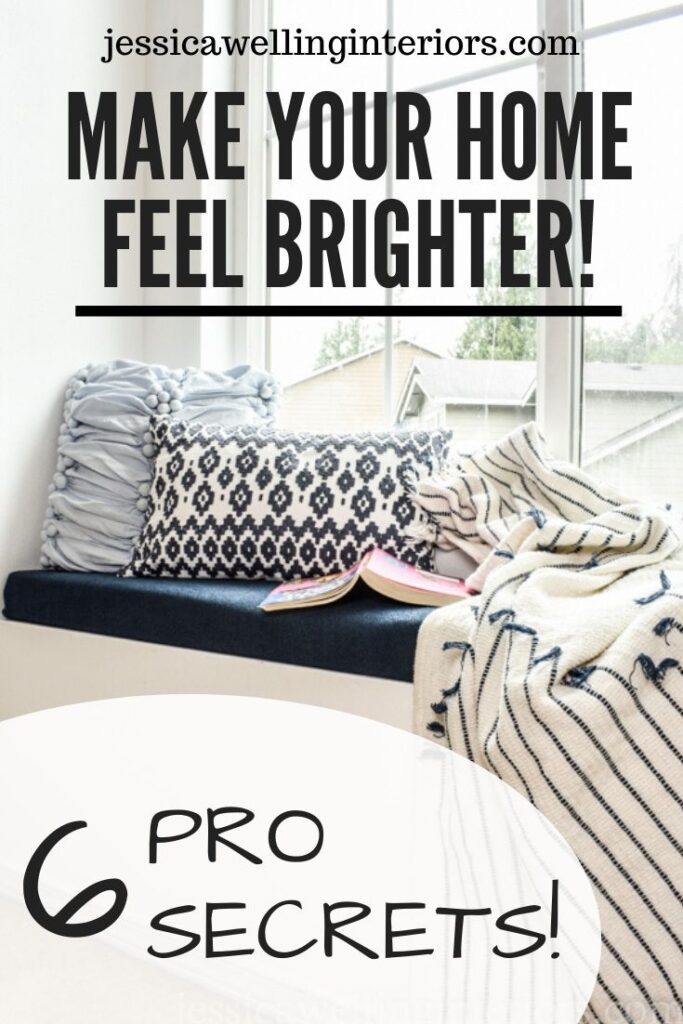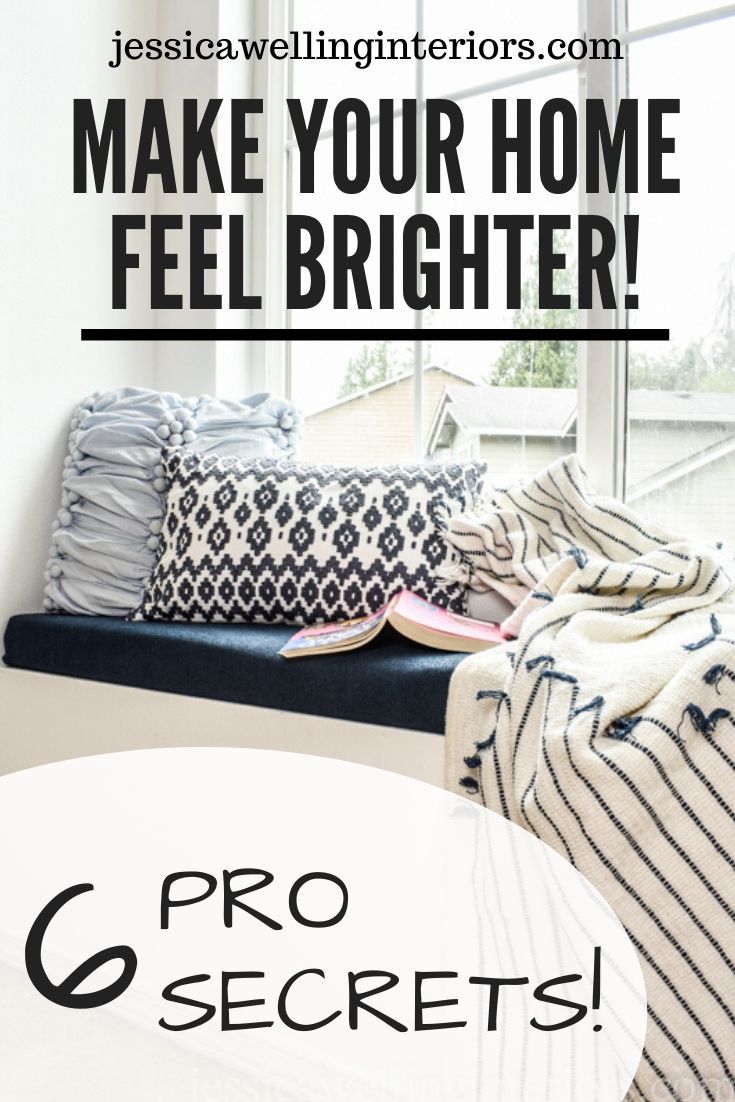 Are your spaces feeling a bit dark and gloomy? Especially during the long, dreary winter months? I have just a bit of experience with this, as I live in Seattle, where we have something like 300 grey days a year!
Let's talk about some simple and inexpensive decorative changes you can make right now to instantly brighten up a dark room in your home!
1. Are Your Window Treatments Keeping Light Out?
The best and brightest sunlight comes in through the top of the window. So if your blinds (when pulled tight) still block 8" at the top of your window, you're still losing quite a bit of light.
Options like plantation blinds are pretty, but you are definitely sacrificing some light, even when they're all the way open. My recommendation is cellular shades. Or forgo shades altogether and just use curtains you can pull shut.
2. Open the Blinds. It's Free!
I know this seems obvious, but it needs to be said. I'm always surprised by the number of people who ask me to help brighten their homes, but have their shades drawn in the middle of the day.
Even light-filtering blinds are still blocking a lot of the natural light that could be coming in. I go around and open my blinds all the way in the mornings to let in as much natural light as possible.
It just takes a minute, and it makes a huge difference!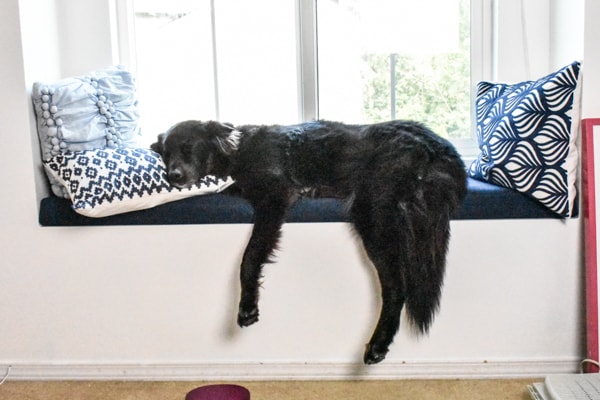 3. Bounce Light Around the Room with Mirrors
I like to place a large mirror on the opposite wall from a window to help reflect as much natural light as possible. Mirrors can work well in dark entryways and hallways, bedrooms, over fireplaces, etc.
Here's an example of a mirror over the fireplace from The Inspired Workshop.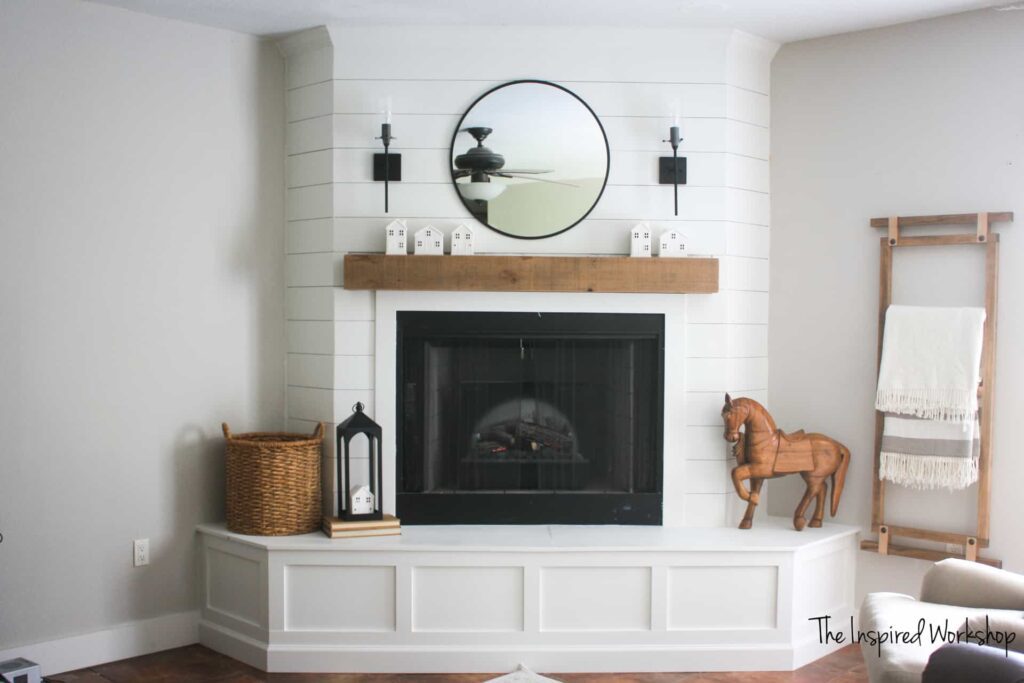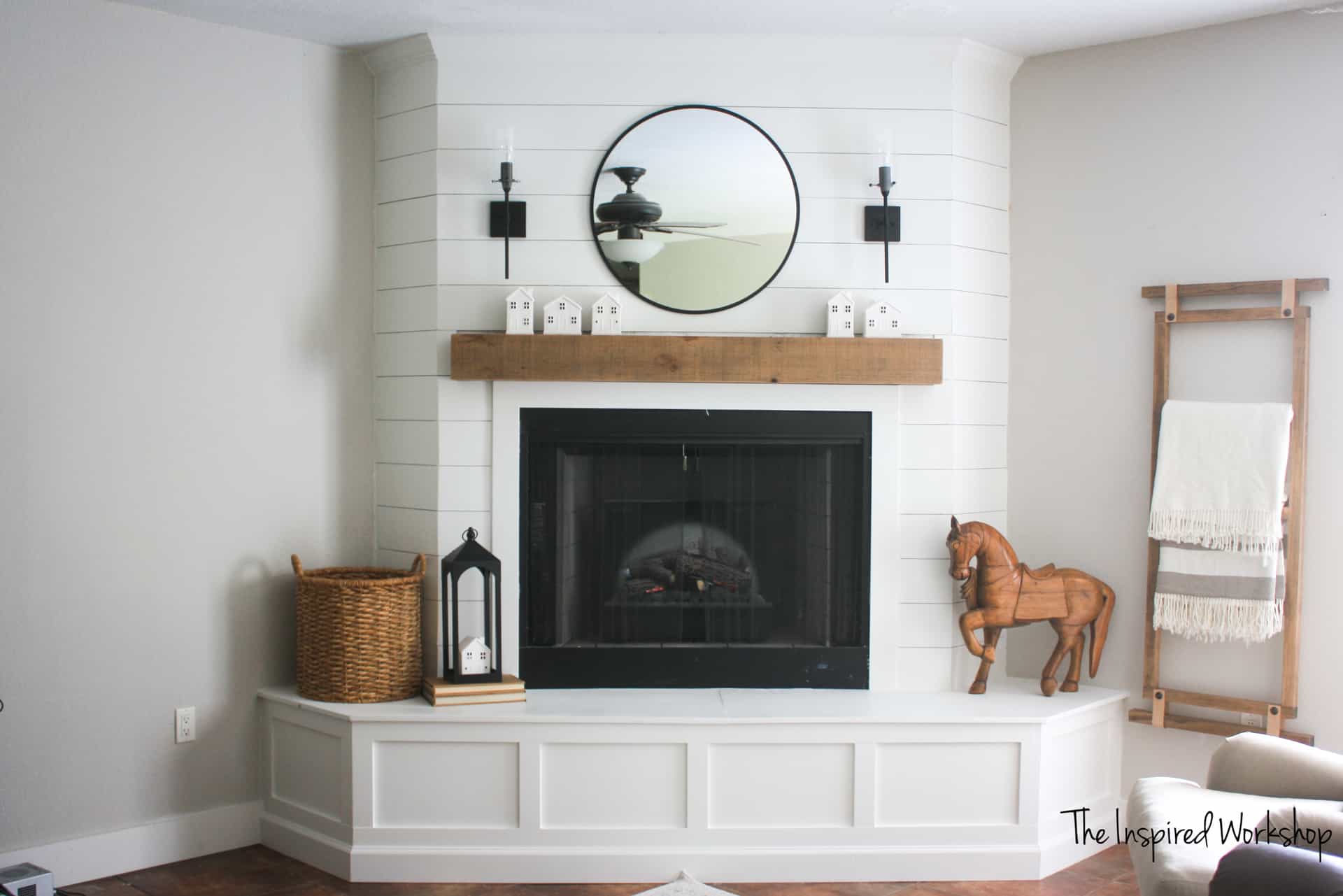 And here's an old pic of my master bedroom. I've got like 4 different mirrors in there to make the most of the light, and it makes a huge difference!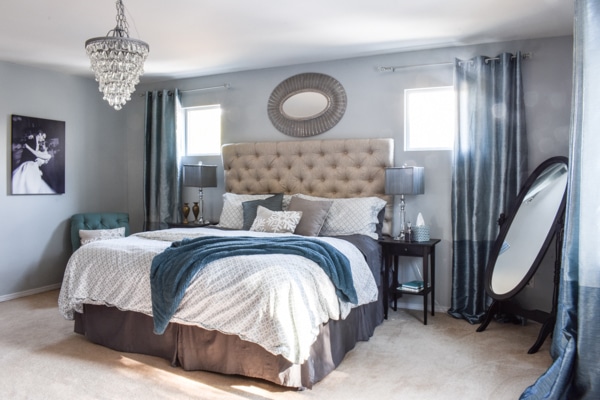 4. Choose the Right Paint Colors
What Paint Colors Make a Dark Room Brighter?
The grey walls craze came. It was fun for a little while. But if you're serious about fighting gloom in your home, I can guarantee that bouncing what little natural light you have off of grey walls is not helping your cause! I'm painting a lot of spaces bright white these days, and loving it!
My favorite white paint is Behr: Polar Bear, from Home Depot. I should also mention that if your ceiling is any color but white, you'll want to consider painting it too. Careful though! I recently dripped paint directly into my eye while painting my kitchen ceiling!
I'm loving this bright white living room from April Golightly: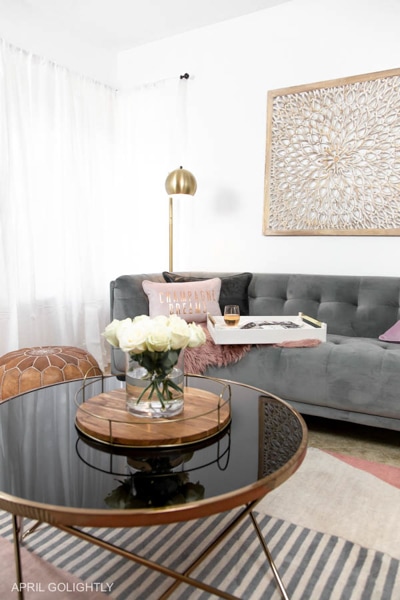 I recently painted the walls in my girls' bedroom white. You can see more of their room transformation here.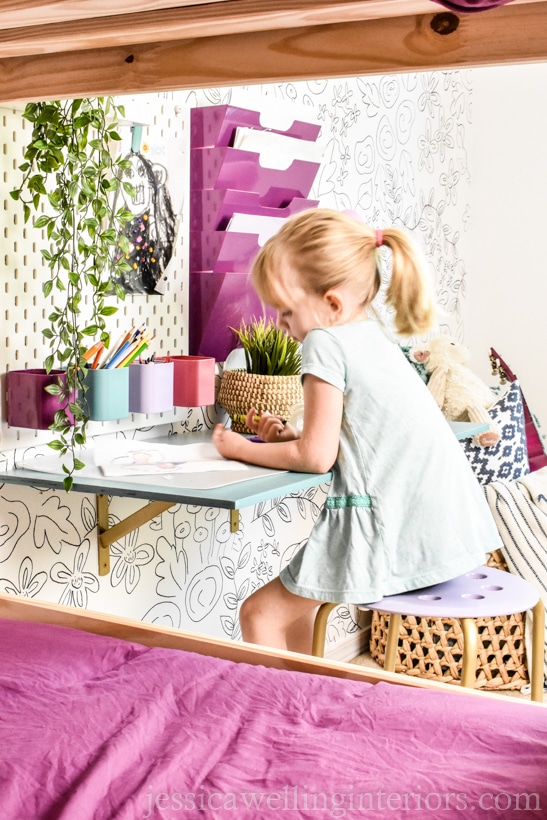 My friend Julie of My Wee Abode has a great quick start guide if you're new to painting walls.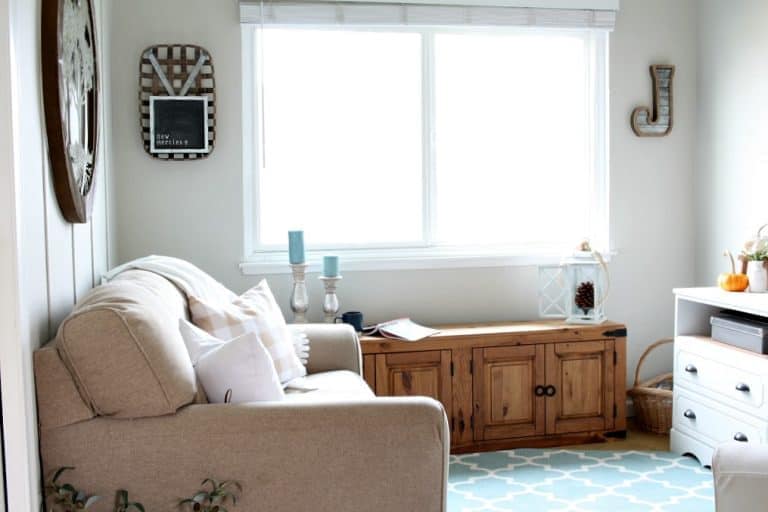 Look how Laura at Mom Envy brightened her dark kitchen by painting the wood cabinets white! Before…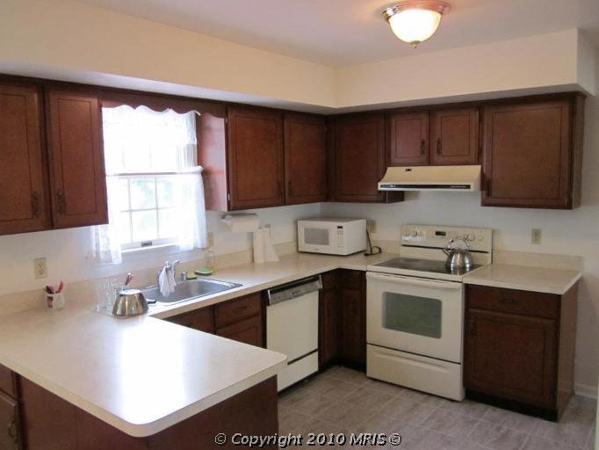 And after…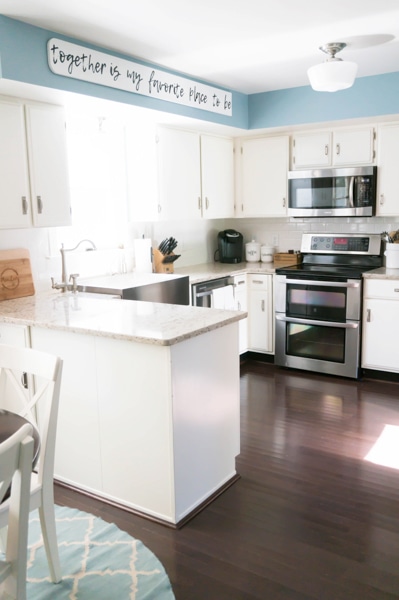 5. Bring In Some Color!
I know I just told you to paint your walls white, but an all-neutral space can easily look dreary, unless you've got a TON of natural light pouring in. And if you have a ton of natural light pouring in, you probably wouldn't be reading this article!
Bringing in some fun, bright colors is the perfect way to liven up a room. Fun throw pillows, wall art, indoor plants, fresh flowers, and accessories are the perfect places to bring in color.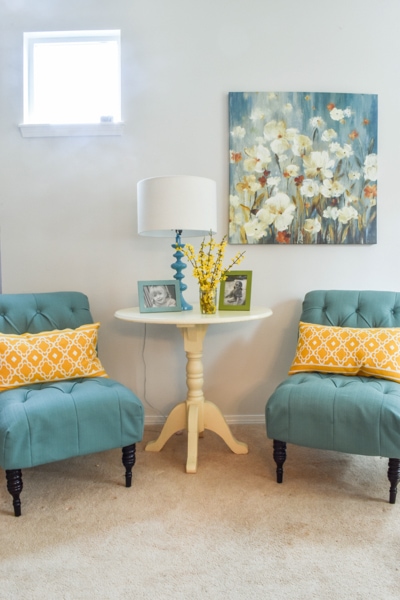 I'm loving Melissa from Polished Habitat's new office/design studio! Notice how she's using white walls and bright pops of color.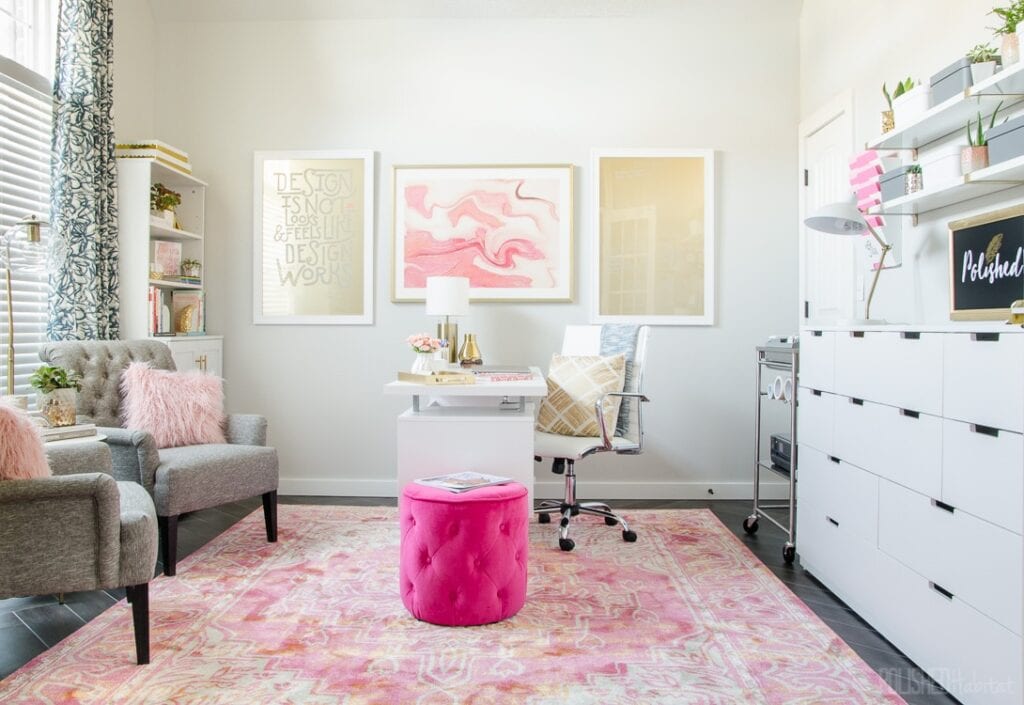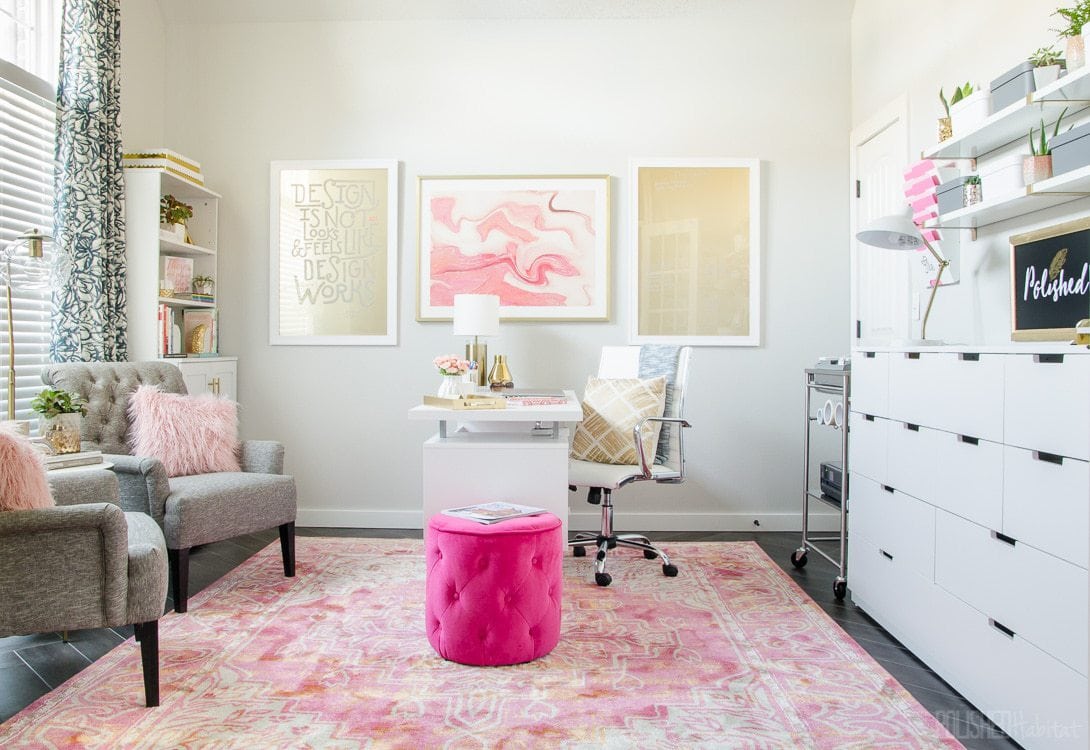 I tend to change up the colors in my living room with the seasons… but that's totally optional.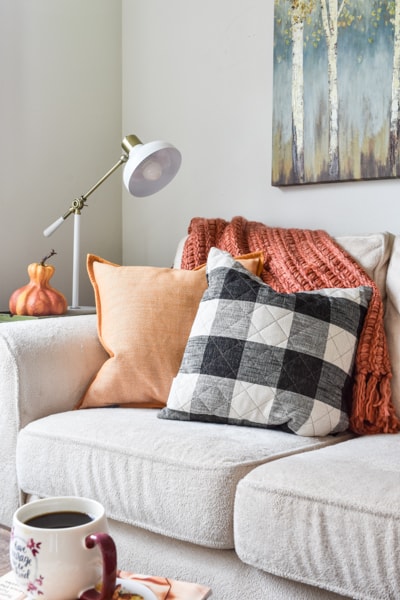 6. Make the Most of Space Near Windows
I'm always drawn to places in my home where the natural light is, and I tend to avoid spending time in dark rooms. Do you have a favorite chair you like to read in? A home office or craft room?
Whenever possible, try to place that reading chair near a window. Bonus points if it's a South-facing window, but we won't press our luck. Doesn't this chair from Shannon at Home Made Lovely make you want to curl up with a good book? Of course that chunky throw doesn't hurt, but notice the chair is also right in front of a bright window!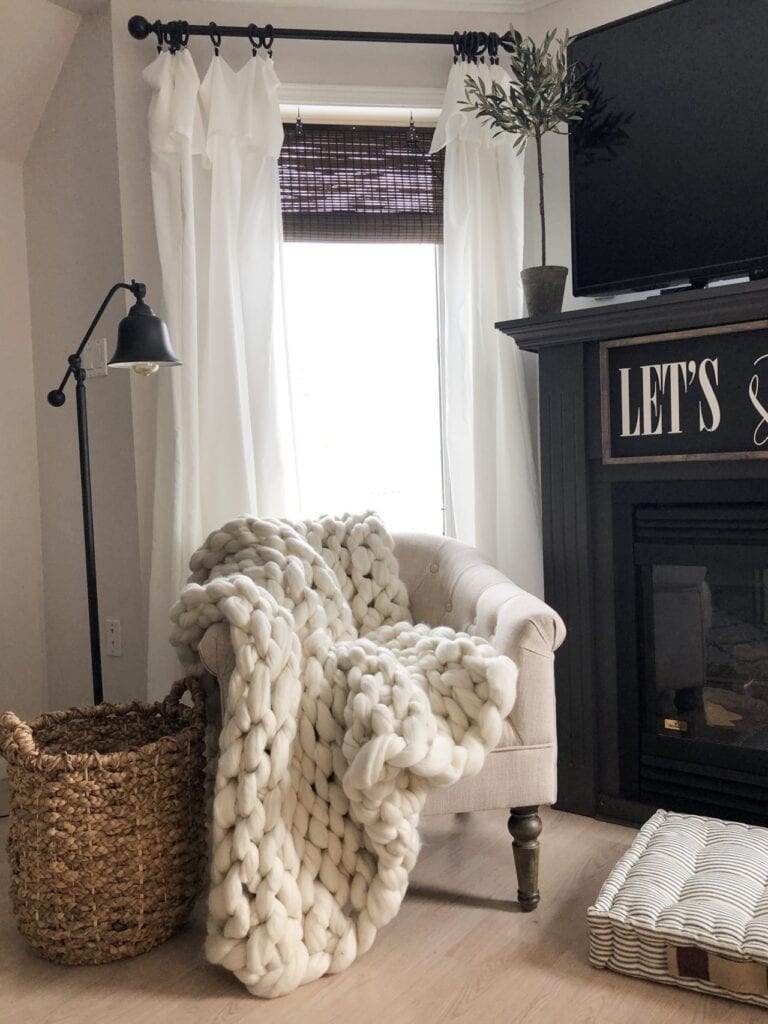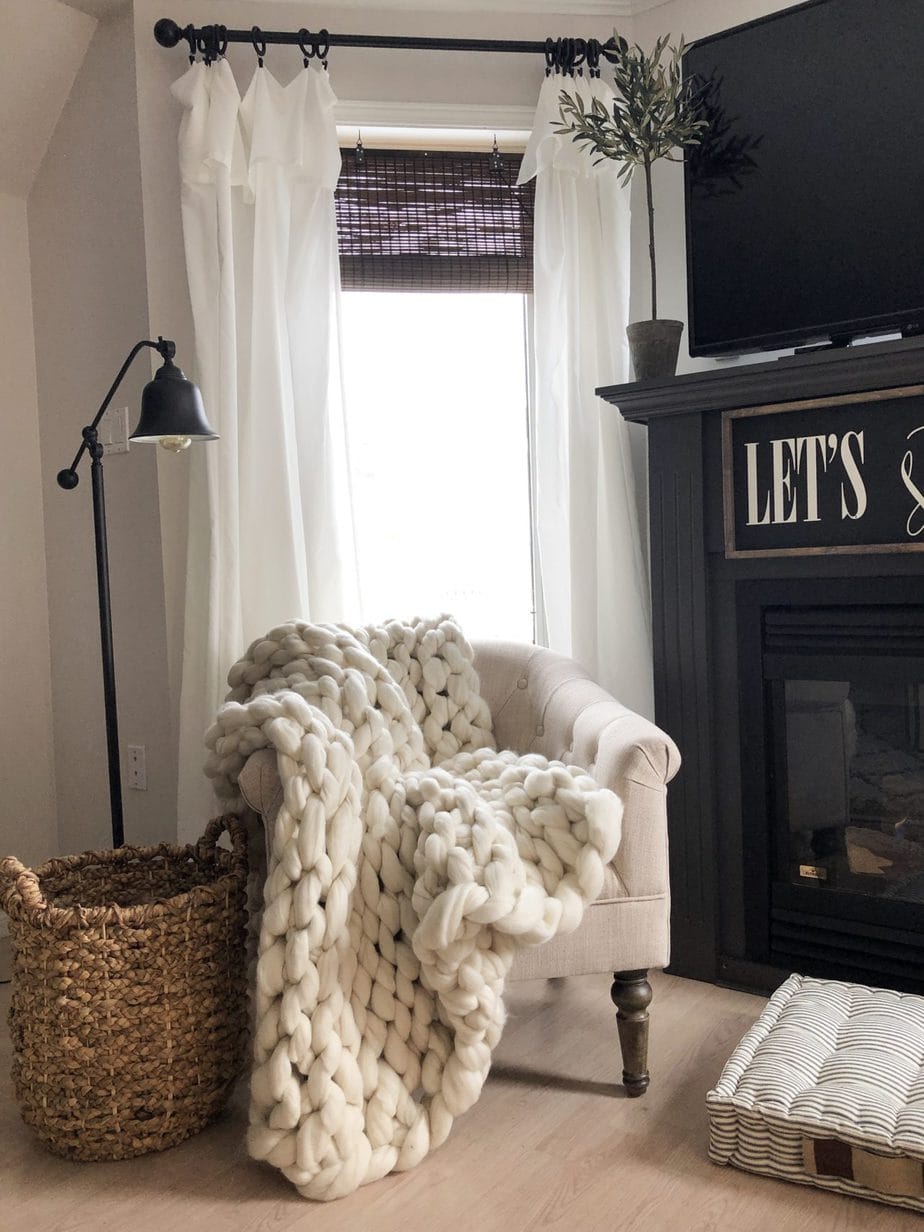 I chose the brightest spot in my house for my design studio, since it's where I want to spend time during the day.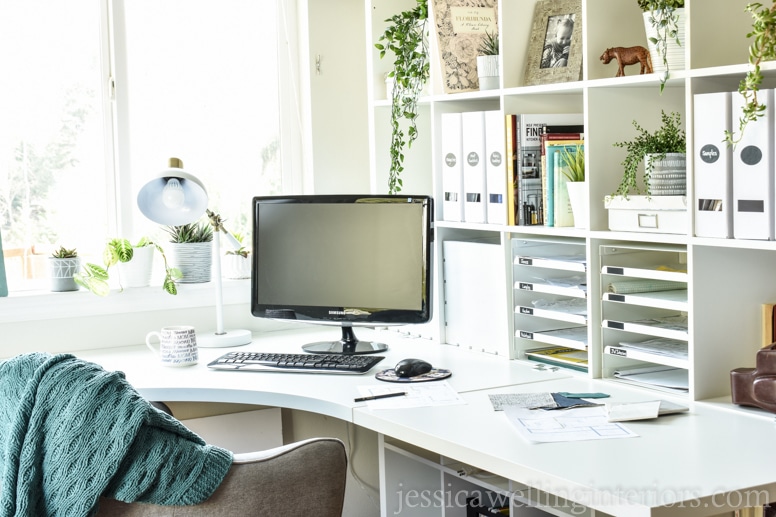 I hope that helps you brighten things up!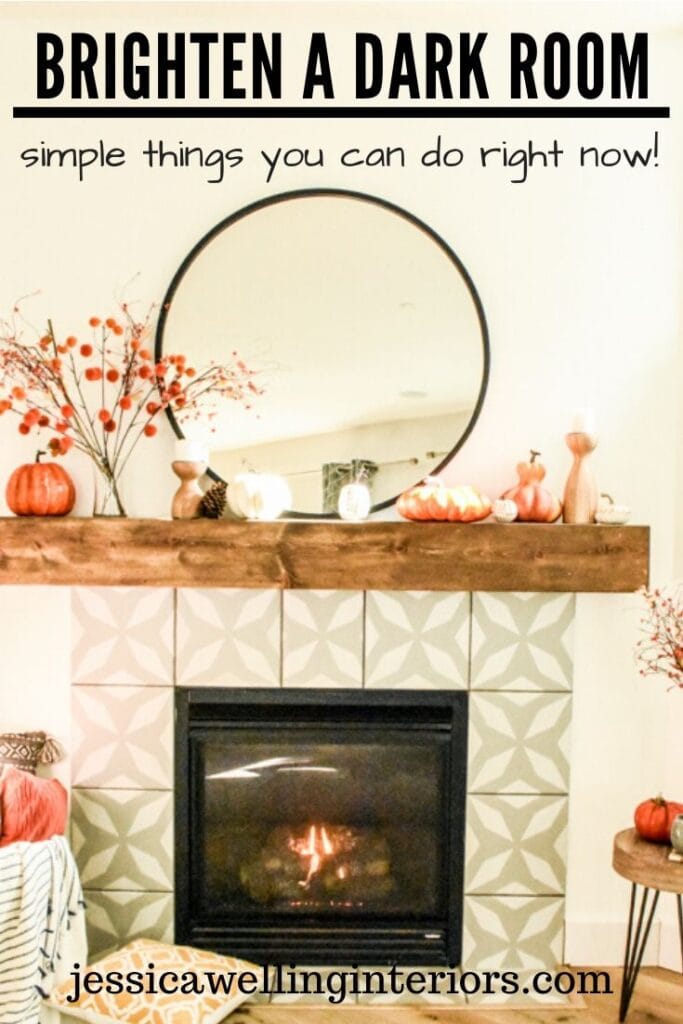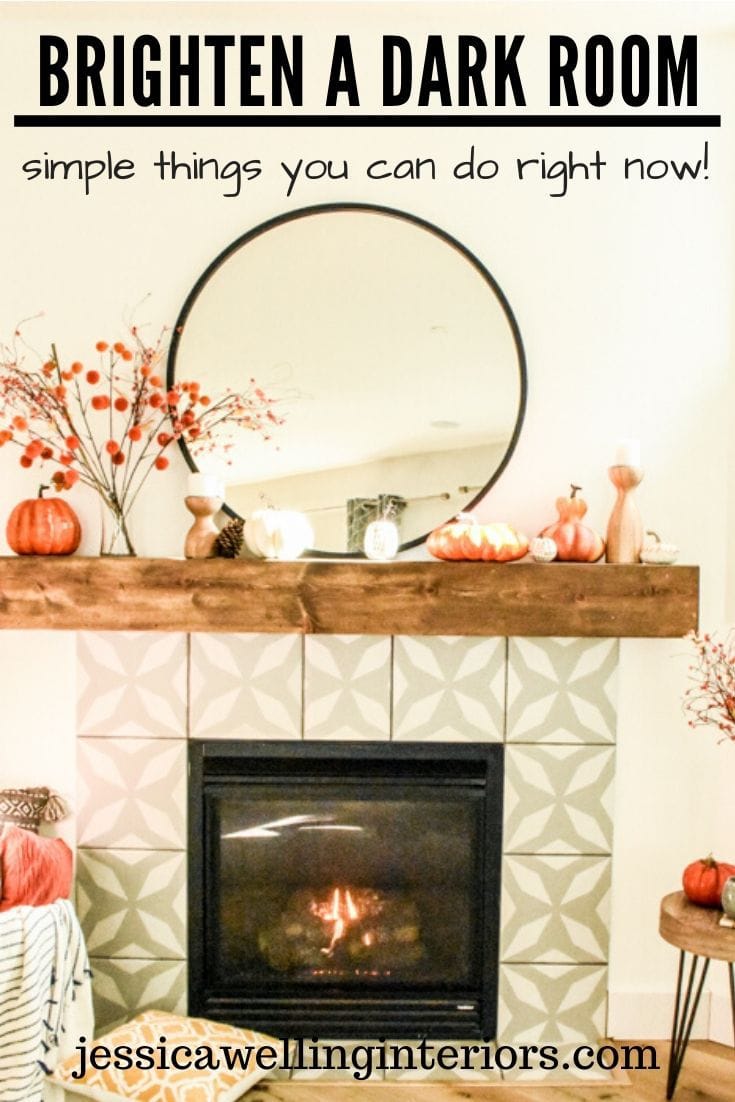 More Home Decor TIps…
6 Cozy Home Decor Tips for Fall & Winter!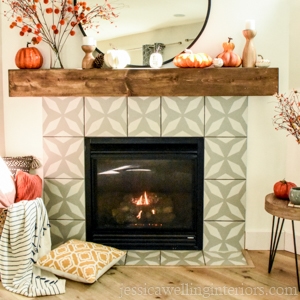 How to Style Indoor Plants: 6 Designer Tips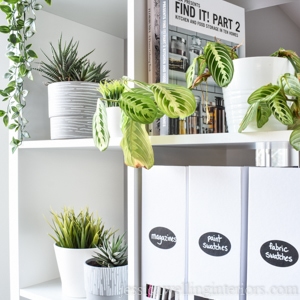 How to Design A Kid-Friendly Home