This DIY chalkboard family command center puts everything the kids need for school in one spot! Calendar, menu board, homework, mail sorter, and more!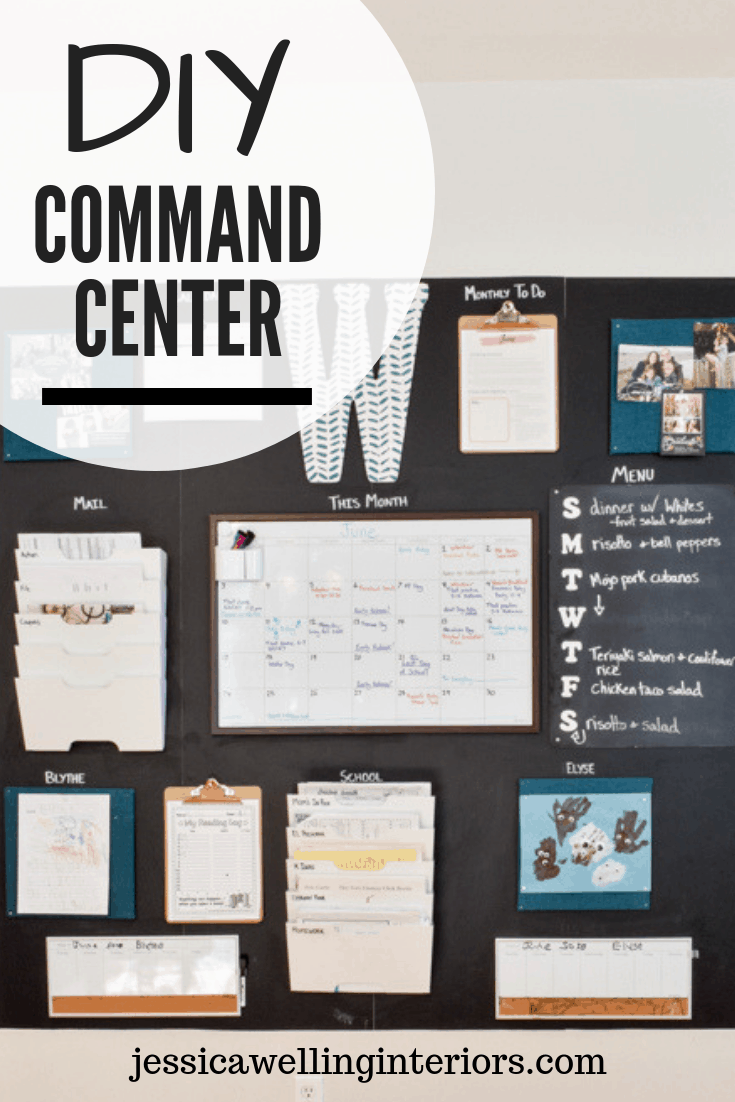 We had some serious excitement this Fall as my oldest started kindergarten. Woohooo! But along with more free time for Mom, came papers and papers and more papers! They were taking over the kitchen island and threatening the table too.
And what I'm coming to accept is that all these papers and homework are going to be MY responsibility (as much as I like to think they're hers).  I had a few things up on the wall already- an old mail sorter and menu board that we slapped up when we moved in four years ago, along with some bulletin board tiles.
We needed a new system- and fast! MORE and BIGGER and BETTER! A family command center.
Here's what we had going on before…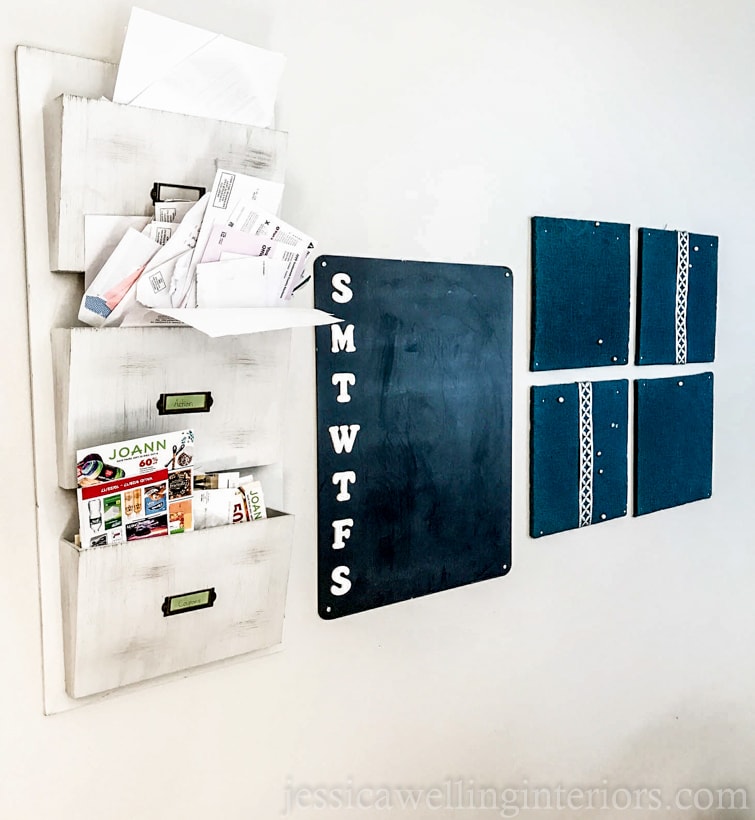 Do you like that? I even left the mail hanging out of it so you can see just how lovely it was:)
Here was my command center wishlist:
menu board
homework and kid paper sorter (including in-box for me)
Honey-do list
Command Center Layout
It would be easy for a large grouping of calendars and clipboards to start looking like something that belongs in an office (and not a cute office!), so I needed something to visually tie the whole thing together. I decided to use chalkboard wallpaper. Here's the wallpaper we used. It's held up well and is still stuck to the textured wall after two years, and after trying other peel-and-stick wallpapers and having them fall off the wall, that's a serious win!
Someday I'm hoping someone will come out with a reasonably-priced large digital wall display calendar that syncs with my phone calendar. I've found it's dangerous to keep more than one calendar… That's why I schlepped the kids to the dentist on Wednesday, only to be told that our appointments are actually next Wednesday…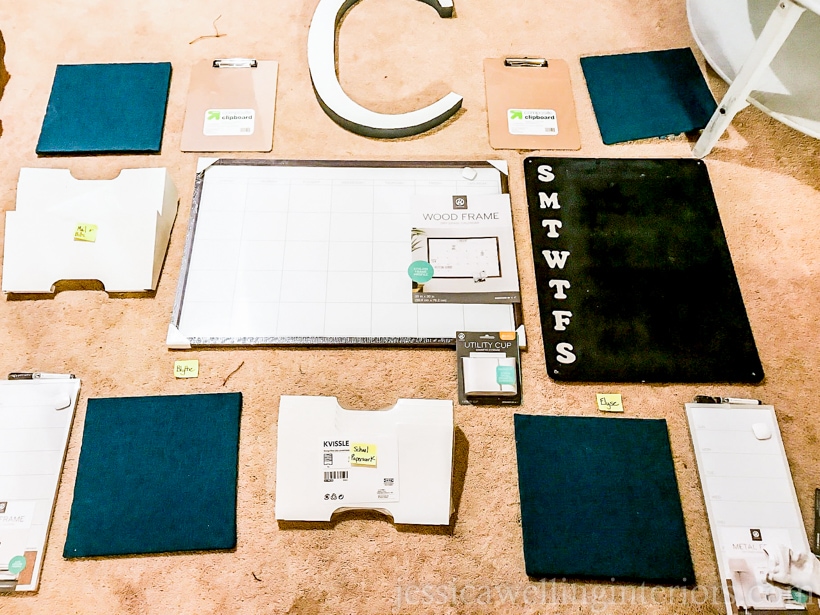 But until then we're using a large one-month whiteboard calendar. I needed something quick and easy to use, so a chalkboard calendar was out. I actually bought a lot of different calendars and options for the wall, and then laid everything out on the living room floor to see what worked best.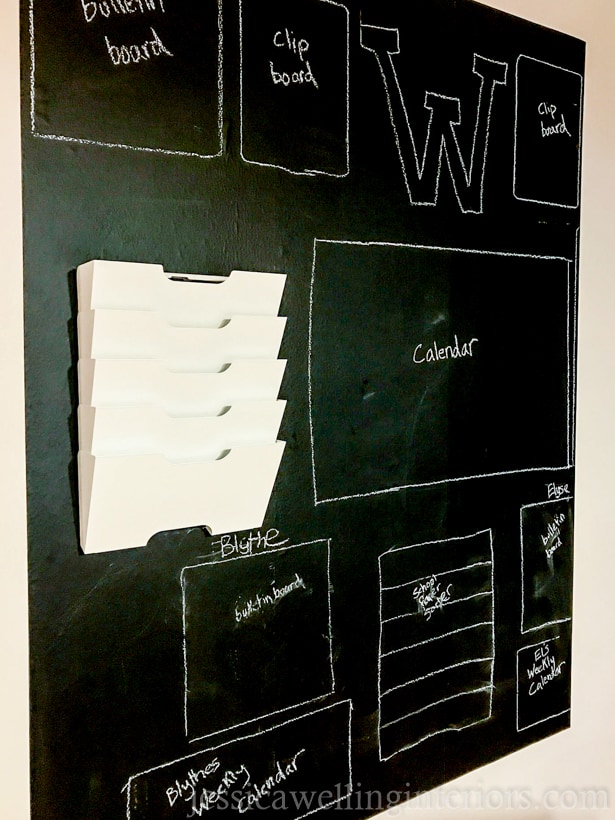 I traced the pieces on the wall so Hubby would know where to mount them.
And voila! I keep making small changes as our needs change. And I'm sure that once I have more than one kid in elementary school it will change again. But for now this is keeping me sane and the paper clutter at bay!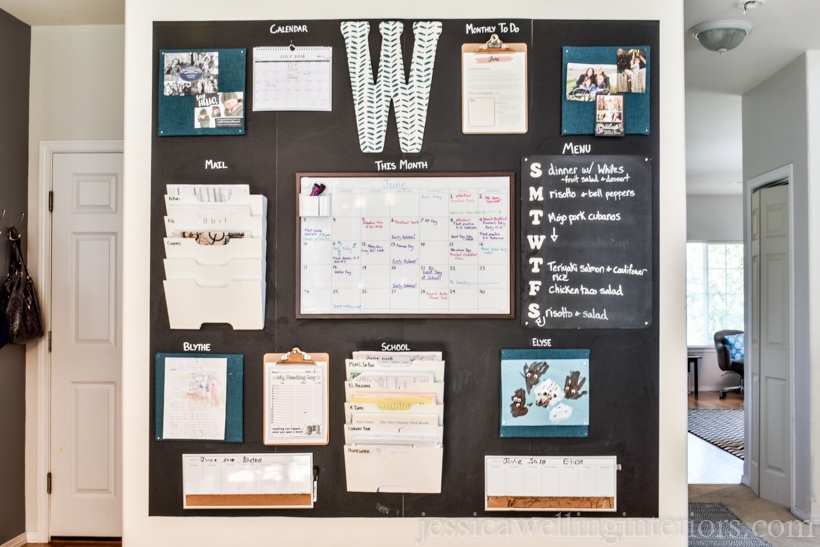 I got these KVISSLE wall files at IKEA. The "Mom's In-Box" file is the most used and the most helpful. I can see potentially adding a third file sorter once E is in kindergarten.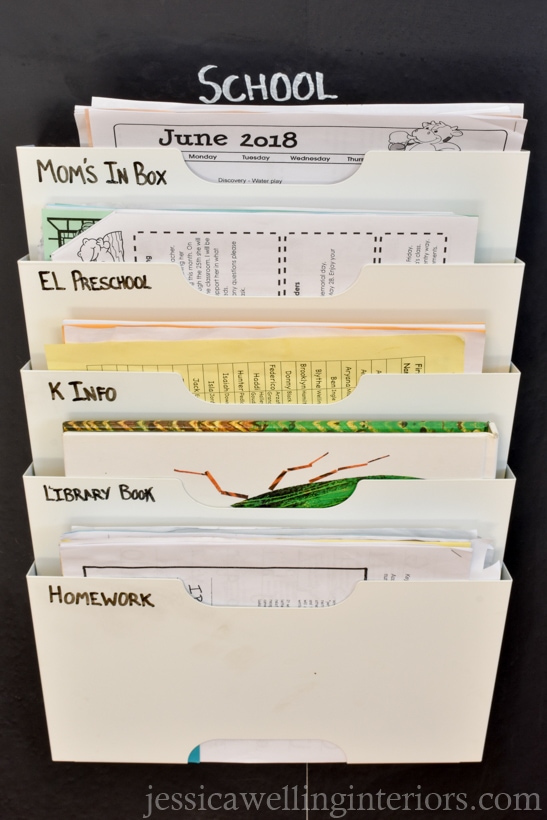 I've assigned each family member a color on the whiteboard calendar. I'm loving this magnetic dry erase marker cup. The kids are, of course, always wanting to use the dry erase markers and I would rather they didn't. So I can keep them up high out of tempting reach.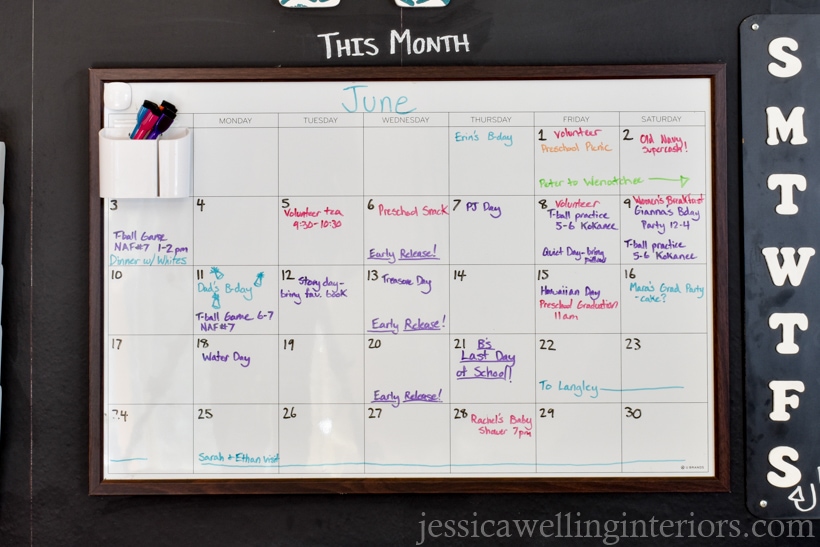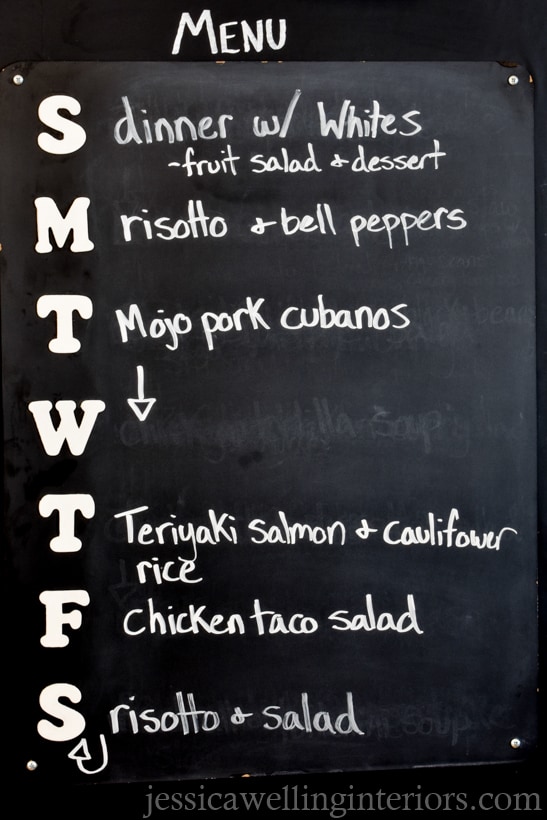 Now when new people come over to my house they say things like, "Wow! You're sooooo organized!" (Well they only say that if I had good warning they were coming.) And I just laugh inside because I know that's so far from the truth!
Oh, and did I point out that everything for the kids is down low so they can see and reach it?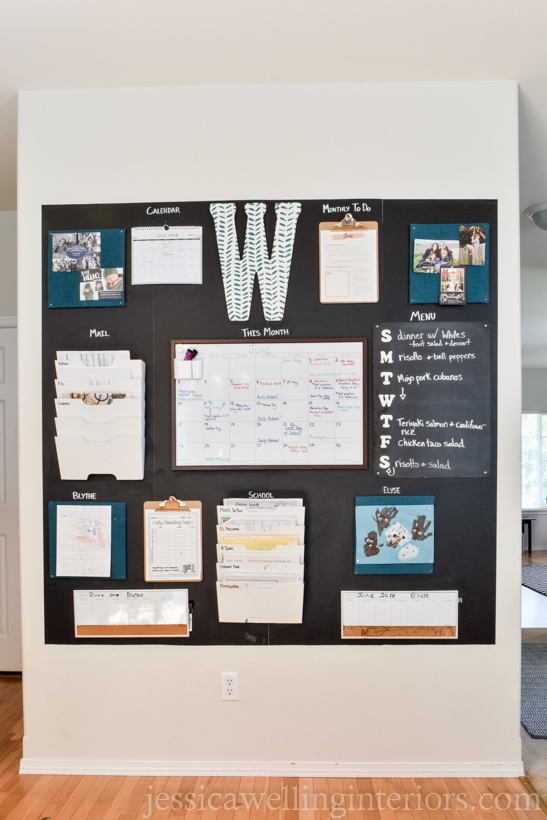 Shop My Command Center…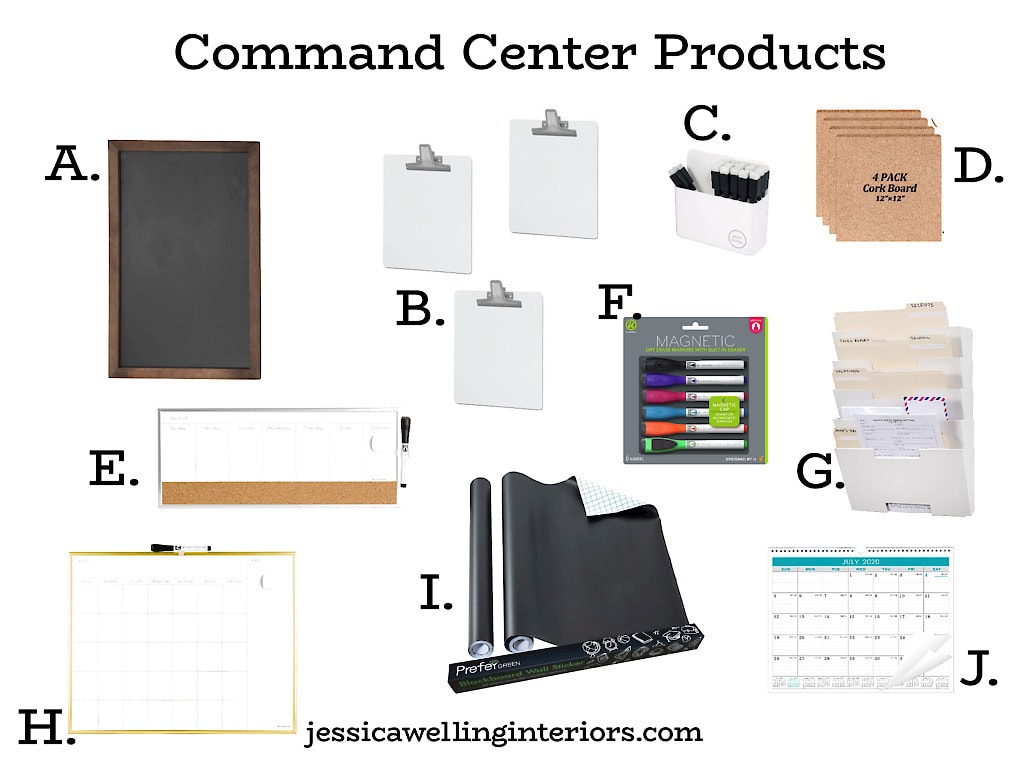 B. White Letter-Sized Clipboards
F. Low-Odor Dry Erase Markers with Erasers
G. Metal Wall File Organizer in White
H. Magnetic Monthly Calendar Dry Erase Board
I. Chalkboard Wallpaper– this one actually stays stuck to the wall!

Did you enjoy this post? Please share the love and pin it!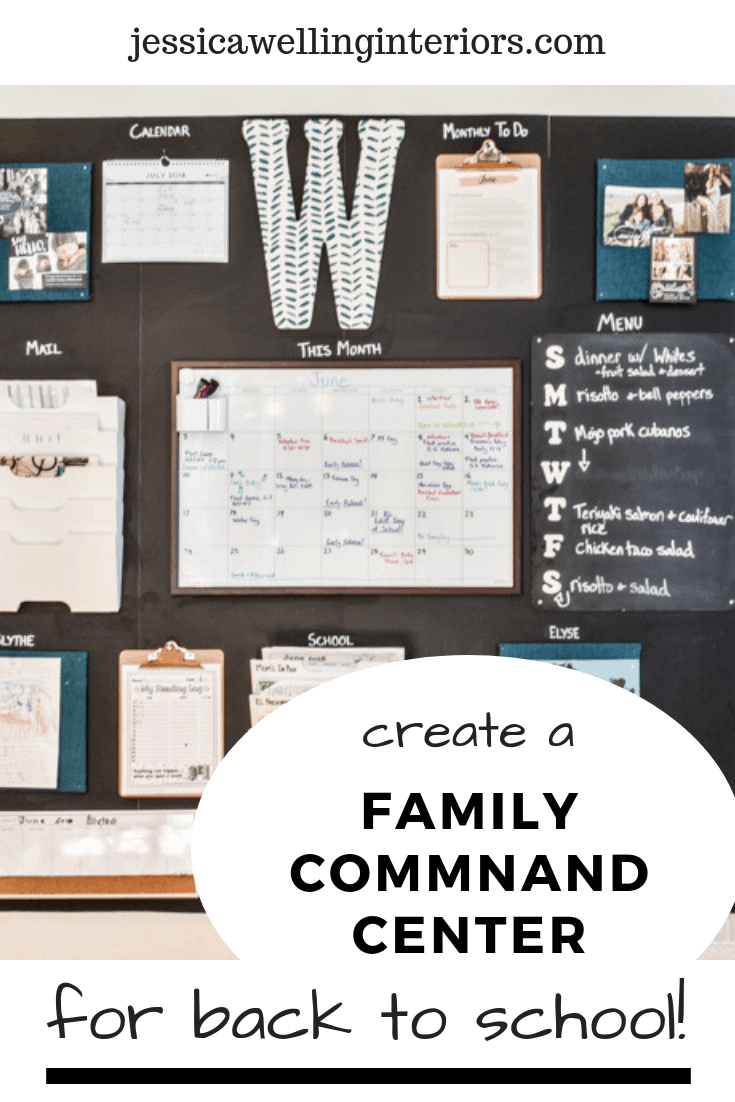 more back to school organization ideas…
Get Your Home Back-To-School Ready!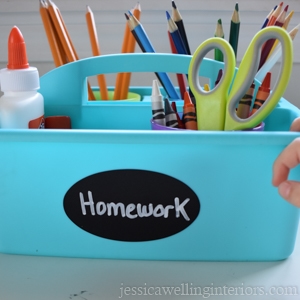 Simple Entry Cubbies! A Simple Ikea Hack for Back to School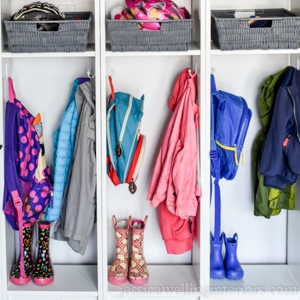 Morning Routine Charts for School