This small organized pantry closet on a budget with shelves and baskets is full of cheap and easy ideas to keep all your food visible and easy to access!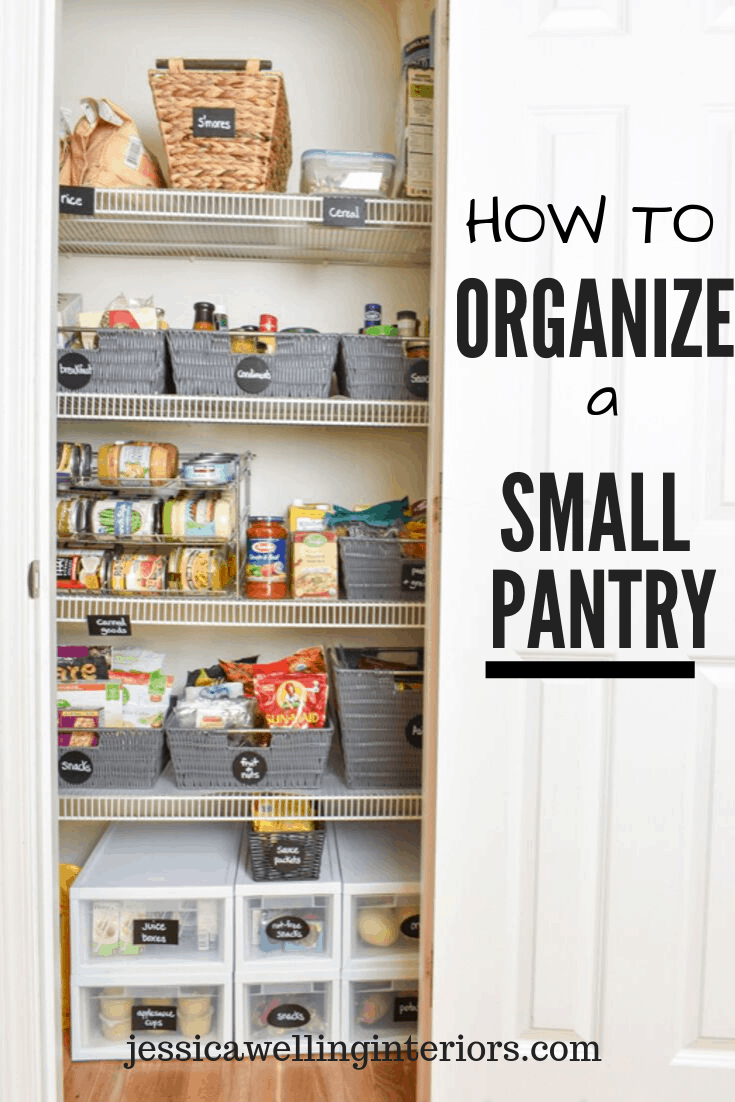 I'm going to let you all in on a little secret: I was not born with the gift of organization. And as much as my parents tried to instill it in me, it never quite took. Whaaaaaaat??? If you know me in real life that's no big surprise.
And unfortunately, no one else in my household seems very inclined toward organization either. (I'm still holding out hope for B, but at 6 she's much better at getting things out than putting them away). So as you might imagine, keeping our pantry organized can be tricky.
Pantries are one of the most challenging spaces to organize (and maintain) because there's so much turnover- things are always leaving, and new, often different, things are taking their places. This makes it hard to make long-lasting categories and stick to them.
Once upon a time our pantry was a crazy hot mess! Can you believe that? We had a shove-it-back-in-wherever-you-can-fit-it sort of system. Fun as that was, it didn't work very well.
A couple of years ago I did a major re-org, and that involved a bit of investment to get good solid baskets, a can rack, and modular drawers. I still move things around once in a while, but now it's all much more under control. If I can do it, then I promise there's hope for you too!
How to organize the pantry…
1. Gather your supplies
Don't you dare go shopping for pretty containers yet! You've got some work to do first my friend. Here's what you'll need to get started:
a few hours of designated time (maybe over 2 days)
some kind of cardboard boxes, baskets, or containers to sort things into.
post-it notes
pen or marker
shop-vac or flexible hose vacuum
cleaning wipes, spray, etc.
trash can & recycle bin close by
2. Pull everything out & Declutter
This can get a bit overwhelming, so I recommend taking it one shelf at a time. Throw away the stale chips, expired anything, old opened bags of snacks no one likes, etc. as you go.
It may help to ask yourself, "Are we really going to eat this?" It's not that different from any other organization and purging task. Though the stakes are a bit lower- it's a can of pickled beets, not your grandma's wedding dress!
I recently came across an unopened box of turmeric tea that I bought on a healthy spree. I was tempted to stack it back in one of my piles, but then I asked, am I ever going to drink this tea? The answer was "No".
It's no longer taking up valuable space in my pantry. And that's exactly how I want you to think about the storage space in your pantry, even if it's large. It's very valuable, and you don't want to waste it!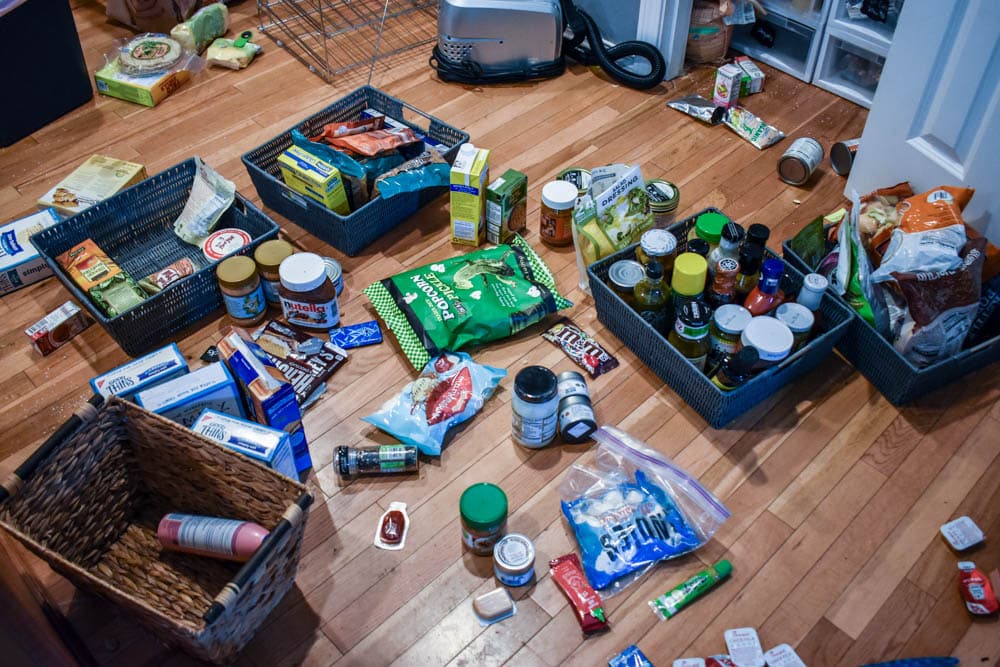 3. Make Pantry Organization Categories As You Go.
As you pull things out, begin sorting them into categories. It's okay if you don't have your categories set in stone yet. Just get a basic idea. Here are my current categories:
snacks
pasta & grains
sauces
condiments
cereal
canned goods
Asian food
breakfast
fruit & nuts
rice
And then I have drawers for a few specific items. (I keep my baking ingredients in a kitchen cupboard).
Your categories will depend on your space and what makes sense to you. Sort them by country or continent, meal, etc. Figure out what is most helpful for the way you cook.
And it's okay to have a miscellaneous category, as long as it's not a very big container. If everything is ending up there, you need different categories.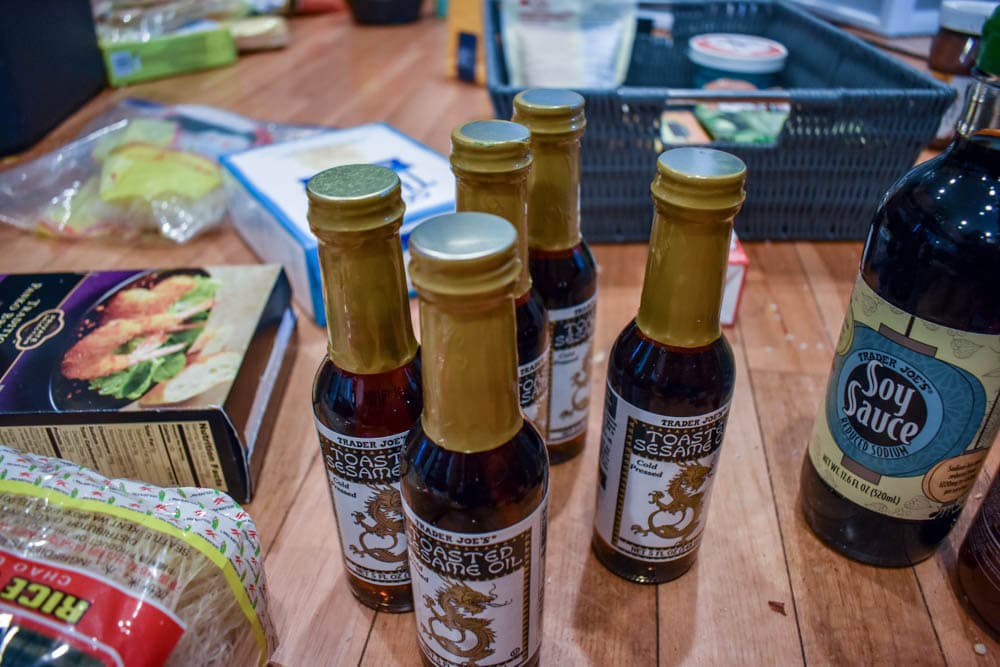 Who knew I had 5 unopened bottles of sesame oil???
4. Clean as you go
This is a great opportunity. Take a few minutes and wipe down your shelves, vacuum up the onion skin pieces on the floor, etc.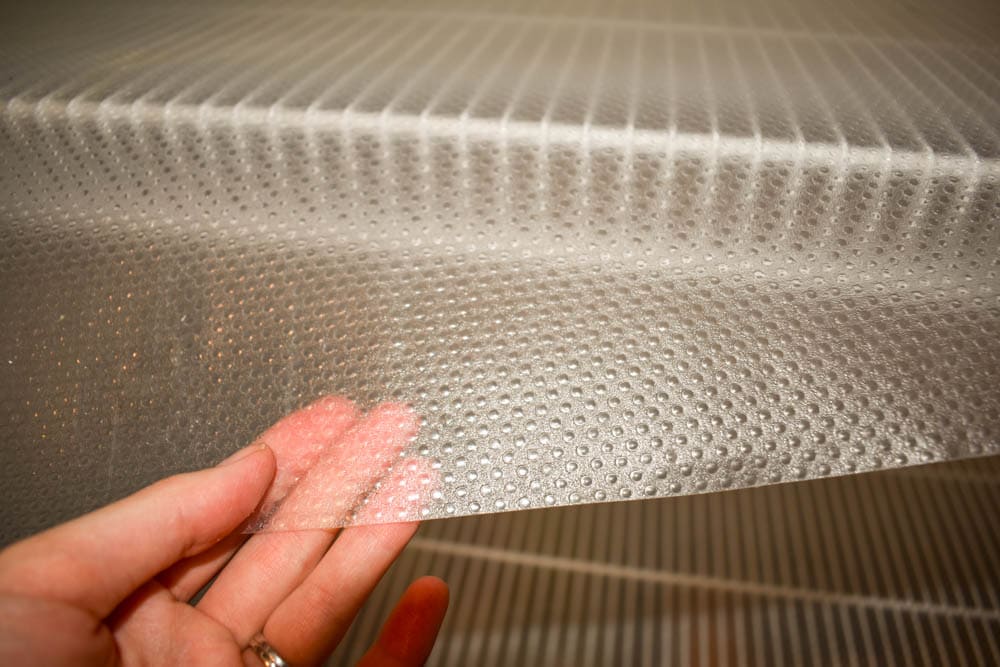 5. Line your shelves
Since I have wire shelving, I like to use plastic shelf liner. This helps ensure that if something leaks, it doesn't end up dripping down to the next level. I just rolled it out and cut it down to size with scissors.
6. Decide where everything will go in the pantry
With this most recent re-org, I decided to try putting the snacks down low so the kids can reach them. I got tired of them dragging step stools over to the pantry. We'll see how it goes. I also have their juice boxes and other school lunch-making supplies down low where they can reach them. You can see the school lunch-packing station HERE.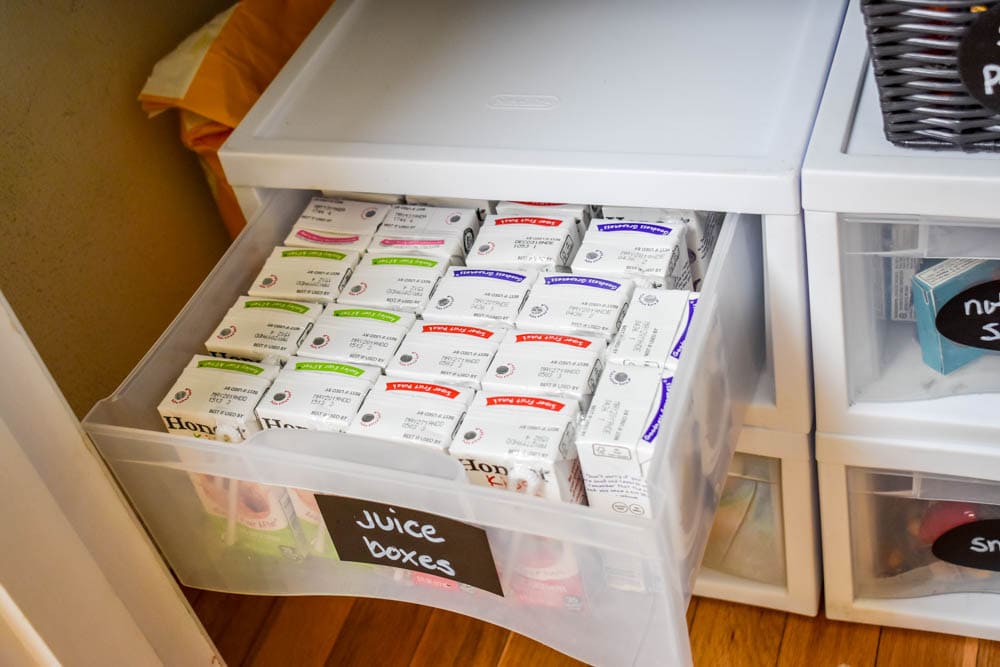 7. Shop for containers!
Now that you can see what you have, you know what you need to store it in. I like low bins & baskets because they help corral things, and you can easily see and grab things out of them.
I used