DIY Li'l Woodzeez Play Rug
This easy DIY painted play rug is perfect for Li'l Woodzeez, Calico Critters, Little People, Legos, and more! It's the perfect mat for hours of imaginative play!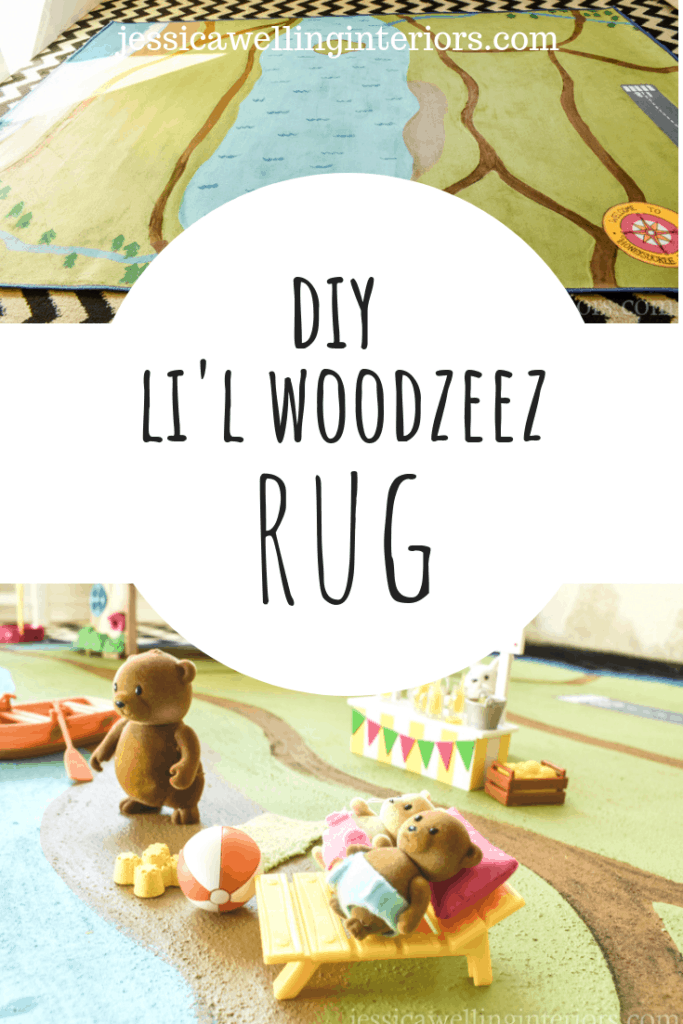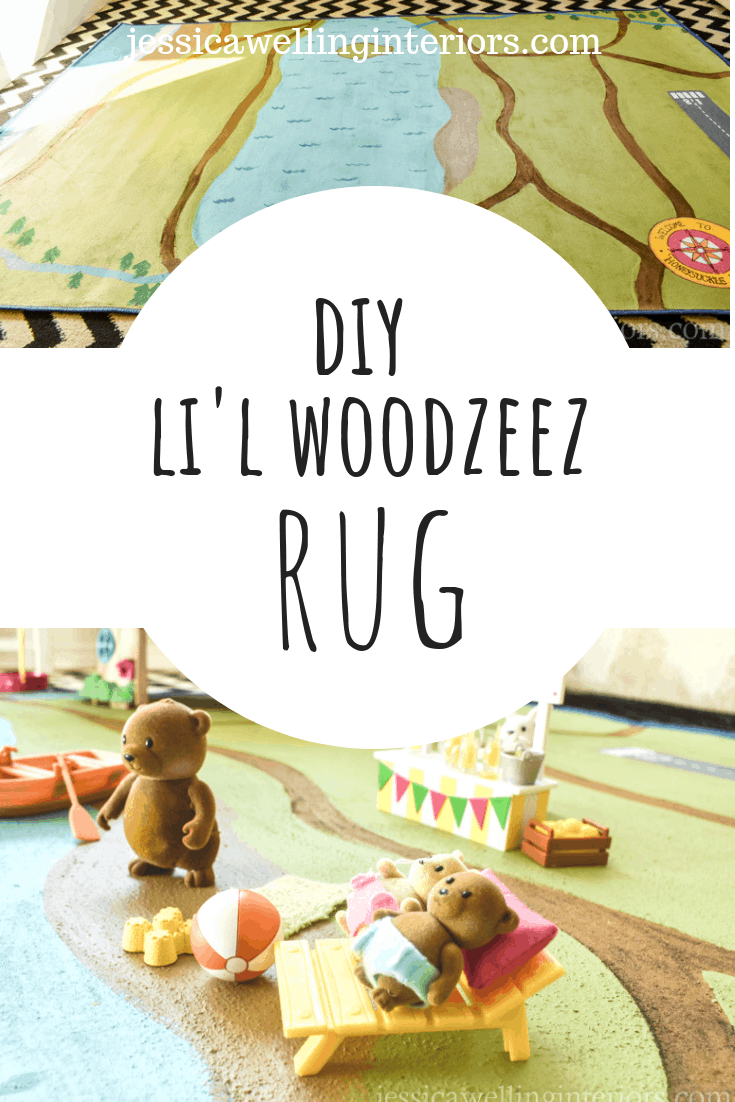 Lately, my girls are obsessed with Lil' Woodzeez. Do you remember Calico Critters from when you were a kid? Basically, Woodzeez are very similar. Some of the animal families come with a little booklet, and inside there's a map of their town, "Honeysuckle Hollow".
So for Christmas this year I decided to paint them an area rug to look like Honeysuckle Hollow. I made a few changes from the map because I wanted to be sure they would have enough room for all their houses, stores, campers, etc. It was easy- but it did take some time. Best to plan this as a several-day project to allow time for the paint to dry between coats.
And this project could totally be adapted for Calico Critters, Little People, trains, or whatever your kiddos are into.
Supplies
inexpensive flat-weave or felt-like rug. I used a 4×6 rug from Costco.
large paintbrush
small paint brushes
latex interior paint (I used a quart of green and 1-2 sample sizes of the browns and blues).
acrylic paint for small details (I used pink, white, yellow, and dark green)
large sharpie
I started with this inexpensive Paw Patrol rug from Costco. This was the one because it was cheap, the right size (4'x6′), and had a very flat surface. If I did it again, I would choose something that was already green, since this soaked up a LOT of paint!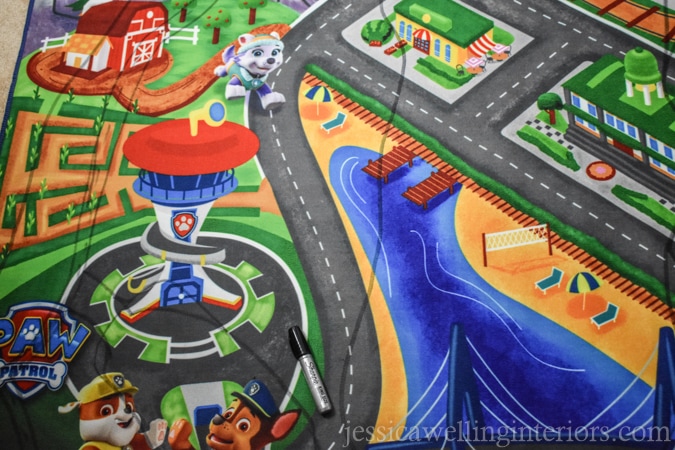 Here's a close-up of the surface. It was almost like felt.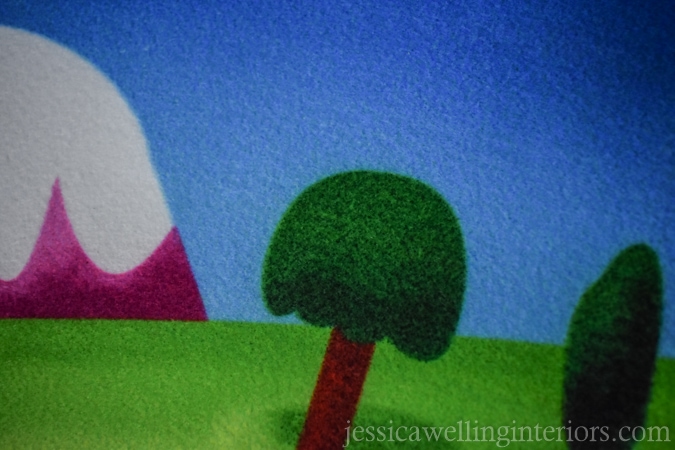 Step 1: Outline the Water and Roads
I started by outlining a long skinny lake in the middle with a Sharpie (this is a good place for kids to sit while they play). There are also some roads and a bit of ocean in the corner so they can have a beach. I also added an airstrip. We don't have an airplane yet, but E is hoping for one for her birthday!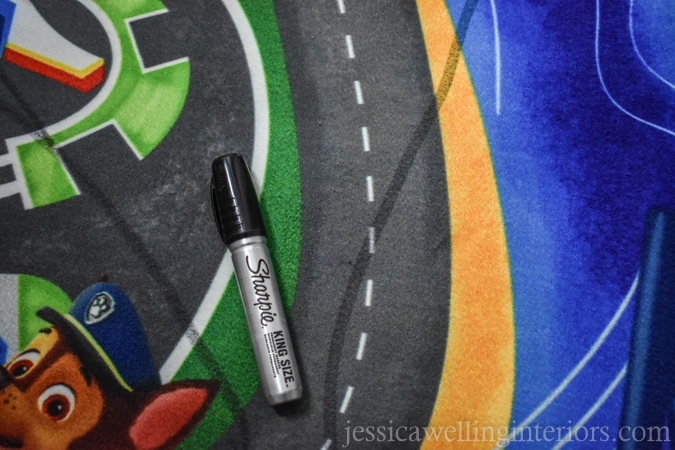 Step 2. Paint the first coat.
I started by painting the green parts green. As you can see, this rug really soaked up a LOT of paint. So it doesn't look very green yet, but not to worry!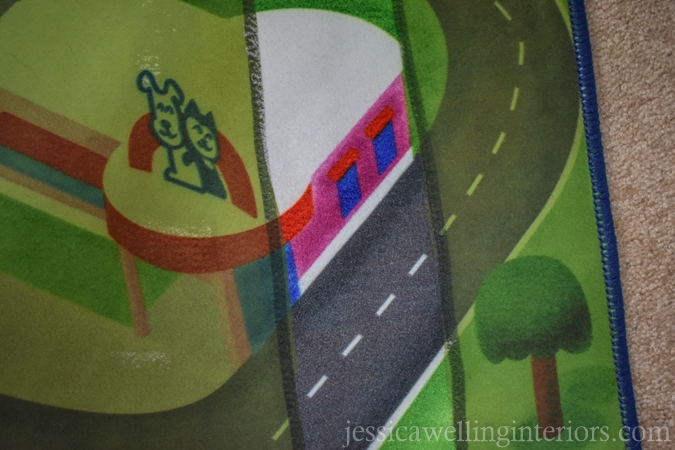 I painted the first coat of the lake and the roads, as well.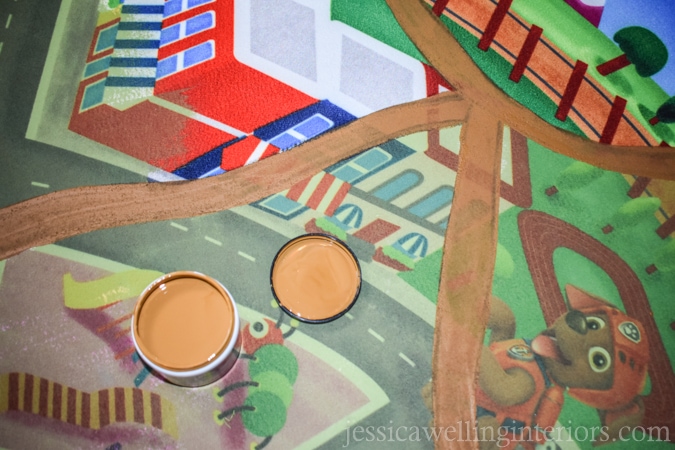 Step 3. Paint the 2nd Coat.
As you can see, the coverage is much better with the second coat, but you can still see some of the Paw Patrol rug showing through.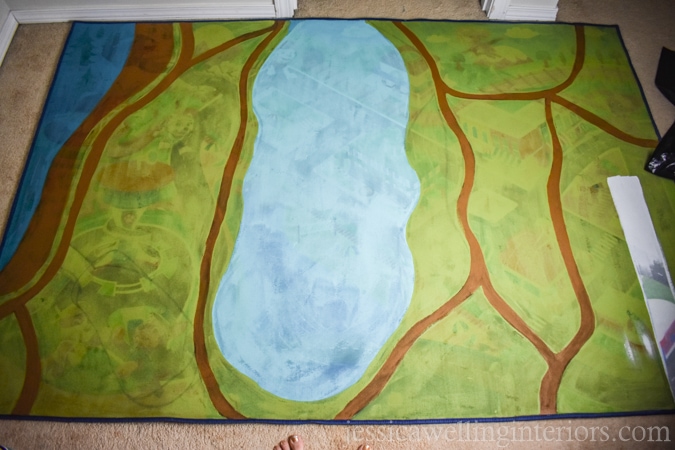 Step 4. Paint the 3rd coat.
I know this is a lot of coats, but it was worth it, I promise! Now with the third coat, the colors are much more solid. At this point, the paint isn't really soaking in at all, so I was able to paint over any mistakes with just one coat.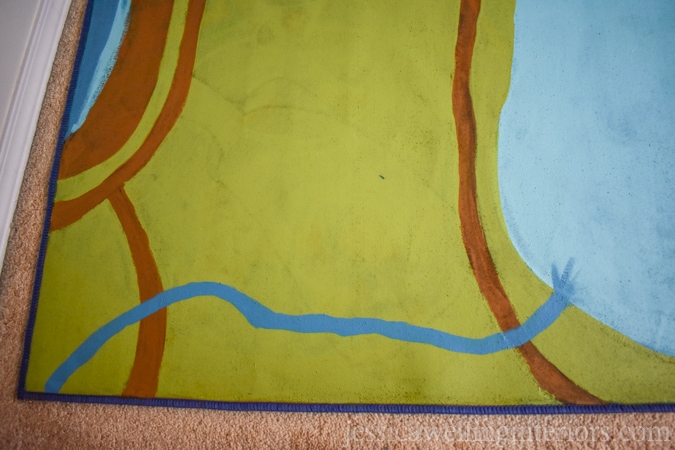 Step 5. Add details.
Now it's time to add the streams, dock, island in the lake, forest, bridges, and whatever else your rug might need. Here, I'm adding some ripples in the water.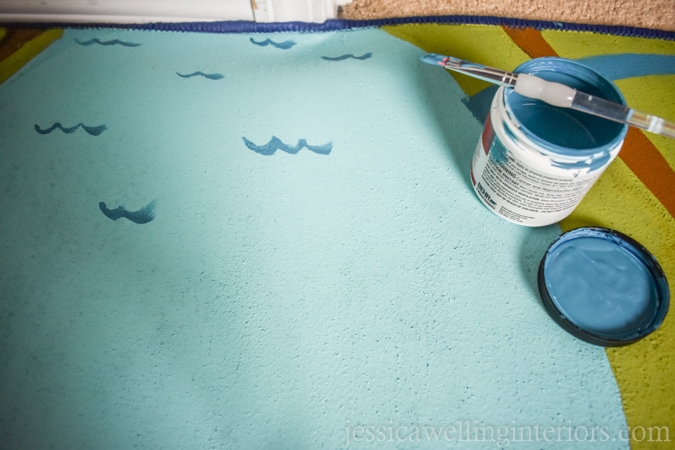 And some details on the runway…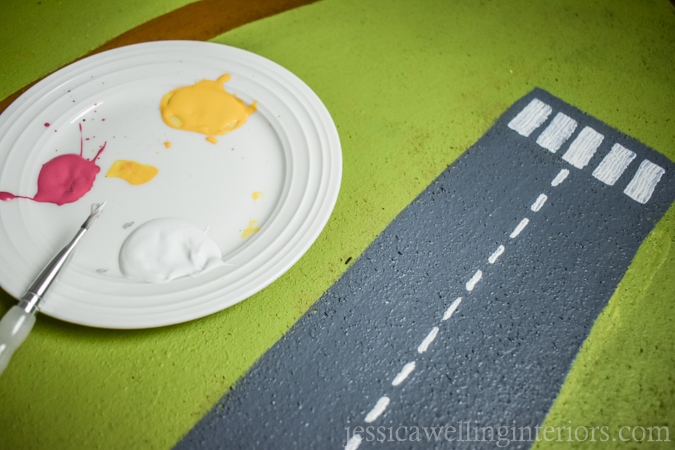 Step 5. Add a logo.
This is totally optional. E has been pouring over the map of Honeysuckle Hollow, so I thought it would be fun to include the little compass rose logo.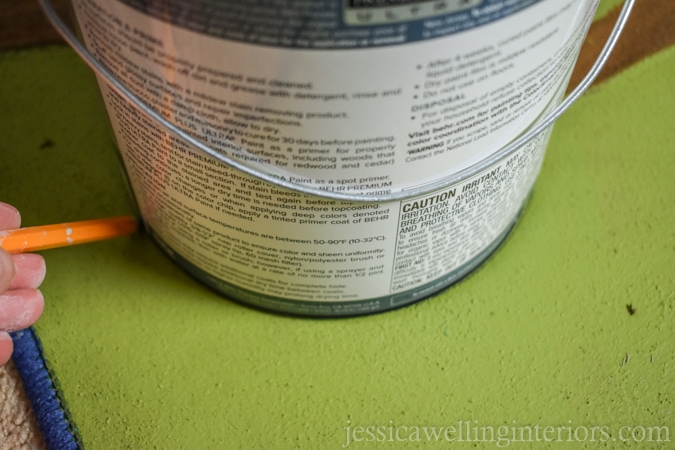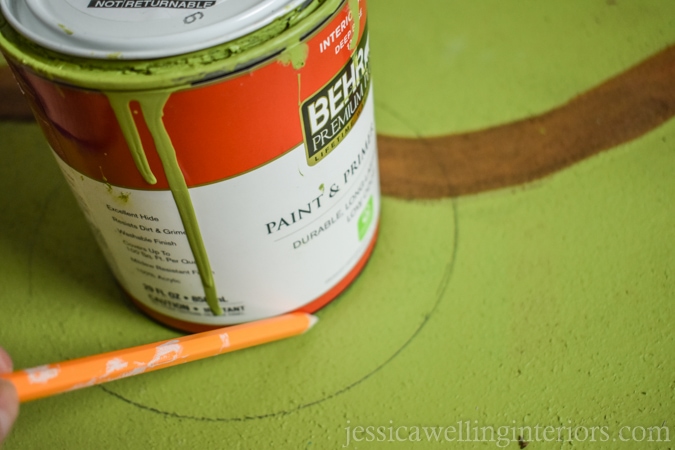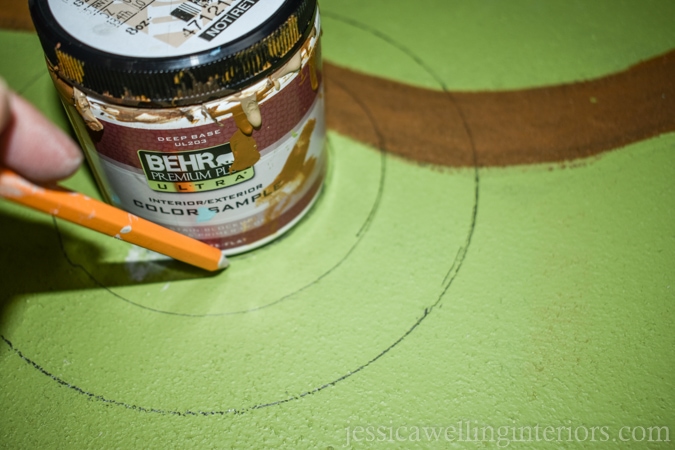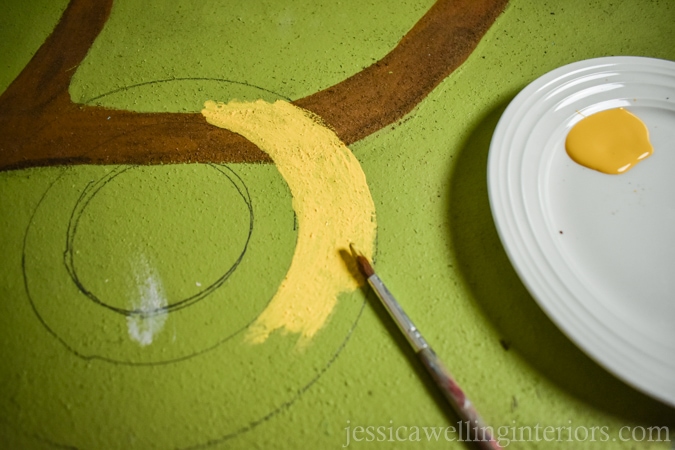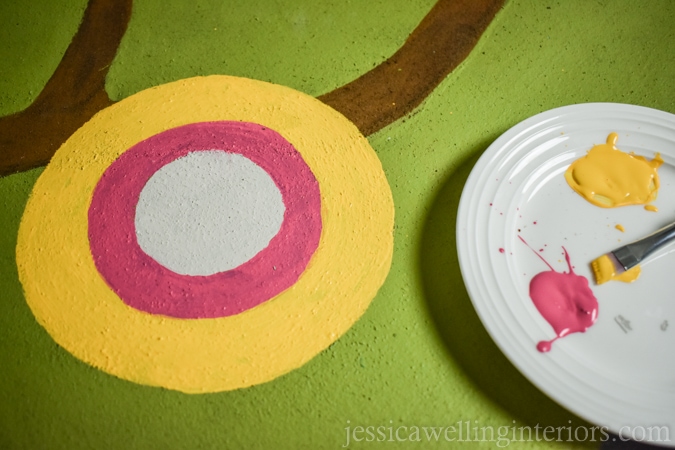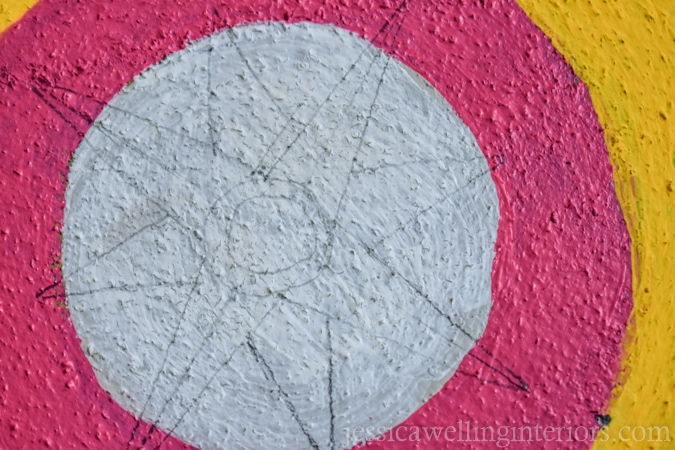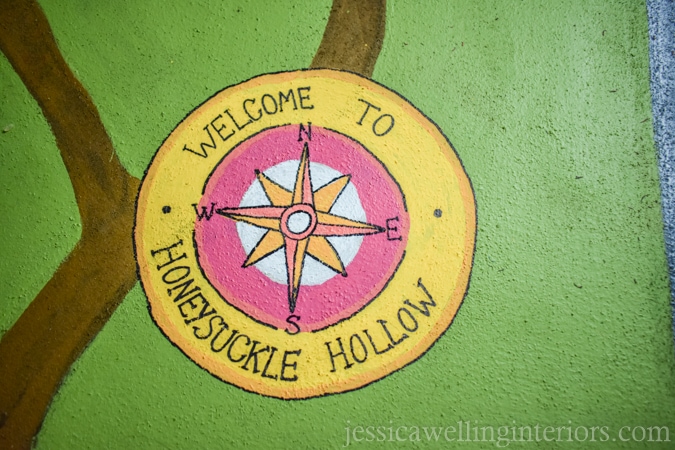 Step 6. Time to play!
The best thing about this rug is it rolls up and sits in a corner of the toy closet when not in use. I wasn't sure how stiff it would be once it had soaked up all that paint, but it doesn't seem to be a problem.
The Woodzeez are loving their new town!
Especially the beach! And don't worry… Mr. Koala is just snorkeling sans-snorkel- not drowning.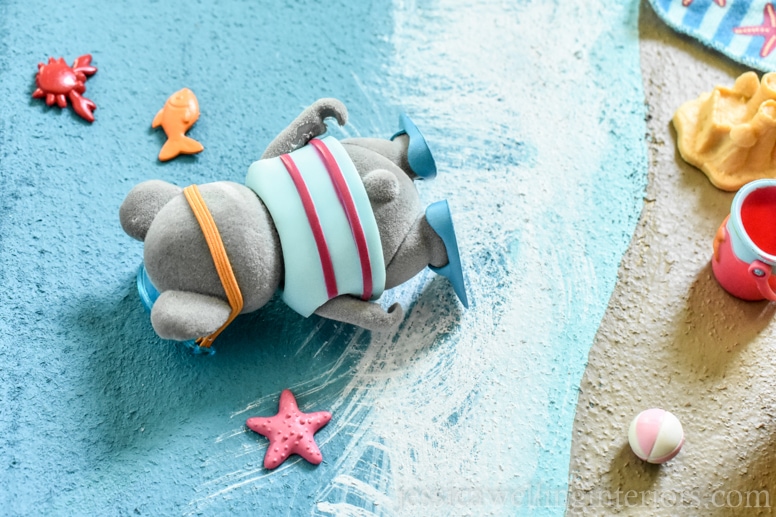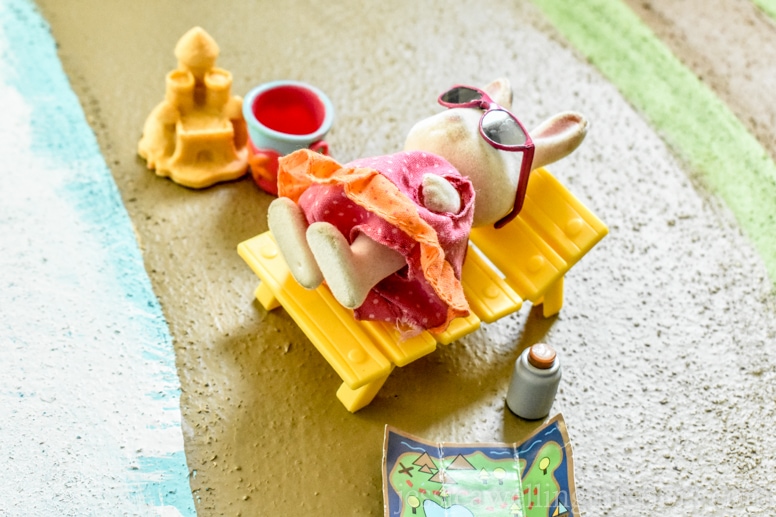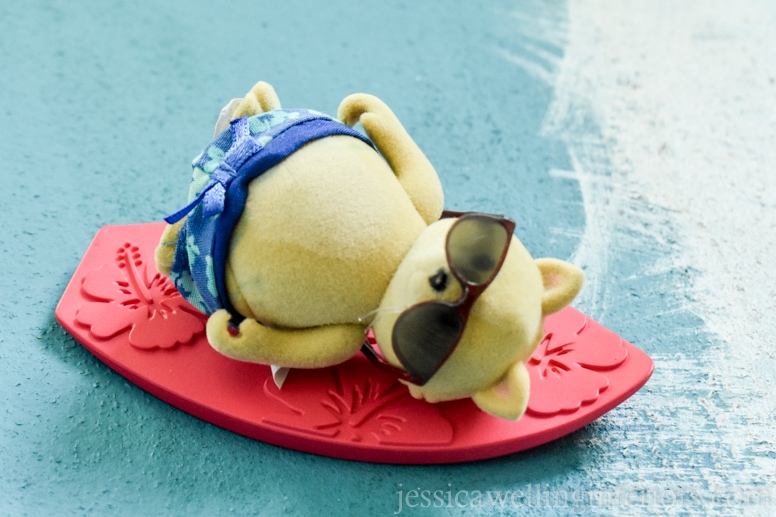 The lake…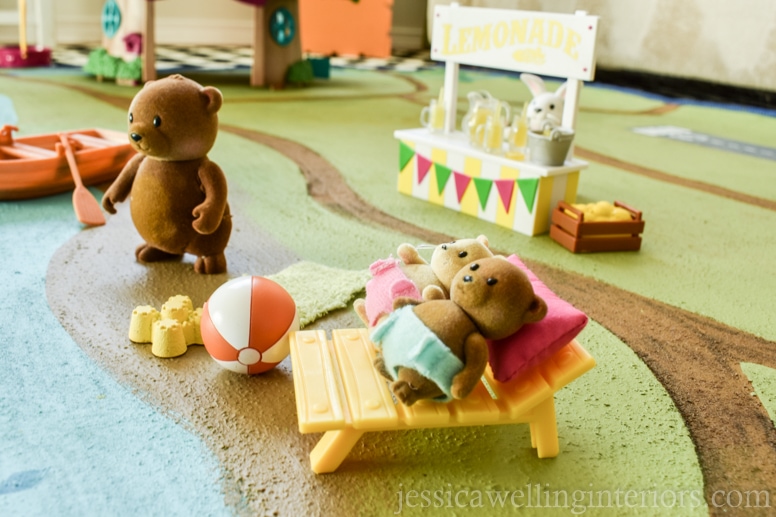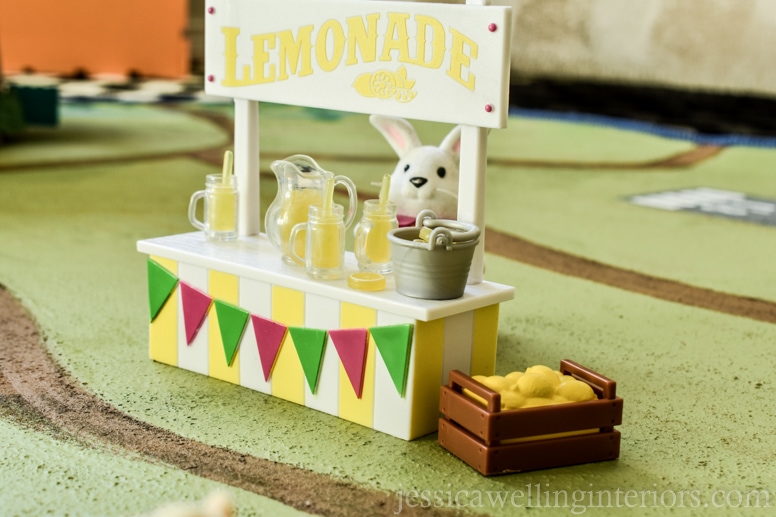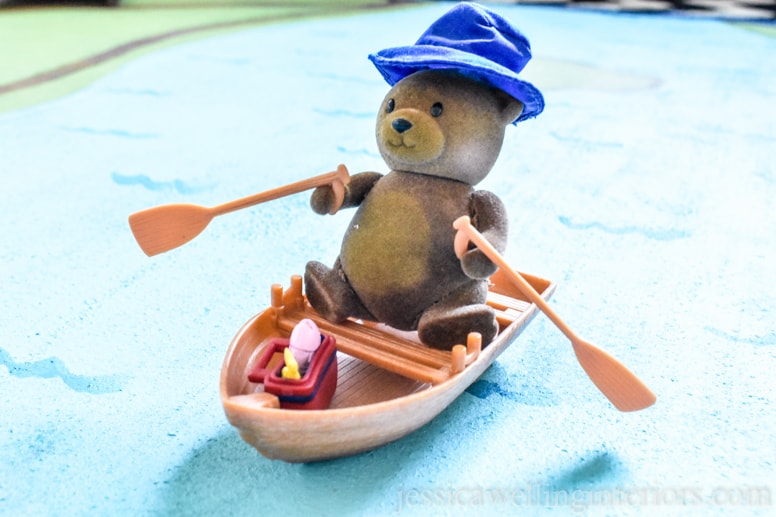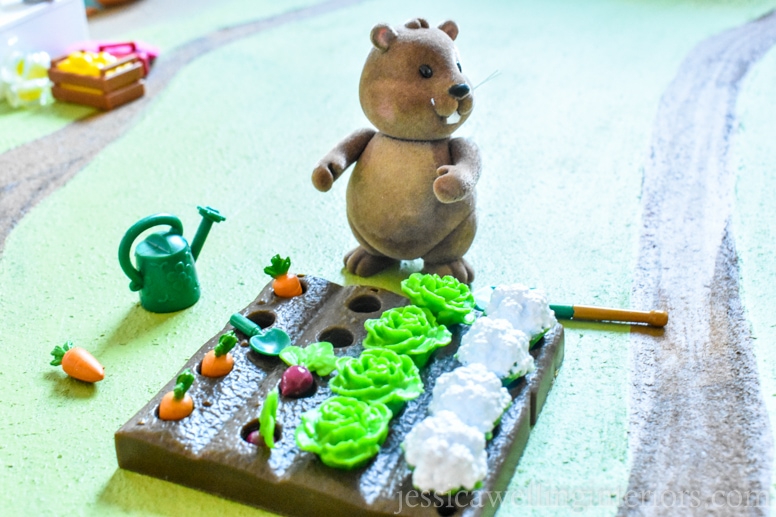 And who wouldn't want a private jet and airstrip right outside the front door of their treehouse?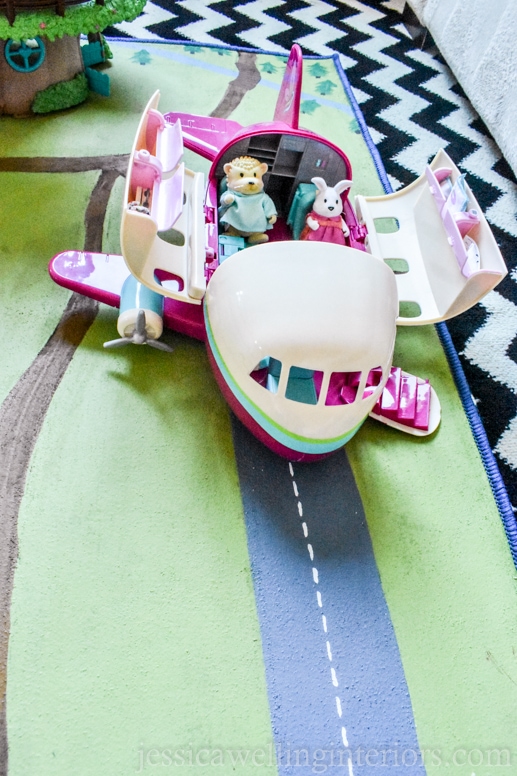 Okay, so E and I had just a little bit of fun setting everyone up for their photo shoot! I'm definitely not patient enough to put all their clothes on. She pointed out to me later that Mr. Bear isn't wearing his life jacket, and that's not safe! So sorry people.
Did you enjoy this post? Please share the love and pin it!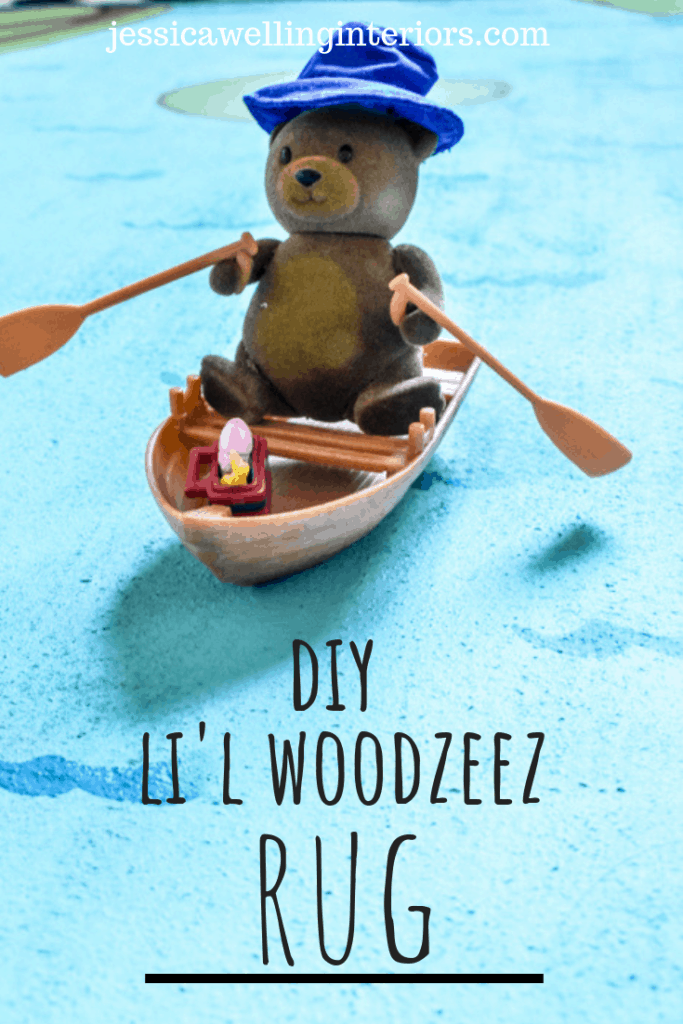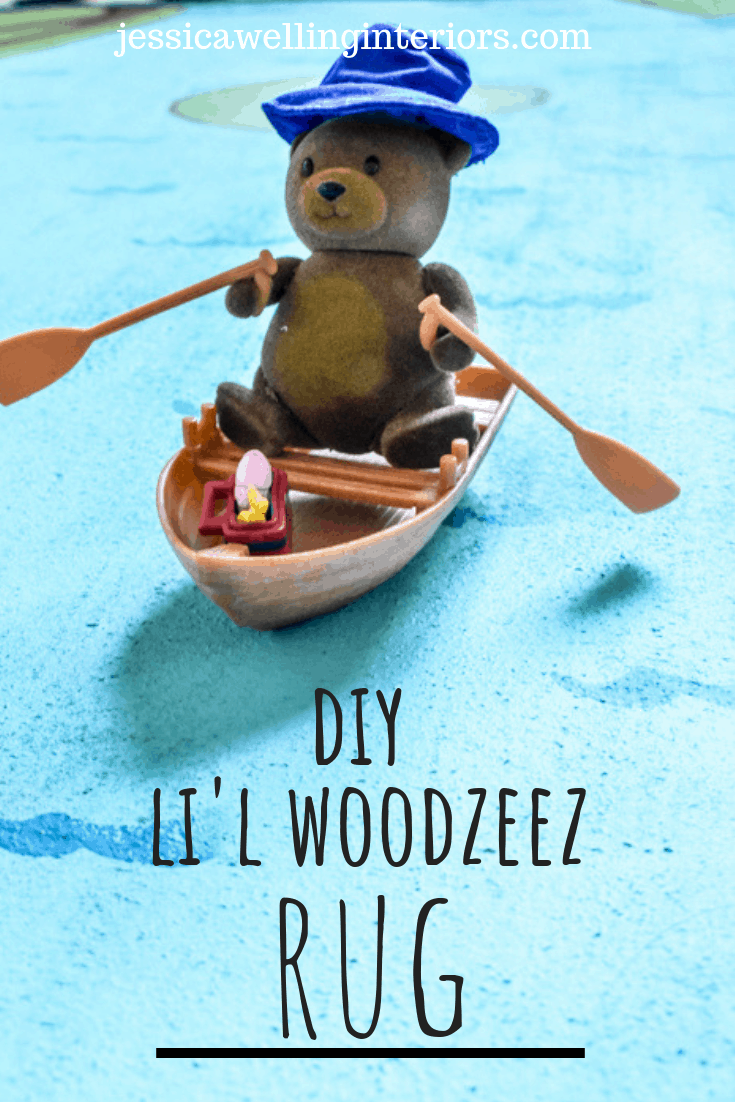 more decor ideas for kids…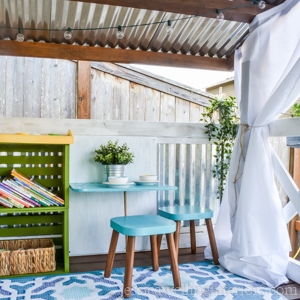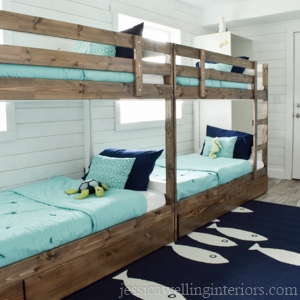 Organize All the Toys, Books, & Games!