A cozy Boho deck makeover with a patio chat set, Boho outdoor pillows and blankets, and a fabulous outdoor rug.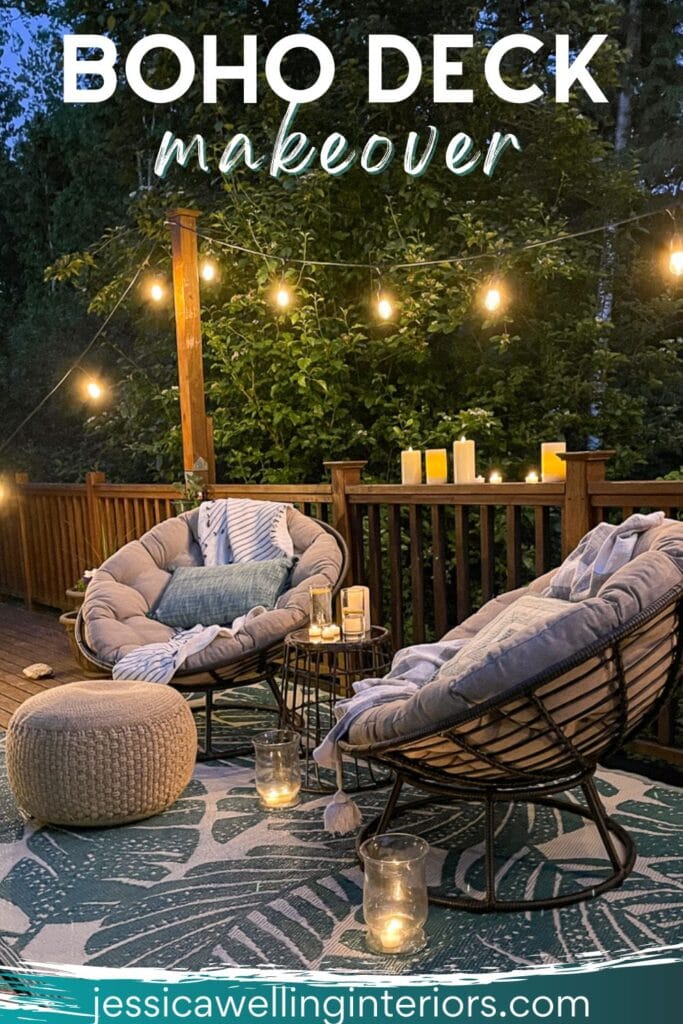 My sister & brother-in-law have this great back deck surrounded by trees. It was just begging for some fabulous outdoor seating, so when they got this papasan patio chat set, I headed out to find an outdoor rug and some fun Boho outdoor pillows to go with the chairs for her birthday.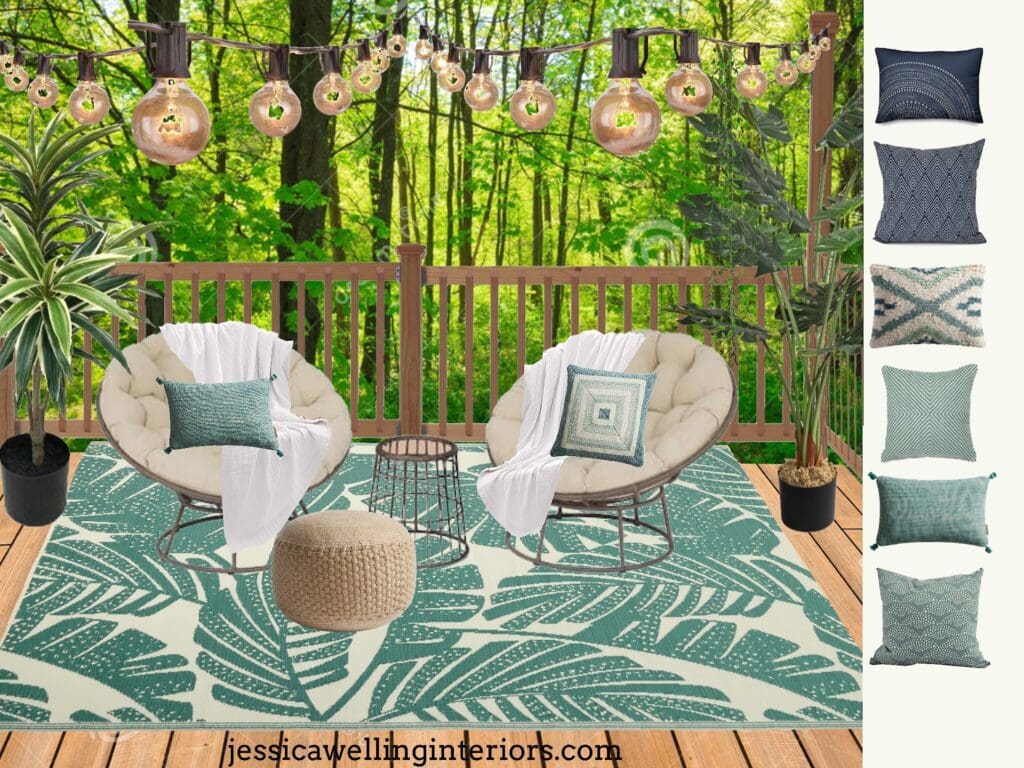 Today I'm excited to show you the seating area we created on their back deck. This is all brand new, so all the pieces should still be available. You can shop the look at the bottom of this post.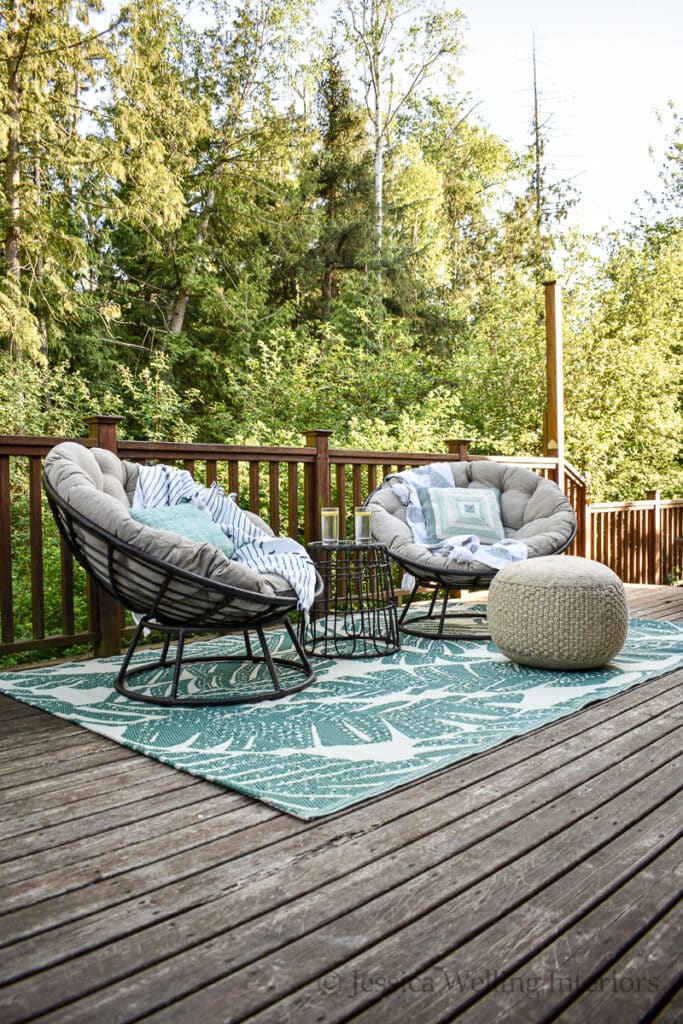 I wanted to get an outdoor rug because this is a large deck and the rug will help define the seating area. And I'm always a sucker for tropical leaf patterns. We chose this green palm leaf recycled plastic outdoor rug because it's completely waterproof and we get a fair amount of rain here in Washington, even in Summer. You can see all my favorite colorful plastic outdoor rugs here.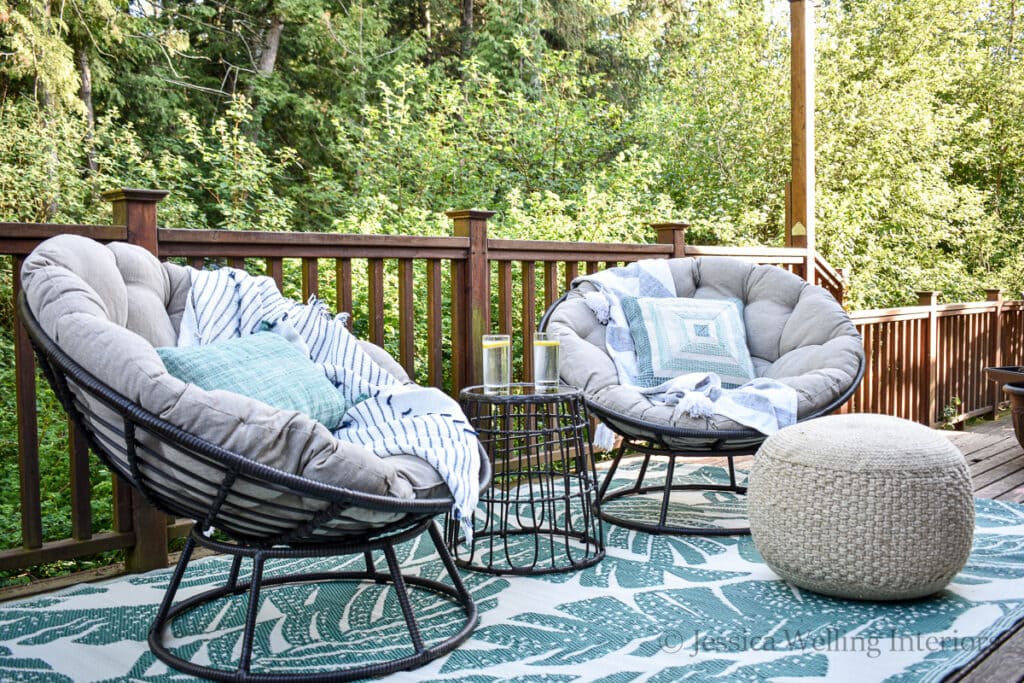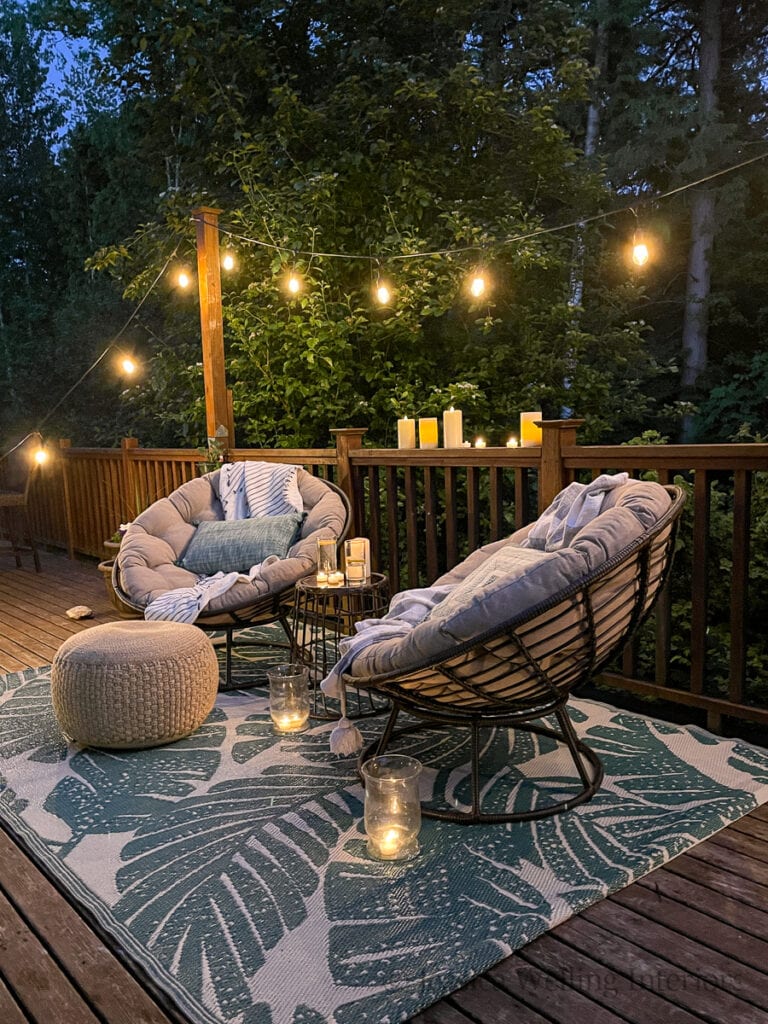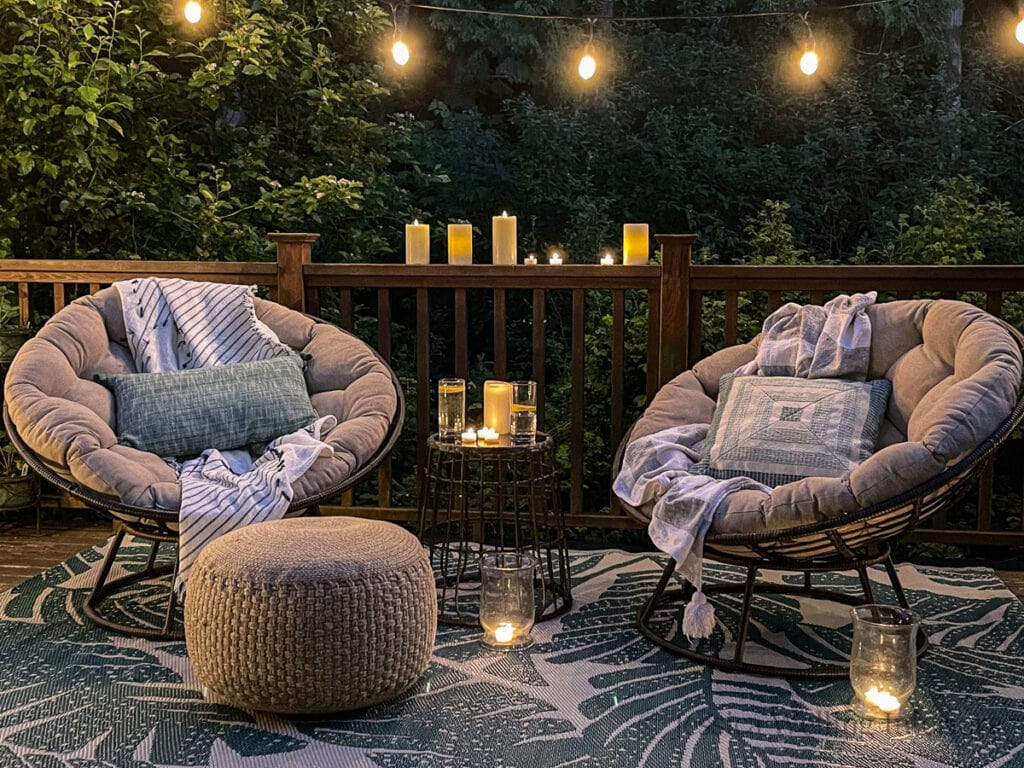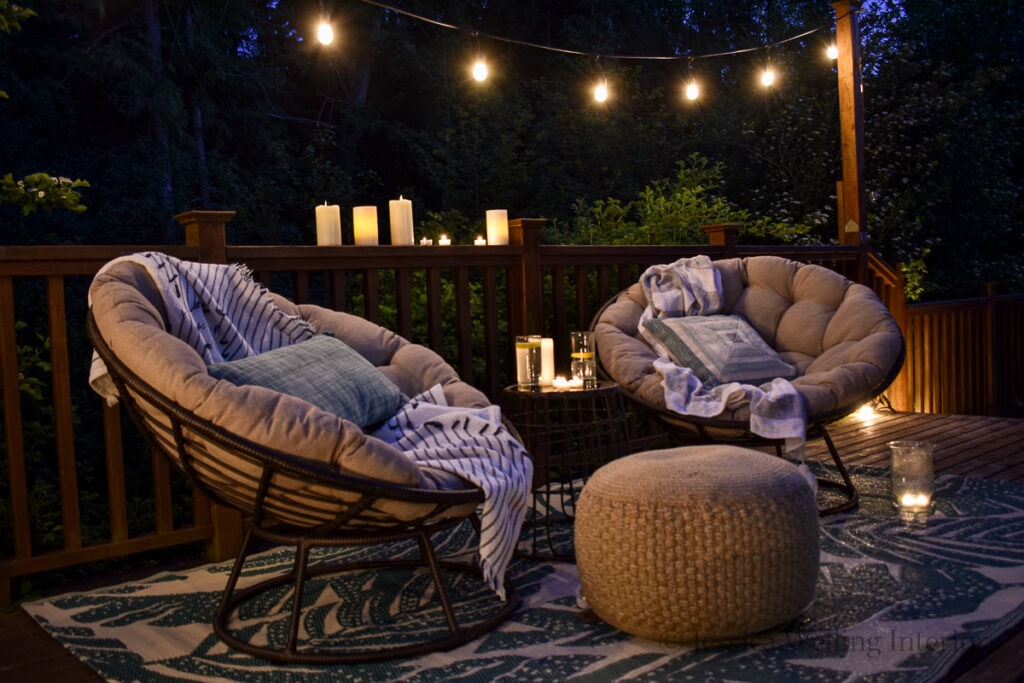 Shop The Look!
These are all the actual products in the photos, except for the white throw blankets, which I've had for a few years now.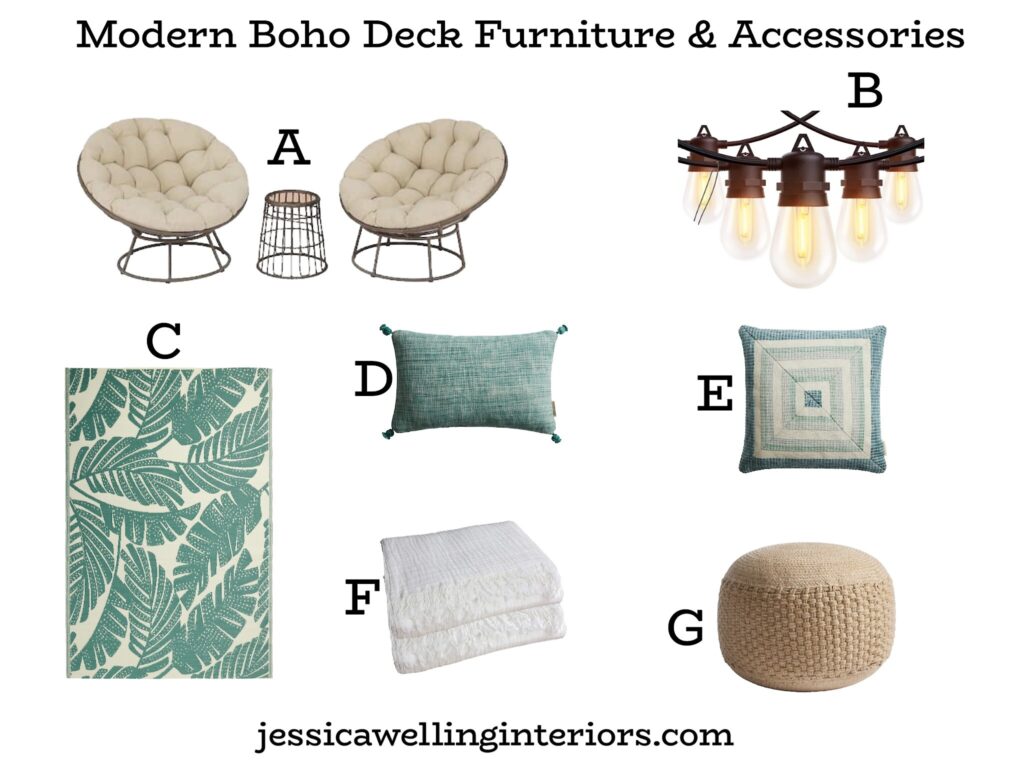 A. 3-Piece Papasan Outdoor Chat Set, from Home Depot
B. Outdoor String Lights, from Amazon
C. Green Palm Leaves Plastic Outdoor Rug, from World Market
D. Woven Corner Tassel Outdoor Pillow in Deep Seat, from World Market
E. Ivory & Green Indoor Outdoor Throw Pillow, from Word Market
F. Organic Muslin Throw Blanket in White, from Amazon
G. Round Braided Indoor Outdoor Pouf in Natural, from World Market
More Outdoor Living Ideas…
How to Hang String Lights on a Deck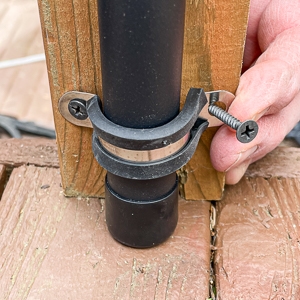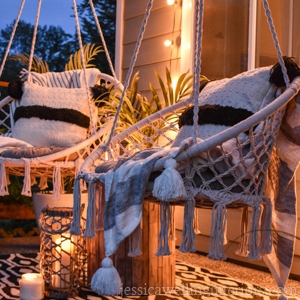 Boho Patio Makeover for Summer!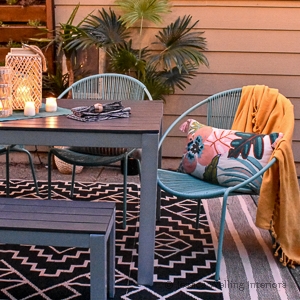 Shop My Favorite Patio Furniture & Accessories…