Make Cheap Curtains Look Expensive
Make cheap curtains look like custom window treatments with this quick and easy hack! It only requires the most basic of sewing skills and takes 20 minutes!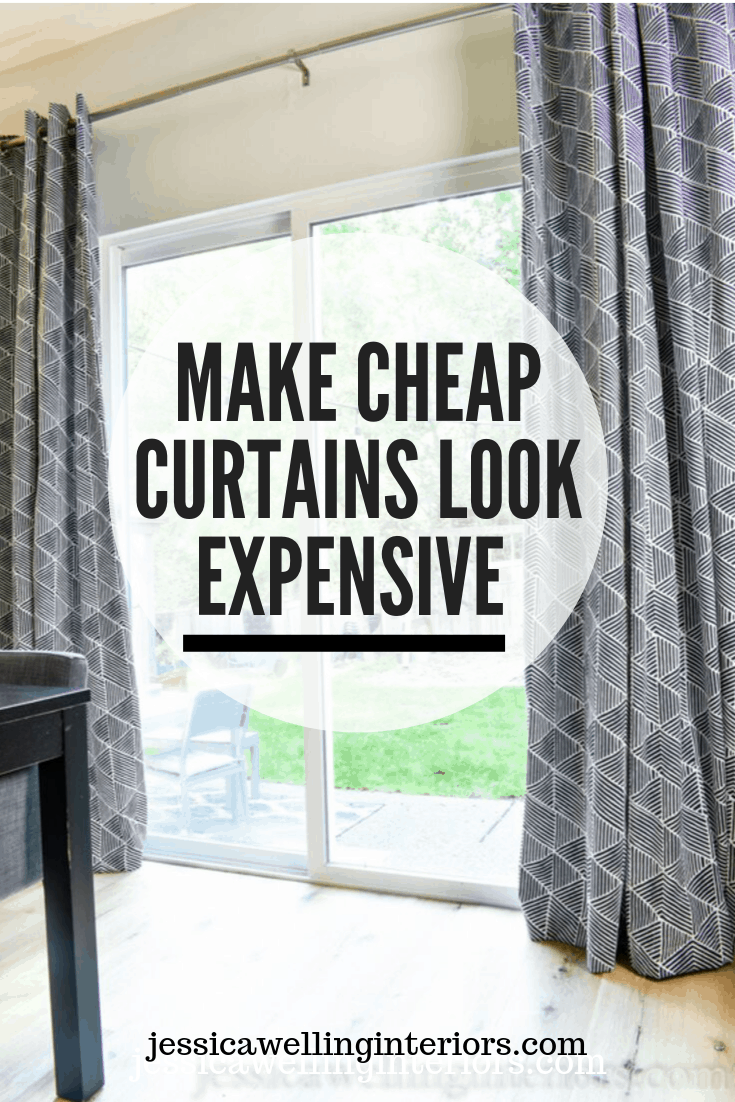 Okay, so today I'm going to let you in on one of my favorite super-easy design hacks. Have you ever noticed that many people's curtains look cheap? And have you ever considered why? (Hint: It's not that they came from Target!).
before…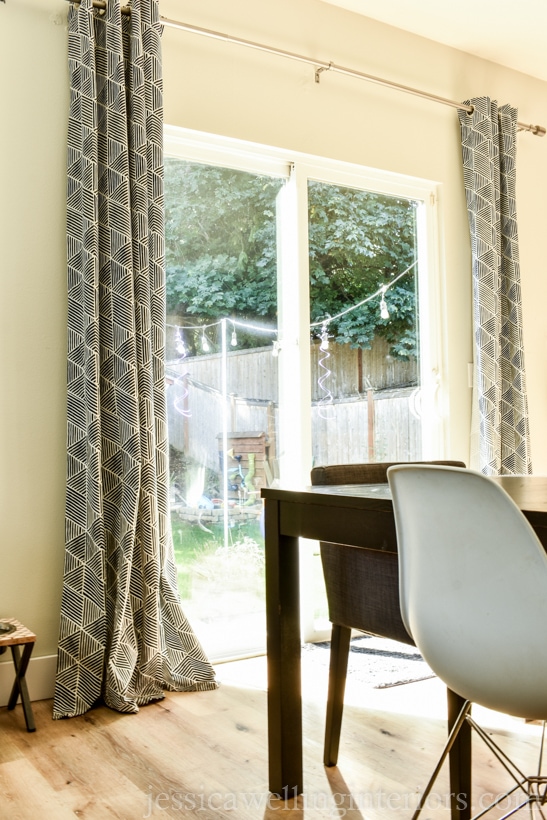 The biggest reason store-bought curtain panels often look cheap, is they aren't wide enough for the windows they're dressing (see photo above). Most curtain panels are just decorative- they don't ever get drawn shut because the window has blinds on it. But even just hanging to the sides of the window, they can look insubstantial and not quite right. This is especially true when the window is large (or in this case the sliding glass door).
Now you could buy or make expensive custom window treatments. If you want to do that, great! But if you're like me, you want to get a polished, expensive look with as little effort and cost as possible!
how to make cheap curtains look expensive
Here's the secret: Buy 2 panels for each side of the window, and sew them together. This is pretty much the easiest sewing project ever, and I'm going to show you how to do it right now. Let's get to it!
supplies:
1. wash curtain panels
Assuming your curtains are washable, you're going to want to do this first. If the fabric is going to shrink at all, you want it to happen BEFORE you tailor them. I always wash them on delicate cycle, use Woolite, and hang them to dry. Whatever you do, don't put them in the dryer!
2. line up curtain panels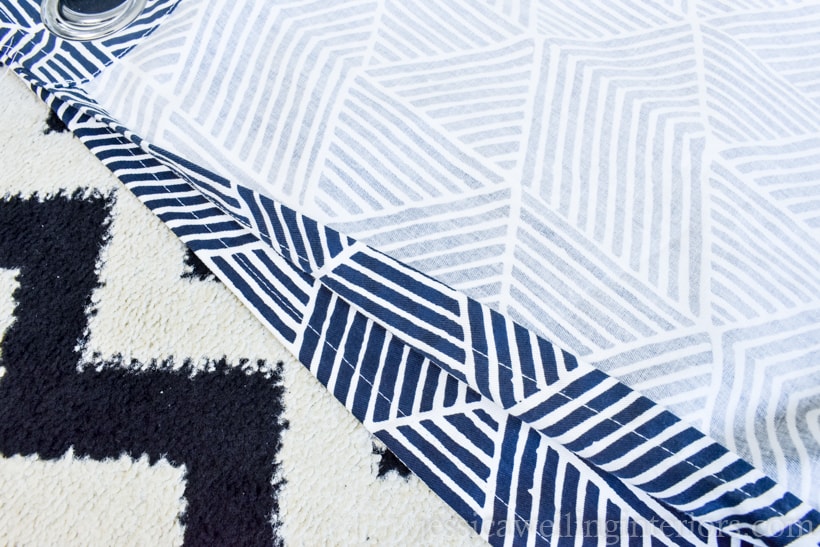 Line up the long edges of your curtain panels, with the good sides together. Start at the tops, and be sure they're lined up, since we'll be hemming the bottoms later.
3. Pin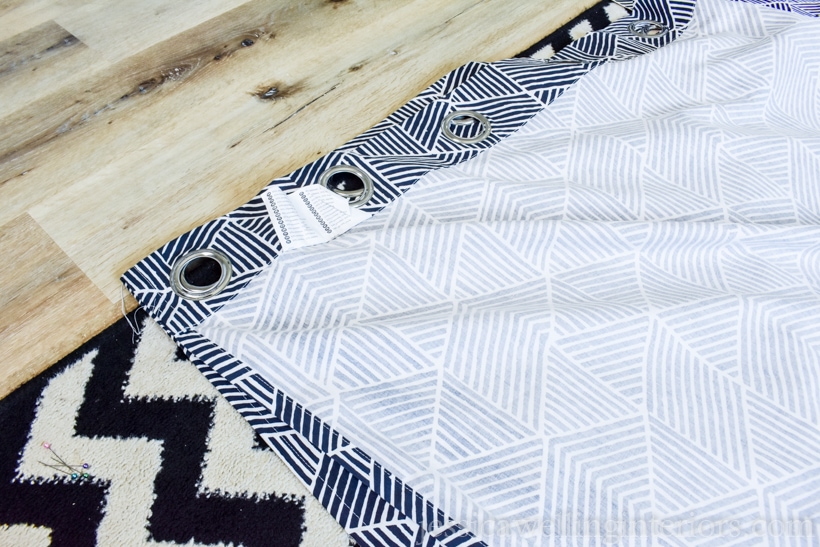 Pin the long edges of the panels together, using several sewing pins.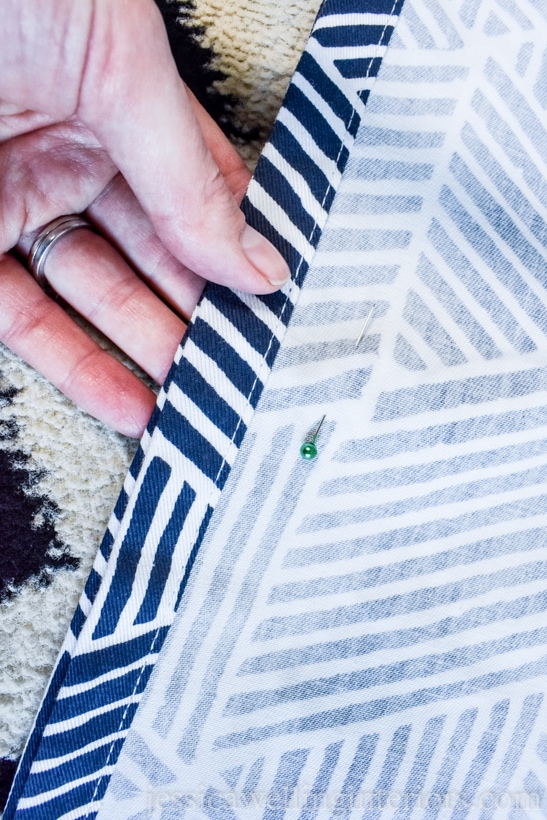 4. Sew panels together
Now it's time to sew the panels together. I moved my seam in from the edge by about an inch so I wouldn't have to sew through the doubled up fabric on the edges. I started at the top of the panels, and this is just a straight shot all the way down to the bottom.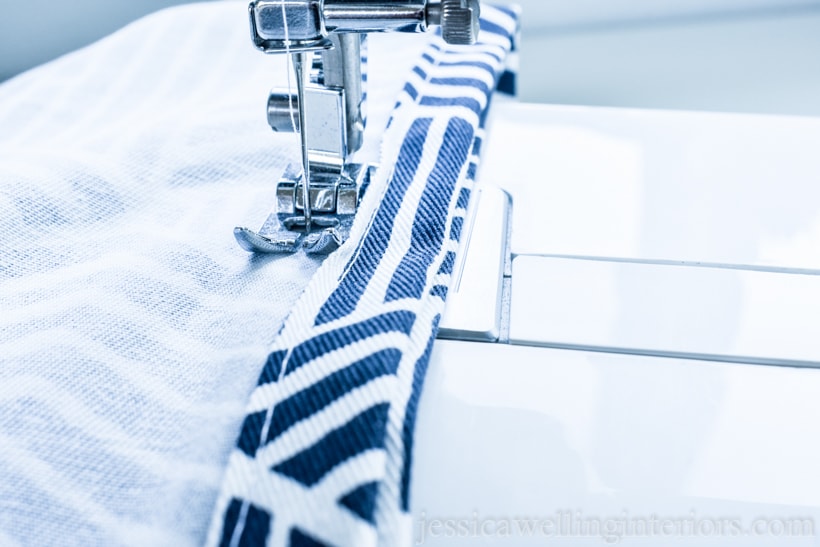 Here's what it looks like from the back… but guess what? No one's going to see it!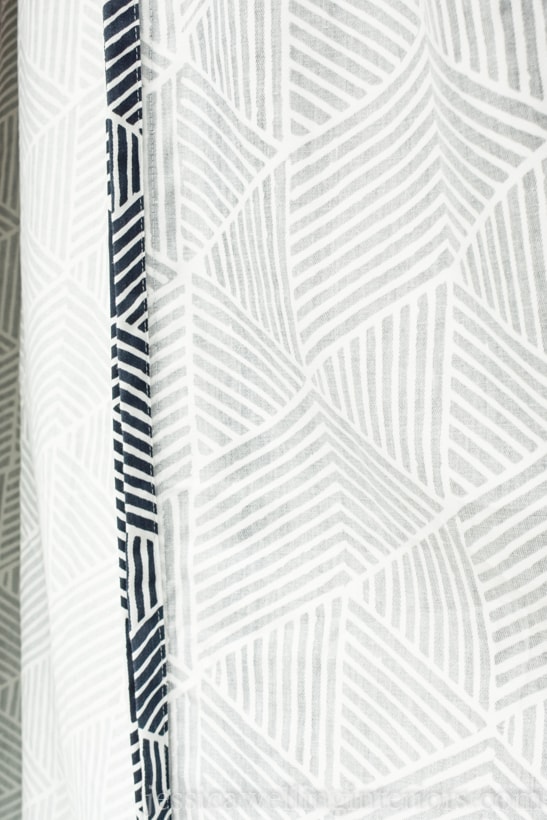 5. hang curtain panels
Now hang the curtains on the rods. It's time to hem them.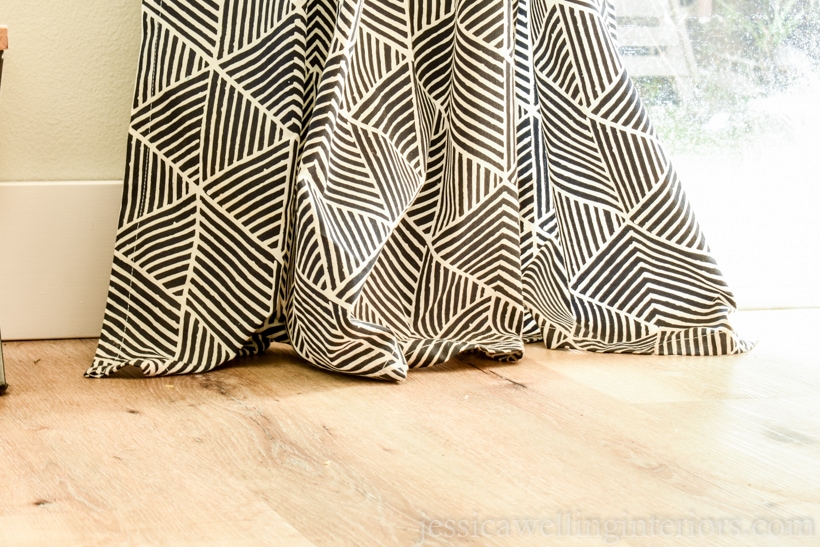 6. measure and pin curtain panels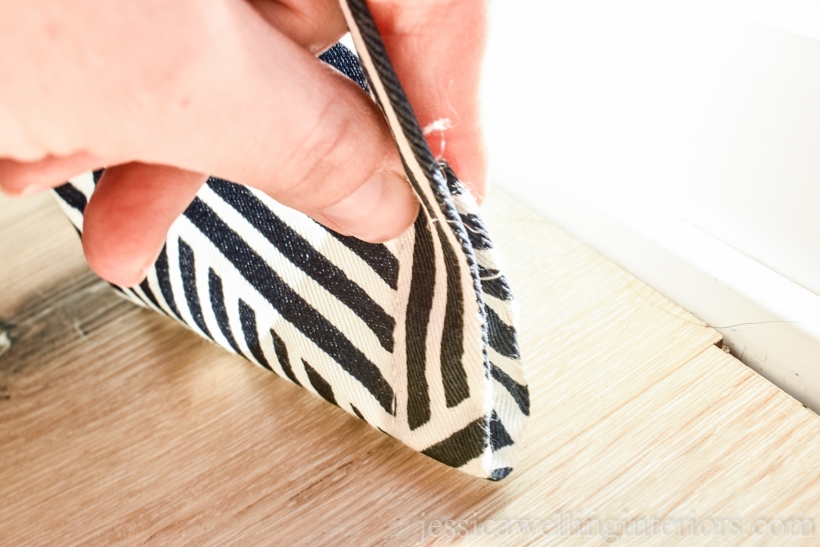 The goal here is to get the panels to just brush the floor. As you can see, my panels were about an inch and a half too long. I folded them up to the correct length, and pinned them. It's quite possible that your two sewed-together panels are not exactly the same length, and that's okay. They will be when you're done.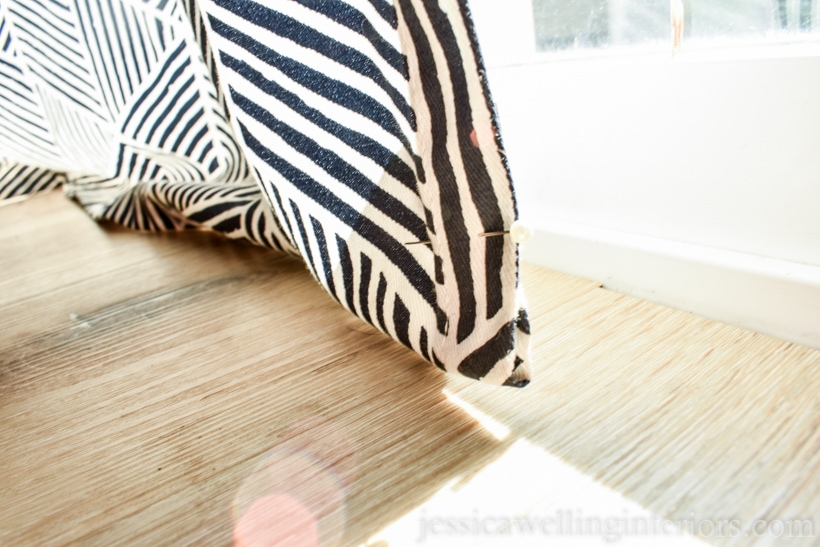 Fold and pin all the way across the bottom of the panels.
7. Iron and adjust pins on Hem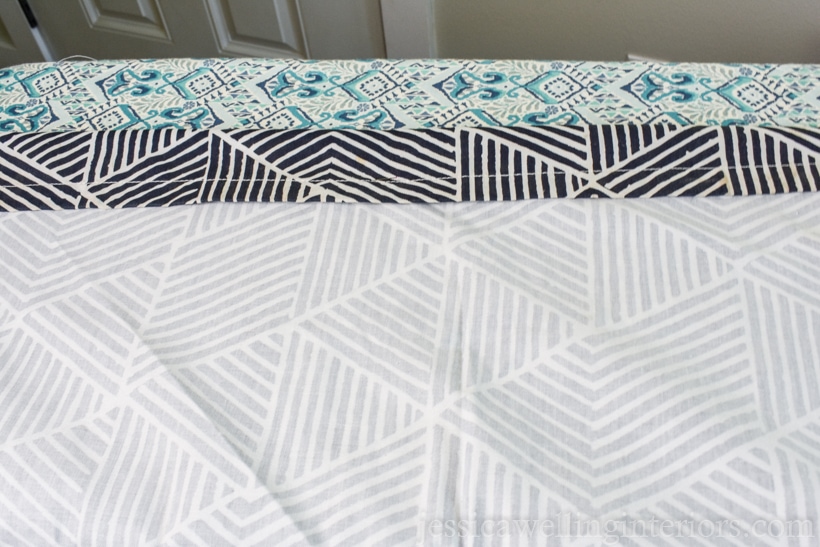 Once you've pinned the curtains while they're hanging, take them down. Now you'll probably find that the pins and fold don't make a perfect straight line. You will likely need to do some adjusting on the ironing board. The important thing is not that your hem is even all the way across, but that the bottom of the panel just brushes the floor. If things look a little ugly back here, who cares?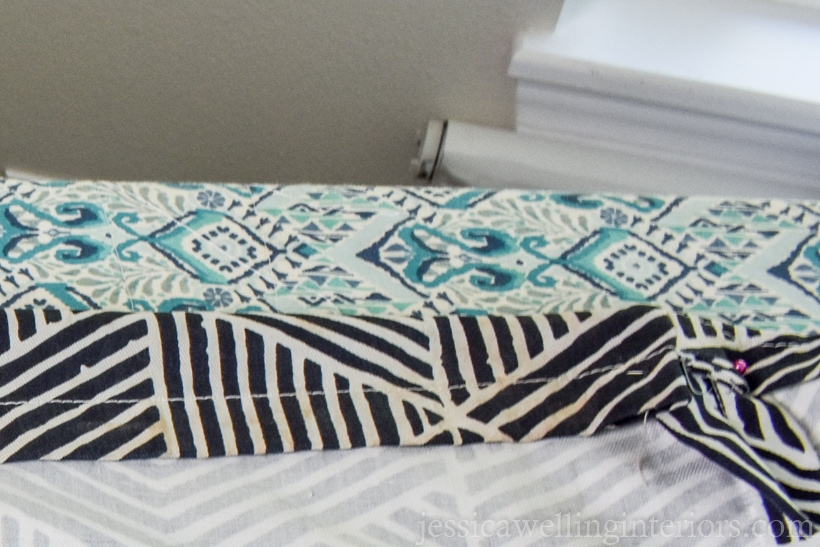 8. sew the hem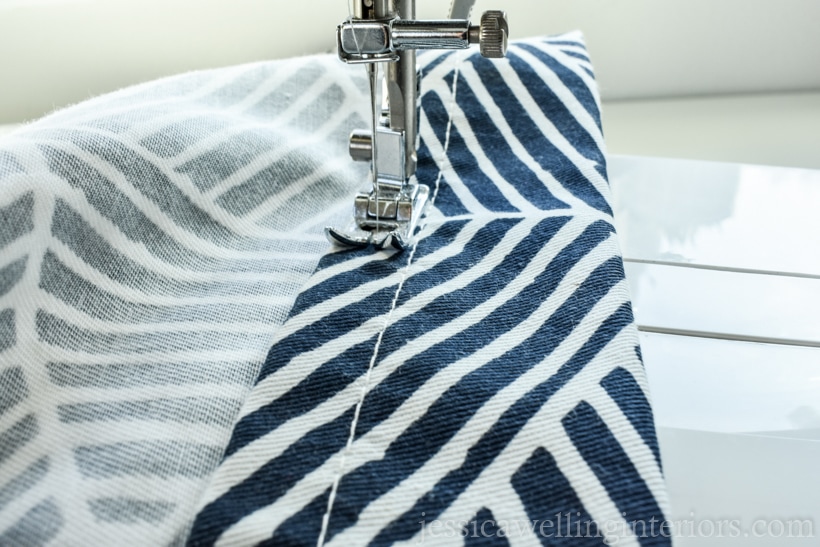 Sew a straight line across the bottom to create a hem.
9. hang curtains back up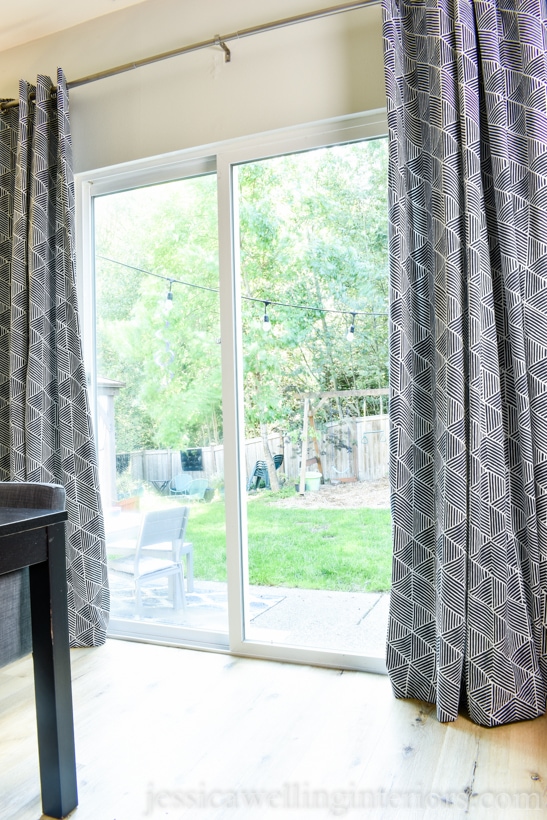 Now hang the curtains back on the rods and you're done!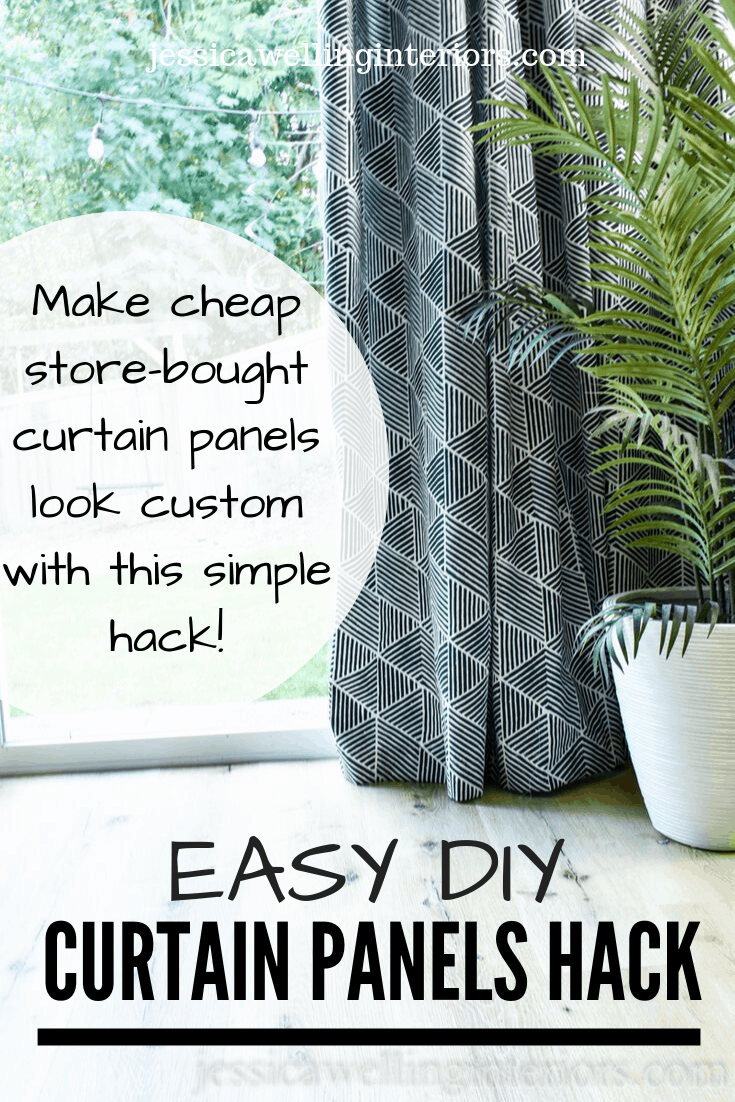 more easy home decor ideas…
Help! How Do I Decorate My Living Room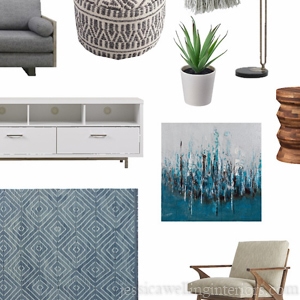 Make Your Own Easy Throw Pillow Covers!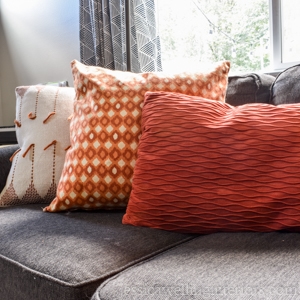 Easy DIY Upholstered Window Seat Cushion