Beach House Bunk Room Reveal!
This budget-friendly beach house bunk room is the perfect vacation sleepover spot for the kids. The Ikea bunk beds have a built-in storage hack.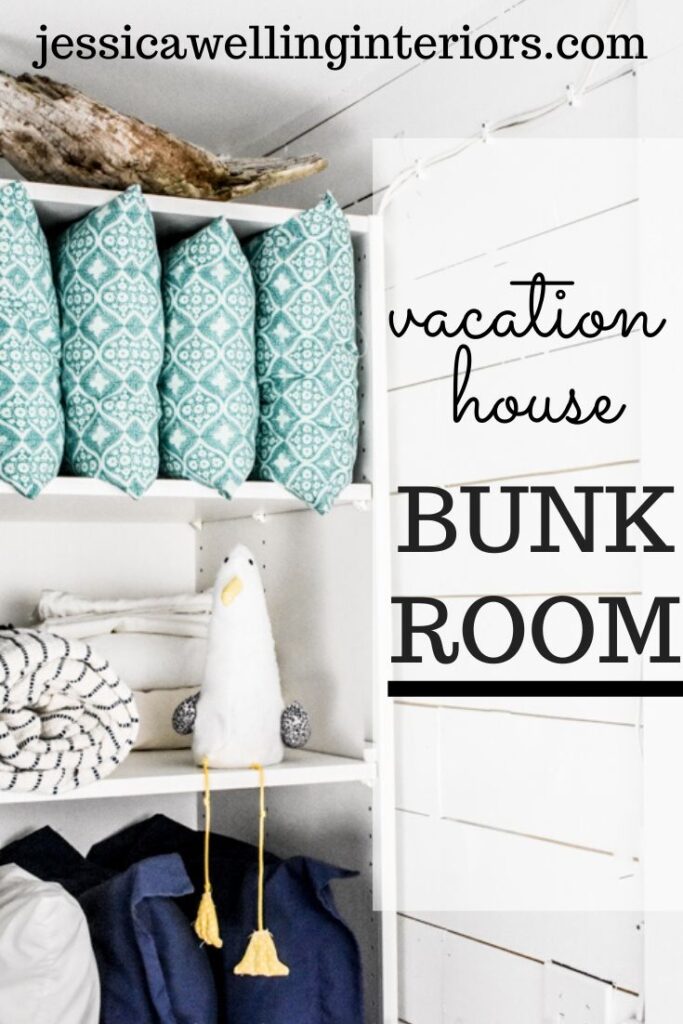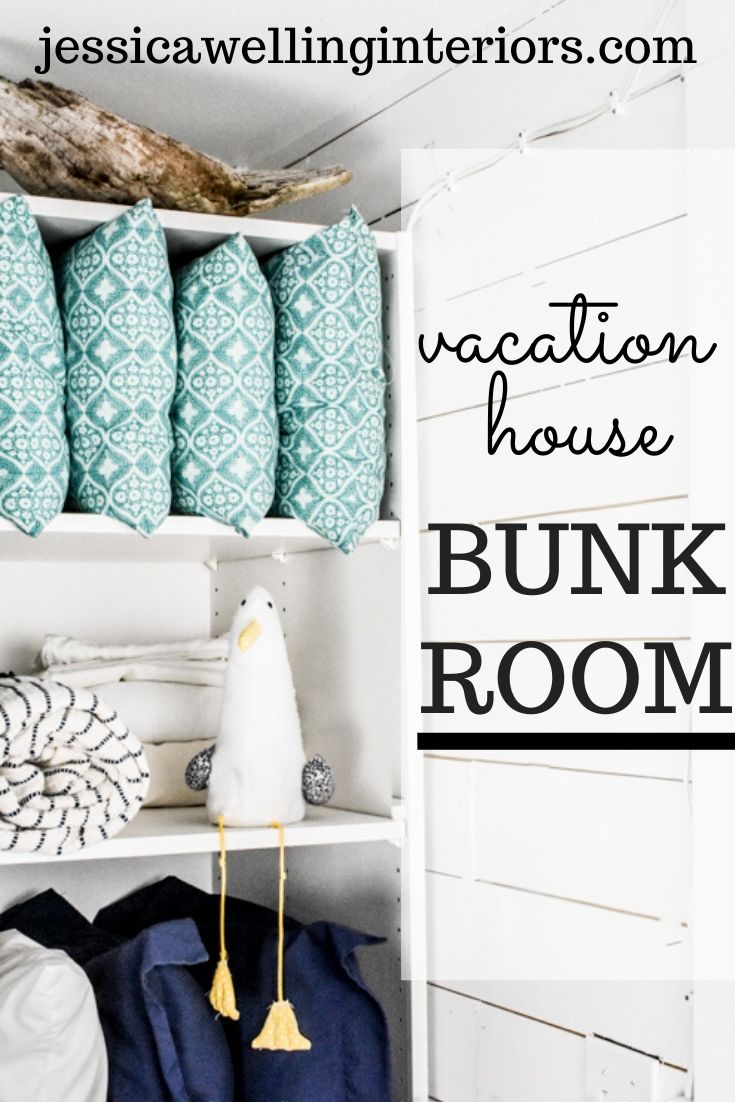 This is a project my family has been dreaming up for a few years. A bunk room at my parents' beach house for the six grandkids! What could be more fun??? We got it started back in December, and it was a few long months of building and shopping and painting and staining and sewing and sewing and sewing.
I even put my house guests to work sewing stuffed sea creatures (thanks Patty & Erin). Hopefully they'll come back! My folks are the ones who really put in the hard work- I just helped with the fun stuff. And I come from a whole family of creative DIYers, so this was a very collaborative effort.
And it's finally finished! (Well almost.)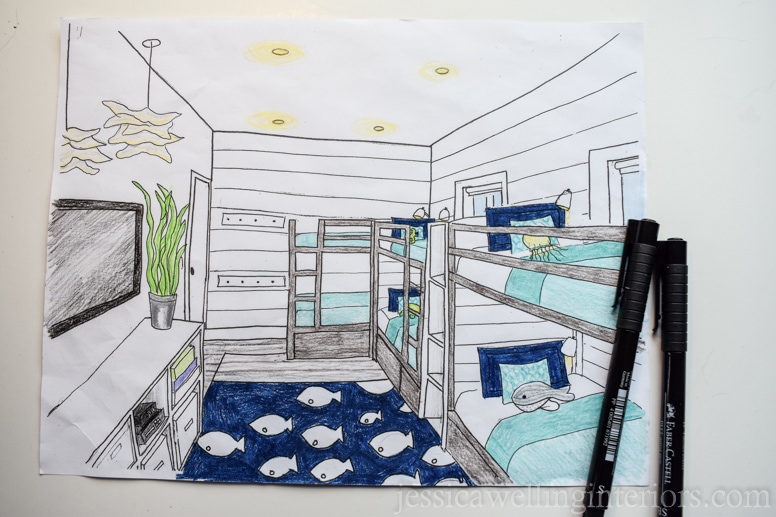 This weekend my folks had all the grandkids come to the beach house to sleep in their new bunks for the first time.
It was so fun to see the looks on their faces when they saw their new room! We made each of their favorite sea creatures for their beds. I can't wait to show you the photos!
Here's before…
Stinky, broken tile from a previous owner. There was definitely a strong essence of dog in here.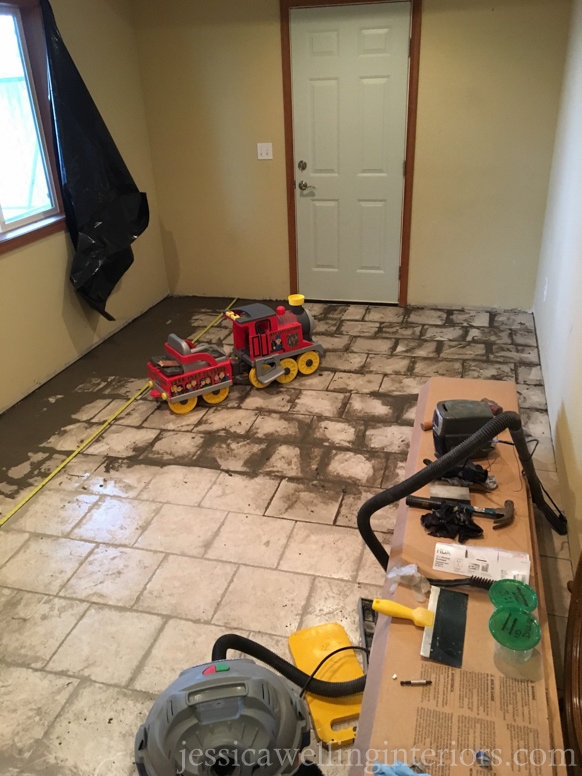 And after…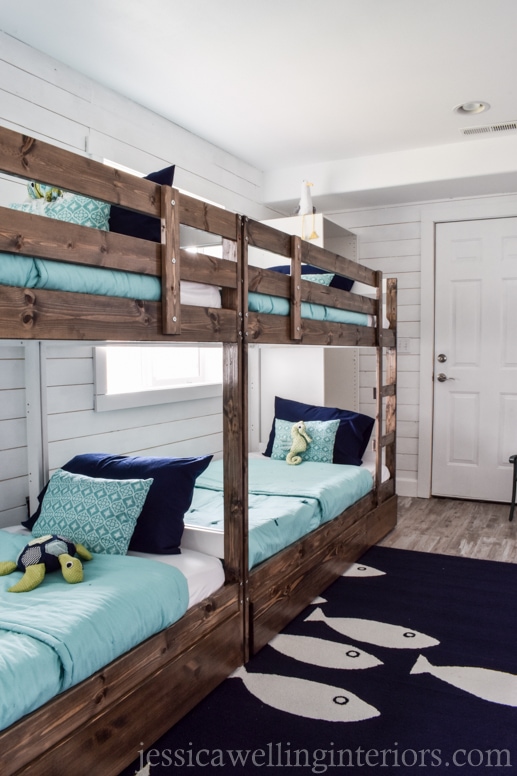 There were three big design challenges with this room. One was fitting three bunk beds into a small, long and skinny room with two windows and two doors.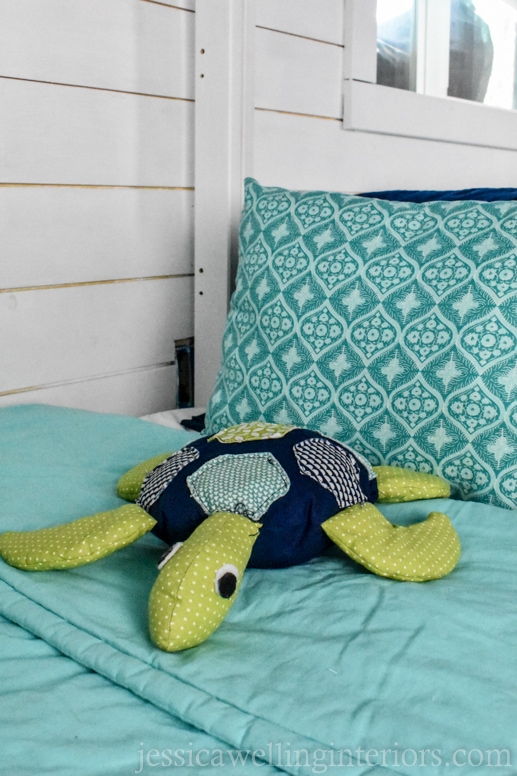 The other challenge was creating the high-end look of built-in bunk beds on a budget. This is actually an IKEA hack of my own design. (Can you tell I'm just a little bit pleased with myself?)
Ikea Bunk Beds
We bought the inexpensive IKEA MYDAL bunk beds, and used paint and stain to make them look built-in.
Then we got grey HEMNES under-bed storage drawers, sanded the finish off them, and stained them to match the bunk beds. I think they really complete the built-in look. You can see the tutorial for the storage drawers here.
The stuffed sea creatures…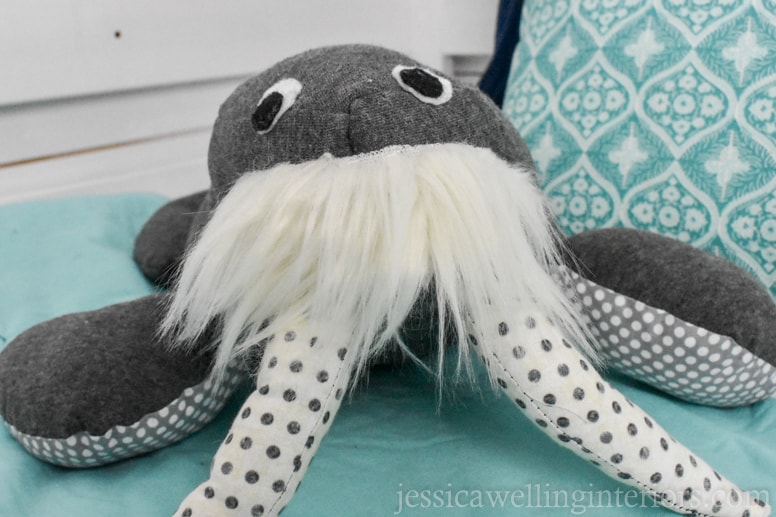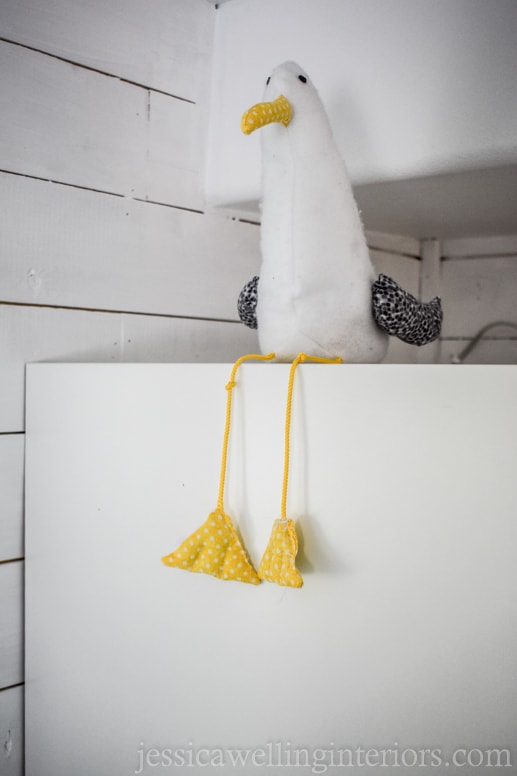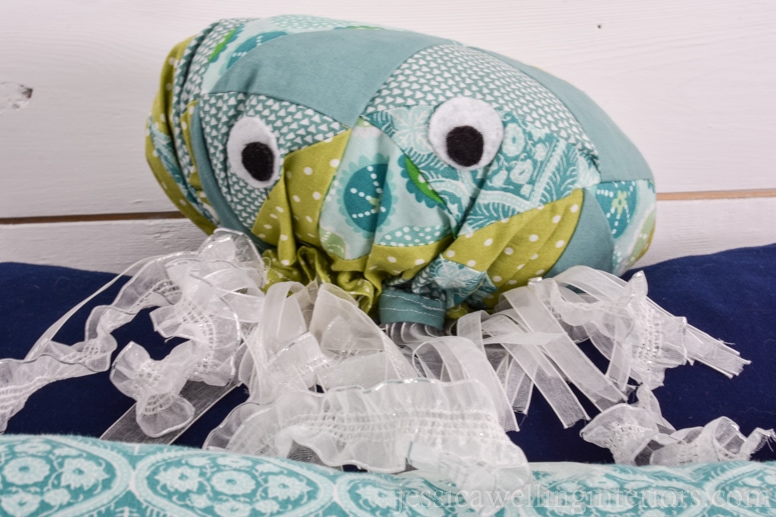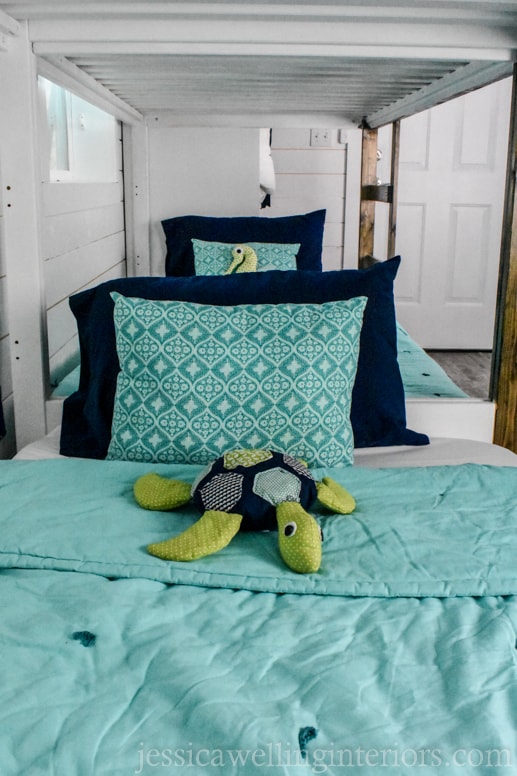 I found this cute seahorse pattern at LiaSpace.com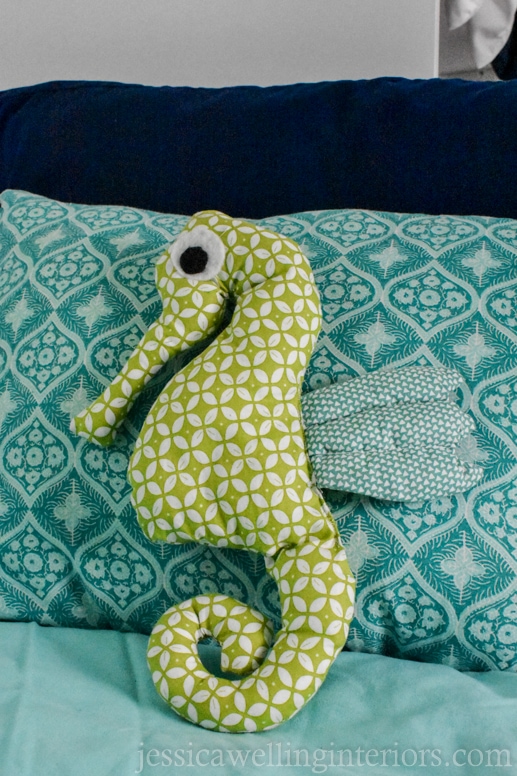 Shop The Bunk Room…
We put a lot of thought into this space. The furniture and bedding needed to be sturdy and long-lasting, yet reasonably priced. Things add up when you multiply them by six! Here are the products we used (and they're still going strong after two years!)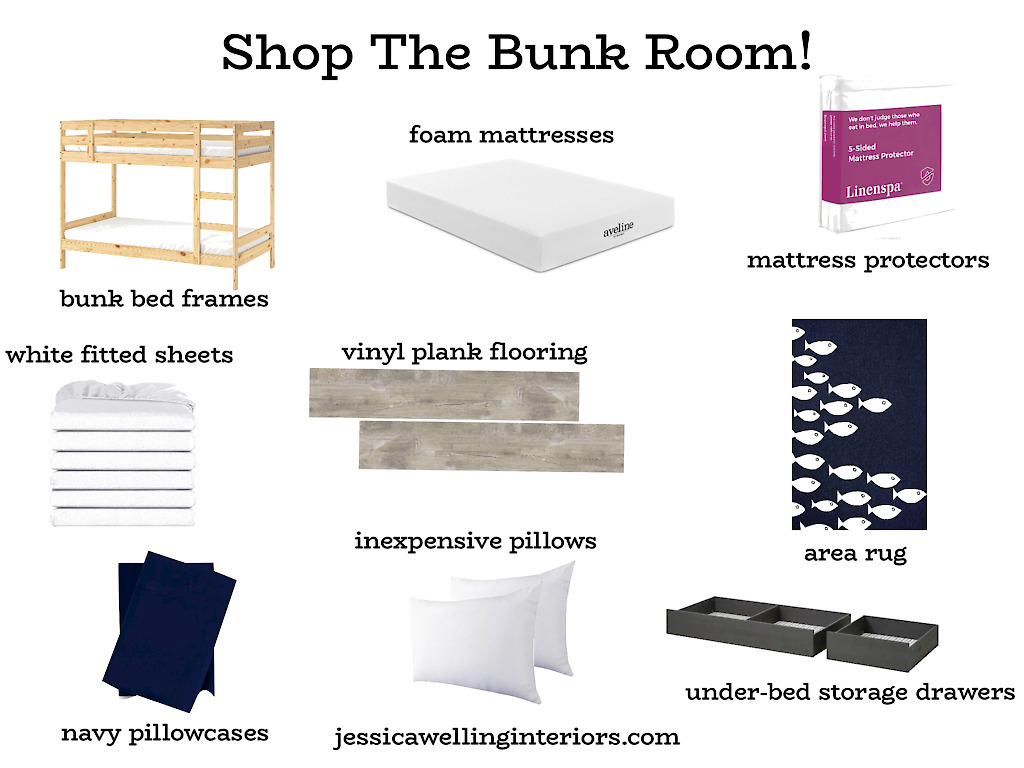 6″ Foam Mattresses (We tried 3 different types, including ones from Ikea that ended up being a few inches too short for the beds. These are our favorites by far!)
Waterproof Mattress Protectors (Also my favorite mattress protectors that are soft, don't leak, & don't melt in the dryer! I use these for all the beds in my house now.)
White Twin Fitted Sheets- 6 Pack
Lifeproof Vinyl Plank Flooring (this stuff is great! We also used it in our laundry room makeover)
IKEA HEMNES Under-Bed Storage Drawers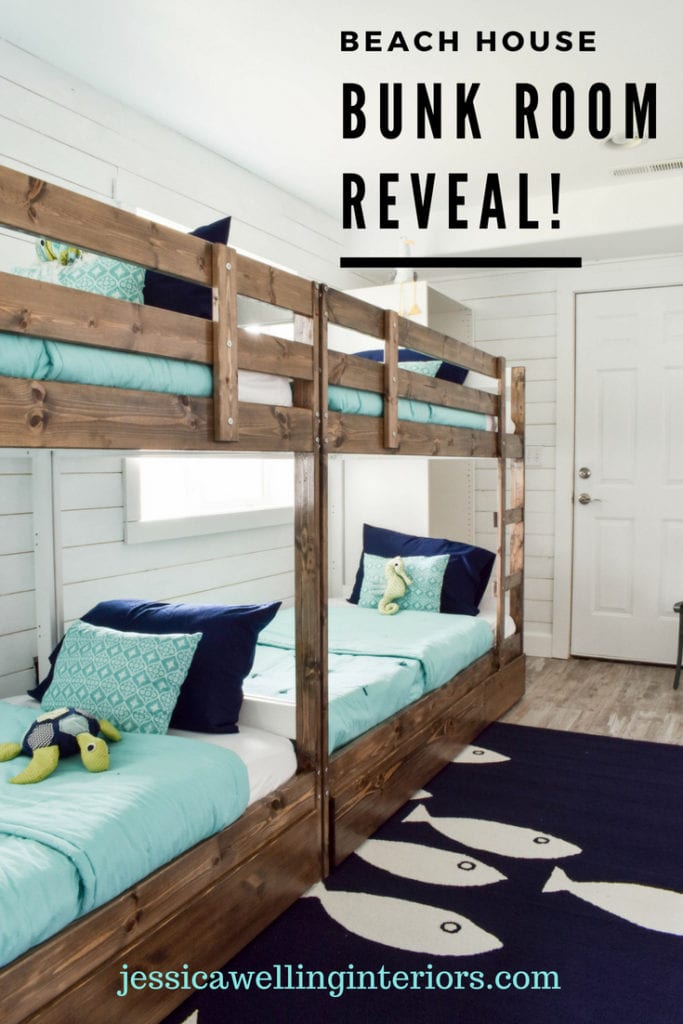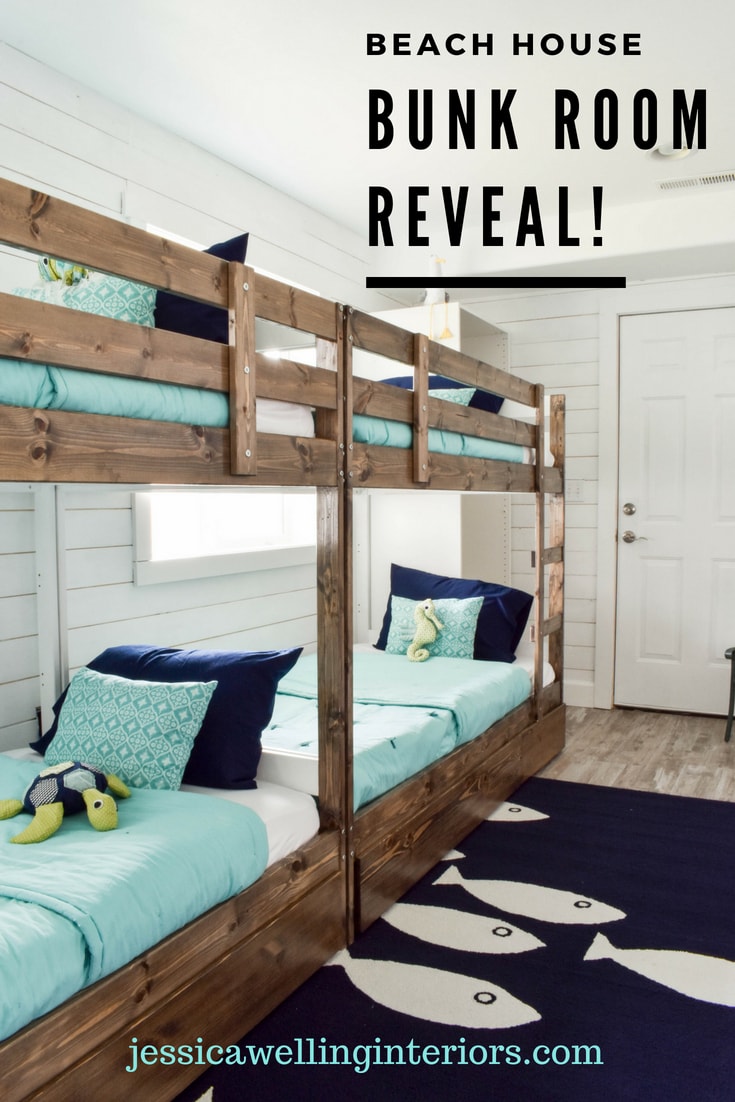 Well, that's it for now. We have some finishing touches to do on the other wall, and once they're done I'll show you the rest! (Update: It's done at last! You've only seen half of the room, so come see the rest of the bunk room here!) Part II is full of tons of fun details!
Did you enjoy this post? Please help me out by pinning it!
More Kids' Decor Ideas…
A Very Beachy Bunk Room (Part II)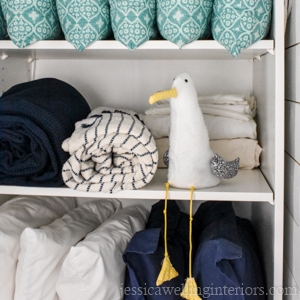 Under-Bed Storage for Kids: A Simple Ikea Hack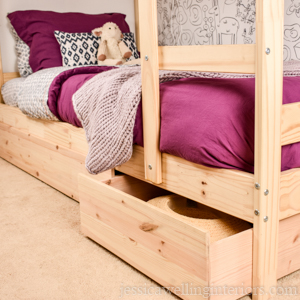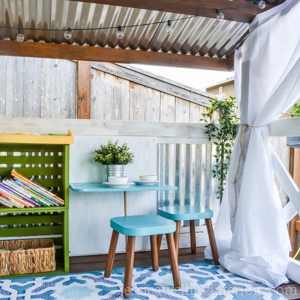 Organize all the Toys, Books, & Games!