Stencils For Painting: An Easy Patio Table Makeover!
Have you tried using stencils for painting furniture? This simple patio table makeover uses spray paint and a Moroccan tile stencil!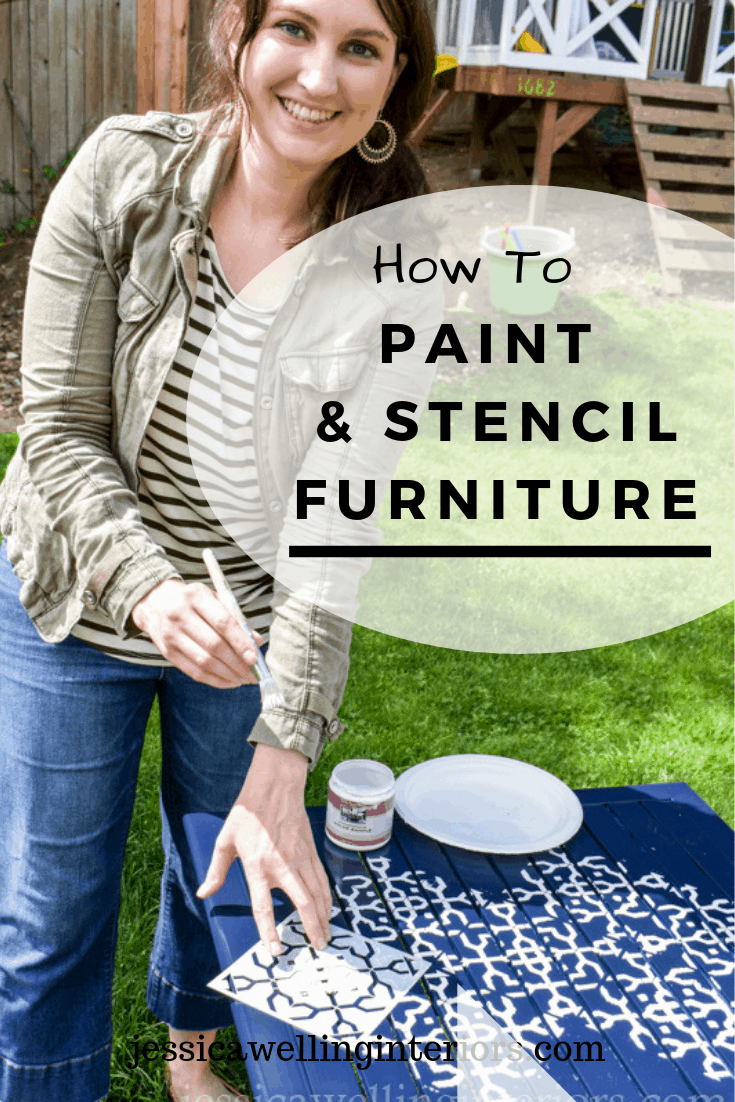 I received this patio table as a going-off-to-college gift many years ago. It's moved with us lots of times, but after sitting outside for 15 years (yikes!) it had seen MUCH better days. The paint was peeling off, it was getting rusty, and there was an icky layer of greenish grime on it.
Right now I'm in the middle of making over our backyard fire pit area. And I'm also nursing a stenciling obsession. So far I've stenciled two fireplaces, outdoor throw pillows (tutorial coming soon!), an accent wall in my bathroom, and I'm eyeing the back of my kitchen island next! So why not add a pretty stencil pattern to the top of this patio table?
How to use stencils for painting a patio table
I'm loving these stencils! I actually wrote a whole post about my favorite stencil patterns from Amazon if you want to check it out. And you could apply this tutorial to any furniture painting project, indoor or out. Mine just happened to be a patio table. Let's get started!
Here's what you'll need
table or piece of furniture
rag or wipes
sandpaper
drop cloth or garbage bag
spray paint (this table took 1 can but maybe get 2 to be safe)
stencil brush
paper plate
paint for stencil (I used a sample size from BEHR)
dixie cup
small artist's paintbrush
1. Wipe down the Table.
This patio table has been sitting up against the outside of the house for a few years now, so it had a layer of greenish slime covering every surface. I'm always impatient to get to the painting part, but this wasn't to be skipped.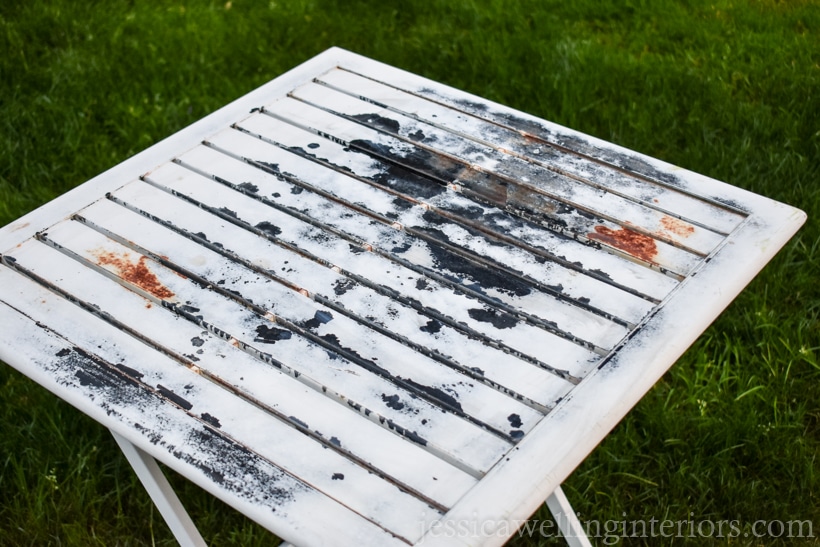 2. sand it.
Since the paint was flaking off, I wanted to ensure I had a good smooth surface. I used some sandpaper on the top and between the slats of the table to make sure the primer and paint would stick. I wasn't trying to get everything off- just the loose stuff.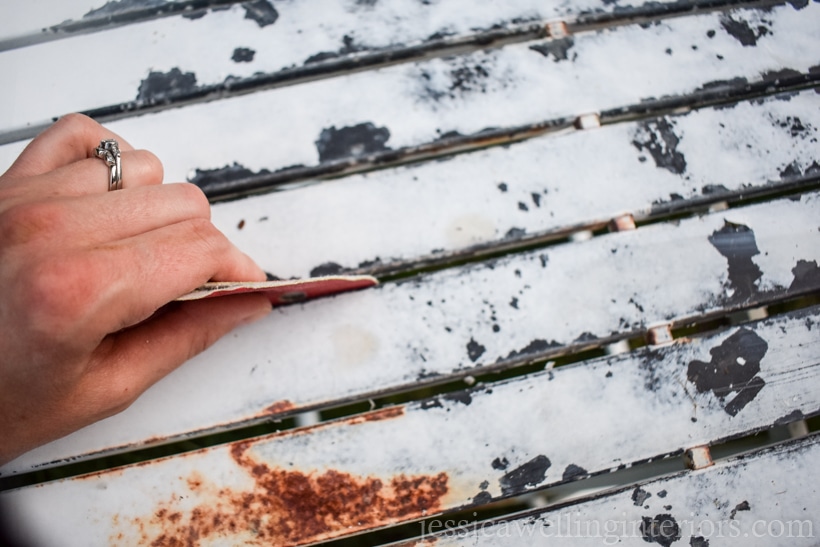 3. Prime it.
I used an old paintbrush to apply my favorite primer (it sticks to just about anything!). The reason for the old paintbrush is this doesn't clean up with water. I'm told it will clean up with denatured alcohol, but I haven't tested this yet.
You could also use an inexpensive disposable chip brush. Let it dry for at least 45 min., but not more than a day, before spray painting.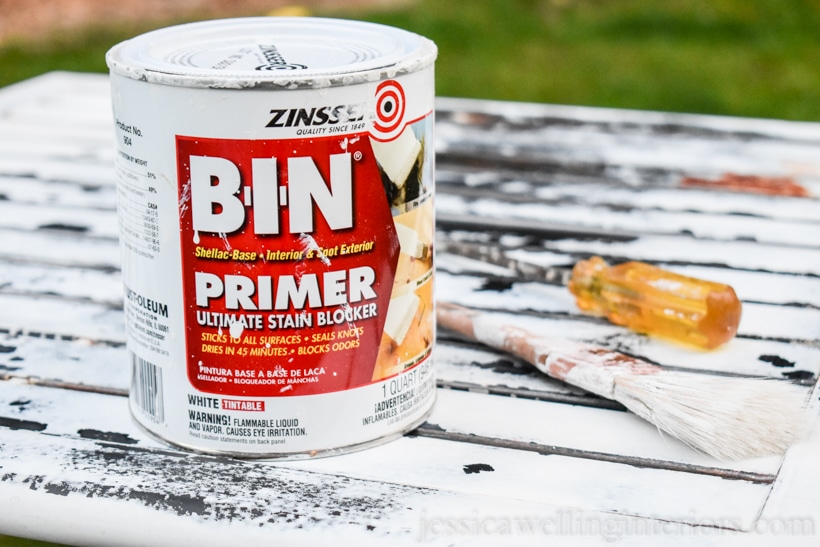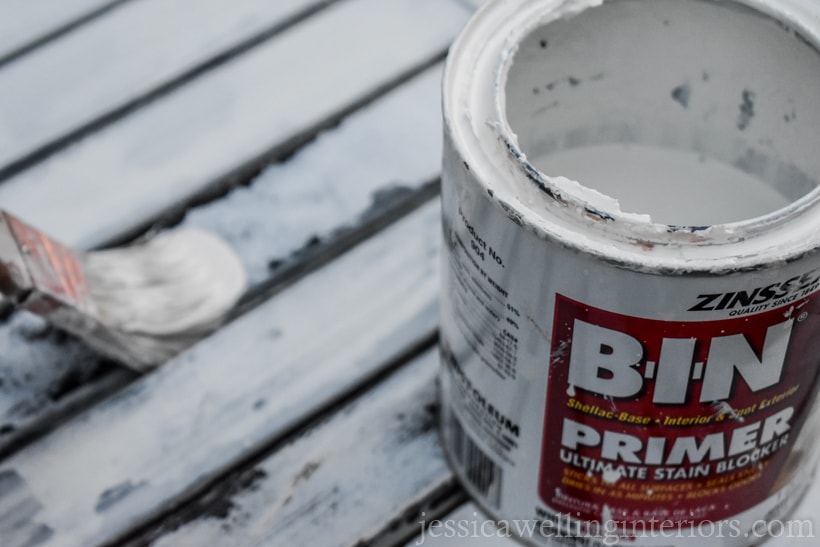 4. Spray paint it.
I used Rust-oleum navy blue satin spray paint. Hold the can about 10 inches away from the surface of what you're painting, moving all the time, back and forth. The first coat should be really light, so that some of the table underneath shows through. Let that dry for 15-20 minutes, and then come back and do a second, more thorough coat. Let this dry for at least several hours before stenciling.
5. tape it.
This step is optional, depending on whether you want your stenciled pattern confined to a specific area. I wanted my tabletop to have a solid blue border around it, which makes sense with the way this particular table is made. I get lazy sometimes and just grab whatever I can find the fastest. So in my pictures you'll see that I used regular masking tape. I recommend using FROG tape, because that masking tape I used actually peeled some of the spray paint right off when I removed it. Oops! I would also recommend waiting 48 hours or so after you've spray painted before applying the tape.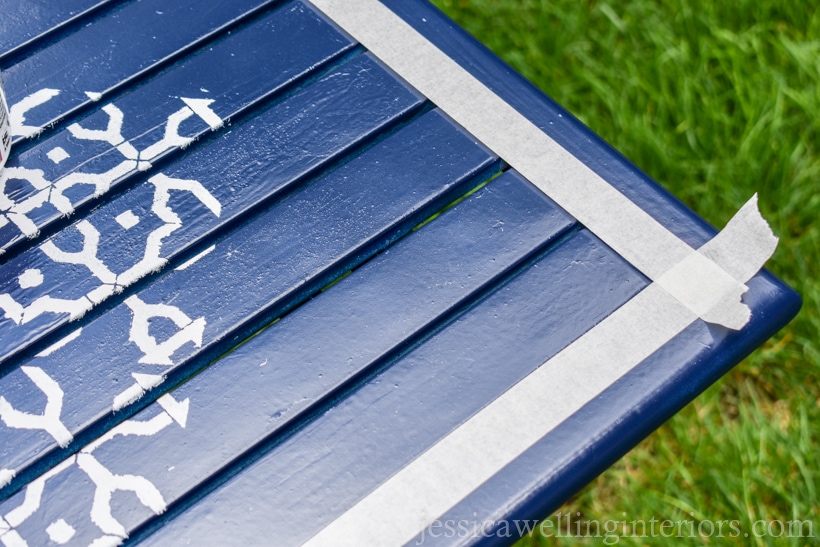 5. Place the First Stencil in the middle.
I started with my stencil lined up in the center of the table. I chose to place mine diagonally and worked out from the center.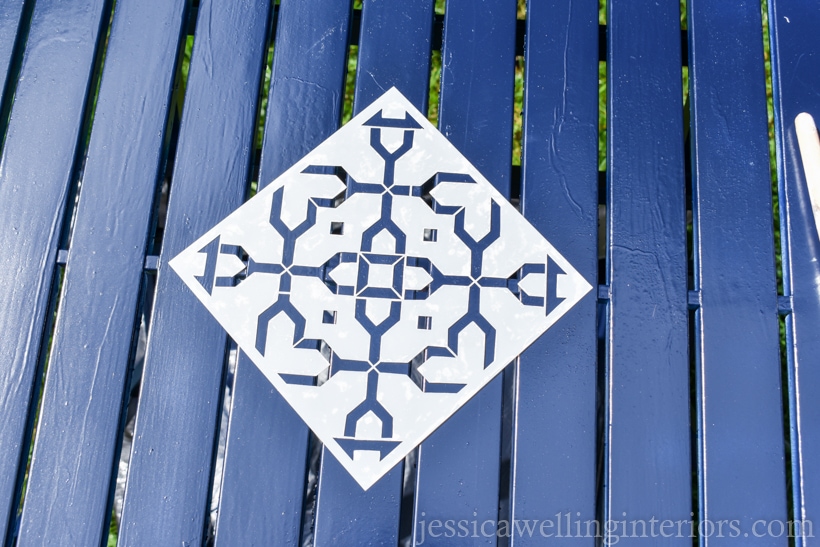 6. Paint the stencil.
This is called the dry brush technique. Get just a little bit of paint on your stencil brush, then lightly swirl it on a clean section of the paper plate to cover all the bristles and remove any excess paint.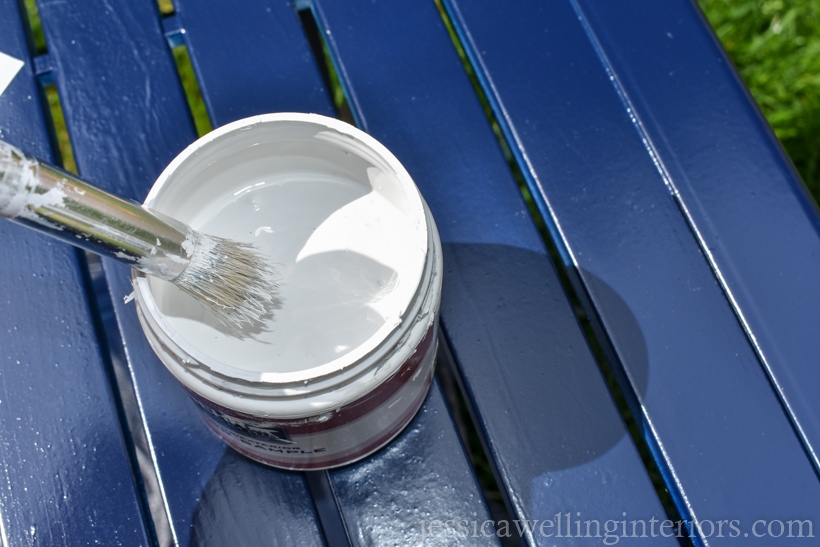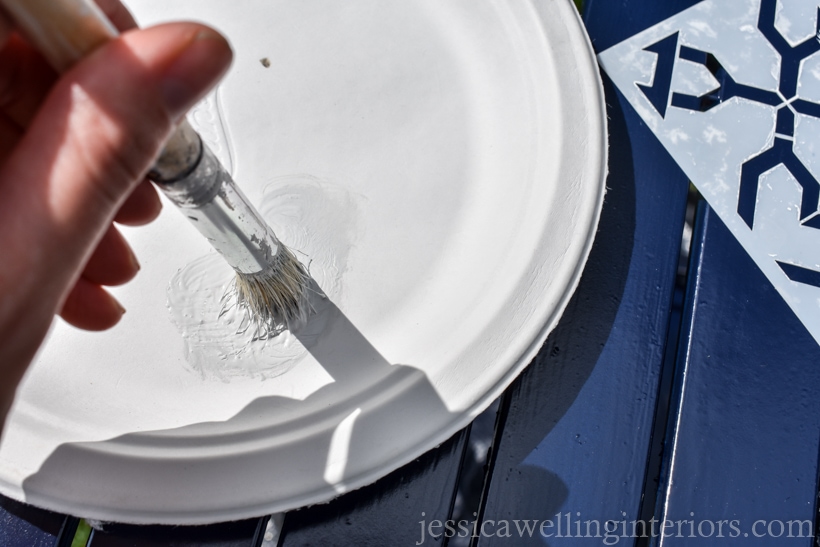 Now apply the paint with a dab dab dab motion, with your brush perpendicular to the surface your stenciling. You never want to brush, because this will push paint under your stencil and give you ugly lines that you may need to touch up later.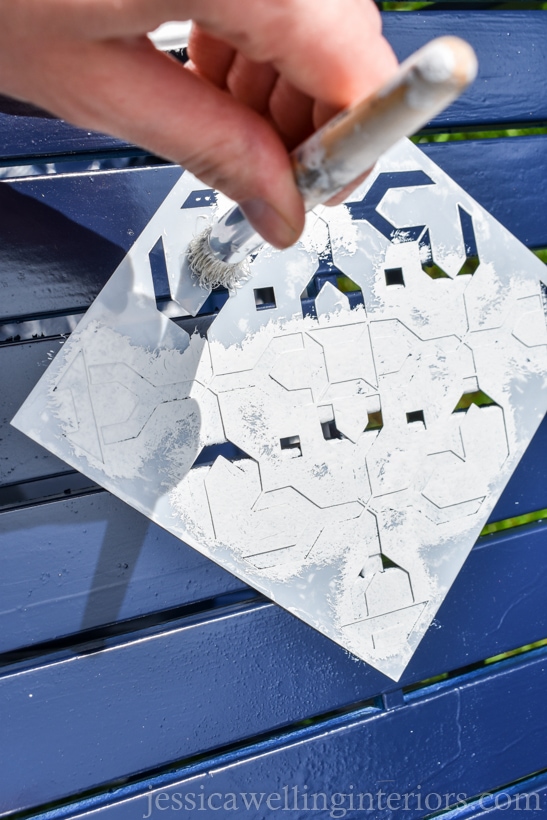 8. carefully pull up your stencil.
Once you've covered all the stencil surface with paint, carefully peel up your stencil from one corner. You're going to want to let the paint on the table dry for 15 or 20 minutes until it feels dry to the touch before you do the next stencil. But don't worry! This is the only time we're going to need to wait.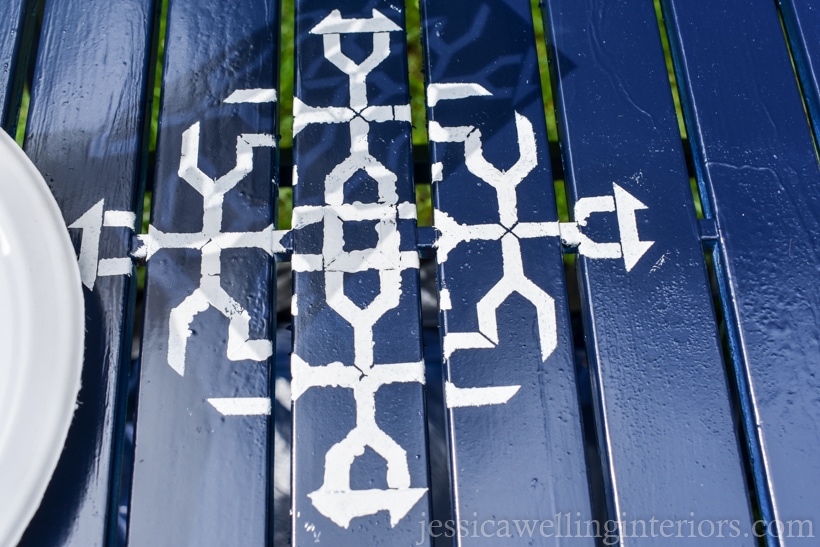 7. wash & dry your stencil.
Each time you pull up your stencil, go wash it off right away. It's MUCH easier to do this while the paint on it is still wet (TRUST ME!). Dry it with a paper towel.
8. Stencil the rest of the table.
Line up the stencil in the next location, and repeat, going in a circle around. By the time you get back to the side you started on, the paint should be dry enough to continue.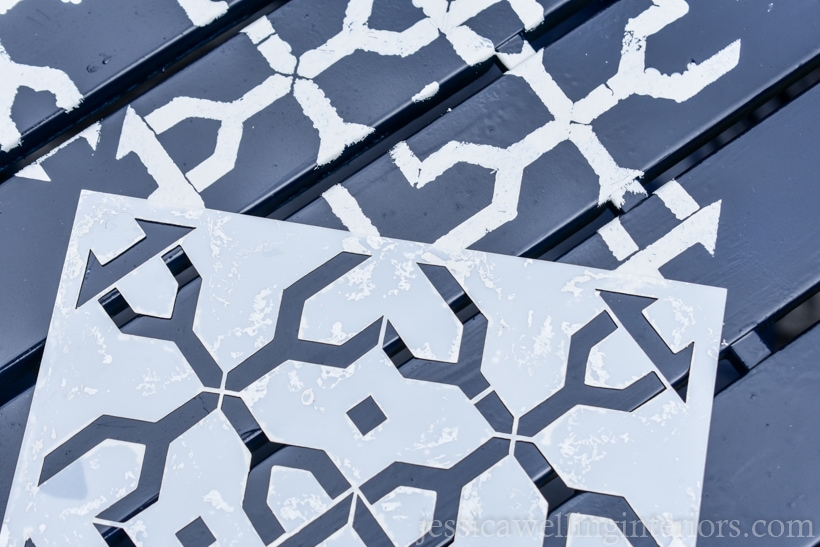 Continue your pattern as far as you like, and you're done stenciling!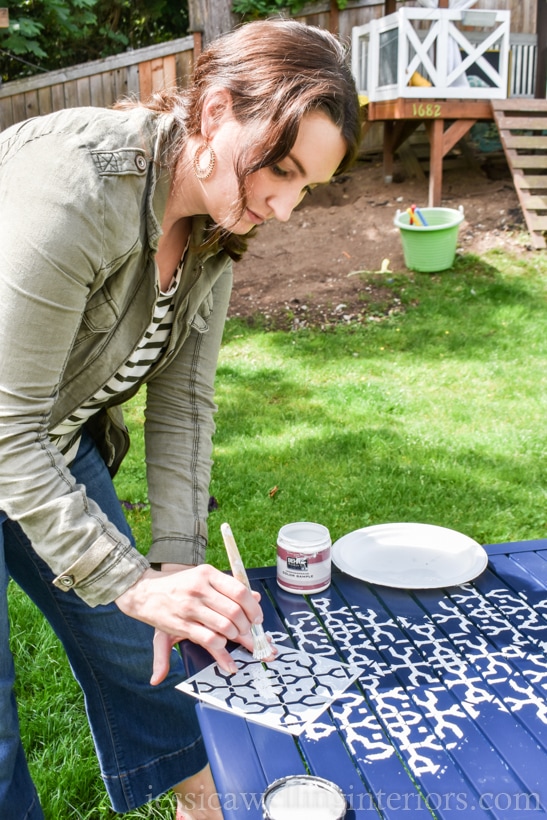 9. Touch it up.
For this particular piece, you can see that I wasn't very anal about getting everything perfect. It's going to be slightly rustic looking, and I'm okay with that. For other interior projects, like my stenciled fireplace tile, I'm much more picky.
I sprayed a bit of my navy blue spray paint into a dixie cup. Use something other than plastic- the paint actually melted through the plastic cup! I guess that's a little bit disturbing, isn't it? And possibly very messy!
Well save yourself some trouble and use a paper cup. Then you can take a small artist's brush or que tip and touch up any glaring mistakes. You'll need paint thinner to clean up the brush when you're finished.
And it's done!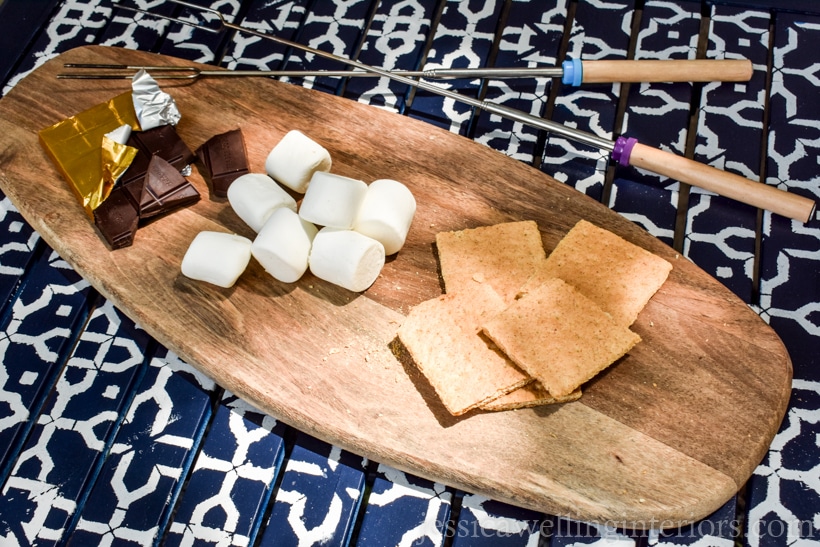 Materials
Old Table (or other piece of furniture)
BIN primer
spray paint
sand paper
foam paintbrush
drop cloth
stencil
stencil brush
paper plate
water-based paint
small artist's brush
Frog tape
Instructions
Wipe down table with damp cloth.
Sand any rough spots or peeling paint.
Brush on BIN primer.
Spray paint & let it dry for at least 24 hours.
Apply frog tape around the edges to make a border if desired.
Line up stencil on the center of the tabletop.
Use dry brush technique to dab paint on the stencil.
Remove and wash the stencil. Wait for the first one to be dry to the touch.
Line up the stencil next to the first one, and repeat until your pattern is finished.
You can spray some spray paint into a cup and touch up with a small artist's brush at the end.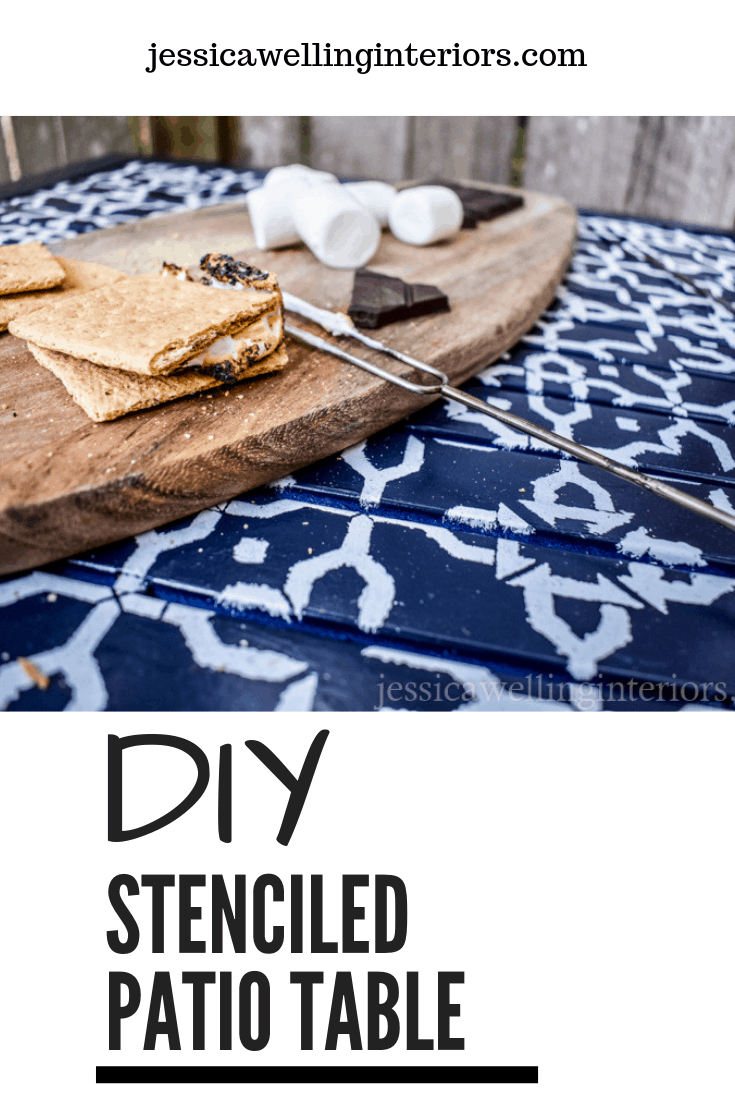 More stencil ideas…
DIY Faux Cement Tile Fireplace Makeover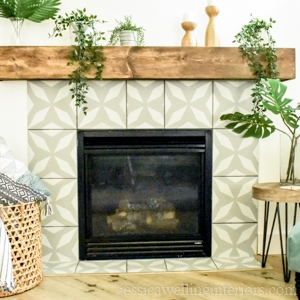 25 Modern Moroccan Tile Stencils