10 Easy Bath Salt Recipes With All-Natural Ingredients
The best all natural bath salt recipes to relax and relieve sore muscles. Enjoy them yourself or give them as gifts!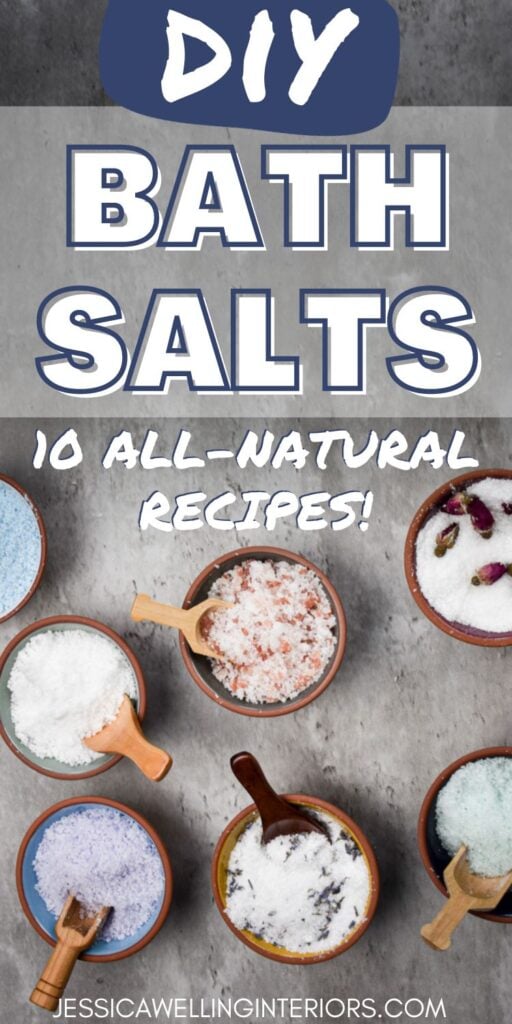 I've been making my own bath salts for years, and I finally decided it was time to compile all my favorite bath salt recipes in one place for you. Whether you're looking to relax sore muscles, detox and sooth tired feet after a long day, repair and moisturize your skin, make a fun bath for the kids, or just get some calming alone time, I've got the perfect recipe for you.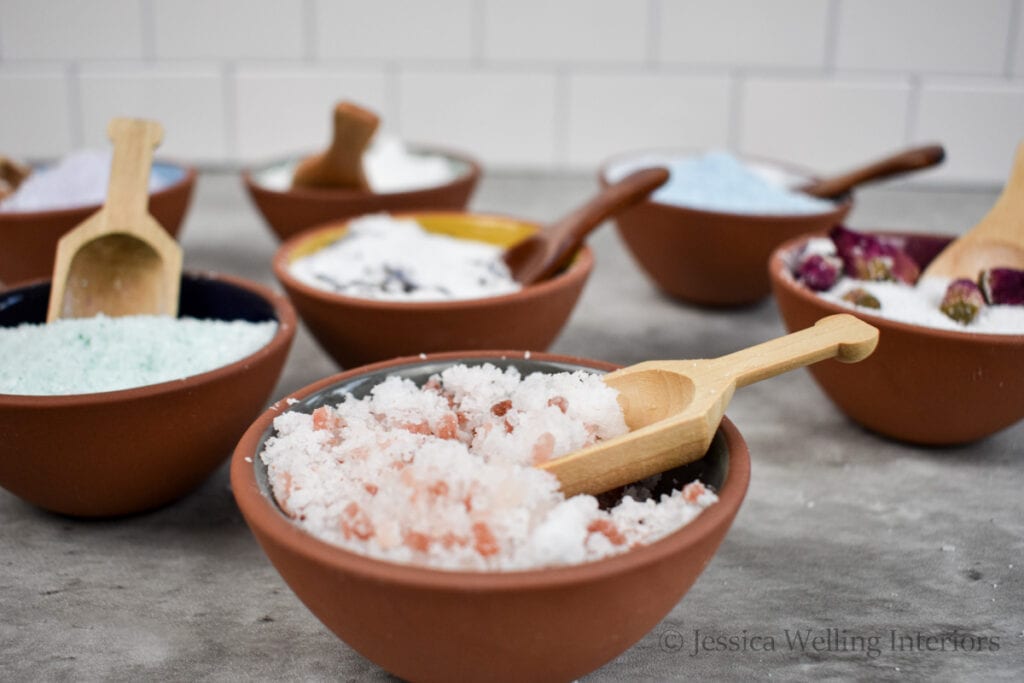 Bath salts also make beautiful (and cheap and easy!) handmade gifts for Christmas, Mother's Day, teachers, Valentine's Day, etc. I'll include my favorite packaging & labels below as well.
Bath Salt Ingredients
I believe it's important to use natural ingredients whenever possible, so you won't find harmful chemicals here. The only possible exception is food coloring, which is always optional anyway. If you want an all-natural plant-based food color, I suggest this brand from amazon. These are the main ingredients you'll find in my homemade bath salt recipes and the reasons I include them.
Epsom Salt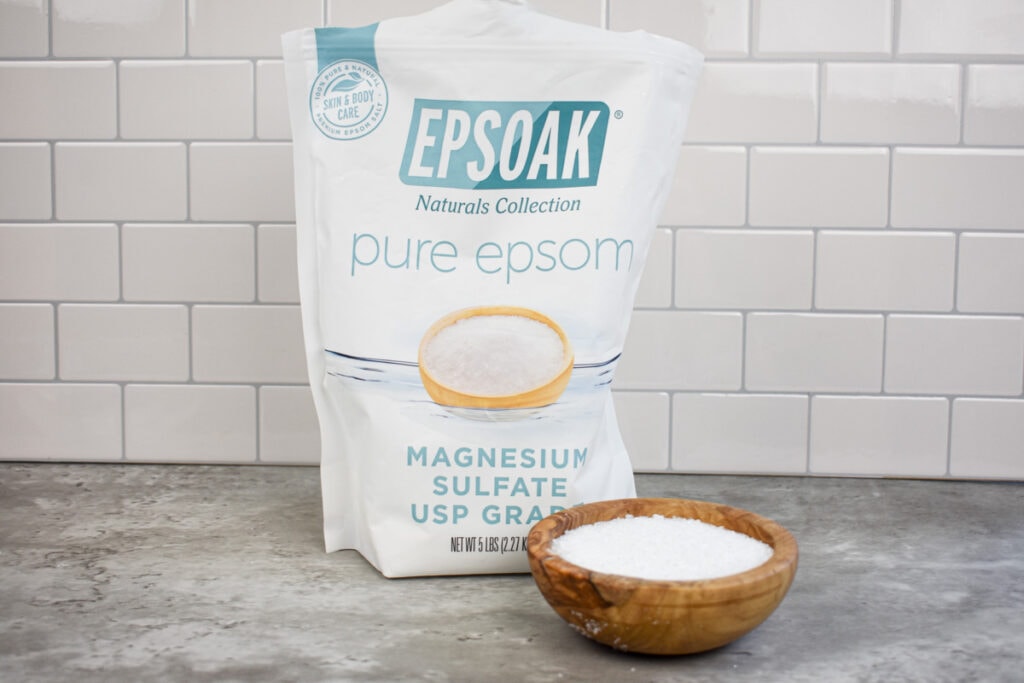 Epsom salt (magnesium sulfate) is very versatile. It's great for relieving sore muscles, thanks to the magnesium, and it can even help with tension headaches. Epsom salt is usually the main salt in bath salt recipes, and I include it in all of mine. I also use it in my DIY bath bombs and this homemade epsom salt bubble bath recipe. I like this brand from Amazon, but any unscented epsom salt will do.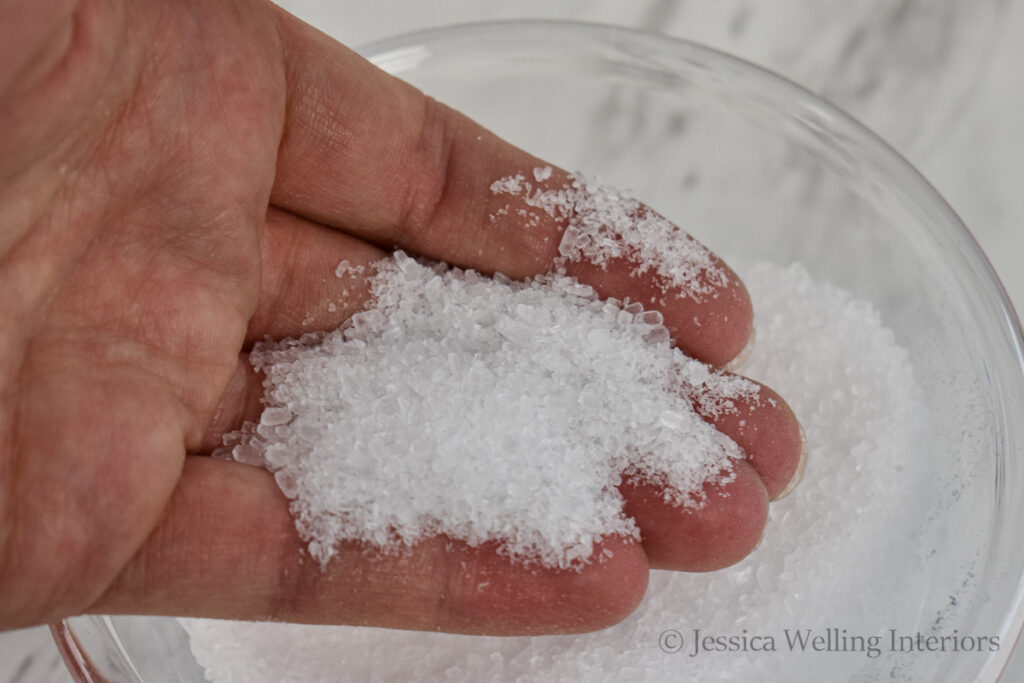 Baking Soda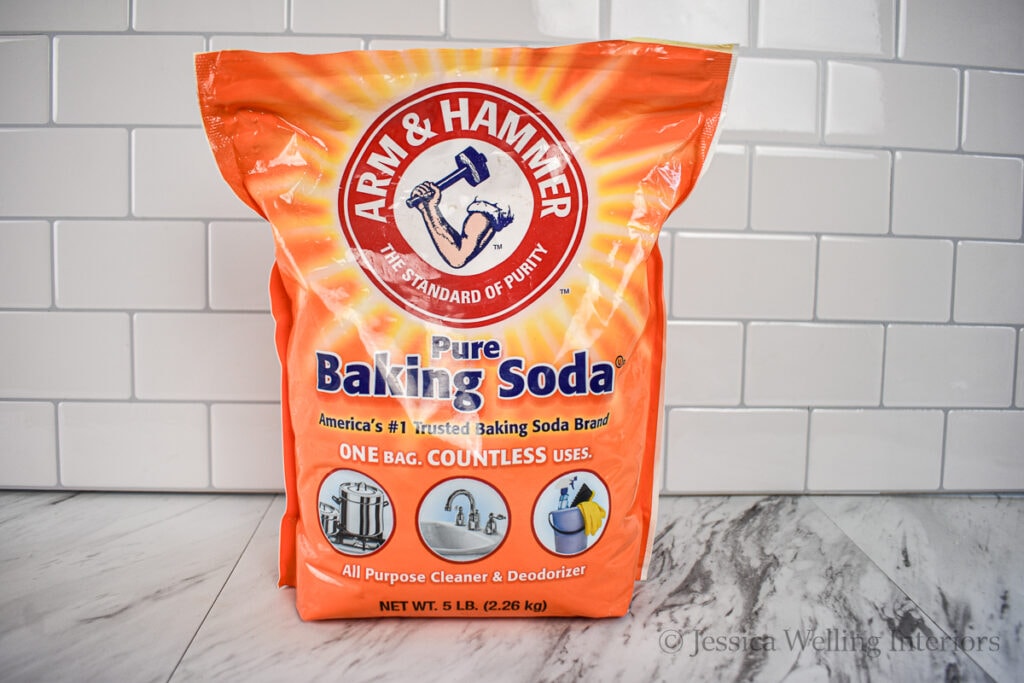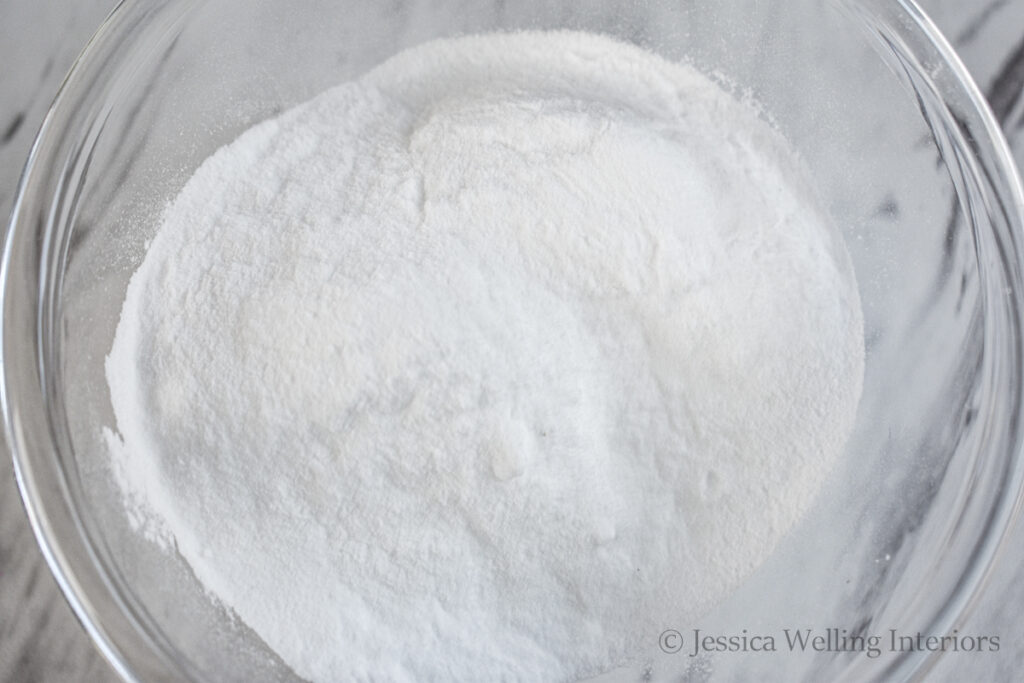 Carrier Oil
Carrier oils are shelf-stable, skin-safe, naturally-derived oils that don't have any fragrance to speak of on their own. These qualities make them perfect for diluting essential oils (which are often too strong to use on skin undiluted). They have the added benefit of protecting and moisturizing the skin.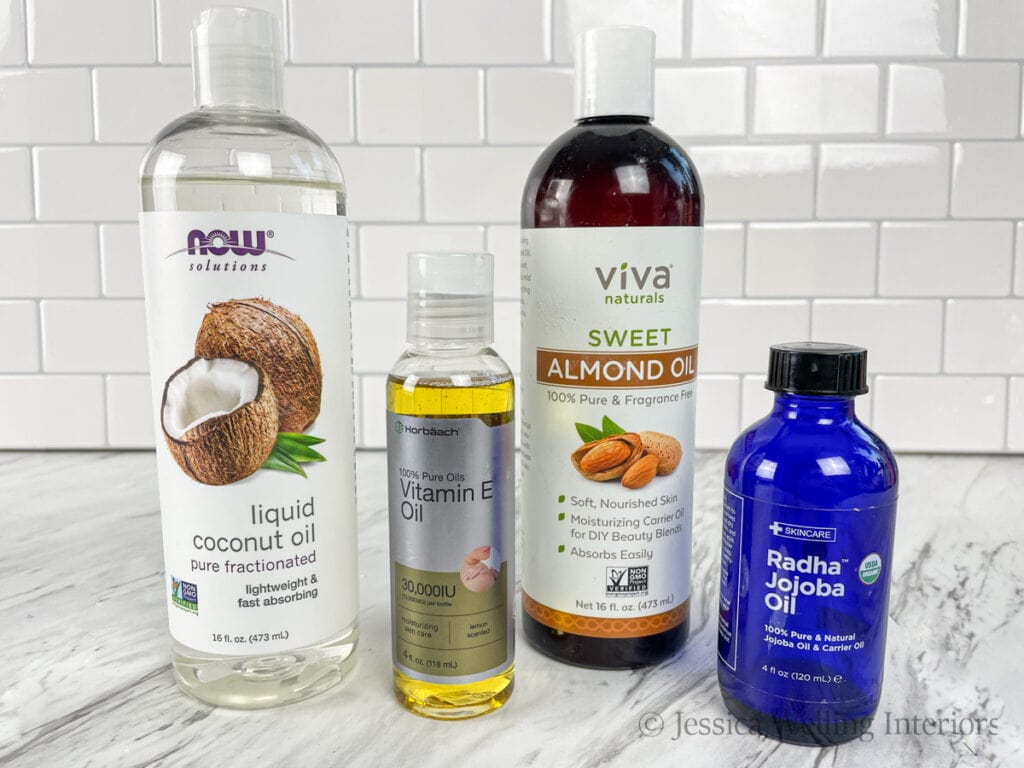 Each of these bath salt recipes includes a carrier oil, but note that they are interchangeable in all of the recipes so you can choose your favorite or use whatever you have on hand. And to be perfectly honest that's what I do- I use whichever carrier oil I happen to have. These are the most commonly used carrier oils in bath salts:
Essential Oils
I'll keep this short, but essential oils are distilled from plants and have more health benefits than I could possibly explain in one blog post. They're included in bath salts for their many aromatherapeutic properties and they'll make your bath smell amazing! Different oils have different benefits, but here are my favorites for bath salts:
I generally buy inexpensive essential oils for my DIY bath and body products, and I've found several reasonably-priced brands that I like from Amazon. If you've never bought essential oils before, these may not seem cheap, but trust me, they are!
Add-Ins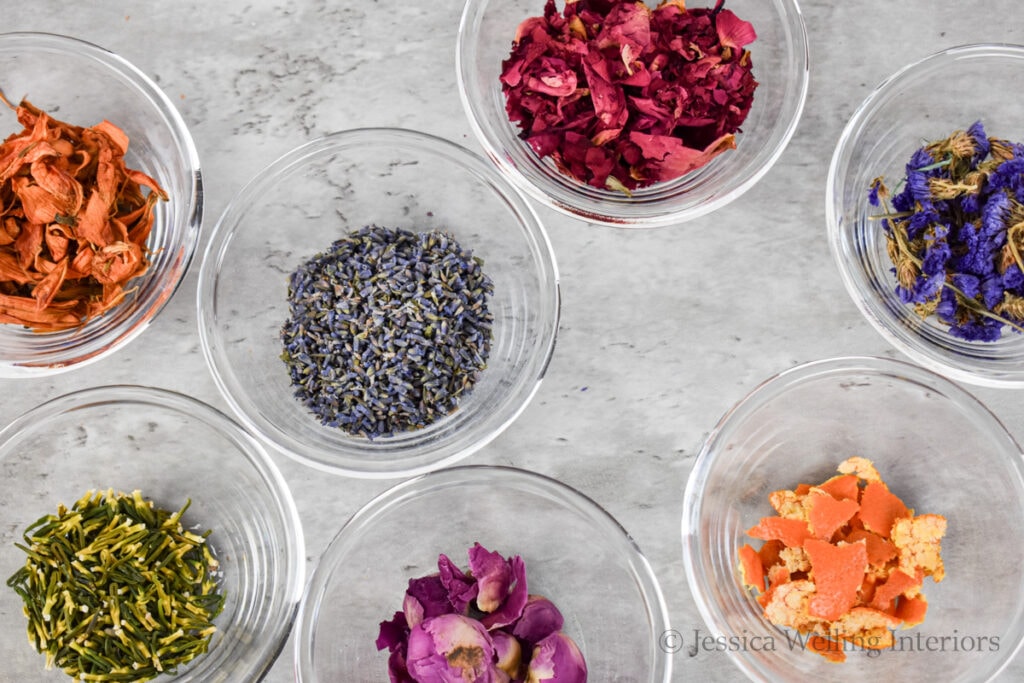 Rose petals, lavender buds, tea leaves, dried herbs, or bits of orange peel can all make beautiful additions to your homemade bath salts, and a few of the recipes below include them. I like this inexpensive kit from Amazon because it gives you a good variety of dried flowers and petals.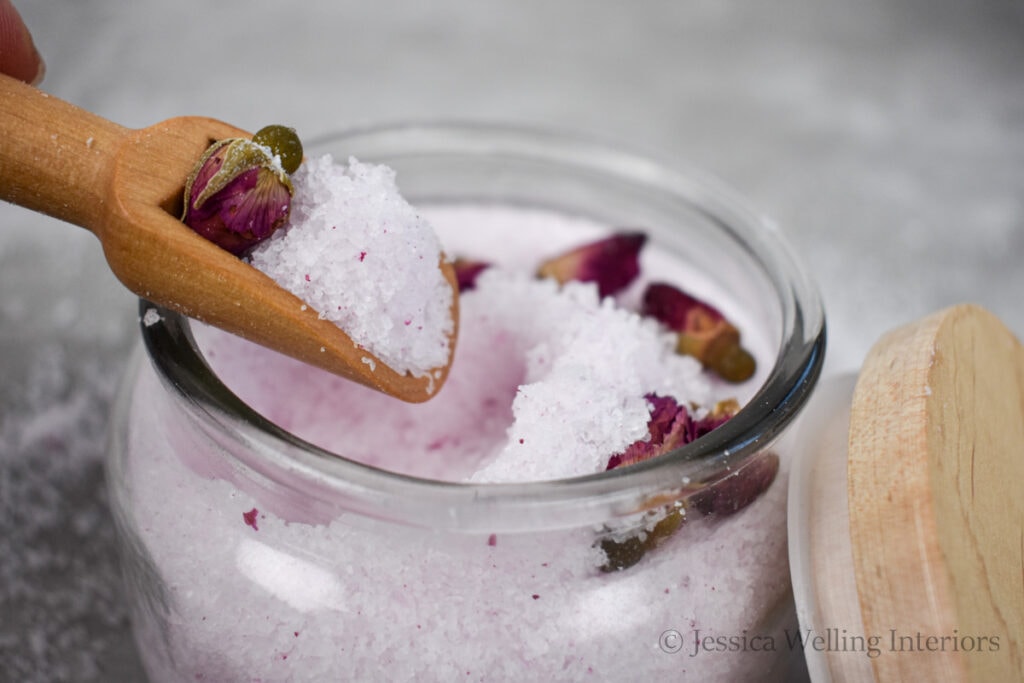 However I would caution you to go light when adding anything that isn't likely to dissolve in the hot water, since it can either clog your tub drain or leave a mess for you to clean up later. After all, a bath is supposed to melt your troubles away- not create new ones!
I sometimes just sprinkle a few petal, buds, herbs or whatever on the top once the salts are in their jar, like with the rose-scented bath salts in the photo above. This makes them look pretty, but prevents too much mess in the tub.
Bath Salt Containers & Labels
It's important to keep your bath salts in an airtight container, since they're likely to be stored in a damp environment (i.e. near the bathtub). If you don't keep the lid on, you'll eventually have a bath salt brick, which you can still use, but it will be a serious pain to chip some off each time you want to use it. Just trust me on this one!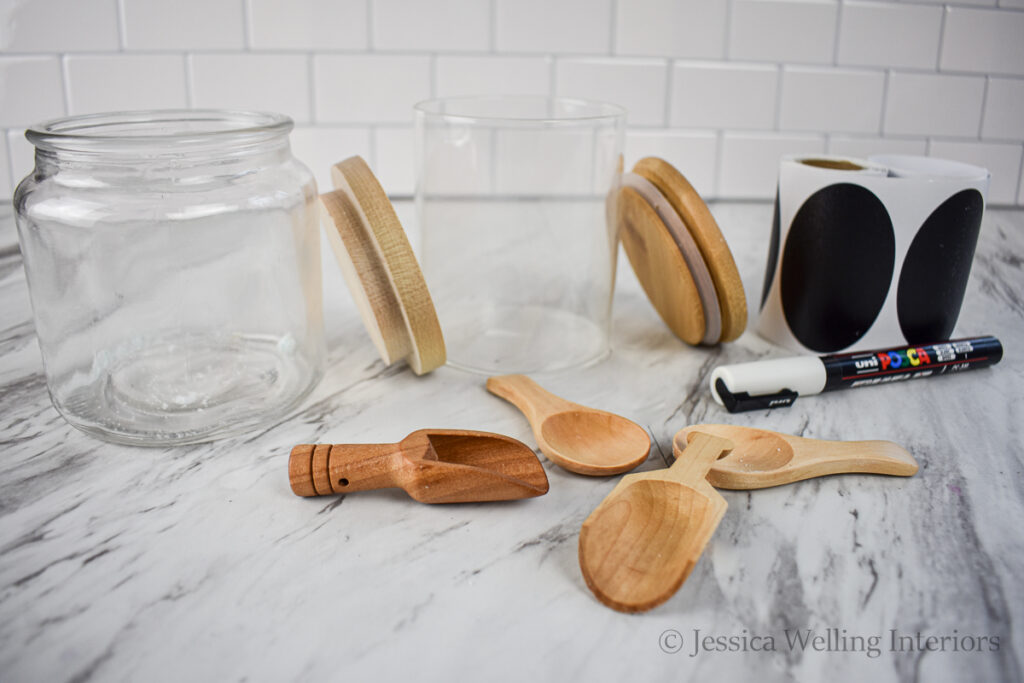 I like to package my bath salts in glass jars with airtight lids like these ones from Amazon (you'll see these in some of the photos below). Mason jars will work too. I love to add a cute wood scoop, especially if I'm going to give them as gifts, and then of course a label.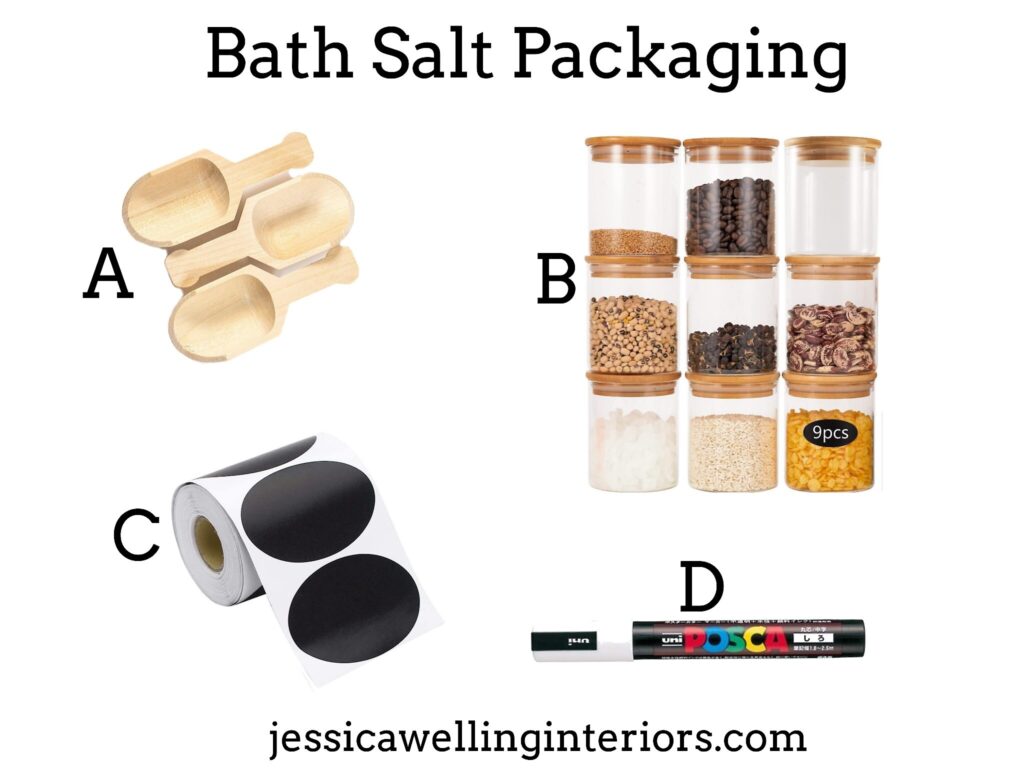 B. glass jars with airtight lids (these are the ones I'm using)
C. chalkboard sticker labels (I love this brand & use them on everything!)
Bath Salt Recipes
Basic Bath Salt Recipe
We'll begin with the DIY bath salts recipe that started it all. This is a great soak to relieve sore muscles on it's own, and I usually add essential oils for fragrance. It's a very versatile recipe, so you can customize it however you like with different essential oils, colors, and even add-ins like flower petals. This is the recipe on the card at the bottom of this post.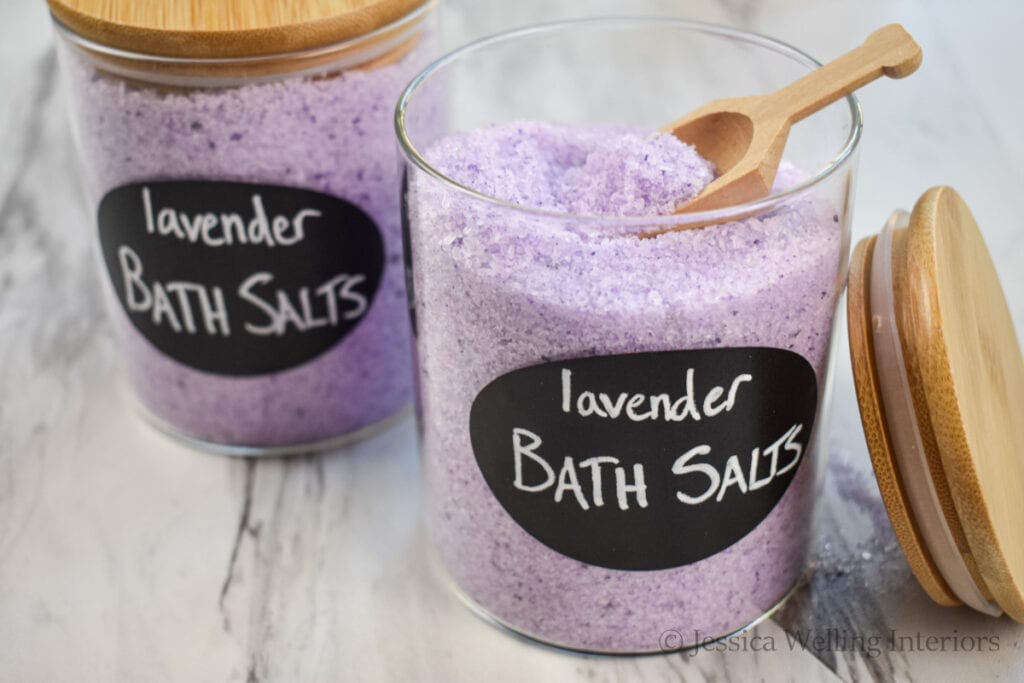 Dead Sea Salt Bath Soak
This luxe Dead Sea bath salt recipe is a great detox for the whole body.
Pink Himalayan Salt Bath
Pretty Himalayan Salt is prized for its many trace minerals, and it's gorgeous in these Pink Himalayan bath salts!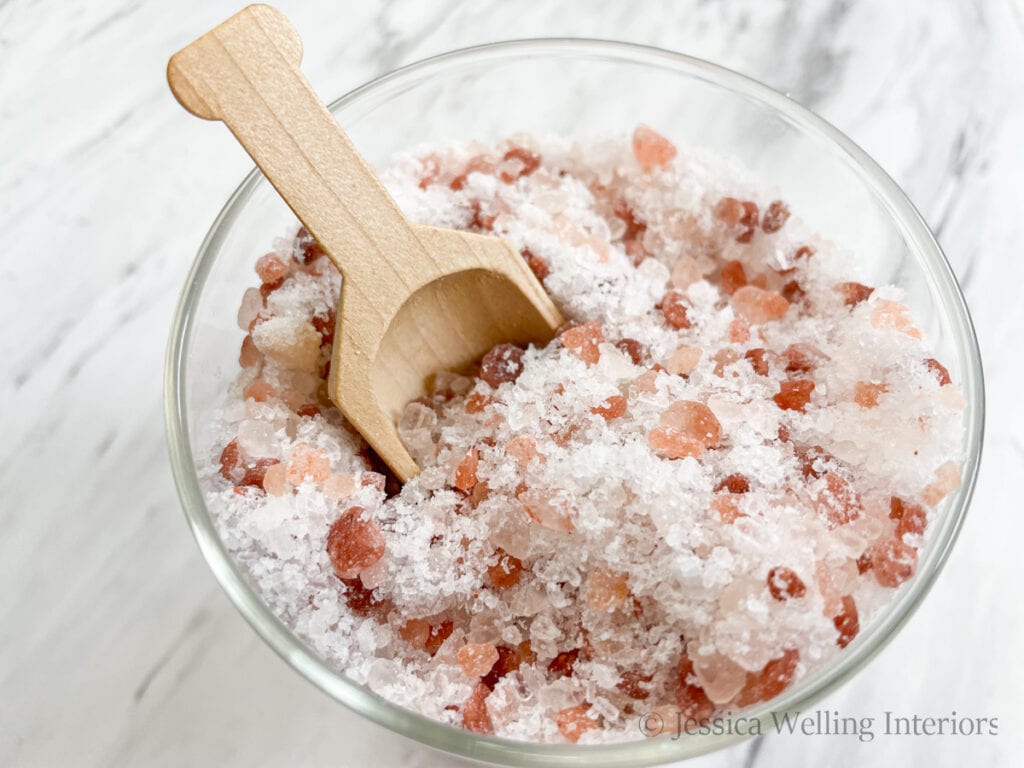 Lavender Bath Salts
Lavender has long been prized for its relaxation benefits. This simple recipe is based on the basic bath salt recipe at the bottom of this post, with the addition of lavender buds. You can find the tutorial for these lavender bath salts here.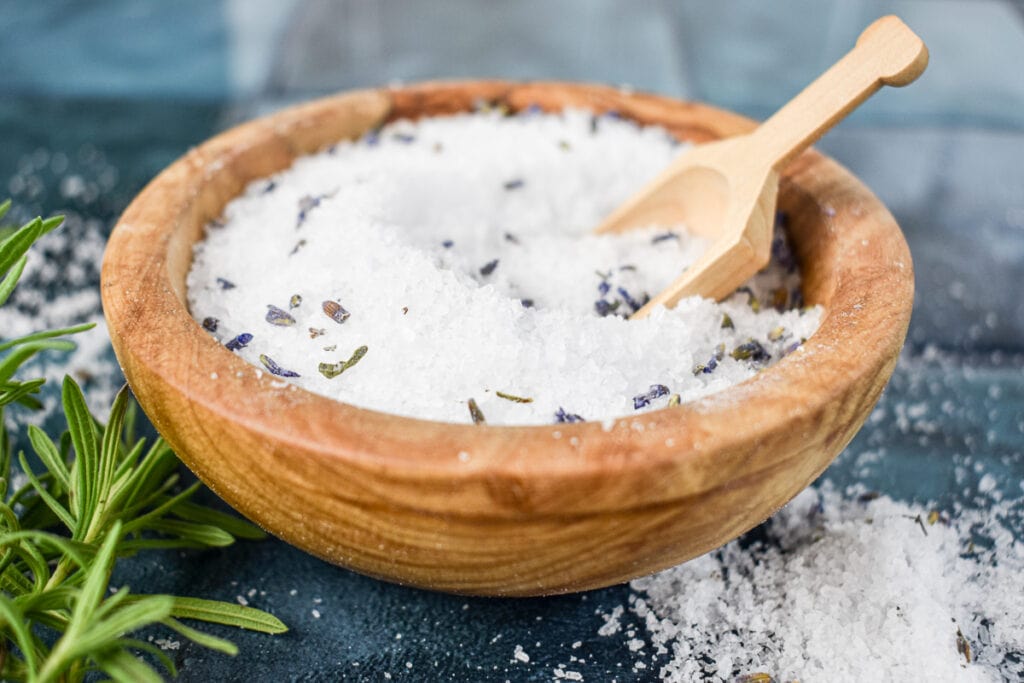 Bubbling Bath Salt
Can't decide between a luxurious bubble bath and a soothing epsom salt soak at the end of a long day? With this bubbling bath salt recipe you don't have to choose! And not to brag, but this recipe actually makes great bubbles (unlike many other recipes out there).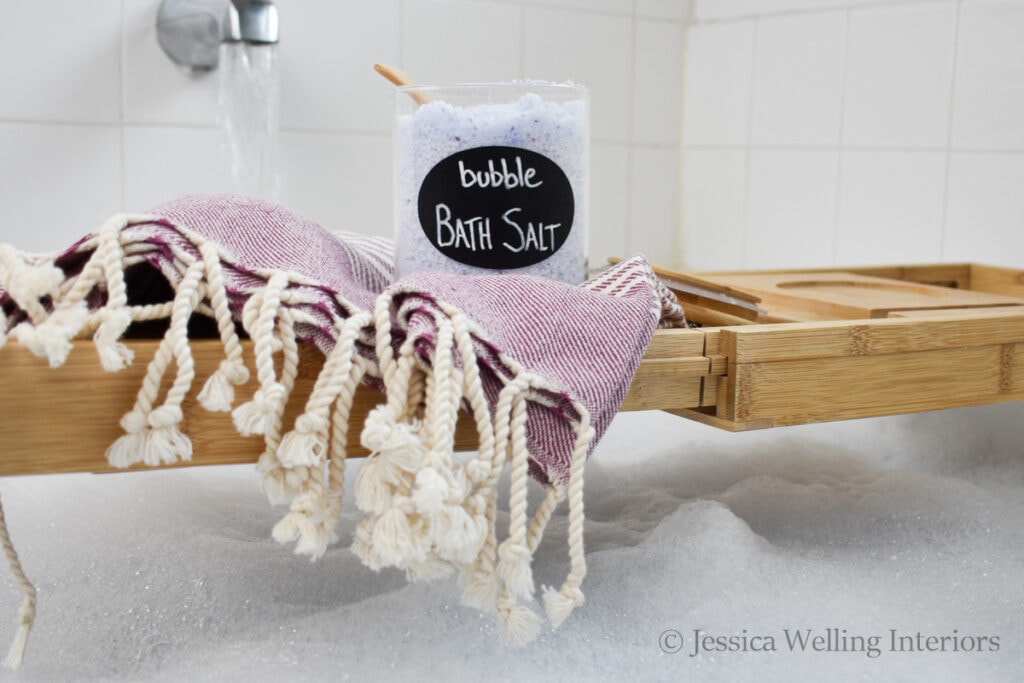 Fizzing Bath Salts
These fizzy bath salts are fun to pour into the tub! They'll fizz and bubble like a bath bomb when they hit the warm water, and the different colors create a galaxy effect. My girls are going to make this for their friends for Christmas this year. Shhhhhhhh!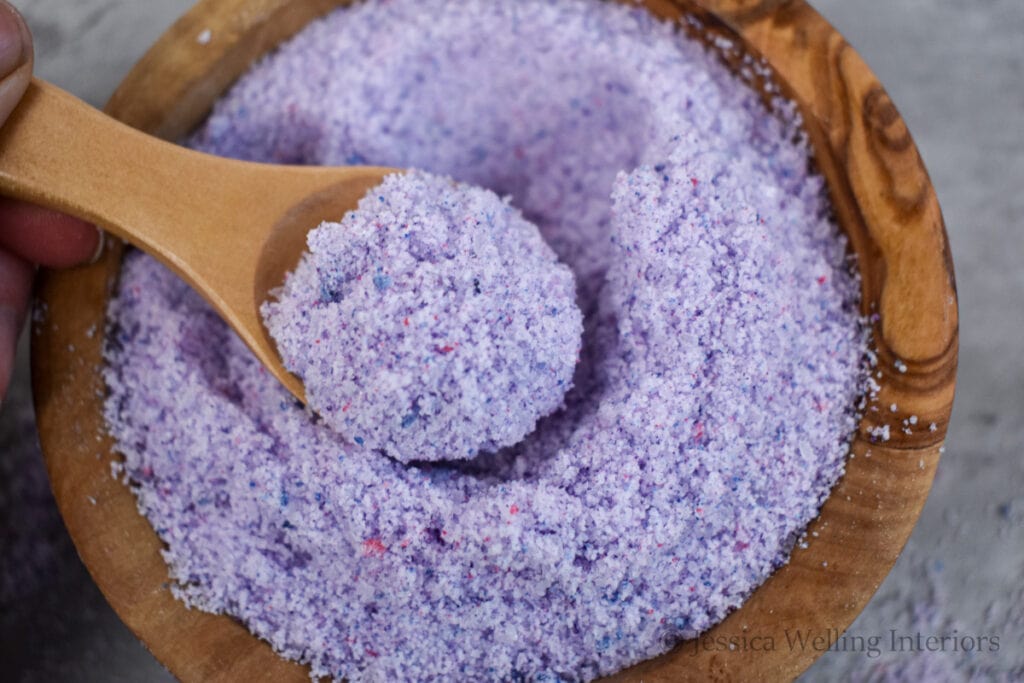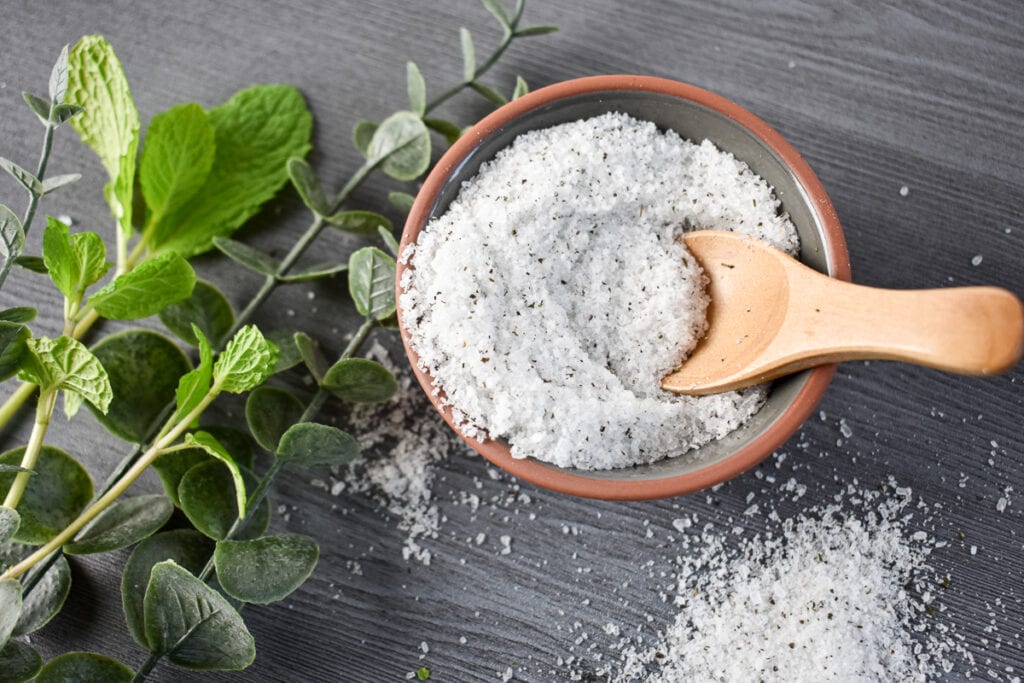 This foot soak recipe combines peppermint and tea tree oils for the perfect soothing and invigorating foot bath.
Sniffle Stopper Bath Salts
I use this peppermint and eucalyptus bath salt when the kids or I have a cold. It's great for clearing sinuses & helping you breathe easier.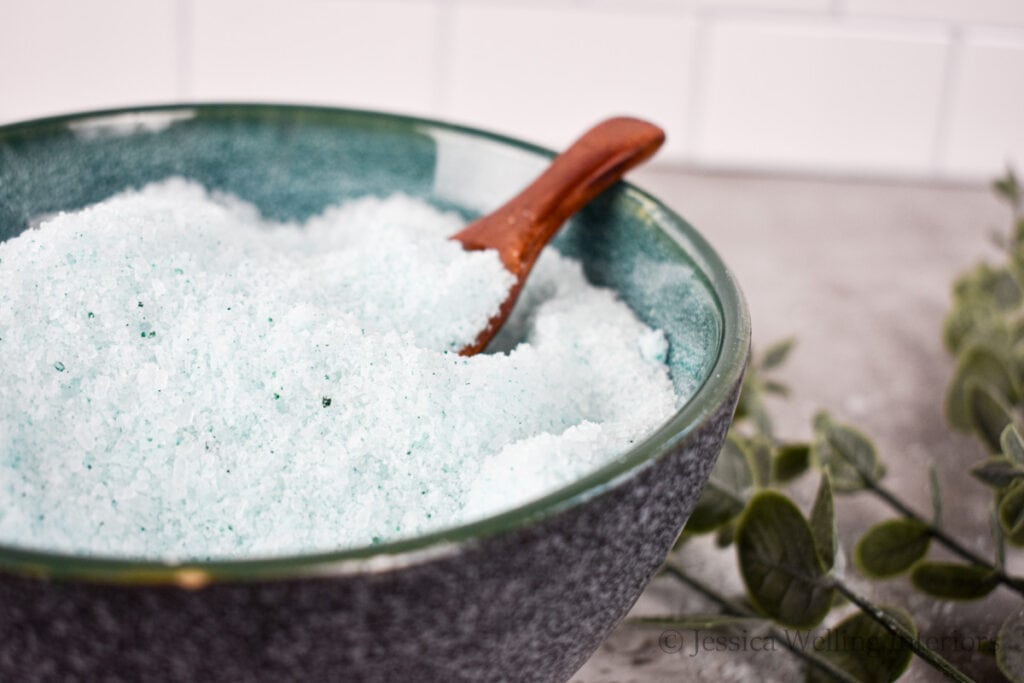 Rose Scented Bath Salts
Homemade rose scented bath salts are great gifts for both Mother's Day and Valentine's Day!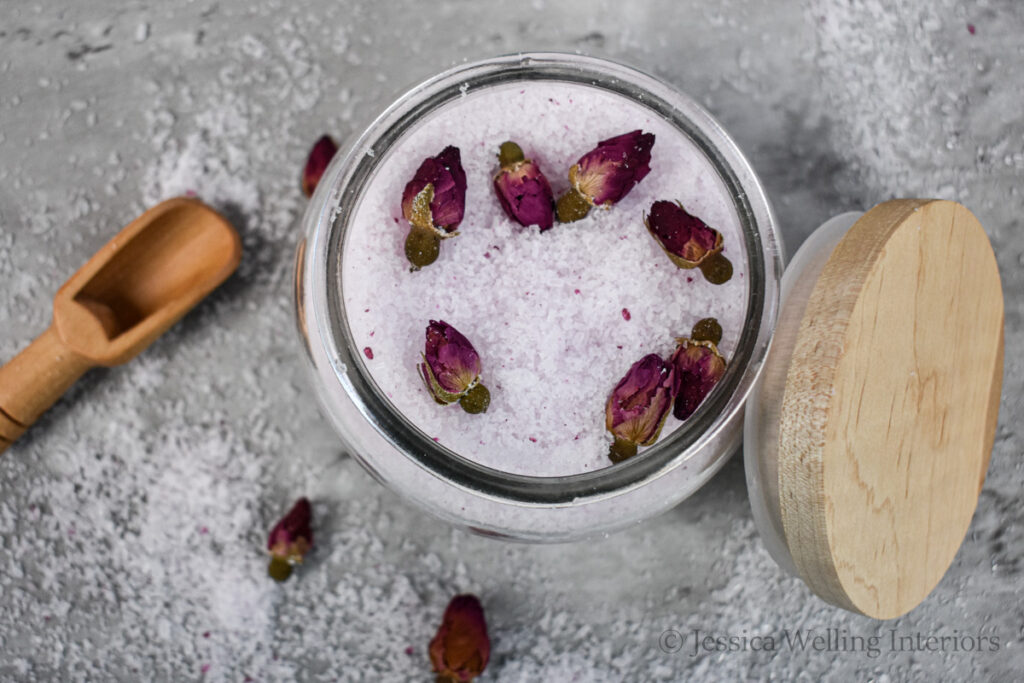 Below you'll find the basic bath salt recipe that I mentioned at the beginning of this article. It's very versatile and you can change out the carrier oil, essential oils, and color to customize it however you like. Enjoy!
Customize this versatile all-natural bath salts recipe with your favorite essential oils and soak your cares away- or make it to give as gifts.
Materials
Instructions
Combine epsom salt and baking soda in a mixing bowl and stir.
Combine jojoba oil (or other carrier oil) and essential oils in a small bowl and stir.
Add oils to salt mixture and stir, then use your hands to sift and combine.
Add 1-2 drops of food color (optional) and stir.
Spoon into jars or other airtight packaging.
Label.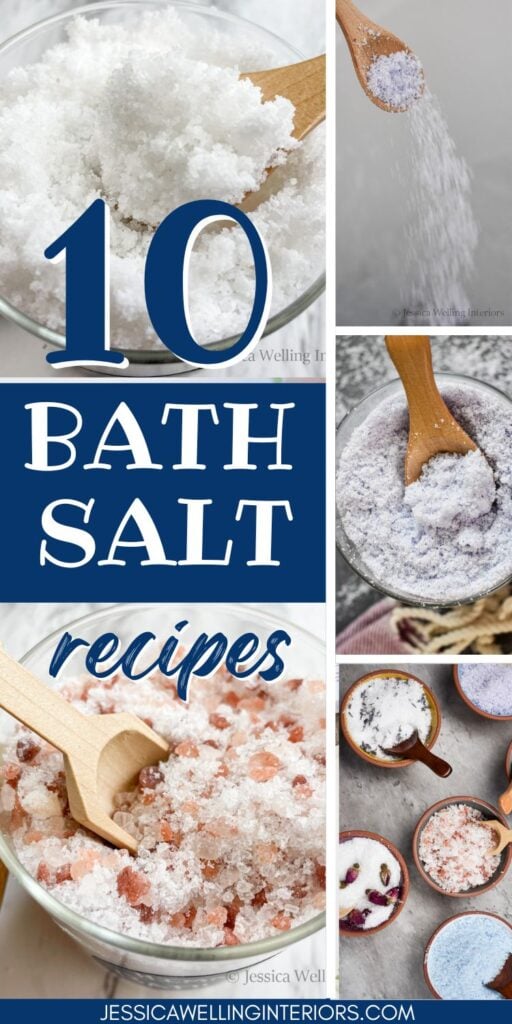 More DIY Bath Products…
How to Make Bubble Bath (That Actually Bubbles!)