Gifts for Men: DIY Tools Gift Guide
Find perfect gifts for men who like to DIY with this tool gift guide. It includes our favorite power tools, tool sets, and tool organizers.
what tools are essential for diy projects and basic home repairs?
I've asked my dad to help me out with this one. He's the person who can fix or build just about anything, and he's got many, many years of experience with all things DIY. So these are his recommendations for the basics of home repair and DIY.
Can you spend way more money and get fancier versions of these? Absolutely. Do you need to for the basics? Probably not. We think these are the best happy medium between price and quality.
For some great stocking stuffer ideas for the DIYer in your life, hop on over HERE.
basic tools everyone should have
Craftsman has long been the gold standard for screwdrivers. This basic set has you covered, and will be used over and over!
This set includes both standard and metric sockets, used for tightening and loosening nuts and bolts. It also comes with a set of drill bits (universal) and allen wrenches.
Peter really likes this set because they automatically adjust to fit whatever you're trying to grip (on standard channel locks you have to adjust them yourself). Channel locks are for grabbing things to tighten or loosen them and they're especially useful for plumbing.
This inexpensive laser measure lives in my design bag at all times. It comes in really handy whenever I need to measure longer stretches in a room or a ceiling height by myself.
This is a good standard 16oz., all-purpose claw hammer.
These inexpensive collapsible sawhorses are a life-saver whenever you need a larger work surface. Just lay a piece of plywood across the top, and you've got yourself a table. I use mine all the time for painting and sanding projects, like these floating desks we built for the girls' bedroom.
Staple guns are a must-have for upholstery projects. Check out this easy window seat cover tutorial!
We use this around the house all the time! It's a softer touch than a hammer, so it's great for assembling IKEA furniture!
power tools
My dad got this set to use at his beach house, and thinks it's a great and affordable starter kit. The interchangeable rechargeable battery pack works with each of the tools- a reciprocating saw, circular saw, drill, and portable work light.
This is Peter's go-to drill and impact driver set, and you'll see him using it on just about every DIY project we do together. The drill is for drilling holes, and the impact driver is for driving screws into hard materials like wood. They're both cordless and have convenient rechargeable battery packs.
These screwdriver bits are universal and will fit either of the drill sets above or any other standard drill or impact driver. It also includes multiples of some of the frequently-used bits, since they can wear down when rubbing metal on metal.
Again, these drill bits are universal and will fit any drill.
This is the orbital sander you'll see me using all the time. It's easy to use and great for larger surfaces that need to be sanded. It uses these sandpaper disks.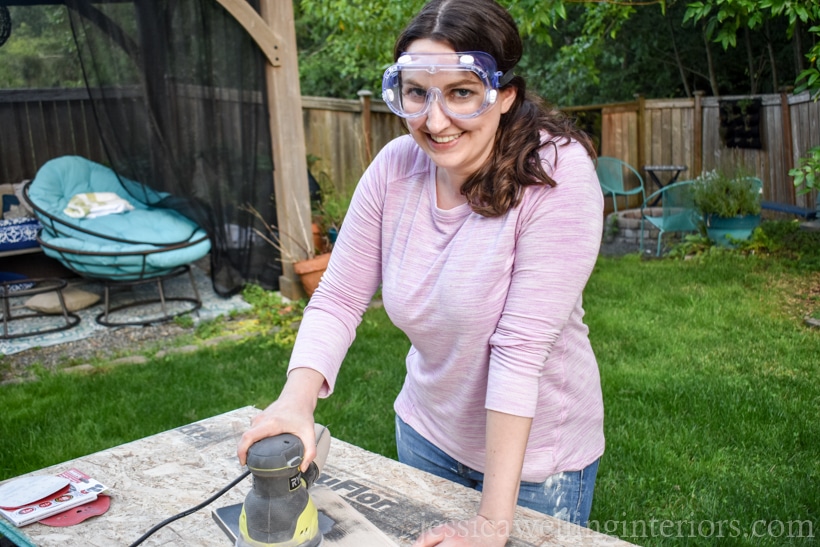 This small paint sprayer from Wagner is perfect for finish work. I just got it and can't wait to try it out!
tool belts, totes & caddies
No one wants to waste time searching for their tools every time they need to fix something! Help them get organized with these awesome products!
Tool Organizers
This mini-cabinet will make anyone who loves organizing giddy! Drawers and drawers for days!
workbenches
This inexpensive kit has everything you need to build your own custom workbench with simple cuts. Many people have posted photos of their own configurations and helpful assembly tips on Amazon. This looks like a really good value and has over a thousand 5-star reviews.
This would be a great affordable multi-purpose option for someone who doesn't have a ton of storage space. The clamps are a helpful addition too!
If you want to really go all out, this is the style of workbench Peter has and loves. All the shallow drawers are perfect for screwdrivers, drill bits, wrenches, and the like. And the deeper drawers and cabinets are great for power tools. It has been a lifesaver in terms of garage organization for us!
I hope that gives you some helpful gift ideas for your favorite DIYer! If you want some smaller inexpensive items, be sure to check out my DIYer Stocking Stuffers Guide!
more DIY ideas…
DIY for Couples