DIY Pumpkin Spice Wax Melts
Make your own pumpkin spice wax melts with just 3 ingredients with this simple recipe and make your home smell like Fall!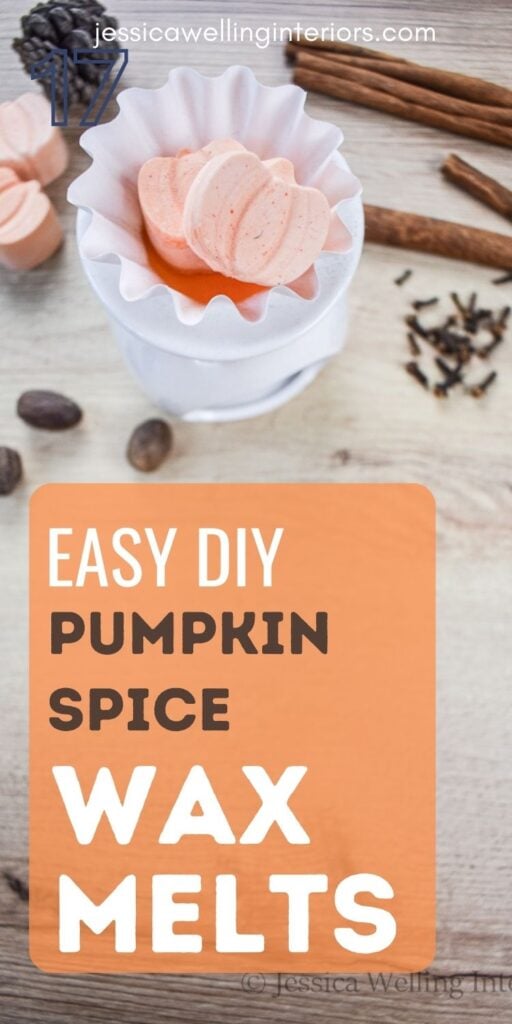 Who wants to make their house smell like aromatic spices a la pumpkin spice latte this Fall? Me! Me! Me!
I love to make natural soy wax melts to scent my own home and to give as gifts. The process is very similar to the process to make soy candles, with just a few different supplies and steps. If you want to make paraffin wax melts, check out this tutorial.
If you're just getting started with candle making, I suggest beginning with wax melts because they're quick, easy, and pretty much foolproof. And if you want to make DIY pumpkin spice candles, check out this post.
How to Make Pumpkin Spice Wax Melts
Let's get started. Here's what you'll need:
Tools & Ingredients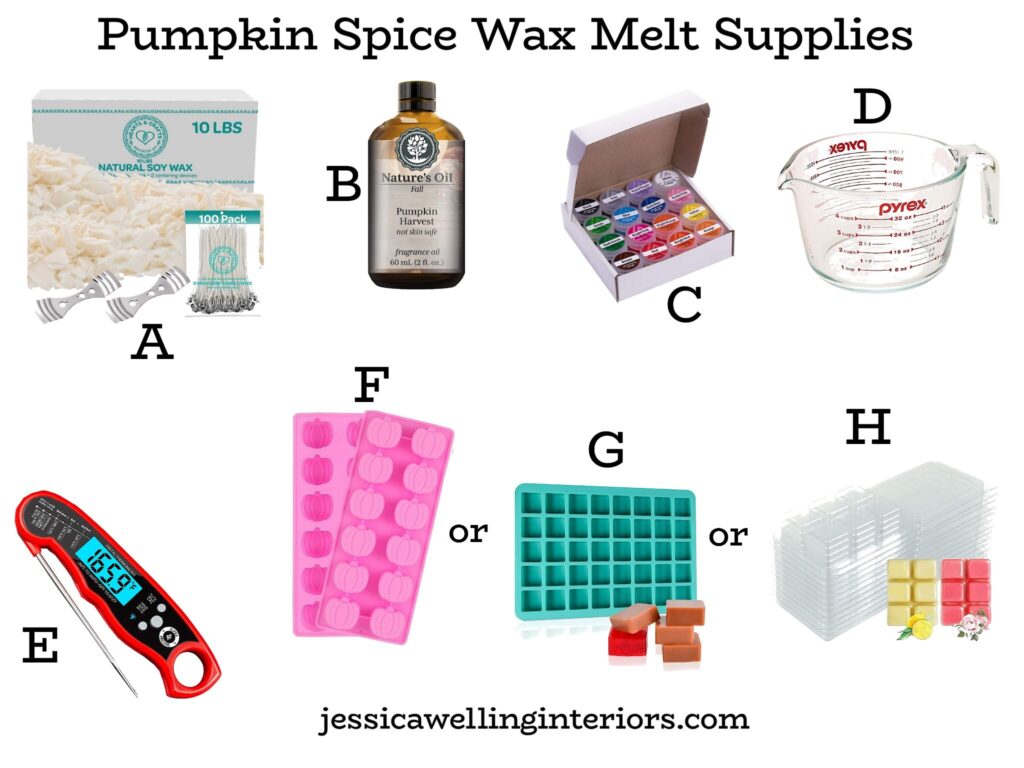 A. Natural Soy Wax Flakes- this is my favorite brand from Amazon
B. Pumpkin Candle Fragrance Oil (I'm using Pumpkin Harvest by Nature's Oil. I also really like Pumpkin & Persimmon and Autumn Spice & Pumpkin Patch, both by Makesy) You can see all my favorite candle fragrance oils for Fall here.
C. Wax Dye Chips (I like this multi-colored set from Amazon)
or
or
H. Empty Clamshell Wax Melt Molds
Directions
1. Measure the Wax
I've found that the soy wax flakes will melt down to about half their original volume. So I'm starting with 2 cups of soy wax.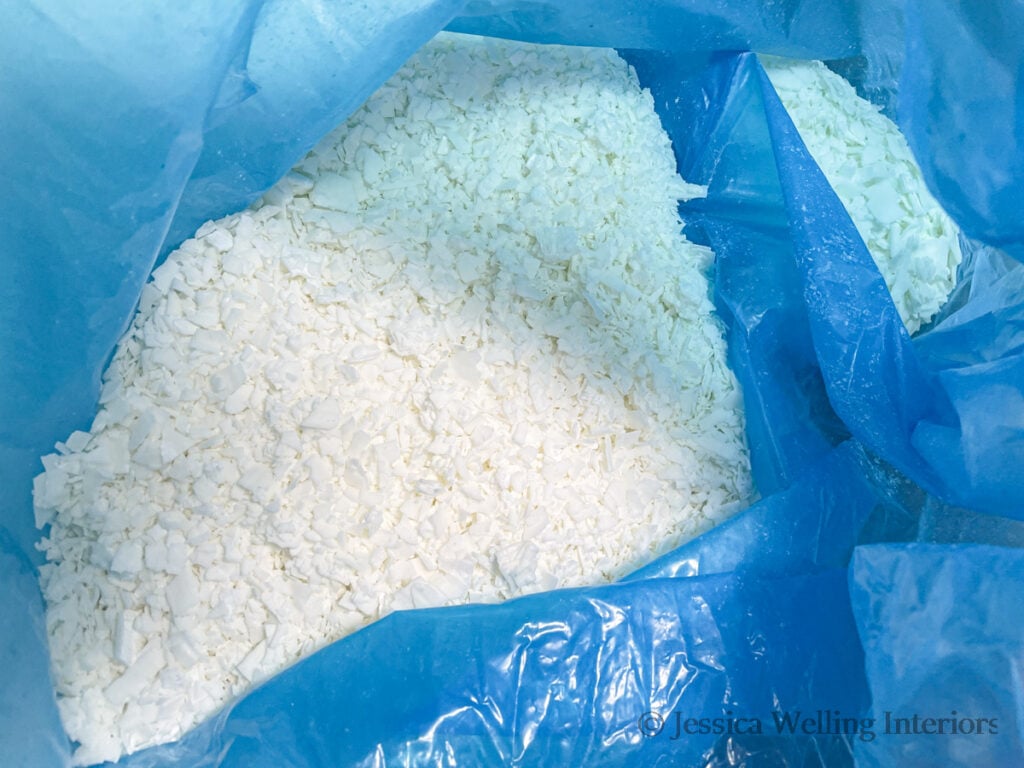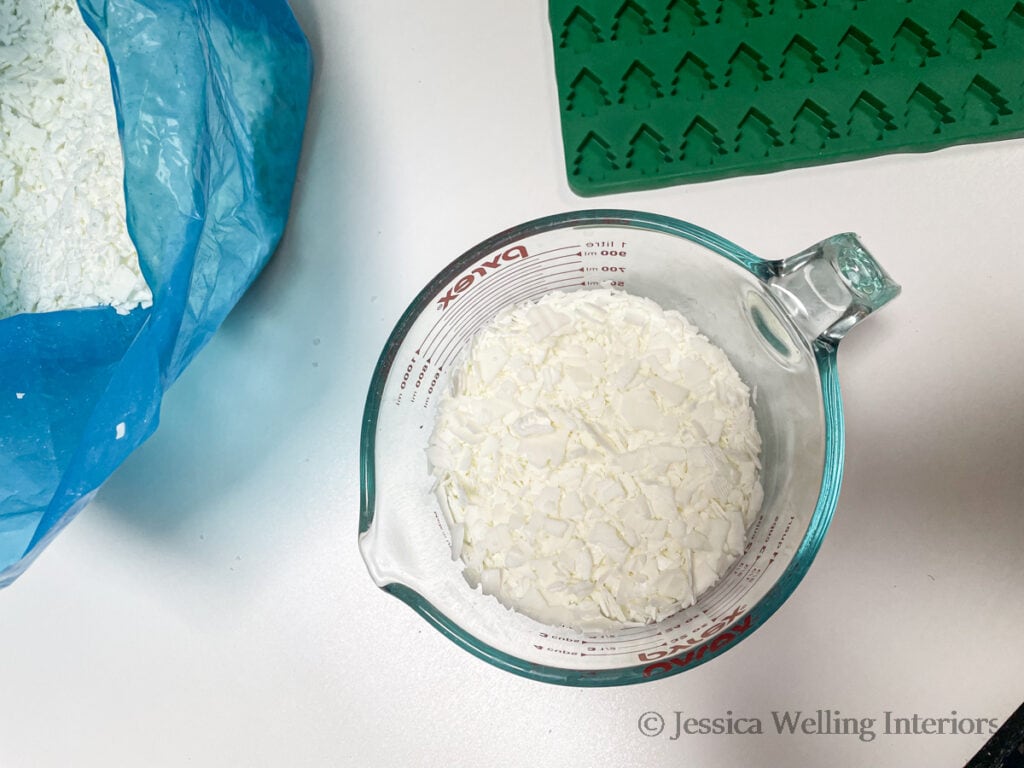 2. Melt the Wax
This recipe uses the microwave method to melt the wax, since most people already have a glass measuring cup in their kitchens. If you prefer, you can also set up a double boiler with a metal pitcher inside a pot of water on the stove.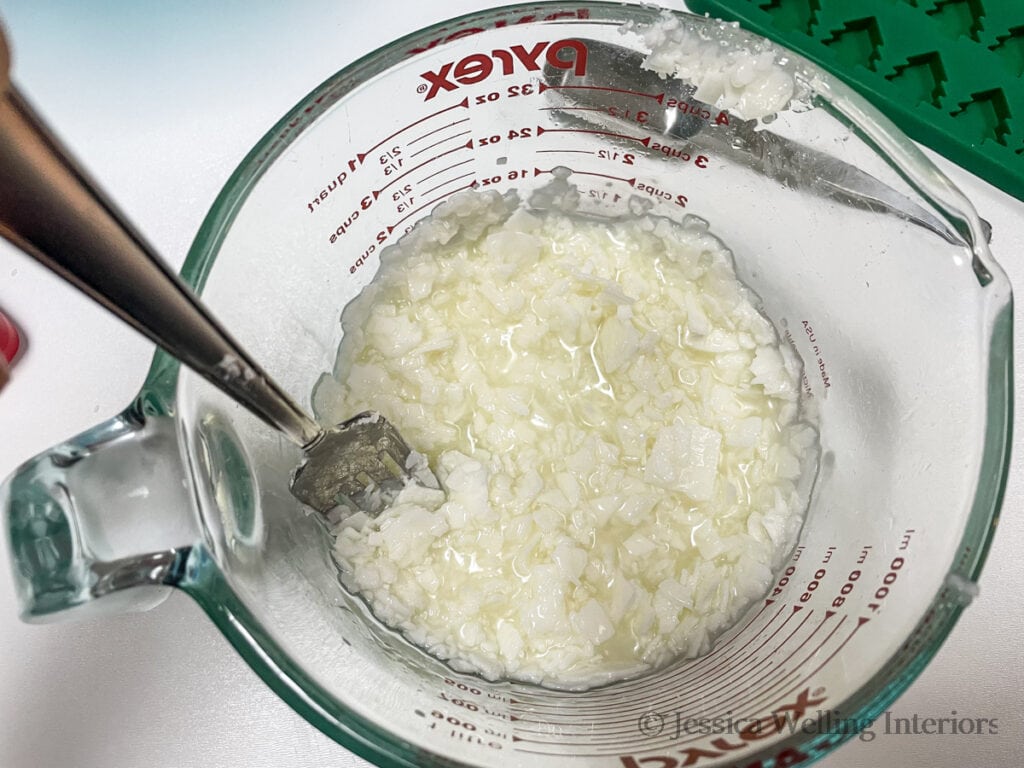 Melt the wax in the microwave, starting with one-minute increments, and taking it out to stir each time. Once it's mostly melted, decrease each microwave interval to 30 seconds. The target temperature is between 175 and 185 degrees.
And yes, this is important. It will affect how the fragrance oil and wax bind together.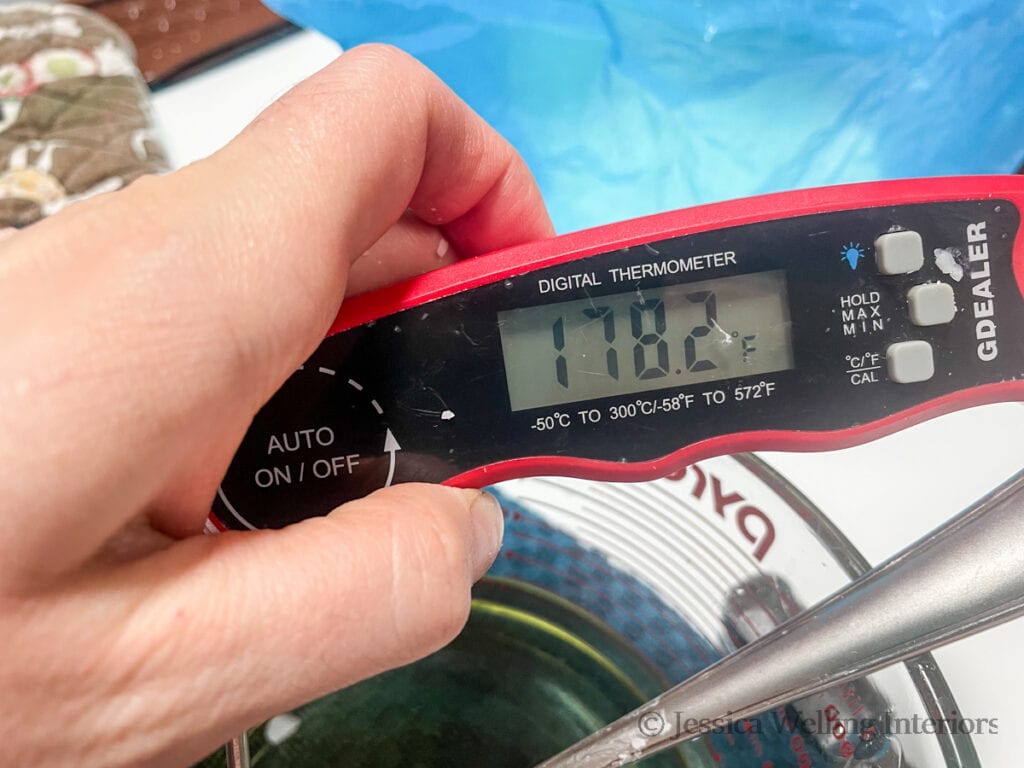 3. Add Color Chips (Optional)
I'm adding orange wax dye to my pumpkin spice wax melts. I really like this wax color kit from Amazon because it's easy to mix and adjust the colors to your own preference.
Start with just a pinch of the wax colorant and stir it in. The dye chips should melt into the soy wax. If you can still see specks of orange after a minute or two, then pop the wax back into the microwave for 30 seconds.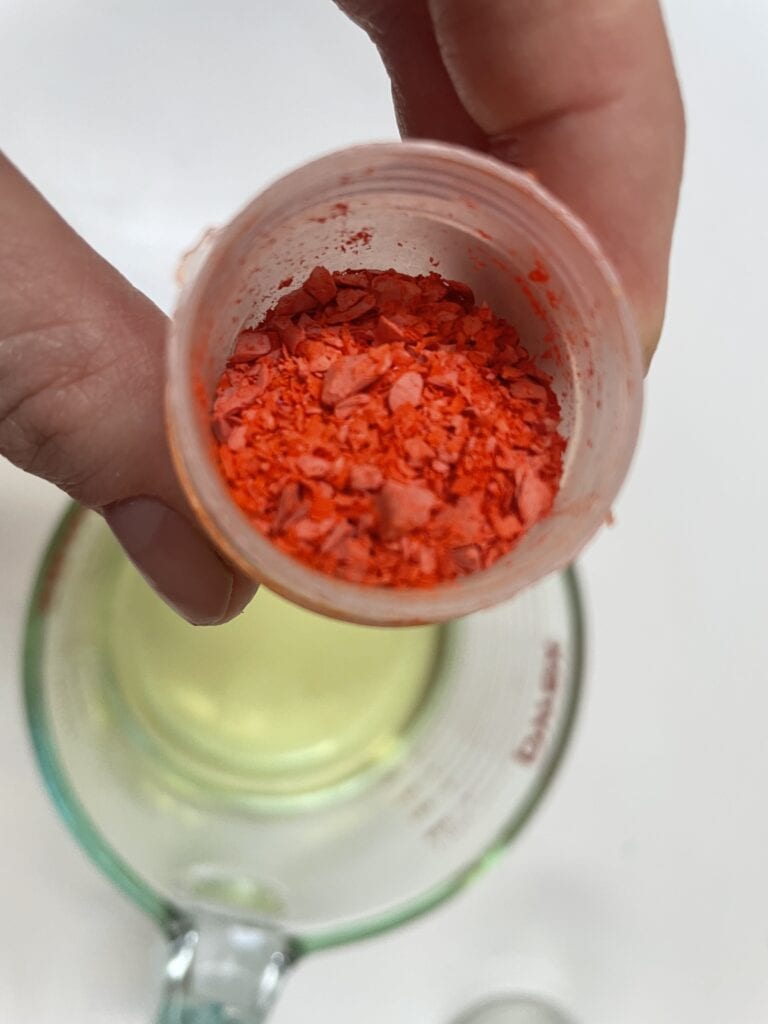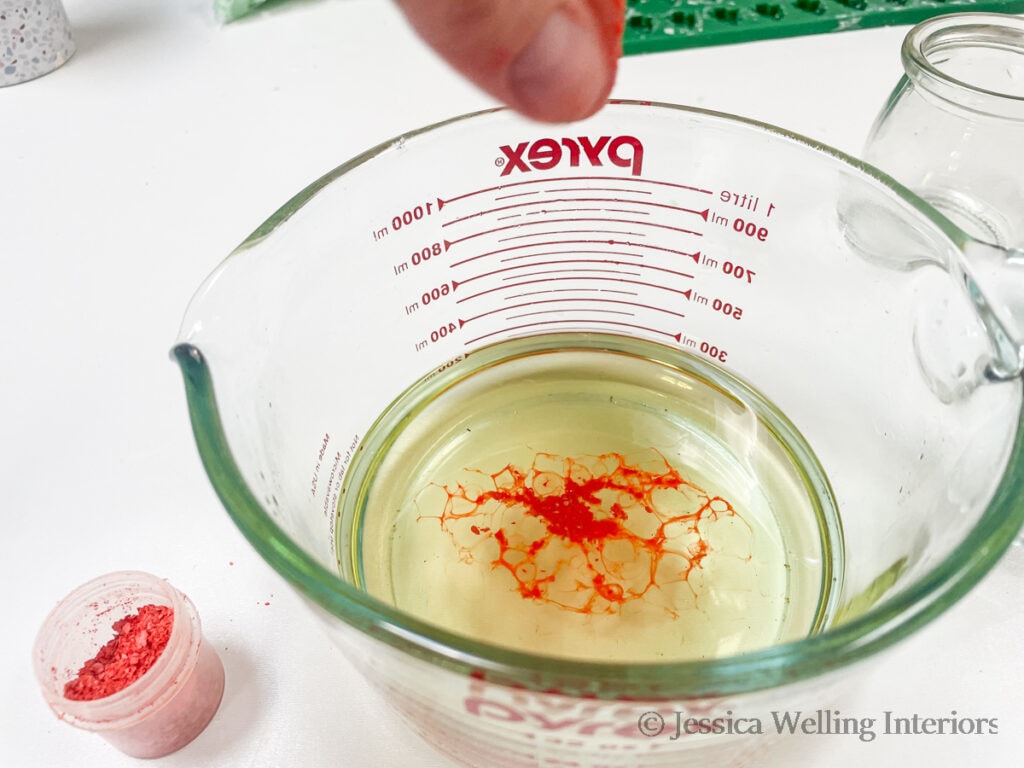 I know the color looks bright right now, but since this is opaque wax, it will be much more muted once it solidifies.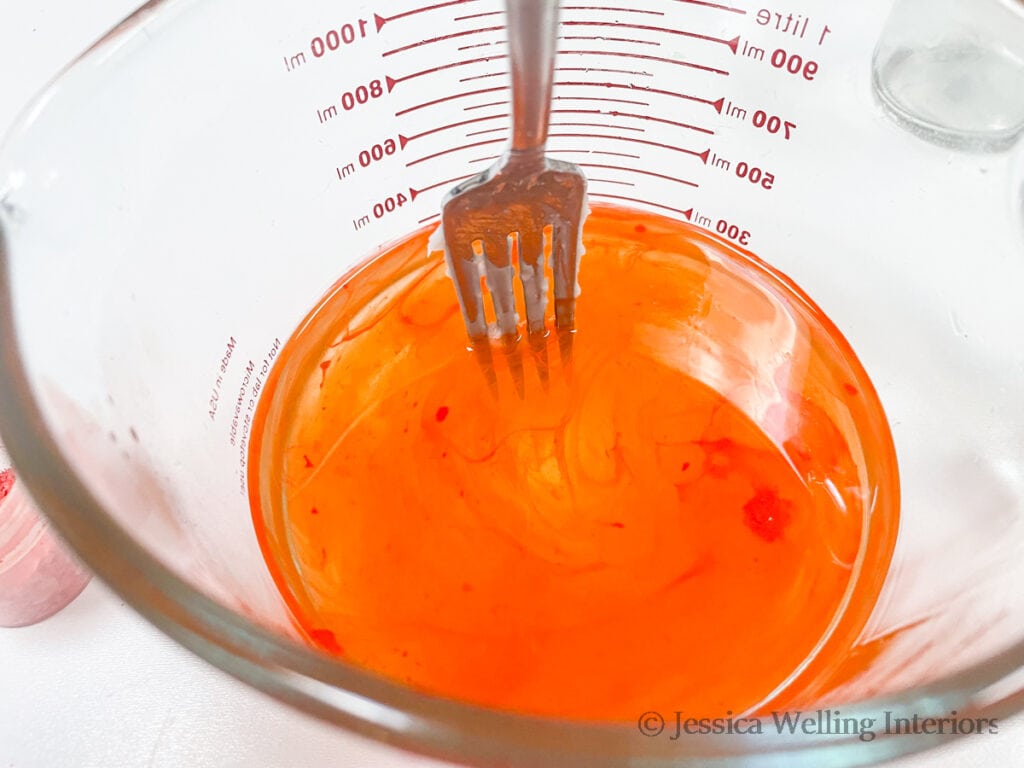 If you prefer, you can leave the colorant out. Soy wax is opaque and slightly off-white when it hardens.
4. Add Pumpkin Spice Fragrance Oil
I've tried about eighteen different pumpkin, cinnamon, and harvest-type fragrance oils looking for the perfect "pumpkin spice" scent. And trust me, they were not all winners. Pumpkin Harvest, from Nature's Oil is my favorite one available from Amazon. I also really like Pumpkin & Persimmon and Autumn Spice & Pumpkin Patch, both from Makesy. Just note that the sample size will not be enough for this recipe, so be sure to order the larger size bottle.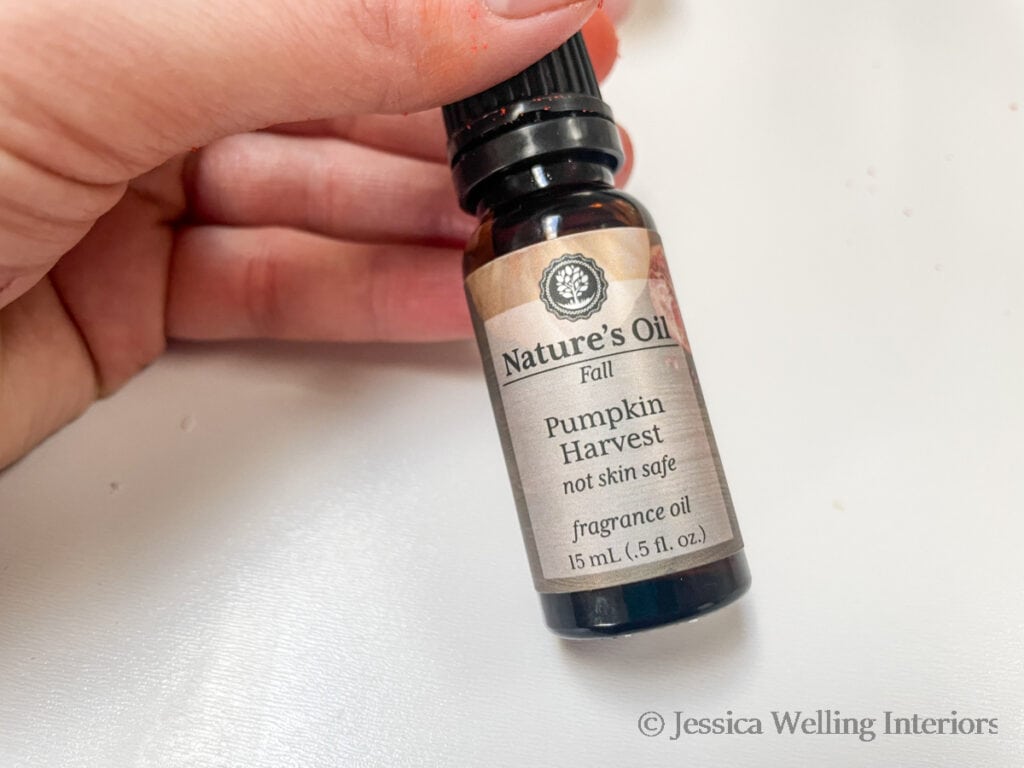 How Much Fragrance Oil Should I Add To Soy Wax?
Most recipes will require you to measure your wax by weight to determine the exact amount of fragrance oil to add. I don't have a kitchen scale, so I'm just ball-parking it by volume. Here's the ratio I always use:
1 Cup Melted Wax : 1.5 Tablespoons Fragrance Oil
So if you started with 2 cups of wax flakes, you should be adding about 1.5 Tablespoons (22 ml or .75 oz) of candle fragrance oil. I'll include my soy wax melts fragrance oil calculator chart at the bottom of this post in case you want to make a different sized batch.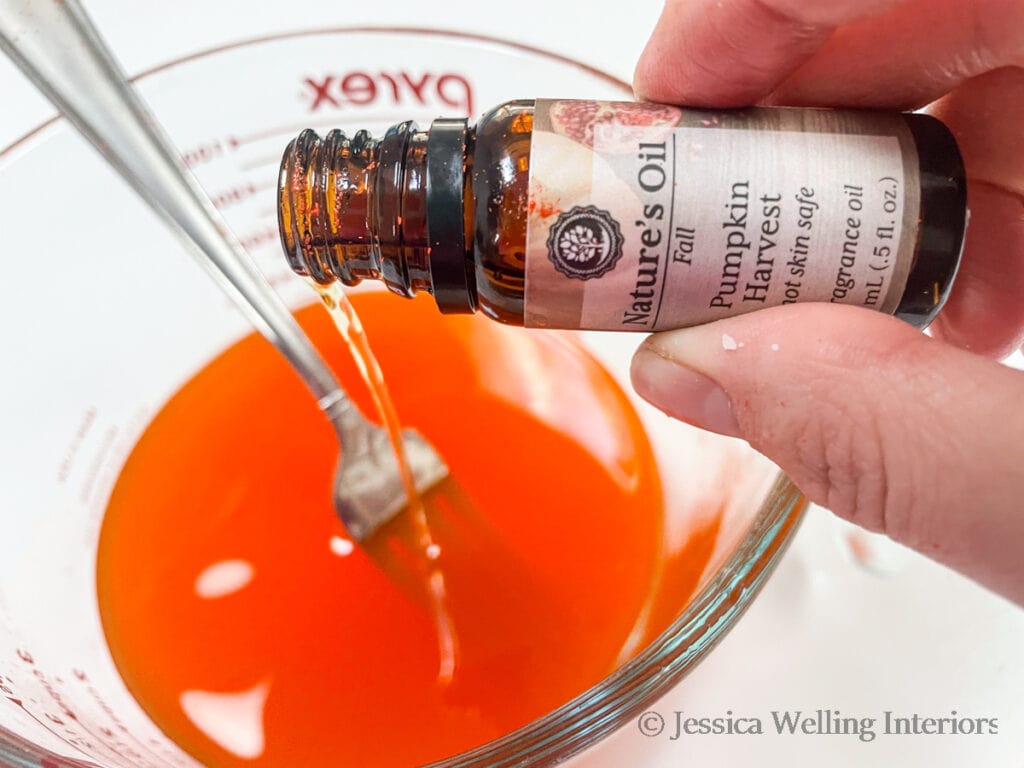 5. Pour Melted Wax Into Molds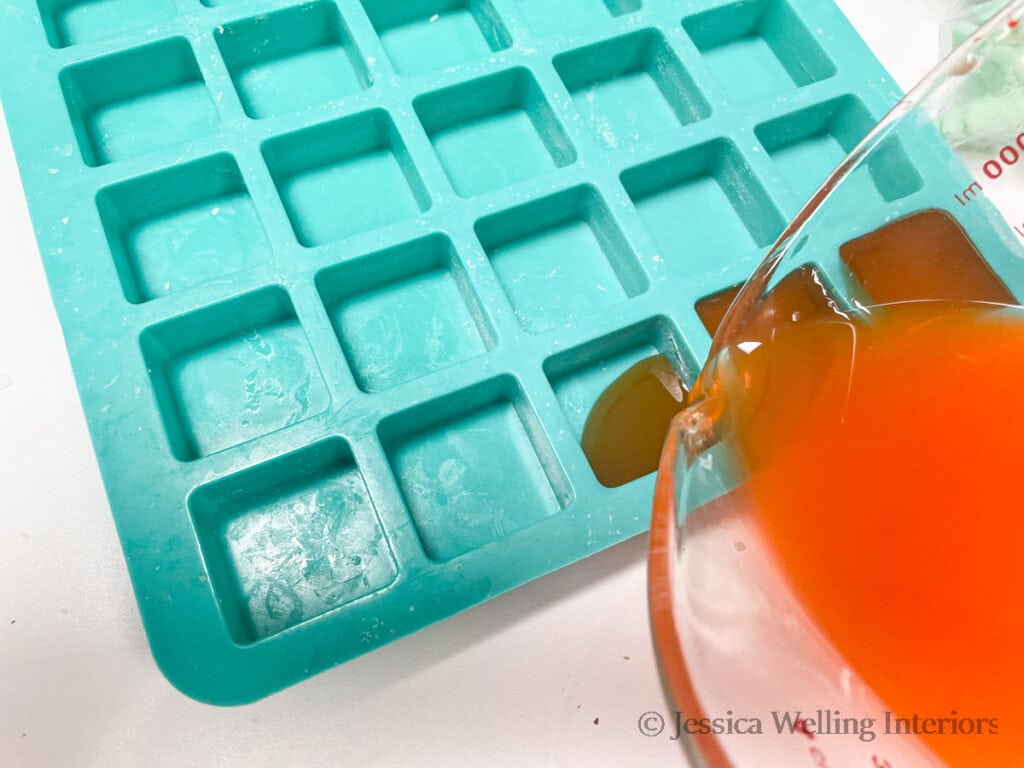 You can also get these inexpensive wax melt clamshell molds. The nice thing about these is they provide a way to seal up the wax so the fragrance doesn't dissipate. They also provide a nice container if you want to give wax melts gifts.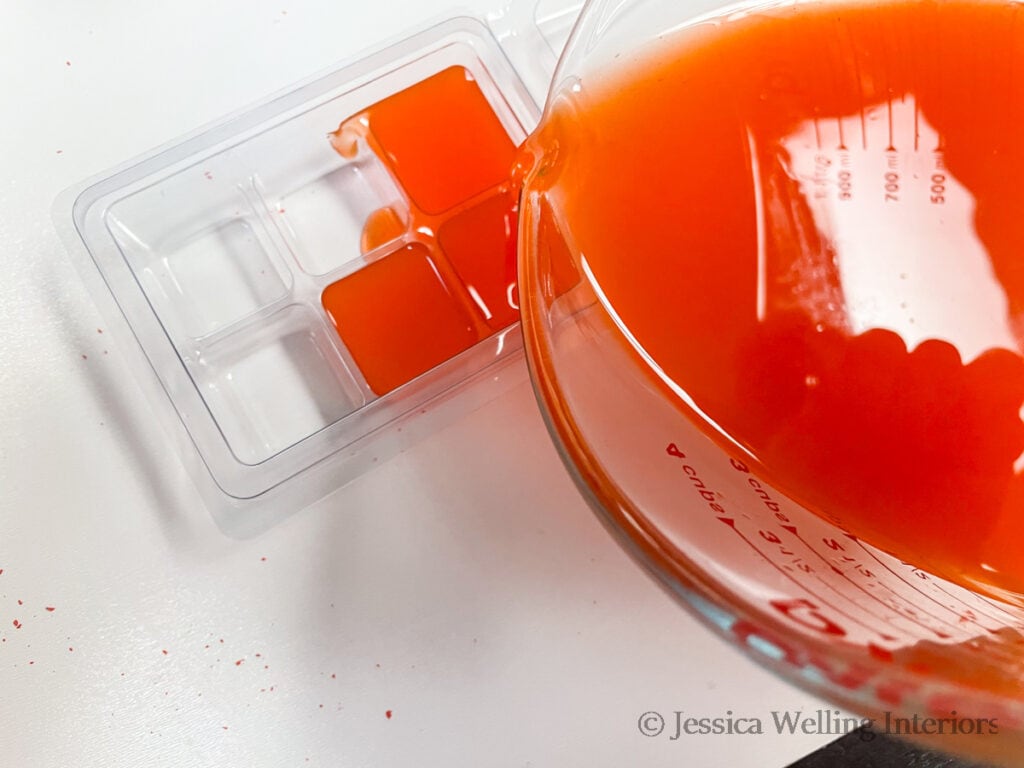 6. Let in Cool
If you're going to use clamshell molds, just let the wax cool completely and then seal the containers. No need to pop the wax melts out.
Let the molds sit undisturbed so the wax can harden completely. This may take an hour or two. Once the wax is somewhat set, you can pop them in the fridge for a little while to speed up the process.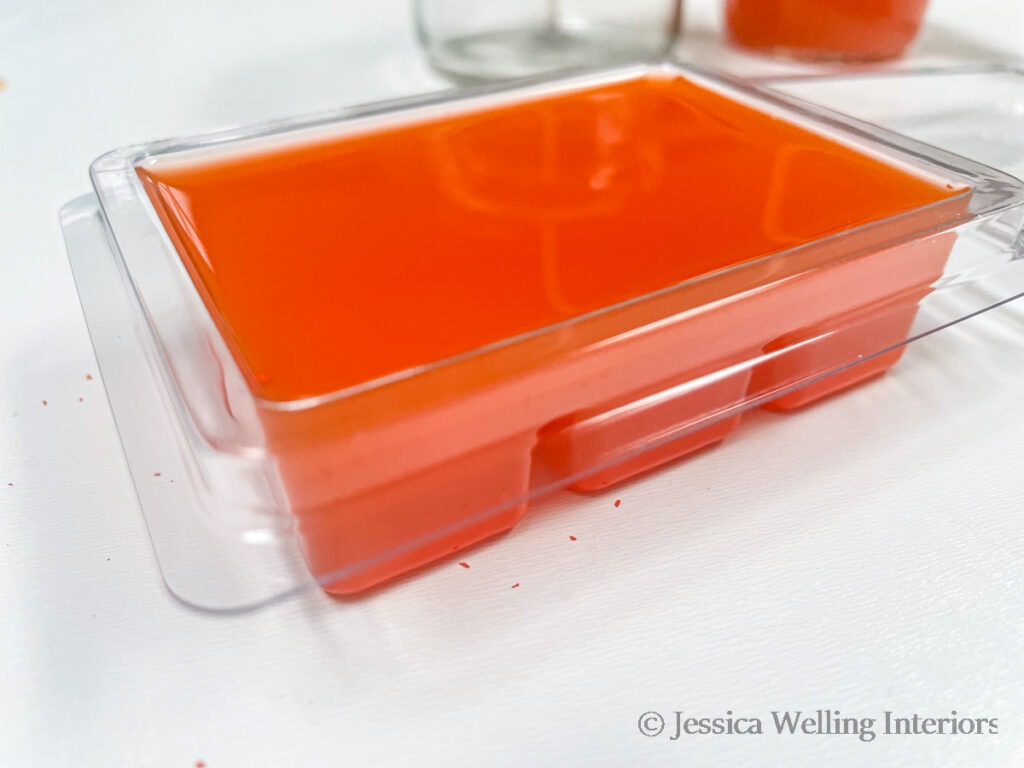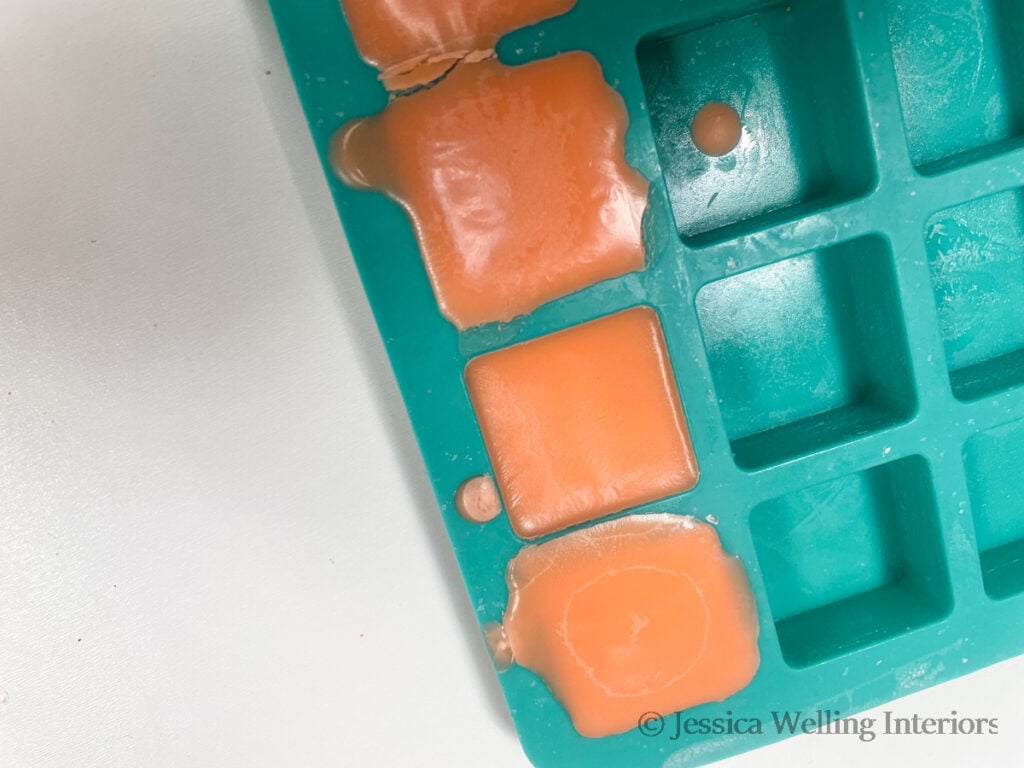 7. Remove Wax Melts from Mold
It's easy to pop the wax melts out of the silicone molds. Just turn the mold upside down and press each one out with your fingers.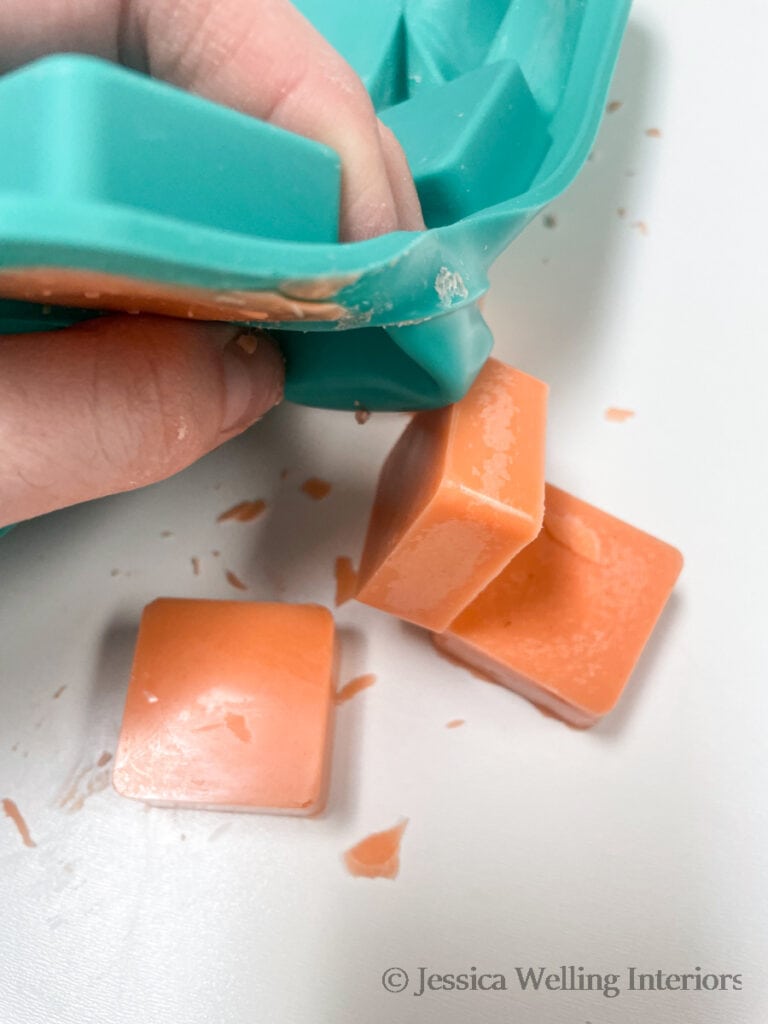 8. Store in an Airtight Container
Scented wax melts need to be sealed in an airtight container to prevent the fragrance from dissipating. I generally store mine in sandwich Ziplocks until I'm ready to use them or wrap them as gifts.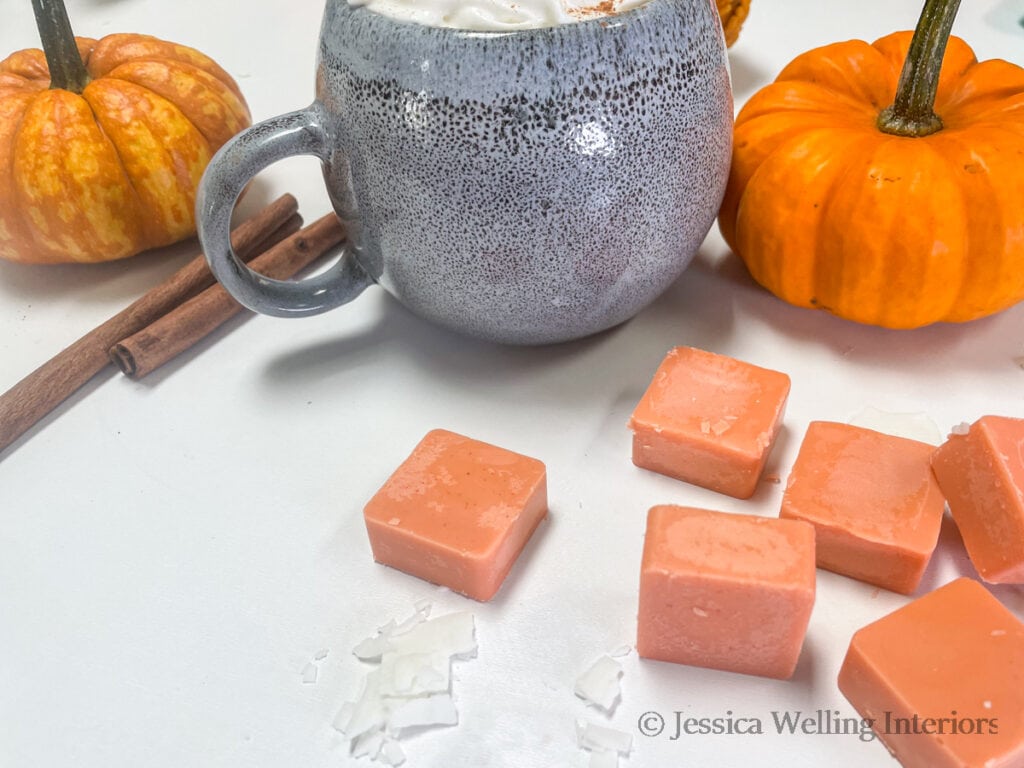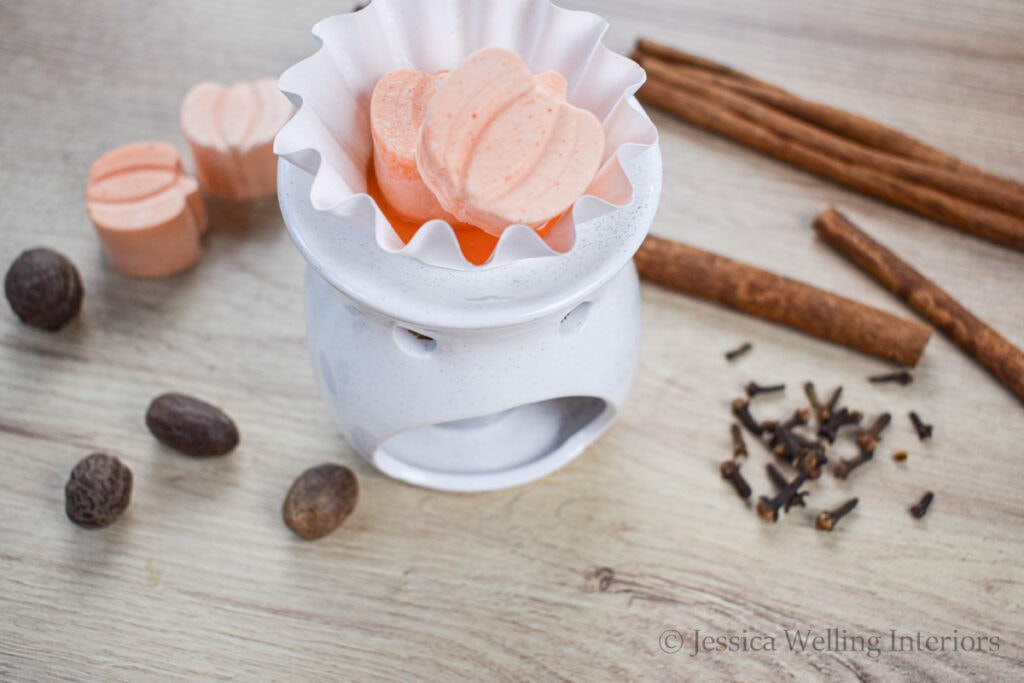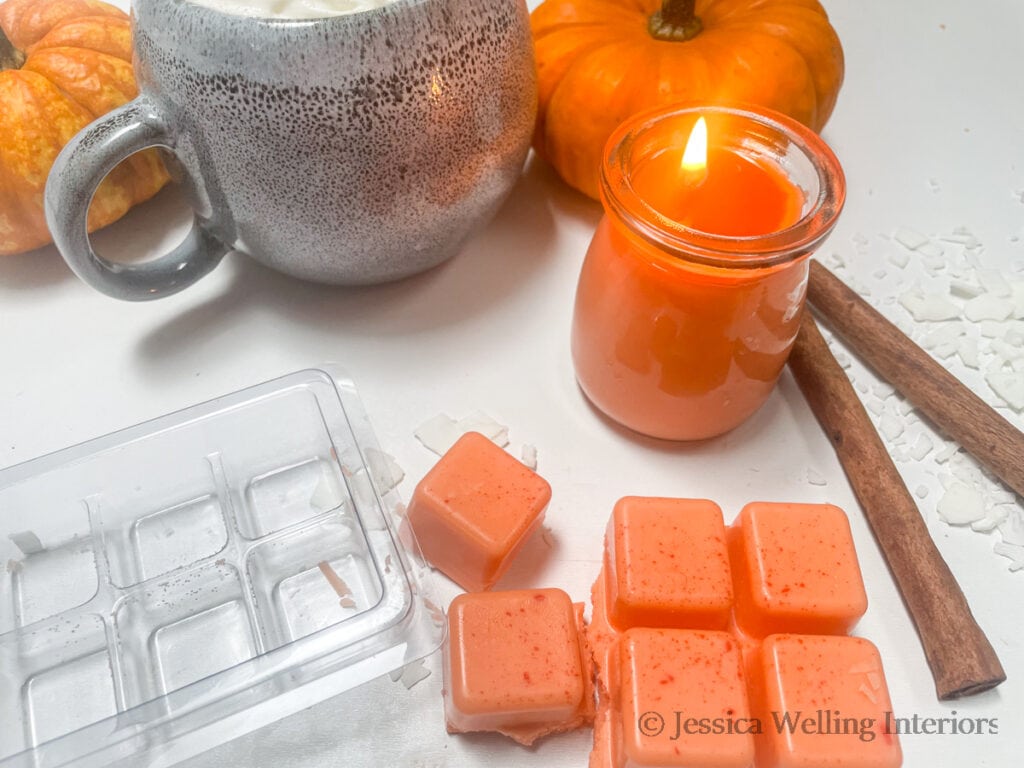 Wax Melts Fragrance Oil Calculator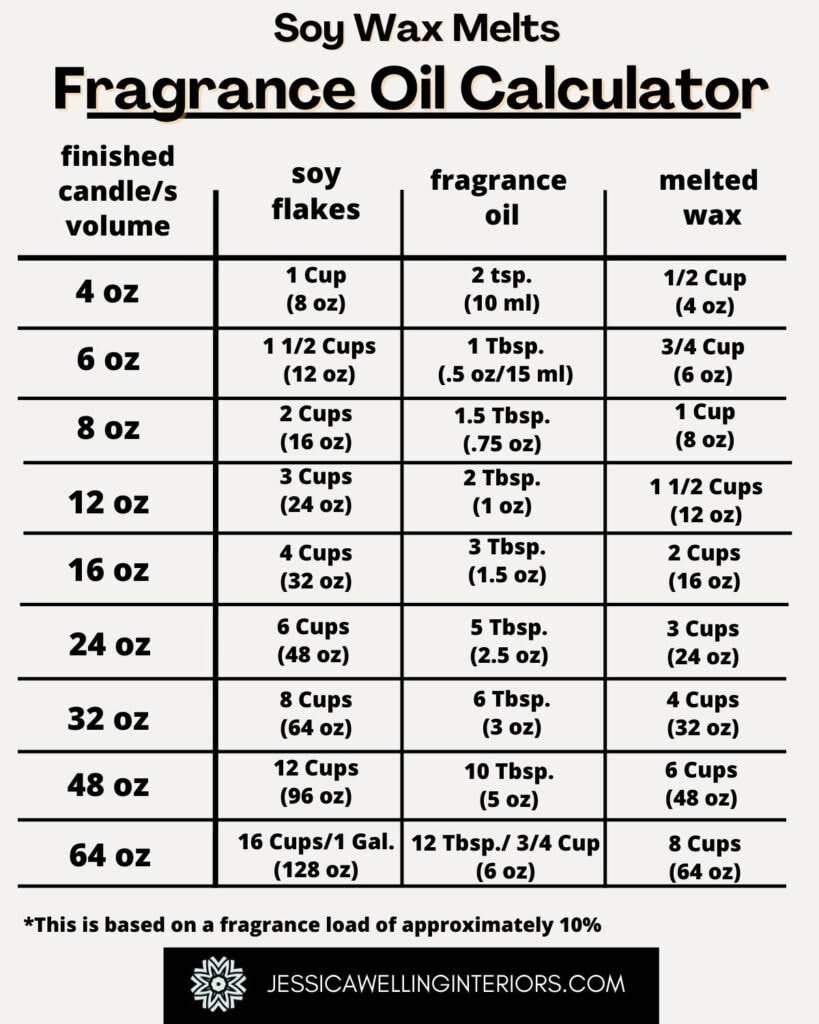 Enjoy!
Now it's time to enjoy your scented melts! I like to use these paper liners to prevent a big mess in the melting cup of the wax warmer. About 2 of these pumpkin spice wax melts is the perfect amount of wax.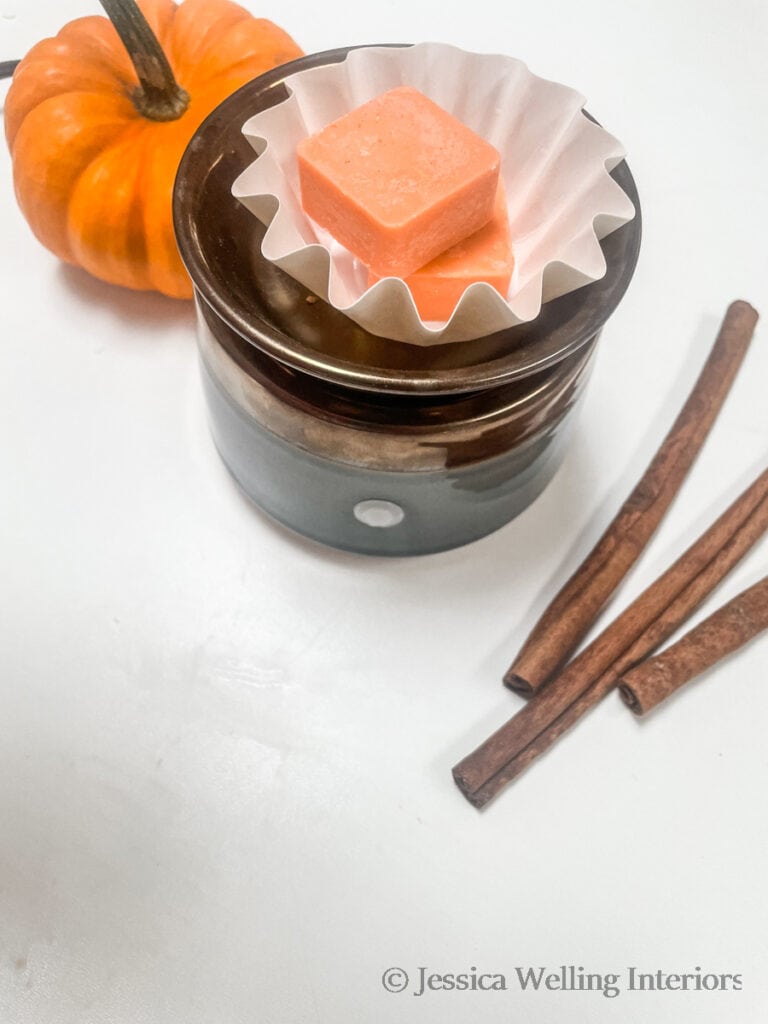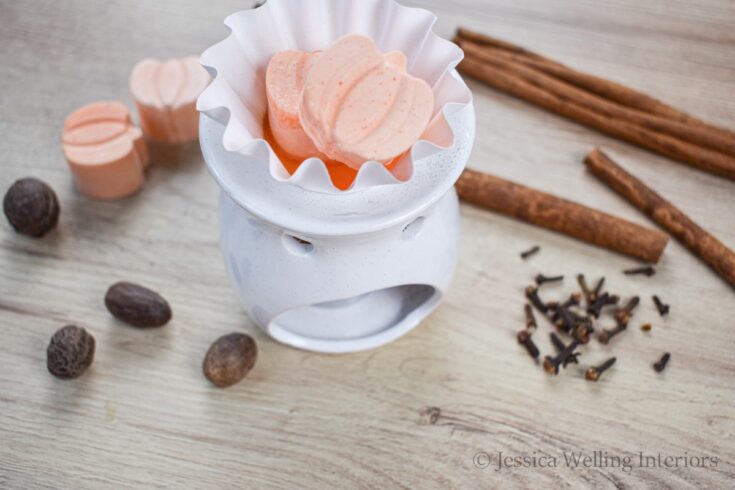 DIY Pumpkin Spice Wax Melts
Total Time:
2 hours
10 minutes
Instructions
Measure 2 cups of soy wax flakes.
Melt the wax in the microwave in 1 minute intervals.
Add wax dye and stir (optional).
Add pumpkin spice fragrance oil & stir.
Pour wax into molds.
Let it cool completely.
Pop the melts out of the molds.
Store in an airtight container or plastic bag.
Wax Warmers
Here are a few of my favorite inexpensive flame-free wax warmers. These make fabulous gifts, along with some homemade scented wax melts!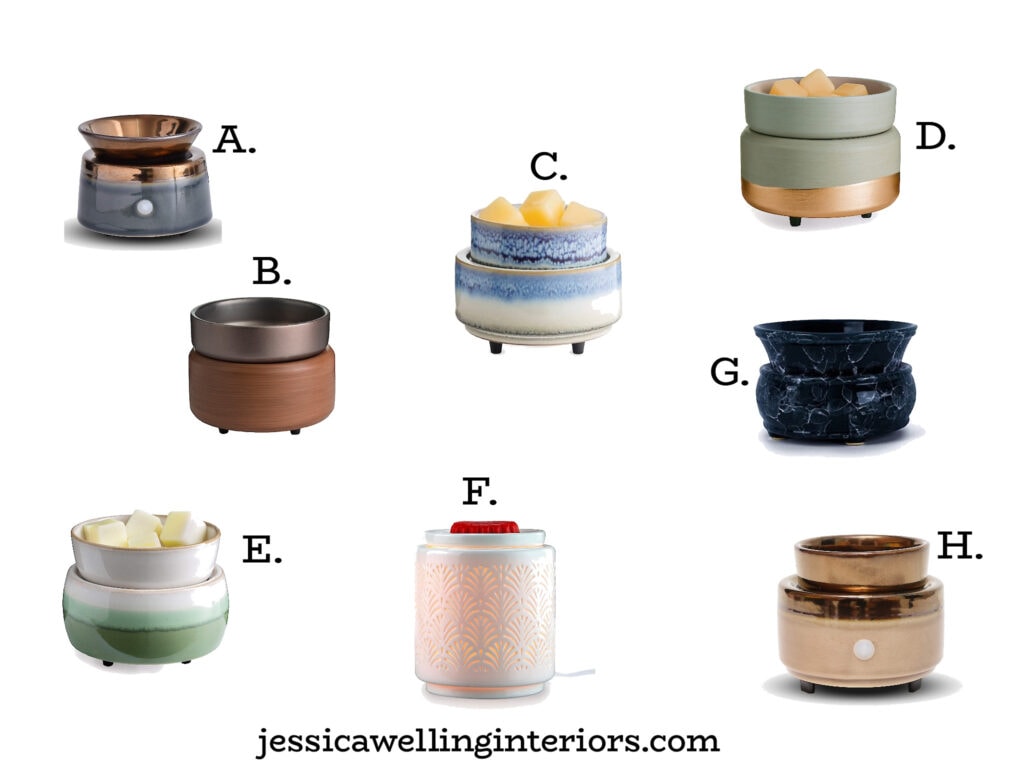 A. Kobodon Ceramic Candle Wax Warmer
B. Golden Pewter Walnut Wax Melt Warmer
C. Candle Warmers Etc. Blue Wax Warmer
D. Midas 2-in-1 Fragrance Warmer
E. Candle Warmer, Etc. Wax Warmer in Green
F. Star Mood Pluggable Ceramic Fragrance Warmer
G. Marble Design Electric Fragrance Air Freshener
More DIY Candles & Wax Melts…
How to Make Scented Candles for Fall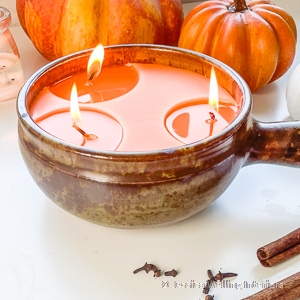 The Best Wax Melters On A Budget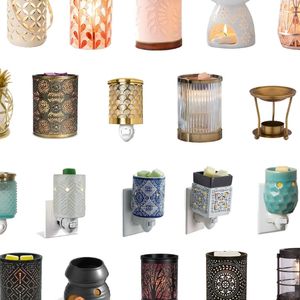 Easy Orange Clove Soy Wax Melts