20 Brilliant Shoe Storage Ideas
20 Creative shoe storage ideas you never considered for the entryway, closet, bedroom, and even the garage!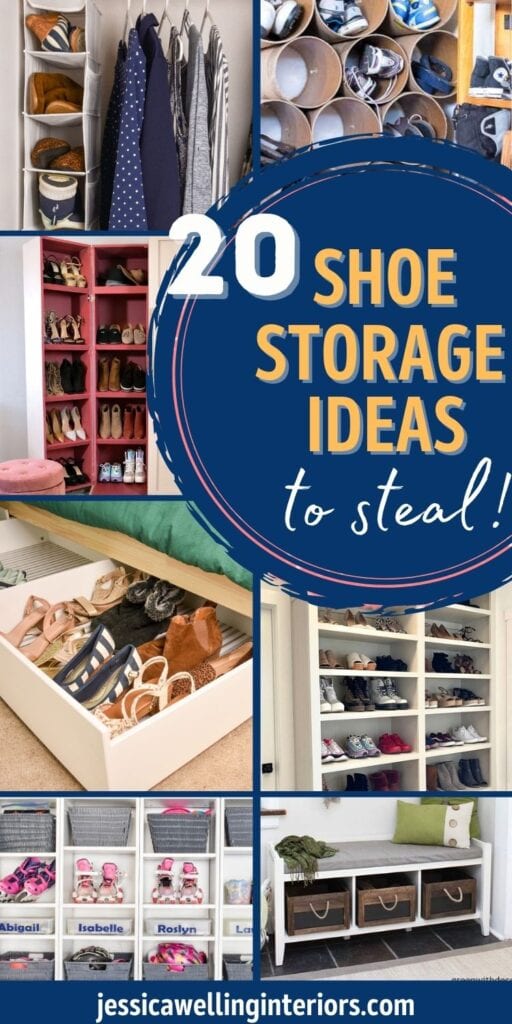 Today let's talk shoe storage ideas. Mostly I'm saying this because I just moved and there are different bins of shoes for different seasons scattered all over the house!
And there are probably a couple bins of shoes in the garage that I haven't even unearthed yet. I'd better get them out of there before some critter decides to nest in someone's shoe!
Getting the whole family to put their shoes away when they take them off is key to having a tidy home. But it can be a hard sell to get everyone on board. At least I know it is at my house!
One of the best ways to keep the shoe clutter in check is to have an easy place to put them away.
My favorite way to start any design or organization project is with a good old fashioned brainstorm. So I'm gathering my favorite practical shoe storage ideas from my own home & my fellow bloggers to share with you.
We'll start with the entryway, and work our way to the bedroom, closets, coat closet, and garage.
Entryway Shoe Storage Ideas
Modified Coat Closet
I'm drooling over this gorgeous coat closet that Carli (Made by Carli) transformed into a multi-function hard-working entryway storage space, complete with built-in shoe storage shelving.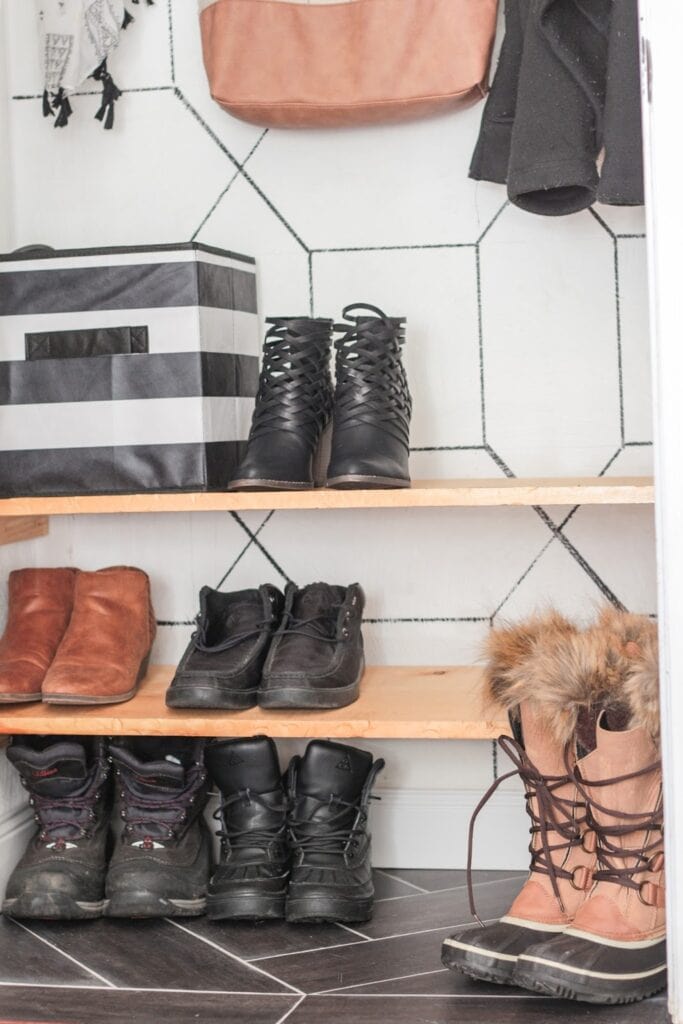 Shoe Storage Bins
Don't underestimate the power of a few simple bins or baskets. I try to choose ones that are easy to keep clean and large enough for several pairs of shoes.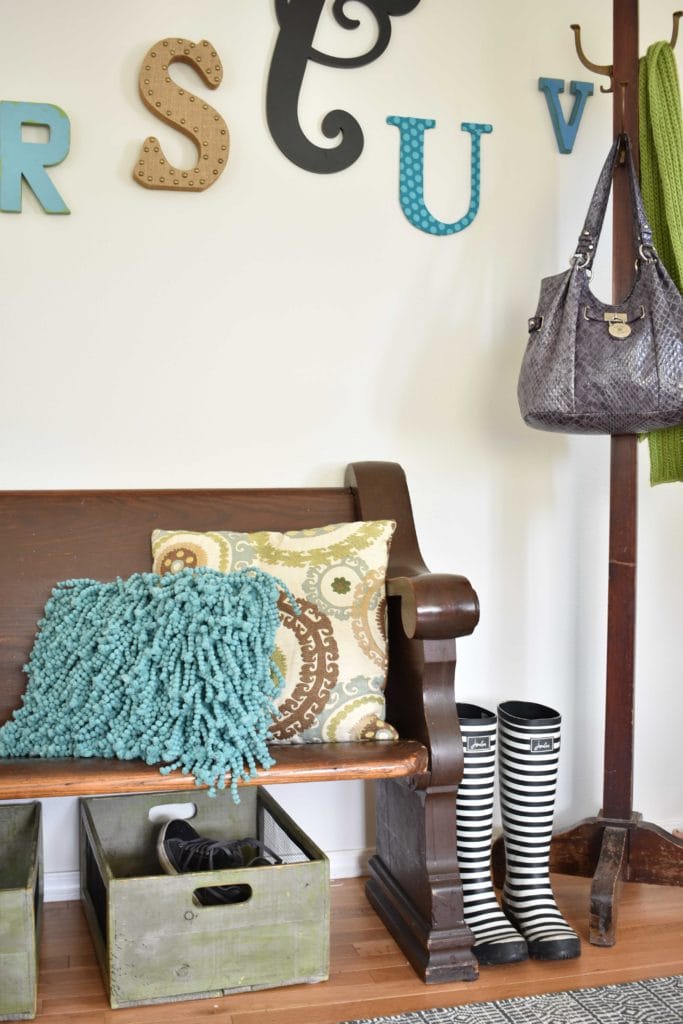 For more entryway shoe storage ideas, check out this post.
Boot Tray
We're currently in the height of muddy season in Seattle so a boot tray is an entryway essential in my house. It keeps the mud and water at bay…or it would if Fozzy didn't bring in twice as much mud from the backyard every day!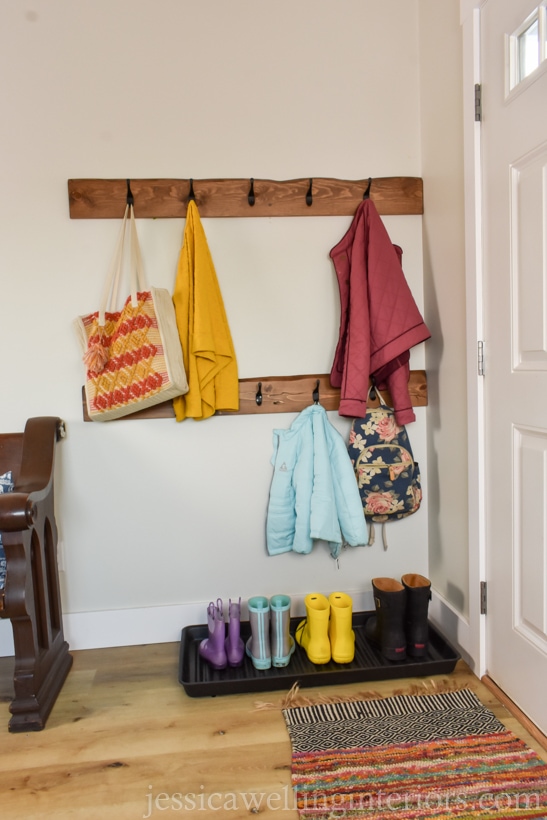 And here's the tutorial for the DIY coat racks in the photo above.
Shoe Storage Bench
I love this simple shoe bench from Meg at Green With Decor. Here are so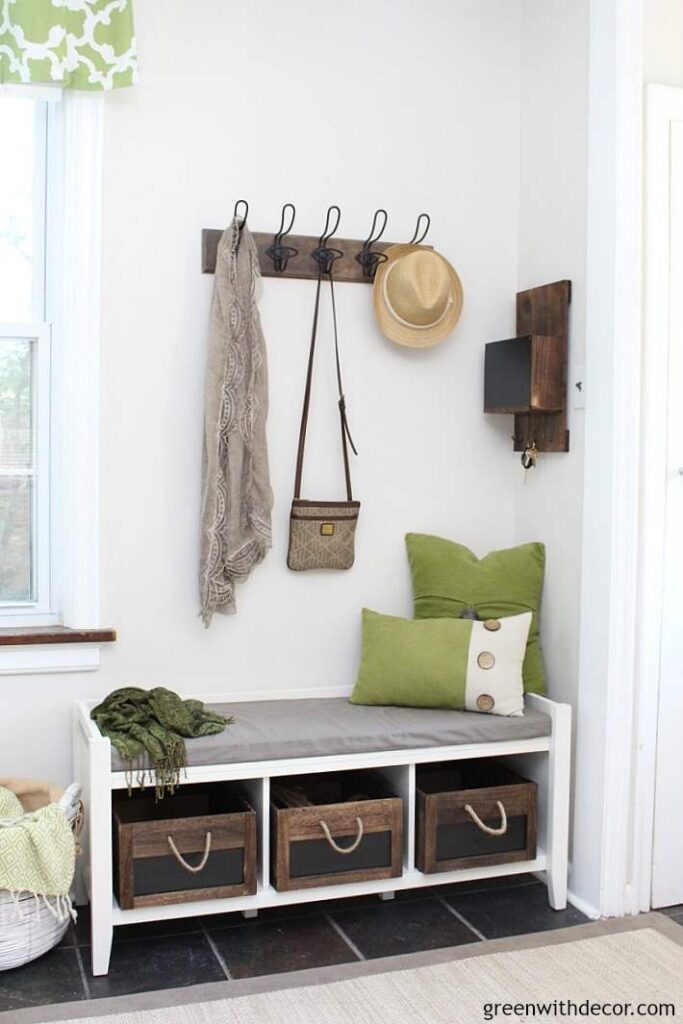 Bedroom & Closet Shoe Storage
Hanging Shoe Organizer
If space is tight, a simple hanging shoe organizer like the one below is a cheap and easy solution. I used one of these in my dorm closet in college and it was perfect for the small space.
This is also a great solution if you keep most of your everyday shoes by the front door, but want to store off-season sandals and dress shoes in the closet.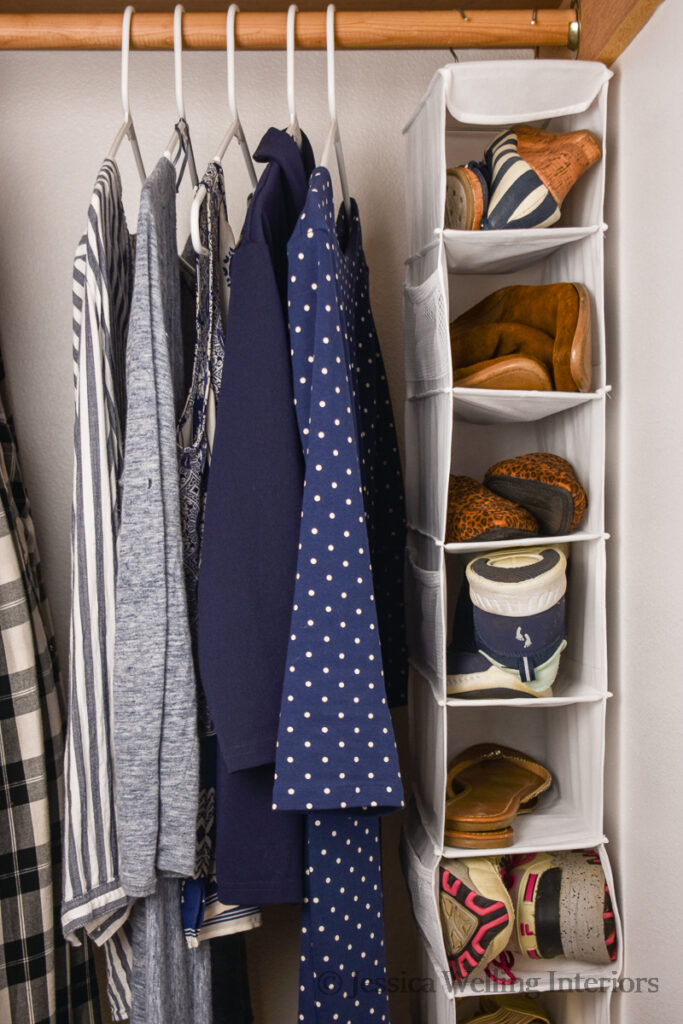 You can also get a wider hanging shoe organizer like this for your closet or even a coat closet if you have more pairs to store.
Bookcase Shoe Organizer
Bookcase Shoe Organizer
I recently got this inexpensive Ikea bookcase (it cost around $39 and took around 30 minutes to assemble) to store my shoes in my walk-in closet. I chose it because I wanted something with a small footprint that wouldn't overwhelm my small walk-in closet, it was cheap, and let's face it: it was in stock.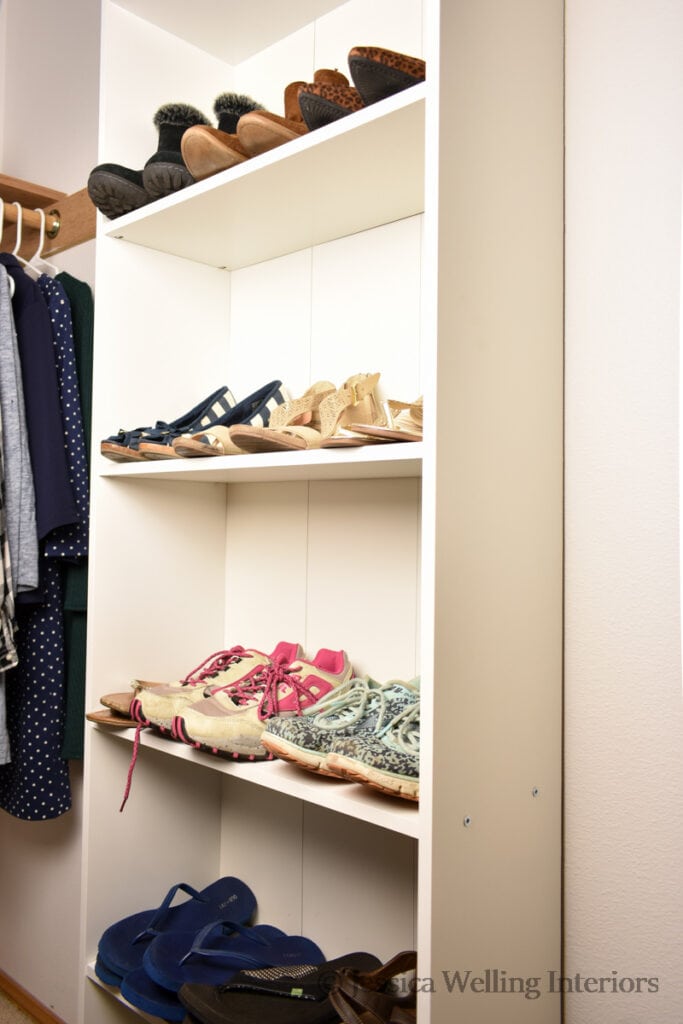 Ashley from Handmade Home made this gorgeous DIY shoe cabinet for her closet.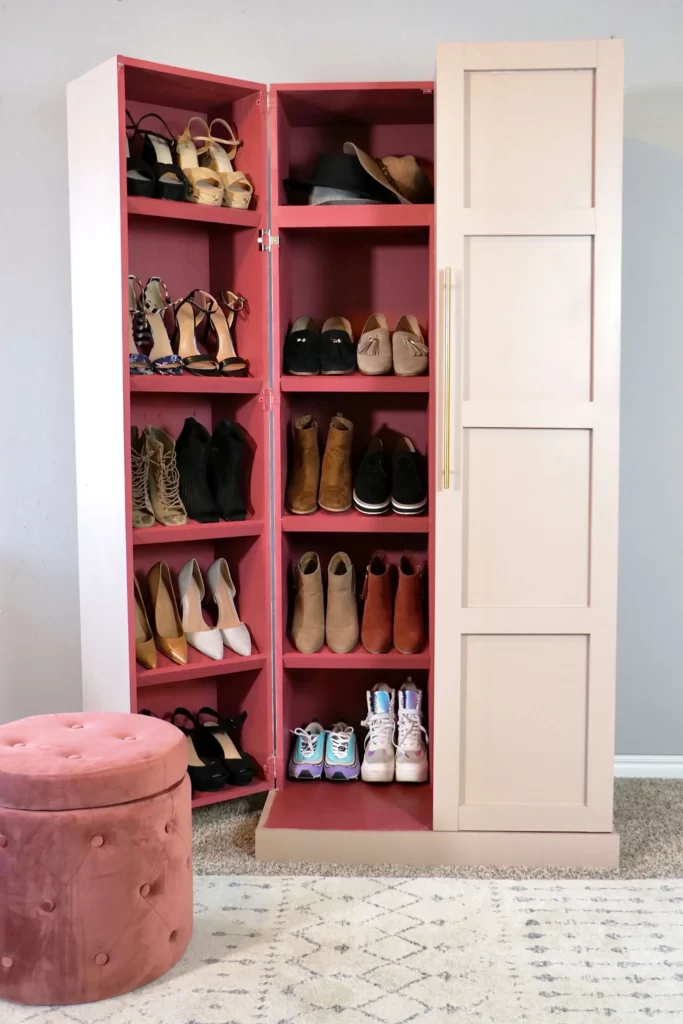 Under-Bed Shoe Storage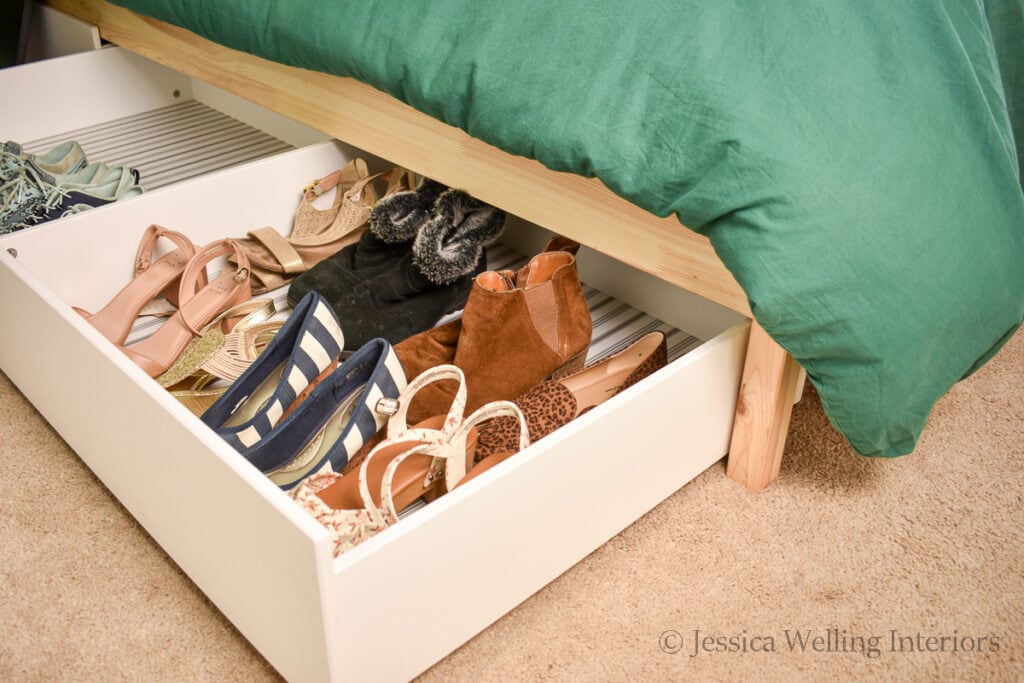 Paula from Sweet Pea made this fabulous under-bed storage drawer for her off-season shoes.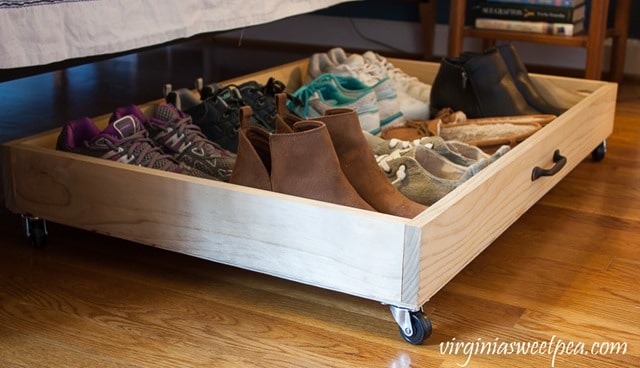 Garage Shoe Storage Ideas
Many families use the garage as the primary entry to their homes. So it often makes sense to store shoes out there.
My friend Kippi (Kippi At Home) built this cool garage shoe rack for the whole family. Check out her website for the tutorial.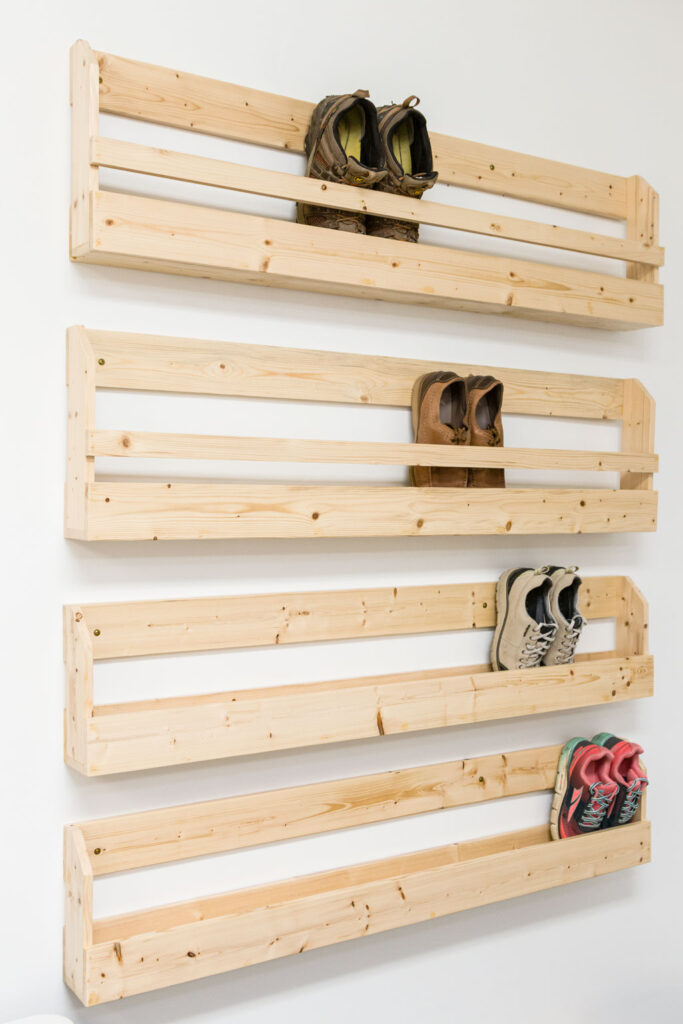 Garage Storage Cubbies
My sister created these cool Ikea-hacked cubbies to store shoes & boots, backpacks, and sports equipment in her garage.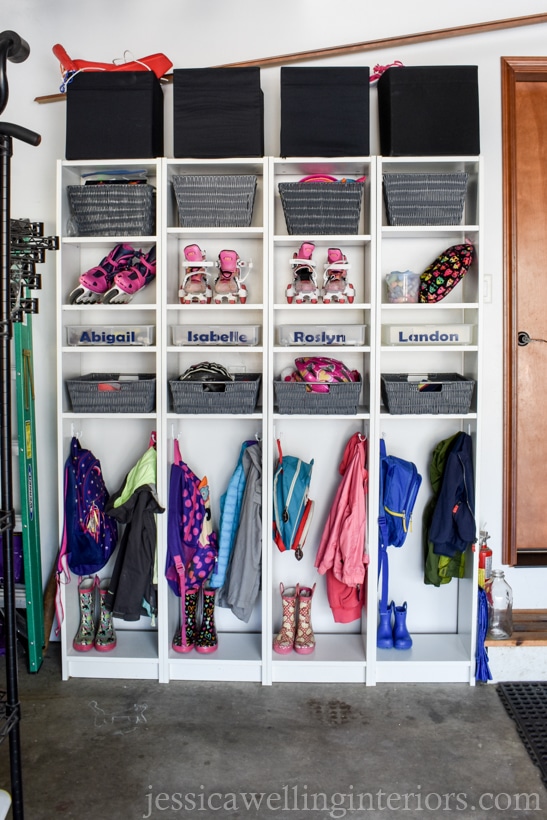 Garage Shoe Cubbies
Heather from the Heathered Nest made these cool shoe cubbies with concrete form tubes.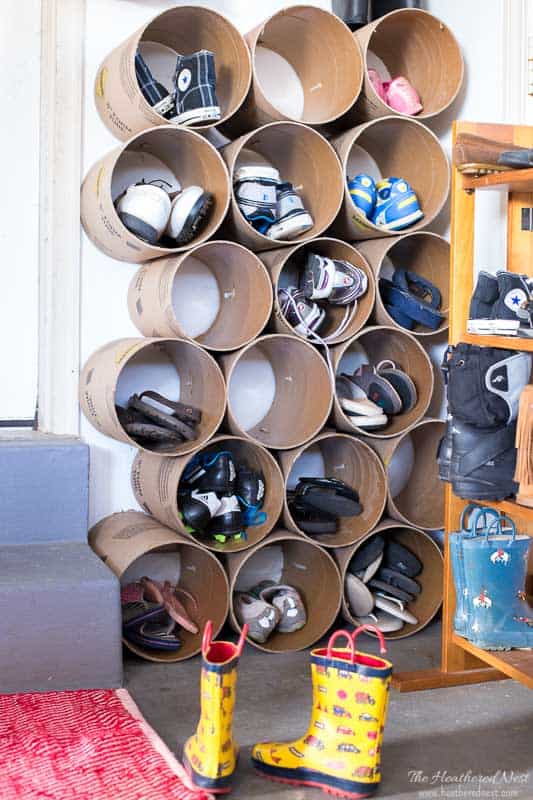 I hope this gave you some great ideas for shoe storage in your own home!
More Shoe Storage Ideas…
The Best Entryway Shoe Storage Benches Under $100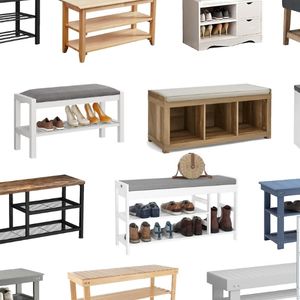 Entryway Shoe Storage Ideas for Every Space