Get Your Home Back-To-School Ready! 6 Systems for Stress-Free Mornings and Happy Mamas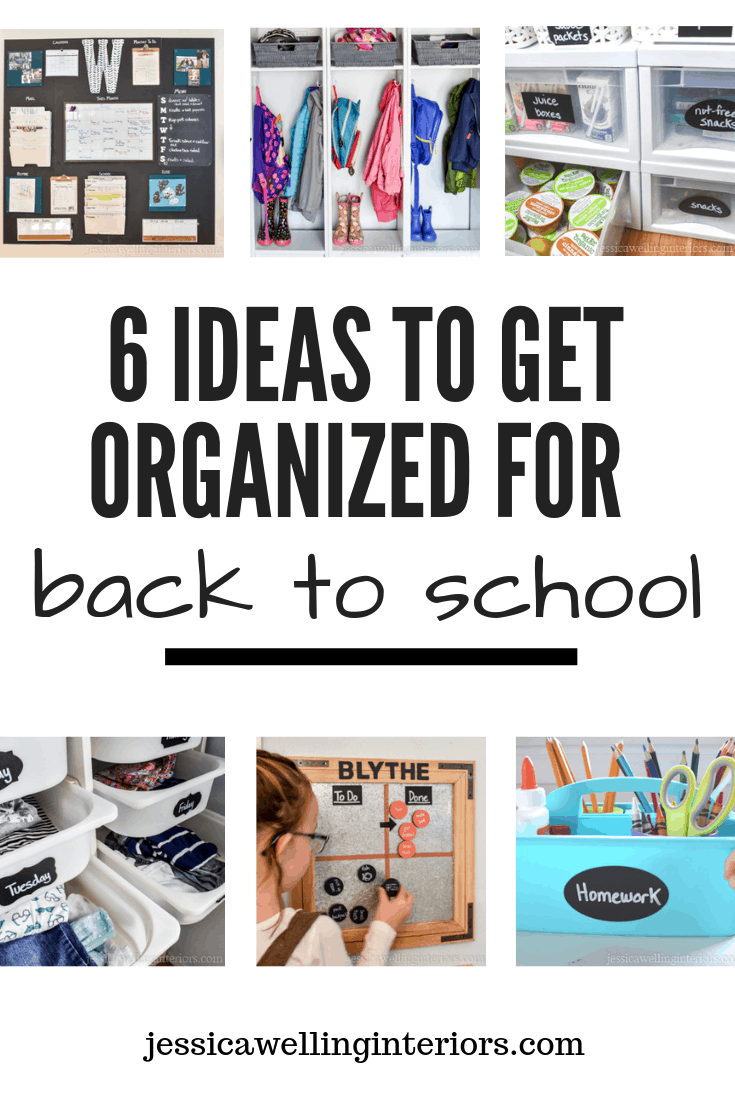 We're having a couple of grey rainy days here in Seattle. It's early August, and the weather makes me think about school… and how much I'm looking forward to it starting again. Is that terrible?
To be perfectly honest, Summer is hard for me. I like the idea of summer… relaxing in my gazebo reading a good book and having friends over for fires. And those things are great!
But the day-to-day with the kids is a challenge. I'm more of a creative free spirit than a structured routine person. I gravitate toward sleeping in and staying up working til midnight.
But structure and routine are really good for us… so school is good! (And a little bit of Mommy alone time doesn't hurt my sanity either!)
But with school comes the necessity for good systems. Getting everyone dressed in the morning, fed breakfast, teeth brushed, lunches packed, hair done, and to the bus. And then there's homework and school paperwork and more school paperwork oh my!
So I'm doing a series on back-to-school organization. The systems and organization you set up can be both functional and beautiful! And the real reason I'm doing this is because I need to get my own act together before the Fall crazy sets in.
Set Up A Homework Station Or Distance Learning Room
School will look different this year, and I know it will go more smoothly if we have everything we need in one spot, and a dedicated distance-learning space that feels like it's supposed to be part of our home. So I set up this homeschool room, complete with an Ikea-hacked desk. You can see all the details here.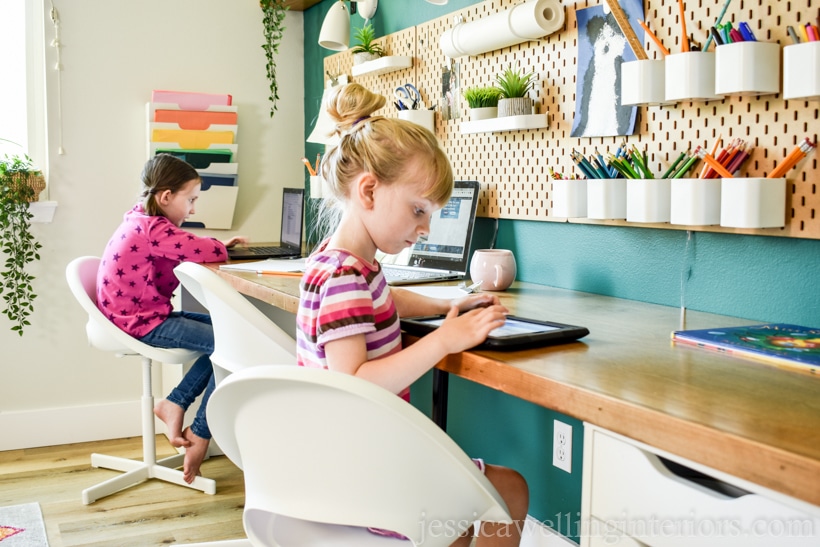 Plan Kids' Outfits Ahead
Set up this school outfit-planning system to make getting everyone dressed a breeze!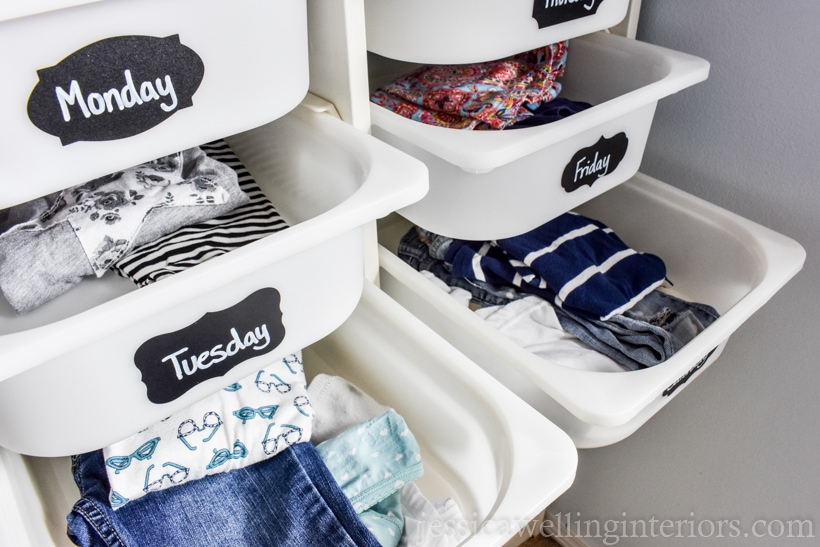 Family Command Center
I set this up last Fall, about a month into school- when I realized that school was expecting me to keep track of and process a TON of papers! It makes a world of difference to have everything organized and accessible in one place! Even if you just have a small space, a family command center is a must-have!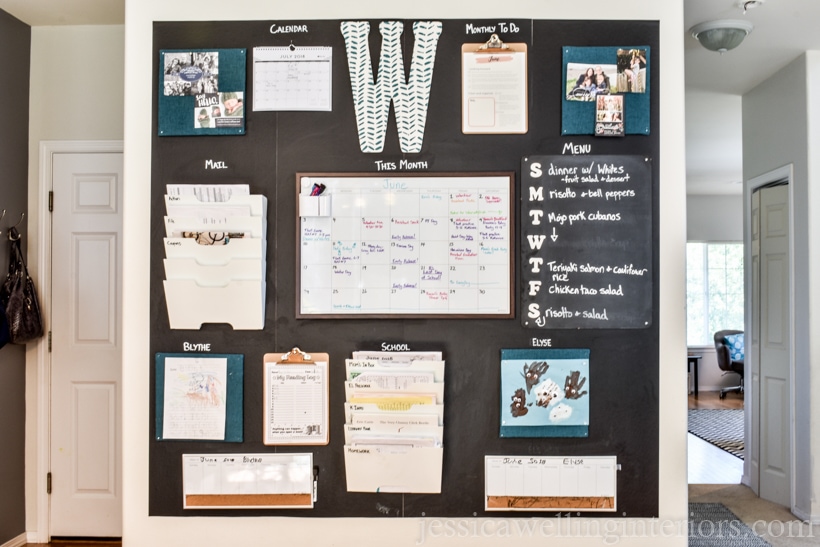 Backpack Organizer
Entry cubbies contain the backpack, coat, and shoe clutter, and make coming and going a breeze! Check out this super-easy backpack organizer IKEA hack. This will be especially helpful when we don't know whether kids will be going to school or learning from home at any given time!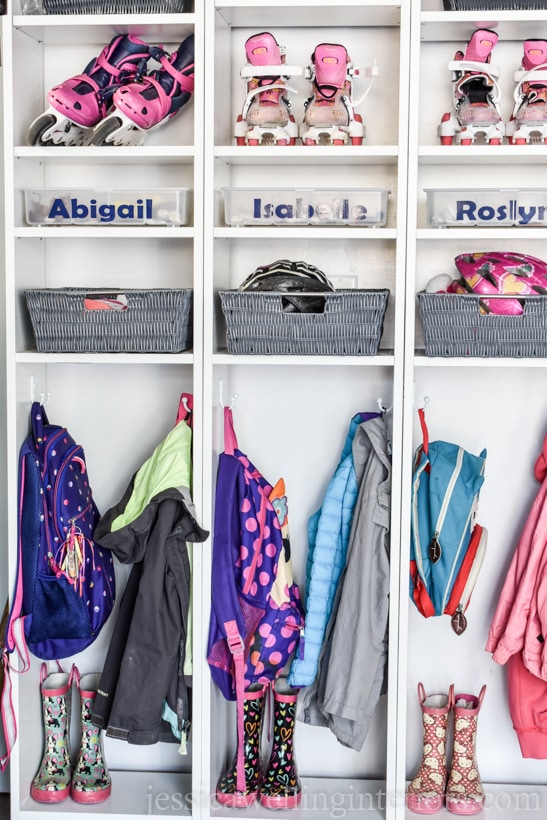 Homework Caddy
Keeping everything we might need for homework in one spot makes school work simpler for everyone- but mostly for me who would be hunting for the scissors instead of making dinner.
Since we usually do homework at the dining table, we store the caddy in a nearby cabinet when it's not in use. I picked up this little tote in the Target dollar section last week for $3.
And these are my favorite chalkboard sticker labels that I'm using on pretty much everything these days. They come with a great chalk pen (that actually works!) too. But I usually use a white paint pen to write the labels on things that get touched a lot so I'm not constantly having to re-write them.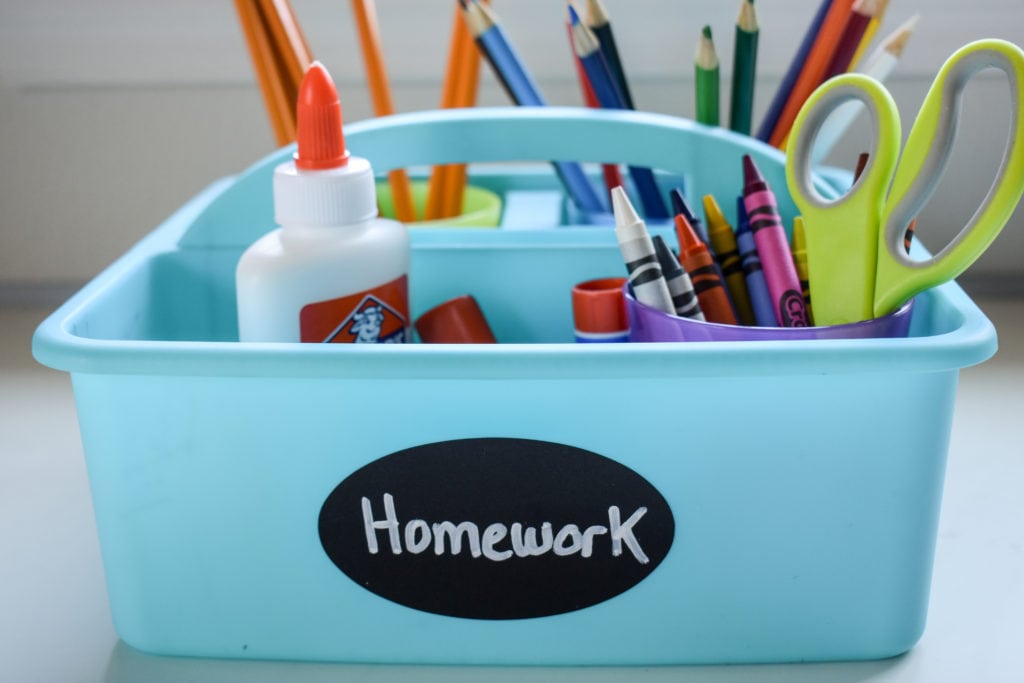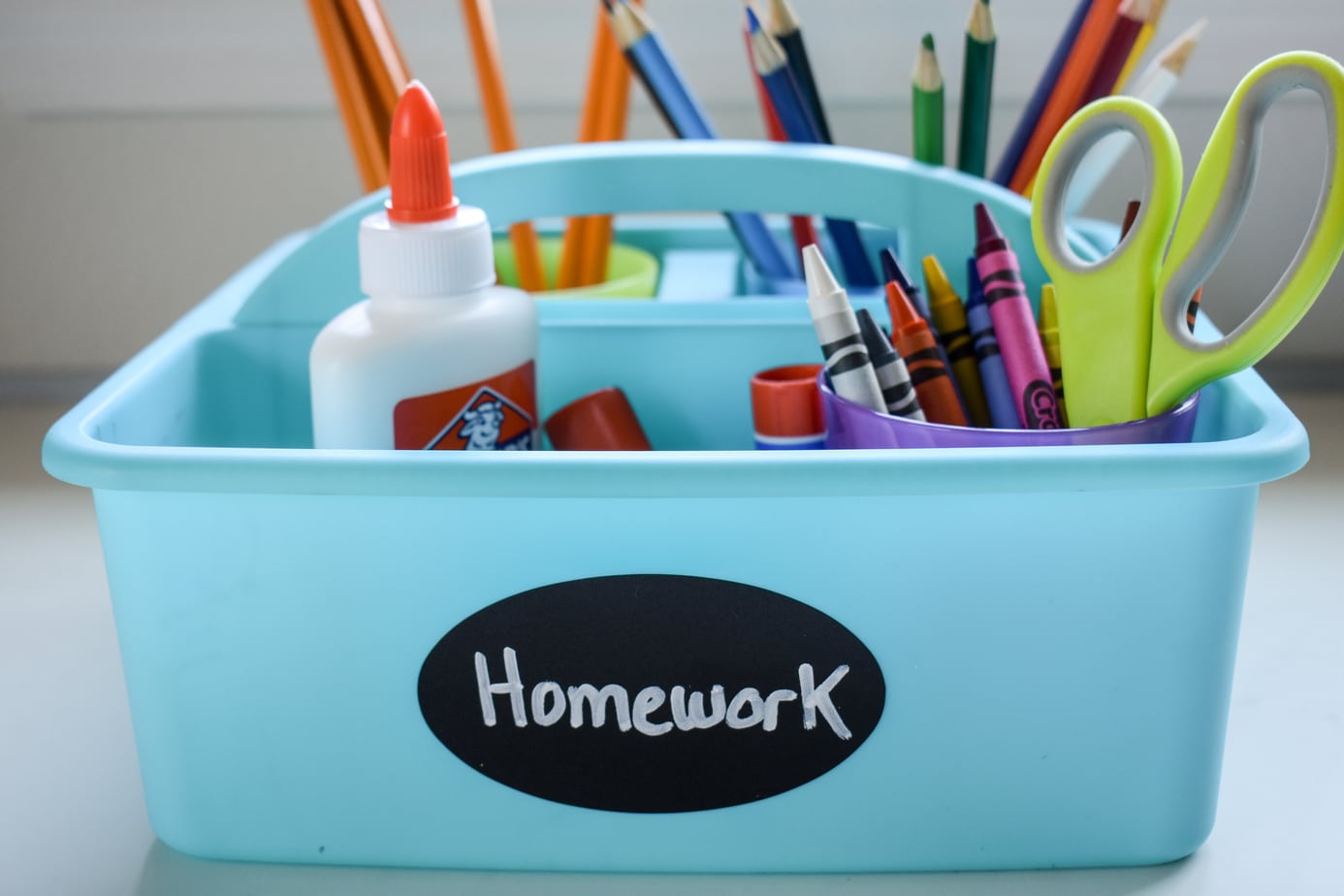 School Lunch-Prep Station
It's no secret that I am organizationally challenged. Anything that adds extra steps before we get out the door in the morning is likely to make us late. So last year I devised a school-lunch-packing method that worked amazingly well. T
his year I've created a lunch-packing station to make the process even smoother. This is a life-saver! You can read all about it here, plus see the products I'm using!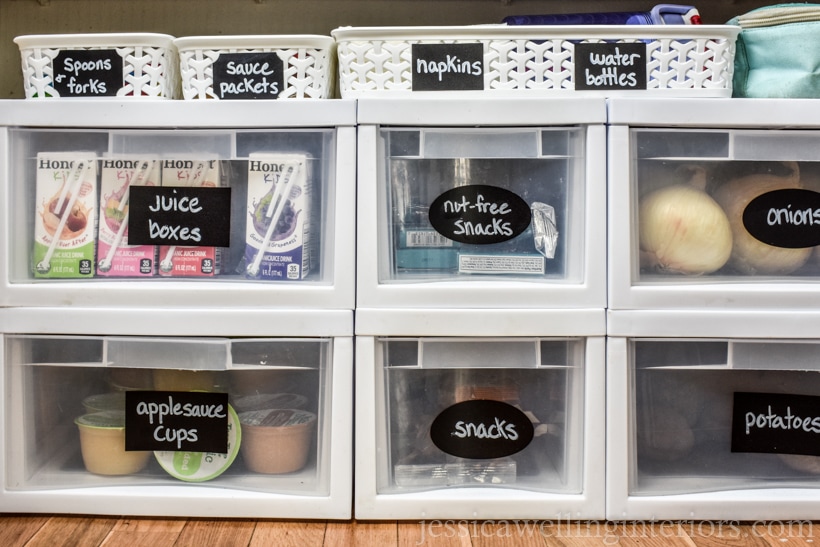 And finally,
Morning Routine Charts
These fun and easy magnetic charts are a great way to keep everyone on track while getting ready in the morning (and they help with bedtime too!). You can customize them however you like.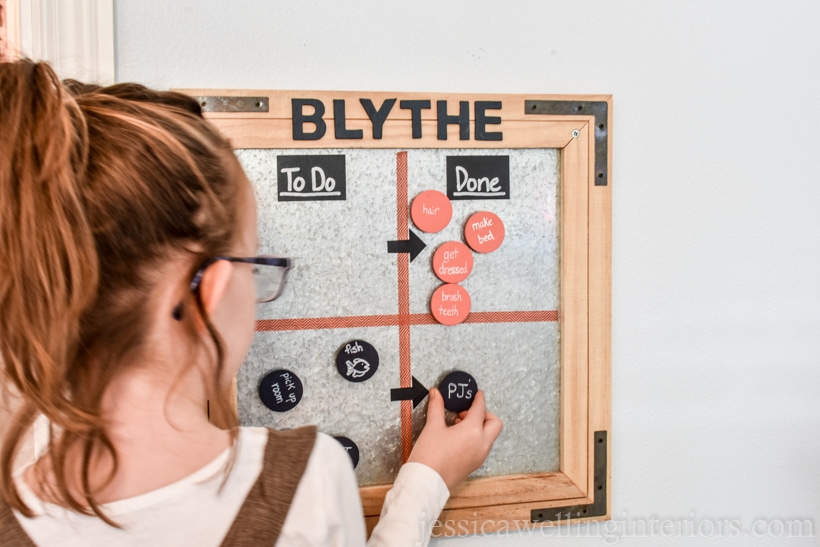 Did you find this post helpful? Please share the love and pin it! Looking for more back-to-school tips? Check out my friend Nicole's post over at Not Quite Supermom HERE!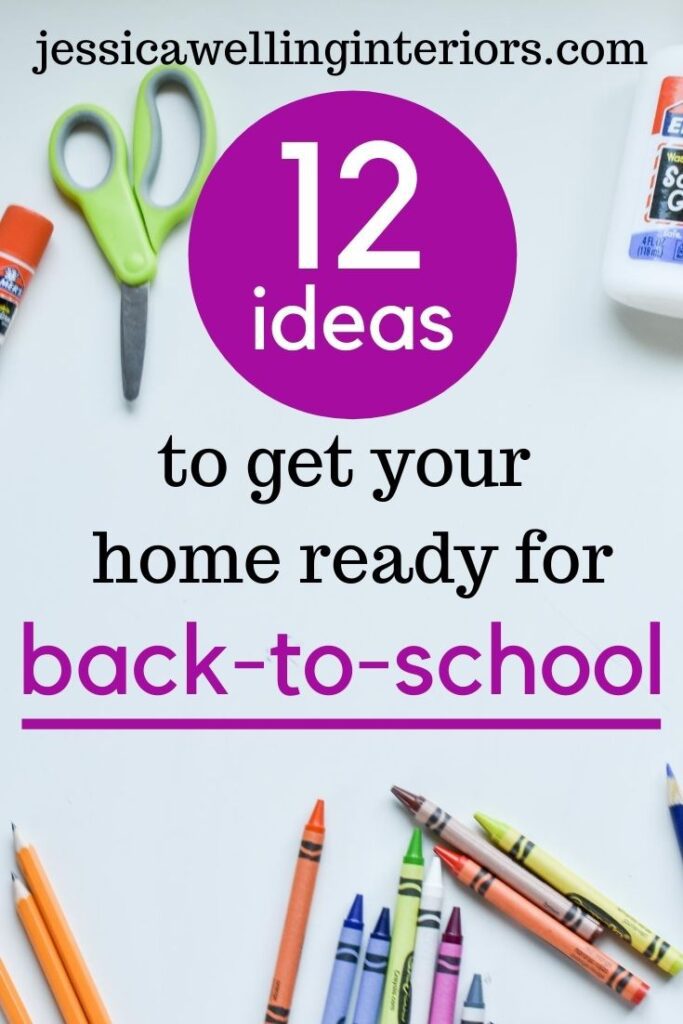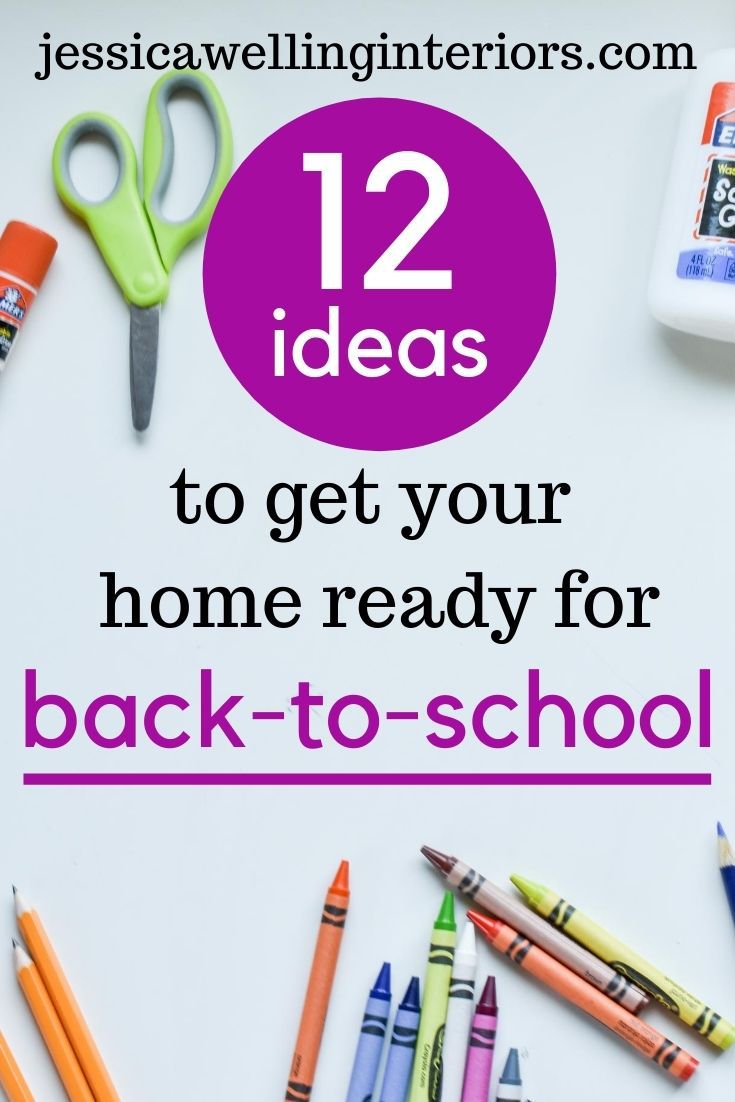 More Home Organization Ideas…
Organize All the Toys, Books, & Games!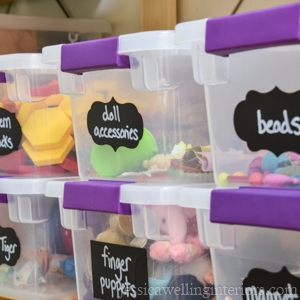 A Messy Girl's Guide to an Organized Pantry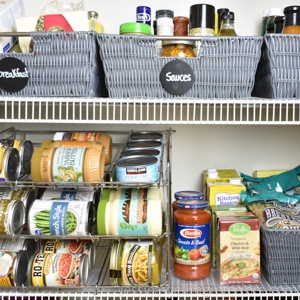 How to Organize Baking Supplies