6 Cozy Home Decor Tips for Fall & Winter
Want to make your home feel cozy this Fall and Winter? These 5 designer decor secrets will help you achieve warm and cozy home decor!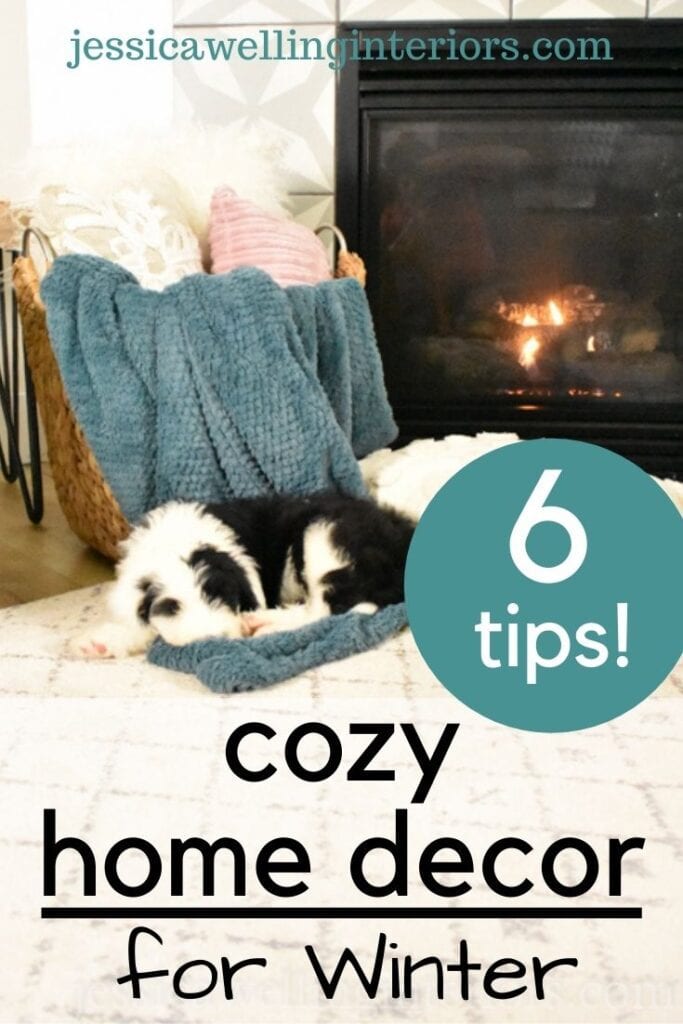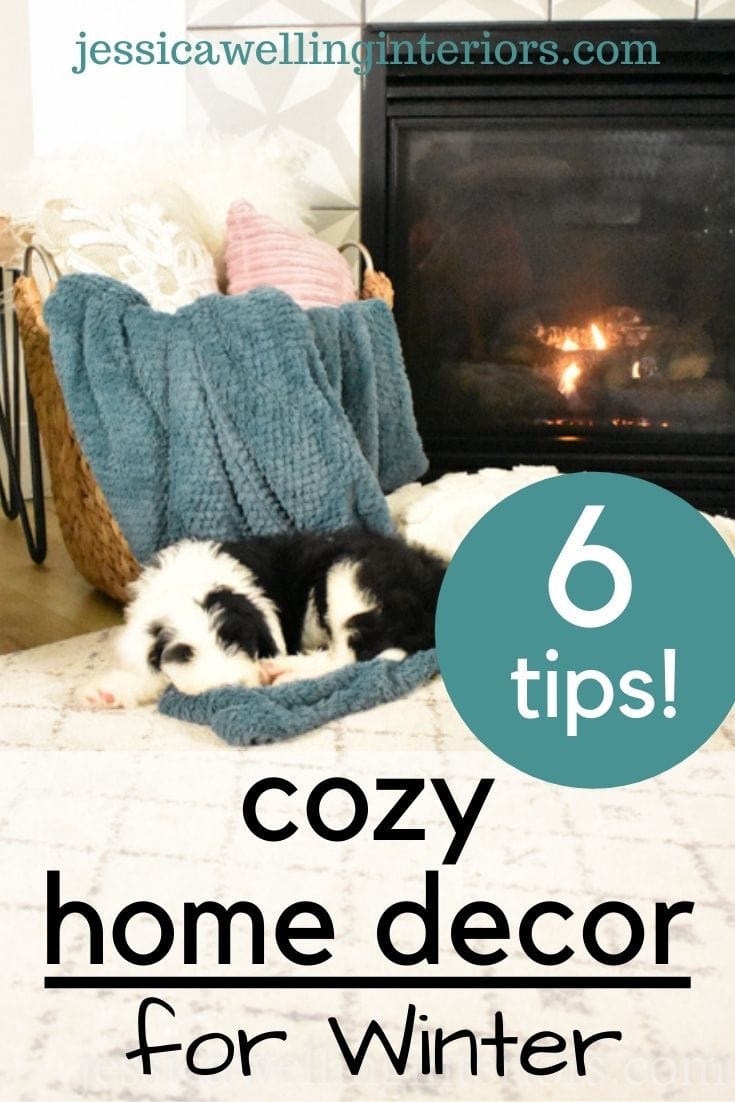 What does cozy even mean? To me, it's a feeling of warmth and comfort- especially when it's cold outside. So how can you create this quintessential feeling in your home?
Back in the olden days, the fireplace was the source of heat for the home. The rest of the house was cold, so it made a lot of sense to gather around the hearth.
Now, in the days of central heating and double- and triple-paned windows, these aren't really essential for warmth. But most of us still associate them with a feeling of calm and well-being during the colder months.
So let's talk about a few simple things you can do to up your cozy factor this Winter!
1. Bring in Textiles
Cold, hard surfaces are the opposite of cozy. Bare floors and windows without window treatments can quickly make a room feel cold and uninviting. The fabric you bring into the space in the form of upholstery, curtains, rugs, pillows, and blankets will make or break your cozy feeling! More on each of these below!
2. Throw Pillows & Blankets
Nothing says "Come cuddle up with a good book," more than a comfy chair with a couple of soft throw pillows and a blanket. When I choose these, I'm looking for pillows and blankets with a variety of textures. Here are a few ideas: velvet, faux fur, corduroy, chenille, crochet, cable-knit, etc.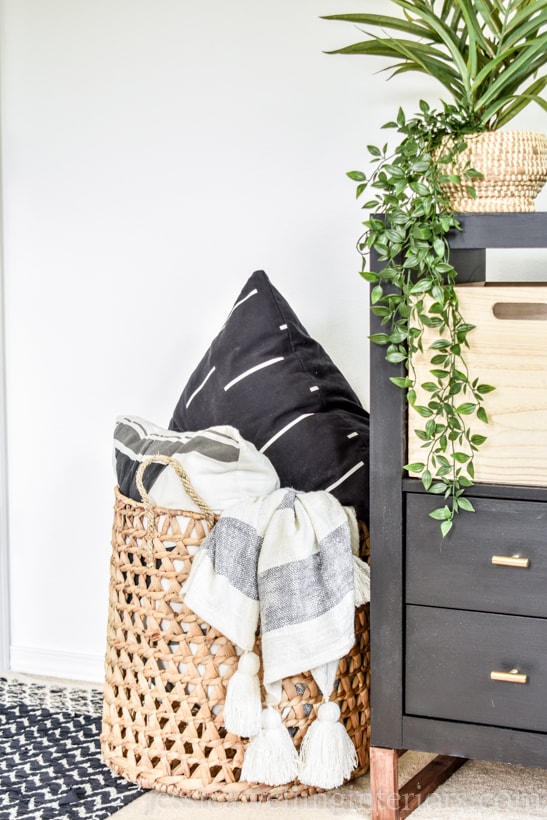 I also like to add in throws with tassels and pompoms.
My favorite way to change up my throw pillows is with inexpensive throw pillow covers- I just switch them out with the seasons- or whenever the mood strikes! You can see all my top picks for inexpensive throw pillow covers here!
2. Move Your Furniture
I know it seems like it makes sense to push your living room furniture up against the walls- after all, this makes the most open floor space. But if you pull everything away from the walls and arrange your furniture into a group (in the design world we call this a "conversation group"), you can significantly improve your room's cozy factor!
3. Orient toward the Fireplace
I think we can all agree that a crackling fire is the pinnacle of cozy ambiance. Not everyone has a fireplace, and that's fine. But if you do have one and your furniture isn't facing toward it, you're missing a huge opportunity! Even if the fireplace doesn't work, orient your furniture toward it!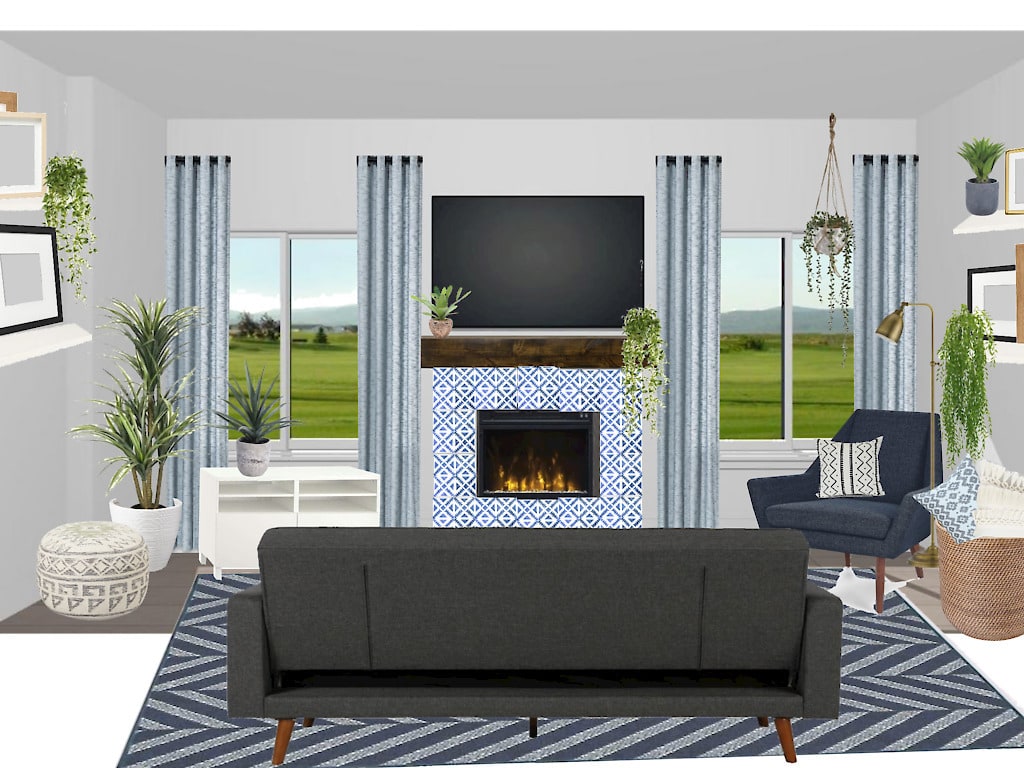 4. Get a Rug!
If you have hardwood or tile floors, a well-chosen rug has the power to pull a room together! I even use rugs over wall-to-wall carpet on occasion. In a living room, the rug anchors the seating area. Think of it as an island of cozy for all the furniture to gather around.
If you need some ideas, here are my favorite stylish area rugs that won't break the bank! Click here for neutral rugs, and here for colored rugs!
And one more note on rugs. If you have kids, pets, or are just a messy person like me, DO NOT get a white or cream-colored rug! Just don't do it. You can thank me later. For more kid-friendly design tips, check out this post!
5. Grey Is Not a Cozy Color!
Grey had a HUGE heyday a few years ago, and for some folks, it's still going strong. It was pretty, but it didn't do much for making our homes feel bright, cozy, or cheerful. Why? It's the color of drab winter dreariness! The exact thing we're trying to combat with our cozy home decor.
I'm not saying get rid of everything you own that's grey. But consider painting your walls a different color, like a nice bright white! And I would also suggest bringing some brighter, warmer colors into the mix.
Okay, I hope this helps you make your space feel warm and cozy this Fall and Winter!
6. Upgrade Your Lighting
Be sure to choose warm white light bulbs for your home. Light with a blue cast is what I call "prison lighting". It does not belong in your home!
Okay, I hope this helps you make your space feel warm and cozy this Fall and Winter!
More Cozy Home Decor Ideas…
How to Brighten a Dark Room: 6 Easy Things You Can Do Right Now!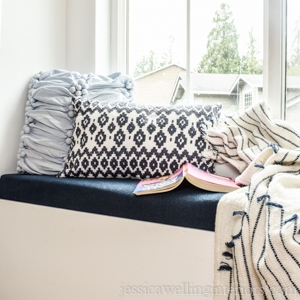 Modern & Cheap Throw Pillow Covers in Every Color!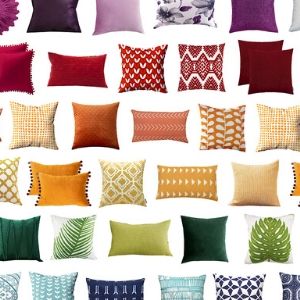 Fall Living Room Decor: Cozy Throw Pillows & Blankets!