How to Style Indoor Plants: 6 Designer Tips
Modern houseplants are a must-have! Learn to style indoor plants like a pro with these 6 simple tips on pots, placement, and plant choice.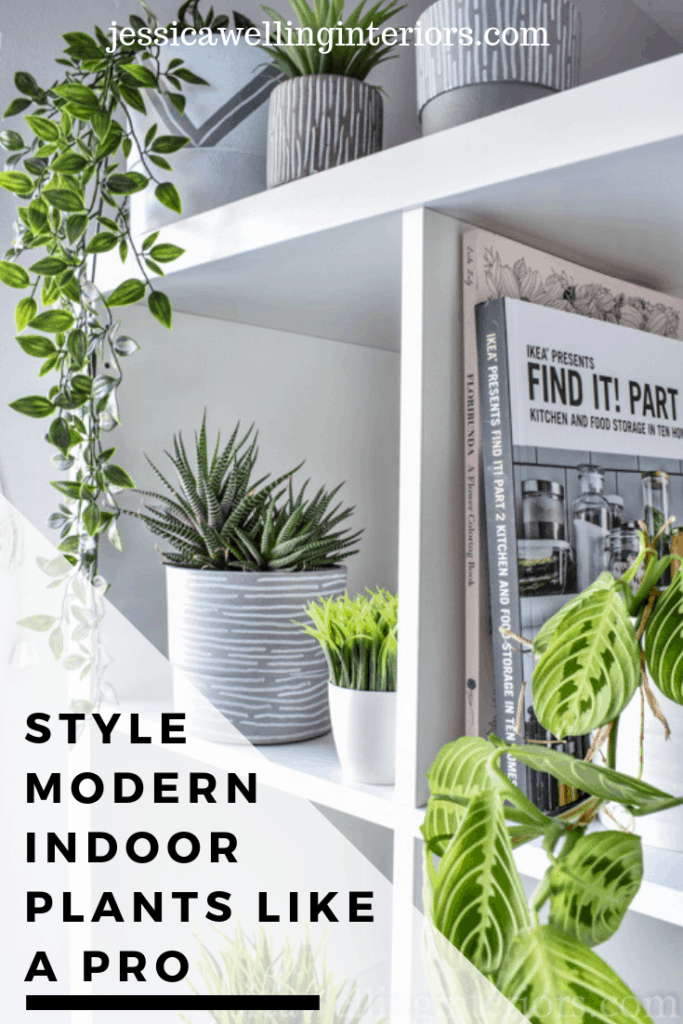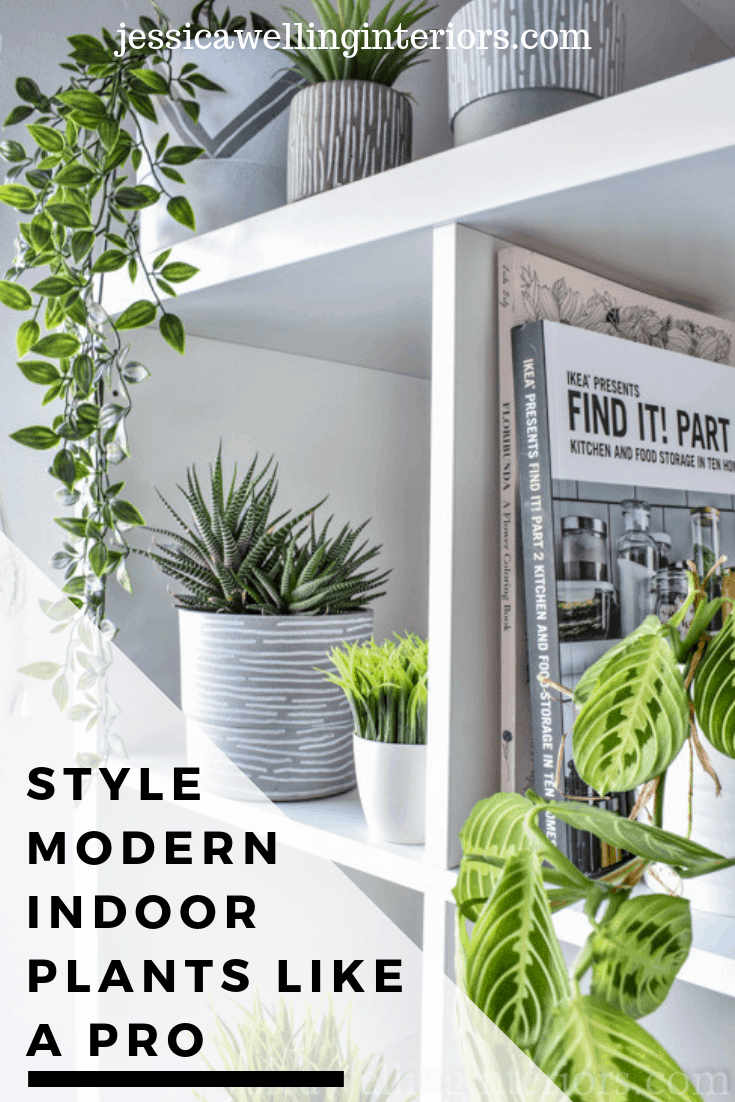 I cannot tell you how excited I am that indoor plants are making a huge style comeback! I love love love them, so of course I'm working on turning my house into an indoor jungle.
I'm adding to my collection, and today I want to give you a peek into my thought process as I'm choosing plants, pots, stands, and arranging them.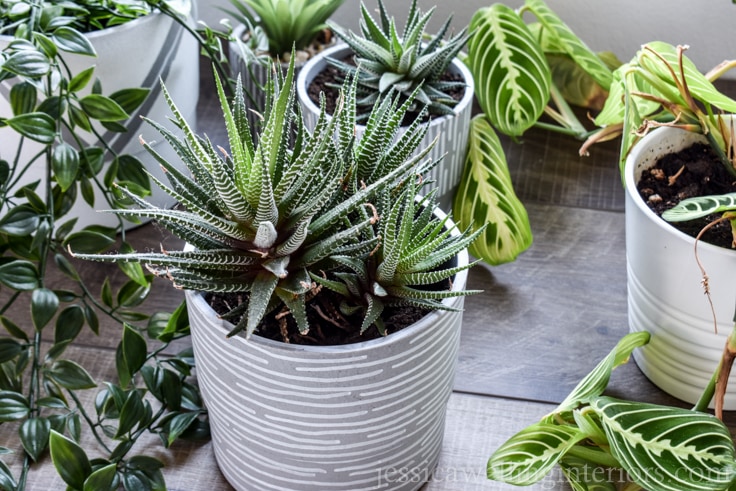 1. Real and faux plants are both great!
I know for the longest time there was a stigma against fake plants. Perhaps because of this: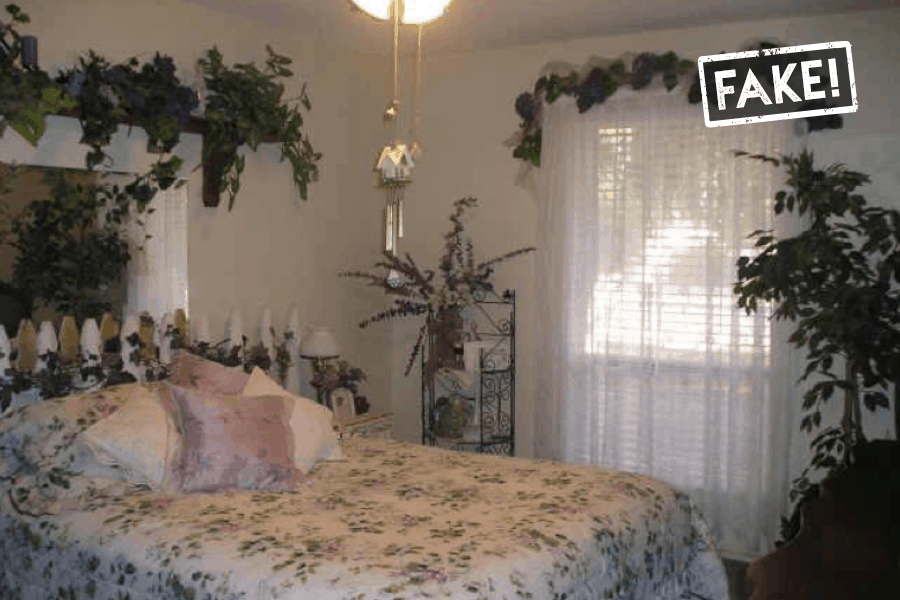 Image courtesy of The Close
But now you're free to let go of the stigma and embrace real-looking faux plants. Emphasis on REAL-LOOKING! Unless of course you are a master indoor gardener and prefer real ones.
I'm personally more of an outdoor gardener. It seems to help that the plants get watered from the sky instead of depending on me to remember to water them! That said, I do have some real indoor plants, and I'm going to do my best to keep them alive!
I will note that anything hanging, up high, or not on the main floor of my house will be fake, just because I'm not really looking for more complicated things to take care of in my life. I've got kids and a dog for that!
2. Look for interesting leaf shapes, colors, and patterns.
When I'm shopping for indoor plants, I'm looking for leaves with interesting patterns, like this prayer plant (below right).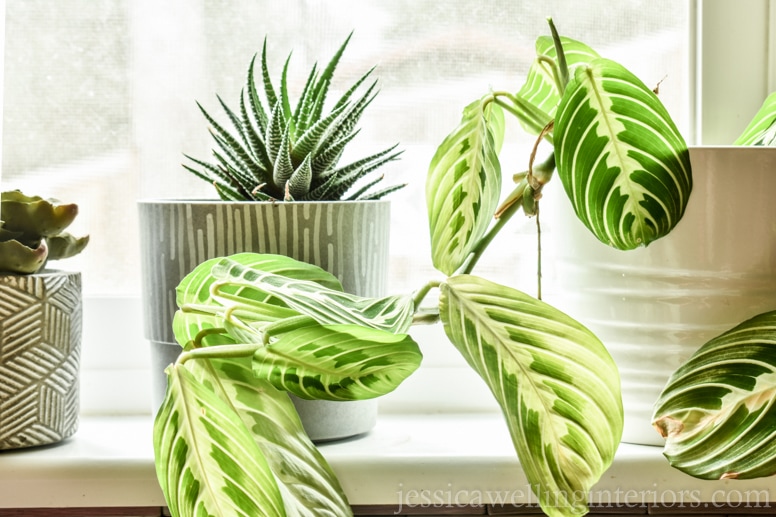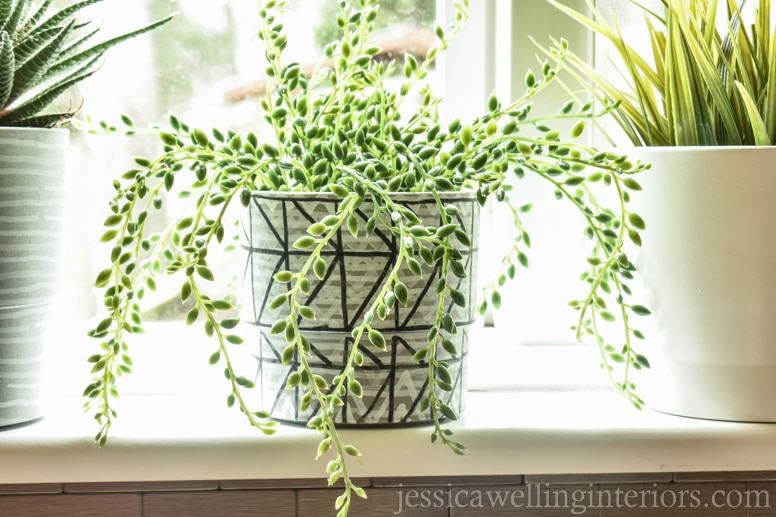 I want succulents with thick leaves or interesting growth patterns, plants that grow upward, and ones that send vines trailing down. Look for interesting shapes, textures, and colors.
Think of plants like you would art or decor accessories. You don't want them to all be the same!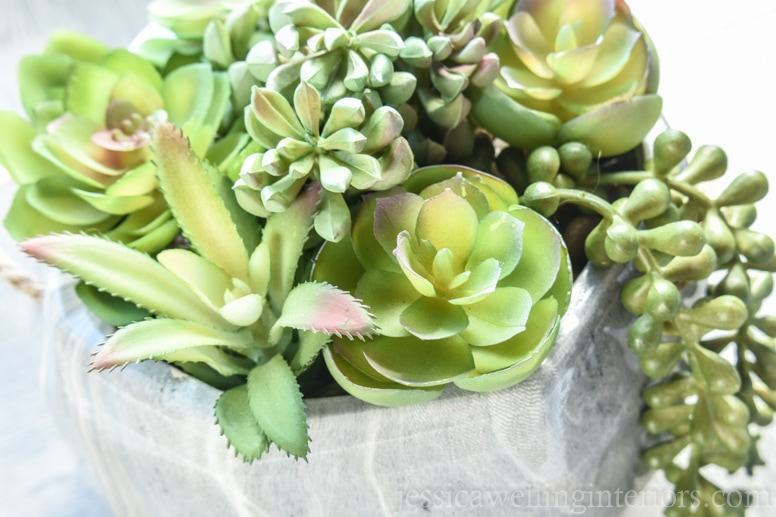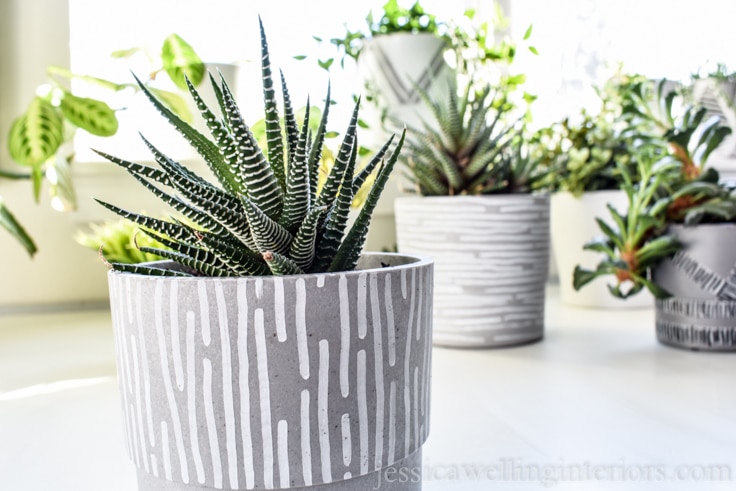 My friend Lori over at Greco Design Company is much more knowledgeable about real houseplants than I am, and she painted this gorgeous diagram. You can read her guest post, A Guide to Caring for Easy-to-Grow Indoor Plants, at Kenarry: Ideas for the Home.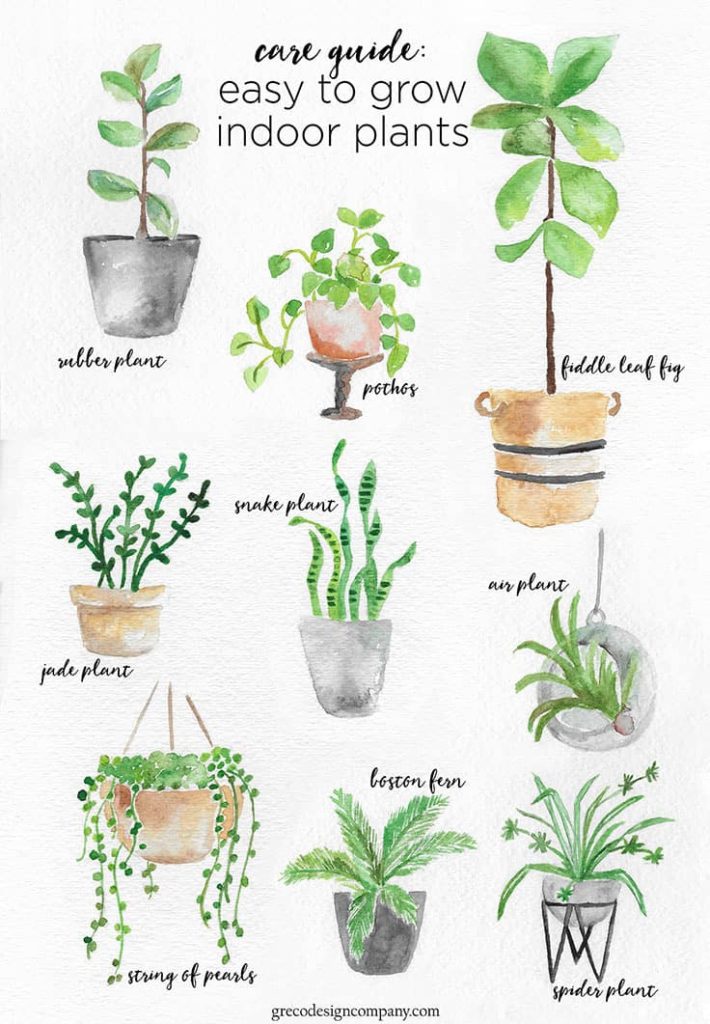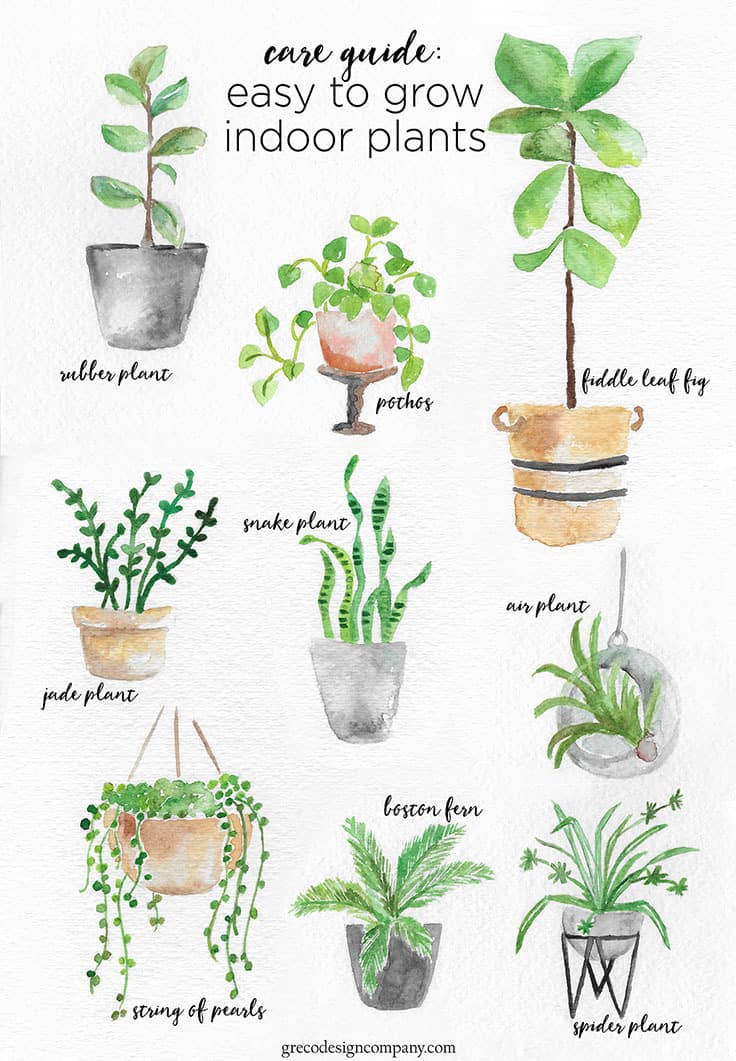 3. Size matters!
Once again, we're looking for playful interest and variety. I love the statement an oversized plant or even tree makes. These should be paired with smaller plants. Large plants and trees are great for bare corners and awkward transitions between furniture too! You can see my favorite faux indoor plants here!
I actually found this large parlour palm in the closet office at the thrift store for $10 a few months ago. I did pay the kids $2 to wipe the dust off all the leaves… but still you can't beat $12!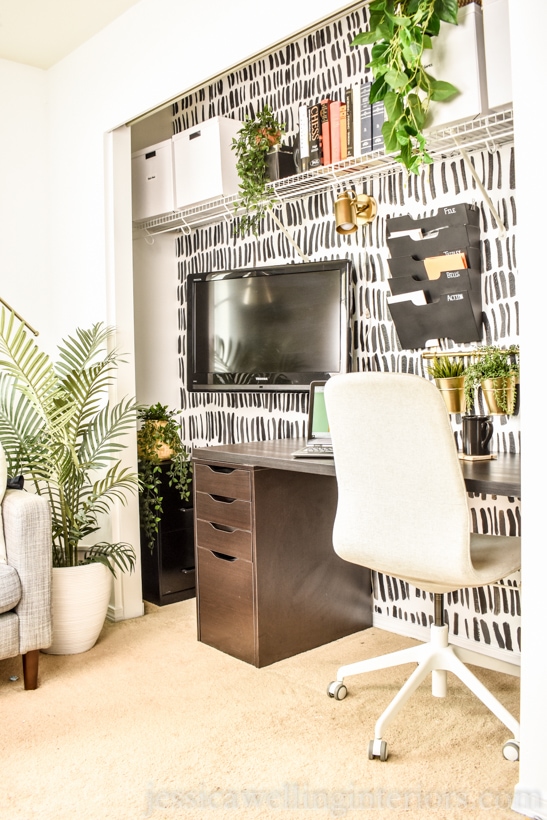 4. Place plants at different heights.
In addition to choosing plants and pots of different sizes, I try to place them at different heights in a room. This allows the trailing plants to hang down, while others send spikes upward. It's all about creating visual interest.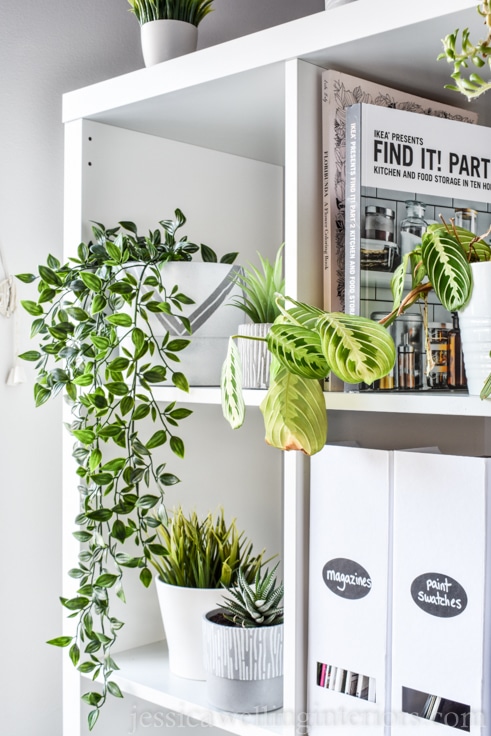 This applies not only to book shelves, but to the whole room. I like to hang plants from the ceiling, place them on end tables & nightstands, window sills, mantels, wall shelves, etc.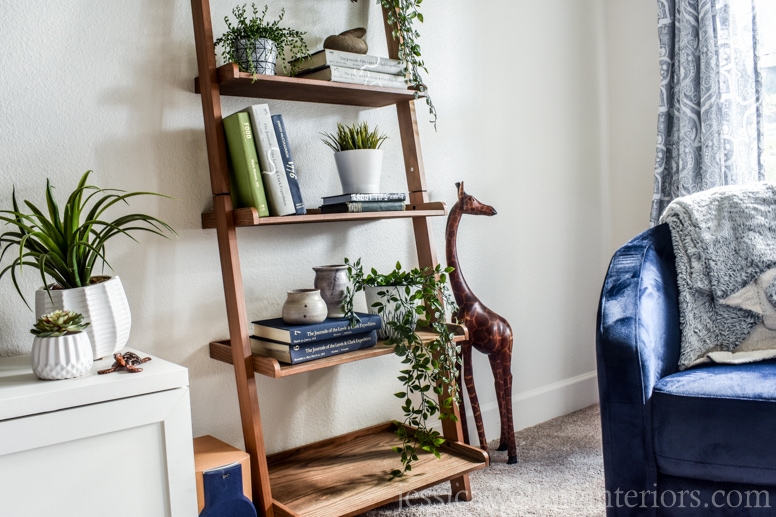 Here's an indoor vertical garden I built for our TV room. Did I mention I'm obsessed with garden walls?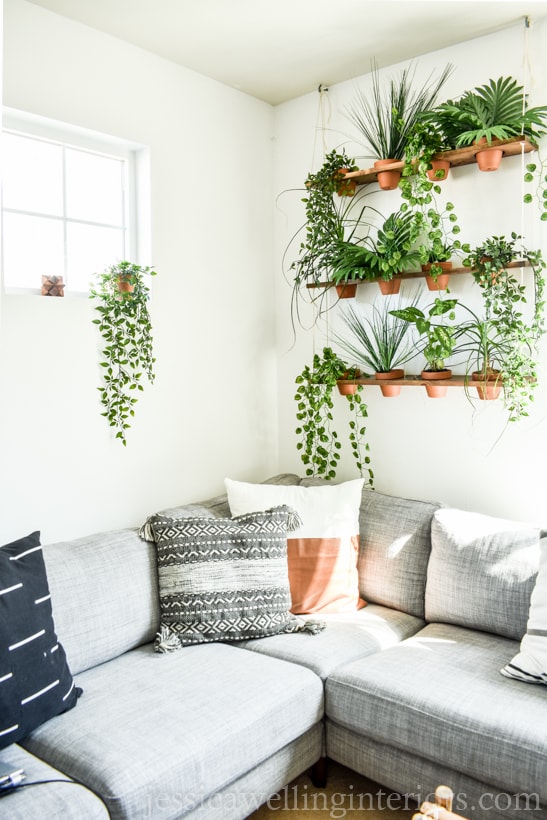 5. Choose your pots carefully.
The pots contribute almost as much style to a room as the plants growing (or pretending to grow) in them! So don't overlook your planters. I look for modern shapes and patterns. Containers with straight sides generally feel more modern than ones that flare out at the top like a traditional flower pot.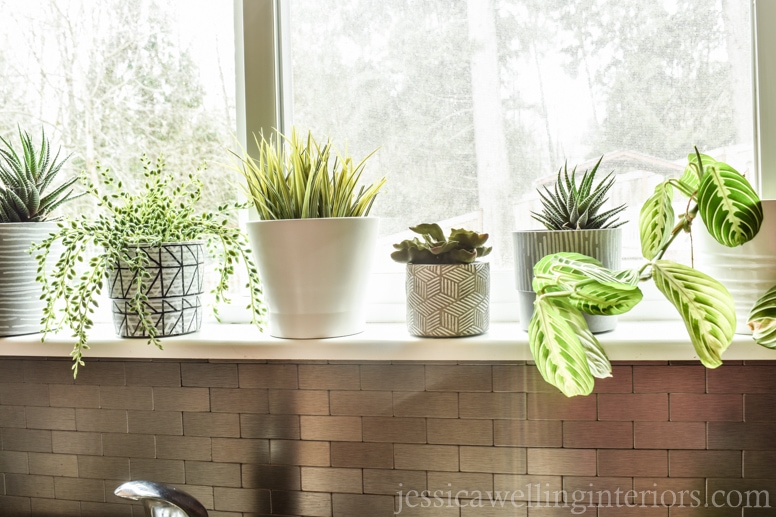 Pots can be expensive, so I've decorated a lot of my own modern indoor pots with spray paint and paint pens. This tutorial will show you how to make modern pots for just a few dollars!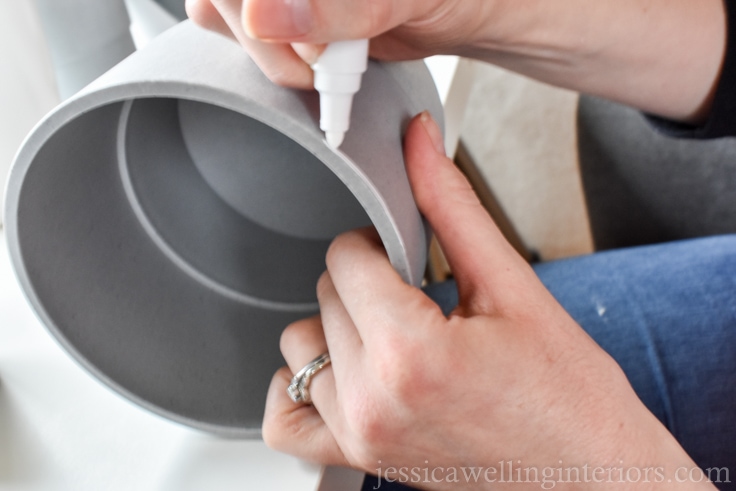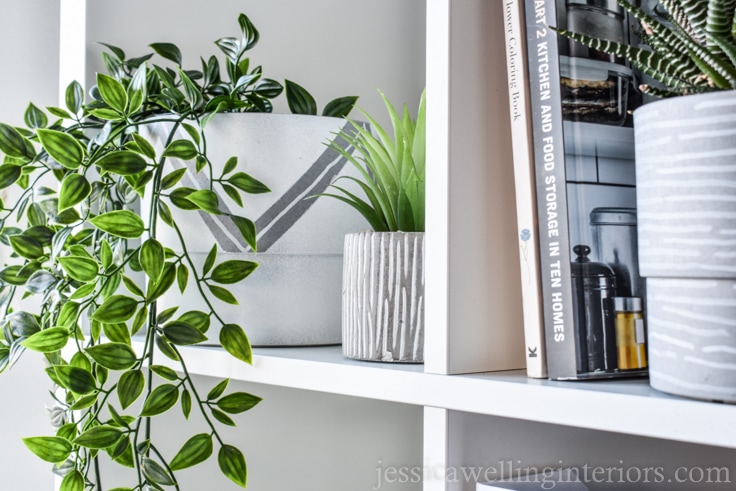 Any pots I'm using in a room also need to fit into the overall color scheme.
6. Mix plants into your modern room decor.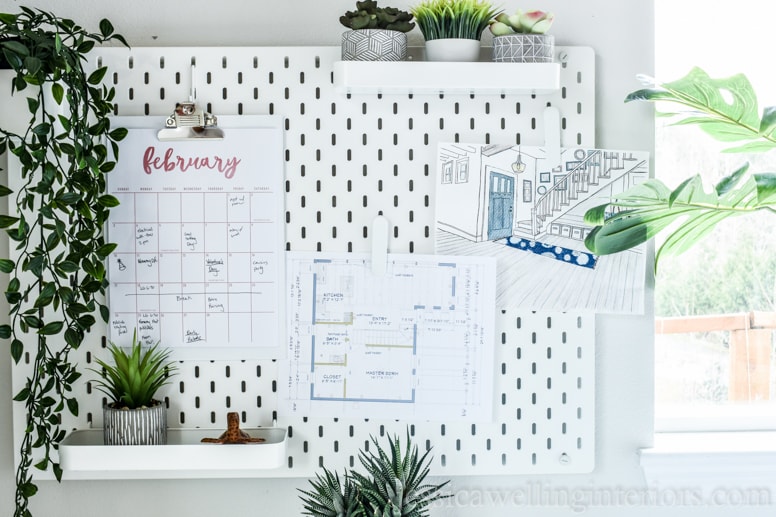 Indoor plants look amazing with other modern decor accessories on a bookshelf. Pair them with stacked books, bookends, modern sculptures, tall vases, and more!
And don't forget to use them in bathrooms. Remember, faux plants are just fine!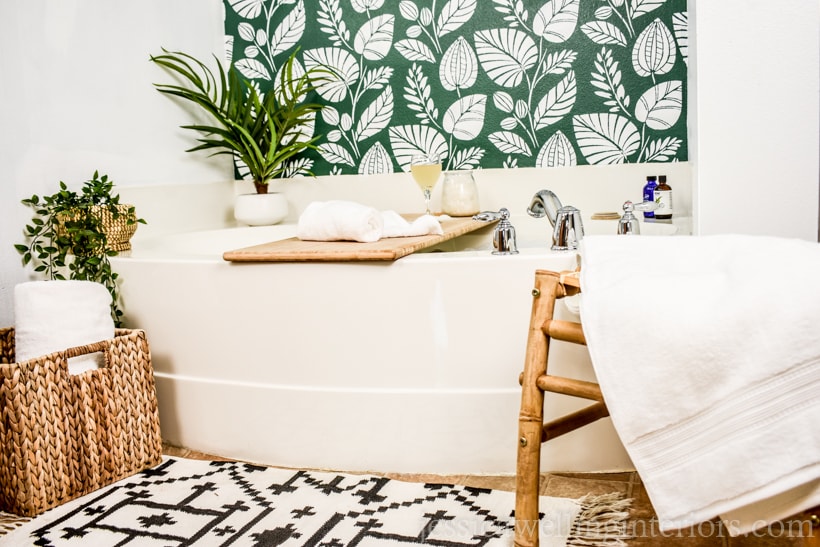 And kids' rooms too!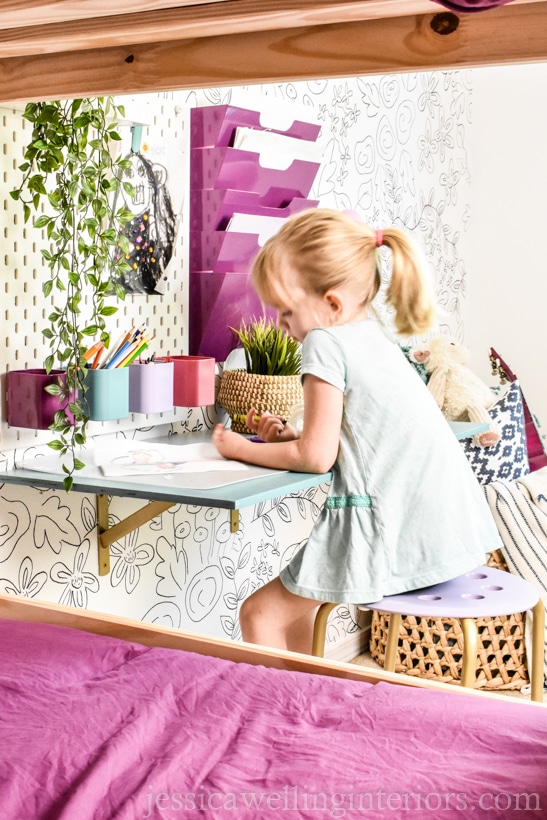 Here's another client project I'm working on.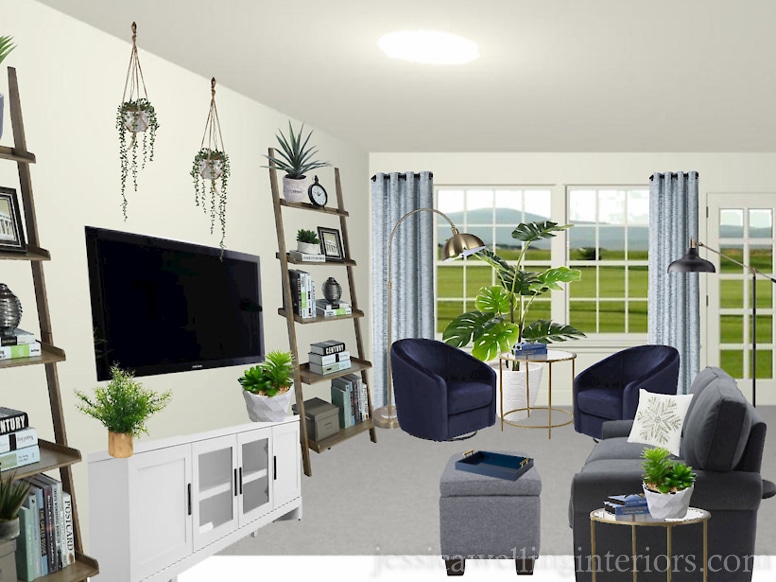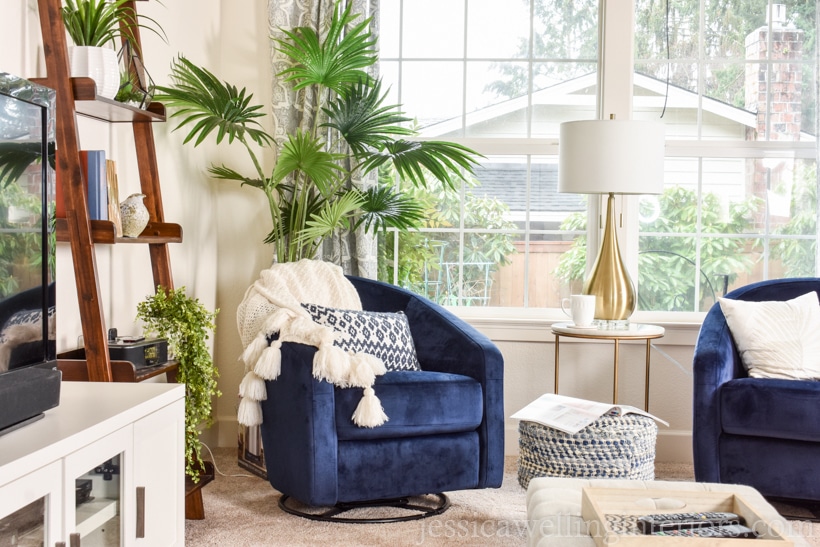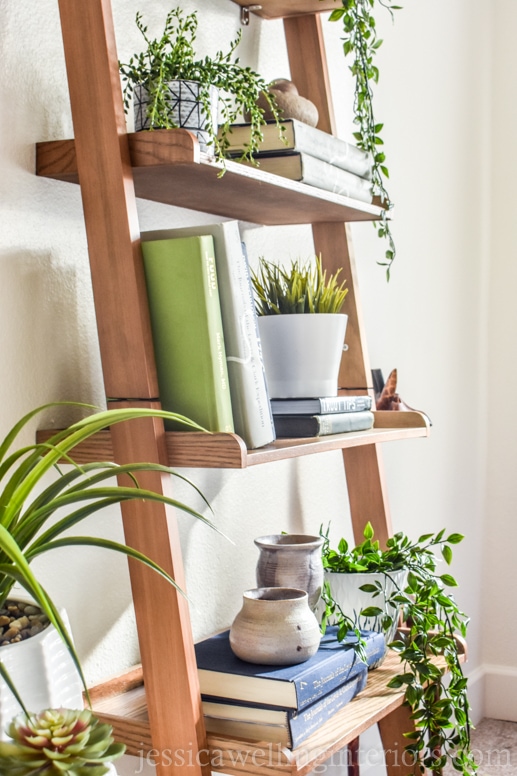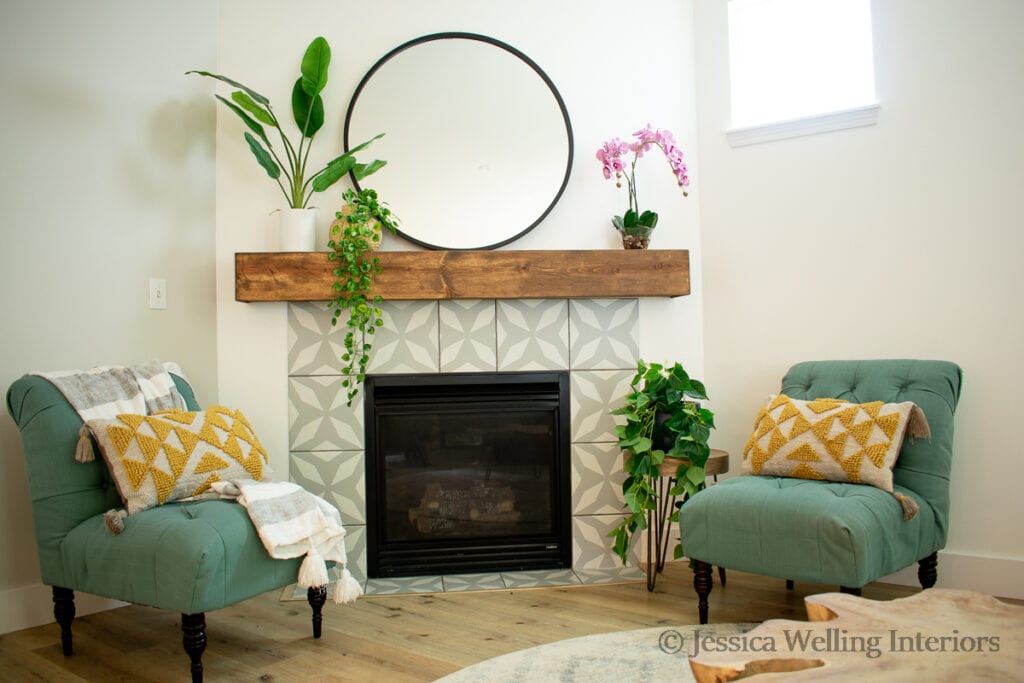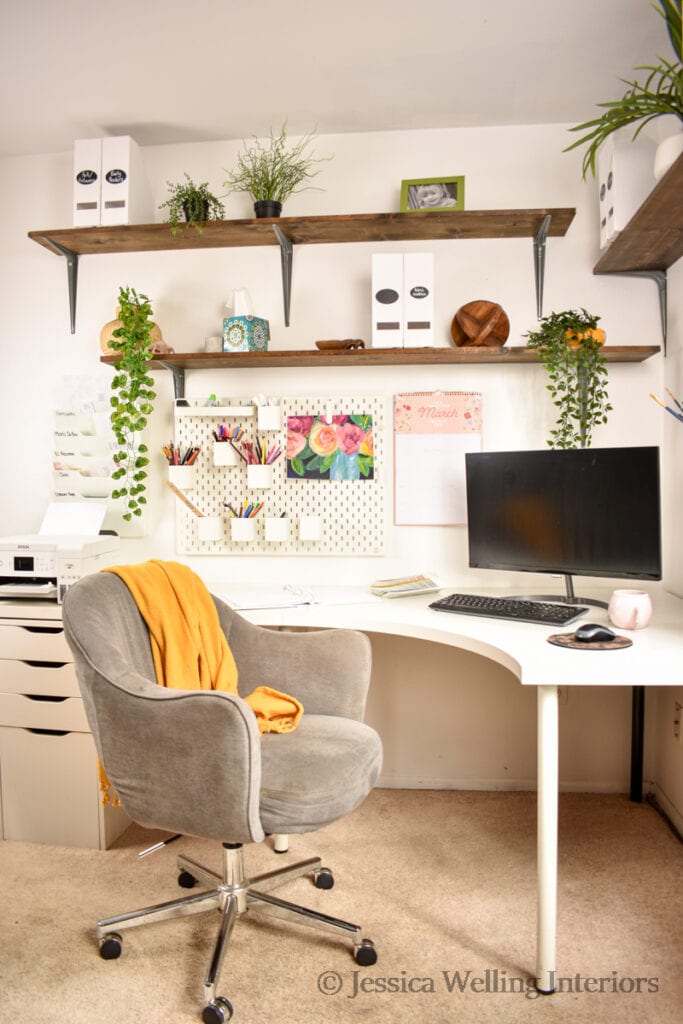 I hope that gives you some ideas to incorporate indoor plants into your home decor!
More indoor plants…
All My Favorite Artificial Indoor Plants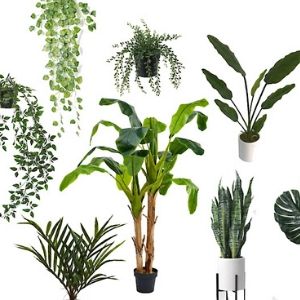 Turn Dollar Store Pots into Modern Indoor Planters!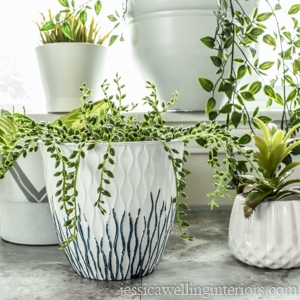 DIY Modern Indoor Plant Pots with Paint Pens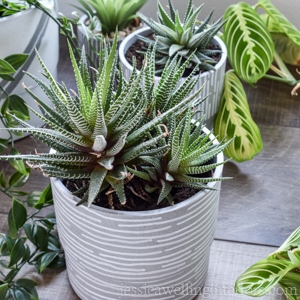 DIY Faux Cement Tile Fireplace Makeover